Are you looking for the best WordPress theme ever that would cover all your business needs, be modern and beautiful, simple in editing and maintenance, and not too expensive?
Actually, you have 3 options. They are Monstroid2 from TemplateMonster, Avada from ThemeFusion, and Divi from ElegantThemes.
All three themes are multipurpose, so you can use them for any kind of business. In this article, we are going to tell you about all of their pros and cons so that you could choose the perfect fit for you.
Let's start with a recent Monstroid2 update. We are sure the info will be useful to you.
Monstroid2 update – what's new
Now, the Monstroid2 theme is powered by Elementor builder (we mean a free version of Elementor builder). This super awesome tool gives you a chance to create a unique website without even touching the code.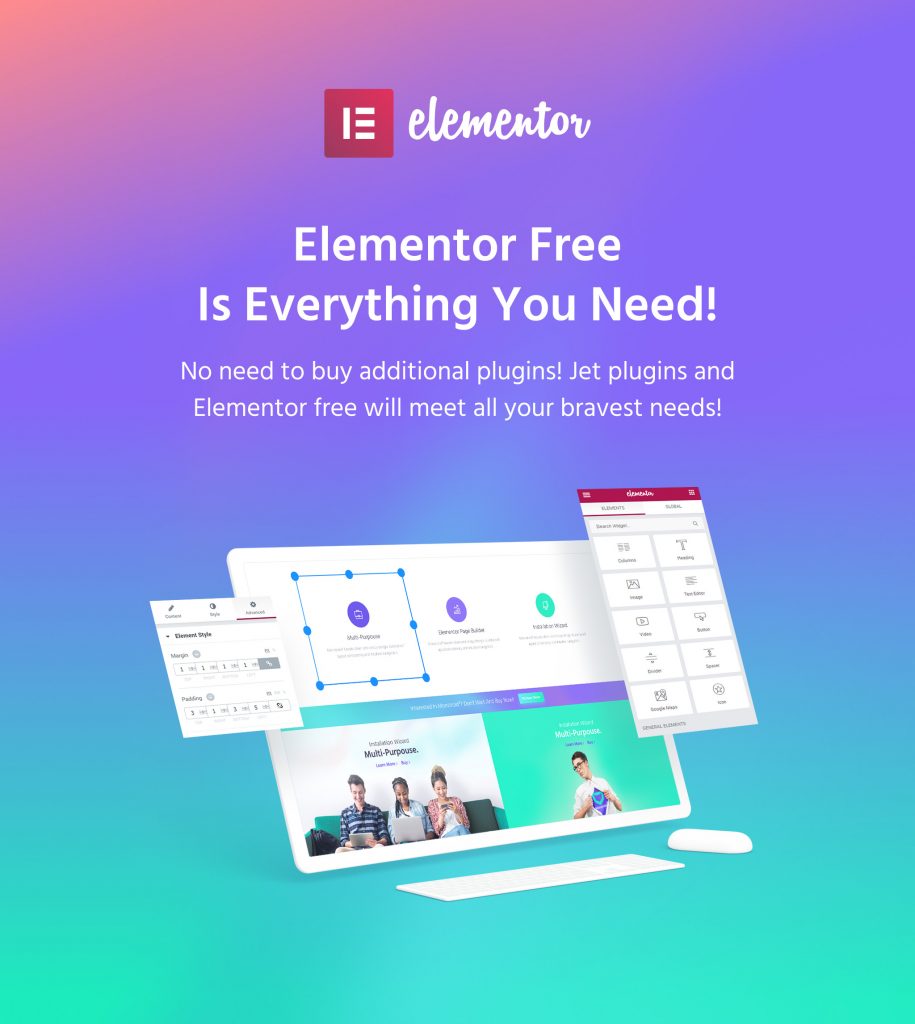 The new Monstroid2 theme comes packed with 500+ predesigned sections. The number of sections will increase weekly.
The Monstroid2 theme comes with 20 skins that cover various micro-niches. You'll be able to use any section from any of these skins on any page you want. What's more, every week you will get several new skins and a bunch of new sections for free.
The latest version of Monstroid2 became a few times lighter, only 250kb. Now you can install it on the cheapest hosting you can find, and it will work perfectly well.
Page loading speed has also reduced. Now the demo homepage loads nearly 1.2s.
The new Monstroid2 theme has neither inline CSS nor third-party plugins. This helped to increase page speed and decrease the number of requests to the database.
Currently, there are 9 Jet Plugins included in the template package. All of them complement functionalities of an Elementor builder giving you more freedom in terms of customization and maintenance. Since Monstroid2 themes come with free lifetime updates these will also include all new Jet plugins.
WooCommerce integration is another great thing. It includes not only all store subpages, but a JetWoo Builder plugin. You can create custom product pages with its help.
Well, it seems like we told you everything uber important about Monstroid2 update, so let's continue our comparison.
Pros & cons of every theme
Those who have no time or desire to read the entire post or just absorb visual information better may take a look at the infographic below.
It is made in the form of the comparison table and is pretty explanatory. However, we advise you to read the article all the same. It won't take you long but provide with all necessary details for taking the right decision.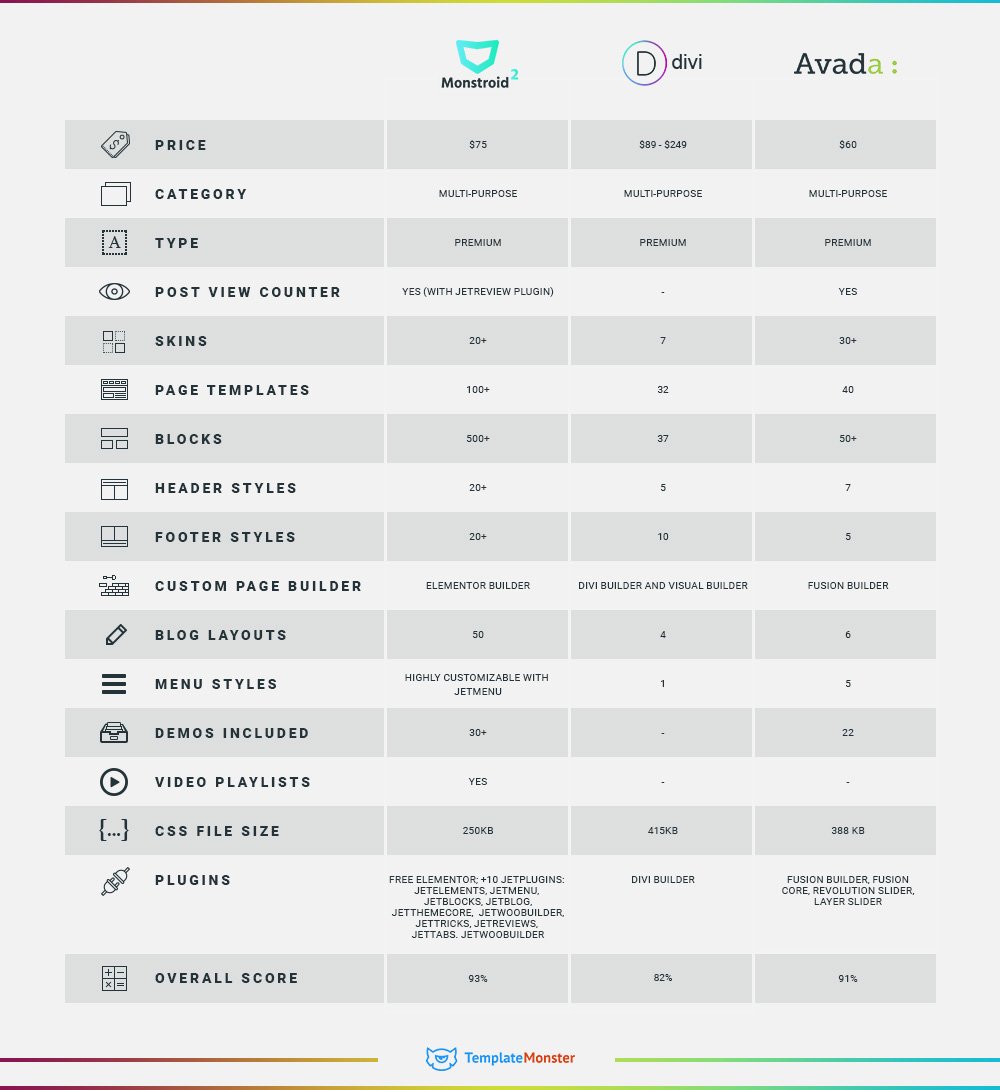 Price
The price is always one of the essential aspects for us. This is not because we are tight-fisted, but because smart businessmen always plan their budget and try to keep within its frames. So, here Avada is the leader as it costs $60, while Monstroid2 – $75, and Divi – $89 – $249.
Post view counter
Monstroid2 and Avada have post view counters, Divi has not. What does the plugin do? It allows you to display how many times a post, page or custom post type had been viewed.
Skins
Monstroid2 is delivered to you with 20+ skins, Divi with 7, and Avada with 30+.
Page templates
Sounds incredible, but Monstroid2 has 100+ page templates, Divi – 32, and Avada – 40.
Blocks
Monstroid2 offers 500+ blocks, Divi – 37, Avada – 50+.
Header & Footer styles
Monstroid2 comes with 20+ Header & Footer styles but you can create as many of them as you wish with JetThemeCore plugin, Divi – 5/10, and Avada – 7/5 accordingly.
Custom Page Builder
Monstroid2 uses Elementor Builder, Divi – Divi Builder and Visual Builder, and Avada – Fusion Builder.
As you see, all 3 themes offer great opportunities for customization.
Blog layouts
Are you going to run a blog? Of course, you do. You need to tell your customers about your company news, interact with them, etc. Monstroid2 comes with 50 blog layouts, Divi – 4, and Avada – 6.
Menu styles
Navigation is extremely important for user experience on site. It should be very straightforward so that the user came to your resource and was able to find whatever they want almost immediately.
Monstroid is delivered with a highly customizable JetMenu. Click here to view its demo. Divi comes with 1 menu style and Avada with 5.
Demos included
Monstroid2 package includes 30+ demos, Adava – 30, and Divi does not include any demos at all.
Video playlists
Only Monstroid2 is equipped with video playlists. Why is it beneficial for your website? Because you will be able to embed video playlists into your website and users will get excellent experience watching them. Video content is always much more fun than walls of plain text.
CSS file size
Monstroid2 became really lightweight, 250kb only. Divi is 415kb and Avada 388kb. The point is that site weight affects its loading speed.
Nobody wants to wait for your website content for ages. 1-2-3 seconds and the user will just go to another resource. Monstroid2 is an unconditional leader here.
It takes it 1.2sec to load, which is considered very high speed, while Divi and Avada load at simply high speed, which is also not bad.
Plugins
It's always cool to get premium plugins for free. It's impossible to get your website tailored to your needs right out of the box.
You always need to add some functional features. Why buying or search for reliable places to download the plugins you need for free? Look what you get inside each template package first.
Monstroid2
+10 JetPlugins:
JetElements,
JetMenu,
JetBlocks,
JetBlog,
JetThemeCore,
JetWooBuilder,
JetTricks,
JetReviews,
JetTabs.
JetWooBuilder
Divi
Avada
Fusion Builder,
Fusion Core,
Revolution Slider,
Layer Slider
Seems like the winner is obvious…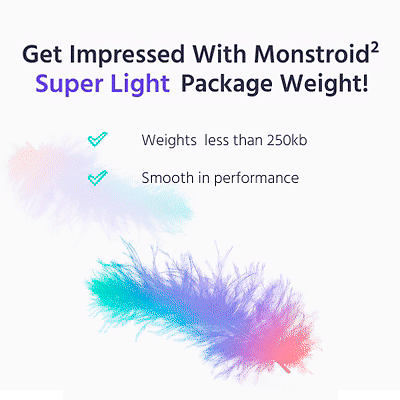 Not for you? Ok, then we continue.
Additional features
A few words about themes compatibility.
Content width
Monstroid2 will look good on 1170px + Full Width screens, Divi is compatible with Full Width screens, Avada – 1920 px.
Browser compatibility
Monstroid2 – Chrome / FF / Opera / Safari / Edge
Divi – IE10+ / Chrome / FF / Opera / Edge
Avada – Chrome / FF / Opera / Safari / Edge
All three themes are compatible with WooCommerce, bbPress, BuddyPress, and WPML plugins.
Fonts and translation
All three themes support Google Fonts and RTL.
Post features
All themes have responsive, retina ready layouts. As to portfolio styles, Monstroid2 has 10 of them, Divi – 16, and Avada – 13. Monstroid2 an Avada offer social counters, Divi does not.
All three themes support Video posts, Audio posts, Social share, Link post, Mega menus, Social networks, Shortcodes, and Video slider.
The themes are SEO optimized, have Custom Theme Updater, Ad system, Adsense support, and Custom Ads.
Learnability of Monstroid2 is considered high by users. As for Divi and Avada, it is medium.
The themes are shipped with pretty explicit documentation even a beginner can use hassle-free. It contains screenshots, video tutorials, and extra documentation.
Only Monstroid2 has a comfy search option.
Over to you
We told you pretty much about three super professional WordPress themes suitable for any project that is available on the market. Now it's your turn to put on your thinking cap and do the best choice.
Have any further questions? Please feel free to throw them our way.
Disclaimer: This article is created by the TemplateMonster team who owns the Monstroid 2 theme.