Those were the days.
You slap together 300 words on a subject. Then, stuff your target keyword in the article a bunch of times. Finally, you hit your page with a few web 2.0 backlinks from free Blogspot and WordPress websites.
A few months wait and boom:
Your article hits the first page of search results.
Fast forward to the present day – Google's algorithm is now super sophisticated. It wants every small business owner to publish value-adding content that serves the users.
Indeed, the habits of web users have also evolved. We have become smarter and look for specific, in-depth answers to our problems. That's where long-form content chips in.
Let me introduce you to this content format, why you need to create it, and the five simple steps to draft your first long-form article.
What is long-form content?
Put simply, it's blog posts over 1,200 words. However, owing to the competitive publishing landscape, many marketers publish 2000+ word articles (and consider that as long-form content).
Indeed, the average blog post is now 1142 words, and bloggers posting big articles are more likely to report "strong results."
You might think that most people don't read online and it doesn't make sense to go beyond the standard 800 words.
However, a few of the most popular articles here at Begin Dot are also extensive.
For instance:
Here are a few data-backed reasons to show you how long-form content performs as compared with shorter articles.
1. In its analysis of 1 million Google Search Results, Backlinko found the average first page contains 1,890 words.
2. In an analysis of 100 million articles, Okdork and Buzzsumo found that long-form content gets more shares.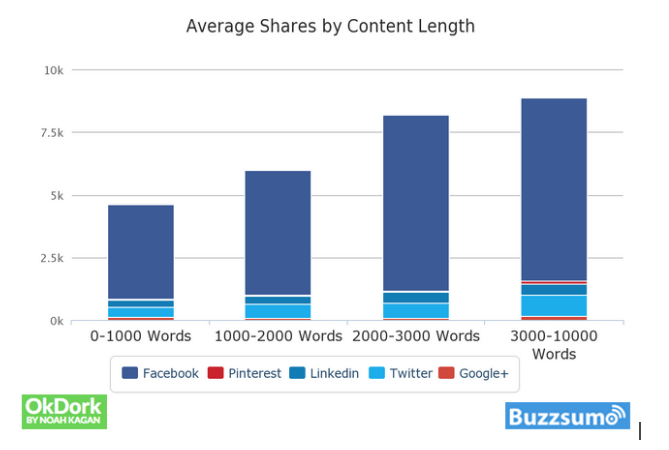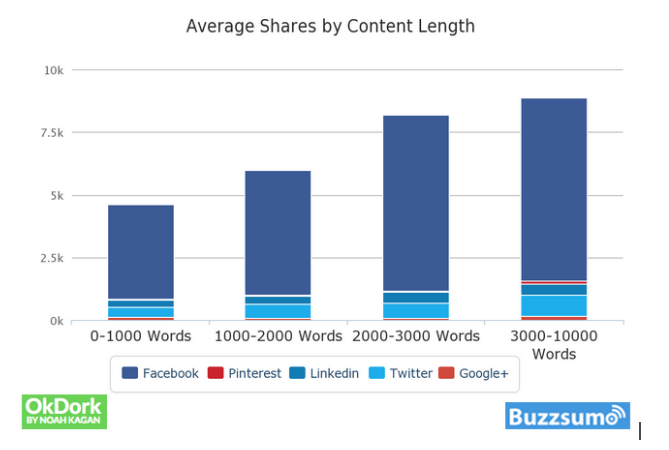 3. I publish only long-form articles on my websites. And it's not unusual to see an average on-page time as high as 8 minutes.

For writing long-form articles, I have been paid over 1500$. It means that long-form content converts well and generates a great ROI for businesses.
Convinced yet that you need to publish long-form content on your website?
Thought so.
Let's look at the five simple steps you need to take to write long articles that rock the socks off your audience.
Step #1: Find out an "evergreen" subject
Remember Tulsi Virani?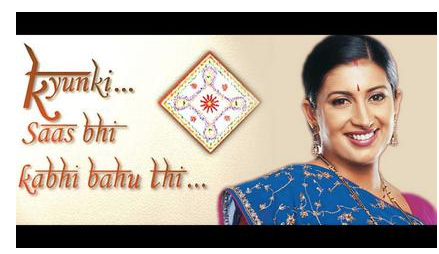 A few years ago, she was a household name in India. People loved watching her in the daily soap 'Kyuki saas bhi kabhi bahut thi.'
Today…?
The TV show is not relevant.
If you write an in-depth piece with limited shelf life, then it will run stale as soon as the news event loses steam.
Instead, you need to choose an evergreen subject that remains relevant and drives shares, traffic, and conversions for years to come.
How to decide if your writing subject is evergreen?
You can perform the trendiness test by plugging your subject inside Google Trends.
Here's the trendiness of the term 'Pinterest SEO.'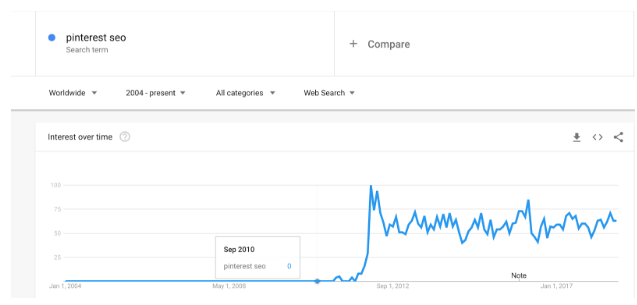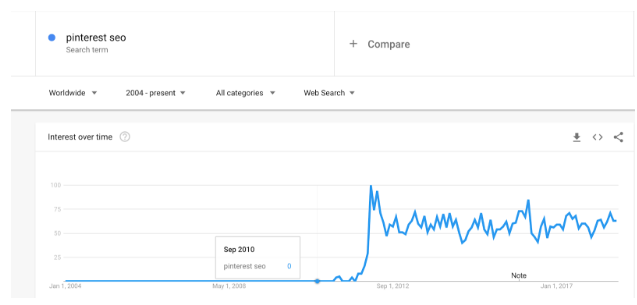 Starting towards the end of 2011, we can see a continued interest in the subject.
It looks like the writing on the subject was well thought-out by Dhiraj.
Step #2: Research and gather information as well as relevant studies
Now, you need to decide on a format for your content. Will you write a how-to article, a listicle, a why post, or something else?
You can start by scanning the content that currently ranks on your subject and has performed well on social media.
Suppose you want to write an article on home remedies to treat acne. Looking at the search results, we can see that most results are listicles.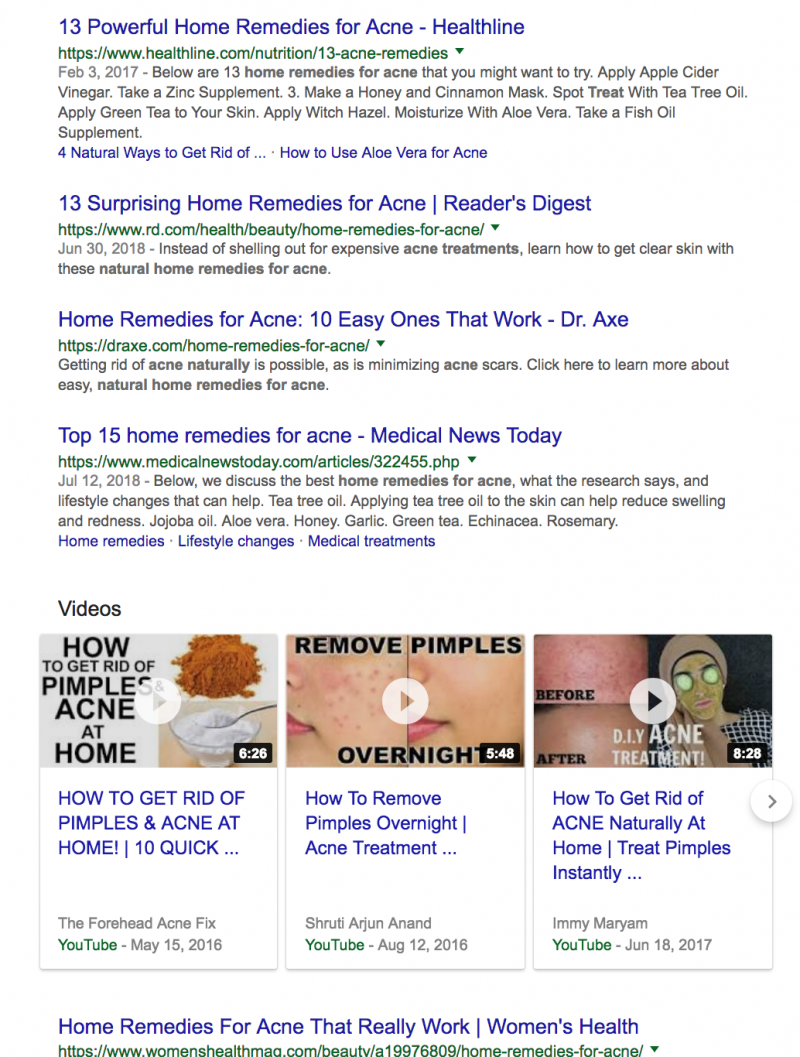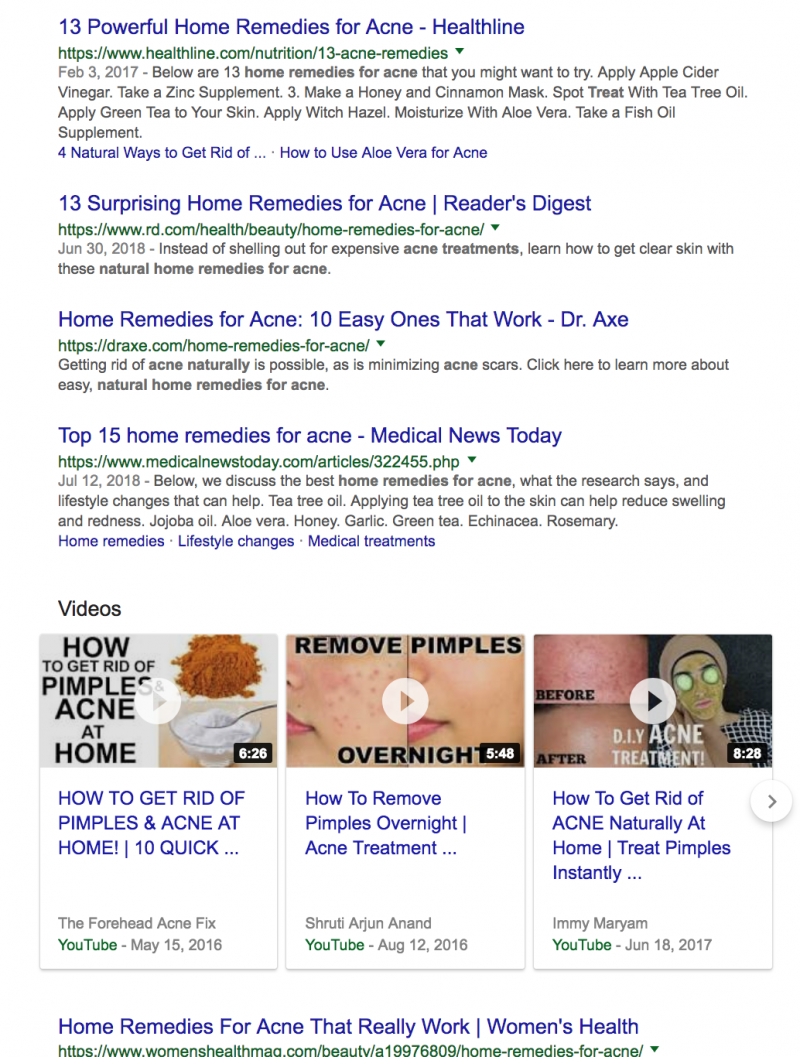 Your goal is to write a higher quality article than those ranking currently.
A simple way to do it is by performing better research than your competitors and going more in-depth.
You can scan a few of the top articles and judge the ranking content's quality along with these parameters (inspired by Google's E.A.T. guidelines):
Comprehensiveness: Besides word-count, analyze if the content answers all of the audience questions on your subject as succinctly as possible. To find a few of the most common questions of your audience, plug your topic inside Answer The Public.
Trustworthiness: Is the article written by an expert on the subject? While presenting the arguments, are they backed up with relevant studies and data from authoritative sources? Do the about page and author bio reflect subject matter expertise?
Freshness and User Experience: Is the content providing the latest information in a user-friendly friendly manner? Is there scope for improving the feel and overall design of the articles by using custom images, navigation, mix media, and the like?
While looking at the articles, open a Google document and start collecting relevant information and studies that might come of use during writing.
Step #3: Outline and draft your article
Once you conducted research and collected a few ideas, you can create an outline.
If possible, try to come up with a creative angle. For instance, when I wrote my article on 'seeking validation,' all the existing articles were talking about not looking out for validation externally.
However, I took a counterintuitive stand writing about how it's occasionally fine to seek external validation. I linked to a psychology theory and a few anecdotes to back up my arguments. Right now, the article ranks for a few hundred long-tail keywords on the first page.
I also want to warn you about a time killer – It's not always possible to come up with a creative angle, so don't stress about it.
You can outline your article inside Google Docs itself. Else, you can also use Workflowy to organize your ideas into sections and subsections. Here's an example outline I prepared for writing my article on 'long-form content' for my website.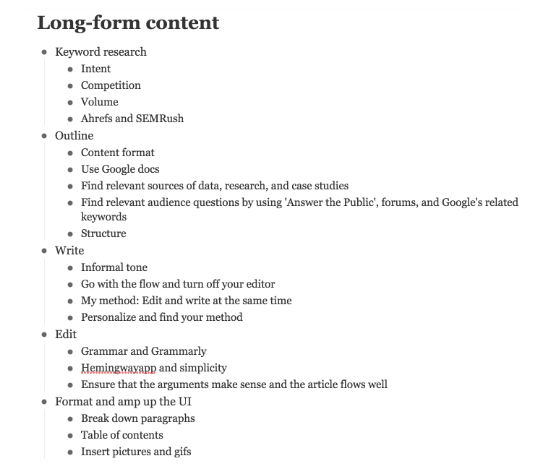 Once you have fleshed out an outline, you need to…?
Write your article (obviously)!
If you feel stressed about writing 1000+ words, then consider the exercise as a conversation with a friend. It will ease you out and also keep your article tone's casual.
Even if you are thrilled to hit the keyboard, it's a good strategy to keep your writing style informal (unless required otherwise for your business). It makes your long article an engaging read.
Content marketer, Shreya Dalela, recently started writing long-form content for one of her clients. Here's what she has to say about it, "Initially, the process of writing long-form felt overwhelming. Once I wrote a couple of articles, it now feels doable. And more satisfying since I know that such content will drive business results."
Step #4: Edit for better readability
Once you have written the article, let it sit for a day.
On the next day, come back with a knife.
Not literally.
However, you need to prune your article and edit these aspects:
First, read the article aloud and edit the obvious mistakes you come across (like homophone spelling errors: they're, their, and there). Get an eagle's eye view of the article and see if your ideas are coherent and flow well.
To help your editing process, you can use the following two tools.
I have a running Grammarly streak of over a year.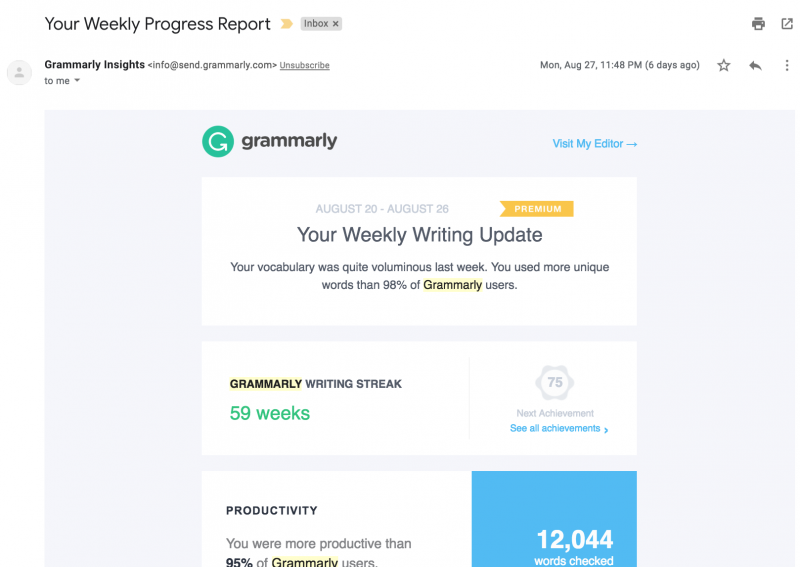 The unpaid version is also useful, but I highly recommend you to buy a premium version.
The writing assistant inside the tool comes with relevant prompts beyond the syntax of the language. If you look at the right sidebar, you'll get editing suggestions under the umbrellas of "grammar," "formality," "conciseness," "clarity," and the like.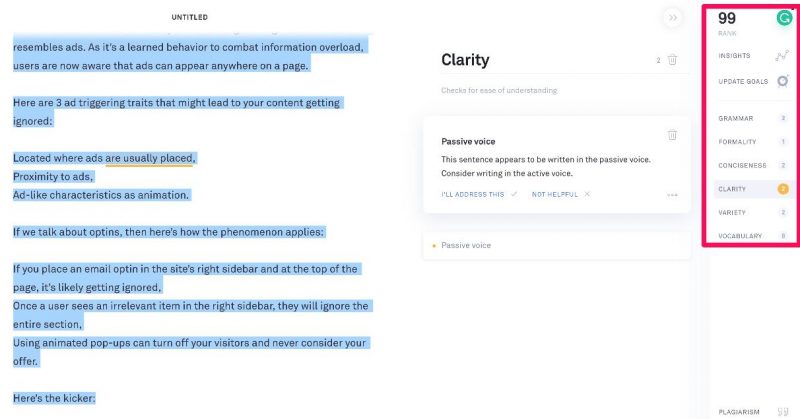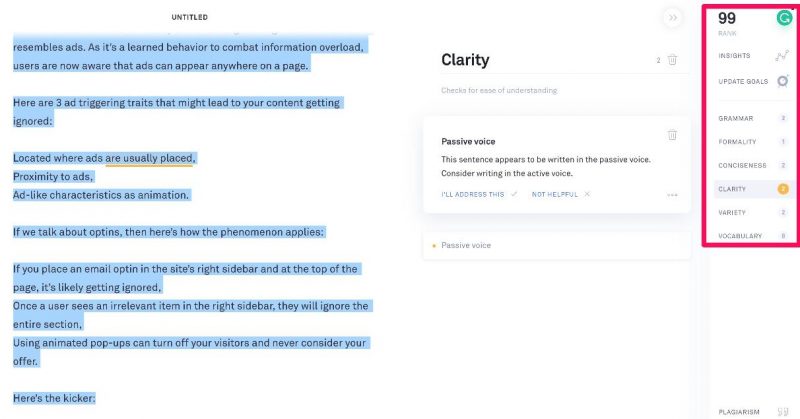 If you use difficult vocabulary and long sentences, it can scare off your readers. You need to writing simply, like Hemingway.
To simplify, plug your article inside the Hemingway App. It will give you color coded suggestions. The tool highlights 'hard to read' sentences, your uses of passive voice, adverbs, and the like.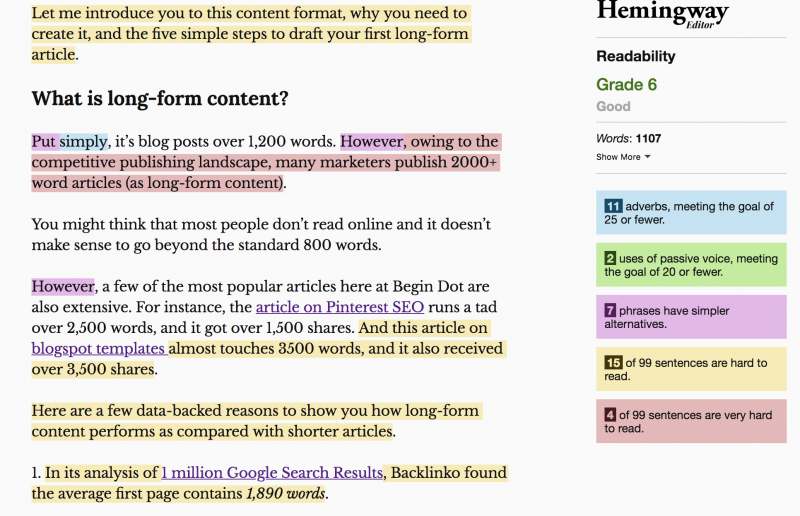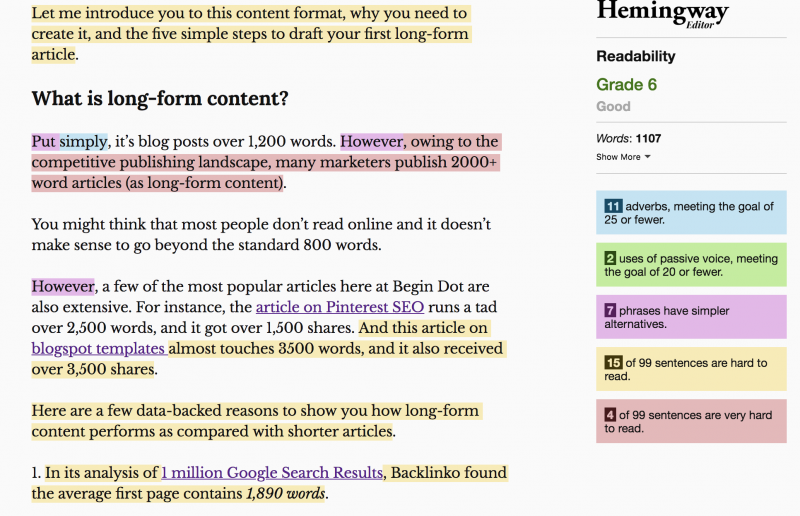 On a case by case basis, you can take a call whether it makes sense to edit specific sentences and words. On to the next step.
Step #5: Polish your article and improve its user experience
Editing your article isn't sufficient. You need to ensure a great experience for your users to stick around and "read" your content.
Here are two ways to improve the reading experience of your article:
1. Web users skim online content in an F-shaped pattern: You can leverage this behavior to your advantage by breaking down your content with screenshots, pictures, memes, and gifs.
(Why do you think I had put up the Tulsi Virani picture in an article about long-form content creation?)
If you want to go an extra mile, then, I would recommend you to add a table of contents at the top of your article. You can use a plugin like Easy Table of Contents for the same.
For example, Jimmy Daly used custom CSS to create a visual table of contents and boost the user experience of his article. It played a part in helping him generate over 30,000 page views.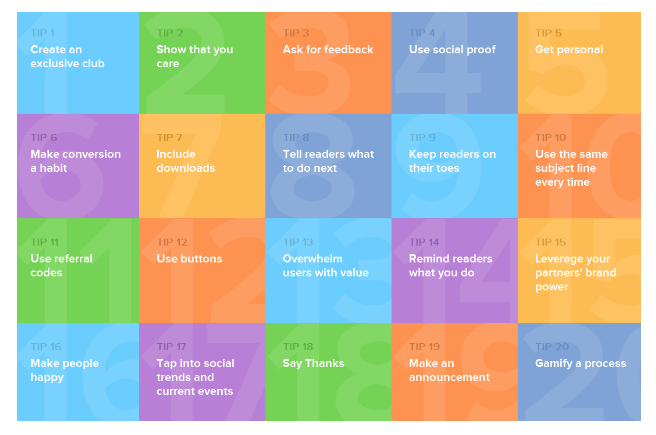 2. Ensure stickiness around these parts of your content: Since most people don't read beyond headlines, you should write multiple titles for every long-form piece.
For a quick review of how you're doing, plug your headline inside the headline analyzer and check your score.
Want to go a step further?
Then, rework your sub-headlines and make them more compelling. They are the places in your article to grab the lost attention of your reader.
You can also edit your introduction and make it kickass. It's a valuable real estate in an article to convince the readers to stick around and read your whole article.
If you get stuck, then you can fall back to this copywriting formula: Pain, Agitate, Solve.
Tell your readers the pain that's troubling them. Then, make them aware of the complications that might arise if the problem(s) continue. And give them a glimpse of the solution you'll present in your article.
Final Thoughts
And that's it!
That was my long-form guide to compelling long-form content creation.
If you've stuck around, then I guess I'm a half-decent writer. And the tips in this article will work.
Writing your first long-form article can become a crazy affair. Instead of putting yourself under pressure, follow the step-by-step process that I demonstrated in this article.
Have you ever written a long-form article? I would love to hear your results in the comments below.
Chintan is an ROI-focused content marketing consultant. Join him at Elite Content Marketer where he shows you how to grow your business through content.