Backlinks are one of the most important parts of SEO, and quality backlinks from authority domains can be extremely effective in driving more traffic from search engines.
So, in a way, more quality backlinks you have you receive more traffic that will result in more revenue from your business.
No matter you are a newbie blogger or a seasoned affiliate marketer, you will need good backlinks to your site in order to increase the overall visibility of your site.
Link building is one of the core and probably the most important part of your overall SEO strategy.
However, it is not easy to create a quality backlink. There is a saying "if you can create a link easily, that's not a quality backlink".
You can comment on a hundred blogs daily and create comment links, but those links are not going to help your business in any way. The comment links were good 8-10 years ago, not anymore.
So, how to go about it?
There are two ways to create backlinks, either you spend time reaching out to other bloggers for the guest article and then create spend hours on creating quality guest articles.
Or
You spend hundreds of dollars to acquire quality backlinks from high authority sites.
No matter which strategy you choose, there will be time, money and effort involved in creating backlinks to your site.
Now, what if you lose those hard-earned backlinks? Do you keep a track of all the backlinks to your site?
While it is not easy to keep a track of all the backlinks to your site, the tools like Linkody makes the process a lot easier for you (automate the process)
So, let's have a look at how Linkody can be helpful in managing the overall backlink profile for your online business.
Overview of Linkody
Linkody practically automates the whole process of monitoring the backlink profile for your site or your clients.
You can try the service for free for 30 days before you make the decision to get on board. Just signup here and get started.
Linkody monitors the backlink profile of your business 24/7 and they will keep you updated whenever you gain or you lose a link.
If you are checking your backlink on Google Search Console, it takes time to get updated. And, it is not possible to keep a track of the links manually.
Linkody is very quick in filling those gaps and making sure that your business is in good shape all the time.
Once you login to the tool, you will get the option to add a domain as well as your competitor sites so that you can you are updated about not just your site but your competitor as well.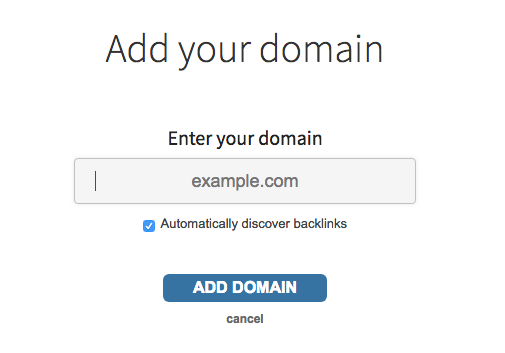 After adding the domain, it will take some time to fetch all the backlink details. For example, we have added Mashable.com as an example and now the system is trying to fetch the backlink profile of Mashable.


Depending on the size of the backlink profile, the system will take time to fetch all the details. You will see all the recently acquired backlink with a number of important details that will help you to understand the quality of the link.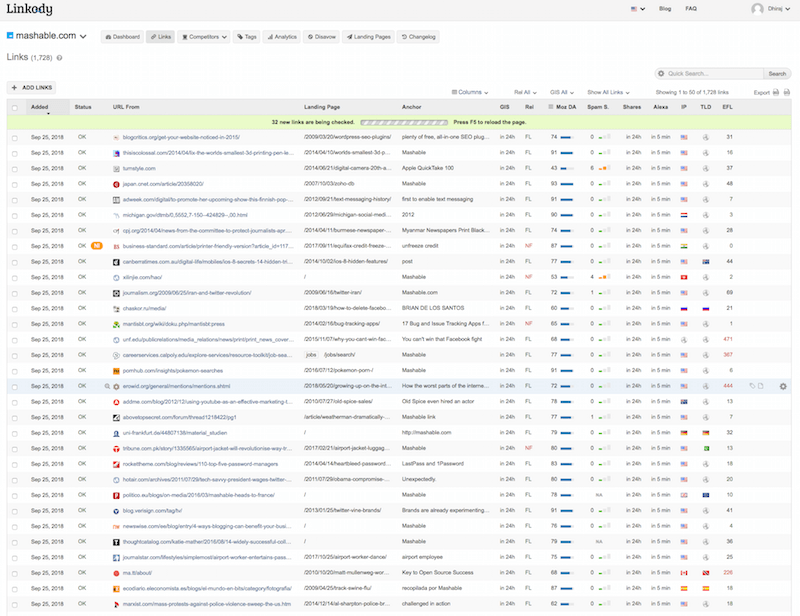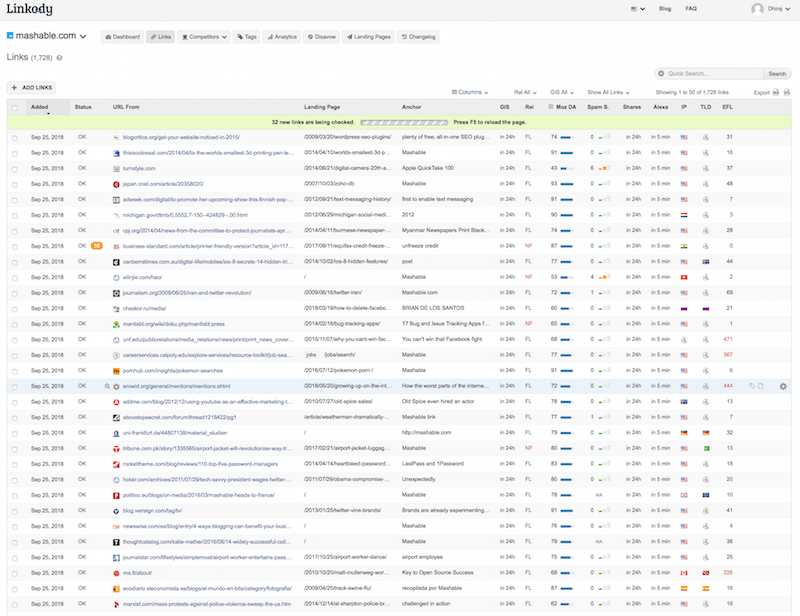 Some of the important details on the main link report page are
The link URL
The anchor text used to link
MOZ domain authority of the page
Spam score of the page
Number of social shares
IP address
So, all these details will help you to understand the quality of the link you have acquired. If the spam score of the page is very high, you might want to remove your site from that page to be more clean and safe.
Backlink Analysis
A quality backlink can make a huge difference to your site. A backlink from the top authority site can improve the overall visibility of your site.
The big media companies and business spend thousands of dollars every month to acquire quality links from other sites.
So, there is no doubt that you must work towards creating quality links.
However, if you don't keep an eye on the backlink profile for your site. A bunch of spam links can ruin your business.
You must avoid low-quality irrelevant links from domains that don't bring any value. It is better not to have a backlink than from spammy sites.
The Linkody tool will keep you updated about the new backlinks to your domain. And you can always use the tool to analyze the links further and decide which ones you wish to keep and which ones to get rid of.
When you go to the links page, you have a number of different columns that you can add for analysis to understand the overall quality of a link.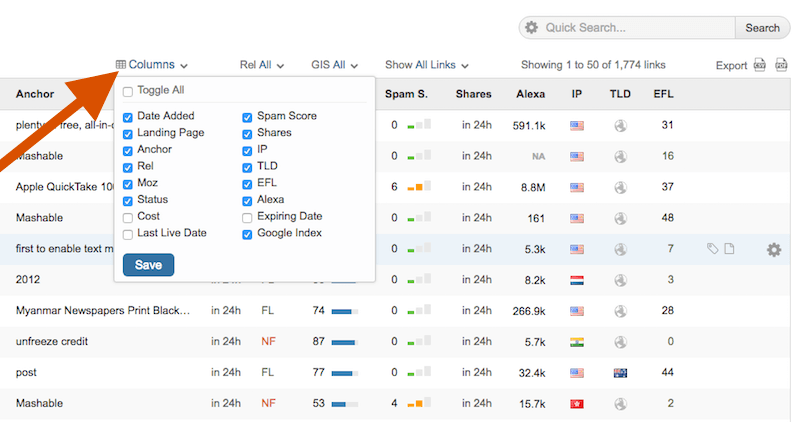 Competitor Analysis
If you understand how the search engine works, you will know the importance of competitor research. Even if you are doing everything good for your site, your competitor might overtake you in the search results because they are doing it even better.
So, one part of the SEO strategy is to do your things perfectly, and the second part if knowing your competition and their strategy.
There are only ten result slot on the Google first page, if you are not improving constantly, someone else will replace you soon.
Linkody tool gives you an option to add your competitor site and understand their backlink strategy. You will get in-depth details of all their links which you can use further to create new links to your site.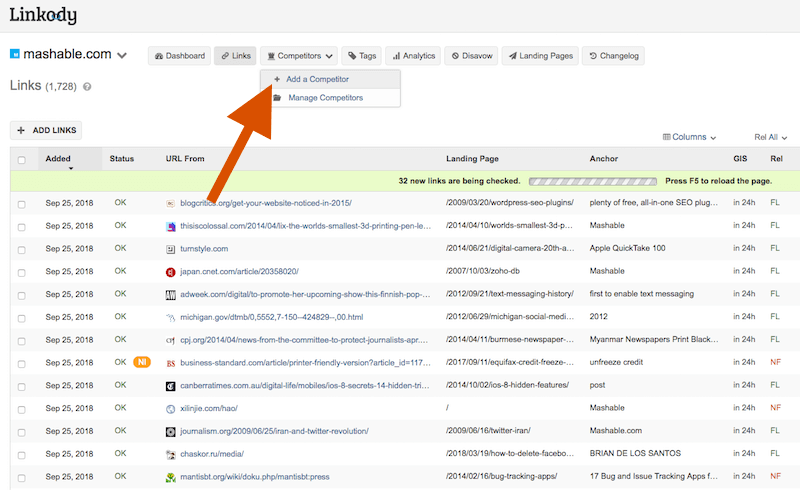 Once you add the competitor site, you will see the details of their backlinks.
This will help you in many ways. You can check the kind of links they are creating, you can approach same sites to create similar links to your site as well.
The Main Dashboard
The main dashboard of the Linkody tool gives you a nice analysis with details of your domain as well as your competitor site details.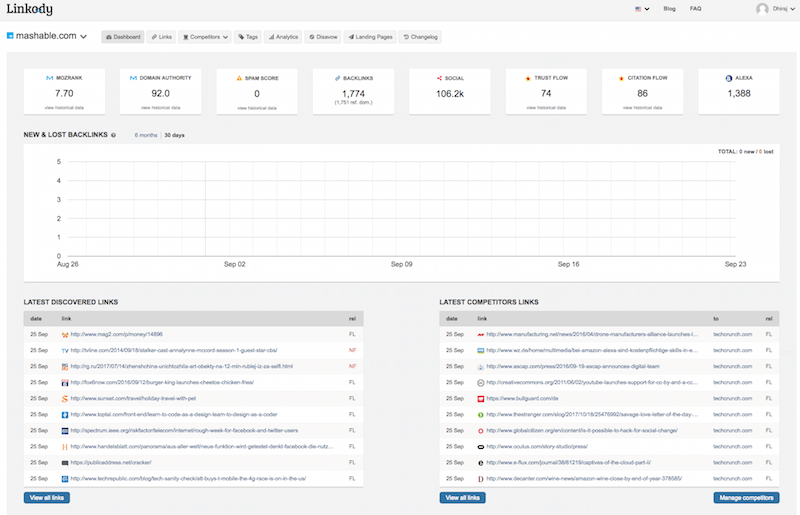 Overall Analytics
The Linkody tool comes with comprehensive analytics page where you can have a quick view of your backlink profile.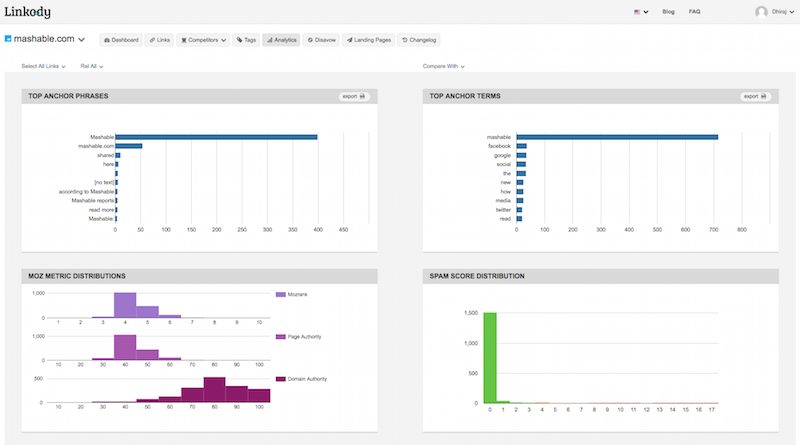 Disavow Tool
Did you know that you can get rid of the bad backlinks that might affect your site? Google gives you an option to tell them which backlinks they should not consider.
The Linkody tool makes the process very simple for you. You can select the links, domains that wish to Disavow, export it and then upload it on the Google Disavow page.
In fact, the tools make this process automatic for you. You can set your own rule to Disavow certain type of links which will be added to the list.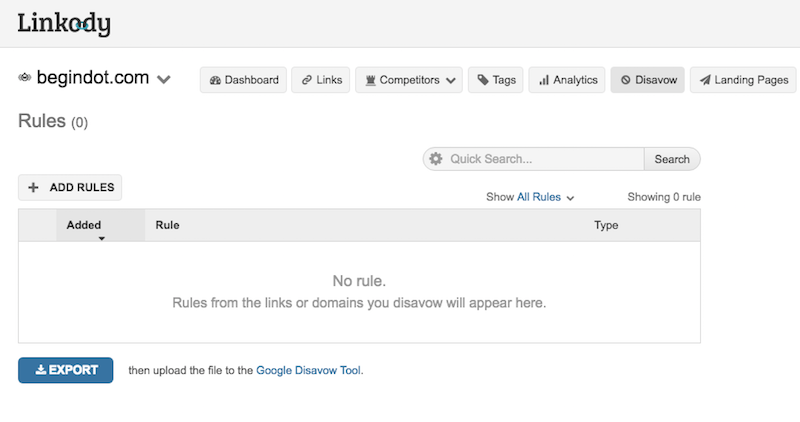 PDF Whitelabel Reports
If you are managing your clients' site and you need to send them reports, the PDF whitelabel reports option will help you to brand the reports with your business details, logo etc.
SEO is a profitable and popular business, you can create your gigs and offer SEO services, backlink management services etc. And a tool like Linkody can be very helpful for you while servicing your clients, you will have an easy to use quick tool to manage all your clients' data.
Impress your client with a comprehensive SEO report with a number of important data.
To create the PDF report for your client, go your account on Linkody >> Settings >> PDF, upload your logo, choose the report components and save.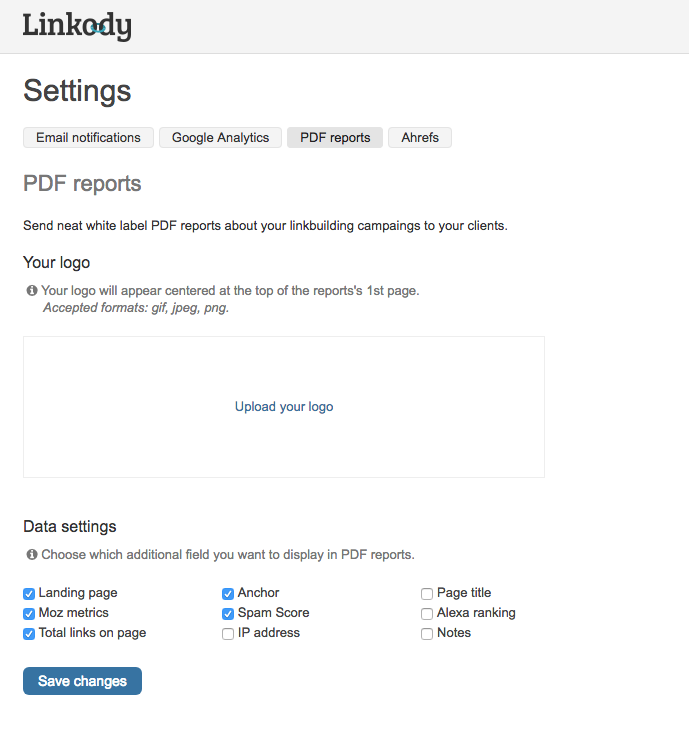 Final Word
Linkody is your 24/7 link monitoring tool that is far comprehensive than many other tools available in the market.
It not only keeps you updated about your website but your competitor site as well so that you can always stay ahead of your competition.
The pricing starts at $14 per month that will enable you to monitor 2 domains and upto 500 backlinks. This package is good for the new sites, as your site grows and acquire more backlinks you can easily upgrade to the advanced package.
Another best part is that you get a 30 days free trial before you start paying. You also get 3 months free if you go for the yearly payment mode.
So, overall it is one of the best tools to monitor the backlinks of your site and you have great value for money.
Get the Linkody tool here.
Don't miss this article about the best backlink checker tools