Nobody will read your blog unless it is filled with awesome posts. Even if you know some marketing or SEO tricks to improve your site, they won't stay with you for too long if they are not engaged.
Here is the word of truth: nobody will ever become your regular and active reader until you learn how to produce amazing content. 
In today's web, content is the key to success. People are searching for unique, informative, and interesting information to absorb, and they do it daily.
We cannot live without this stream in the age of the Internet. How to prevent your posts from drowning in the buzzing informational ocean? Let's discuss this.
Solve problems 
The golden rule of content writing is to write posts that solve your readers' problems. If you are able to present a comprehensive solution to any problem, the engagement around that post will be better and your post will get a much better ranking in the search result.
Now, the question is where to find the problems that general users are facing that you can write about?
Start with Google search
If you are open to learn and observe, Google presents you with plenty of content opportunities. You can start with a simple Google search with topics around your niche and observe the autosuggestion.
Here is an example when we search for content around the seafood.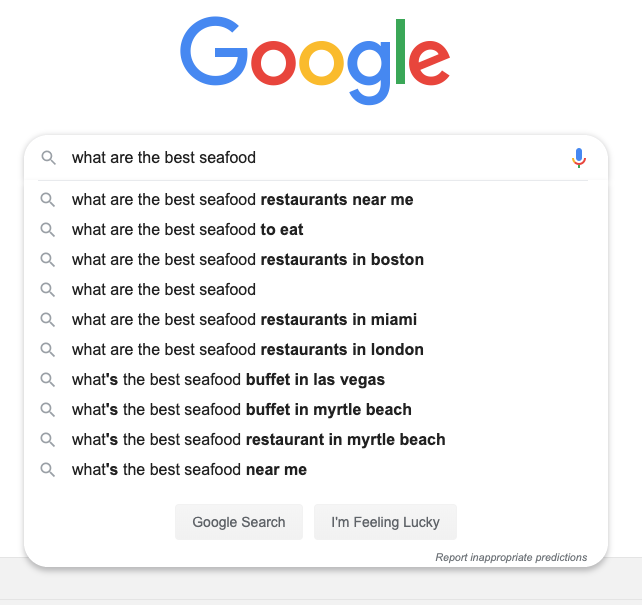 You can make similar search around your topic and observe what kind of topic your potential audience is looking for.
Observe the questions asked
These days, when you search for a topic Google presents you the similar questions or related questions around that topic.
Follow those questions and create high-quality content around those topics. make sure that your site has proper Schema markup so that search engines understand your content better.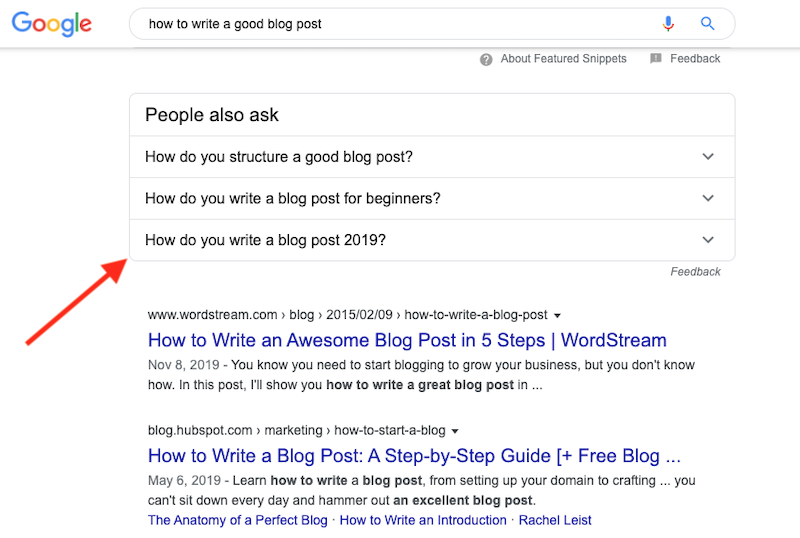 Once you find the topic that you want to write about, follow these five tips to create a comprehensive piece of content that answers all possible questions around that topic.
01

. Present the problem

Problem presentation is also called a hook. This is the first paragraph of your post where you identify the issue and show the direction you are going to follow.
02

. Tell a story

The best way to continue the problem presentation is to make it personal for your reader. You can describe it as a story of your life to let readers relate to your words.

What personal connections can you demonstrate? How do you relate to the issue? Mind this, because your participation is crucial – when you don't feel anything about the problem, your readers won't be able to connect anyhow.

Your task is to present information in a way that evokes emotions and makes people care. Discuss what makes the problem so annoying to identify with the reader and show how you perceive and tackle it.
03

. Offer a solution

After you have presented a problem in a clear way, you can offer a solution. Here you can tell your own story, share statistics, case studies, opinions, etc.

Never skip this! Don't discuss solutions until you explain the problem. Only when you have presented it fully, you can proceed with solving. Missing the "plot points" will make your post look plain.
04

. Call to action 

When you tell people how to solve their problems, it is never enough. As an author, you must encourage and motivate them. Tell them to stand up and solve their problems right now, showing how exactly they should do that.

The call-to-action part is a conclusion of your post, a place where you put things together. In one paragraph, you should show how exactly your post solves a problem.

However, there is more to add! Before you post the article, add a question or phrase that evokes discussion.

If you have ever read blog posts yourself, you might have noticed that they include questions at the end. Note this and try to do the same.
05

. Improving your technique 

Practices described above can help you develop a structured approach. Doing so, you will keep a specific template in your head.

You should have a couple of such models and experiment with them to find what works better in different situations.

If you cannot produce a working template on your own, there are custom writing research papers and other services to consult with. Following the structure described in this article, you will create content that works.

However, it doesn't mean that you should follow it in all situations. You can find yours through practice, tries, and failures.

Don't get trapped in a single approach – try this one, adjust it, and figure out what works for you better.
Conclusion
Using these easy steps, you can write winning blog posts. Start with picking a problem to talk about. Think about your audience and their needs, then write a post sharing your thoughts on how to solve their problems.
Provide your experience, examples, and show that you care about this issue – readers won't relate to you otherwise. Don't forget to help them find a solution and encourage them to do something immediately.
End your posts on a motivating pitch and invoke conversation in the comments. State a question or provocative claim to encourage your readers to leave some feedback.
Having these tips at hand, you will learn to produce better posts! And, as always, have fun when writing!
Don't miss our list of over 300 blogging tools that will help you to create a high-quality blog.