Everyone wants to build links to their blog and get more rankings in search engines, but only a few succeed at it.
Do you know the reason? People think a guest post is just about writing a low-quality article on a website to build links. And, in return what they get is REJECTION.
This may have been the process a few years ago. But in 2020, this simply won't work. You will have to build links to your blog and these links better be genuine.
In fact, Google has clearly stated that it won't give more value to your blog if the links are built through guest posting.
So, what is the workaround?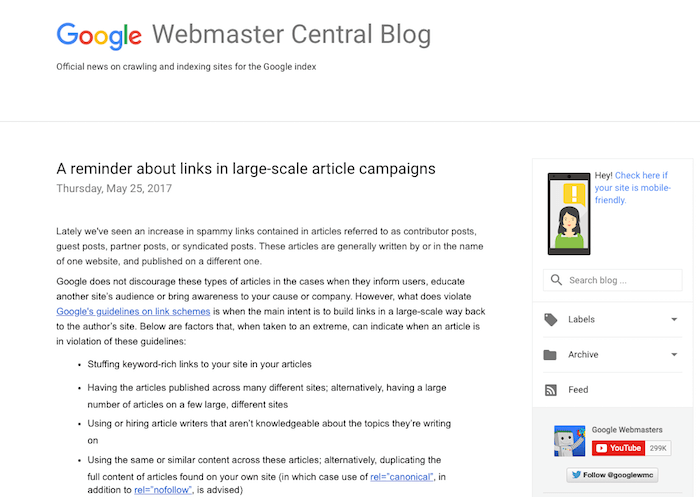 Why Guest Post Websites Reject Your Pitch?
Google has now started a crackdown against all such websites that allowed people to build links and get higher rankings. This is how the process worked at that time.
Most of these Article directories were earning either through native advertising or platforms like Google AdSense.
They asked the users to get a backlink when they write an article on them. This would lead to higher rankings of the article poster and more earnings for these so-called article directories through ads.
But Google outsmarted them in 2017. It started a crackdown against all those websites that were involved in this practice.
Take Ezine Articles, one of the biggest article submission directory. Its rankings have declined after the hit. Similarly, Blogarama, Mix, Squibble, Hubpages, and all others who were engaged in this practice had to pay the price. Some were closed, while others changed their tactics.
Now, those article directories that were left, improved their way of work. They only accept guest posts that are well-written, relevant to the topics on their website, and provide value to the user.
If your article is providing value to the user and is well-written, then these websites will welcome you open-handed.
Now, let's discuss how you can make your guest posts more efficient?
Here is a list of points that you need to follow in order to make your guest posts more appealing, publish-worthy, and enticing for the audience of the guest posting websites.
01

. Find Websites for Guest Posting
First of all, find all websites in your niche that allow guest posting. The best way to find these websites is by studying your competitors.
You can use tools like Ahref, Moz, and many others to find these competitors and their backlinks. All these tools offer a way to search the backlinks and the spam score.
If for some reason you are not able to buy a paid tool then you can also use the backlink tool by Neil Patel. It is completely free to use and offers a holistic view of the backlinks of any domain you add to it.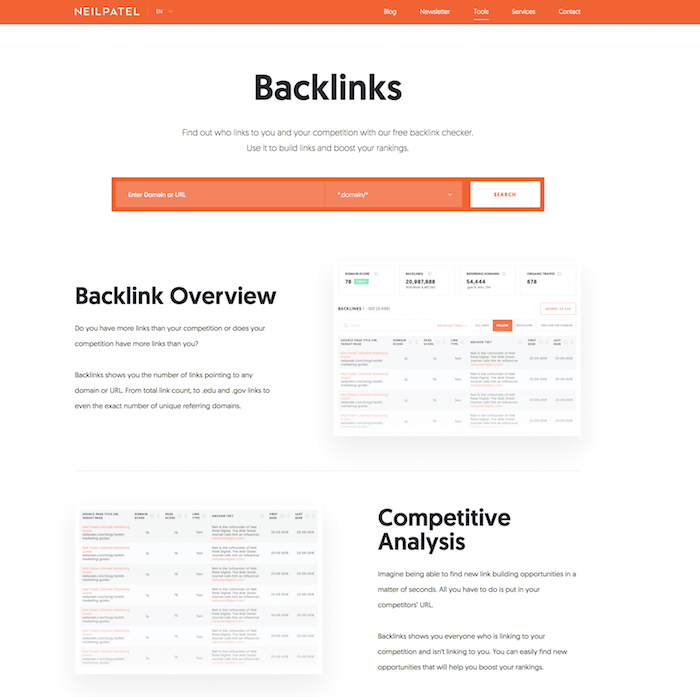 Once you have the backlinks of the competitors, skim through them to find guest posting websites. Surely not all links of your competitors are going to be natural.
You will find a few guest posting websites in them. Once found, start searching for a winning topic to guest post.
02

. Use a Blogger Outreach tool

There are a number of very effective blogger outreach tools that can help you to find the top blogs and bloggers in your niche. You can quickly make a list of the bloggers who you want to reach out to.

Don't send a random message which is copied to all the perspective blogs, it will simply not work. Your email will land in the trash folder.

Make sure to spend some time studying the top blogs in your niche to understand what works and what doesn't work.

Once you have a good understanding of the niche, and you already have high-quality content on your site, you can make an outreach plan by using any of the top outreach tools.

A tool like NinjaOutreach can be very effective in growing your online business.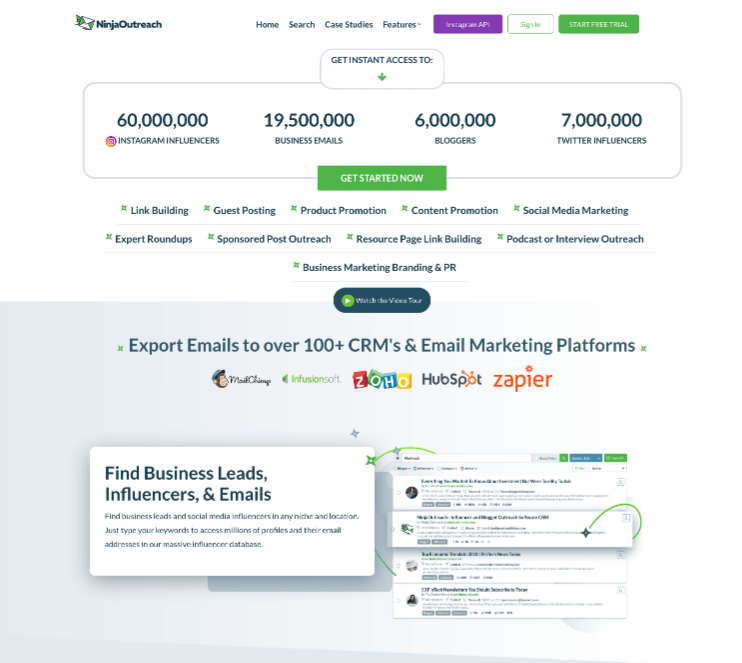 02

. Choose a Winning Topic
Next, scavenge these websites for any topic ideas you can collect. What you are looking for is winning topics that can help get accepted.
So, let's assume that the topics are all related to AR/VR. You need to write something on these topics. You can even go for predictions for the future or need of AR/VR in a particular industry.
Since AR/VR is a particular niche, your audience will have information about the products and the history of AR/VR itself. This means you won't have to delve in details.
03

. Make Your Pitch Unavoidable
Once you have found a few guest posting sites and created winning topics around them, next create a pitch that they simply can't ignore.
This is a basic template of a guest posting pitch.
Note: You can also get a guest posting agency like Globex Outreach to do the blogging outreach and post publishing for you for a little charge.
Do you see the problem? A decent website won't reply to such a query. Because it isn't providing a win-win to them. Why?
It isn't offering topics that the author will write on
It hasn't provided the URL of the author's website
The start wasn't interesting.
Make sure you capture the attention and provide all the topics that you wish to write on.
Otherwise, get ready for another rejection.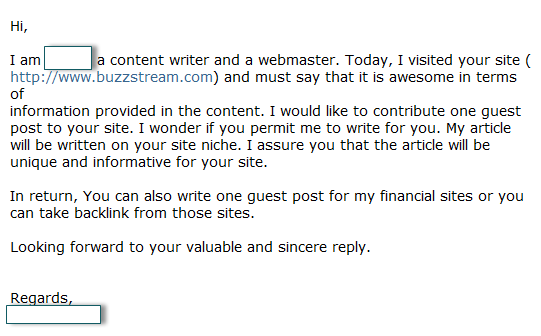 04

. Write Epic Content Piece
Let's assume that you have been accepted to write a guest post on a particular website.
What's next? Create content that they simply can't reject. This means your content should include everything that can help the audience of the website to learn more about the product/topic.
If you need examples about epic content pieces then these websites will serve as a good example:
Brian Dean's Backlinko
Neil Patel's Crazy Egg
Ahref's Blog
05

. Leave a Hook for the Readers
Writing epic content is great, but do you know what is even better than epic content? Creating a hook to that content so that you can get leads back on your blog.
The process is pretty simple. You just have to create a process that brings them to your website.
Here is how Brian Dean is doing it.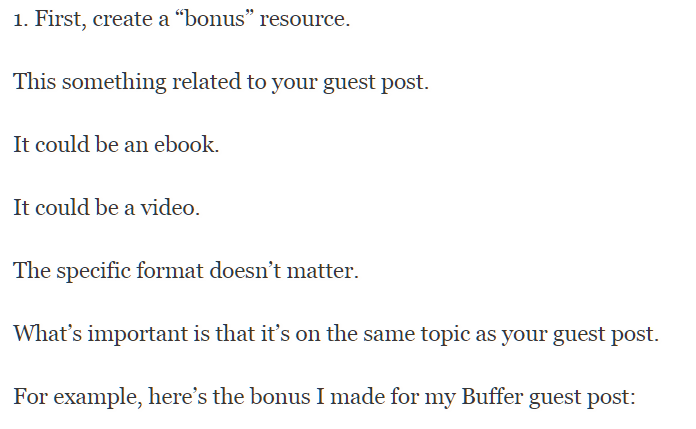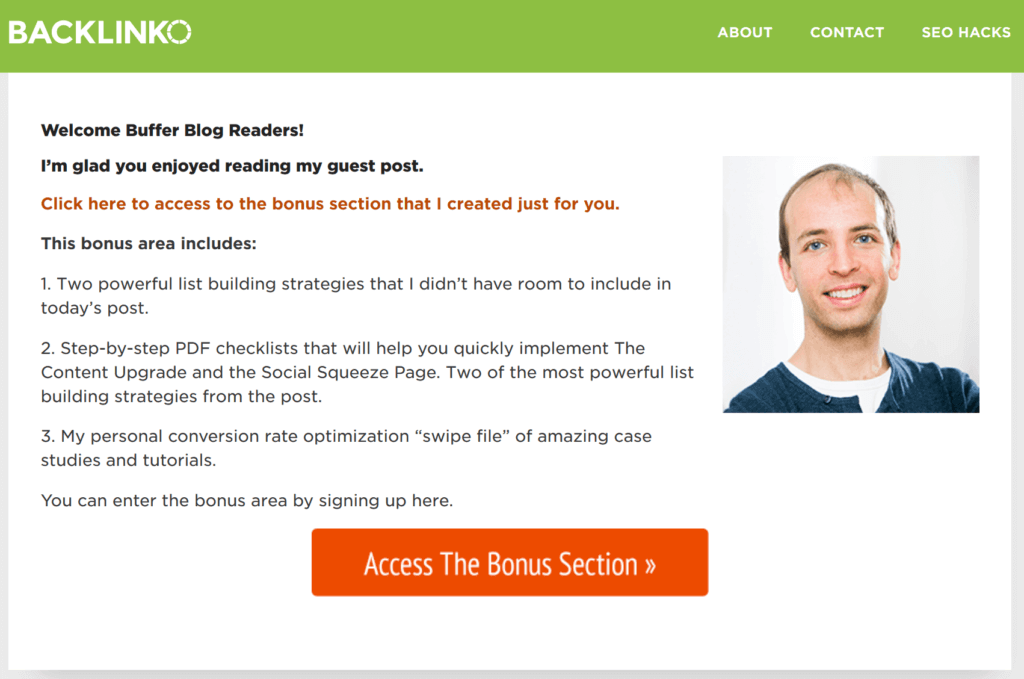 By this bonus resource, you are actually bringing them to a landing page on your blog.
From this landing page, you can squeeze leads for remarketing. The whole process is easy and works like a charm if your article is engaging and powerful.
06

. Measure Your Progress
The best way to measure process is through Google Analytics. Make sure that you have a UTM URL in place. Or, you can also search the external resources to see how much traffic you get from this particular blog.
Similarly, when you create more backlinks, the traffic to your blog will increase further. This will bring more leads and therefore more orders.
07

. Hire an Agency
Guest posting process takes time. From finding prospects to finalizing the guest post goes through a number of process and to and fro emails; it might takes days or sometime months to convince a site to publish your content.
To make the process quicker you can hire a guest posting service agency that will take care of all your guest post related need so that you can focus on your primary business.
There are a number of blogging outreach and post publishing agencies these days that can take care of the entire process.
That's it.
Keep following these tips to reduce the rejection rate of your guest posts. Remember, network building is more important than guest posts. So, focus on creating your network and expanding it further.
Happy guest posting.