Want to keep a track of what your visitors are searching for on your WordPress site? Well, it is possible to get that data easily with simple settings.
We will discuss the process of tracking the search keywords on your WordPress site in this article. However, before that is important to know how that data is going to help us in long run.
Generally, most of us keep a track of the what search terms are being used to land a user on our site and we optimize our content further to improve the ranking of those search terms.
However, we don't track what those users are searching on our site. In a way, we are clueless about what they are expecting on our site. Though there are ways to know that information, the reality of different.
In fact, not many WordPress users keep a track of this important data except for some marketers who want to understand their users' intentions.
It will also depend on the number of pages and content you have on your site. If you have just 10 pages on your site, there is no point in tracking this data.
However, if you are managing a big site with over 500-1k pages, you need to know what your users are looking for.
Also Read:
You can use the search keyword data in many ways, such as
How to Track The Search Data Within a WordPress Site Using Analytics
Google Analytics gives us a quick and simple option to track the WordPress search data that are performed on our blogs.
Here is how you can track WordPress search keywords using Google Analytics.
Step 1

. Log in to your Analytics Account
Login to your Google Analytics account and select the site where you wish to set up the site search option. Once you are in there you need to go to the admin section.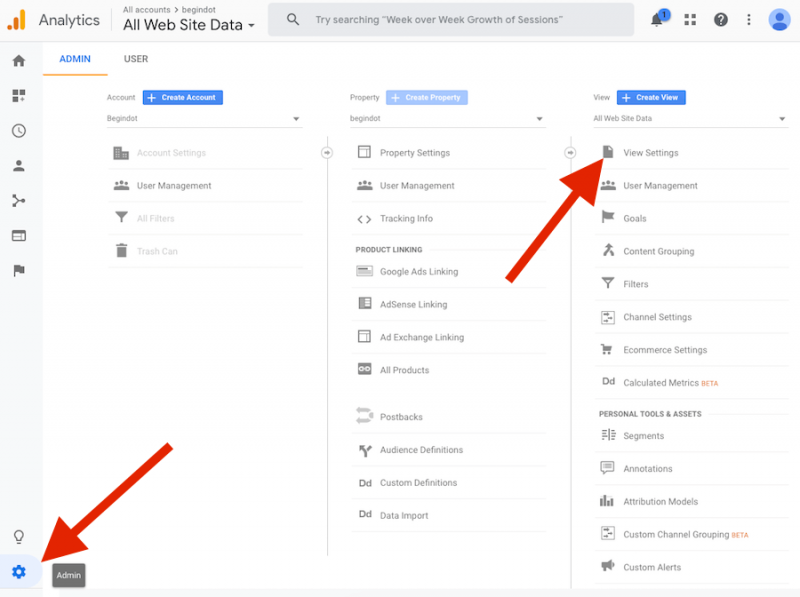 Once you are in the admin section, click on View Settings as shown in the image above.
Step 2

. Enable Site Search Tracking
In the View Settings page, scroll down the page, you will see an option called Site Search Settings; you need to enable this setting option to keep a track of all the searching happening within your WordPress site.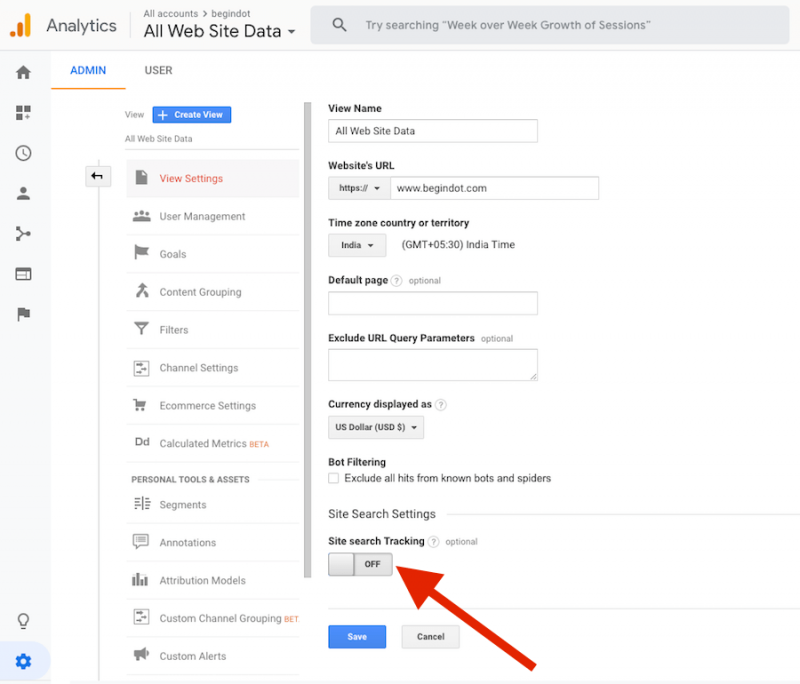 Step 3

. Set Query Parameters
Once you enable the Site Search Tracking option you will get further settings to set up the query parameters. It might sound like something very technical, but the query parameter is a simple thing.
The query parameter will be associated with the search URL that represents the search within your site.
As we are talking about the WordPress site, you can simply add the letter "S" in the search query parameter field and proceed.
To make it clear to you, the query parameter is the letter or term that is associated with the URL while you make a search on your site.
For example, I am making a search on Bgeindot for the keyword "blogging" check the URL we get.
https://www.begindot.com/?s=blogging
Do you see the letter "S" between ? and = sign, that is the query parameter for our site.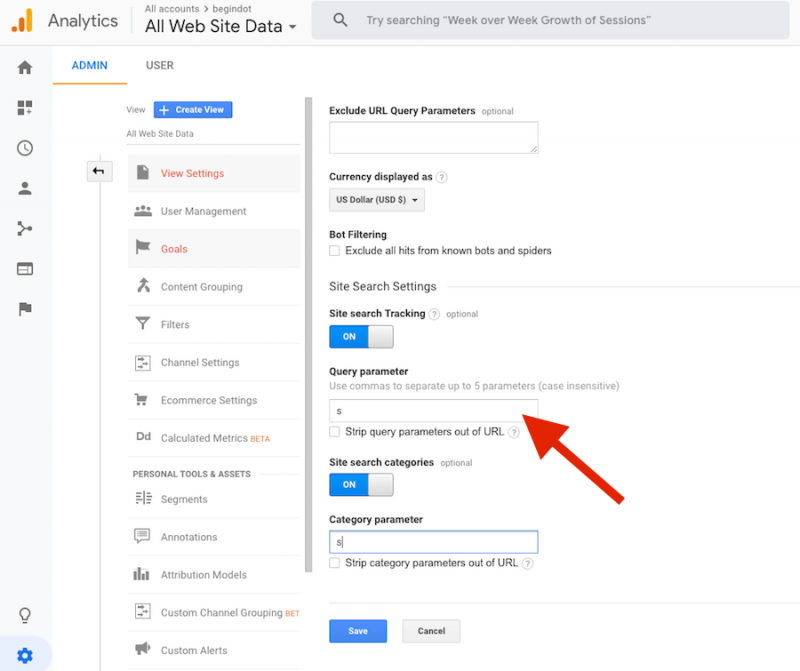 In a similar way, you can set up the site search for the categories as well.
Now, wait for a couple of days for Google Analytics to gather data from your site so that you can start analyzing it.
Step 4

. Analyze Site Search Data

Once everything is set properly, you can start analyzing the site search data after 2-3 days so that you have some data to browse through.

To analyze the site search data, Go to Analytics > Behavior > Site Search

As we have just set the site search for our site while writing this article there is now data as of now.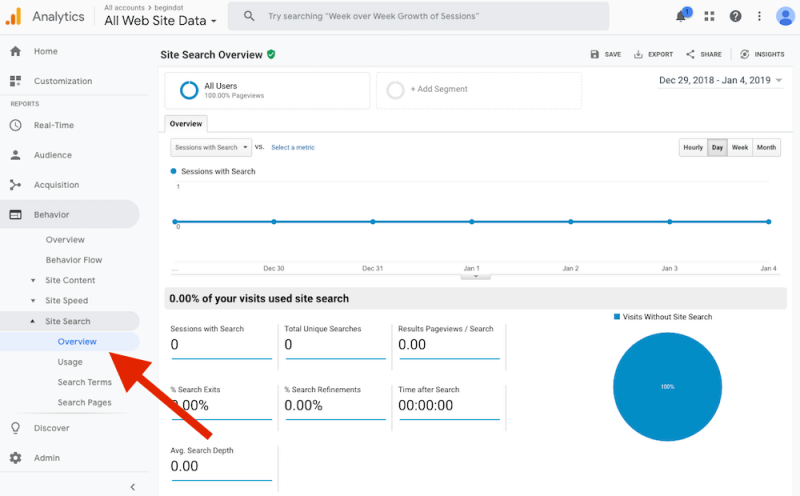 The formation you can get in the site search report are
This report will give you a clear idea of how engaged your users are. If you find that your users are not searching for anything on your site and they are leaving your site quickly, it's the time to work on your content strategy and make it better.
Final Word
Hope you find this article helpful. Though this data sounds insignificant, it has a lot of value and if you go to microanalysis this report might help you to change things dramatically.
If you are managing an affiliate site, this report can be very effective in increasing your overall revenue.