If you sell services for a living and want to increase the amount of revenue that you generate by selling services, you can do so by selling digital services from your own WordPress Website.
Platforms like Fiverr and Upwork offer you features to sell your services online but these platforms offer certain disadvantages such as charging a commission from a service provider's earnings. This may reduce one's earnings to a certain extent.
To overcome this, you can go with selling services from your own WordPress website and create a steady revenue for your online business.
In today's article, we will let you know how you can easily sell service via your WordPress powered website.
Also, don't miss our collection of best WordPress marketplace themes.
Simplest Way to Sell Digital Services on Your WordPress Site

If you are aware of WordPress or already have a WordPress based website, this platform offers two incredible plugins WooCommerce and Easy Digital
Downloads that provide many advanced features to create an online store. WooCommerce allows selling both physical and digital products while Easy Digital Downloads allow you to sell only downloadable products such as pdf, sell ebooks, plugins, etc from your WordPress website.
But both these plugins do not offer many features to sell services online. With the help of these plugins, you can list your services like the product and provide your customers with a basic contact form to your customers who are interested in purchasing those services.
To overcome this limitation and improve service selling experiences, you can go with a dedicated add-on that allows you to effectively sell services from your WordPress website.
In order to sell services from your WooCommerce store, you can go with Woo Sell Services which offers features to sell services with WooCommerce.
Moreover, if you want to sell services from your EDD store, you can go with EDD Sell Services plugin for selling services from your WordPress website. Let us what features both these plugin offers to sell digital services online.
Sell Digital Services With WooCommerce and Woo Sell Services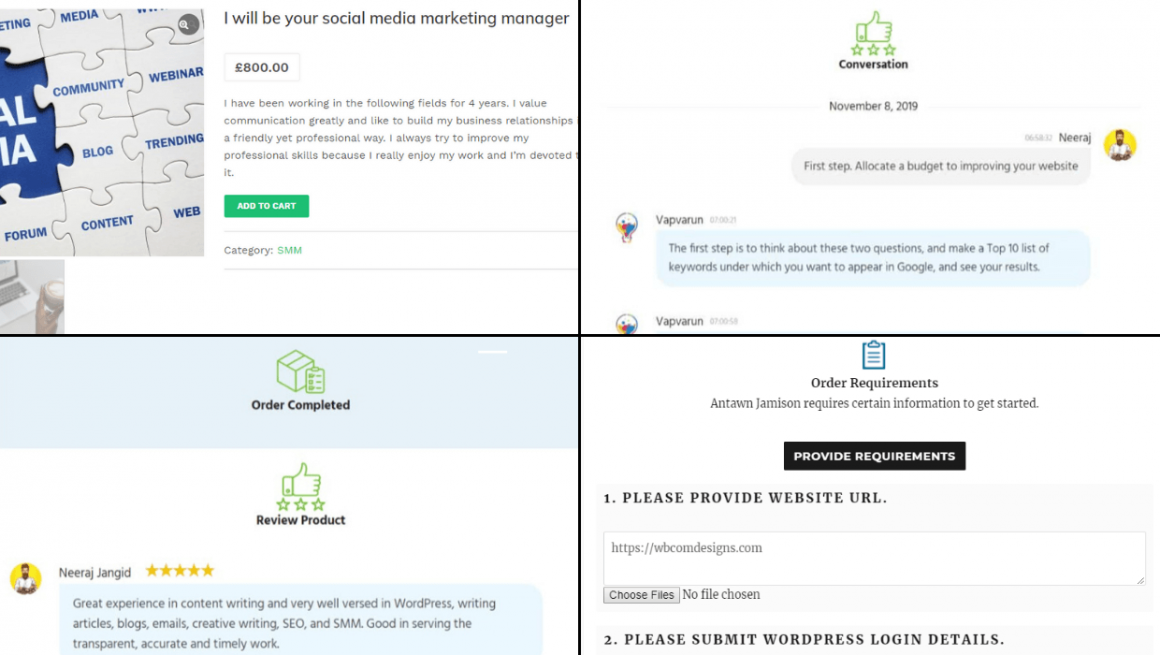 WooCommerce is one of the most popular plugins that allow you to sell physical and digital products from a WordPress website.
However, if you want to extend the functionality of this plugin and sell services as well, you can go with Woo Sell Services add-for for WooCommerce which allows you to sell services with WooCommerce just like a product with many more useful features. 
Woo Sell Services creates a new product type called "Service" in the Add Product Page which once selected allows a vendor to list his service along with features like estimated service days.
This plugin also offers a dedicated conversation section for vendors and customers to help them communicate in real-time.
Other useful features that this plugin offers include a separate manage services section to manage each of their services and take appropriate action for it.
Furthermore, this plugin is add-on is fully compatible with the WooCommerce plugin. With the help of this ad-on, a customer can also add ratings and reviews for the services received.
It also allows the vendor to post a review for the customer about their working experience. Other features of this plugin include email triggers on order status, live notifications, service status widget, and much more.
Selling Services With Easy Digital Downloads And EDD Sell Services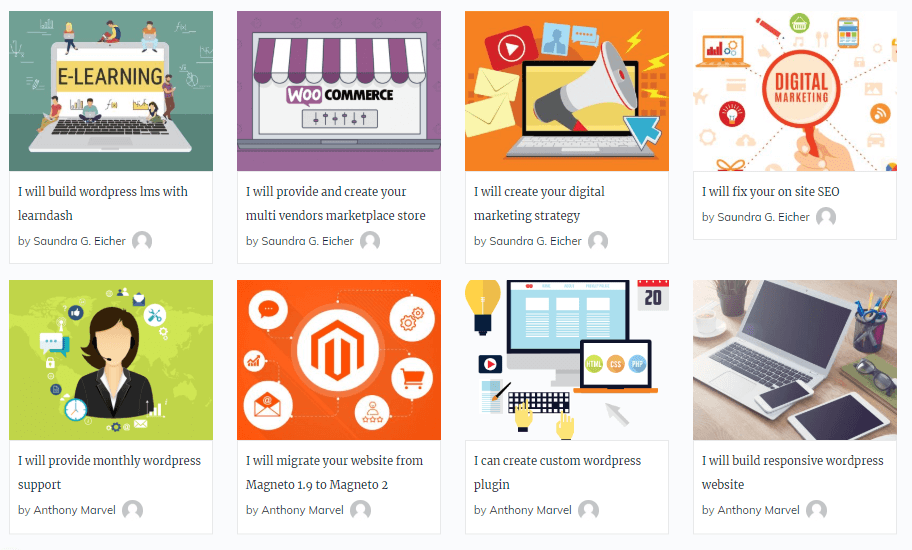 Another popular WordPress plugin to allow you to sell virtual and digital products, Easy Digital Downloads allows you to sell downloadable products such as audio files, ebooks, WordPress plugins etc.
The core plugin is free and to extend its functionality to sell digital services, you can use a dedicated add-on called EDD Sell Services.
EDD Sell Services allow you to sell services from your EDD Store just like you sell a digital product.
This add-on also allows a vendor to add estimated delivery days and requirement questions that he wants to ask his customer for an order to process.
Furthermore, EDD Sell Services offers features to customers to clear their doubts regarding the service with the help of a dedicated conversation section where they can chat in real-time.
EDD Sell Services also offers features to customers and vendors to share ratings and reviews for each other.
It also offers a Manage Services section to allow vendors and customers to manage all their services separately in one place.
They will also receive email and live notifications for each order trigger in real-time.
This addon is fully compatible EDD Sell Services and allows you to create a fully functional service selling store with EDD.
Start Selling Digital Services From Your Store Today!
Creating your own service selling website can be one of the best options to improve your earnings and earn a steady income online.
Both these plugins are easy to use and allow you to sell services just like a product is sold while fully integrating with your core plugin.
These plugins also offer many advanced features that make service selling a lot easier and profitable for your brand as well as offers a personalized buying experience to your customers.