If you are wondering why your website is not getting the traffic you anticipated, and you still aren't aware of or heard about Domain Authority, then you are certain to keep wondering for a long time!
Domain Authority is the measure of how popular your website is and will be. It informs you about the likeliness of your site for ranking higher in search engines compared to that of your competitors. In loose terms, increased DA means brightened chances for your ranking higher in search engines.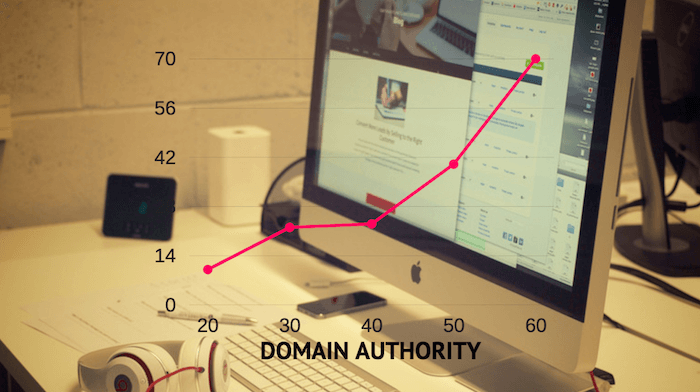 How Does Domain Authority Work?
Domain Authority can be understood as a score or grade that ranges from 0 to 100 and estimates how well your website will rank in Search Engine Result Pages (SERPs) on Google and other search engines.
To do this, a metric system, called metric of Moz, considers over 40 signals for ranking your website. The higher the signals, the higher the ranking and more the traffic. The good news is that you don't need to score a 100 to attract the advertisers to your site, a score of 30+ is good enough. However, the bad news is that DA cannot be increased overnight.
Good Website or No, DA Ranks You Higher!
Ever wondered why certain websites with least engaging content are ranked higher? Well, it is DA at play! Simply by increasingDomain Authority, you can enhance the possibilities a higher rank for your site on search engines.
Once you are up there, your website will keep getting hits from people and thus increase your DA score. But for this, you have to have eyeball-grabbing content, which will not only guarantee more traffic, more exposure and brand awareness about your products, but also increase the chance of landing in more social shares and natural backlinks.
Since Moz metric bases its calculations on your site's search engine ranking potential, it is not that once you have achieved a DA of, say, 40, it can get reduced to 35, it keeps fluctuating, especially for poor sites, but constantly progresses for good sites. The bottom line is that to set the ball rolling and to remain view-worthy, you just can't afford to ignore DA. For it is DA that helps in continuing the momentum day after day.
How to Improve Your DA Score?
There is no magic wand to do this, and you cannot purchase or steal it from other high DA sites. To lift up your DA score, what you need is a great strategy. With this, your meager DA of 10 or 15, can be quickly raised to 30 or 40. Beyond this is a tough job and becomes a slow process. For your information, Facebook, Google, Wikipedia and a few others enjoy a score of perfect 100!
Let's see the steps that will up your DA score:
01. Content is the king
If visitors click on your site and don't like what they see or don't get what are looking for, the experience will invariably affect your DA score negatively. Be clear that in to aim for a good DA score, you need to write quality content.
As a yardstick, a good piece of content should also have a good length, since it appears more informative and professional. And a word length of 800 words is good enough. Go for the style, uniqueness, timeliness, and relevance of your content and get the visitors hooked. This would also keep your DA score progressing.
Add to this the use of unique images, GIFs, and videos that make your content appealing, for a picture is worth a thousand words! The latest trend is the use of infographics that are graphic visual representations of information, data or knowledge that aims to present the content quickly and clearly.
All this can make your content go viral. So, don't procrastinate, hone your vocabulary, and writing skills to come across as a professional!
02. On-Page SEO
This is another method of optimization and is designed to move your DA score from low to high. It involves certain parameters, such as keyword density, heading tags, targeted keyword, permalink structure, meta description, keyword rich titles and image optimization.
Don't get tempted to stuff keywords to get better DA score, keep them in the region of 0.5 to 1.5%. Use heading tags (H1, H2, etc.) to highlight main points, as this boosts optimization. Use long-tail keywords in your blogs as targeted keyword and make them appear in the first paragraph itself. Use tools like KWfinder and LongTailPro to find long-tail keywords. Permalink structure should be SEO-friendly and contain your focus keyword.
03. Aim for high-quality backlinks
Hyperlinking the keywords and backlinking your previous high-quality posts assumes importance since it increases the visitors' average time spent on your site. Here, quality and relevance of the link are important.
The visitor should not be disappointed or suspect your intelligence on clicking the link provided by you. What linking does is to help search engines bots find your site's content, spread link juice and Page Authority (PA) throughout the website and facilitates easy navigation for both users and search engines.
To make linking more potent, generate high-quality backlinks for your site that should add value to your site and content. Using sites like Fiverr to generate backlinks in minutes is courting disaster, you will never get quality from sites like these. The best way to generate high-quality backlinks is by sharing your content on social networking sites, such as Facebook and Twitter since they enjoy high DA.
This exposes your content to a new audience and increases shares that may go viral if your content is good. You can also go for guest posting to grow your brand's authority and increase referral traffic.
For gaining good backlinks, you can engage the services of an SEO agency that has forged a strong relationship with good websites and good writers. The agency can secure high-quality, legitimate backlinks from them. However, the downside is that this approach is expensive and marginally risky.
04. Remove toxic backlinks
In addition to aiming for high-quality links, be always on the lookout for toxic backlinks directed to your site, that is spammy links, and get rid of them. To do so, request the removal of these links, and if that fails, you disavow them. This cleansing will give you a huge competitive advantage.
In the first step, you can contact the webmaster of the site pointing links to your website and request to remove the links. If this doesn't present a solution, go to the next step which is to use the Google Disavow tool where you can upload the list of unwanted links and instruct Google to remove them through the disavowal process.
Also, don't wait for your site to experience slump of an algorithm penalty or manual penalty to clean up the backlinks, do so regularly on a monthly or bi-monthly basis. This step would certainly improve your DA score.
05. Patience is the key
There is no point in getting impatient if your site is only one or two months old and you are not improving your DA score. Remember, if your content is good and relevant, it is only a matter of time that people will start visiting your site. So, let your domain grow old and just keep publishing quality content.
It may surprise you to know that your domain's age will help you increase your site's ranking and DA score since domain age is an important factor in SEO. A website that is around for 3 or 4 years and is still active means that it is still holding its own in the competitive field, due to the quality of its content.
Furthermore, old websites are more likely to rank higher in Google search results. You can use the whois.com tool and check out the domain age or the registration period of popular domains. Most of the high-authority domains are almost a decade old, and their domain is booked in advance for the next decade!
Monitor DA Score Constantly
How would you know where you stand on the DA scale? By checking your DA score at least once a month. This will not only help you know your site's strength but also that something more needs to be done to improve the score further.
For checking the DA score, there is a host of free DA checker tools that will enable you to check not only your DA score but also that of your competitors. If your score is hovering in the region of 30s and 40s, take up the challenge to take it to 50. This may take a lot of time, but if you follow the preceding steps and pay attention to increasing your publishing frequency, you will not take much time in getting there.
You Moz's Open Site Explorer to check DA of your site
Conclusion
This much is clear that you cannot improve your DA score by tweaking this and fine tuning that on your site. You must have a bigger picture of today's SEO strategies that favors content marketing.
Only by focusing on the content will you be able to win in the other areas – traffic to your site, organic search results, ranking and domain authority. Remember, the more often you blog, the more traffic you get and the more you publish, the more old posts you store on your site.
So, if you want to reach your cherished DA score, don't go tongs and hammer for DA, but focus on the quality of your site's content.