For effective SEO, it is necessary to use different approaches. One of the methods of website promotion is outreach. This method is often ignored by SEO specialists because they do not have the time or desire to negotiate with dozens of webmasters.
However, a well-thought-out outreach strategy can bring great SEO results. Let's talk in more detail about what outreach is, what benefits it provides for SEO, and how to use this method more effectively.
What is Outreach?
Outreach is one of the ways of contacting other companies and websites to agree on placing content with links to your site. Unlike buying links, outreach is a better way because it usually means getting permanent links by creating content that is really interesting to the audience of the site where it is posted. You can reach webmasters out for different types of collaboration:
Earlier, it was considered that in case of outreach, you do not provide the expert content but simply ask to mention your site with a link in their content. But furthermore, more sites want to receive high-quality engaging content for free and paid content and do not publish links or banners just because you kindly ask them to do so.
Actually, when reaching out, you can agree on different terms of cooperation. You may create valuable content, and the webmaster will post it for free.
You may work together on an interview, and it may also be either free or paid for you. Or you may simply pay for a link or press release – it all depends on the type of content and the platform you're reaching out to.
How Can Outreach Be Good For SEO?
Outreach is of great benefit to SEO website promotion. It allows you to get several useful effects at once. The main advantages of this method of promotion are as follows:
More Authoritative Backlinks 
Backlinks are still one of the most important factors in website promotion. According to Backlinko research, the number of reliable sites linking to your page has a strong correlation with your ranking in Google.
If many reliable sites link to you, it makes Google robots think that your site is expert and reliable. This affects your domain trust rate and gradually improves your site's ranking.
Link building is one of the routine tasks of any SEO, and reaching out to webmasters for getting authoritative backlinks may be one of your effective strategies. Outreach is beneficial in this case because articles are often posted with a permanent link, although this is still worth clarifying when you agree on contributions with the site administrators.
Attracting Target Traffic
In the case of outreach, you can place content on thematic sites with a large audience close to you. Therefore, you can rely not only on the transfer of link juice but also on the attraction of potential customers.
For example, if you are a beginner designer and sell women's bags, being featured in a fashion magazine would be a good option. You may work with their authors on an interview or share your experience on opening an online store, or tell about intricacies in care for suede bags, etc.
As a rule, you can add 1-3 links in such a content piece, and your name and brand will also be featured at the beginning of the article.
If your content is interesting and expert, readers will follow the links in the article to familiarize themselves with you, your site, and the bags you sell. Thus, you will ensure yourself an increase in your target audience. Plus, they will share useful content and bring even more visitors to your site.
Brand awareness
Increasing brand awareness is one of the challenges that internet marketers face. The very first task of any SEO specialist is to make sure that when a person types your name on Google, they will see a lot of pages related to you (your site, socials, aggregators, and expert blogs mentioning you, etc.).
By posting articles on thematic resources, you get a mention of your brand, as well as a link to your site. Another effective option is to post press releases about your recent launches, new features, and promotions.
Even if readers don't click on that link right now, they will remember your name, and it will also appear in search results for your branded keyword. In addition, contributing to different thematic blogs is another proof of your expertise.
Increase in Conversions
The main goal for any service or store is to increase sales. Outreach is an effective way to do this. As part of a useful content piece you've agreed with the webmaster on, you can mention your product that can solve a specific problem discussed in the article. With the right platform and topic for your article, banner, or link, chances are you'll get new customers.
To heighten interest, many sites also offer a discount with an exclusive promo code only for readers of a particular blog.
Increasing Positions in Search Results
Every piece of content you create for your own website and other websites has an impact on your ranking. It's all about the keywords you use in guest posts, links you post on partner websites, shares of that content, and user behavior. Simply put, the more clicks on your website from other resources and the more high-quality content, the higher you get in Google search results. 
Blogging on different platforms, getting links and mentions can take you to the SERP and increase your CTR. But to achieve great results, you should have a well-thought-out strategy and produce lots of content both for your site and for posting it on other websites.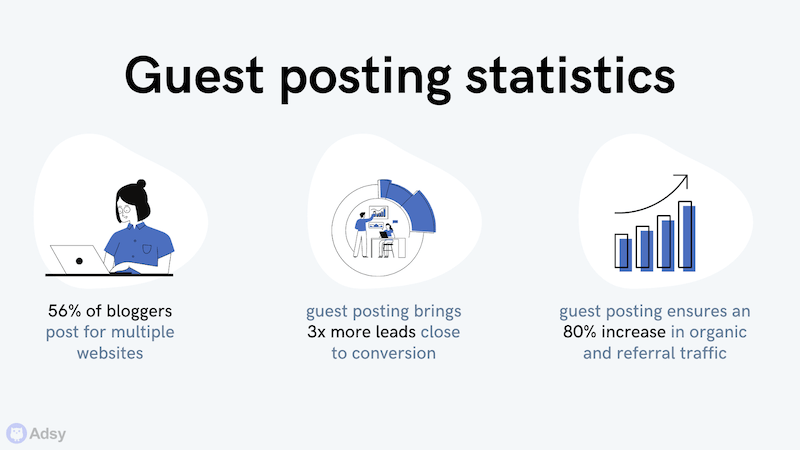 Effective Outreach Strategy
It is very important to select the right partners for outreach. However, not every site accepts outside articles, banners, or links for publication. Therefore, below we will consider how to set up outreach in order to get real results in SEO promotion:
Search for Sites That Are Popular and Relevant to Your Audience
To find relevant platforms that will willingly collaborate with you on paid terms, you can simply enter a search term into Google (e.g. SEO, marketing, digital marketing, etc.) followed by the phrase "inurl:sponsored post".
To find those sites that may accept your content for free, try such phrases as "write for us", "contributor guidelines", "guest post", "become an author", or "submit an article". If you are looking for any other type of collaboration, use that phrase in quotation marks.
After that, analyze the sites that are in the SERP and choose the most suitable ones.
When choosing a donor, be guided by the following criteria:
It is also worth paying attention to the bounce rate, viewing depth, and other data on user behavior.
An alternative way to find websites is to analyze your competitors' backlinks. You can use the Moz's Open Site Explorer for that, simply enter the URL and scroll down to the "Inbound Links" section.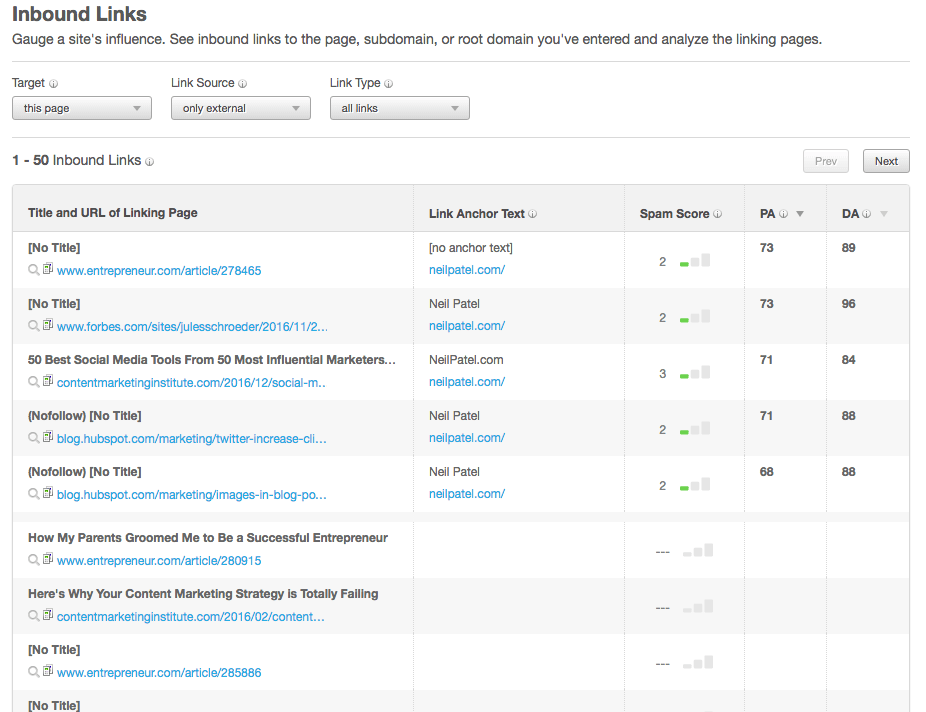 This will help you put together a list of sites that are definitely partnering with sites in your industry. After selecting potential donors, find their terms of contributing and contacts of responsible persons.
Format Selection
Choosing the right format is very important for outreach, as the effectiveness of the promotion depends on it. There are many options for that:
Analyze the sites you have chosen and determine which formats are getting the most views and shares there.
Remember that for such collaboration to be effective, your task is to create really interesting and engaging content for that site. For example, if you are running out of ideas for a blog article, you can use such services as Blog Post Idea Generator by WebFX.
Preparation of an Offer With Details and Terms of Cooperation
You need to decide on the terms you can offer and what exactly you need. The following details must be specified in the proposal: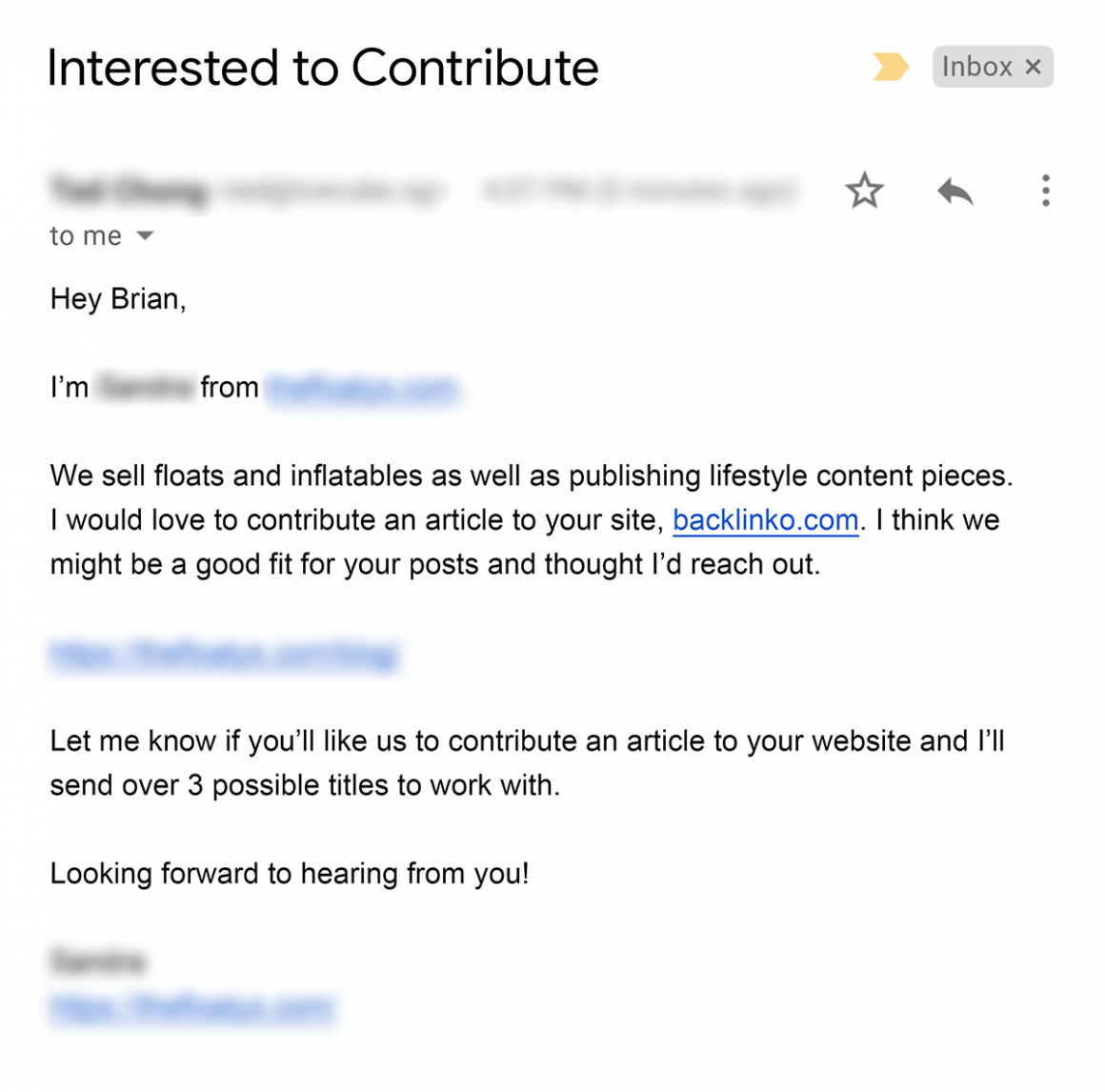 Communication With Representatives of the Donor Site and Negotiations
It is best to send letters with your offer during a business day. After you've sent your email, wait for a response. Don't expect to be answered right away. If after 3-4 days there is no answer, you can gently remind the recipient about yourself.
Also, be prepared for the fact that you will receive 3-5 responses to dozens of such letters sent out. To increase the percentage of positive responses, it is recommended that you clearly describe your goals, the topic of your site, and of course, provide a link to it.
During the negotiations, it is also necessary to discuss a number of outreach nuances, including:
Content Creation
The content is prepared in accordance with the format that you have chosen earlier. In addition, please note that the site you plan to publish your content with, a link may have its own requirements for contributors. As a rule, partners immediately send guidelines with their requirements for images, article length, keywords, and so on.
Some donors, in an effort to provide readers with the most useful content, are ready to work with you on the outline of the article or have an interview with you for their own special project.
Also, note that if you do not adhere to the guidelines, the site may refuse to post your article. The same goes too for advertising mentioning your site.
Publish and Control
After the agreement is reached and you have sent the finished content, whether it's a blog post, a banner, or any other content type, you have to control the process. First, make sure the partner has published it as agreed. After your content is published, you need to check it out. Pay attention to the following points:
The published content must fully comply with your agreements. If something is done incorrectly, immediately contact the responsible person with a request to eliminate the deficiencies.
How to Control Your Backlink Profile?
Sometimes backlinks may just disappear or be changed. We bet you want to know if your backlink drops out of the Google index! Thus you need to track them so as not to lose backlinks on which you have agreed with webmasters and control the quantity and quality of your backlinks. You may check your backlinks from time to time with professional services like SE Ranking.
Its Backlink Monitoring tool runs regular check-ups of your backlink profile once you've added your backlinks (you can do it manually or export from other services). It helps you keep track of every new and lost backlink. You can also measure the value of each backlink you have by its anchor text, dofollow/nofollow tags, type of content (text/image), which of your pages benefit from that URL, etc.
Plus, you will get a notification by e-mail if there are any changes with backlinks. In this case, you should contact the site's administrators to return the link if you agreed on a permanent placement, or pay for it if it was temporary and you are generally satisfied with its effectiveness.

Summary
Outreach is one of the most important ways to promote a website in search results. Its essence is to agree on collaboration with other webmasters to get inbound links and mentions from really reliable and expert sites.
Thanks to this, your site increases its ranking, gets more traffic, increases conversion, etc. However, for outreach to really bring results, it is necessary to develop a strategy, choose the right donor sites, negotiate with webmasters, and prepare interesting content.
If you do everything right, your site will be able to significantly advance in search results and earn a good reputation both among users and Google bots.