Entrepreneurship needs a lot of resources other than the stellar idea that you are developing. It is a competitive world out there, and there are greater chances that the number of people competing with you is substantial.
You may have an awesome idea for an e-commerce portal, a web application or a something even more unique and hardcore but there is one entity that poses the biggest obstacle in the road to success: CASH.
Setting out in business isn't easy if you do not cash flow that you can bank on. It may not be important when you are in the development or experimentation phase, but as soon as things start rumbling up, you will need it!
There are numerous ways startups acquire funds. Some of the popular methods include Venture Capital and Angel Investment that are high-risk equity investments made in your company by single institutions with enough liquidity and interest in your ideas.
Crowdfunding has also emerged as a popular way for Startups and Ideas to get funds
Modern day Crowdfunding uses the power of the Internet and social media. Aspiring entrepreneurs promote their idea online using a Crowdfunding portal as a base and various channels like Facebook, Instagram, and Twitter to raise funds.
You typically aim at raising the sum required from a large of people over the Internet. Recent statistics show that Crowdfunding is a very popular solution in countries like USA where it helped raise over $34 Billion in 2015.
Why Crowdfunding?
Raising funds for projects can prove to be a tough task for creative entrepreneurs as traditional sources like bank loans and strategic investments remain scarce in the initial phases.
Thus, Crowdfunding not only gives a chance to gain widespread exposure but also allows people with great ideas and products (but a lack of capital) to venture out and create a business. Sometimes, it is the only option available.
The Definite Pros of Crowdfunding
You get the amount that you asked for
Risk is diversified as there are many investors involved
Your idea gets maximum exposure on the internet and the support of many individuals
Crowdfunding platforms keep you in the loop so that interested people can track developments.
You get a chance to evaluate potential buyers of your idea: Market Research
Crowdfunded ideas pique the interest of established investors towards your idea
However, there are certain things to kept in mind while Crowdfunding
Whenever there are money and investment involved, there is a risk, however little it may be. Therefore, you must know everything about the platform before choosing one.
Many times, the wrong kind of investors get involved and people ending up losing ownership of their ideas and all is lost!
Before choosing a platform, make sure you read their terms and conditions thoroughly and know about all the processes. You must know what your obligations to potential investors are.
You must always gather information about how you can protect yourself and your idea over any platform before going with it.
The best approach is to develop a plan based on extensive research. You should be in control when it comes to setting terms for investors and deciding stockholding.
Crowdfunding vs. Crowdsourcing: Is There a Difference?
Both can seem confusing given the saturated state of funding ecosystems these days, but crowdsourcing is more competitive. It is based on who can win clients base on their plans and ideas. It is skill test rather than a pitch-and-acquire process.
Crowdsourcing is an excellent way to search for clients and that too in the early stages of your business. The model works very well for designers and other creative base entrepreneurs.
For instance, Elance can be termed as a crowdsourcing platform where the client gives a brief for his/her requirement. Designers then upload designs, and the best one gets picked and paid.
There are a lot of strings attached with this kind of a model, and it is quite different from Crowdfunding. It is important to understand this difference and then move forward.
As far as Crowdfunding is concerned, it requires a great deal of planning and more importantly stellar business ideas. These factors are quintessential for raising funds.
With that in mind, take your time and don't rush into posting a project before you're ready. Once you are, it's all about the marketing, so enlist the help of a good digital marketer to help you out on this score if necessary.
Where Can You Begin to Look for Crowdfunding?
You will find a plethora of Crowdfunding websites available on the Internet. However, it is important to plan out what channel to use.
You should filter out those channels that have the best chance to find investors. You can try Kickstarter for instance, which is one of the biggest platforms out there.
Some Basic Pros of Kickstarter:
Focused on Creative Projects
Highly visible
Ideal for startups in ideation or planning stage
Another major Crowdfunding platform is Indiegogo. It allows you keep the money that has been invested and works on a percentage basis. If you reach your target, then the fee is 4% and if you do not then they charge 9%. It is an excellent option for creative professionals.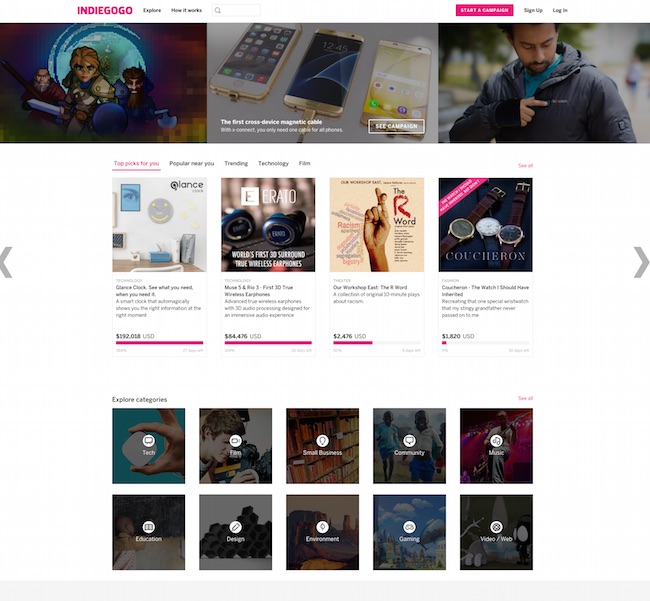 Web and app developers can have a look at appbackr. If you look at the site, it is no clear whether they are a Crowdfunding platform or not but they do provide backing to apps that are complete or in development. So, if someone buys the app while it's in development for say £2.99, depending on how it's set up, then they will get more cash back when the app goes on sale.
It looks quite complicated on the surface, but it's a marketplace with unique features that are certainly worth looking into.
Crowdfunding is Popular, But It is Not Easy Money!
Be prepared to have your metal tested even when going for Crowdfunding. Don't just go here with the purpose of raising funds but with the sole purpose of bringing your idea into existence.
Take care of the little things that matter like presentations, plans and the way you interact with potential investors. Funding doesn't happen overnight, even with Crowdfunding. You will have to make an effort, know your variables and hope for the best.