Search Engine Optimization (SEO) is one of the most useful tactics to drive traffic to any website. Many businesses rely on SEO to increase their site visibility on search engines and drive quality traffic.
More than half of the visits coming to any website are via organic search. Hence, SEO drives the maximum traffic to a site, even more than paid search.
With millions of sites, every business is struggling to rank at the top of search engines and position itself as an authority. SEO, if done correctly, SEO can help your website appear on the first page of search results.
There are numerous tools that can help you improve your SEO without spending a penny. If you are launching a new site for your business, or if you want to receive high conversions and drive more traffic, then these six free SEO tools are a must-have for your business.
Also, if you are into SEO for your clients; here is a source to find SEO report templates that you can use.
SEMrush is an all-in-one type of SEO tool that includes everything that you may look for in order to have a complete SEO strategy in place for your business.
SEMrush is not a single tool but a set of tools that are programmed to do different analysis for you.
While SEMrush is not completely free, they offer you a certain number of analysis to do every day if you are using a free version of the tool.
They also offer a free trial period for 7 days with all access so that you can understand the tool in a better way. You can use our link to get an extra trial period for the SEMrush toolset.
Here is how it can help you
We have a detailed review of the SEMrush tool here to help you understand the tool better.
You can get started by identifying your competitors. As you make a search for your domain, the system will show you the top keywords your site is ranking for and your organic competitors.
Once you have the list of your competitors, you can do an in-depth analysis of all those domains to identify their top pages so that you can target similar keywords on your blog posts.
You can also identify their backlinks, the exact pages they are getting the links from with anchor text, and all other details.
Finteza is one of the best analytics tools that can help you attract high-quality traffic to your site, reduce your digital marketing costs, and increase the conversion rate. The tool comes with features such as a built-in advertising engine, sales funnels, page analytics, and sources.
The "Source" feature shows you the channels from which prospects visit your website (e.g., search engines, social, email, or direct). You can compare the different traffic sources of your site and sort them according to their conversion rates.
It helps you save at least 82% of your advertising budget.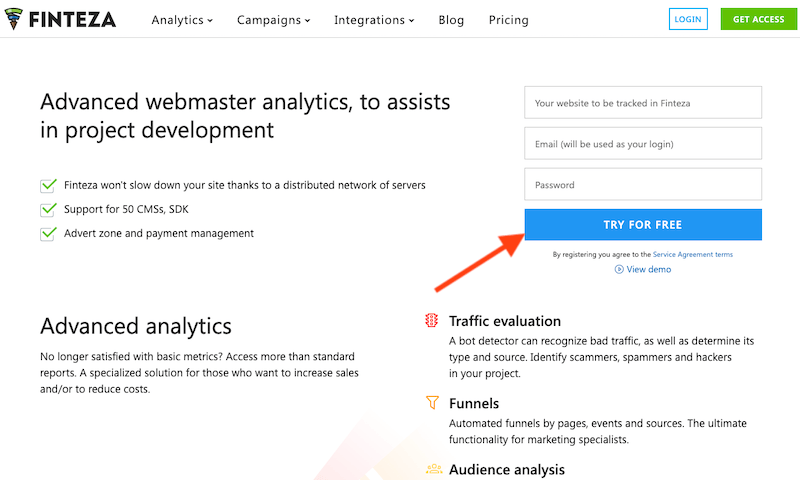 The more you know about your customers, the better the marketing strategy you can create. Finteza is a free tool that you can use for audience analysis.
It helps you to discover visitors' IP addresses, devices they use, and your competing sites without infringing on their privacy rights.
Google Analytics is one of the most popular free SEO tools. Although it is freely accessible, many people don't know the best hacks for it. 
Google Analytics also helps you find the most useful keywords that can be incorporated throughout your website.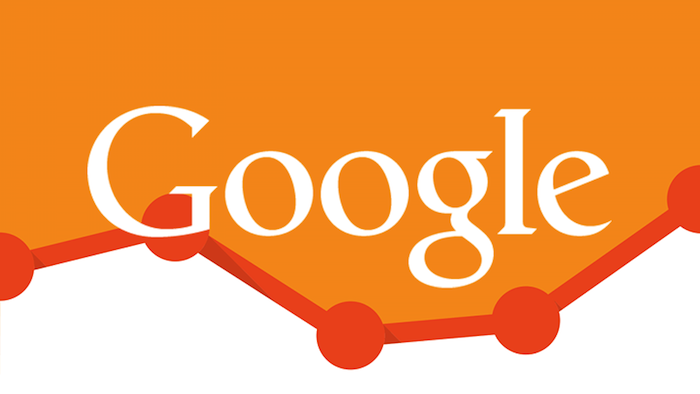 Using Google Analytics, you can locate the top-performing blog posts of your site, track how customers are using your site, and establish the exact source of your site traffic. Here are other benefits of using Google Analytics:
All the insights that Google Analytics provides can help you optimize your site and make the right decision when creating a digital marketing strategy.
Ahrefs is one of the most useful free and paid SEO tools. The free version of the tool gives access to at least 100 backlinks to your site URL. 
You can research different URLs and find out which ones are ranking high and driving more traffic to your site.
You can also determine your domain rating, number of backlinks, and referring backlinks to your site. Choose any website URL and insert it on Ahrefs to get all these metrics.
The benefit of using Ahrefs is that it helps you find useful information that your business needs to launch the best marketing campaign.
The tool crawls the web regularly to provide you with updated information about your site.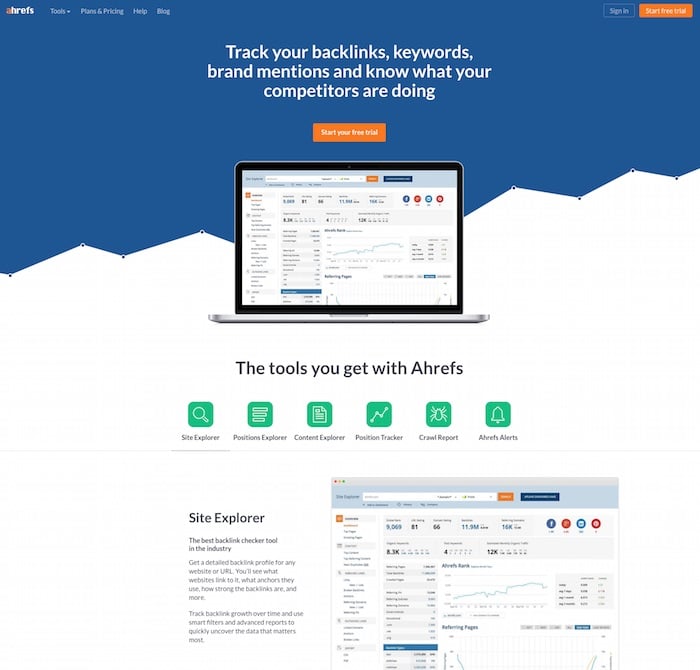 Here are the five things that you can do with Ahrefs free version:
You can also measure your traffic value and gauge how your site competes with other brands in the industry.
Ubersuggest is one of the most straightforward tools that you can use for improving your site SEO. The tool comes with all the features that you will need to create the most effective marketing campaign for your business.
Many people love Ubersuggest because of its fantastic keyword research feature. The tool helps you to discover the most useful keywords that you can include in your content to increase your site ranking.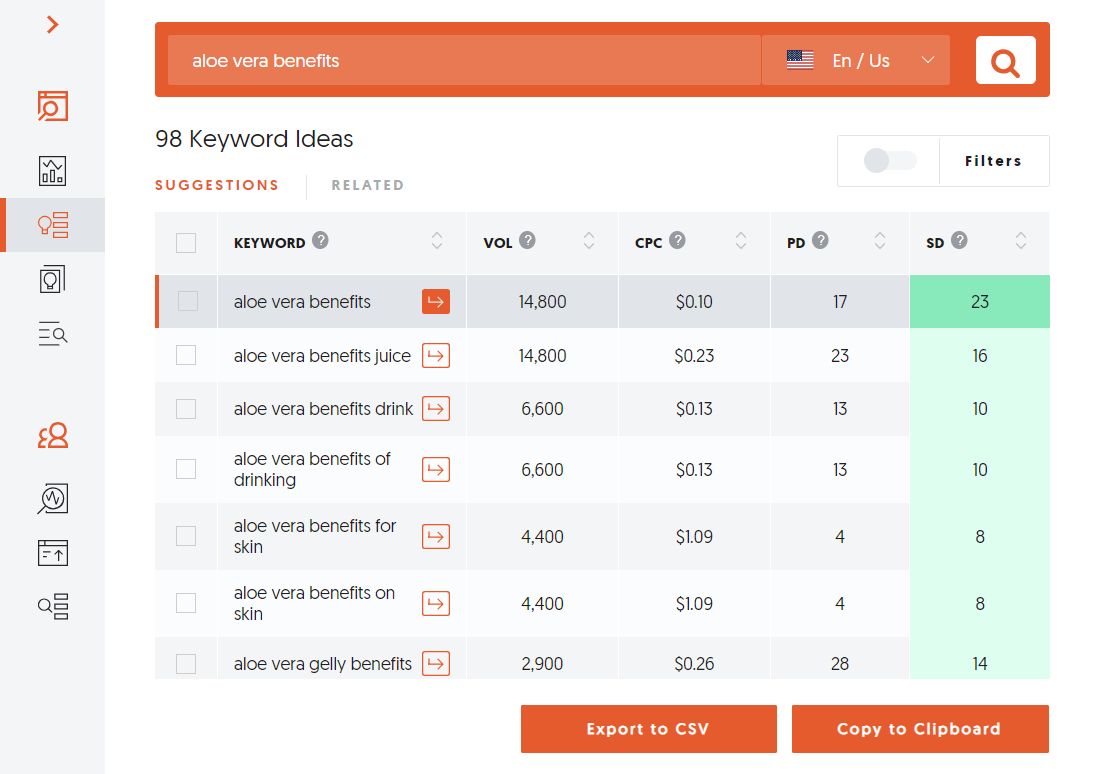 Simply type a keyword, and the tool will provide different keyword suggestions that you can use in your content.
Apart from giving you tons of keyword suggestions, it also provides you with useful metrics such as probability to rank, CPC, and search volume to support your selection of such keywords.  
Screaming Frog is yet another great SEO tool that you can use to crawl your website to determine if anything is holding your site from ranking.
Screaming Frog's free version helps you crawl up to 500 pages on your site and increase your chances of emerging at the top of search engine results.
You can easily find out if your site has 404 errors or showing redirects to users. As the best site crawler, it helps you to discover any duplicate pages, meta descriptions, and content that can hurt your site authority.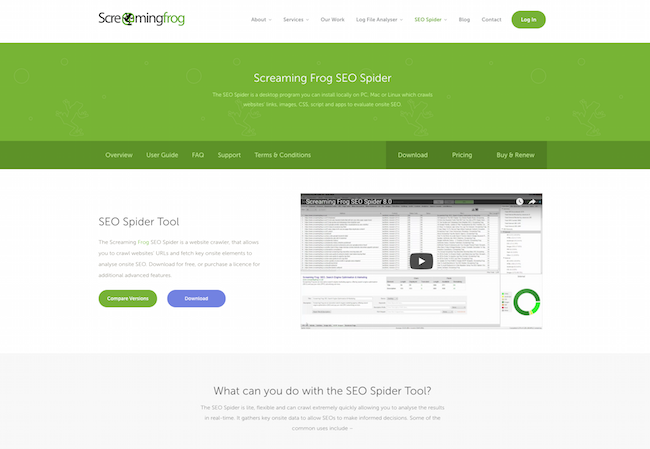 With the free version of Screaming Frog, you can do the following things:
SEO Browser is yet another fantastic tool that you can use to view your website from the search engine's perspective.
With this tool, you get useful metrics such as page loading time, number of images, words used on the page, page size, and image alt tags.
You can use the SEO Browser to find the number of external and internal links you have on your site. It also provides useful insights on meta robots tag, title tags, and meta descriptions that you need to improve your site authority.
Thus, you can find out what is lagging your site behind on search engines and employ the right measures to improve your SEO.
Google Search Console is a free service that helps you monitor and improve your site's performance in Google Search. You can use it to submit your sitemap, view your crawling errors, and get information about your site's traffic and search keywords.
To use Google Search Console, you'll need to create a Google Account and verify that you own your site. Once you've done this, you can start using the service to improve your site's performance in Google Search.
How to Get the Most of These Tools?
Though the tools mentioned above are free, not many marketers are able to reap the maximum benefits from them.
If you also feel the same when using SEO tools, consider hiring someone with a background in SEO or in marketing. That way, you will have someone who understands how to interpret data from these tools and fuel future actions from them.
Final Thought
SEO is quite an elaborate and engaging process that you have to do to increase your site visibility on search engines.
When you have the right tools with you, you can improve your SEO without any hassle. The six free SEO tools highlighted here are some of the best you can get for your website.