Photoshop is one of the best graphic designing tools out there for creatives. It is extremely effective at helping users with basic graphics projects.
The ready text styles and effects will make the process of creating your graphic even quicker and easier.
In this article, we will be looking at some Text Styles and Effects, to give your Photoshop projects that extra flair.
All of them mentioned here are free to download and use, so don't worry if you have any budget constraints. Just download the files and start creating awesome work in less time.
So without further ado, let's get started:
80's Style Text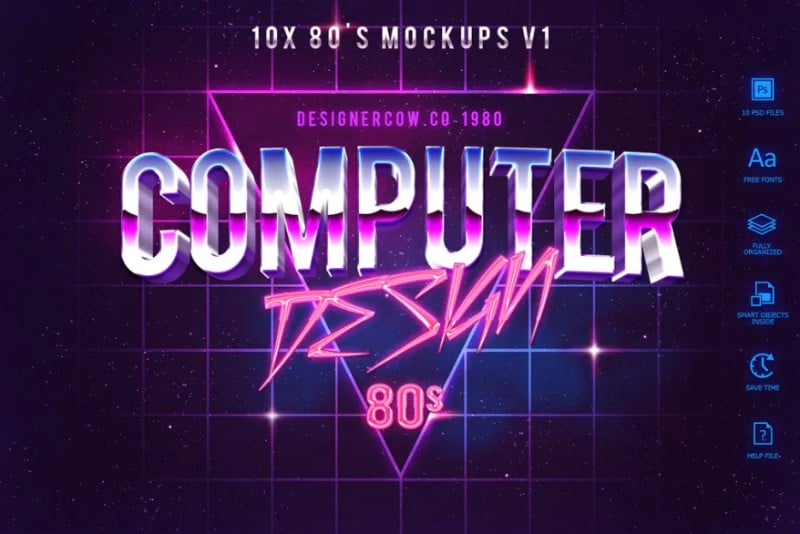 You get access to 18 PSD files in 3D 80's styling. There are multiple styles provided in different color variations.
All work is in 300Dpi. The designs are made with SMART OBJECT making them very easy to change/customize. The layers are also well organized and easy to move or close.
Retro Typography Text Style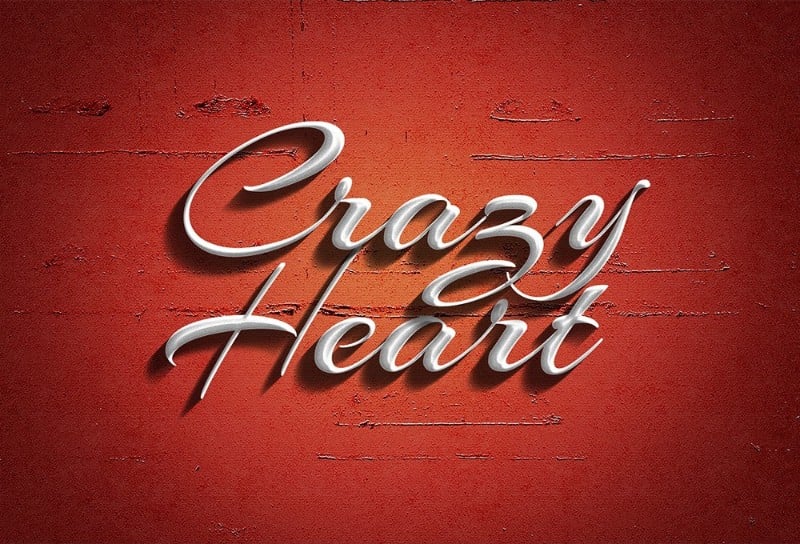 This is a vintage looking text style with a modern touch. You can also notice the 3D shadow which adds an extra layer of depth to the style. It is suggested that you use script fonts with this style to obtain the best effect. Changing the background, colors, settings, and shadow is very easy and won't hamper the design.
Watercolour Text Effect Smart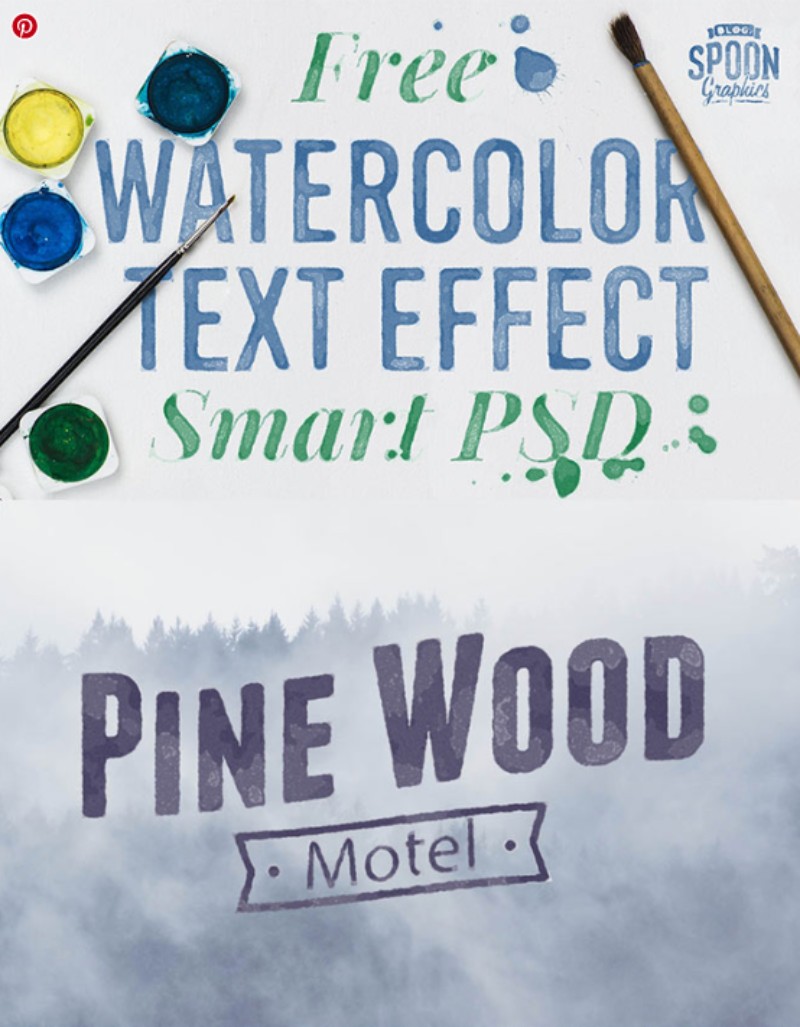 The design uses a multitude of photoshop filters to bring together the text style you see above. You get a painted text style involving subtle texturing developed with smart objects which keep the original artwork intact. This allows you to quickly tweak the provided design and include your own text.
Free 3D Text PSD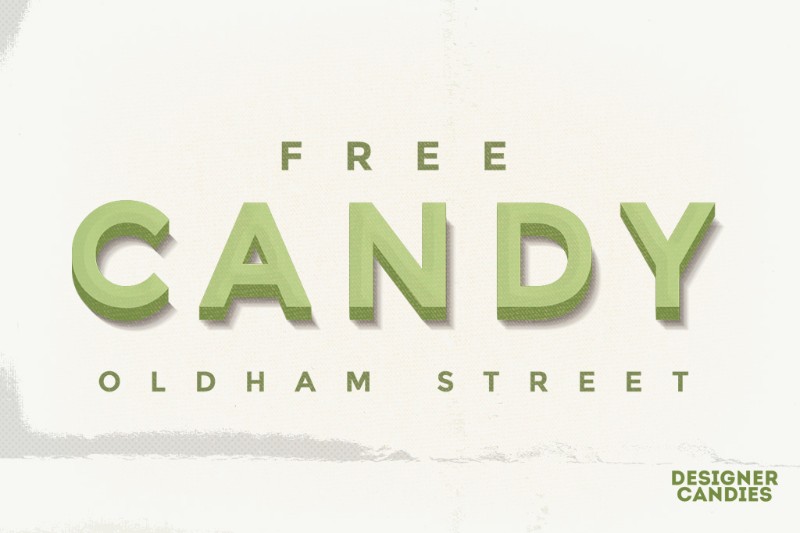 Here is a very simple text style created for newbies. The text style uses Smart Objects to build a realistic 3D effect. The design has been achieved using folded paper textures and halftone dot patterns. Don note, to use the text style, you will need access to two fonts: Montserrat and Birds of Paradise.
Smoke Effect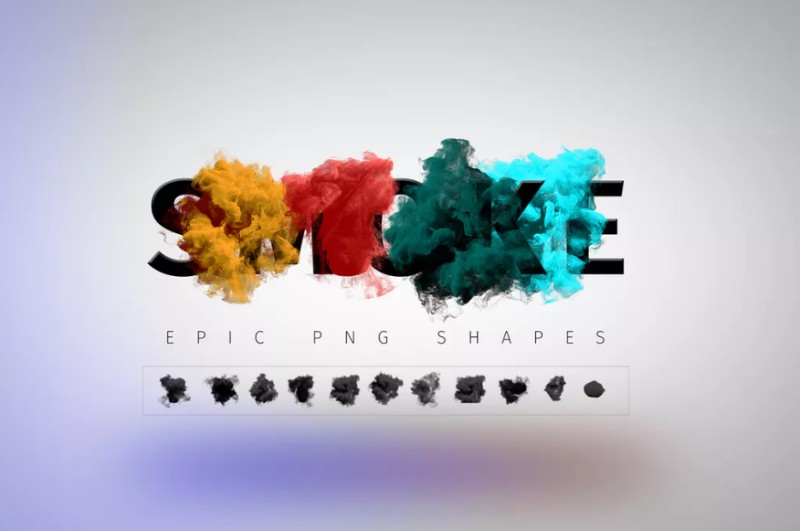 This will give you access to 11 different smoke effects in a single PSD file. Everything is included and you will not have to import any actions or pattern. The designs are highly customizable. You can easily rotate, zoom, copy, or change the designs without much problem.
3D Metal Text Effect
Yet another simple text effect that helps you create a 3D metal style. With the use of shadows, it also adds an extra level of depth to the style making it more appealing. Everything is customizable, so tweaking to your likings, won't be an issue.
14x Vintage Retro Text Effects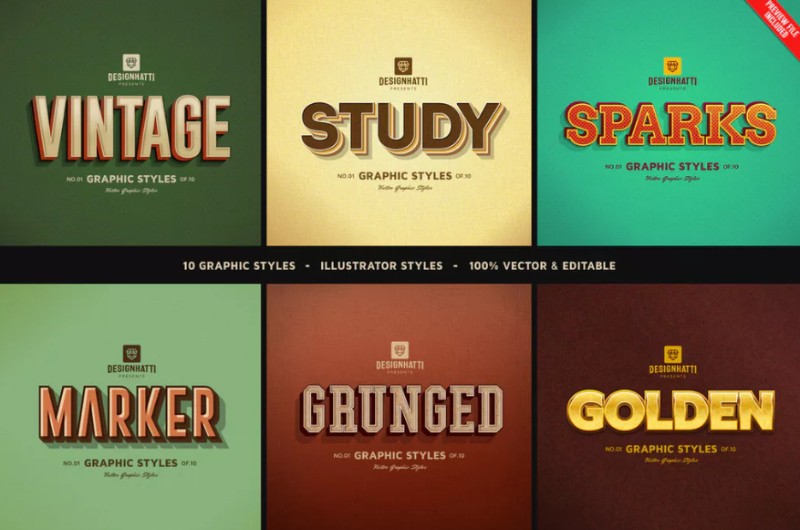 Here you get 14 vintage-looking text styles and effects designed with Smart Objects. Everything is 2020*1500 pixels with a 300Dpi. Customizability is also high, and you can change the text, font, and size, with relative ease.
Legend 3D Metal Text Effect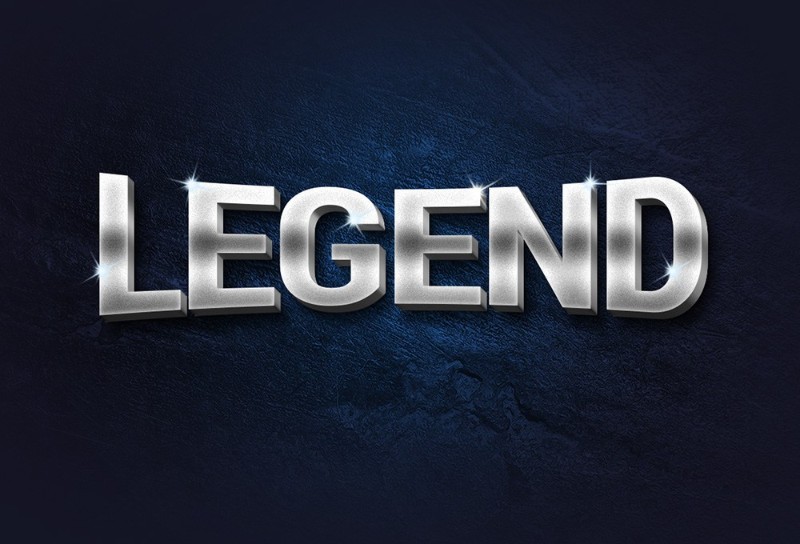 The Legend 3D Metal Text effect incorporates large, bold text, which sparkles and tapers towards the middle. The overall design that you get is perfect for creating headings, logos, badges, and much more. The sparkles are added as an extra layer, so they can be removed leaving the entire design unaltered.
Photoshop Video Game Text Style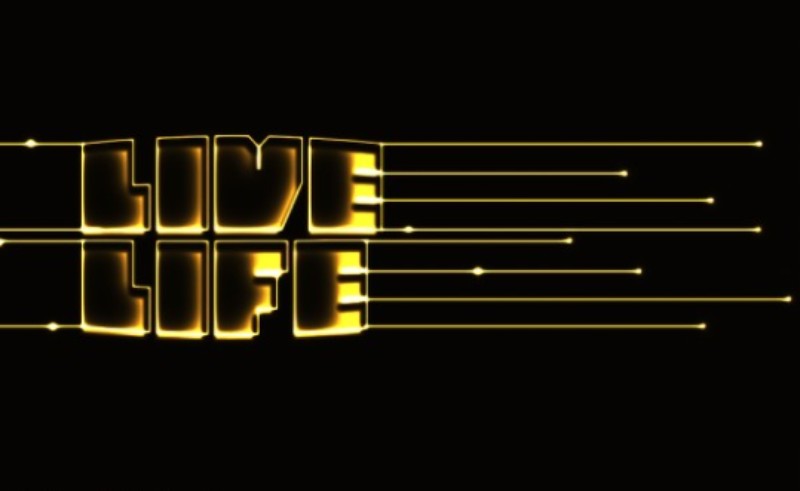 Here is a retro video game Photoshop text style that takes direct inspiration from popular titles like Street of Rage. Following the link, you will also find detailed instructions on how to create such a layout.
Bounce PSD Text Effect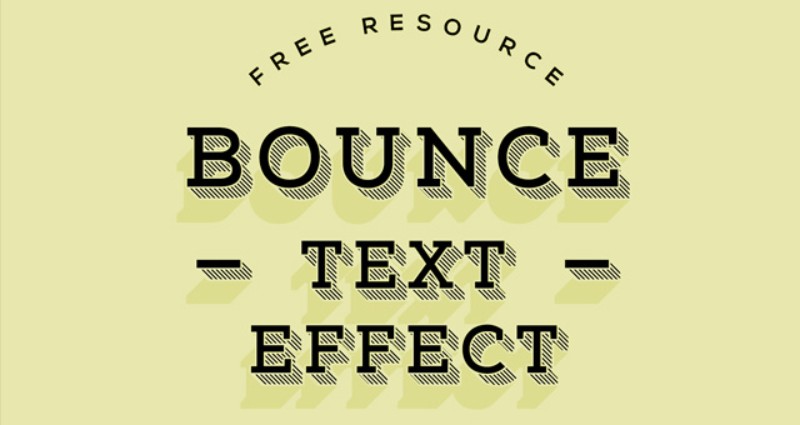 As the name implies, Bounce text effect provides a jumping-out styling to your writings. As you can see, there are many effects and layering including in the design including the use of shadows. In the end result, you get a text style that looks like it is going to pop out.
Retro Vintage Text Styles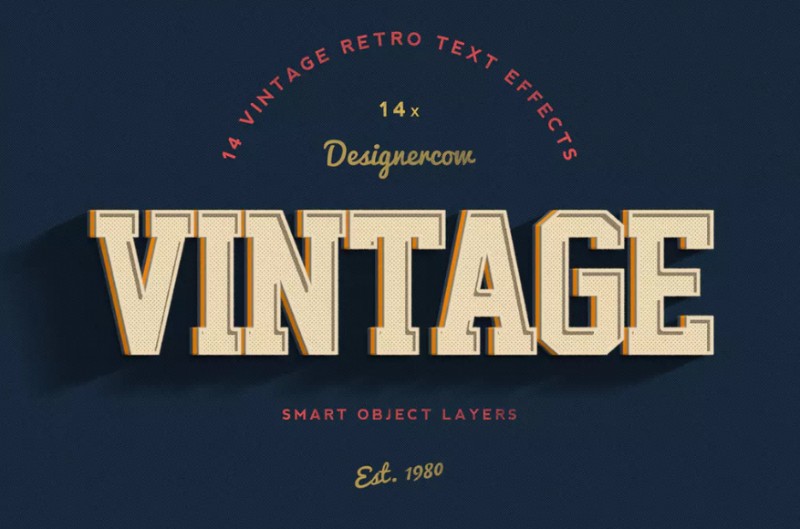 This Retro Text style allows you to apply a high-quality vintage effect to your text. All the effects can be applied to your artwork easily with a single click. You get access to 10 different styles including different vintage background if you need them. All there are 100% editable and come with 11 illustrator files.
Multi Border Text Effect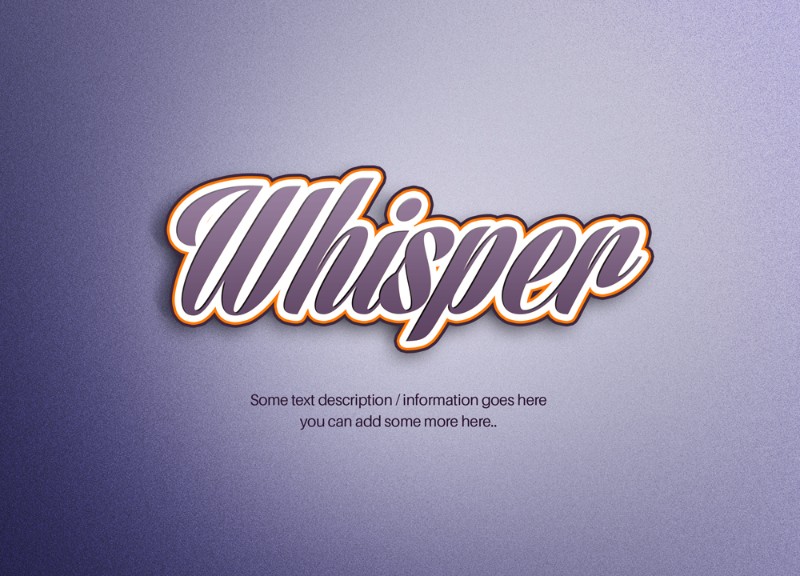 Another cool-looking Photoshop Text effect designed with smart objects. You will get access to a single PSD file with the design. Everything that you see can be easily customized to help you include your texts.
Chalkboard Text Effect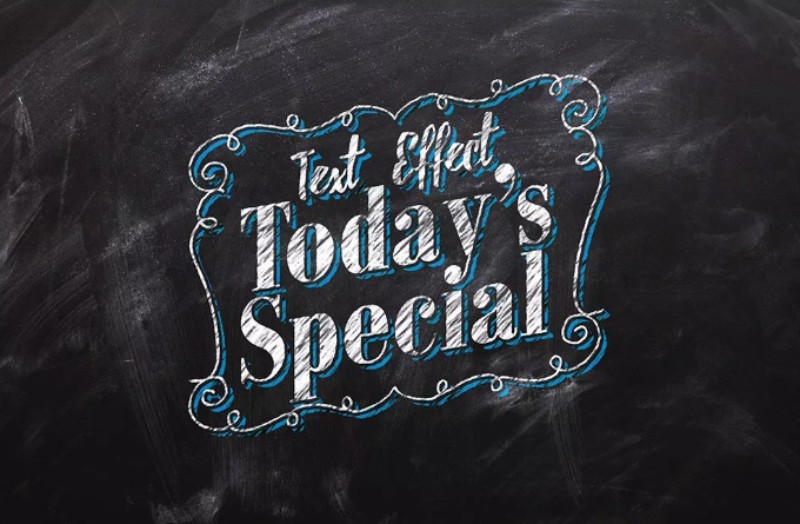 Here is an awesome-looking chalk lettering text effect to help you transform your normal writing. The design uses Smart Objects, so entering your own text will be fairly simple. There is also the freedom to include your own color effect, change the background, and adjust the color layers as you want.
Free Sci-Fi Photoshop Style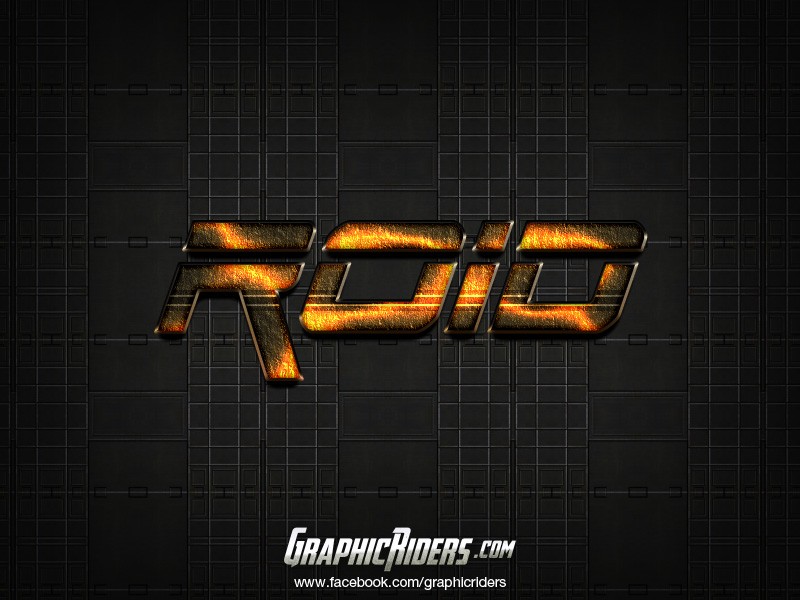 If you want to include a futuristic spin to your writing, then this Photoshop text style is worth looking into. Ideal to be used with headers or logos, the design uses layers to build a cool-looking design that is also easily customizable.
Game Logo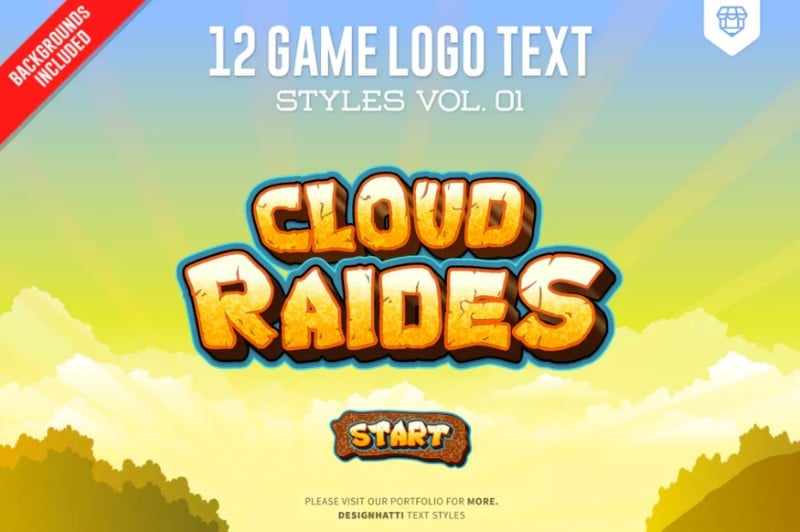 Inside this package, you will get access to 12 different text styles ideal for games. But depending on your creativity, you can also use it for headers, titles, and even with some of your illustrations. The vector backgrounds are also included so you can easily tweak them, so use them some of your other projects.
RedSky Free Scifi Text Style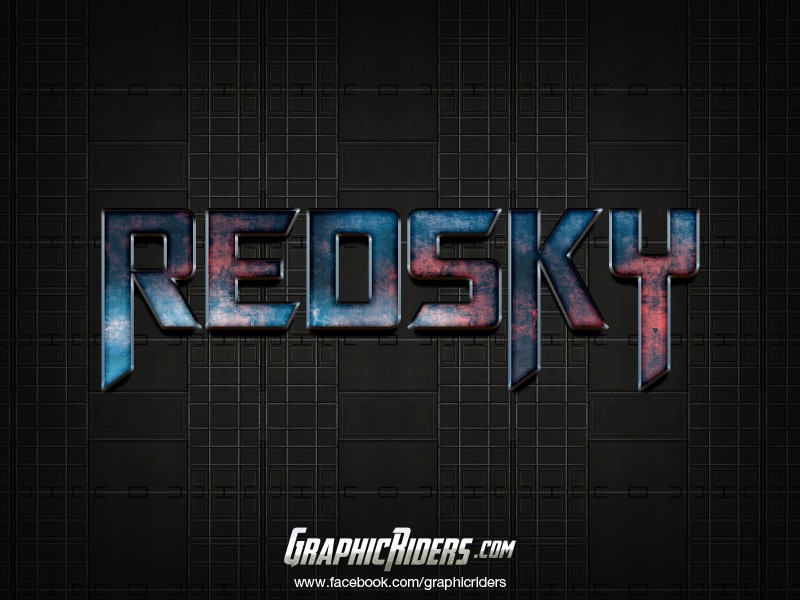 Another Sci-Fi Photoshop text style effect that can build that cinematic spin to your artwork. The style is ideally used in headings, or as a title. The font used with the design is Megatron.
Strips 3D Shadow Text Effect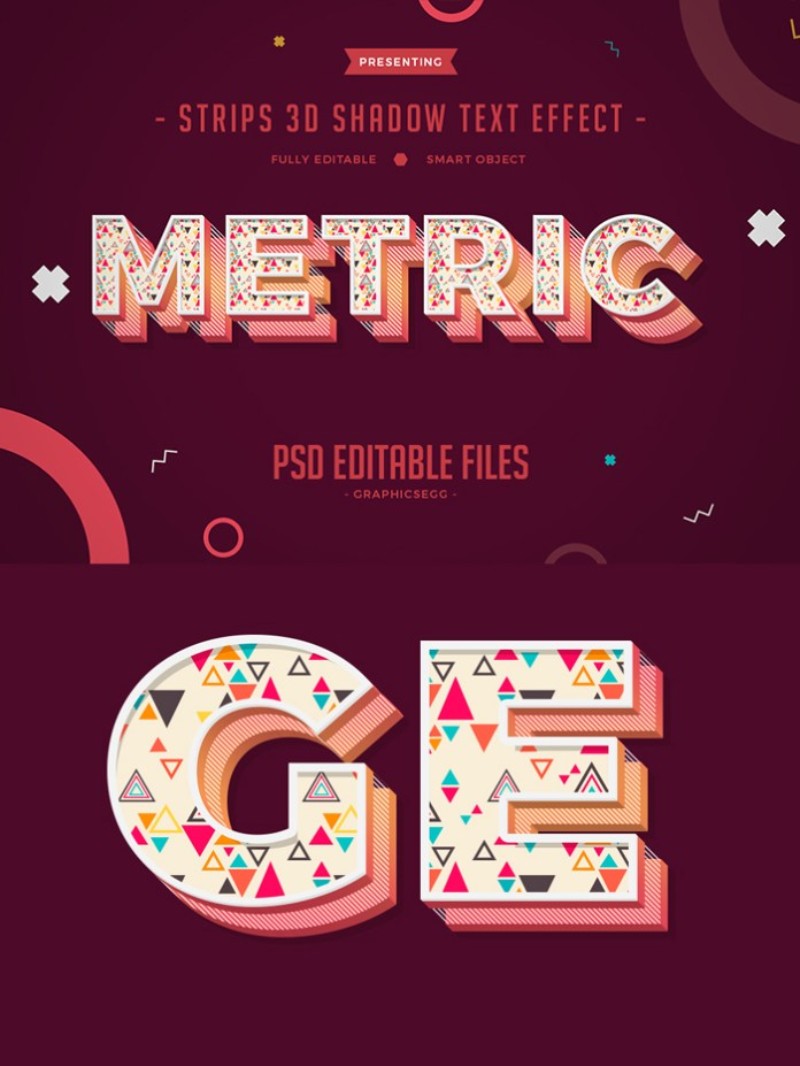 Here is a high res layered text style and effect which can help you add a little bit of fun and color to your text. The design marvelously uses colors coupled with a 3D effect and adds a layer of depth with shadows to create a marvelous effect. You can incorporate it into your writings, in a matter of a few clicks.
Outer Scifi Text Effect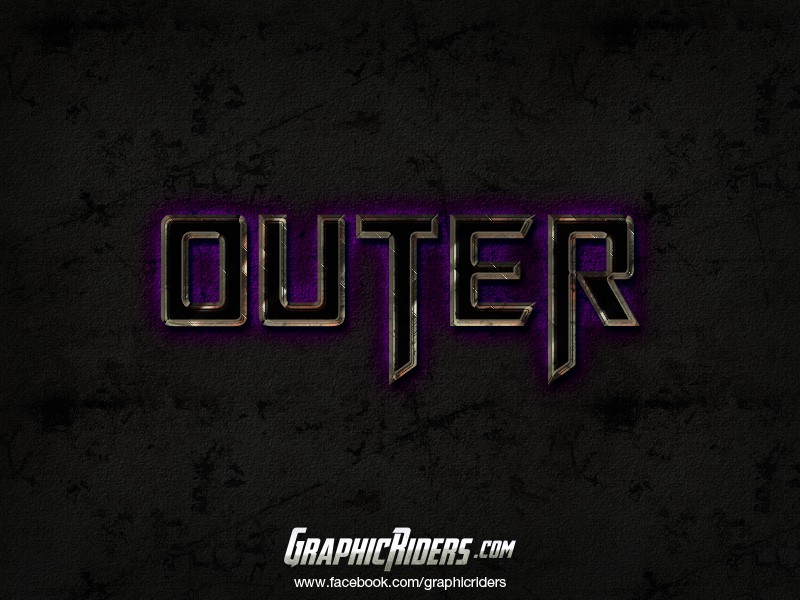 The Outer Text Effect captures the void and eerie emptiness that is most of the time associated with space. It is designed by using several layers, so customizability is quite high, and you can tweak it without many worries.
The Ultimate 1001 Text Effects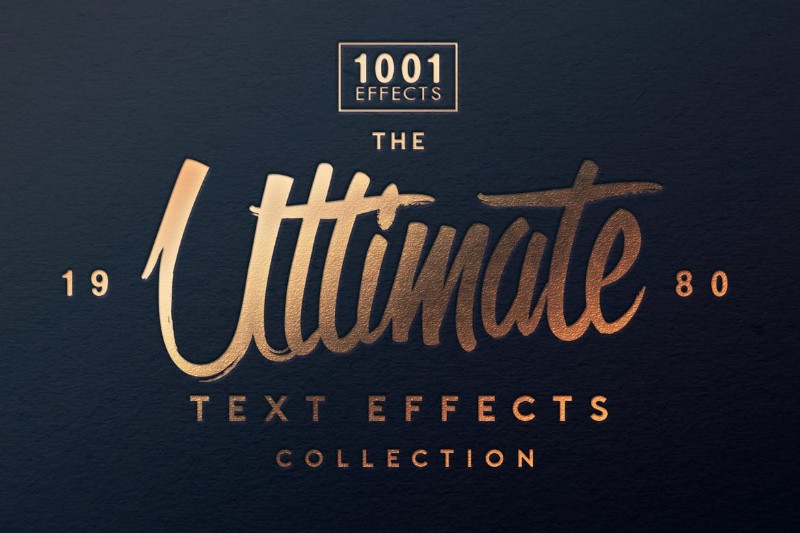 Yes, you heard that right – 1001 text and logo effects bundled into a single PSD file. You will get access to different styling effects including Stamp, Ink, Chalk, Pen Drawing, and much more. Everything is included inside a single PSD file and comes with a resolution of 2020*1500 pixels.
Metal Rustx Style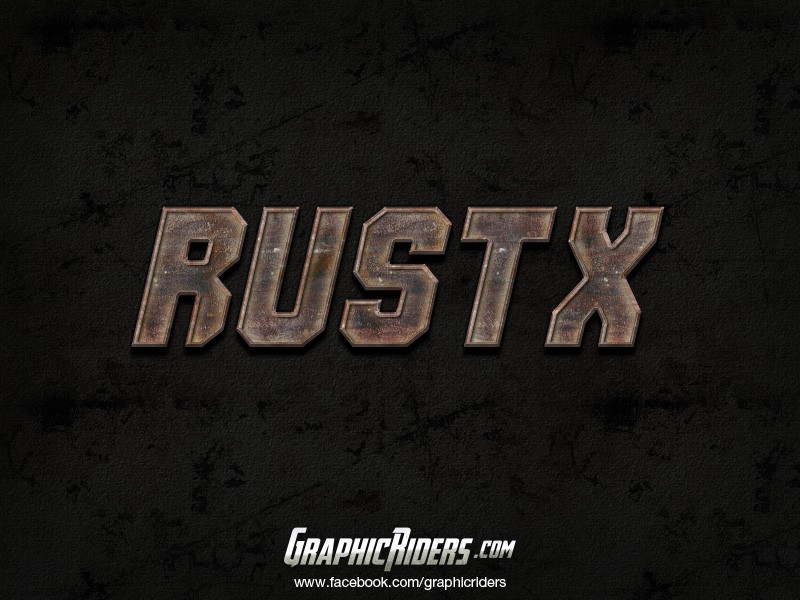 This is a rather simple text effect that helps add a rusty look to your writing. With a single click, you will be able to add style to your artwork. Customizing the effect is also very easy.
Fancy Text Effect

If you like poppy colors and 3D effects and want to add these to your writing, then this PSD file will come in handy. The fancy text effect is ideal for use in projects that involves decoration with a touch of fun and frolic. You can use it for birthday events, new year cards, and so on.
Rohan Fantasy Text Style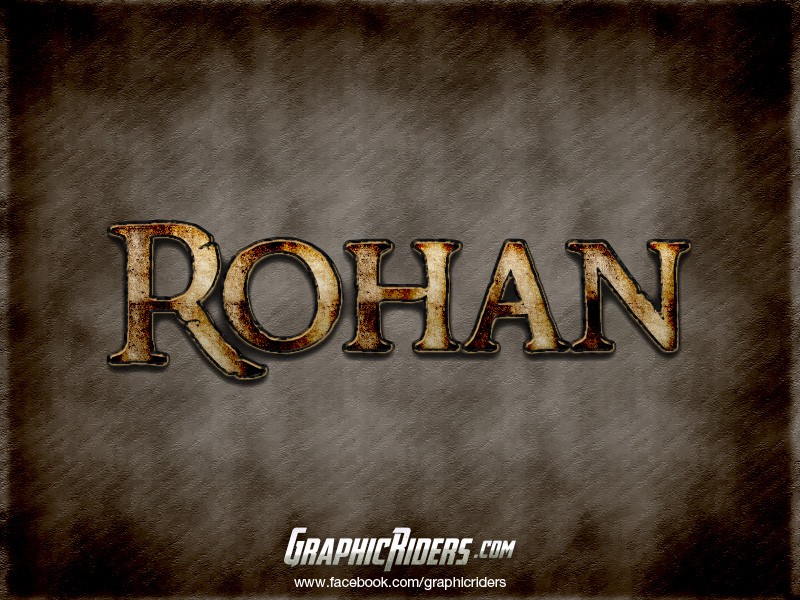 This fantasy-style text effect is very simple to use but extremely good if you want to add a medieval fantasy text style to your artwork.
Free Stranger Things Photoshop Text Style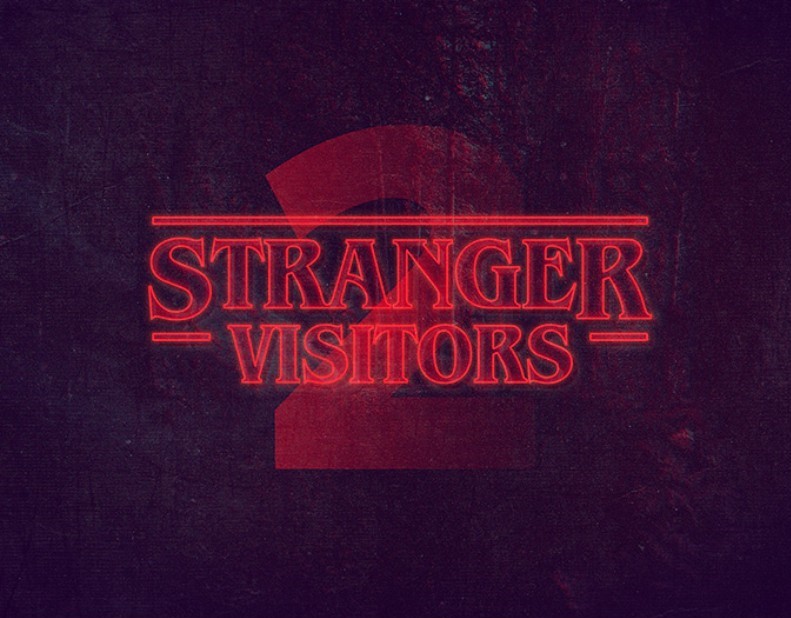 Do you want to use the Stranger Things title font style in your own artwork? This text style follows the original aesthetics to help give that creepy 70's retro feel to your text.
Orwel Photoshop Text Style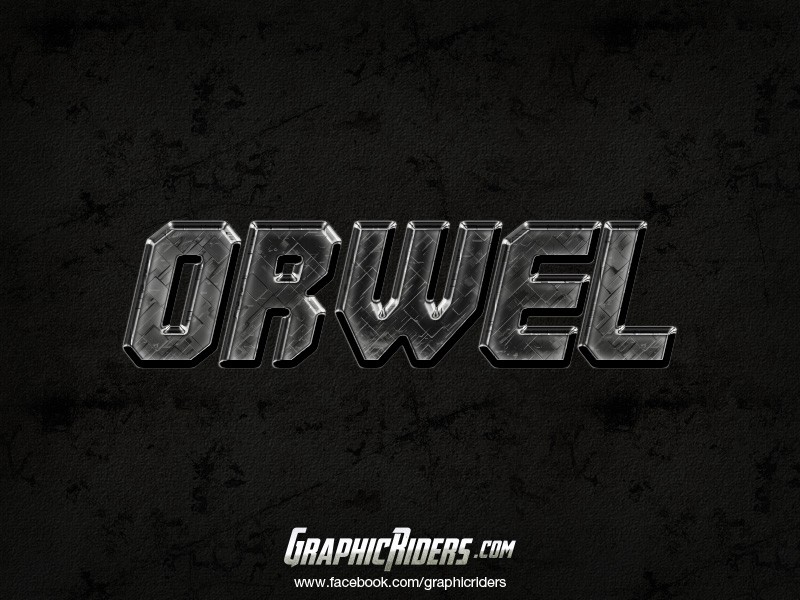 A bold and metallic text style that is excellent for sci-fi projects. The effect is rather simple, making it easy to customize to your needs.
Pro 3D Text Mockups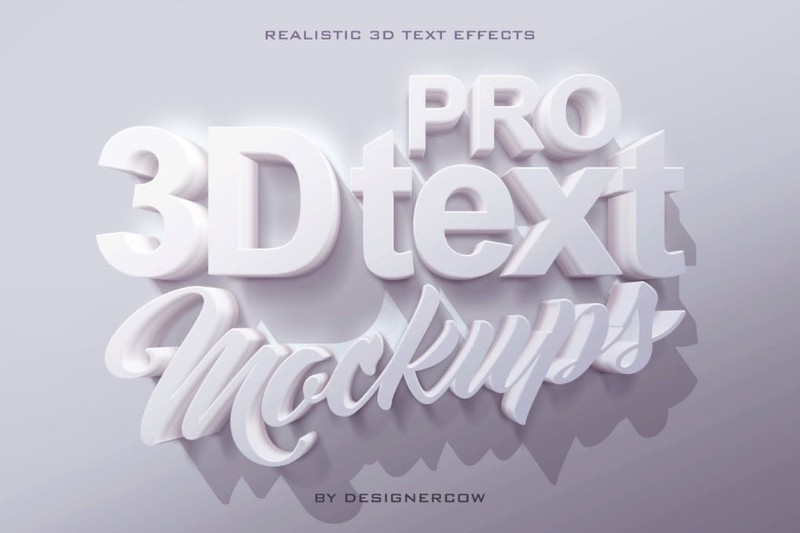 This design style gives you access to 4 PSD files, each following a resolution of 2020*1500 pixels with 300Dpi. The effect is made using Smart Objects, which makes it easy to change the Text, font, add size. You will also get access to 4 different backgrounds, which too can be replaced/tweaked if you like.
3D Blue Text Effect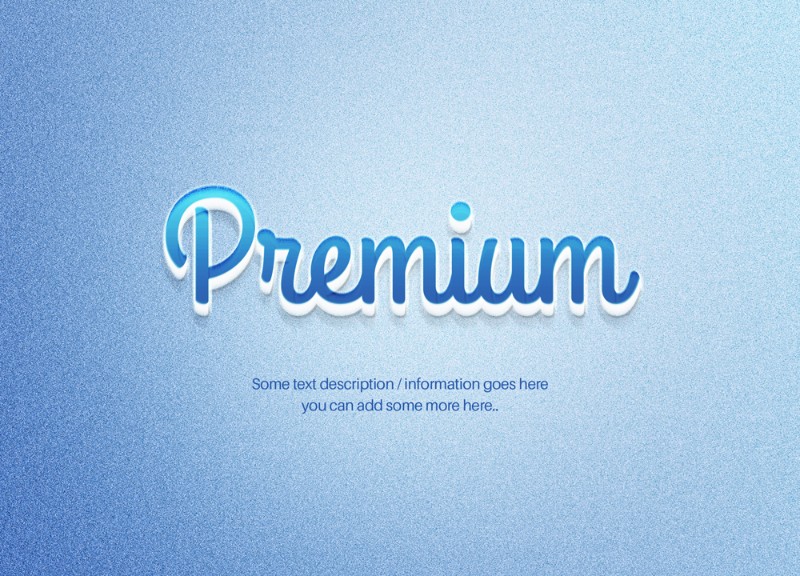 This is a simple blue-colored Text effect that can be used with headers and titles. A 3D effect is also implemented to add some depth to the style.
American Vintage PSD Text Effect

This PSD file bundles in 4 awesome text styles to bring over that vintage American feeling to your artwork. If you like the design and styling followed by classic Hollywood, then you will surely love this as well.
Grand Motel Text Effect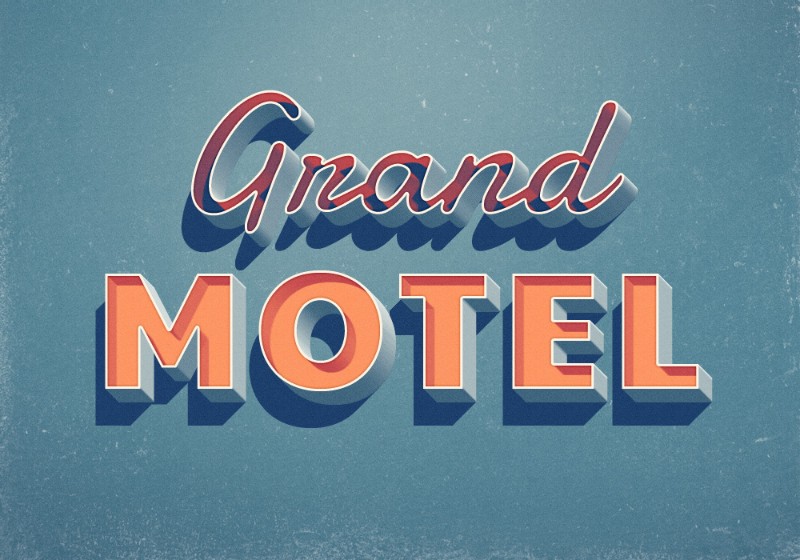 The text effect looks like something straight out of a Looney Tunes show. The 3D effect carries a design style we have seen back during the 90s.
Gold Text Styles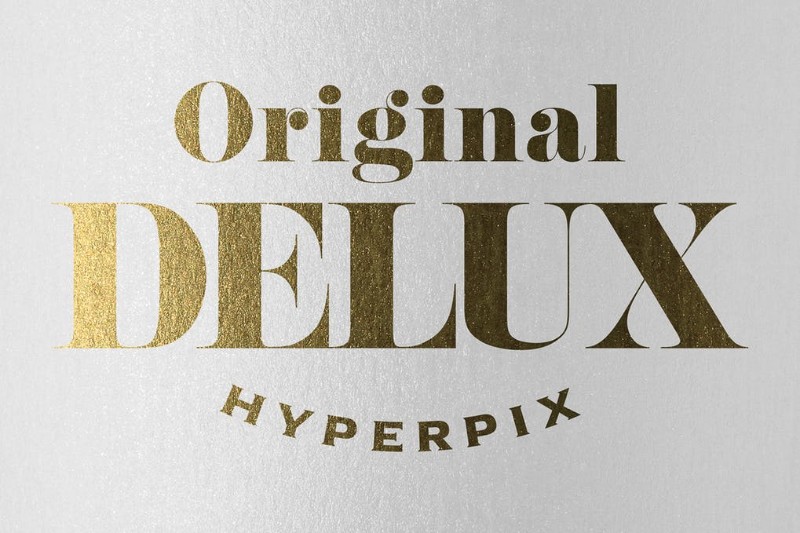 This Gold Text Effect offers access to 10 fully layered PSD files along with 10 textures. You will also get access to a 300Dpi version and 72 Dpi version, which gives you more flexibility. On top of this, you can easily customize the design to suit your likings.
Grunge Bevel Text Effect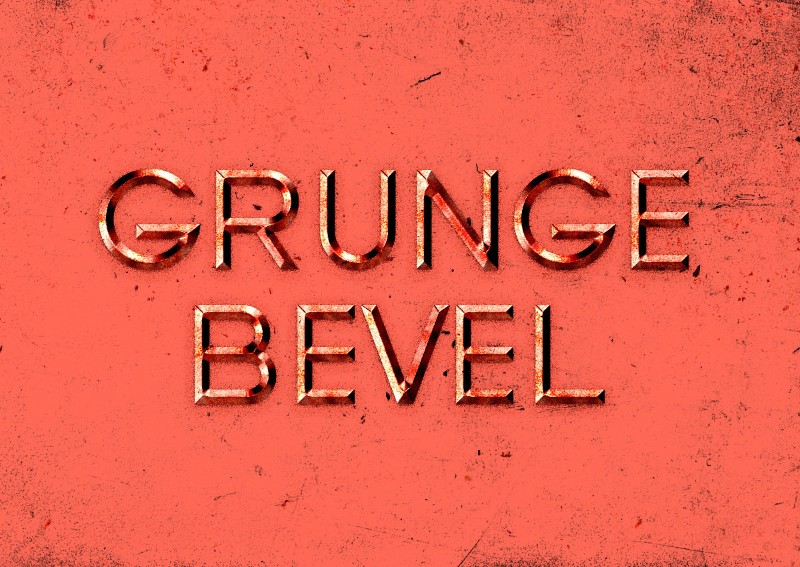 The Grunge Bevel text effect follows a detailed and embossed text effect that has been designed with a combination of two-layer effects. It can be easily applied to your artwork with a single click, and can also be tweaked to your creative liberty.
Neon Text Photoshop Layer Styles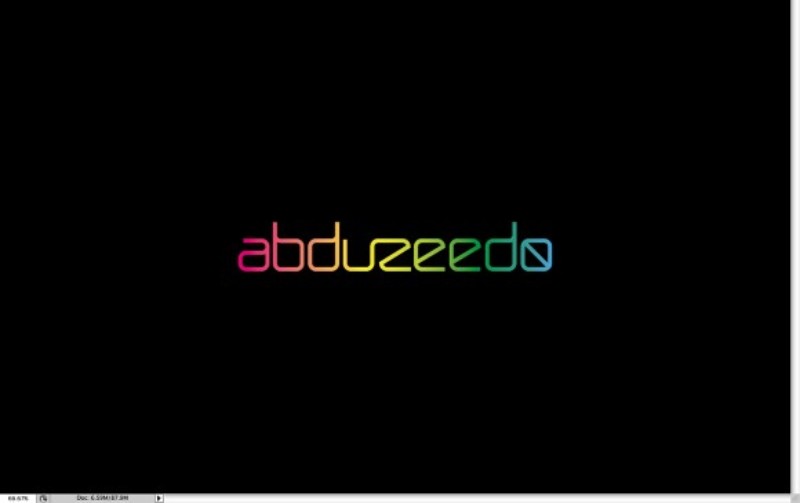 Here is a simple yet appealing neon effect that you can include in your text. The provided link also includes a tutorial showing how the text effect is created, so you can customize it to your own needs. This is especially useful if you want to tweak the rainbow color effect.
Pop Candy Text Effect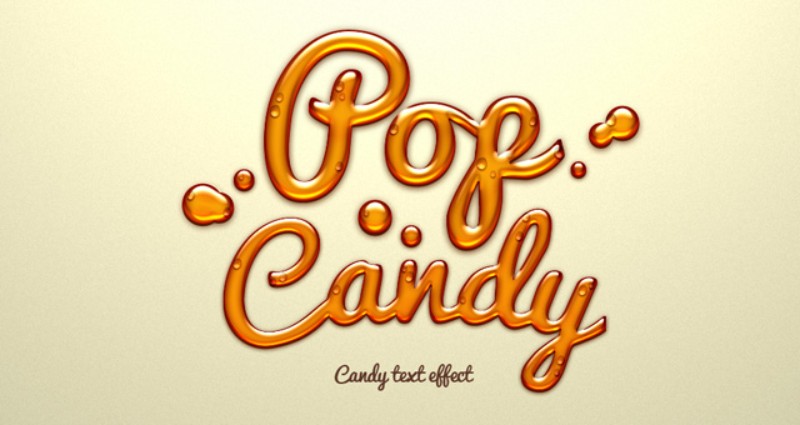 Do you like colors that pop out, or want a text effect that resembles something you have seen Candy Crush? This text style provides a one-click option to add it to your artwork.
Goldish Kit. for Photoshop + Extras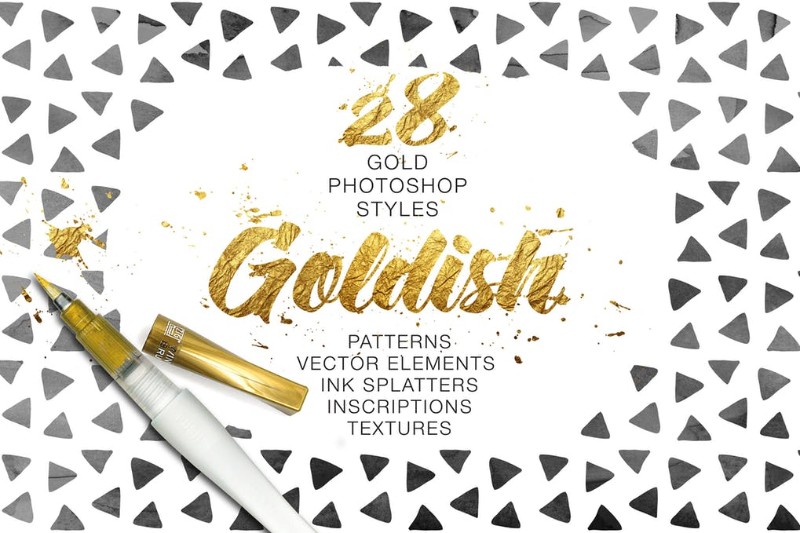 This goldish text effect provides users access to 28 seamless gold layer styles along with 8 extra inscriptions, 8 patterns, 38 gold textures, and 9 ink splatters.
Chrome Metal Text Effect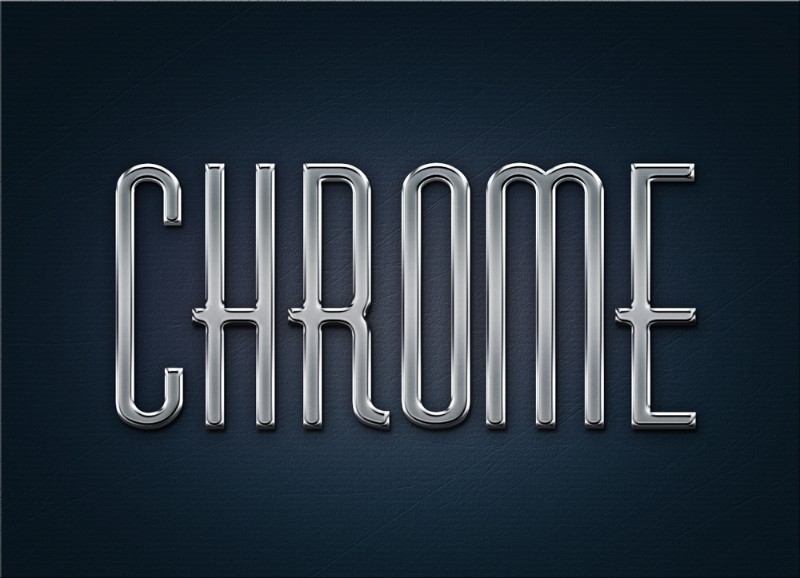 Here is a Chrome metal text style that has been created with layers alone. The style is very simple, easily customizable, and can be incorporated into your writing with a single click.
Photoshop Chocolate Text Effect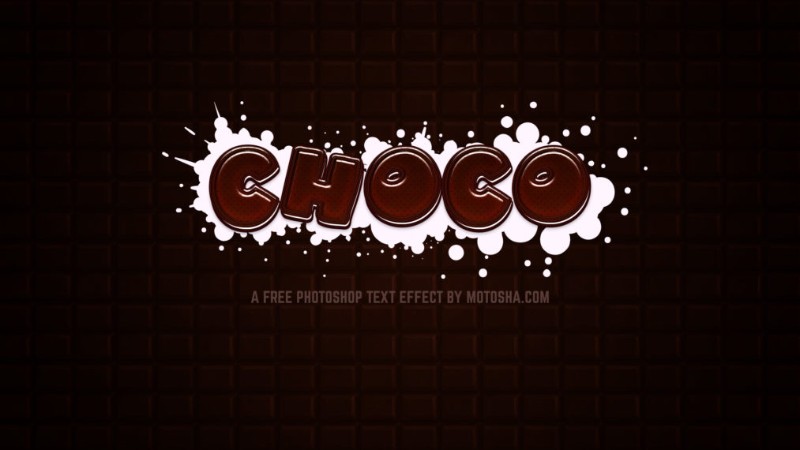 A yummy-looking text style that makes your writing appear like big bold chocolates. The background appears like a chocolate bar, and the text is outlined by a milky splash.
Classic Metal PSD Text Effect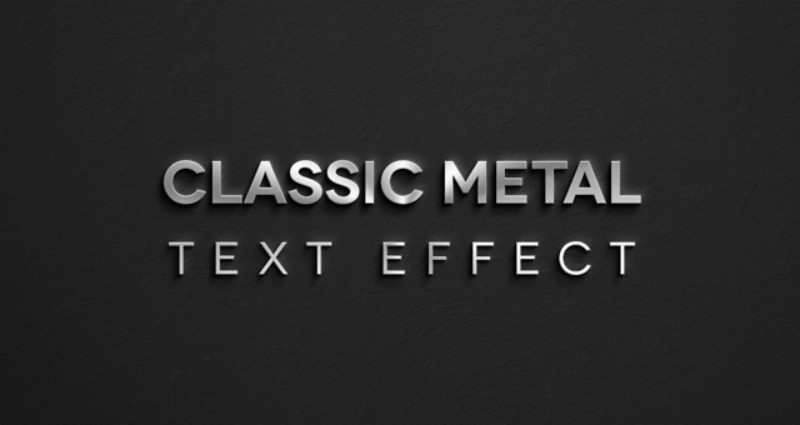 As the name implies, this is a classic-looking metal design that incorporates a 3D effect as well as a shimmering layer. It is easy to tweak and can be implemented in your design with a single click.
Free Black Phantar Text Effect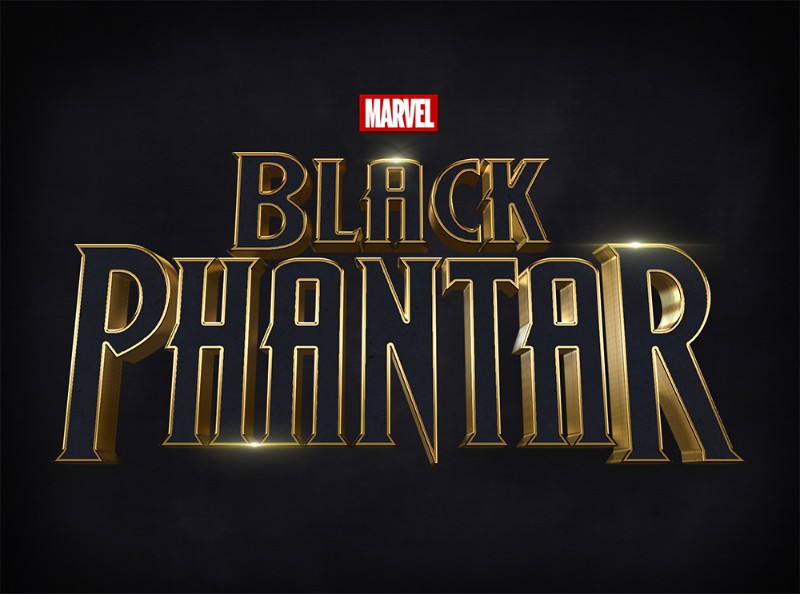 The Black Phantar Text Style takes direct inspiration from a very popular Marvel Film. It captures the original aesthetic marvelously and is great if you want to add that cinematic appeal to your artwork.
Lightbox Text Effect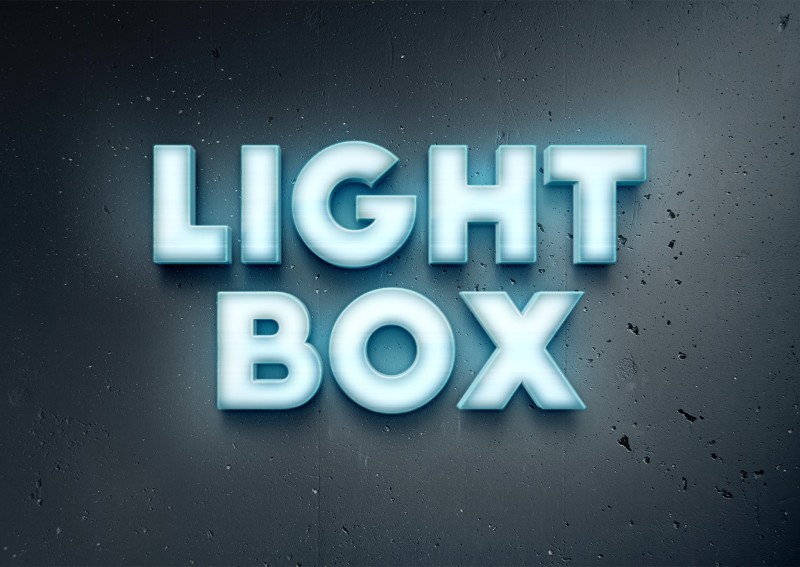 Wish to add a neon light effect to your text? Then this Light Box text effect is an excellent option. The main text uses a neon color backed by a dim background which creates a lighting effect.
Sandwich 3D Text Effect

Here is a 3D photoshop effect that can help add some depth into your writing, creating a sandwich texture. You will get access to the design from 3 different angles for some extra variations. All of the designs are made using smart layers making them easier to tweak and customize.
Cinematic Text Style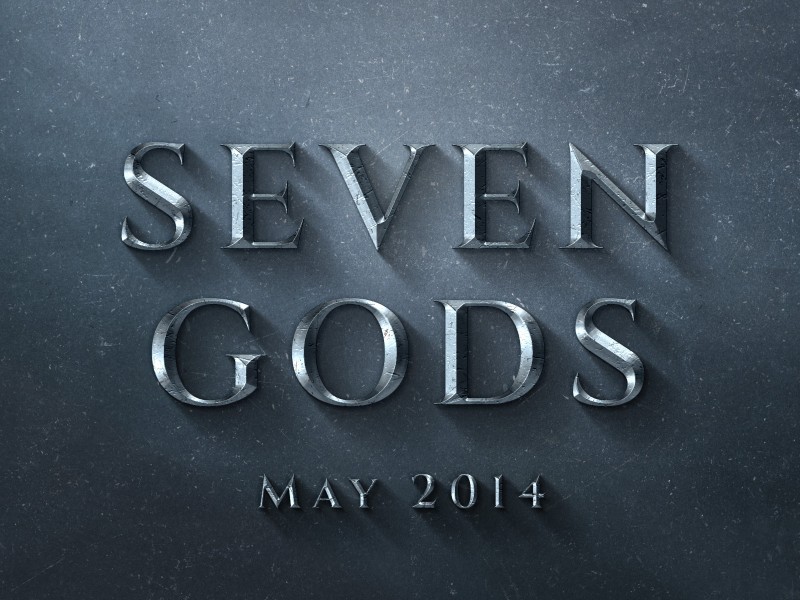 The Cinematic Text Style follows a dramatic metallic effect that carries a grim and serious look. The designs have been made using Smart Objects making them very easy to tweak and include into your artwork.
Easy Casino Text Effect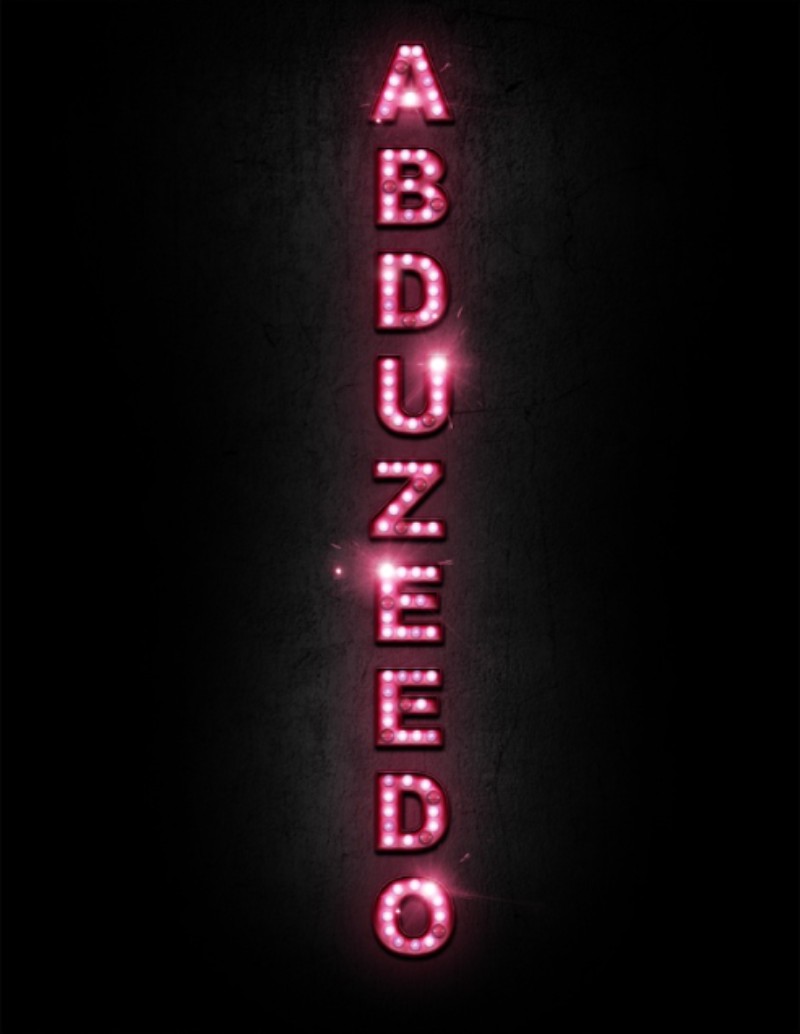 Neon lights, sparkling effects, and horizontal typography, if you want to add all this to create a welcome board type text style to your artwork, then this Photoshop text style will be helpful.
Furthermore, the provided link includes a tutorial on how to create this text style, so you can easily customize it to your likings.
Stripes Shadow Text Effect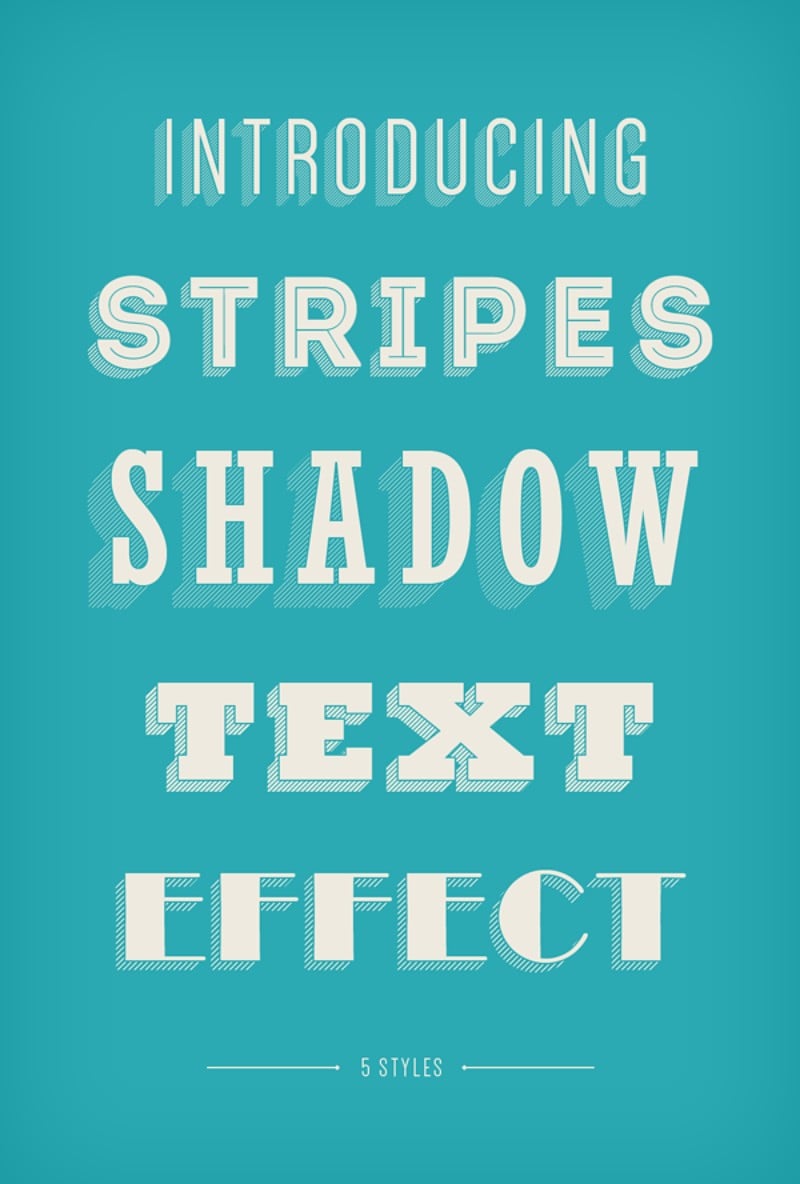 With this PSD file, you will get access to 6 different layered text styles designed with vintage-inspired styling. The design also uses Smart Objects, which makes tweaking the text and color very easy.
Wood Chunks Text Style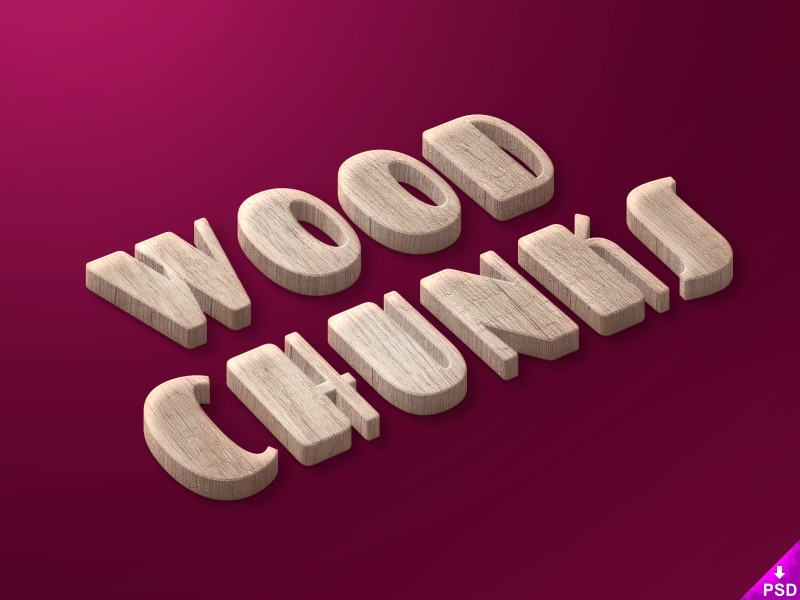 This free text style will add a 3-dimensional effect to your artwork. The text will carry a wooden texture, and appear as if the text is lying down on a table or board. The design is created with photoshop layering, making it easy to tweak.
Soft White Text Effect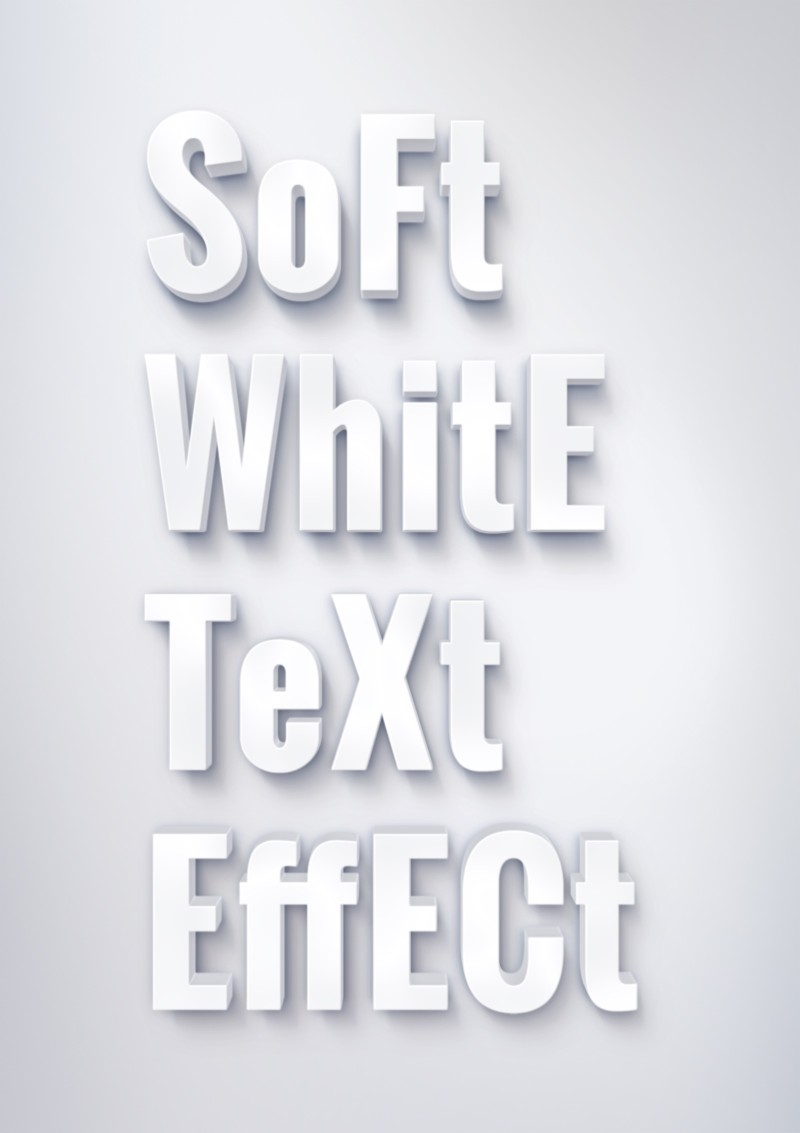 Here is an easy-to-use text effect which you can incorporate into your design with a single click. The text effect incorporates different shades of white to help build a 3D effect of bold text on a poster.
Grunge Photoshop Styles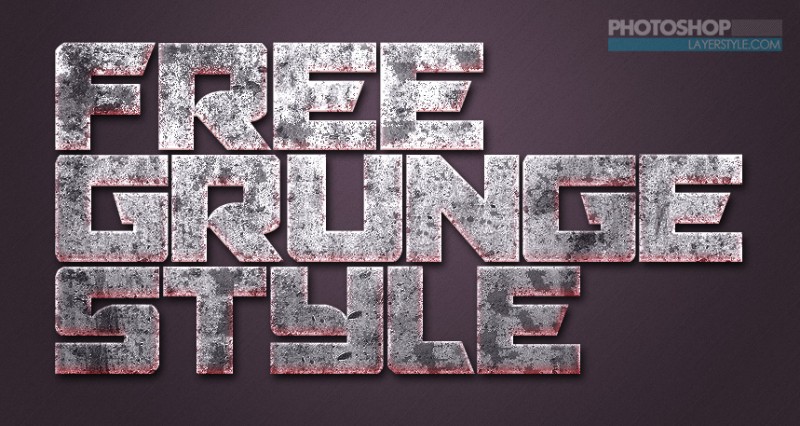 The Grunge Photoshop Layer Styles, as the name implies, will help add a grunge look to your texts. With the PSD you will get access to different files – 1 PSD file with the text style, and 1 ASL file 5 different Grunge Styles.
Natural Text Effect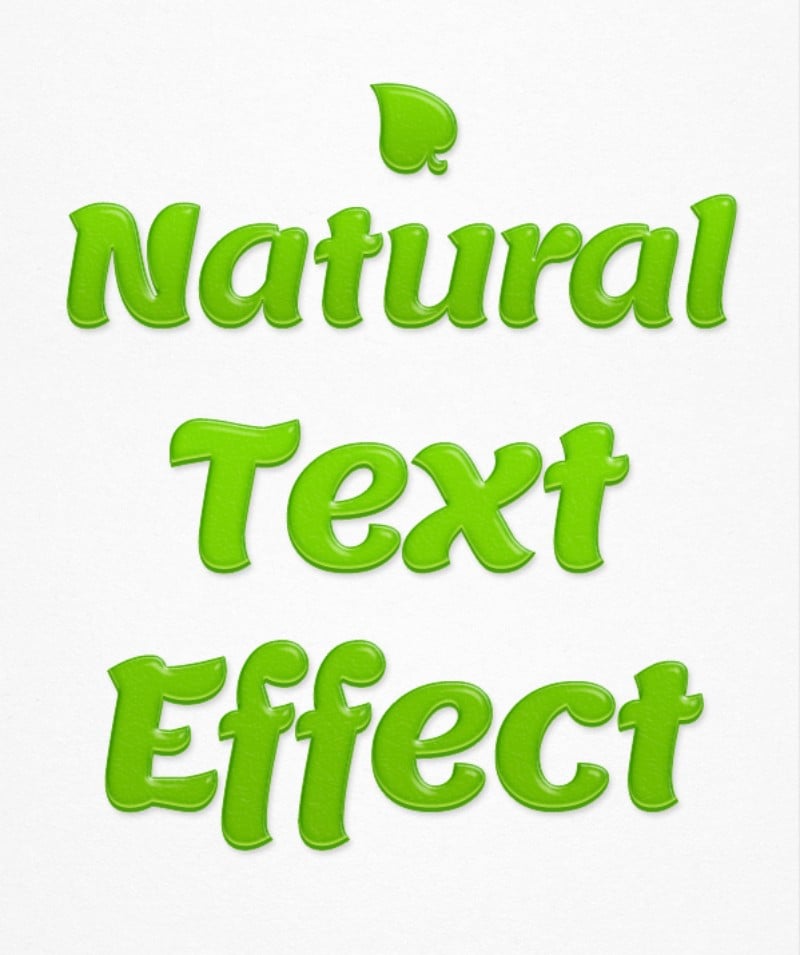 A fun and beautiful Photoshop text style 3D effect which adds a jello-like appearance to your text. It is rather simple to use and can be implemented in your design with a single click.
Yoyo 3D Text Effect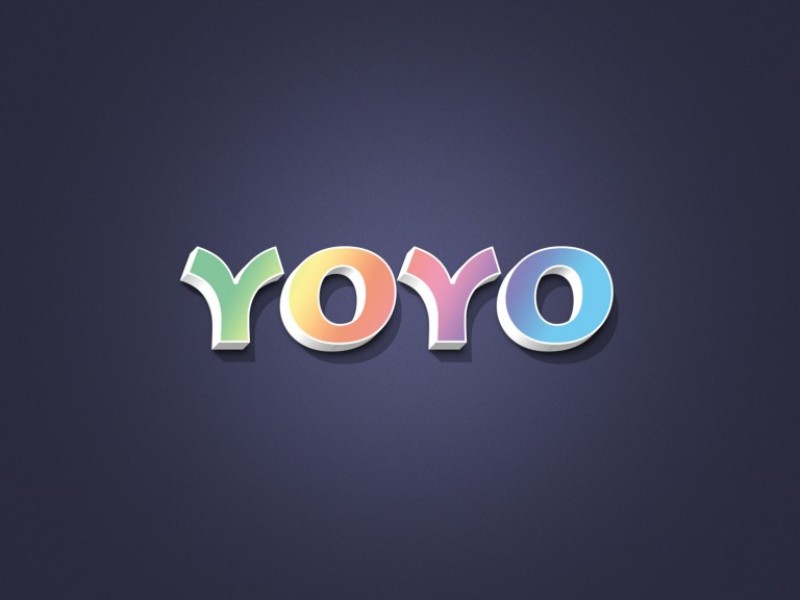 If you intend on using a colorful 3D text style with your artwork, then this PSD file might be of helpful. The font that has been used here is "Lithos Pro." Do remember to use the design, you will need Photoshop CS4 or above.
PSD Wall Poster Text Effect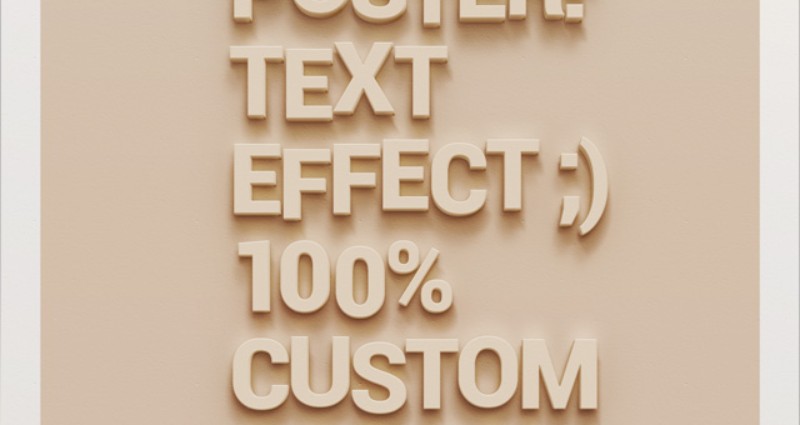 If you intend on creating 3D wall posters with a smooth texture, then this is an excellent text effect worth using. It is super simple to implement into your design with a single click.
Metal Text Effect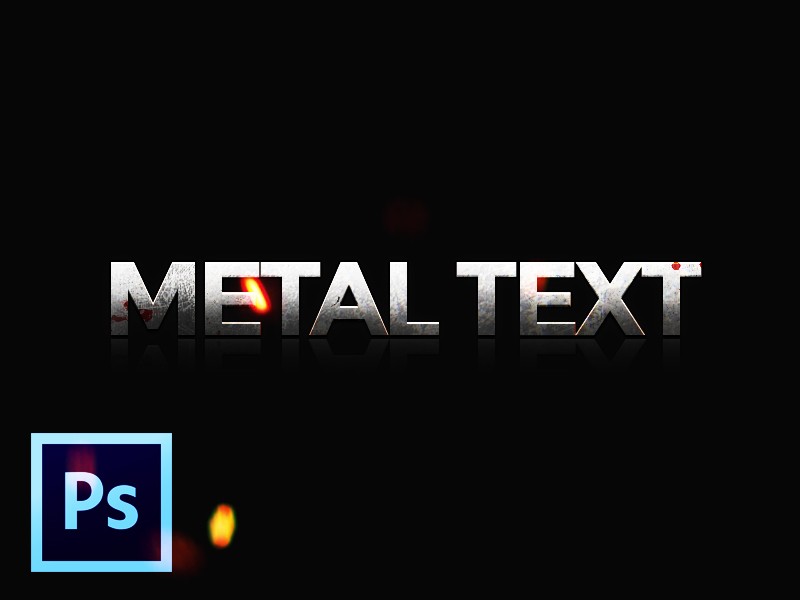 This PSD file helps add a metal texture to your text.
Concrete Rock Text Effect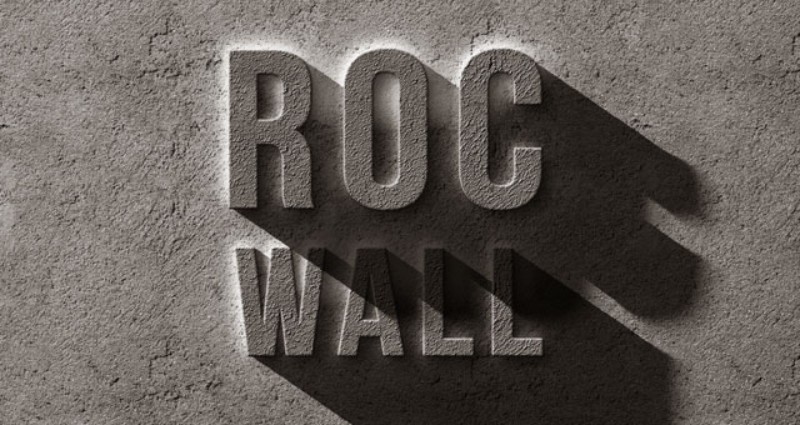 And finally, we have the Concrete Rock Text Effect which makes your text appear like they have been designed with solid concrete. The text is designed to add a long shadow which gives it a popping-out appearance.