Whether you're looking to generate more leads, boost audience engagement, or even drive direct sales, you can't go wrong with using webinars.
The best part is, running webinars is dead easy to pull off. You just need a stable internet connection, a laptop with a good mic and camera, and an excellent platform to run your event. One such platform is ClickMeeting.
ClickMeeting is a comprehensive webinar solution with a user-friendly interface and boatloads of features that you can use for your business.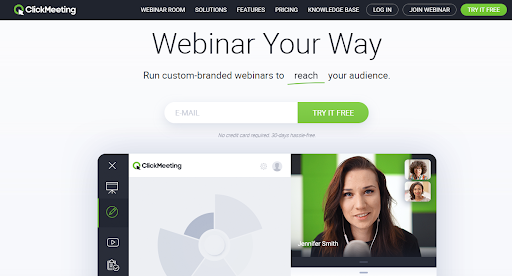 In this review, we will look into the key features of ClickMeeting, and how you can use it to grow your online leads and sales.
Are you ready? Let's begin.
Setting Up Your Event
Right from setting up your webinar, ClickMeeting already offers features beneficial for business marketers and owners like you.
Creating your webinar starts with clicking on the green Schedule Event button on your dashboard. You can also go to Schedule > Schedule event.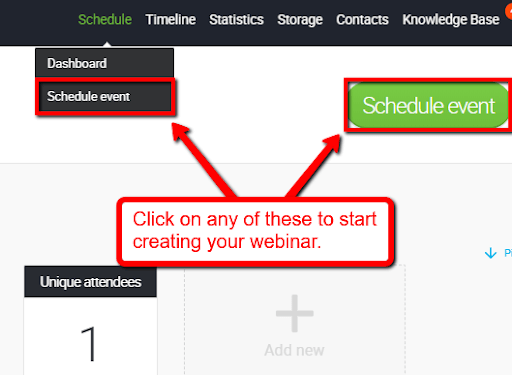 From there, you can begin to modify basic event information and settings for other aspects like appearance, registration, and settings or automation.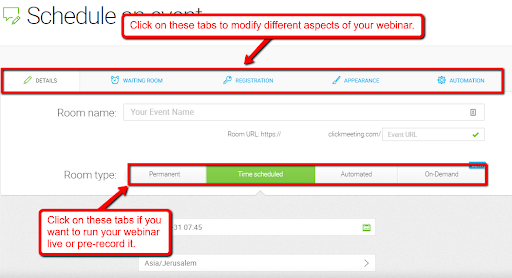 You can even choose if you want to run your webinar live or pre-record it as a "permanent" (always open), automated, or on-demand webinar experience.
Permanent webinars are excellent for your official website reference videos, such as product FAQs, which your customers can watch anytime.
If you have a hectic schedule and a hard time running your live webinar, you can choose the automated webinar.
It allows you to pre-record your video and automate functions like CTA display, running of surveys, and scheduling its live run.
Let's say you've automated your webinar, but decide to run it yourself on the day it goes live. You can "take over" by enabling the corresponding settings in the on-demand option.
Registration
If you want to improve your marketing campaigns and generate leads and sales, you need to get to know your audience. A great way to accomplish this is requiring your attendees to register to your events. 
In this way, you can gather information, such as their names, email addresses, contact numbers, interests, and more.
With these details, you can send new or related promotional messages to your attendees, such as similar webinars they might want to register in.
If you're using webinars as nurture assets that help to advance your audience on their paths to purchase, having the ability to segment and follow up with registrants is especially important.
To allow your attendees to register, select Registration from among the sub-tabs, and enable the feature to modify your form content and layout.
With ClickMeeting's drag-and-drop form builder, you can add fields for other information, like phone numbers, and place them anywhere you like.
At the bottom of the form, your attendees can see the presenter's name, photo, and other details, which you can use to display info like affiliations and contact numbers.
If you want to change the design of your form so it reflects your business brand, you can do so by going to the Appearance sub-tab at the top.
Monetization
Webinars are super effective for building trust and brand equity among sales prospects, keeping them progressing along their paths to purchase.
But given the rise of information products, online courses, remote consulting and one-on-one coaching as a service, webinars are also extremely compelling as products unto themselves.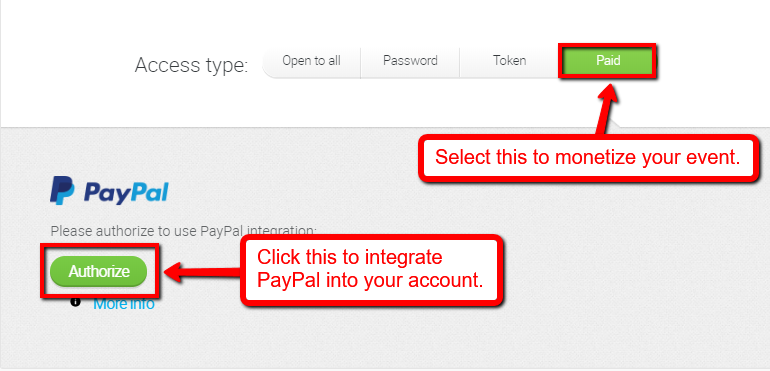 ClickMeeting makes it easy to make money just by running webinars. You just need to charge your audience a fee to join your event, and you should be good to go.
To monetize your webinar, authorize ClickMeeting to integrate PayPal into your account. 
A few months ago, one ClickMeeting user earned $43,000 from one webinar alone.
Social Media Sharing
Social media is one of the most powerful tools marketers leverage today to capture more prospects and sales. Sharing your webinar allows you to increase your number of attendees and leads and promote your brand.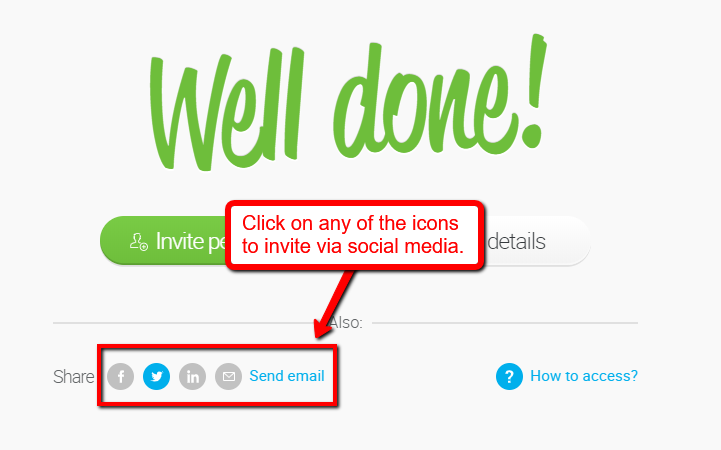 ClickMeeting allows you to announce your upcoming webinar (easily) on social media and invite participants. You can do so after scheduling an event or editing your webinar invitations.
Click on any of the icons — Facebook, Twitter, Linkedin, or via email — to start sharing.
Thank-You Pages and Notes
Sure, you'll want to follow up with registrants after your webinar takes place. But the nurture process can and should begin earlier. Don't turn your registration form into a UX dead end.
ClickMeeting allows you to redirect people to a thank-you page on your website, or to send personalized thank-you emails.
You can then promote your products, compel your attendees to take action, and drive traffic to your website where they can respond to more CTAs.
The great thing is that you can automate either or both of those thank-you messages by going to the Settings or Automation sub-tab.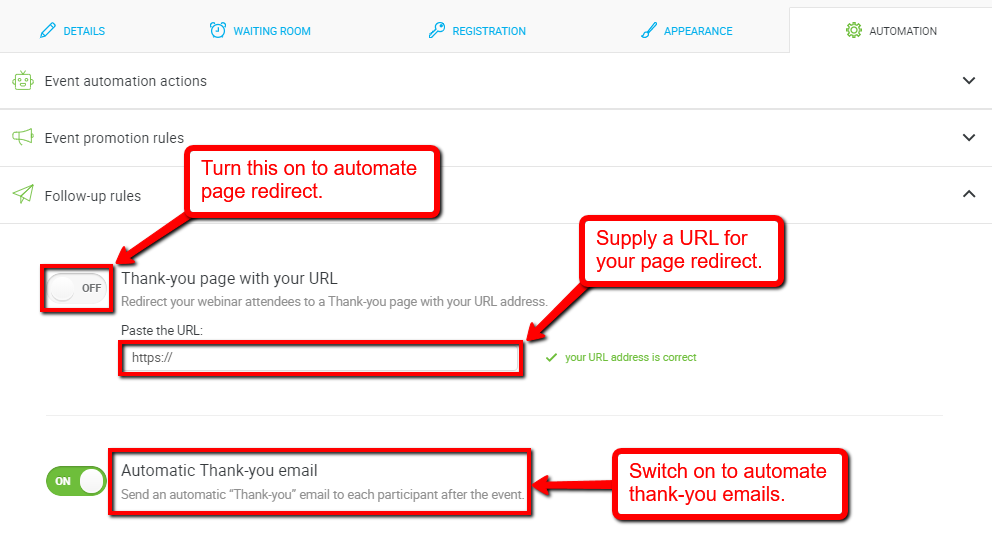 Thank-you pages and emails not only serve to end your webinar formally but can also increase your chances of getting more sales.
Running Your Webinar
ClickMeeting offers support for many features that help maximize engagement during your webinars.
Chat with Your Audience
Chatting with your attendees live makes your engagement even more dynamic, since you can interact with them in real-time.
ClickMeeting offers a few options for in-webinar chat, but perhaps the most powerful is the Q&A interface.
For instance, if you're holding a live webinar about how to be a high-paying writer, you can ask your attendees, "What is your #1 struggle when creating marketing pipelines?" Your attendees can reply immediately.
You can browse through the answers, mention some names, and expand on one of the responses. 
You can even market your services, knowledge products, and promos and discounts in your replies, pairing them with popup CTAs for explosive sales potential (more on this feature below).
In this way, you strengthen and personalize your audience connection, build their interest and loyalty to your brand, and boost leads and sales opportunities.
As mentioned above, ClickMeeting provides you the option to enable live chat on your webinar and adjust its settings.
Moderated chat allows you to screen questions before displaying them; Private chat, to answer individual questions after the event; No chat, and more.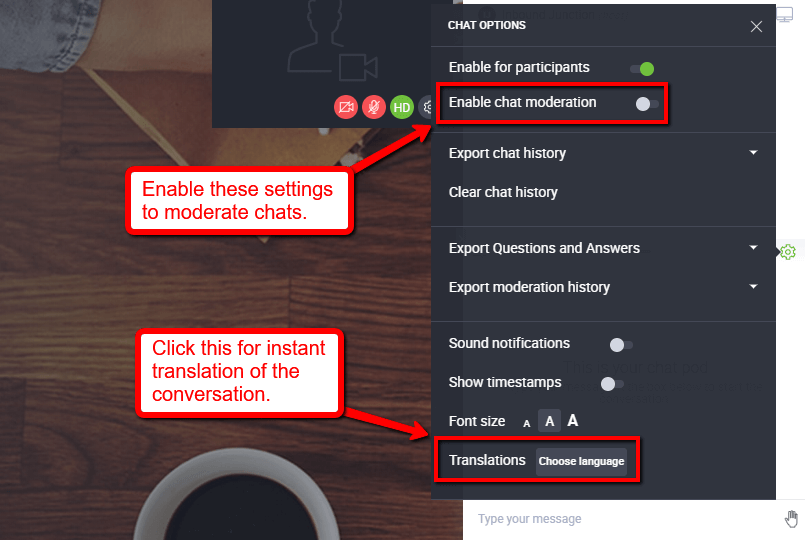 If you have attendees who speak foreign languages, you can enable real-time and instant Google Translation for the dialogue. ClickMeeting displays both the original and translated versions.
Call to Action (CTA)
Adding CTAs to your webinar might be a simple thing to do, but it sure is effective. If you flash your CTAs at the perfect moment, you can grow your online leads and sales effectively. ClickMeeting allows you to create irresistible CTAs on your webinar.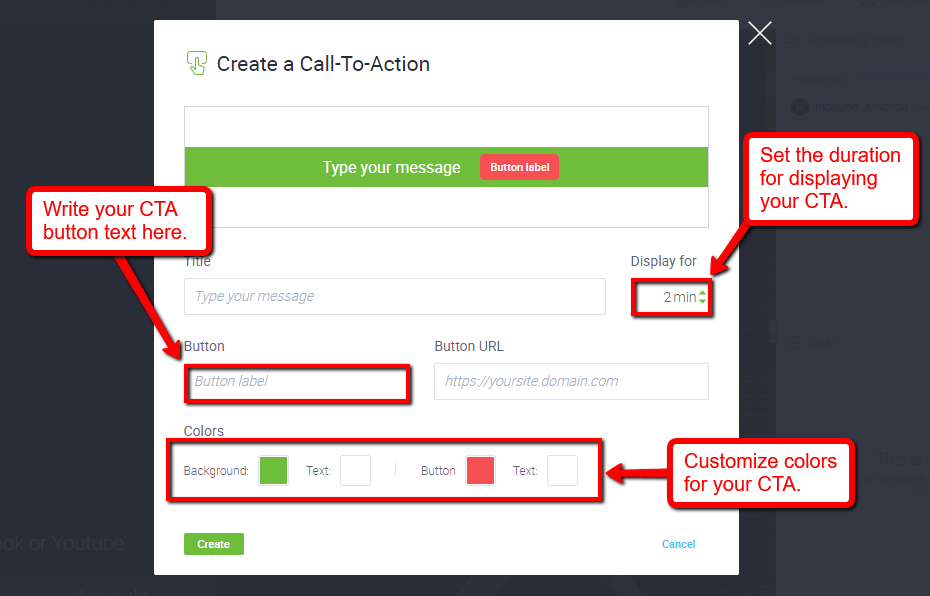 Create your message and your button label. For instance, your message can be "Limited Time Offer: 50% Off on All Books." Your button can then read, "Buy Now."
Next, decide on how long you want to display your CTA and provide a landing page URL for when your attendees click the "Buy Now" button. Finally, select the best colors that are aesthetic and compelling for your attendees. 
For automated webinars (events that you can pre-set and automate to run accordingly), you can indicate at which point you want ClickMeeting to flash your CTA.
Live Stream on Facebook or YouTube
Running your webinar live on ClickMeeting is superb, but live streaming on YouTube and Facebook ups your game even higher.
What's more, Facebook Live and YouTube Live are among the best platforms to live stream any program because of their established name and billions of users.
With live streaming, you can reach even more audience members, interact with your social network, and boost your online presence. Thus, you significantly increase your chances of capturing leads, converting them, and generating sales.
To stream live on Facebook or YouTube, go to your room dashboard and click Stream on Facebook or YouTube when you prepare or start your webinar.
Bottom Line
By addressing your audience's needs through webinars, you'll be in a better position to capture their emails or sell to them.
With ClickMeeting's intuitive interface and business-friendly features, earning from your webinars, promoting your brand, and capturing leads for conversions are achievable.