Are you planning to start a new blog? Well, here is the process of creating a blog and make sure to read this article till the end to avoid common blogging mistakes.
Though Blogging is a simple process of creating content, it could be intimidating at times while you try to drive regular traffic.
Even the best in the business do mistakes. However, we can surely reduce the mistakes if we have a proper understanding of the process.
It is often said that people learn from their mistakes. But I say, why to make mistakes when you can simply avoid them. When you are just getting warmed up with starting your blog, all excited, your head filled up with all those ideas, chances are, things might get a bit messy as you go along the way.
Luckily such problems can be avoided if you know they're coming. So for all those newbies out there, read on to know about the common blogging mistakes and how to avoid them. Remember, success starts with laying a strong foundation.
What Are The Must Avoid Mistakes for Bloggers?
As a newbie bloggers, there are a certain things you must know so that you can avoid the common blogging mistakes.
Here are a few mistakes that you can learn from.
01

. Not Selecting The Right Domain

While you plan to start your blog, you must select the right domain name for your business and the right tools so that it becomes easier for you to grow your blog.

We have an article about the best domain name generator tools that will help you to find the right kind of domain name for your blog.

Things to consider while selecting your domain name: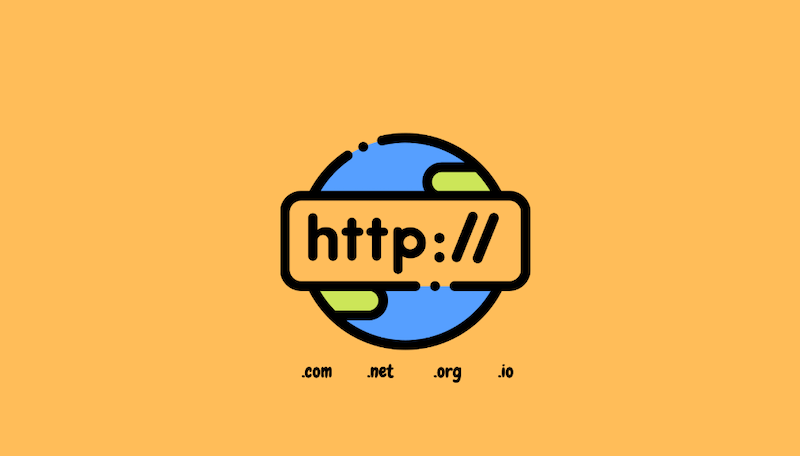 02

. Select Right Blogging Platform

While Blogspot or Blogger is a popular platform to start a blog among the newbie user, I will suggest you to use WordPress.

If you wish to make money through your blog, WordPress will offer you the freedom and flexibility to grow your blog.

WordPress is the biggest community of webmasters, and there are thousands of tools and services available around WordPress ecosystem.

As a complete newbie, when you look around for WordPress, you will come across two options.

Here we are talking about the .org version of WordPress where you will be using the software to create your website.

But don't get intimidated by the thought of using a software because you will not even know before you start using the software as the process is completely automated.

You will get a ready WordPress installation when you start with any renowned hosting provider, that will see the process in the next point.
03

. Not Selecting Right Hosting Provider

This is a very important point. You must choose the right hosting provider as the quality of your hosting will be responsible for the loading speed, security of your site to a large extent.

While there are a number of different hosting providers and hosting types such as

As we are talking about the new blogs, we will stick to shared hosting. In this hosting environment, your site will be hosted with a number of other websites sharing the server.

Bluehost is one of the highly recommended hosting provider. They have been offering quality hosting for many years.

Your site will perform well and be secured in a Bluehost server as they are the expert in this niche. They also offers amazing customer support in case you need any help.

Another advantage of hosting with bluehost is that you will get a domain name for free. Remember our first point where we discussed about choosing the right domain name? You will get the domain name free (you will save around $15).

Also, you will not have to go through any complicated process of installing WordPress as Bluehost will auto-install WordPress for you.

Here is the step by step process of getting started with your blog using Bluehost.
04

. Selecting an Aawful Free Theme

Now, what the heck is a theme?

Well, the theme is the design template for your site. You must use a good quality theme to make sure that your site looks great at the same time it is SEO friendly and loads quickly.

Don't go for a messy free theme for your site, it is a very common blogging mistake. You will surely save a few dollars, but a free theme will never help your blog as most of them are not regularly updated.

A free theme will not help you to have the SEO advantage or get you regular updates to be in tune with the latest WordPress version.

You probably are wondering how to select a good theme. Don't worry, you have a number of articles around the best WordPress themes to help you. For example, you can read this article about the best SEO optimized WordPress themes.

These are some of the top WordPress themes.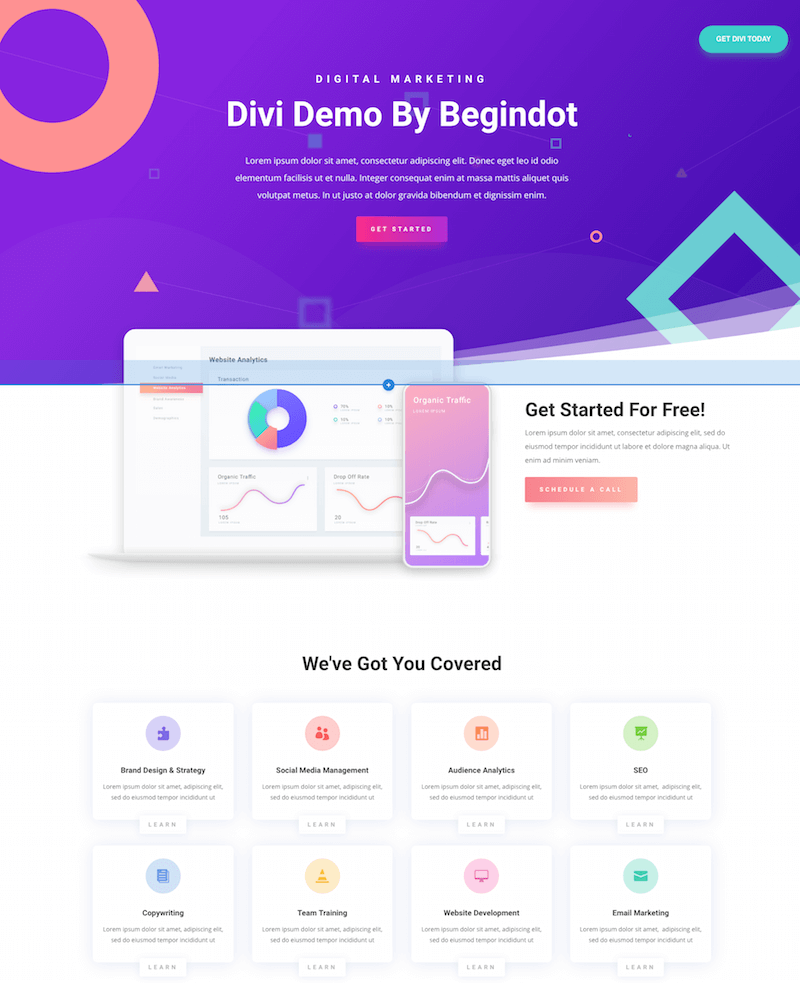 05

. Missing Important Pages

Before you start creating any content on your site, you must create the important pages on youe site such as the following.

It is necessary to have a description of your venture. If you are an individual or an organization, an "About Us" page will provide an insight into your vision and objectives. This is an integral part of your blog because this showcases your determination and zeal for the cause.

Moreover, it helps in developing trust and connection. However, it is not just about you and your accomplishments. You have to write a short description of your life, your hobbies, the current situation, and your vision.

In addition to this, write about your blog. Discuss the content that you wish to deliver and how it can be beneficial for the readers. The readers expect to get an answer to their query. Therefore, it depends upon your ability to deliver the desired information.
06

. Not Understanding Your Audience

The sole motive of creating content is to deliver it to the target audience. The audience comprises of potential customers and avid readers. You should develop the ability to understand your audience needs.

This way, you can curate content that will attract readers. For example, if you decide to write on fitness, you should consider two aspects.

First, are there any readers for a specified niche? Secondly, how can you satisfy their queries? When you can do this, you will be successful in delivering the required content.

You should aim to connect with the audience. This will be evident from your writing style. For example, if a reader wants to gather information about a smartphone, you can either write it in a formal style or an interactive style with a first-person approach.

The latter approach will create interest, and it is possible that the reader gets converted into a customer.
07

. Not Doing Keyword Research

If you want to grow your blog in terms of traffic and revenue, you have to do keyword research.

So, how to do keyword research? What is the starting point.

Well, SEMrush is a great tool to do in-depth keyword research. We have a detailed review of SEMrush to help you know more about the tool.

You can start with the following points.

As you find the authority blogs in your niche, you can do a search on SEMrush to list all the related similar sites.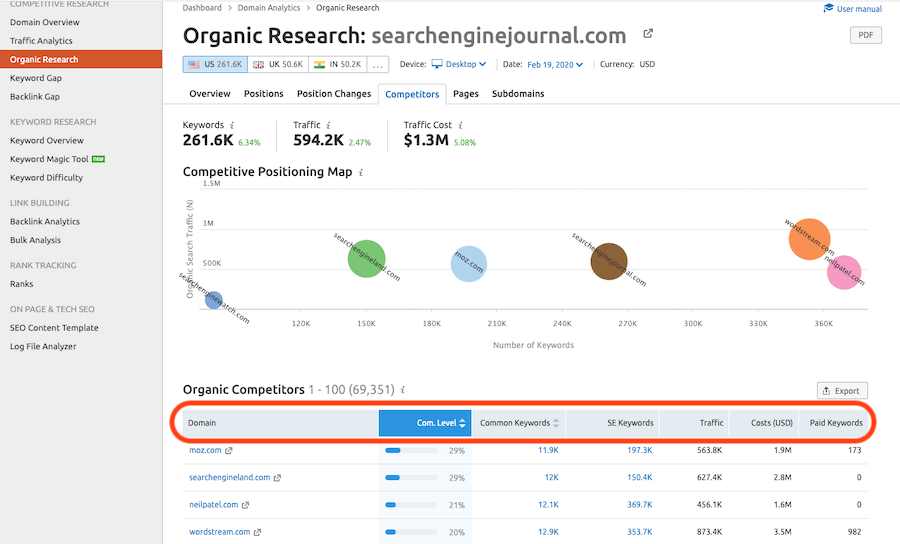 Once you create the list of your competitor sites, you can do in-depth research on each of those sites to find the top traffic-driving pages on those sites and create content on similar topics.
Keyword Magic Tool
Here is the gem for your that will help you to find the best keywords that you need to target. SEMrush offers a tool called Keyword Magic Tool for comprehensive keyword research.
All you have to do is to type a broad level keyword around your niche, and the tool will show you hundreds of profitable long-tail keywords that you can create content on.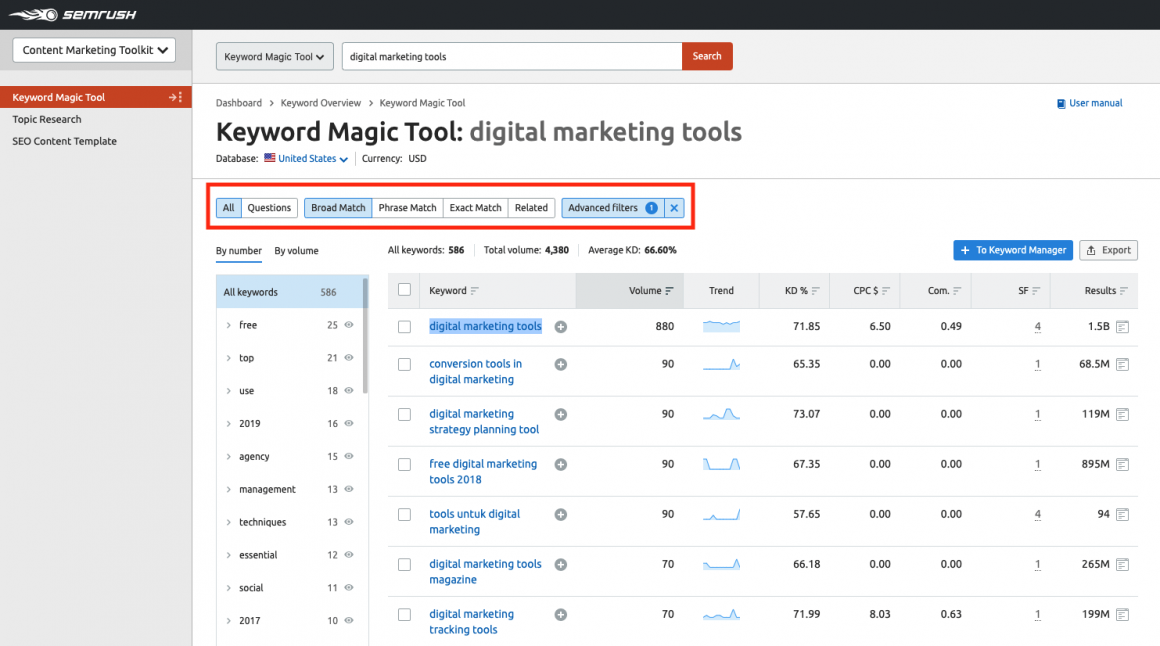 Here is good news for you. You can get an extended free trial period for the SEMrush tool by using this SEMrush free Trial link.
08

. Lack of Quality Content

The topic you choose and how you put it into words to convey something meaningful will determine its quality. Vaguely writing whatever comes to your mind, won't capture the attention of your readers. Your readers visit your blog with some expectation, hoping to gain something from it.

And if they feel like they are not getting anything valuable from your blog, they are not likely to return.

Avoid making formatting, grammatical and spelling errors in your blog post. Not only does it make the most unpleasant to read, for the audience, they also fail to convey the intended point.

So what I would suggest is that, before you push that publish button, take your time to go through the article.

Use a spell checker, spend time on researching about the topic, check for plagiarism. A single well-crafted article is worth more than 5 crappy posts.

Now, how to create a high-quality correct article.

Use Grammarly for Support

Grammarly is one of the most widely used grammar, spelling and punctuation checker tool. It is a must have tool for every blogger or freelance content writer.

Grammarly is a very easy tool to use. In fact, you don't have to do anything extra as the tool will handhold you while you create your content.

You can signup for Grammarly and use their browser extension. Once you have the extension, it will highlight all the errors on your content, you can simply click and correct it on the go.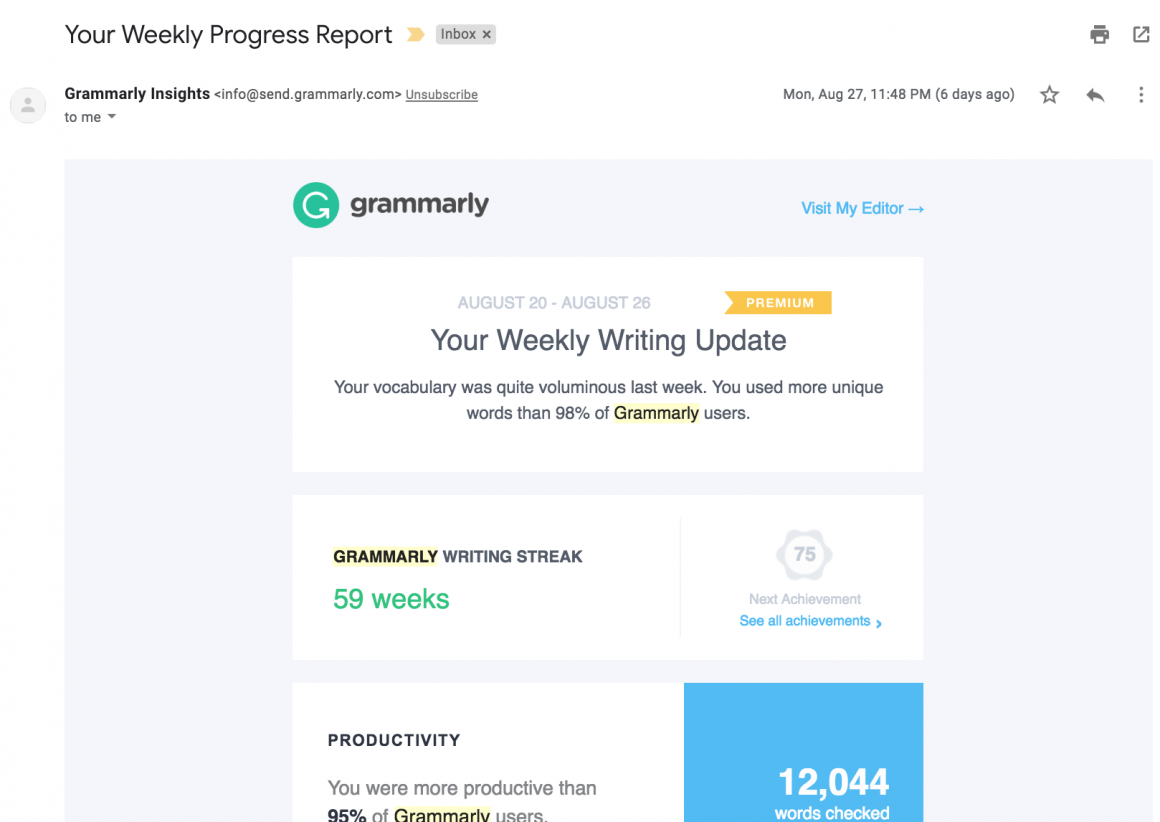 09

. No Personal Touch

When we talk about a blog, we expect an interesting platform with interactive information. You can use a third-person approach, but it would sound too formal. It is possible that readers feel bored.

Therefore, it is necessary to develop an interactive piece of content that binds the reader till the end. When writing content, write it in a conversational tone. Use a first-person or second-person approach that will instantly create a connection with the reader.

This is essential because readers want to know your personal experience. You can share examples from your personal life. Eventually, you will develop a writing style that is interactive, interesting, and informational.
10

. Not Creating an Email-List

Email is the most effective marketing means for any kind of business. But one common mistake beginners make is not creating an email list. They tend to think of it as something for the pros. But this is not true.

Building an email list is critical and so once you start blogging, focus on building an email-list the moment you post your first article. Collecting your readers' email addresses ensures that your posts are delivered right to their inboxes.

Understand that, each time you publish a new blog post, your email subscribers are the people who are most likely to interact with your blog and give you that initial surge of traffic. Take note that email converts 3x more traffic than social media does.

Now, the question is how to create an email list?

the starting point is to use any quality email list builder tool that will give you the option to create a perfectly optimized good looking email opt-in form.

You can place the form on the sidebar of your site and show it in all your blog posts to increase the conversion rate.

These are some of the top email opt-in WordPress plugins that are created with the best practices to increase conversion.

You must have a great offer.

Why will a user give their email ID just like that? So, to make sure that most of your users give their email ID, you must have a great offer. Something that adds value.

Here are some of the ideas.

If you are not aware of how to create an eBook, here is a detailed process to create an eBook that will help you to understand it better.
11

. Inconsistency

When you are starting a blog, maintaining a regular flow of posts is necessary. Publishing 4 posts in a week, and then only one or two in the next few weeks will tag you as unprofessional. Irregularity in blogging will surely confuse your readers and make them lose interest in your blog.

The audience prefers those blogs that provide fresh content on a regular basis. Publishing articles consistently will not only give your readers a reason to return back to your blog but will also portray you as someone who is serious about his blog.

Consistency builds trust and credibility. Make publishing articles a routine and clear your path to become a successful blogger.

However, publishing on a regular basis does not mean posting whatever comes to your mind. The quality of your articles is more important than its frequency. 5 ordinary posts per week will not take you as far as 2 outstanding posts per week would.
12

. Not Promoting Your Posts

When you have just started blogging, how do you expect people to know about it? Your content may be excellent but it may still remain invisible to your ideal reader. Don't wait for your readers to find you, you have to find them and display your content where he or she is.

Your content may be excellent but it may still remain invisible to your ideal reader. Don't wait for your readers to find you, you have to find them and display your content where he or she is.

That means sharing and promoting your contents through various platforms: online forums, emails, newsletters and social media sites like Facebook, Twitter, Instagram, etc. 

Also, make it easy for others to share your content by simply adding social media sharing options on every blog post of your site. This is convenient for the readers and encourages them to share your post.

Also, make it easy for others to share your content by simply adding social media sharing options on every blog post of your site. This is convenient for the readers and encourages them to share your post.
13

. Lacking Visuals

It is a proven fact that visuals have a better impact than words. Visuals encompass images and videos. Your content should be rich in images. It is better if you can embed videos as well.

There are two considerations when including images in your articles. First, the images should be relevant to your content. The images should define your content. Secondly, use high-quality images in your content.

How to create custom images for your blog post?

You can use tools like Canva, to create quality custom images for your blog post.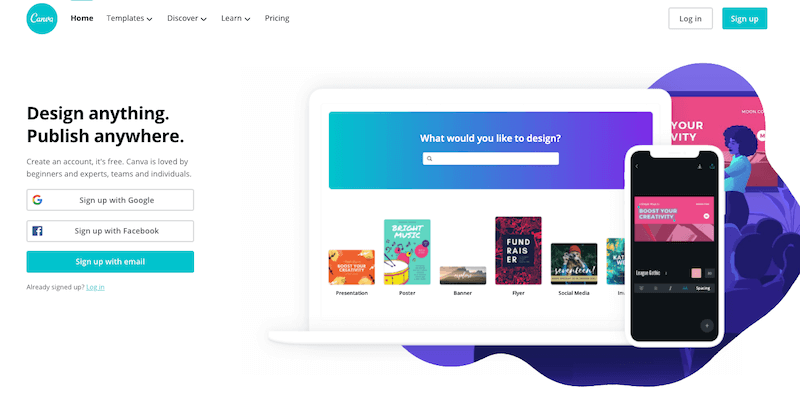 14

. Not Analyzing Blog Data

Most bloggers just concentrate on creating content and promoting it. However, they fail to keep a check on the performance of the blog. There are various parameters that define the success of your blog. These are:

This is just an overview of the parameters. You can significantly improve your blog statistics when you keep a periodic check on the numbers. There are tools like Google Analytics, KISSmetrics, and so on. With these tools, you can grow your traffic and convert visitors into subscribers.

These are some mistakes that a content writer should avoid while developing content. You can improvise if you pay attention to these mistakes. This will help you in creating better content that will eventually increase visitors and your ROI.