Are you planning to create a dropshipping business? Here is a list of best WordPress themes for a dropshipping business.
With the dropshipping business taking over the market by storm, it is essential that you broadcast your services effectively and what better way than to have your own website for the business?
Starting a dropshipping business is one of the best monetizing methods these days. So, if you want to make money online, you can start your business with a very limited budget.
Setting up your very own online store will help you by establishing an online presence for your business and helping you reach your audience.
A website for dropshipping relies heavily on the layout. So while picking out the best theme for your website this has to be adhered to.
There are also other factors like easy installation, allowance for customizations, highly responsive design and regular updates that once should look out for before zeroing in on a theme.
We have put together a list of best WordPress themes for your dropshipping business that encompasses all the necessary factors to give your business the attention it deserves.
Also, have a look at this article about the best AliExpress alternatives for dropshipping business.
Top WordPress Themes for Dropshipping Business
Avada
Boasting it's hoard of satisfied customers and consistent top-selling theme making it easily one of the best themes for your dropshipping business.
This doesn't require you to know coding to get your website up and going, and its fusion theme options help you tread on the global territory.
It allows you absolute control over your page and theme controls, with the idea that your site should be a reflection of you. SEO optimization, highly rated customer service, custom-made tools, and advanced typography easily make it a viable option.
Avada offers you all the features and options that you need to create a modern and user-friendly website.
Don't forget to check our collection of sites created with Avada theme.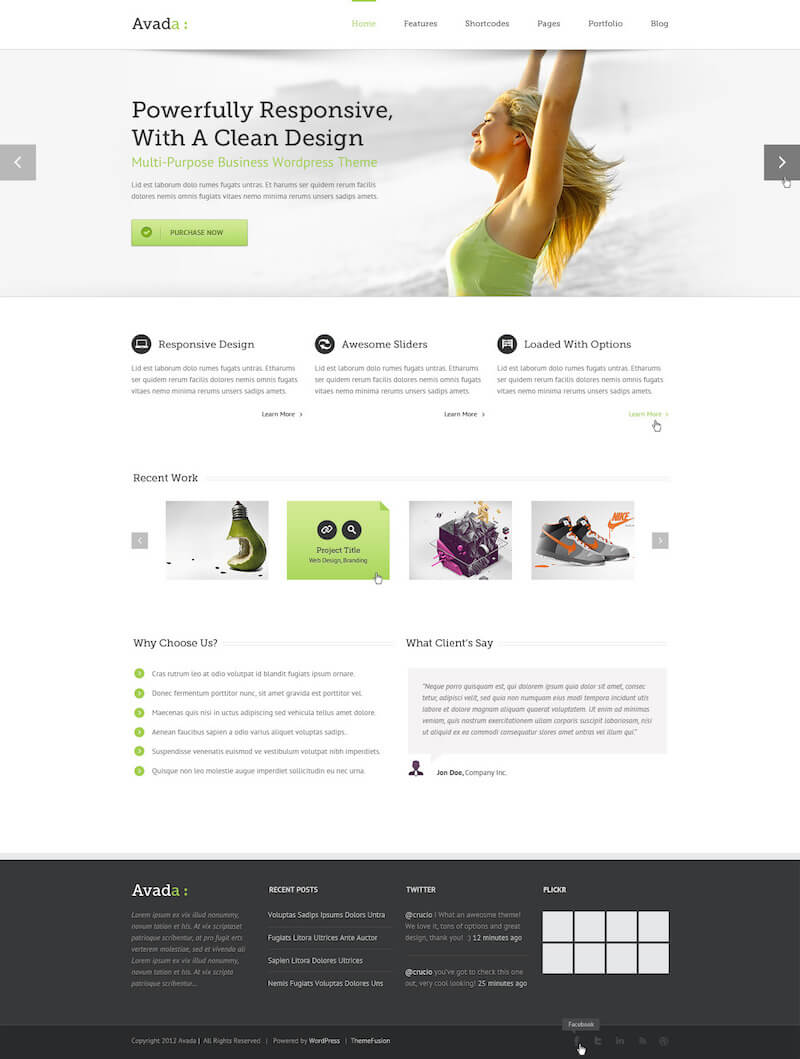 Divi
Divi is one of the most popular WordPress themes in the market. You can create any kind of website with the Divi Theme.
The theme comes with all the features and options to create a successful business site. A number of well-known brands are already using the theme.
Divi is powered by the amazing Divi website builder which is one of the best drag and drop website builders for WordPress. You can create any custom design by using the front-end builder.
The theme is constantly evolving and getting new features added with changing design trends.
Its comprehensive set of tools tend to a majority of your dropshipping needs like their customizable content template, drag and drop feature, 40 unique custom-made modules and powerfully designed themes that can intricately unfurl your business to the audience.
Predominantly used for e-commerce, and business sites this theme is suitable for all kinds of websites- small and large.
Its searched powered by AJAX and the dynamic filtering of products adds to the distinctive perks.
Get a 20% extra discount on Divi Theme using thi9s link.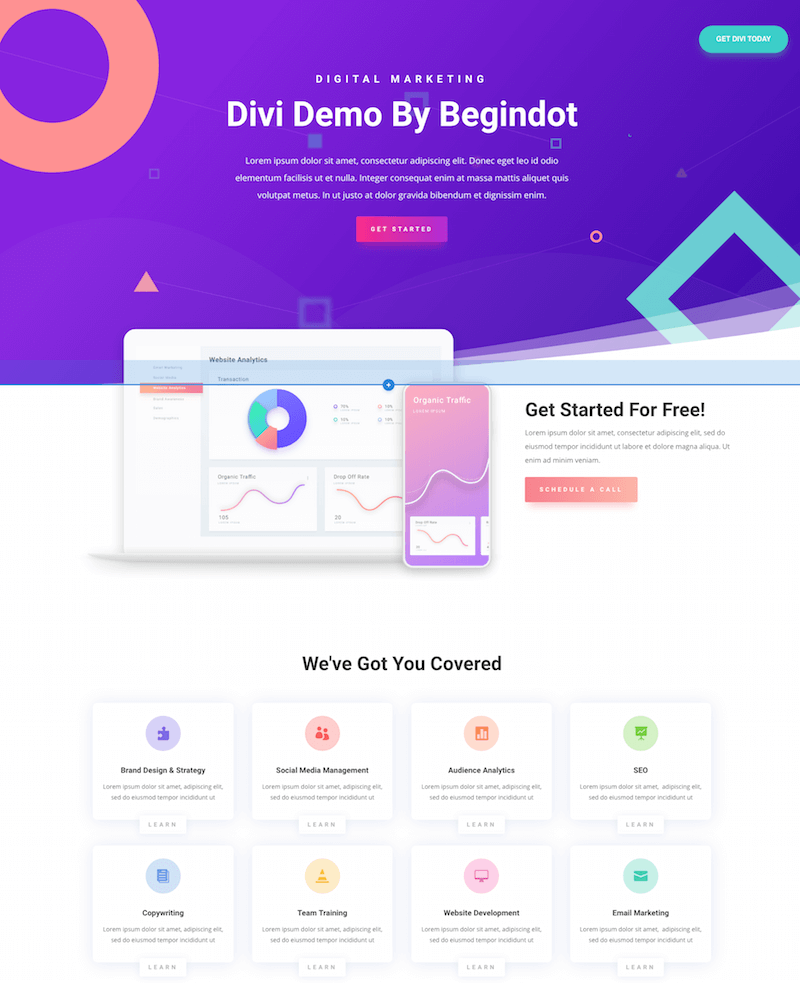 Dropshipping
As the name suggests, this is a custom theme created for the Dropshipping and eCommerce related website.
This theme offers you all the features and options to help you create a successful Dropshipping business site.
With over 40 different demo design templates, it is one of the most comprehensive theme as far as design is concerned.
Mobile-friendly design, the beautiful mega menu option to link to important products, barcode generator, advanced product search make this theme one of the top choices for Dropshipping business.
Flatsome
This theme is relentless in its professional design and has been acclaimed as the best e-commerce theme in the market, thus proving to be an ideal suitor for a dropshipping website.
Known for its versatility, this theme allows you to customize the layout in accordance with your business needs and what your audience requires.
With assured seamless user experience, this WordPress theme is extremely suitable for those of you do not know to code but wish to have launched their website.
Displaying unlimited options for your creativity, Flatsome has regularly scheduled updates.
Uncode
With details and tools crafted for perfection, Uncode is famous for its animated headlines which can make quite an impression when coupled with improved base code and a massive library of 410 layouts.
It has unique concepts that are available for purchase. Unicode boasts off its feature in Forbes, DWB and Inspiration fee to name a few.
Uncode comes with tons of ready to use design templates that you can use for your website. Also, you have the option to create an unlimited unique custom design for your site without writing a single line of code.
Its satisfied customers have vouched for its impressive build and the wide array of tools bound to attract the attention of your target audience.
This offers re-scaled versions for your digital marketing outlet and also adaptive images which can restructure according to your screen.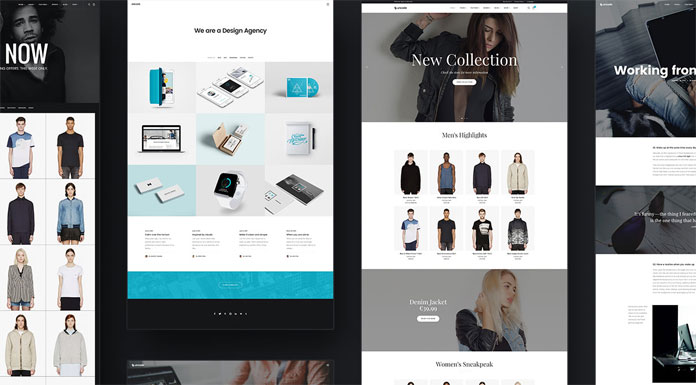 BeTheme
This theme strives to retain the personalized aura to your website, after all it's your business and it should reflect your ideas and perspective.
With extensive SEO optimization that will propel your visibility across Google, Betheme has custom-made templates that can support images and videos with equal efficacy.
What is interesting is its multilingual support team which can tend to all your inquiries irrespective of the language they are in.
Their efficient admin panel can guide you through its effortless usage and hassle-free modification of your content.
The theme is GDPR compliant and offers you all the latest features and options to help you create the perfect website for your business.
Read detailed review of BeTheme here.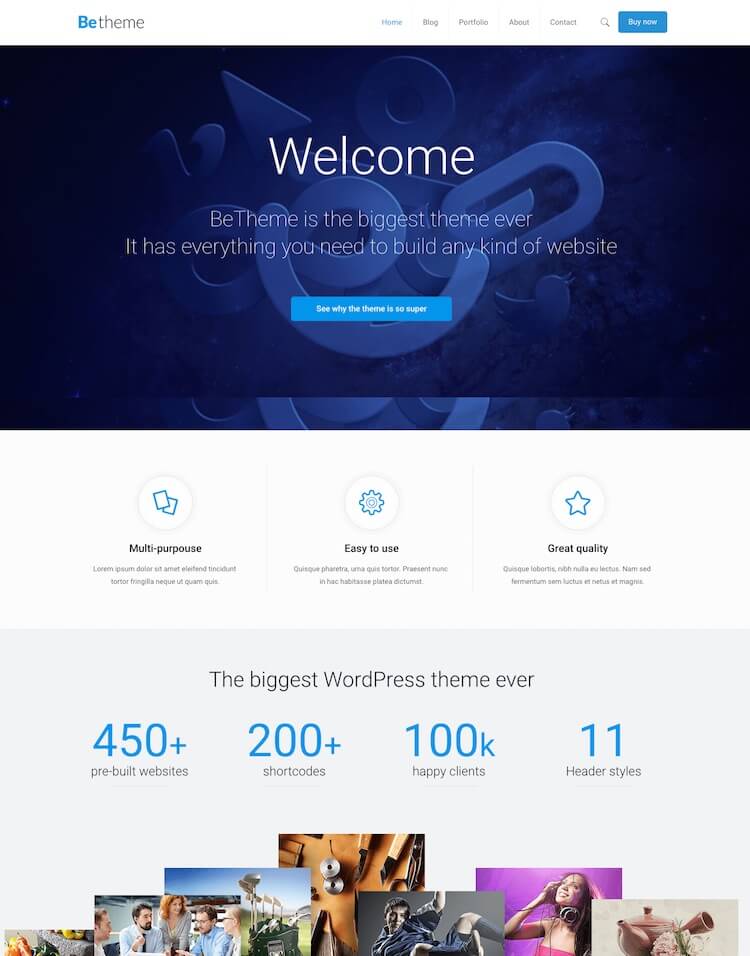 The Retailer
Another theme famous on Woocommerce, Retailer's landing page is efficient, functional and houses all the necessary details about your business.
This makes it and your business easily accessible to your prospective customers. What is also appealing is its quick set-up coupled with features like in-built page layouts, mobile-friendly interface, and responsive design.
It has established its reliability with its 24/7 support team, and integration with digital bankers has paved way for smooth payment methods and purchases.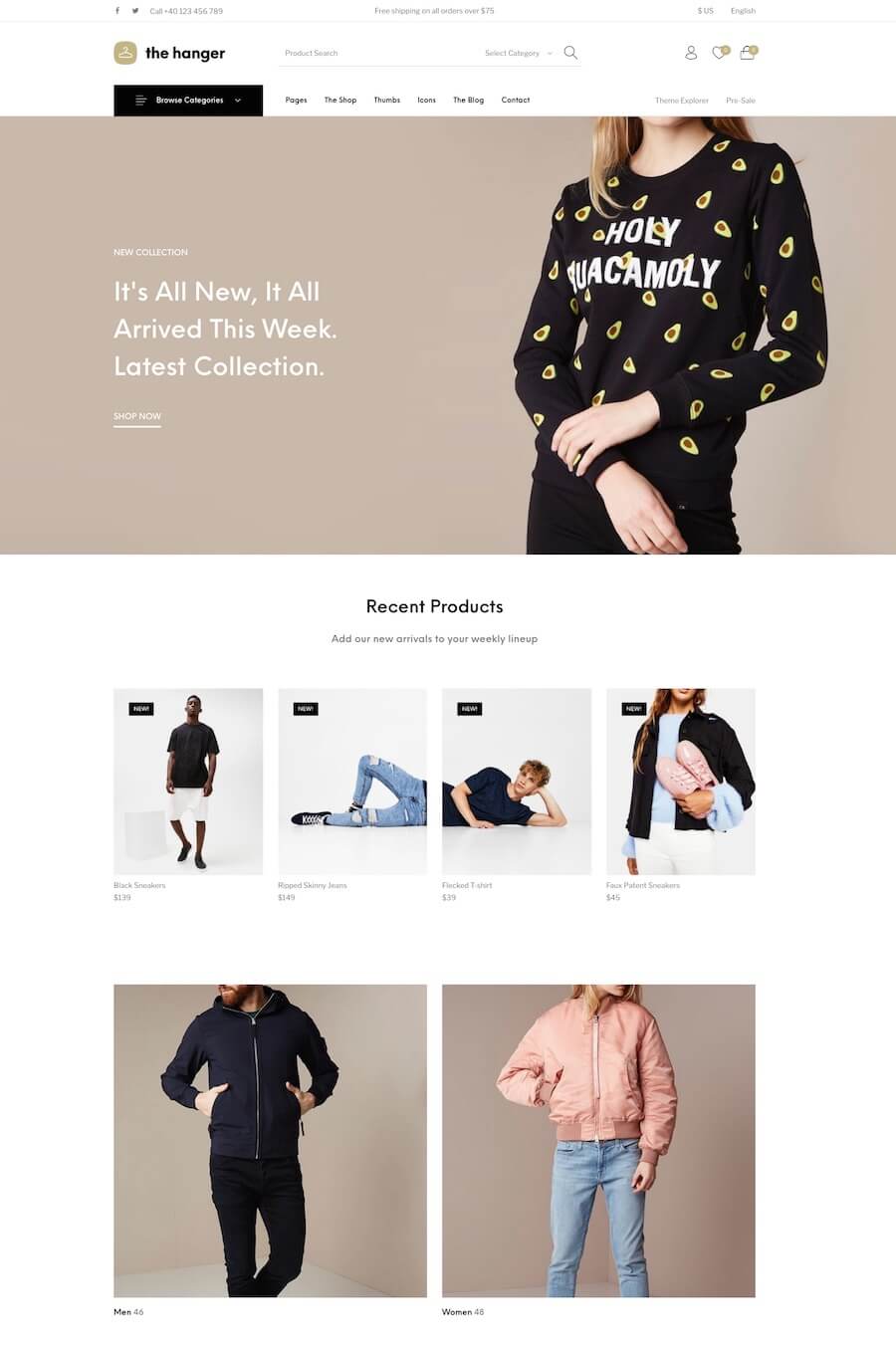 WoodMart
A comprehensive WooCommerce theme that is perfect for the dropshipping business.
The theme comes with over 60 demo design templates that you can use on your site.
It is a highly flexible WordPress theme that you can design as per your need without any coding.
The theme comes with a large number of header design options so that you are able to create an attractive and unique header design for your site.
Beautiful product pages, amazing product filter options like the high authority sites and more.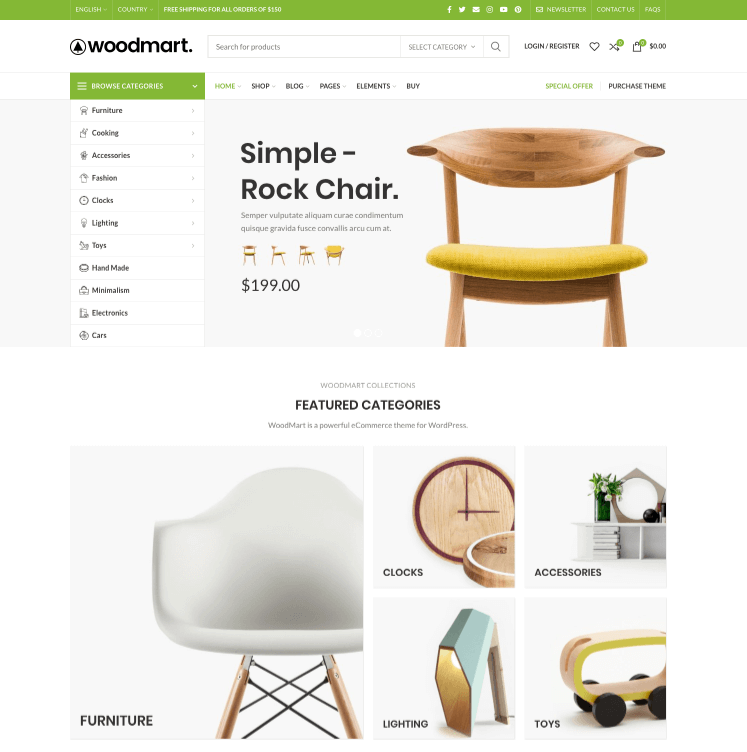 Aurum
With effortless versatility, this theme is compatible with all kinds of business and its adaptable themes can go with every product or service you're marketing.
Its minimalist yet the classy interface is largely monochromatic, but also comes with easy customizable options if you feel like an option for something more vibrant.
Streamlining all your sales activities onto a single domain, this fast theme will smoothen all your activities on the site and carry them out without hassle.
They take pride in their proficient support team alongside it being supportive of RTL and WPML with easy site conversion.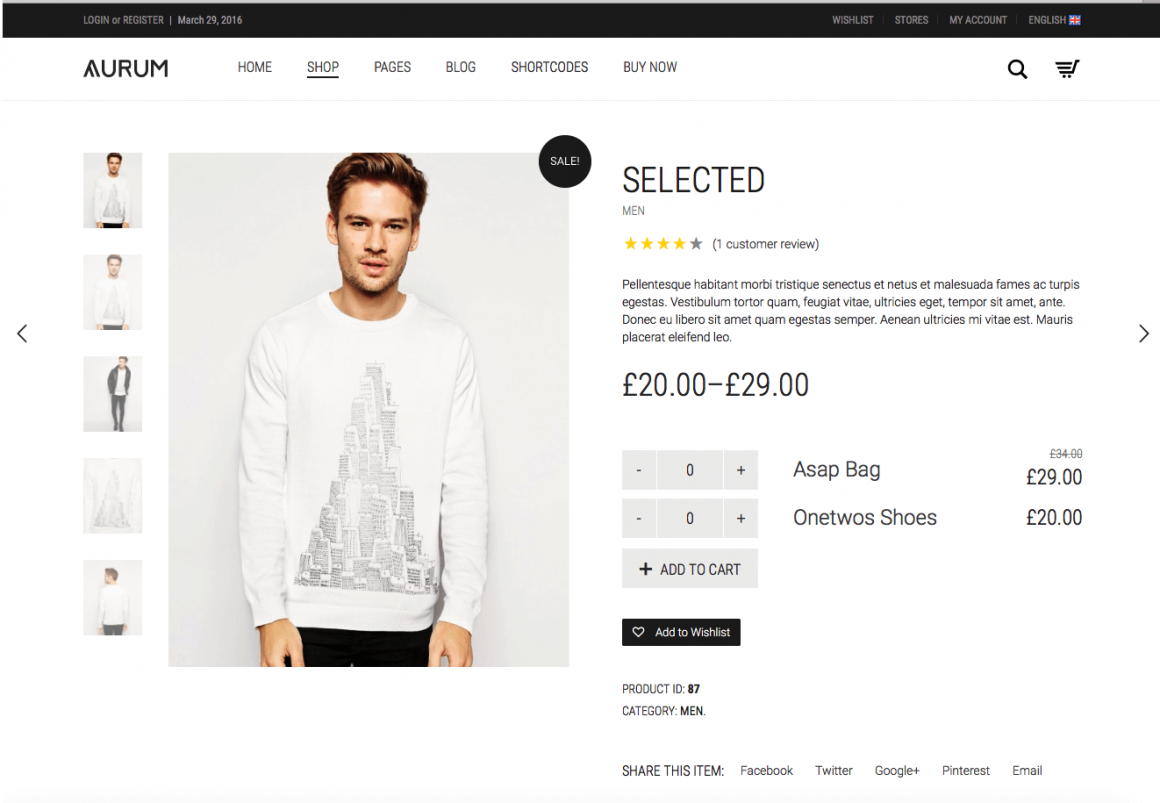 Elessi
Elessi is a clean and professional looking WooCommerce theme for dropshipping business. The theme offers all the features and option that will help you to compete with the best in the business.
As far as the design is concerned, this theme comes with a lot of different modules to help you make your site look very attractive.
It offers you ready to use design templates. And the best part is that it is fully compatible with the Elementor website builder, so you will be able to create a complete custom design for your site without writing a single line of code.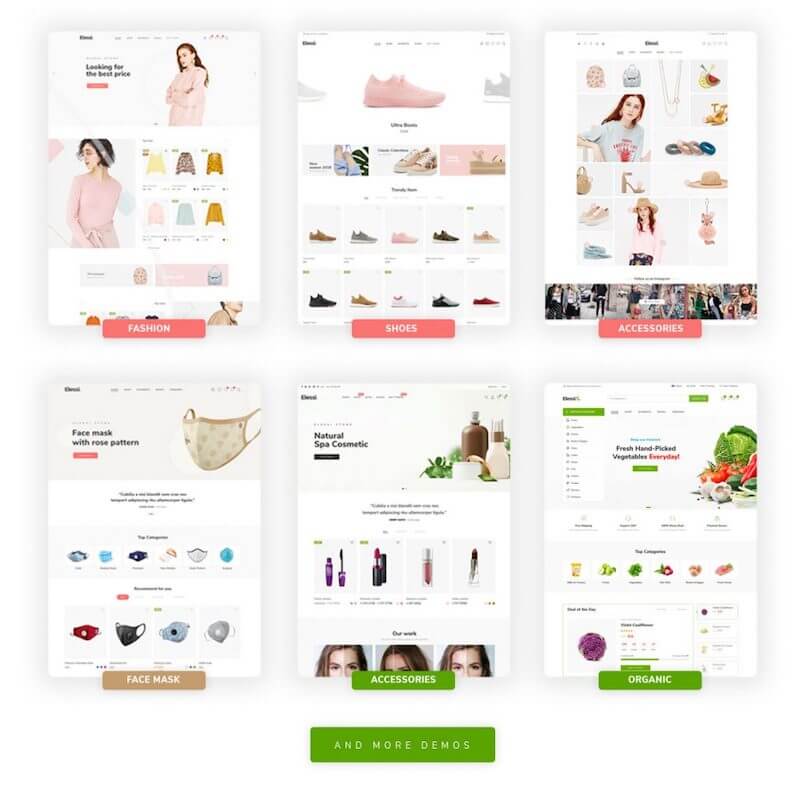 Handmade
With its homely appeal, this theme is a perfect fit if your business if your products are homemade or handmade, and have a tinge of culture or ethnicity.
Having proven effective for all kinds of e-commerce stores and companies, Handmade harbor a one-click demo importer and one can easily create web stores without having to know to code.
This eliminates your need to invest in a professional coder! In addition to this, it also has product filter widgets, custom shortcodes and other built-in plugins.
Shopkeeper
This e-commerce theme prides in being easy maintenance alongside an easy installation. Its easy-to-use and the navigable interface can be used by all, especially by beginners who are just venturing into the world of digital marketing and are looking for the right foothold.
With customizable options, you will be able to carve out a distinctive niche for yourself to stand out from the crowd.
Its reliable customer and user support team, documentation, frequent and regular updates, video walkthroughs and smart theme development makes it the most sight out them for dropshipping.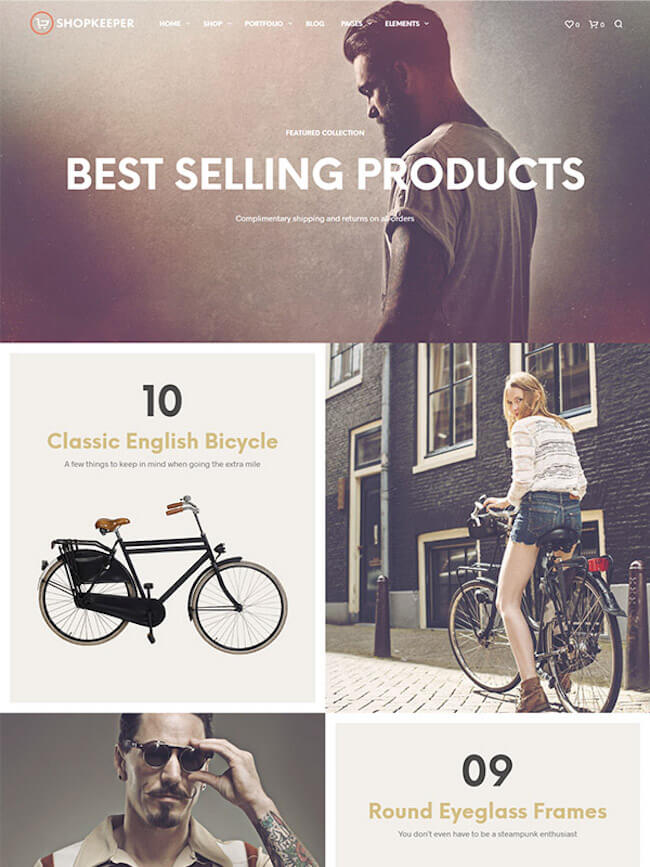 MediaCenter
MediaCenter is a great looking, modern electornic store WooCommerce theme. You can use this theme to create your dropshipping store.
The theme comes with all the features and options to help you create a perfect online store to attract more buyers.
It offers demo design templates yo help you get started with your site quickly. You can also create your own custom design for your site by using the WPBakery website builder which is a part of the theme package.
The theme is fully responsive and it will make sure that your site looks great on all devices. To make the header section look attractive and user friendly, the theme offers you unique custom design for the header section.
It also comes with live search option, so when a user start writing something on the search, it will start suggesting the related content on the site.
Overall, it is a great theme to get started with your dropshipping business.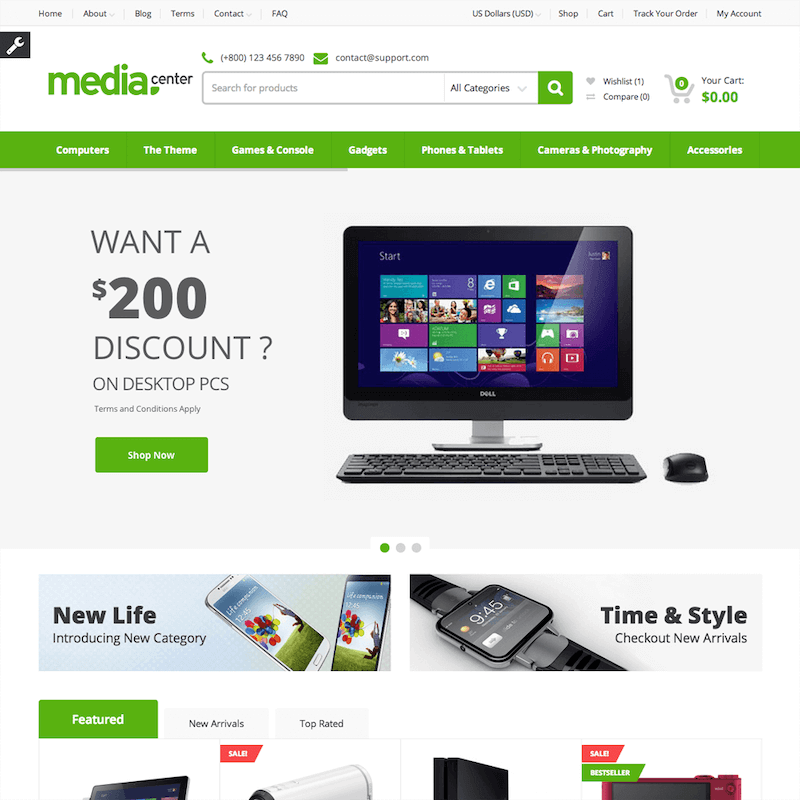 Jevelin
Elaborately crafted and brimming with expert functions, this theme is everything your business needs and deserves.
What is more appealing is that it is suitable for beginners or newbie entrepreneurs who want to get their websites going but do not have significant coding knowledge.
With pre-built demo websites, you are faced with a wide array of customizable options so that you can tailor your website in accordance to your liking- effortlessly.
This also saves you time that would have otherwise been spent in charting your own template.
The theme is also inclusive of supporting high resolution images, graphical customizations, powered by e-commerce plugins and other features that come extremely handy.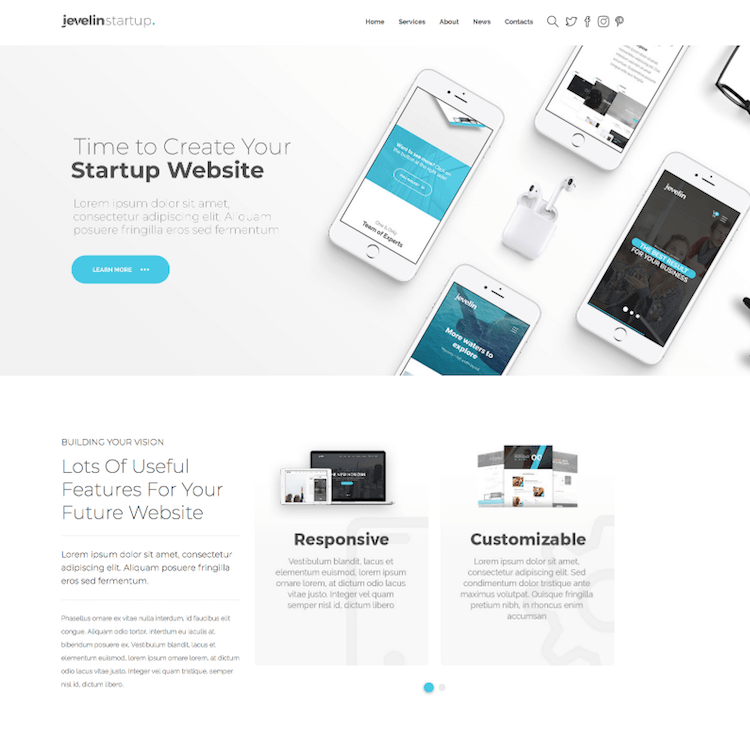 Porto
Faring as one of the best e-commerce and digital marketing themes of WordPress, Porto is also highly rated in the industry and must definitely be one of your top choices for your dropshipping business.
Tending to niche ad general markets alike, Porto's ability to successfully showcase your products and attract eyeballs has been lauded for.
Its multi-faceted features enhance its performance by curating a personalized shopping experience for the customer and selling experience for the entrepreneur.
Compatible across devices and browsers, Porto is inclusive of SEO optimisation, custom-made modules and functional plugins. It is a reliable platform for you to trust your business with.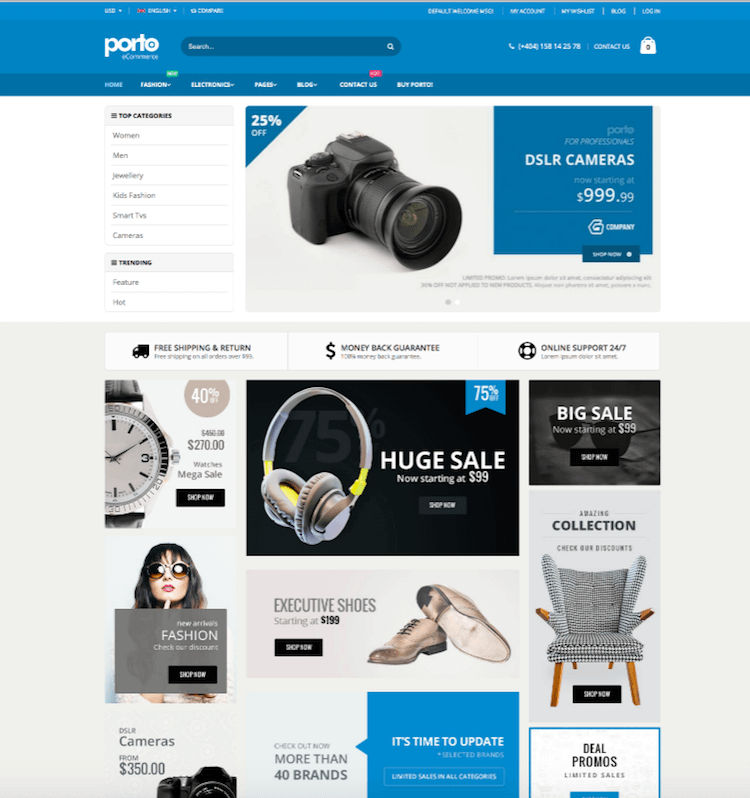 Another sleek website in all its modern glory, Navy has a brilliant layout and landing page that can perfectly advertise your content and reach your target audience. It's satisfied users have vouched for the theme's credibility and reliability.
Their expansive choices regarding custom-built templates are at your disposal to tailor them in accordance with your content and marketing necessities.
Highly supportive of e-commerce and digital marketing, this theme supports shopping carts, easy online payments on the site and product catalogs that will give your target audience the clear and concise picture of your wares.
Their plugins consist of Revolution slider and Essential grid which assure the best navigational experiences, alongside the built-in custom lightboxes and video backgrounds that can take your business to new heights.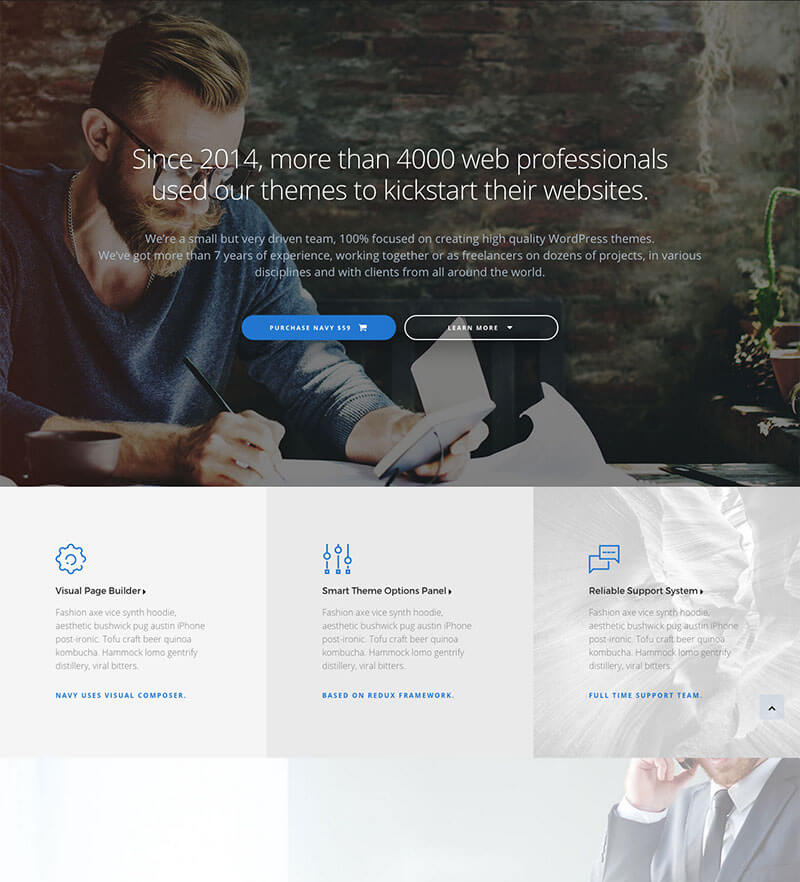 Kalium
Kalium has been acclaimed and lauded for its highly responsive designs, that can be viewed on all devices owing to its cross-browser compatibility.
With a neat and sophisticated interface, Kalium has been known for supporting several e-commerce giants and is vastly used for product-based businesses.
Supporting more than 500 Google fonts with the inclusion of personalised ones, functional admin panel and a plethora of customisable templates for landing pages- this is every dropshipper's dream website.
Their footer variations consist of corporate, minimal and simple; its simple icon fonts and effective categorisation of your products give your business one of a kind he layout.
Striving to purely be a reflection of your vision, Kalium's sensor commands and drag/drop images are a godsend.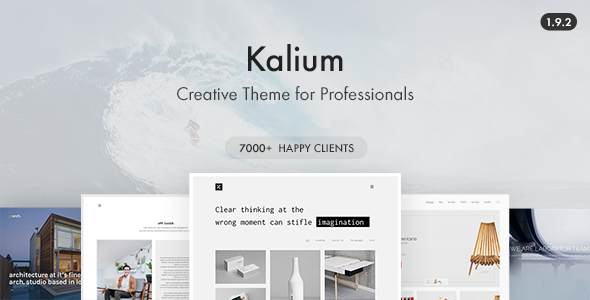 FAQs About Dropshipping Themes
What is Dropshipping Business?
In the dropshipping business, the retailer doesn't keep the goods but work as a middle person as a link between the customer and the manufacturer. You generate the lead, take all the customer information and transfer it to the manufacturer for shipment.
How Can I Start Dropshipping Business?
Select a niche you want to get into. Create your website to showcase the products. Make a deal with the supplier, generate the leads and send it to the supplier for shipment of the products.
Do I Need a Custom Theme For dropshipping Site?
Yes, any blogging theme will not be a good fit for a dropshipping website. You need a proper eCommerce design to showcase the products in a professional way.
Do I Need My Own Product for Dropshipping Business?
No, you don't need your own product to start a dropshipping business. However, you need a good trustworthy supplier.
How Much Can I Make With Dropshipping Business?
It depends on a number of factors such as the quality of the product, the demand for the product, your traffic, the price of the product, etc.
Final Word
This list of particularly e-commerce themes are handpicked to perfection, and are versatile enough to adapt to all kinds of drop shipping businesses.
Every theme is distinctive and successful in its own way, and you are met with a choice of getting the best suitor for your digital marketing website.
There are also several factors that have to be considered before you narrow down on a prospective theme choice- like the imperativeness of a hassle-free installation, allowance of complete customisation and a responsive design supportive cross-browser compatibility.
All of these premium themes specifically house pixelated designs, so you can be assured that your website gets nothing but the best.
It helps when your theme has regularly scheduled updates, which can augment your website's existence. Thus, let your ambitions run wide when you're curating the perfect e-commerce website!