If you are looking for the best plugins to convert your WordPress site into a mobile app, here are the best options you have.
An application makes it easier for people to engage with your web-based business.
No matter what you are trying to sell, you cannot do without a mobile app. Consumers spend a great deal of their time on mobile.
If you do not believe us, research stats about smartphones. A person is much more likely to use their smartphone more than any other device. Therefore, applications play a key role in your strategy.
Creating an application alongside your website is one option. Another thing you can do is convert your website to an Android or iOs app. If you have a WordPress site, it is relatively simple.
In this article, we will discuss the best WordPress plugins to turn a site into an application for mobile.
AppPresser
AppPresser is an online mobile development tool that is designed to integrate WordPress. This app builder is very easy to use, converting any WordPress site into a mobile application.
Basically, you can easily transform your site into an app running on the Android simulator in the least amount of time. AppPresser was released back in 2014.
Since then, this plugin has enjoyed nothing but success, offering individual businesses, as well as developers many advantages. It works very well with the most popular WordPress plugins like LearnDash, WooCommerce, and BuddyPress.
You can integrate features like Facebook login or camera connectivity. There is a dedicated WordPress mobile theme that can be deployed to make an app.
You can use AppPresser even if you do not know anything about programming languages.
However, if you are an end-user with a limited range of knowledge, you might want to learn a thing or two about programming languages. This will make things a lot easier.
The functionality of your WordPress site is a perfect match for the current market situation in the mobile app niche. When you decide to go through with the conversion, use AppPresser.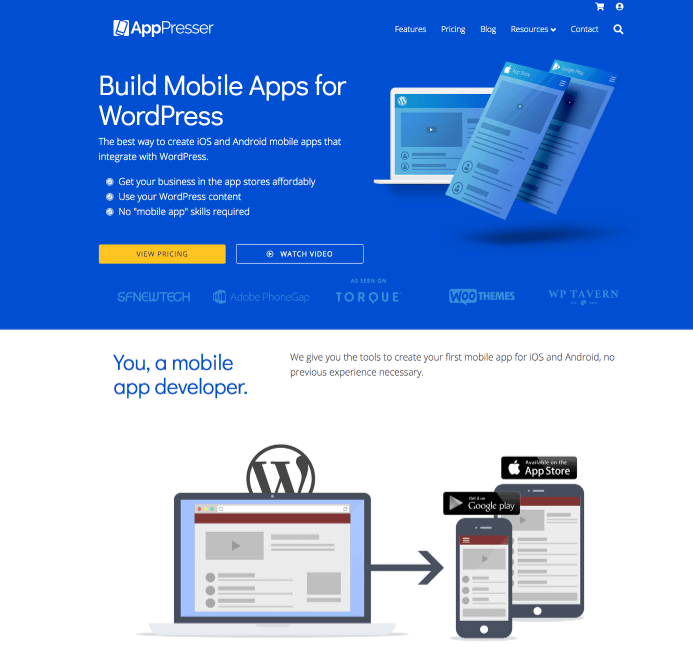 Blappasta
Just like the plugin mentioned before, Blappasta is completely free to use, but this is not even the best part.
It is compatible with Android and iOS platforms, not to mention that it allows you to test and preview all the actions you undertake relating to the mobile app design. Blappasta offers push messaging, social sharing, deep linking indexing, and more.
If you have a site with a simple design and powerful features, this plugin can turn out to be a very useful tool. You will be able to get the app in stores in no time.
Once you have installed and activated the plugin, you can modify the settings. You can change both the appearance and the function of your app. You will want to update the logo and the colors.
Finalize the customization and make sure that you are happy with the application. Do not forget to provide a description of the app stores.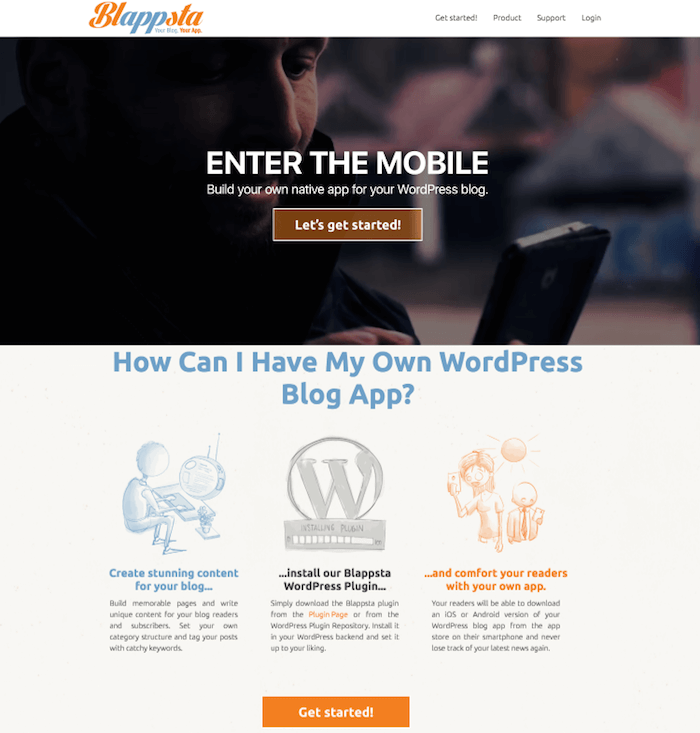 WordPress Mobile Pack
Apps are quite convenient for customers. If you are not trained in how to develop a software program, outsource this to a dedicated development team.
The group of professionals has years of experience and skills that suit your project, building solid apps from the ground up.
However, if you have your mind set on building the application yourself, use WordPress Mobile Pack. This plugin enables you to convert the content into a mobile application.
It will load almost instantly and you can include animations to create a smooth user experience.
With the help of the free version, you can create the app of your dreams. All you have to do is install and activate the WordPress Mobile Pack plugin.
You can purchase the Pro plugin directly from the website. This software component features unlimited customization options. Practically, you can go beyond the dashboard and do whatever you like.
Converting your website into a mobile version requires some work. If you just want to have a mobile app based on your website – in other words, to have an application on top of your website – it is a good idea to hire skilled tech professionals.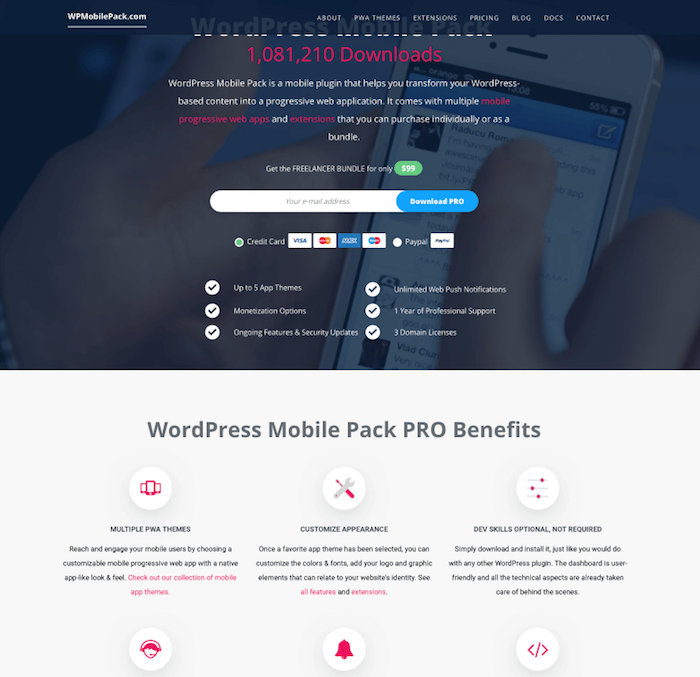 Web2App
Can you guess what WordPress plugin can help you build an impressive Android or iOS app in no time? Web2App, of course. The setup is not at all complicated.
You have a guarantee that there is no compromise in terms of the mobile app quality. Transform your responsive website into an application with Web2App.
The web-based platform can be in any language or open source. Great features that you can take advantage of include startup splash screens, various displays, social sharing, and app rating.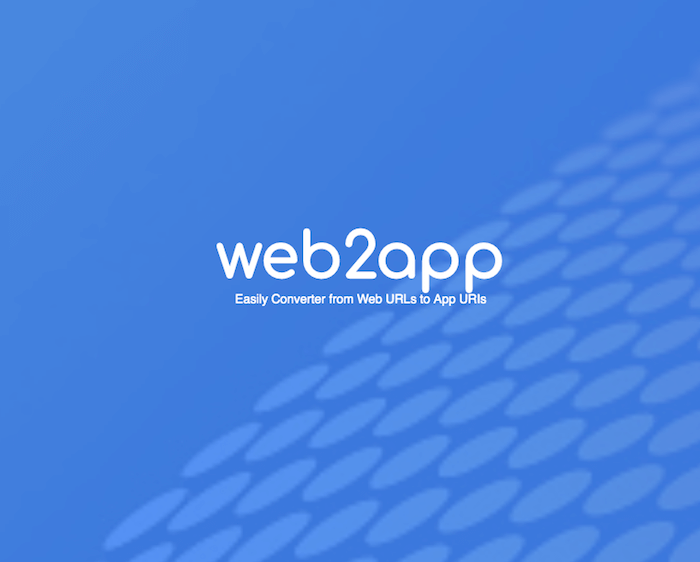 WPApp.Ninja
WPApp.Ninja is a WordPress plugin that offers you the opportunity to create a mobile app for your online platform. It is possible to transform HTML, CSS, and JS into an app in a matter of seconds.
If you buy a lifetime license, you can make unlimited modifications. The setup and configuration can be realized within the WordPress admin area. Anyone with little or no coding experience can design and maintain an application.
WPApp.Ninja reinvents the creation of mobile applications. Download the WP plugin and configure the software program. You have all the tools you need to turn your site into an application for mobile.
Before you start, you need to know that the service is not free. The WordPress plugin is not expensive, but it will cost you to deploy the online mobile development tool.
The interface is quite simple, but the tool does what it is supposed to. You can make the changes you want without much difficulty. Keep in mind that it is possible to test the application.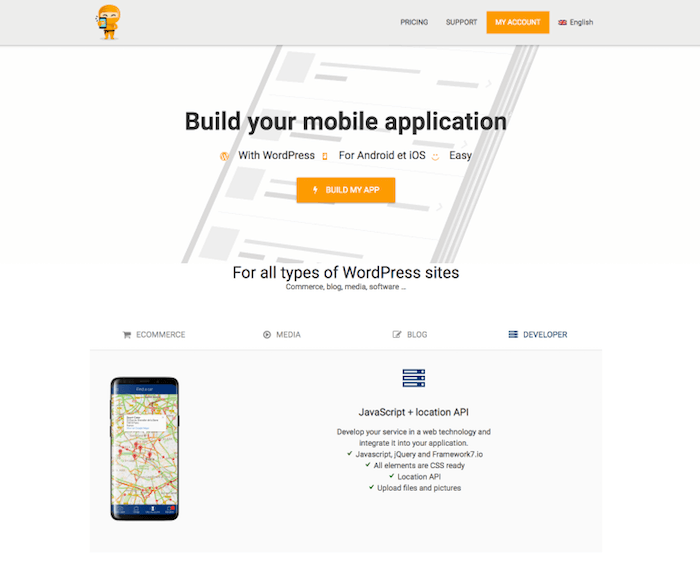 Final Word
To sum up, smartphones are the technology of the future. Mobile applications are booming in the market and they are of paramount importance for businesses of any size.
If you are not convinced that converting your WordPress website into a mobile app is what you need to do right now, hire a team of dedicated developers and have them build an app.
The IT experts will use their resources, meaning their time and skills, to complete the project in a timely manner. Having a site is no doubt beneficial, but you cannot do it without an application.