This is a collection of the best tutorial courses on WordPress themes that will help you to create a completely modern learning management website within hours.
Increased adoption of technology in the education system has made it mandatory for educational institutes to have an online presence, which begins with having a website. In this article, we bring you the top WordPress themes to create an educative tutorial website.
We have already listed the best education WordPress themes here, you can refer to that article as well to find a few more great design options. And if you like to have a community around your tutorial site so that you can engage your students in a better way, we have listed the best BuddyPress themes here.
The tutorial business is one of the best and evergreen business models. There are online tutorial sites that are making thousands of dollars every month through online courses.
Something that is obvious and very easy for you can be a new thing for someone else. So, create an online course that you are good at and sell that at an affordable price.
You can create the course and promote that on social media sites. I'm doing research on Pinterest these days and I have seen people making unbelievable money through online courses and Pinterest as their main traffic driving source.
Just to help you get started, we have created this Pinterest SEO guide that will show you the step-by-step process to drive tons of traffic from Pinterest.
And if you are new to blogging and online business this article with over 300 blogging tools will help you to make it big online.
Just grab the theme you like from the list below and get started with your online tutorial business.
Also Read:
Best Tutorial WordPress Themes
---
BuddyBoss Platform
Better known for community sites, the BuddyBoss Platform is one of the top solutions for online learning portals as well.
BuddyBoss along with LearnDash is undoubtedly the best combination for an online learning course site and a great business model to have a community around the learning portal.
There are a number of advantages to using BuddyBoss. This platform offers you the most comprehensive solution to create a social networking site like Facebook and it comes with deep integration with the LearnDash plugin.
So, you can use this combination to create online courses, offer certification, have the community learning option, gamification the community, and more.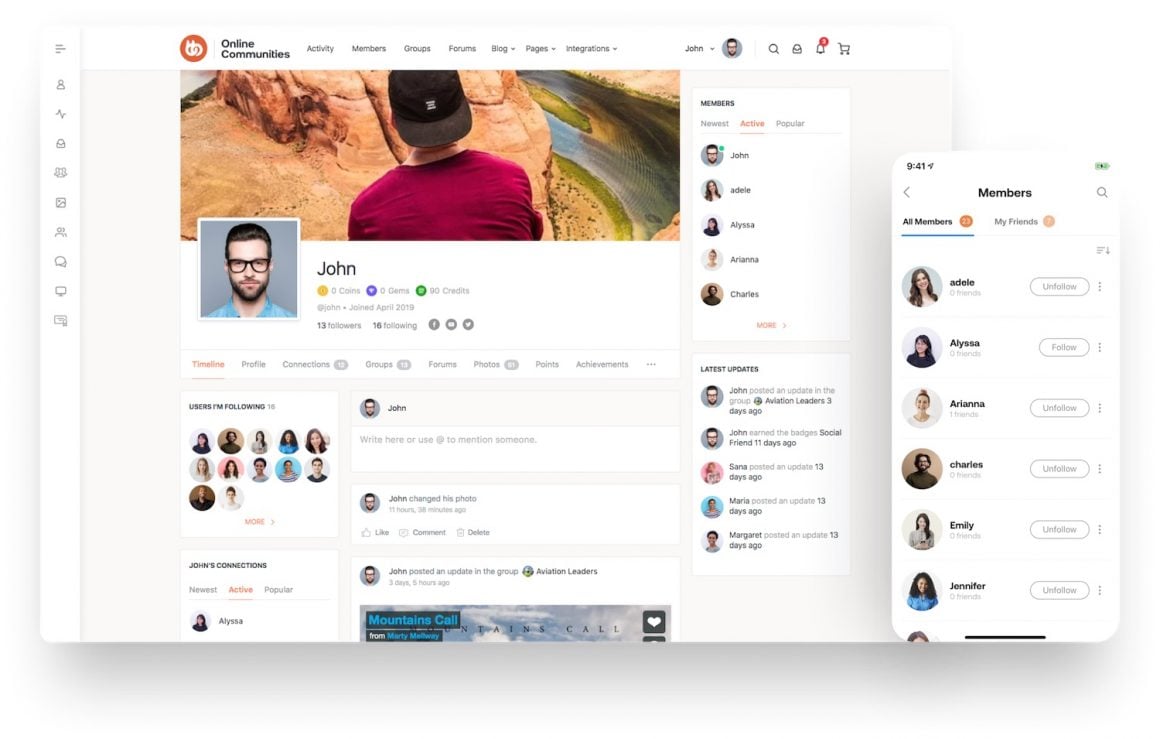 Divi
If you know about WordPress you must have heard about this amazing theme as well. Divi is one of the top multipurpose WordPress themes available in the market, and the best part is that it is getting evolved continuously.
The strong team at Elegantthemes is continuously adding new features to the theme. No matter what kind of website you wish to create, you will have the option with Divi.
Divi theme comes with the powerful Divi Builder which is one of the best drag-and-drop website builders. In fact, the plugin evolved as one of the best options for the front-end builder, you can drag any element and start editing with a real-time preview.
This plugin is already loaded with a number of amazing and useful modules that you may need to create your pages. So, if you are looking forward to creating a completely unique design for your site, you can easily do that with Divi theme.
The rich design elements of the theme will empower you to create a great modern design for your site. The ready-to-be-used design templates that you get with the theme are good enough to get started.
Once your site is ready, you can start editing and customizing your site the way you want. This theme also provides you with the option to save the design options that are created so that you can use them in the future.
Don't forget to read this review of Divi Theme.
You will get a 20% discount with our link below on the ElgenatThemes package. You will get access to 87 WordPress themes along with Divi and some very useful plugins like the Bloom plugin.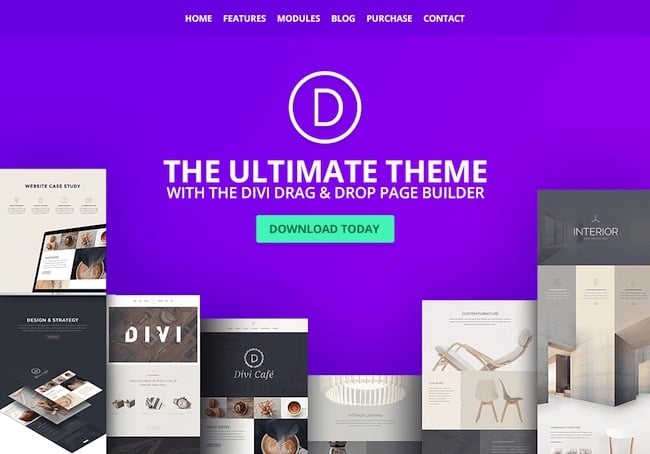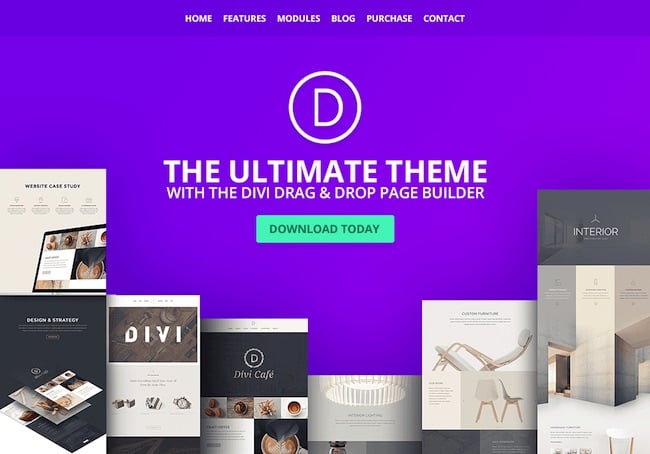 Social Learner
Social Learner is a great option for learning and tutorial-related websites. It is a BuddyPress-based learning site with community features.
So, if you wish to have a community around your educational site, this is a great theme for you. It is one of the most comprehensive learning management systems for the WordPress platform.
This is a fully optimized design for search engines and comes with a great look. It is perfectly optimized for small screen devices so that your site looks great on all devices.
This theme offers you the option to have a gamified experience for your users, it allows you to play games and learn new skills which are a great option for you.
You can easily sell online courses with this theme as it offers you the perfect integration option with the WooCommerce plugin.
This theme offers you some amazing features like
Amazing Quiz Modules
Multilevel Courses
Lesson Timer.
Assessment Management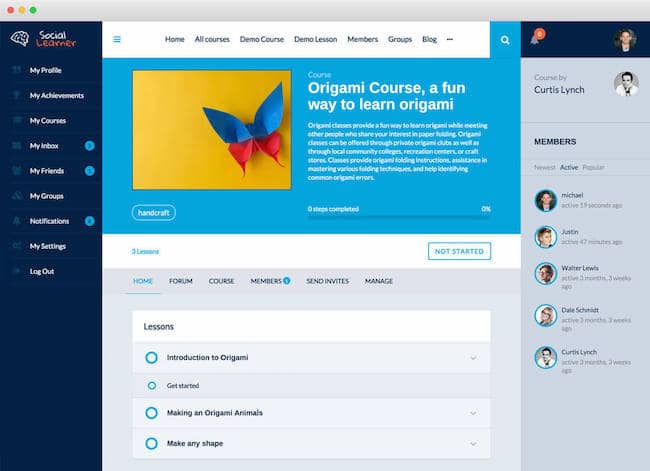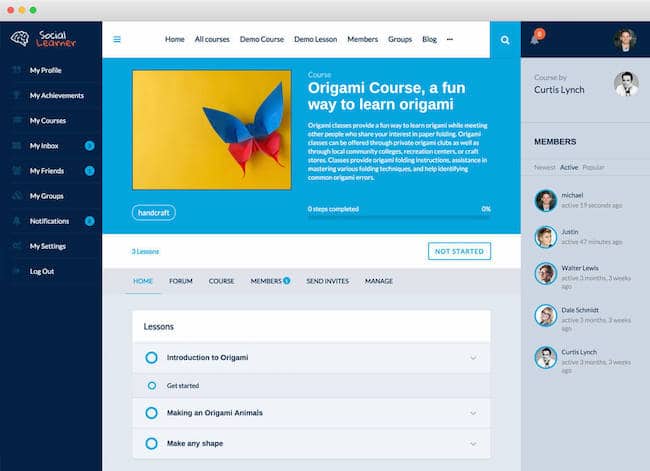 Education WP
One of the most popular WordPress themes in the education niche, this design offers you all the features and options that you will need to create your education business.
The theme comes with a great-looking design that can instantly attract your visitors' attention and keep them engaged.
This is one of the best themes for any school, college, education center, coaching class or any other related business site.
The theme comes with a number of great-looking demo design template options that you can use to create your site. You can quickly import any of the demo templates and make your site ready almost instantly.
The theme offers you a drag-and-drop course builder to make things easier for you. And you have all the options to sell courses on your site and make recurring revenue.
You have the option to create a learning membership site, also have a community around your site with the help of BuddyPress & bbPress plugins.
This theme works perfectly with the SiteOrigin and Visual Composer website builder which is included in the theme to make sure that you are able to create a completely customized design for your site without any coding.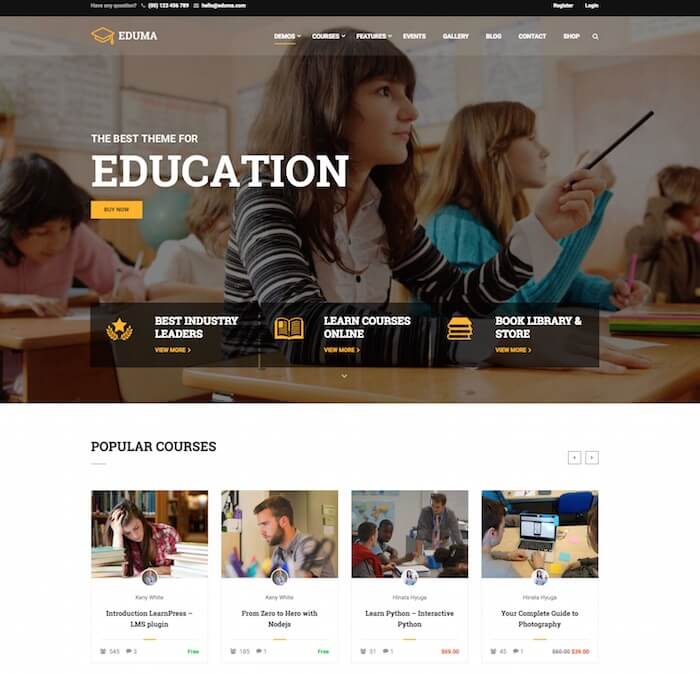 WPLMS Learning Management System
A complete learning management system for the WordPress platform. It's a multipurpose WordPress theme with various design options to create an education or online tutorial kind of site.
It is one of the most widely used learning management themes for WordPress that offers you all the features and options.
This theme comes with a number of great-looking demo design options to choose from and all of them look stunning.
You get the powerful Visual Composer website builder plugin with the theme for free that you can use to create any kind of page and design without writing a single line of code.
You also get the Slider Revolution plugin as well as the Layer Slider plugin for free so that you can enhance the overall design of your site with a great-looking slider.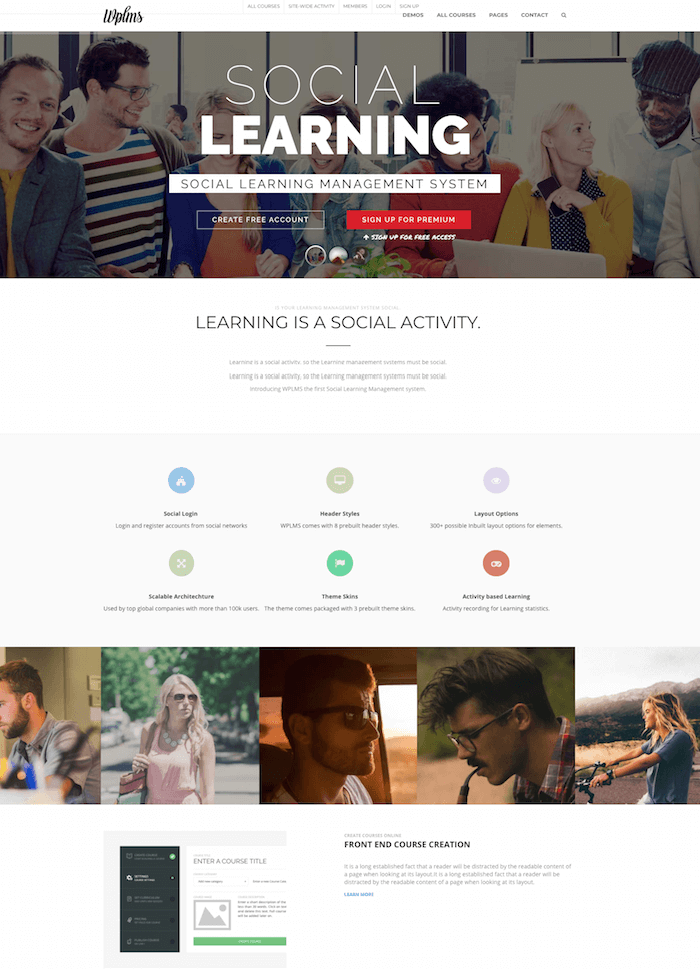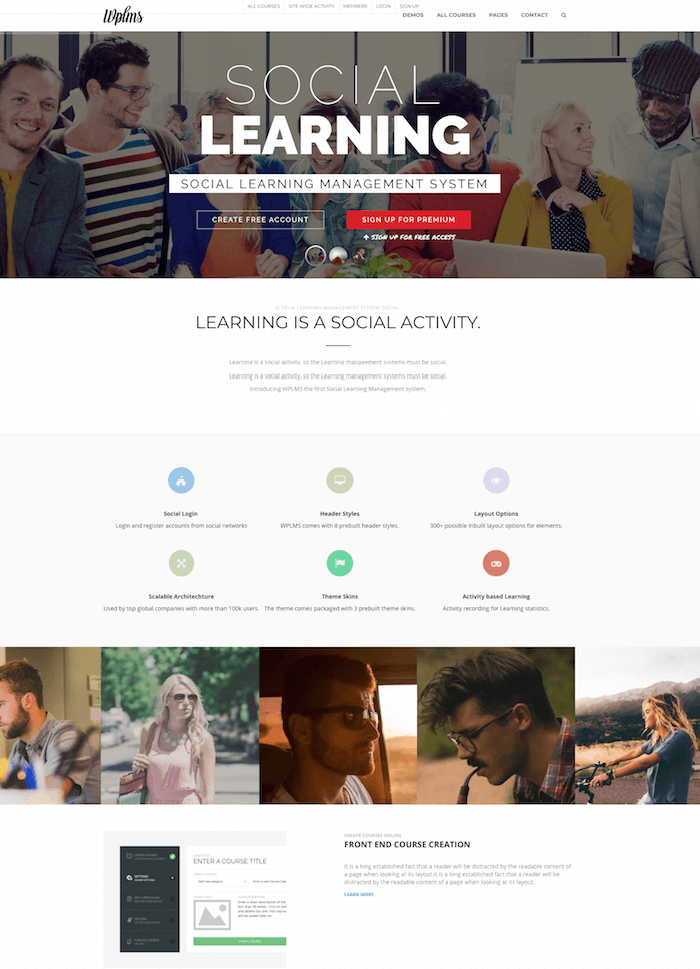 Education Center
Education Center is a typical WordPress theme that can be used by any type of education institution like education online stores, tutorials, learning management sites, online classes, universities, and colleges. Education Center is designed specifically for online education blogs and websites.
The Integrated Lesson Management System acts as one of the unique features of the Education Center. The dedicated plugins that are inbuilt in the Education Center complement the effective functioning of this system in an efficient manner.
Education Center is a highly responsive WordPress theme that supports complete functionality in all types of computers and mobile phones.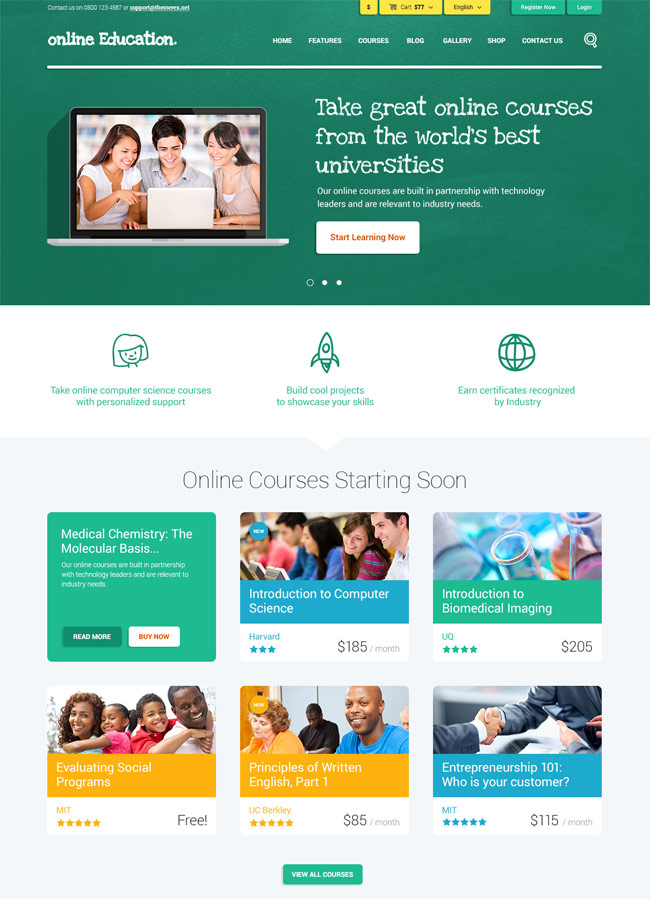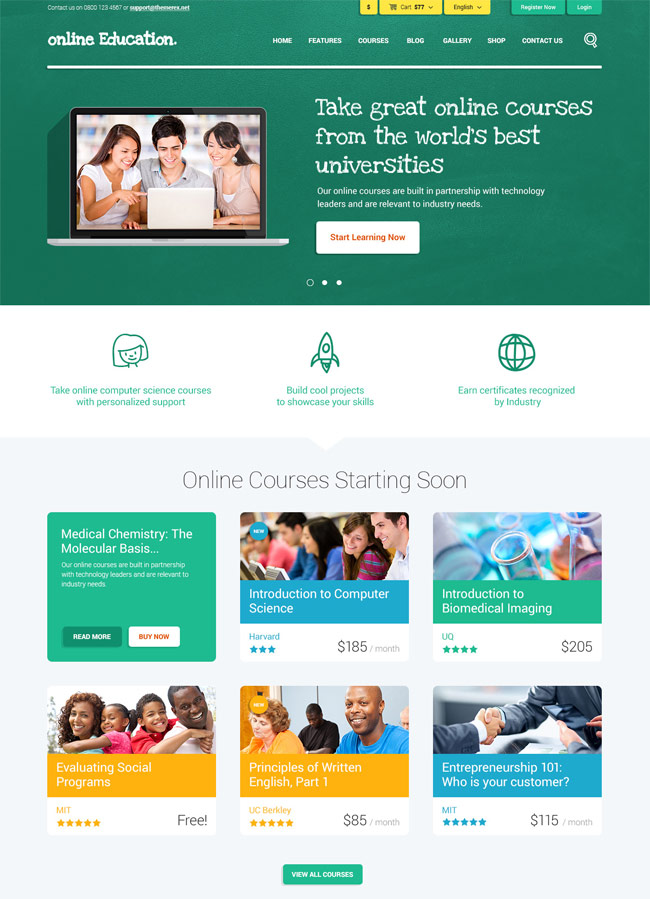 Education Hub
Education Hub is a professional-looking WordPress theme that is highly clean and impressive. It is absolutely responsive and functions in a perfect manner on all modern devices like desktop computers, laptop computers, and tablets.
This makes it a friendly WordPress Theme that can be accessed from anywhere in the world at all points of time. Education Hub is a retina-ready WordPress theme owing to the high-resolution pixels used to create the same.
The MotoPress Slider and Stick-to-top Menu are value-adding features that enhance the performance experience of users who use the Education Hub WordPress theme. Education Hub WordPress theme is WPML ready and supports Google Map and Google Fonts.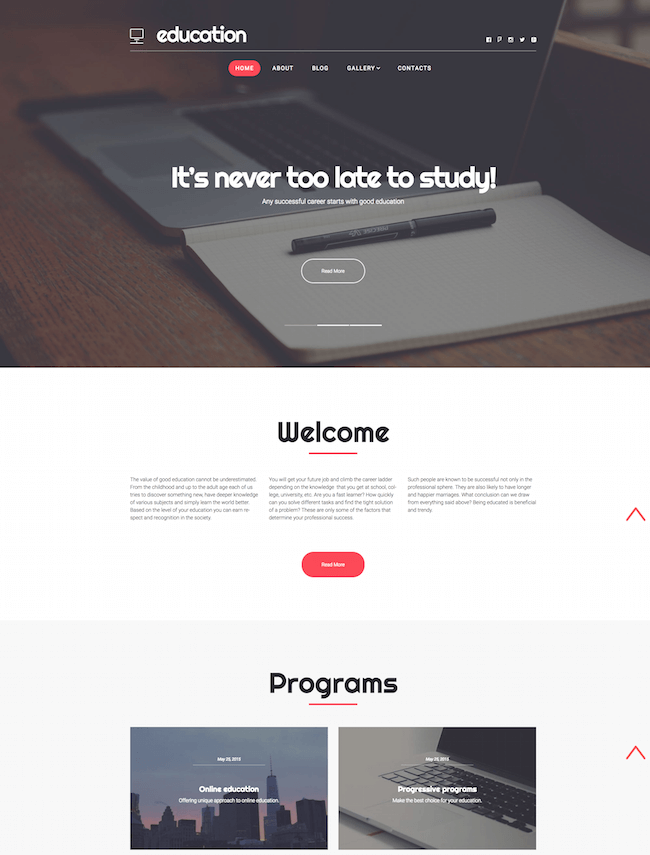 Ed School
Another bright and beautiful WordPress theme for schools, colleges, and other education-related websites. The theme comes with a great-looking modern design.
The theme comes with a one-click installation feature to help you get started with your site quickly. You have a number of premium plugins for free in the bundle such as the Visual Composer, Slider Revolution, etc.
The Ed School theme offers you the option to create a great-looking mega menu on your site. You can fully customize the look and feel of the site.
You have unlimited header design options to make the site look completely unique. As you have the Visual Composer page builder, you will be able to create great-looking custom pages without writing a single line of code.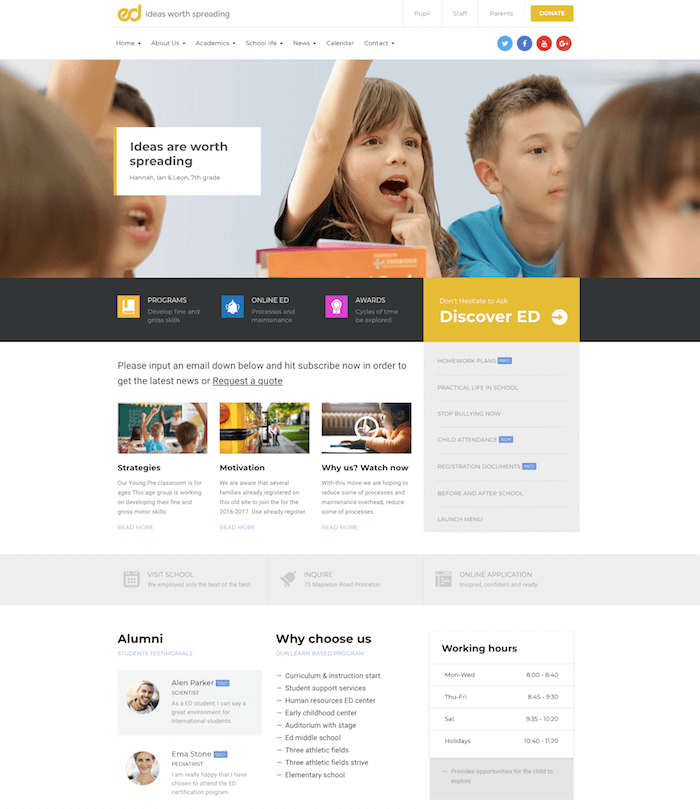 Invent
Invent WordPress Theme is a site origin Page Builder which can be used by universities for building their online site. Invent comes with more than 30 Page Builder widgets, which contributes to the customization efforts of users.
Invent WordPress theme helps clear integration between the students with the faculty members, helping them pursue their goals in an easy and direct manner.
Invent WordPress theme supports infinite color schemes and comes with a built-in 8 customer post types for communication purposes.
The parallax and video sections complement the efficiency of the WordPress theme in customizing the same to suit the needs of the users. Invent comes with 500 plus Google fonts and 1500 plus retina-ready icons.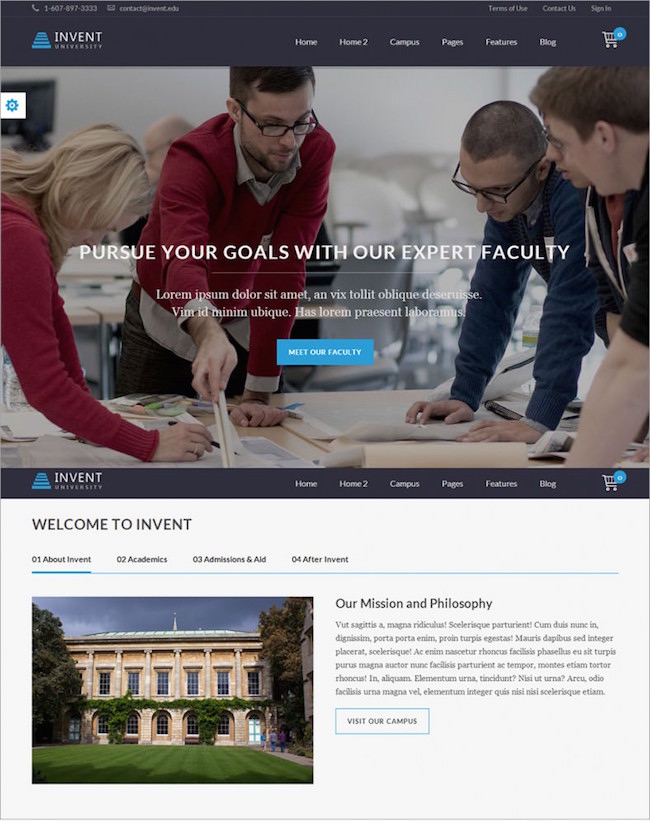 Guru
Guru is a WordPress theme specifically designed for learning management systems. Guru WordPress theme supports WooTheme Sensei plugin. The Events Calendar Pro support feature and the Contact Form 7 support feature add value to the WordPress theme overall.
Guru also offers BuddyPress and BBPress Support over and above WooCommerce Shop plugin support. The Teacher's Profile Management module is in-built in Guru WordPress Theme complements the effort of the learning management system to highlight the efficiency levels of the teaching staff.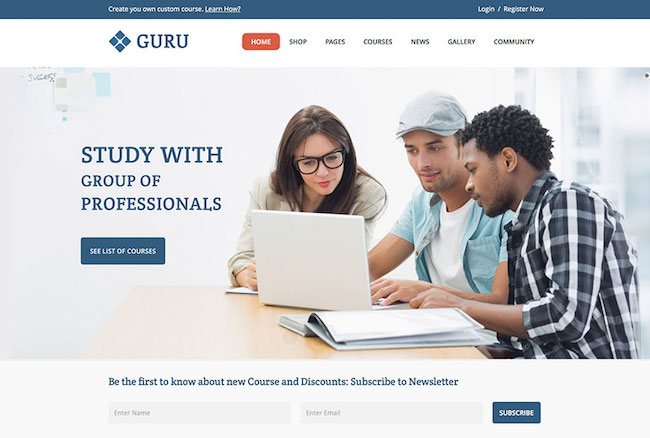 Language Course
Language Course is a WordPress theme specifically designed for describing language courses in a clear manner. This out-of-the-box WordPress theme offers users solid menu options to customize the same to suit their needs.
Language Course offers undaunted support for Video Integration as well as custom element design. Language Course is a highly versatile WordPress theme that allows addition, deletion, and modification on all aspects of the same. This is made possible by the value-adding plugins that are built into the theme.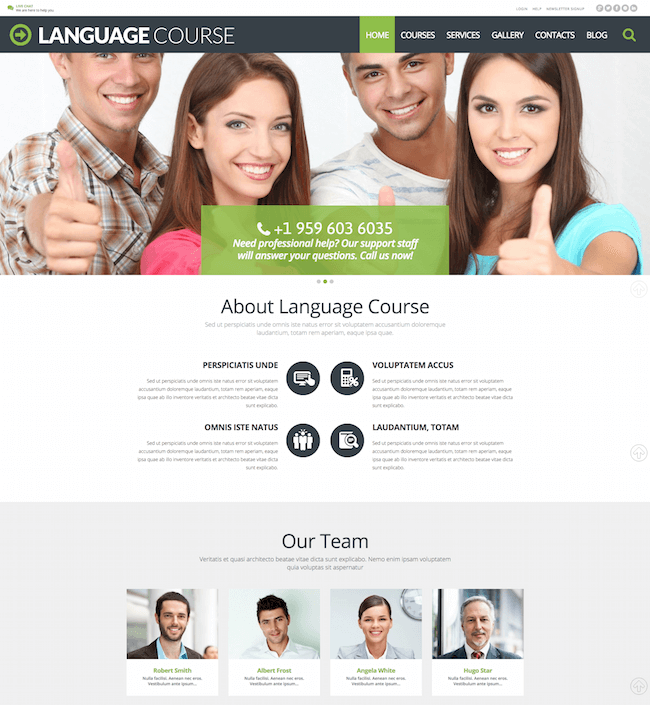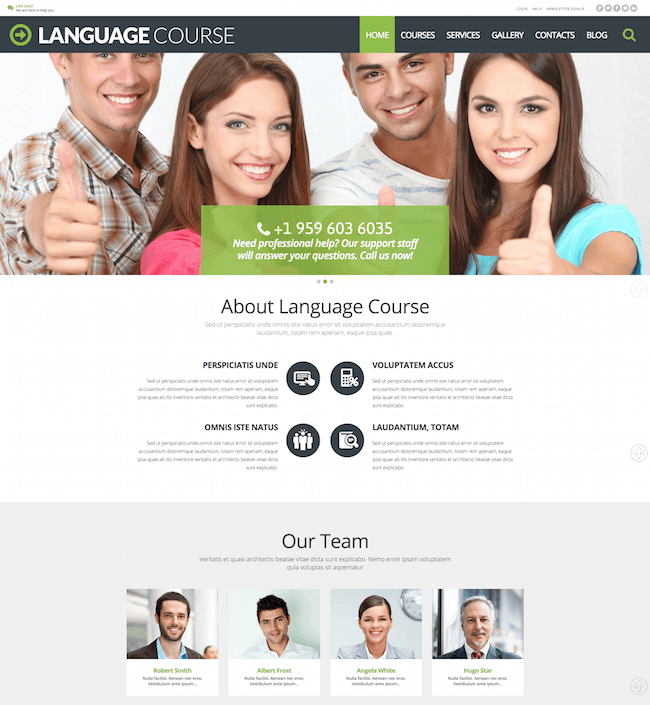 Language Courses
Language Courses is a WordPress theme whose design projects a lot of originality. The WordPress theme is absolutely attractive, particularly with the pre-built slider bar.
The slider bar is a creative idea that allows displaying the strength of the many aspects related to language courses provided by the users.
All the design elements that are built in this WordPress theme are easily customizable to suit the preferences of the users.
Language Courses is a responsive WordPress theme that offers a pleasant experience to the users from any modern gadgets through which the same is accessed.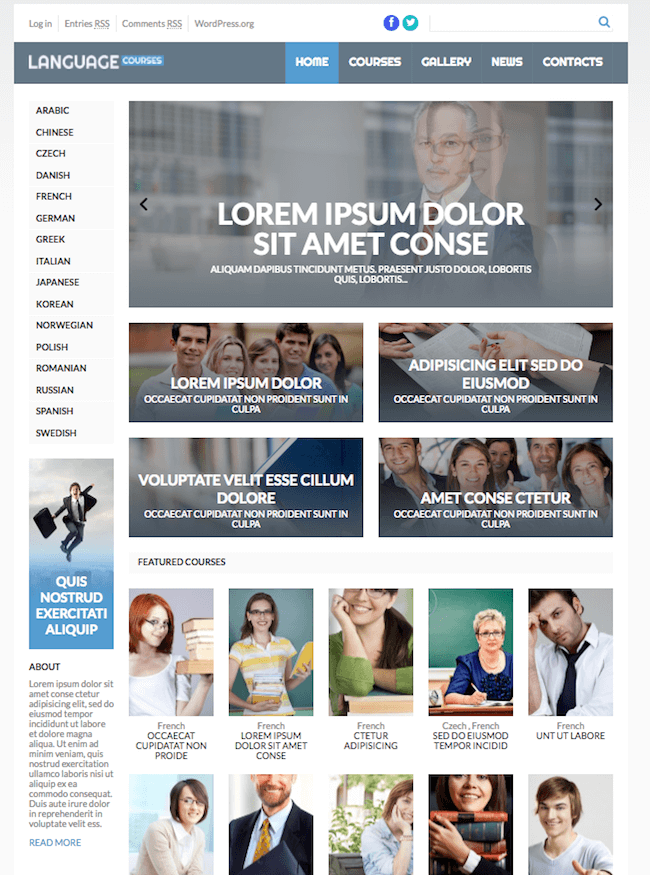 Learning Management System
Learning Management System is a dynamically designed, crisp, and clean-looking WordPress theme for the education and learning arena. This WordPress theme provides support to the Events Calendar Pro and WooThemes Sensei plugin.
The theme offers support to Contact Form 7, BuddyPress, and WooCommerce Shop plugin. The Custom Course Post type and Teachers Profile Management modules add immense value to this WordPress Theme in an overall manner.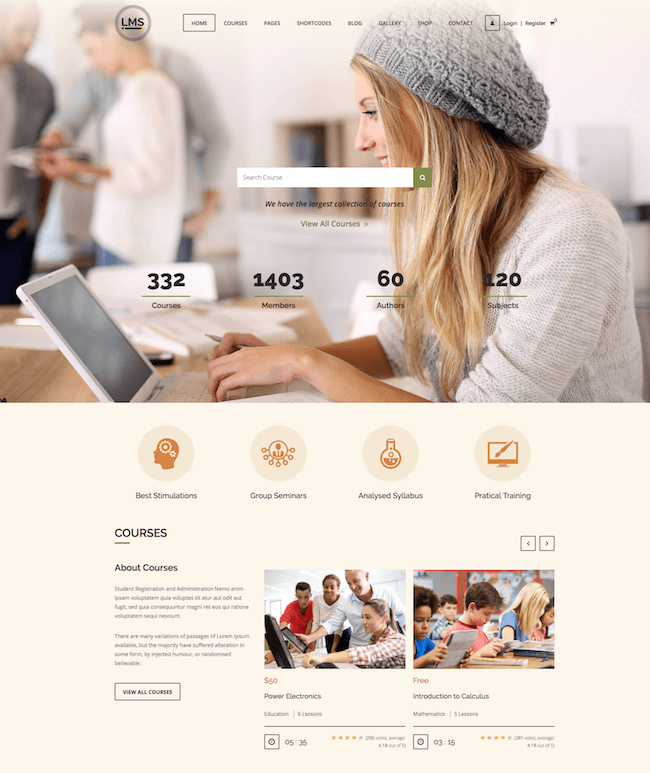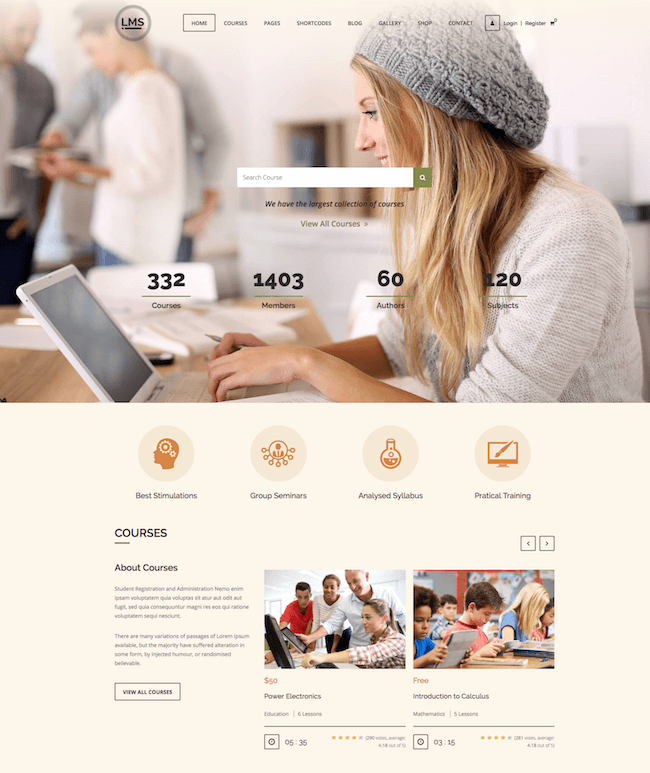 Kalium
Kalium is a beautiful multipurpose creative WordPress theme that you can use to create any niche site. The theme comes with a number of different demo template options that are created for different niches.
You have the option to import any of the demo templates with just a one-click and get started on your site. The theme offers you comprehensive customization possibilities to make sure that you are able to create the perfect design for your educational site with all your requirements.
The theme comes with a ready-to-use template for the education sites, you can use the template and modify it by using the drag and drop website builder.
Kalium offers you beautiful typography and design elements to make sure that your site looks modern and user-friendly.
You get a number of different premium plugins like WPbakery website builder, the Slider Revolution plugin, Layer Slider, and a few more with the theme for free.
If you need to showcase portfolios on your site, the Kalium theme comes with over 30 different portfolio design options to choose from.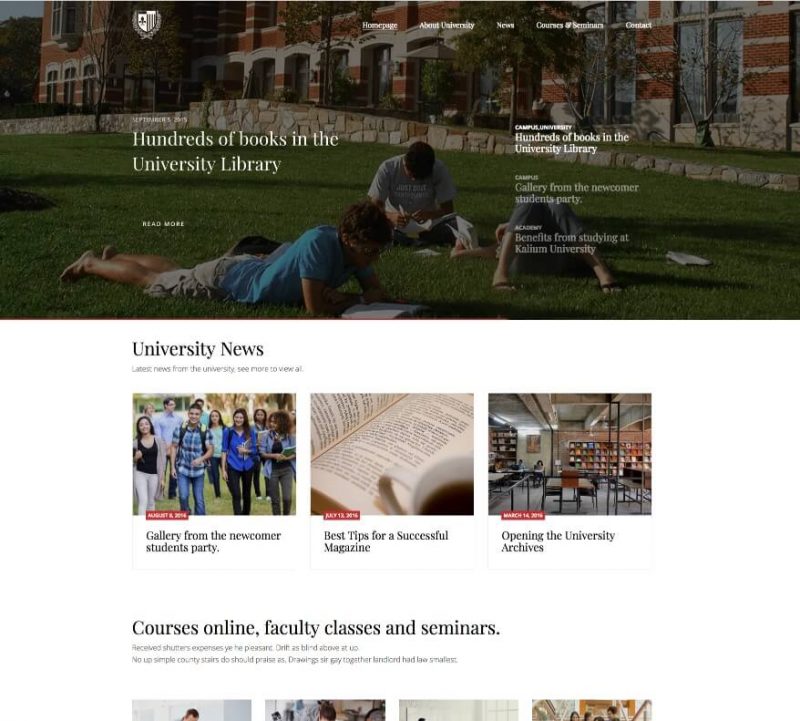 Philosophy Courses
This off-the-shelf WordPress theme which has been specifically designed for online education portals and websites is an incredible one.
Be it the unique theme design that kindles the interest of the users or the complete set of elements that are customizable, Philosophy Courses makes life easy for online learners.
The power-packed Menu options get seamless support by features like Video Integration. The complete set of rich features that Philosophy Courses comes with makes it a wonderful WordPress theme for online education.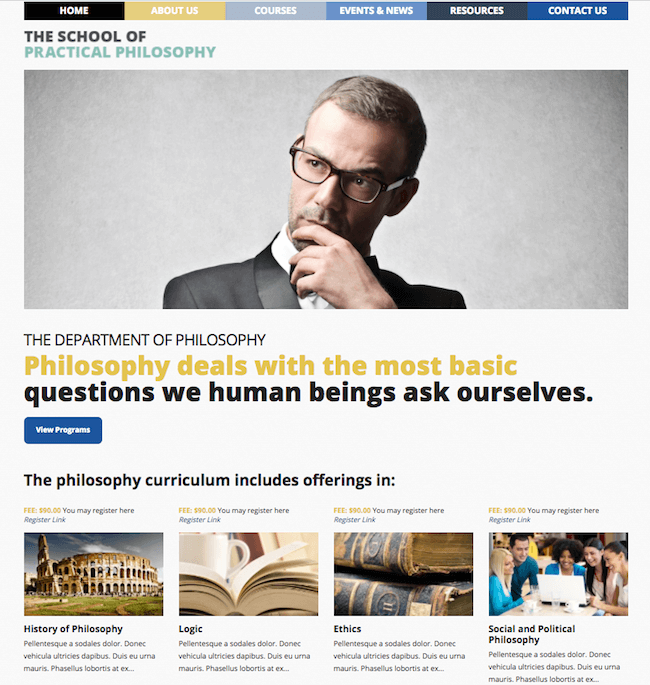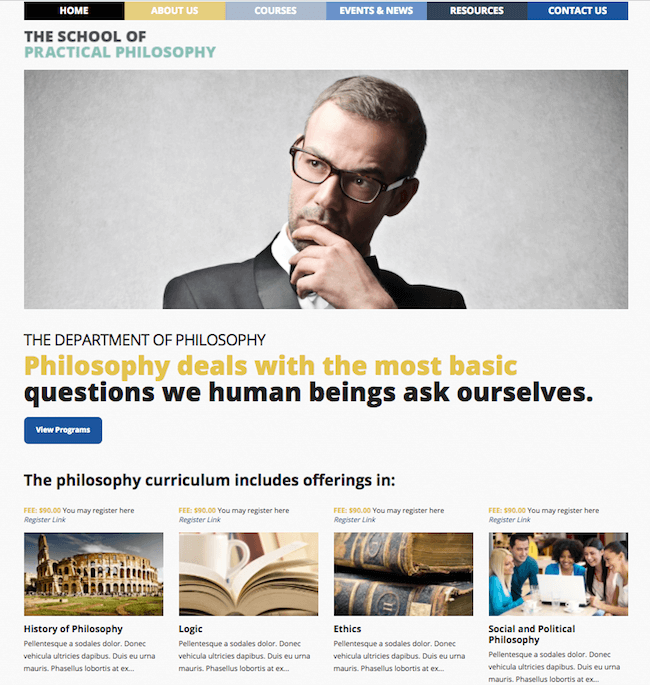 Skillfully
Skillfully is an amazing WordPress theme, a complete package when it comes to the Learning Management System. This WordPress theme acts as a solid base to create a meaningful and complete learning system.
Skillfully is a WordPress theme that has been designed specifically for use as an Online Learning System. Many values adding modules like Tickets Issuance to Fee Payment to various kinds of subscriptions are built-in in this WordPress theme.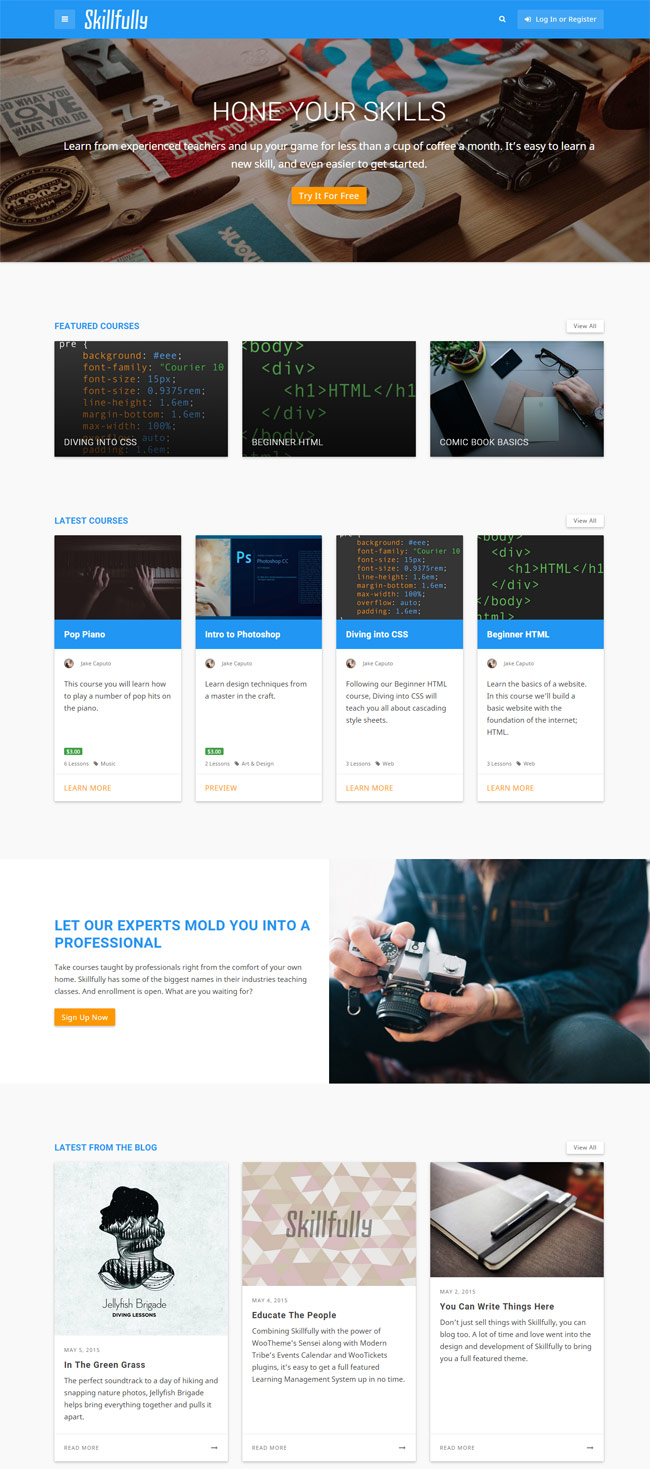 Edupress
Edupress is an LMS WordPress theme that is translation-ready. The theme can be translated into any of the world languages without modifying the functionality of various pages and features.
The SiteOrigin Page Builder and OneClick Demo Import are unique features of Edupress WordPress theme, making it a rich package overall.
The advanced theme options provide undaunted support to users for complete customization of the theme to fulfill their preferences.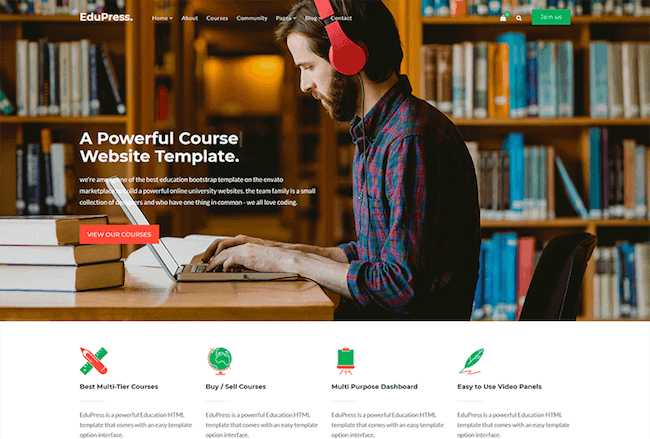 Lacero
Lacero is a WordPress theme that is specifically designed for the use of Universities. It complements the efforts of Universities that target to encourage online learning of students associated with them.
The powerful Admin Panel built-in Lacero adds immense value to the online learning system. Lacero is a highly flexible WordPress theme that is optimally optimized.
The professional manner in which the screens have been designed in Lacero makes it a pleasant experience for the users who uses the same.
WordPress themes for tutorials mentioned above add immense value to the aspirations of schools, colleges, and universities to provide online learning opportunities to students.
The rich feature built in the above WordPress themes and the value-adding plugins makes this online education and learning WordPress themes useful to the core.
Using the above WordPress themes for tutorials as per the choice of the users will add value to the efforts of the same in a huge manner.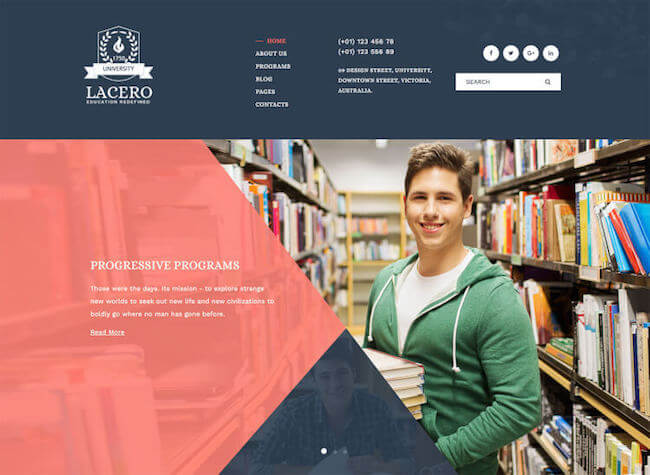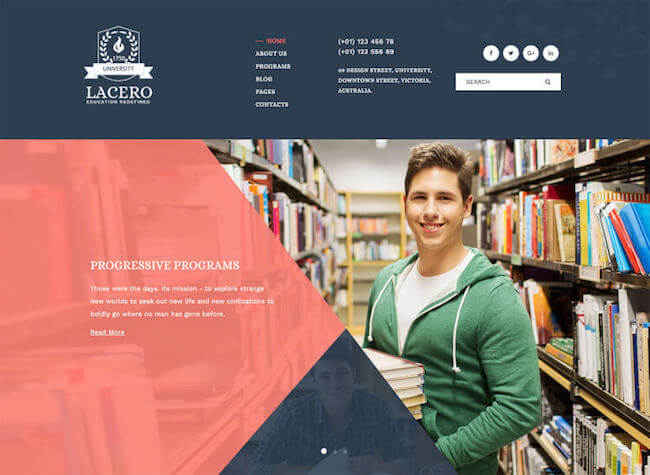 College
College is a highly responsive WordPress theme that can be used for the purpose of online tutorials, by schools, colleges, and universities.
The screens look absolutely modern and professional, making it a perfect learning and education concept. College provides the option to choose subject-wise screens as per the student requirement from time to time.
It has a provision to capture comments from its students on various aspects of education provided by the concerned educational institution.
The responsive design makes the College WordPress theme function in a perfect manner in all technological devices like desktop computers, laptop computers, and tablets.
College WordPress theme is translation-ready, which means the theme can be translated into any language around the globe which will in no way affect any built-in files and their functionality.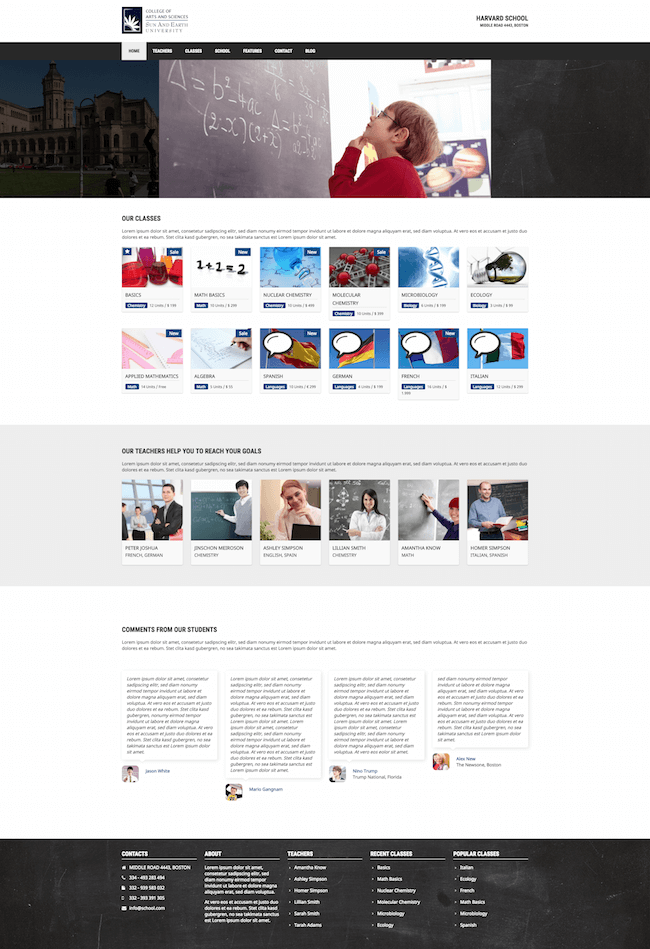 Choose the right WordPress theme that suits your requirements and creates a stunning website offering online learning to your students.