The Team Viewer is one of the most popular software to take the remote access of any computer, control its functions, schedule meetings and facilitate file sharing.
This is a conducive software for the fast-paced corporate sector, where employees require them to travel to remote places yet deliver their work.
For establishing a uniform and controlled actions across multiple computers, with software like TeamViewer you can access all the data and files from the computer from any remote place in the world.
Although there was appointed in time when Team Viewer was the king in the market and the competition was pretty much snubbed by its glory.
As of 2017, this mammoth remote access giant suffered various hacks and was accused of data theft that left a large community of its users vulnerable.
The paved its downfall and inherently gave rise to several alternative software of Team Viewer that sought to take its place in the market.
Here is a comprehensive list of the Best TeamViewer alternatives that are extremely safe, reliable and house similar or better features that can transform your business meetings.
AnyDesk
The first name amongst the best TeamViewer alternatives is that of AnyDesk. It encompasses several features that make its innate functionality very useful and reliable to its users. 
Its allowance for you to access any device from anywhere you want is probably the most enticing feature, apart from the software taking pride in its fastest data transmission rates that stands at 60 FPS.
Owing to its flexibility, it supports all big house names like Windows, iOS, Android, and Linux. With AskDesk, you can be assured of safety and data security that can be attributed to its TLS 1.2 technology coupled with RSA asymmetric encryption.
Cross-platform compatibility
Low latency and fastest data transmission
Availability of free version
Features like file browser mode, session recording, and custom alias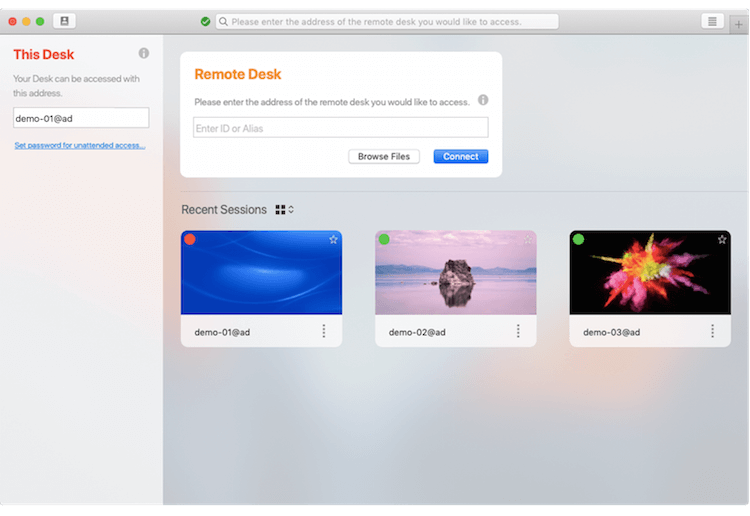 Zoho Assist
While TeamViewer dominated the market, there were several softwares that took its place after its fall, and one such was Zoho Assist.
Its wide array of expansive features makes it a suitable contender to TeamViewer. Its screen sharing option lets you swap screens and schedule sessions and the cross-browser vouched for its versatility.
It is accepted that you have a lot of needs and requirements in terms of your business, and the developers saw this through and included the customization feature.
This gives you more authority over the software and enhances your user experience.
Its essential function is that it lets you access and control any computer anywhere in the world promising you with unattended access.
Prioritized security s it's one of the secure solutions
Browser-based sessions with reasonable pricing
New versions with advanced features
Highly responsive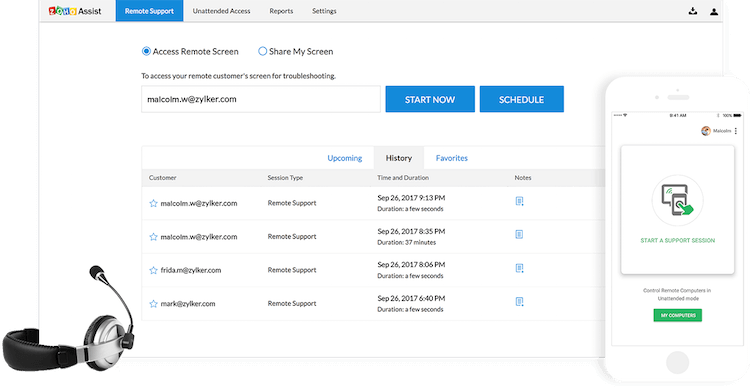 Parallels Access
Known to provide one of the simplest and fastest remote access services, Parallels Access grants access to all your files, data, applications and computers wherever you are.
This easily navigable software takes pride in its mobile application. While most desktop softwares in the industry come with mobile-viewing compatibility to ensure you access at your fingertips, this tool is known to have the best browsing experience that users have vouched for.
With features like comprehensive application technology and the ability to copy-paste files and text; this software is largely useful and a suitable alternative.
Full window mode for apps
Gesture support
Precise touch control for mobile viewing
Easy to interact with desktop apps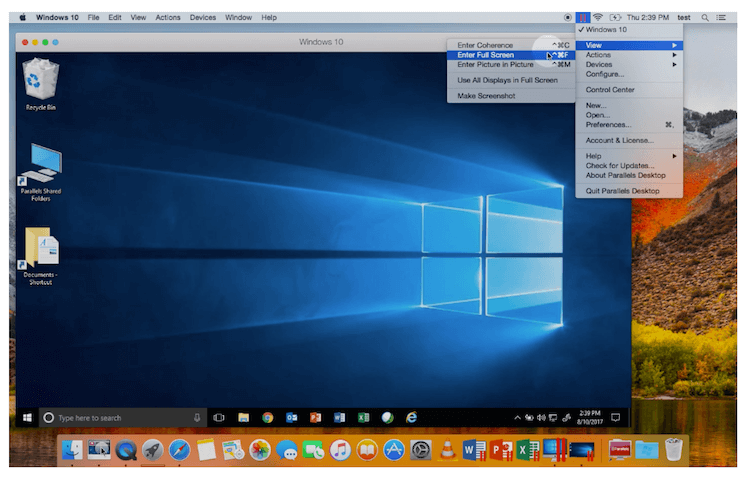 Cloudberry
The Cloudberry Remote assistant, reveling in its RSA algorithm encryption, has the ability to record sessions while the normal channels are backed with an SSL encryption.
This doubles your data safety, and Cloudberry also offers text and voice chats with a secure established within a matter of seconds.
One amongst the best of alternatives is easily navigable and his free software can be used with expertise even by beginners.
You can transfer files and other mediums of data hassle-free to any remote device across the world.
Works well with Internet Service Providers
SSL and RSA encryption
Text and voice chats
Optimized for instantaneous support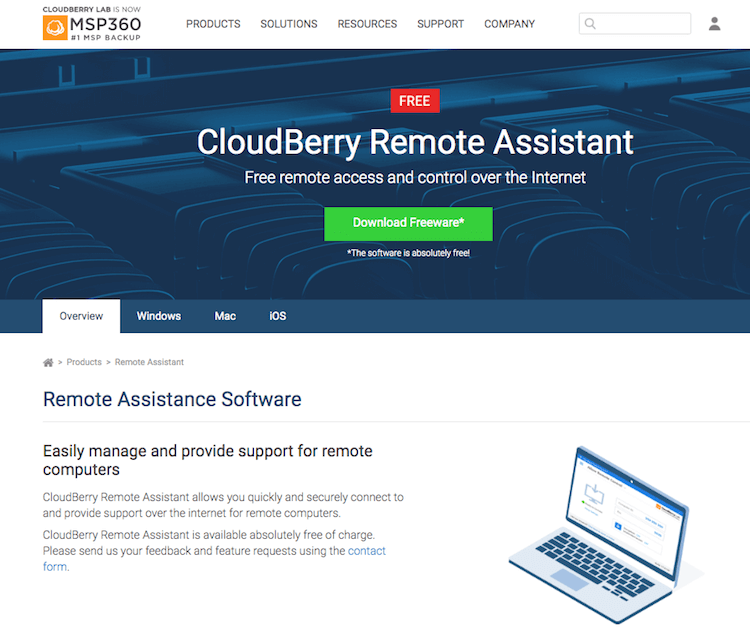 RemotePC
RemotePC is another big name when it comes to accessing remote systems. With the percentage of working from home and remote working culture is increasing, the use of software like RemotePC is also increasing.
With this software, you can have remote access to your computer at your office or at your home whenever you need it. Or if you need to access the computer of your team members, you can easily get that done with RemotePC.
Easy to use
Access to multiple computers
Easy team collaboration
Different plans as per your need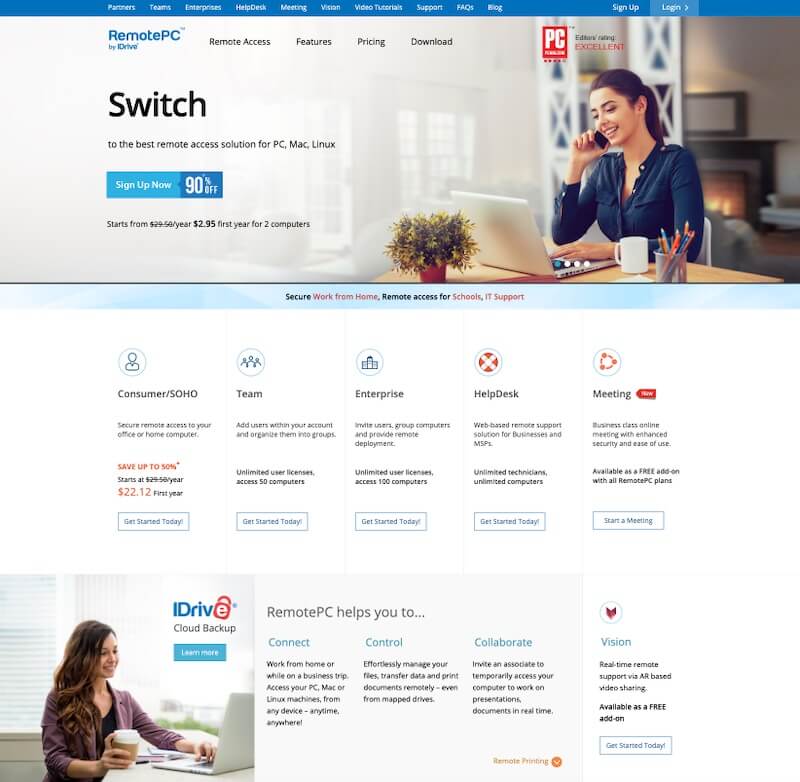 LogMeIn
LogMeIn has proven itself to be an increasingly powerful replacement for AskDesk, and its options to store, share and collaborate files from any device substantiate this.
With functions essayed with a single click, this software can provide remote access to users to their personal computers through verified and secure channels to help them carry out their work.
For working professionals whose entire occupation depend on their system and yet have to work remotely, this is a great option. One can also share files without the risk of external data theft and is also privy to 1TB free of cost cloud storage!
East installation and set-up
Whiteboard support and easy file transfer
Can record sessions
Unfettered access to all files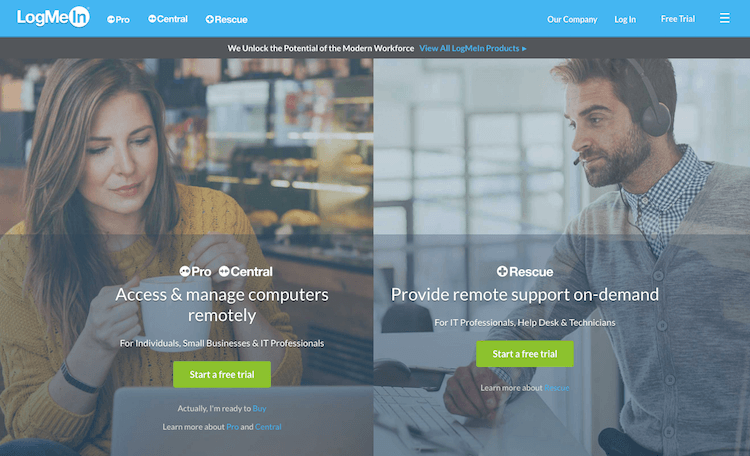 Goverlan Reach
Boasting off its IT management, this software proves why it is a viable replacement for TeamViewer.
For users scouring the net for business solutions to streamline your desktop support and consolidate your system management task, Goverlan Reach can offer a variety of unique features ready to tap into.
With easy installation and reasonable pricing that will more or less fit into your budget, Goverlan is worth your time owing to its ability to provide IT support to all kinds of devices across the world.
It is perfect for employees who are spread across regions with local ISPs and work remotely.
Advanced remote control
IT process automation, reporting, and global configuration
Active directory management
Background system and directory management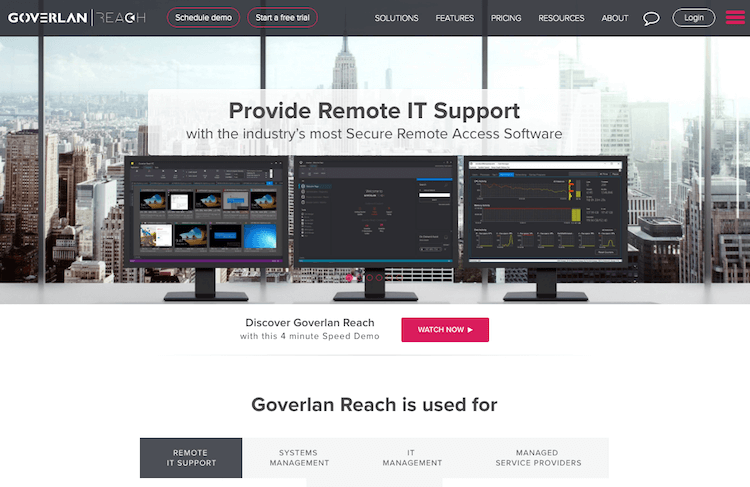 Spalshtop
Catering to all your needs and necessities regarding remote access, Splashtop is ideal and reliable software.
With thousands of regular and satisfied customers, this software heavily relies on establishing and maintaining your security for file transfer and unhindered access to data through any device you want.
With their sessions encrypted with TLS and 256-bit AES encryption, there is the assurance of absolute protection that is further coupled with device authentication and 2-step verifications. It allows helpdesks and MSPs for ad-hoc provision to clients.
High value for safety and privacy
Cheapest for personal usage
Easy to use and HD videos and audio
Easy to deploy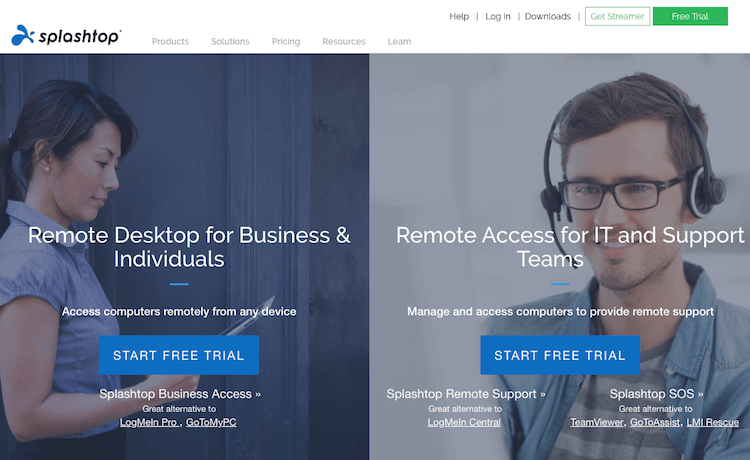 Supremo
Having branded itself as a 'powerful, easy and complete solution' in the market for remote desktop access and control, Supremo sure does live up to its name.
From accessing a device to even hosting meetings, this software can do much more like its ability to customize the interface to display your company logo, which is not available with TeamViewer.
Its AES 256-bit encryption assures your safety and their data transfer does not require a firewall configuration, thus simplifying and quickening the process.
Freely uses local networks
Integrated address book
Modern UI and no installation required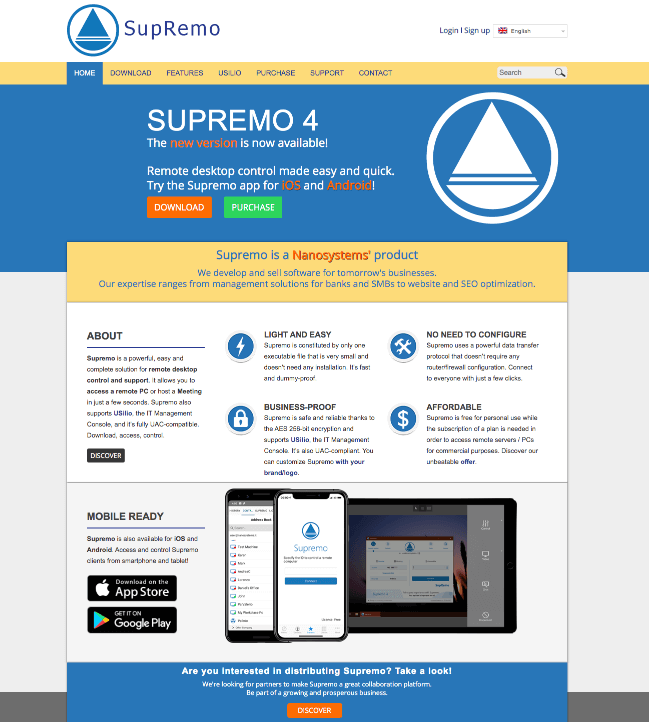 Chrome Remote Desktop
This free software entails the remote access to personal computers or other devices either through Chromebook or the Chrome browser.
For situations like ad-hoc remote support or something for the long haul, computers are made accessible purely for short-term basis. It houses several similarities to TeamViewer and executes all its functions in the same flair and with ease.
Its cross-browser compatibility also allows the accessibility through various systems and devices.
It comes with an end-to-end encryption. This highly functional software values user privacy and holds it with high regard, and offers end-to-end encryption options.
Easy configuration and installation
Free software
Available for all major platforms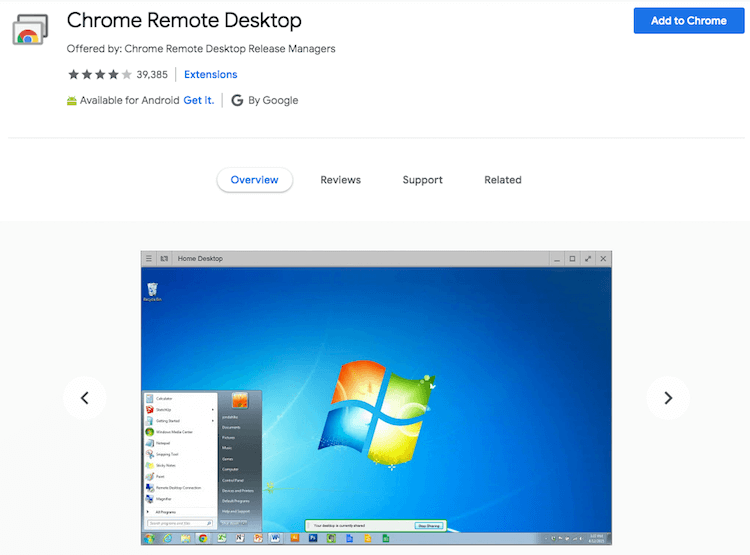 Join.me
Known largely for its gathering and conferencing tools, the lesser-known fact about Join.Me is that it lets multiple users connect to each other from several remote locations.
It is versatile and flexible to adapt to all browsers and be accessed on a multitude of devices with varied OS. Its high and unlimited sound quality ensures the smooth travel of voice and that the users can connect to the call using any device.
This simple and easy to use software has features lined up right at your fingertips, because you can initiate a call, schedule a meeting or recording with a simple click.
It takes pride in the 40 countries where its services are most prevalent.
Presented swap screens
Allows up to 250 participants at a time
Personal and professional use for remote access
Enterprise programs with innovative management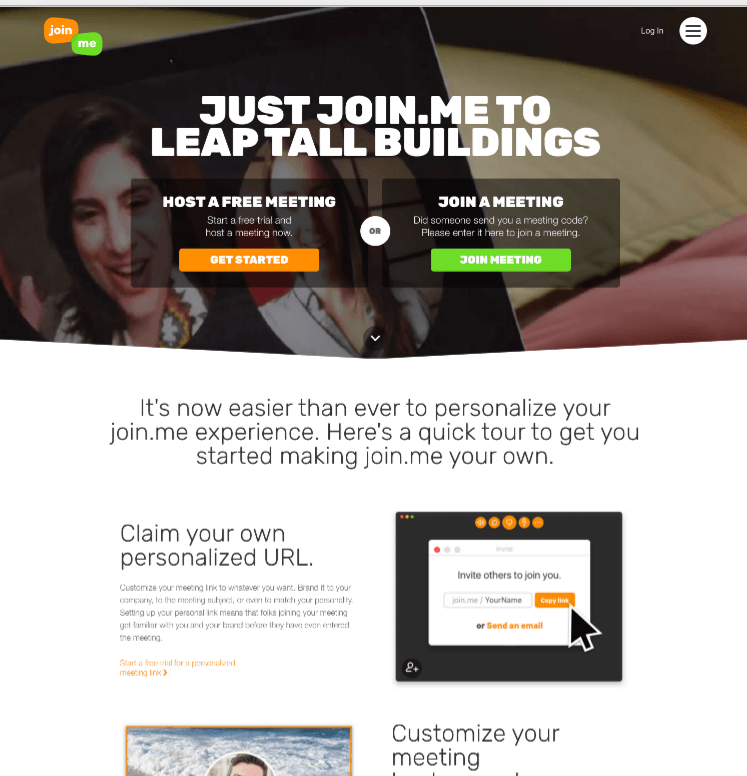 Final Thoughts
All of the aforementioned alternatives have been faring well in the market and have a community of satisfied users.
These remote desktop software tools come with the best of features that new-age technology can conjure, and their assurance of safety can put an end to all your worries.
Therefore, a thorough analysis of all features, availability of options, and evaluation of budget is necessary for you to make the best choice, and our elaborate list has already made half of your work easier!