Here is a collection of best spa, beauty salon WordPress themes that you can use to bring your business online. If you are managing a beauty and spa business then creating a website can surely give a boost to your customer base.
In the online business world, several niches find their way into creating an online presence with a website. Beauty, fashion, and wellness industry have been booming like never before, and even if the services being provided in this industry are facilitated offline, an online presence of a salon adds up to its credibility and customer engagement.
When it comes to a spa and salon website, you can do so many things that may help your business in growing beyond geographical boundaries.
From selling beauty and wellness products to inviting subscription to your salon's services, a spa and salon website will help you in attracting new customers like never before.
Whether you're a professional or a newbie to a spa and salon business, you must create a website that not only attracts visitors but also converts them into paying customers.
Here is a comprehensive list of best Spa and Hair Salon WordPress themes which can be highly effective in building a website for your salon:
Top Spa & Salon WordPress Themes
Vitrine
Vitrine is a very attractive and professionally designed WordPress theme. This theme is packed with amazing features and options that will surely help your website to grow.
This theme offers you over 30 stunning demo designs to choose from and you can fully customize the design of your choice.
It is a WooCommerce ready theme perfect for any niche online store. It offers you the most attractive and elegant layout to attract more and more customers for your products.
Vitrine theme comes with multiple product filter options based on image, color, price range etc to make it easier for the users.
It's a quick loading SEO friendly WordPress theme that will give a nice boost to your Google ranking as well as user engagement on your site.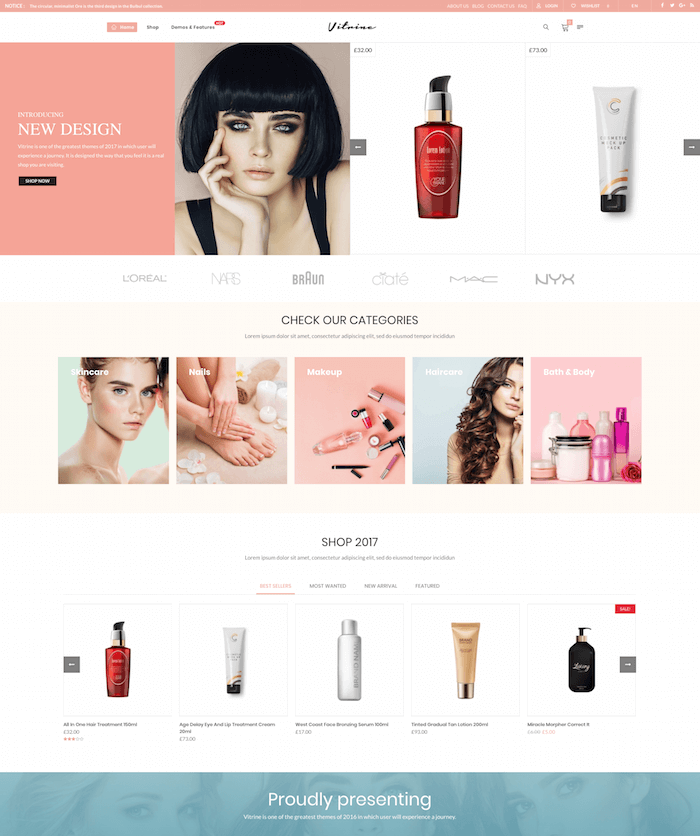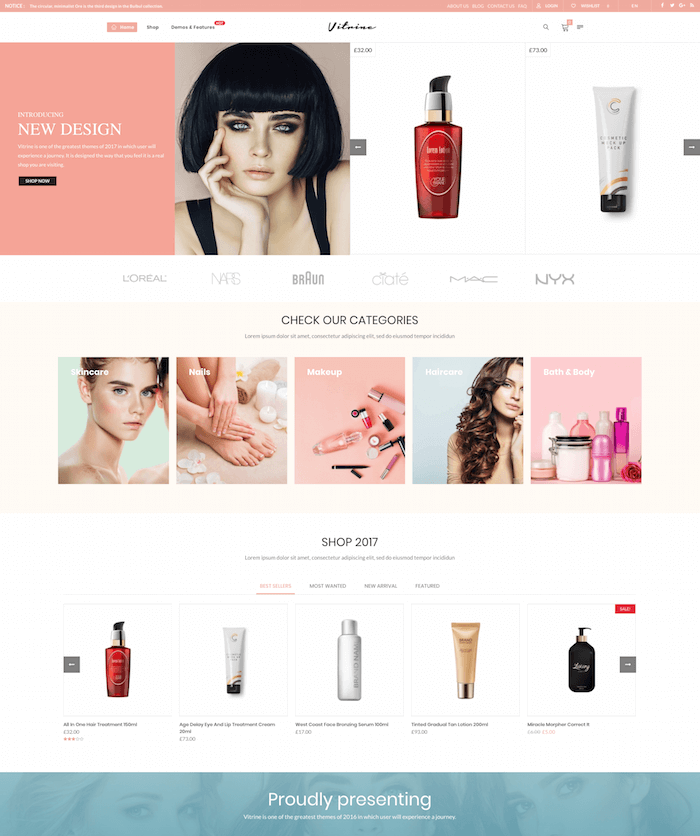 TheGem
TheGem is one of the most powerful and feature-rich WordPress themes that you can use to create any kind of website. This multipurpose WordPress theme offers you tons of styling options to create a great looking website in few hours.
This theme gives you the option to select from over 200 different ready to be used demo templates. You can import any of these templates in just one-click and take ahead with your own customizations.
No matter what your business type is, you will find amazing design templates that are already available to use.
As it offers you powerful drag-and-drop website builder with the theme for free, you will be able to create a stunning design for your pages without writing a single line of code.
It's a mobile-friendly and retina ready design that will make your spa site look great on all devices. You can manage your complete business online as TheGem theme offers you everything you need readily available in the theme.
You get the powerful Visual Composer, Slider Revolution plugin in the theme bundle for free. It is also possible to use this theme in different languages to easily create your geo-specific beauty related business.
The list of feature is very long for this theme. It offers you amazing header design options, multiple custom widgets, amazing mega menu options, unlimited color and sidebar options, WooCommerce ready design and a lot more.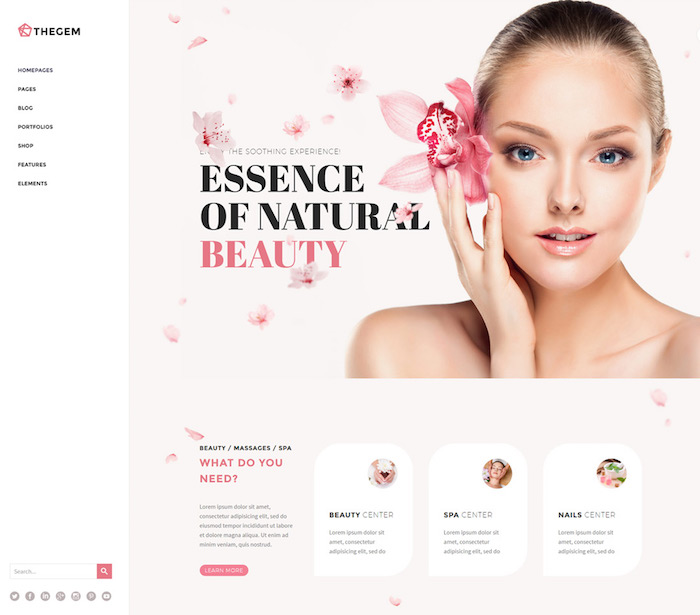 Paradise: Multipurpose Spa & Beauty WordPress Theme
As the name suggests, Paradise is a great looking multipurpose theme for the spa and beauty related websites.
The theme is bright, minimal and very professional that will surely take your business to the next level and make it look serious.
It offers you multiple header design options to choose and all the other section in the theme are flexible and you can easily move things around to make your site look unique and attractive.
It is a fully responsive and retina ready design that will make your site look great on any device. It offers you teh premium Visual Composer page builder in the theme bundle that you can use to create an amazing unique design for your site quickly.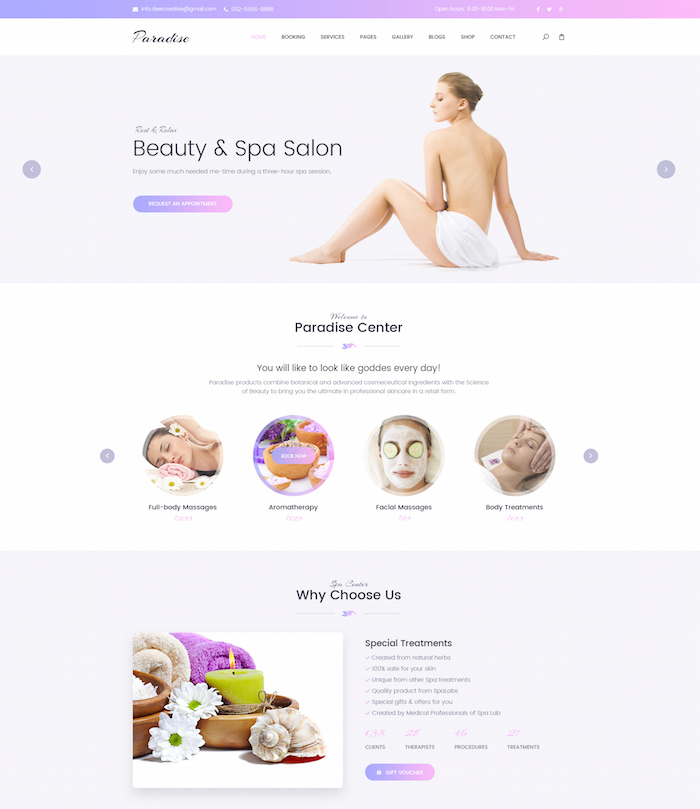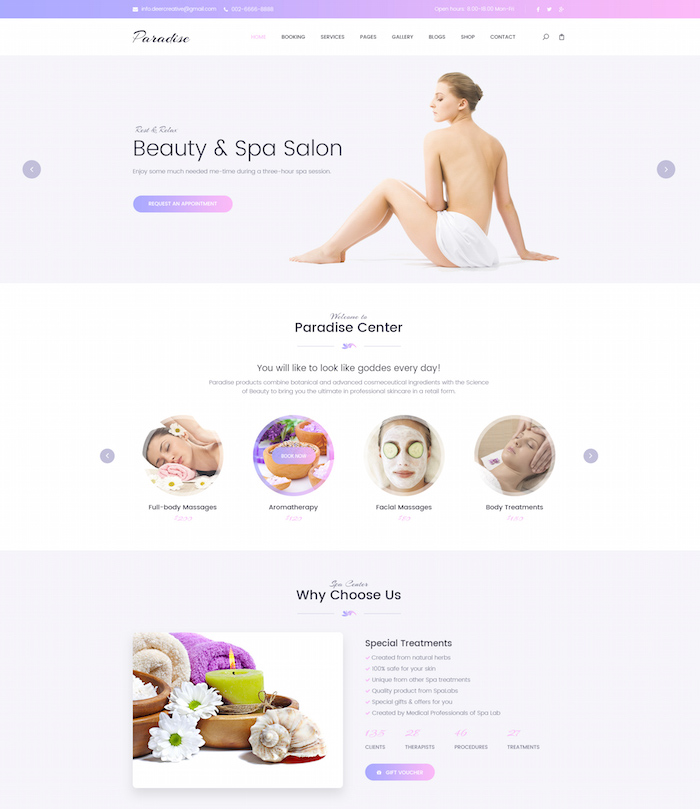 Entrepreneur
Providing the feature of booking customer appointments online to the visitors of your website can boost up your operations.
The Entrepreneur WordPress theme makes it easy for the owners of the business to accept booking via Paypal, schedule and manage appointments online and do several other tasks that ease their work.
The theme is highly flexible, and you can also publish your appointment schedule online. It comes with a highly user-friendly page builder and some pre-built layouts which can be applied to your website.
Along with enhancing the visual appeal of your website, Entrepreneur offers a lot of shortcodes that you can use with the theme to shoot up user engagement.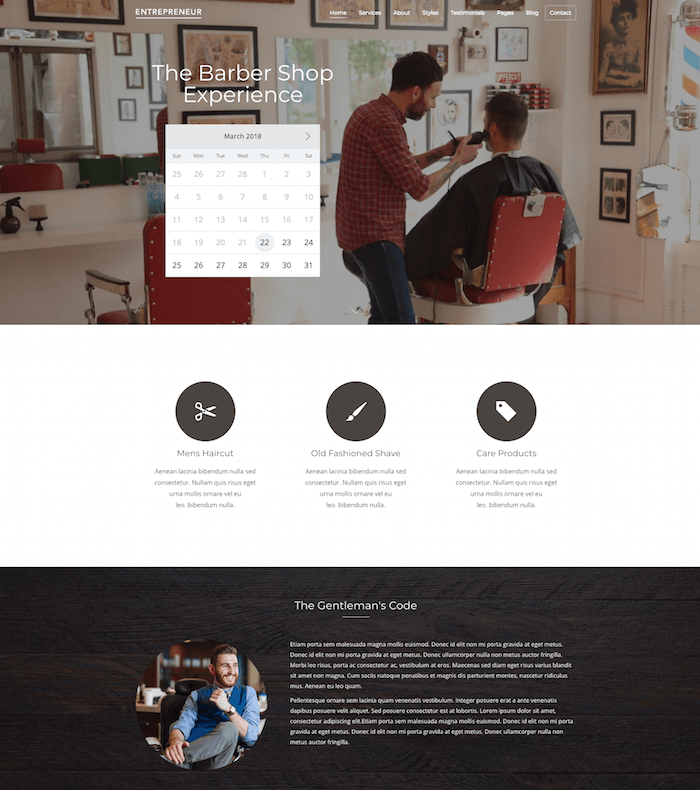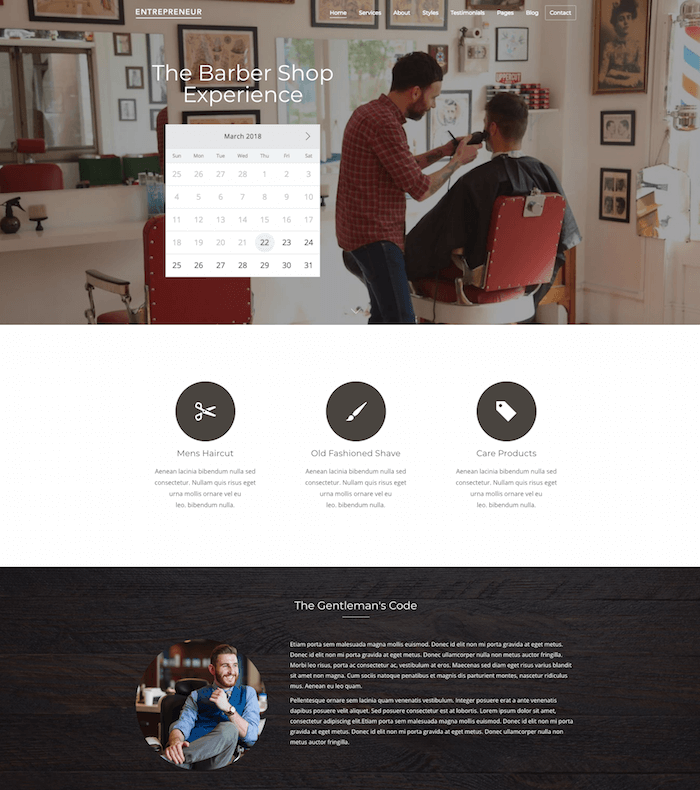 Jacqueline
This premium WordPress spa theme is the best choice that you can use when you want to make a great first impression.
With its elegant design and highly user-friendly navigation, Jacqueline can help you convert leads in no time, and visitors might keep coming back for more.
You get access to pre-built pages and premium Visual composer plug-in with the theme to help you in creating a stunning website.
This stylish power-dressed theme is the best when it comes to growing your salon as it allows the visitors to make an appointment online.
The theme comes with a user-friendly Visual Composer allowing you to edit the design and content of your website as per your specific needs.
What's more? You can also add an e-commerce store, wherein your website's visitors can purchase your beauty and wellness products.
All in all, Jacqueline is stylish, sleek and pretty useful.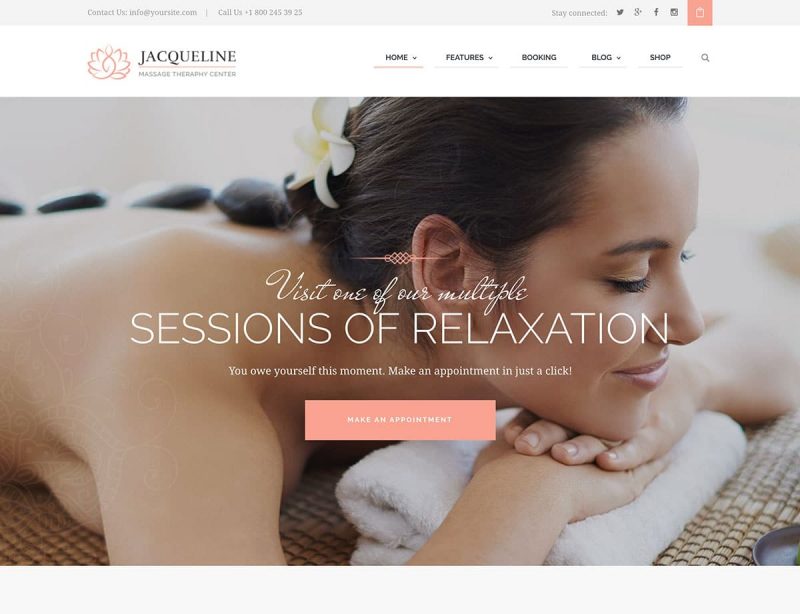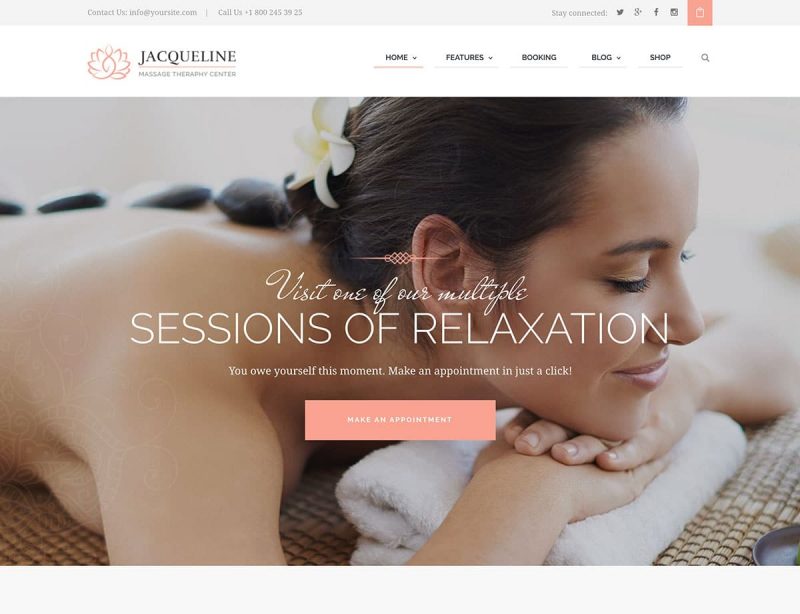 Aqua
A WooCommerce integrated Spa and Salon WordPress Theme, Aqua is all that you need to create a strong online presence for your salon. The theme comes with a great selection of prebuilt homepage layouts and templates.
The responsive and elegant design can also be used for building websites for health spas and salons, wellness centers, palliates and yoga centers. Aqua comes with WooCommerce integration using which; you can transform your store into a beautiful online showroom.
You get ready-made templates and layouts for the inner page of your site which includes blog archives and individual posts, contacts and service pages as well.
With Aqua, your staff can also use in-house tools to record and manage their schedules or self-service booking facility can also be used by the visitors.
Well, the feature list that this amazing theme offers is endless.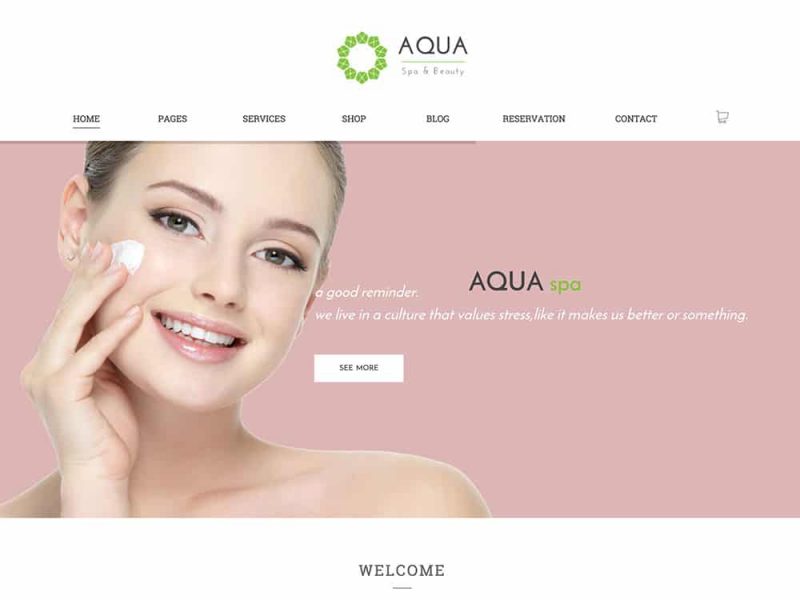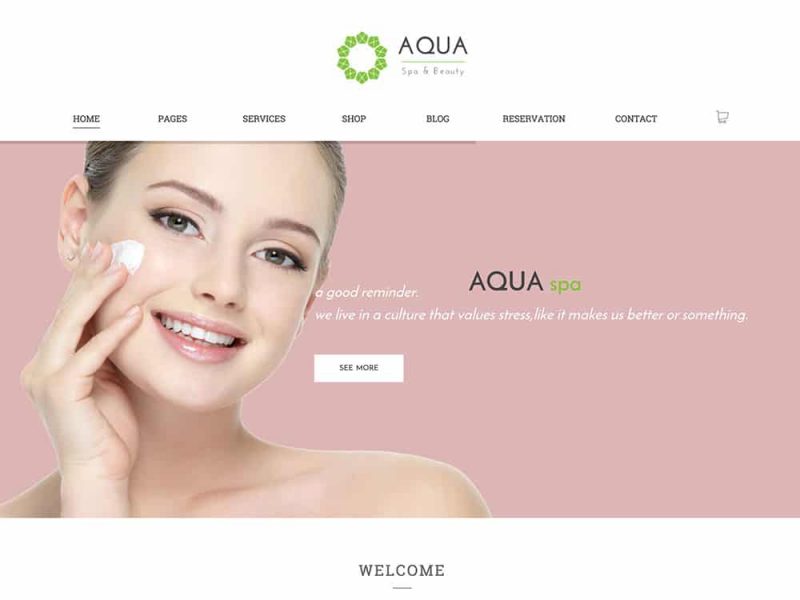 Salon
A very basic, but one of the leading and common WordPress themes, Salon, provides you with all the features you would need to build a website for your wellness center, spa or a beauty salon.
Salon has full drag and drop homepage builder which you can use to customize the homepage elements as per your requirements.
The theme bestows you with innumerable presentation options that you can work with such as different layouts and column structures with optional filters to give you more control over the displayed content.
Salon has been created by CSSigniter, the team known for the maximum experience of developing and selling themes for WordPress and with all these amazing features, Salon indeed is a great pick.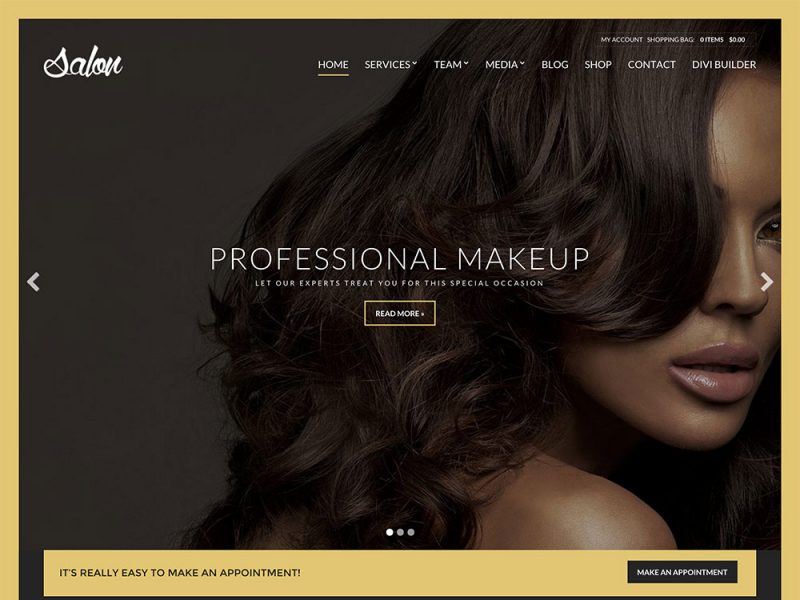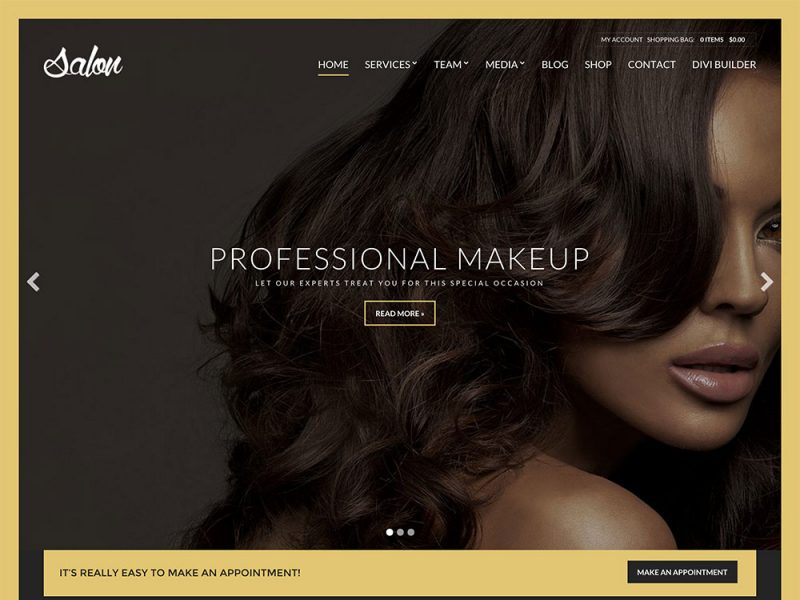 Newspaper Theme
Newspaper is ideally a news and blog WordPress theme but can serve a great purpose if you want to create an online blog for your spa and salon business.
The theme is built with the fronted tagDiv Composer page builder and is SEO optimized. When it comes to features, Newspaper truly stands out from the crowd as it comes with unlimited sidebar, endless color options, 12 custom post types, multiple layouts, and grids.
Built for greater user experience, this theme doesn't require you to have any knowledge of coding. With NewsPaper, you can share the latest news, knowledge, and information about the spa and salon industry with your audience.
What's more? Your clients can easily review your services along with viewing the information about the prices and deals. Simple yet powerful!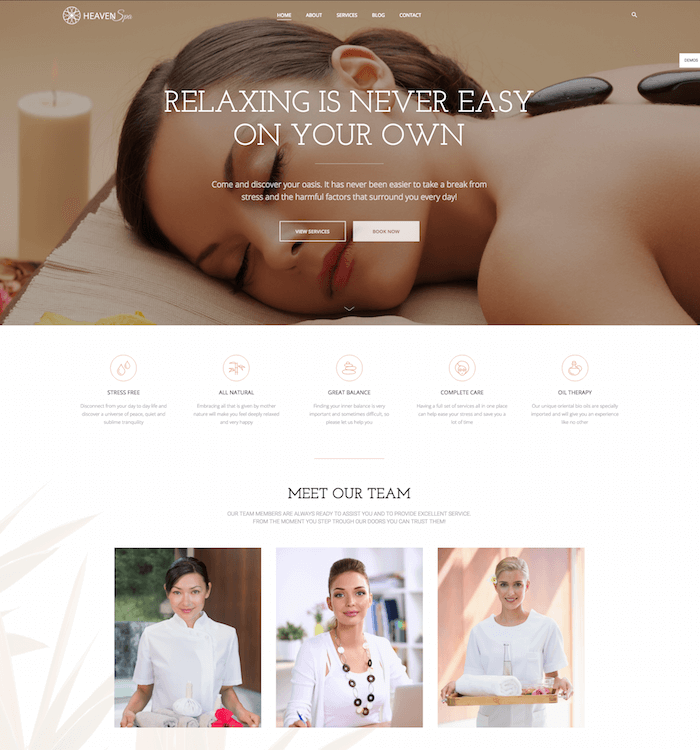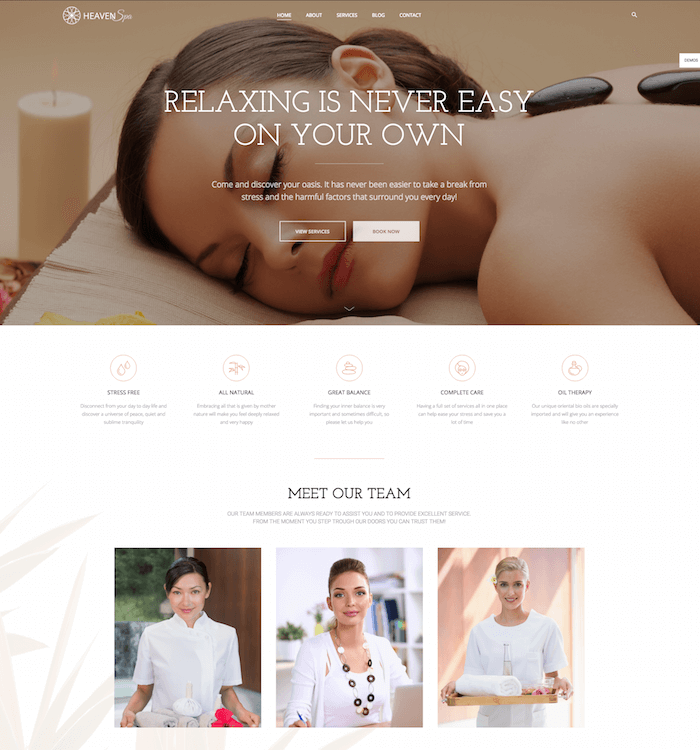 Cinderella
Cinderella is a design-oriented spa and salon WordPress theme and gives you four suitable color schemes to choose from.
You can also personalize the color schemes through the admin control panel as per your requirements. There are two different header styles that you can choose from and two alternate layouts that you can use to present your service listings.
Additionally, this comes with a one-click demo content installer which means that your website can be launched in no time.
True to its name, Cinderella gives you some attractive looking design customizations. The theme also comes with a Premium slider revolution plugin which is included in the package to help you in adding animated slideshows to your website.
Worth a try!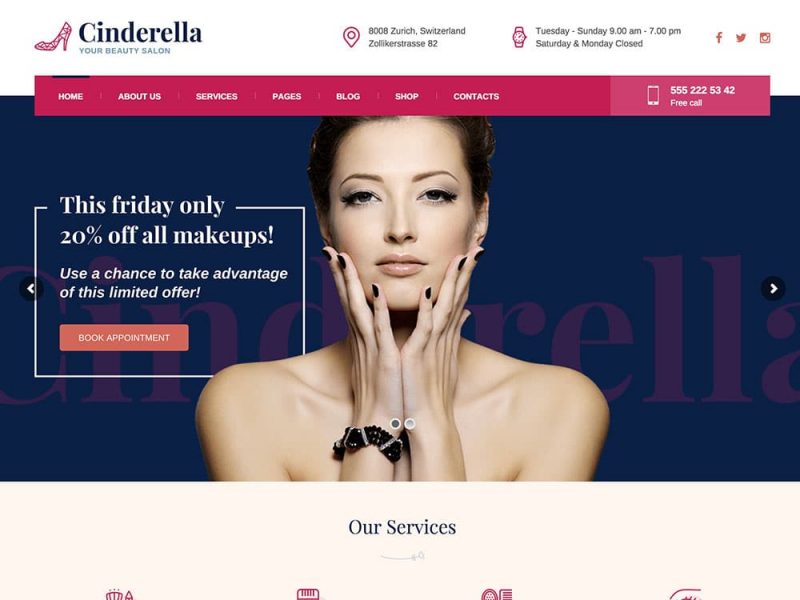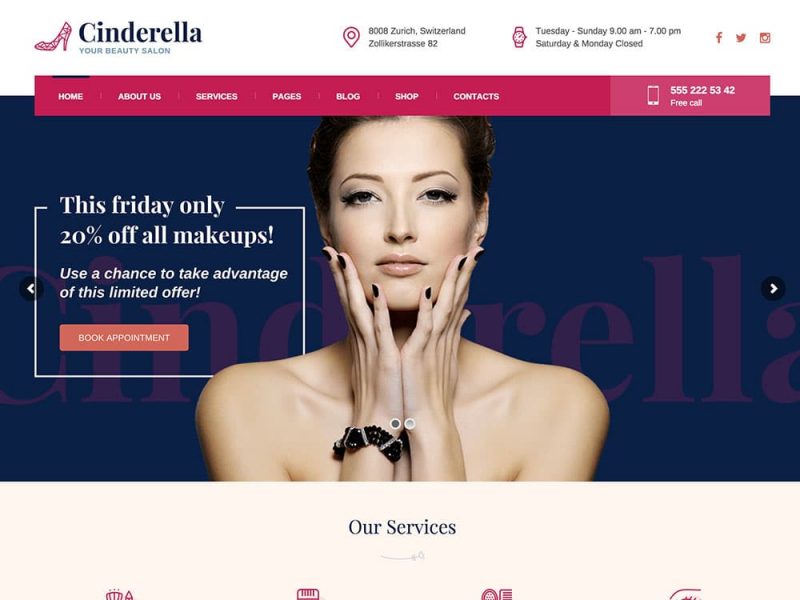 Hair and Beauty
This is a new spa and salon WordPress which is being highly demanded owing to its stylish design. You can find an e-commerce demo while setting up your website and the theme is perfect for hair, beauty, tattoo, massages, and other types of salons.
Hair and Beauty also come with a personal website demo that makes this theme the best choice among freelancers and people who are working independently in health and beauty industry.
Your website can also be customized using the intuitive user interface. This highly user-friendly theme doesn't require you to edit any code as the prebuilt layouts are enough to create a stunning looking website.
With Hair and Beauty, you also get tutorial videos that can help you in making the most of your website's design.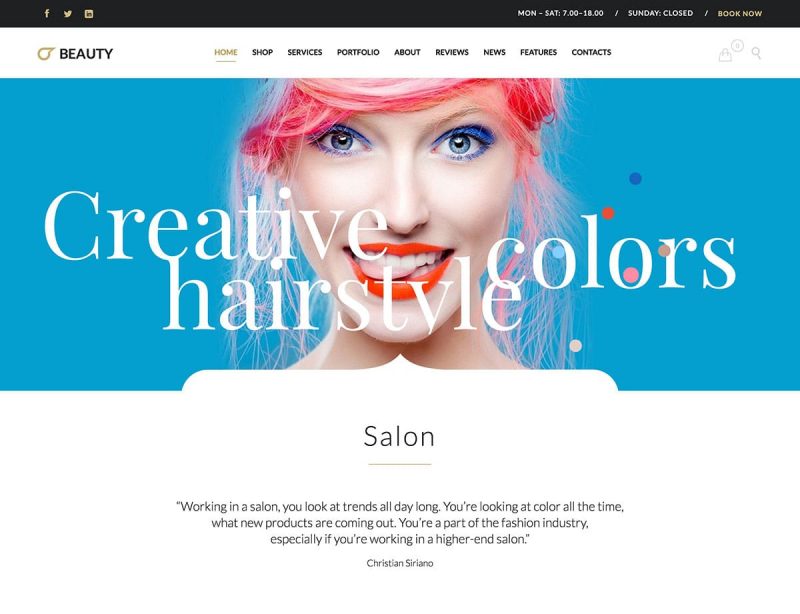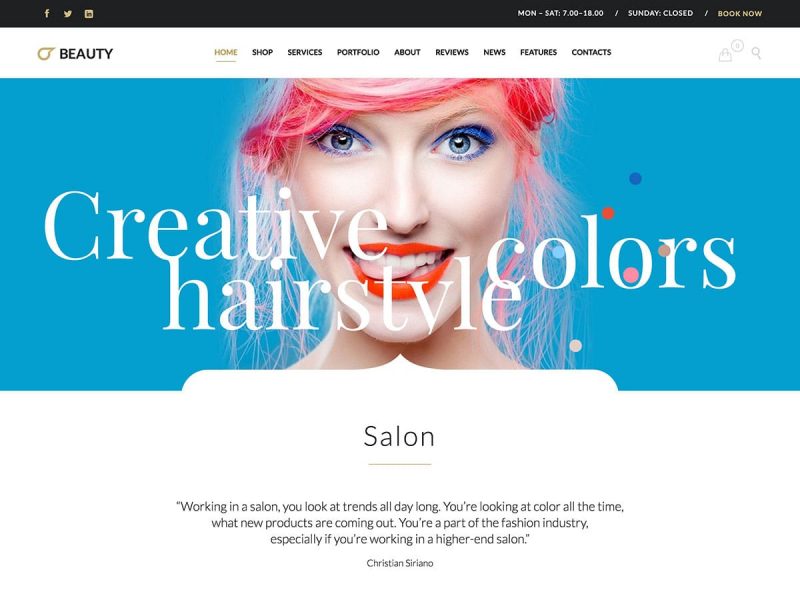 Beauté
Beauté is retina ready WordPress theme and is ideal for those who want a simple yet modern and professional website.
Beauté comes with custom page templates for services and photo galleries and helps you in creating beautifully designed website pages.
Your potential clients can also make appointments just by the click of a button. You can also set up a blog section for your business wherein you can inform and engage your clients by sharing the latest hair and makeup trends.
This feature-rich theme is fully coded and supports WordPress 3.0+ and is completely SEO optimized.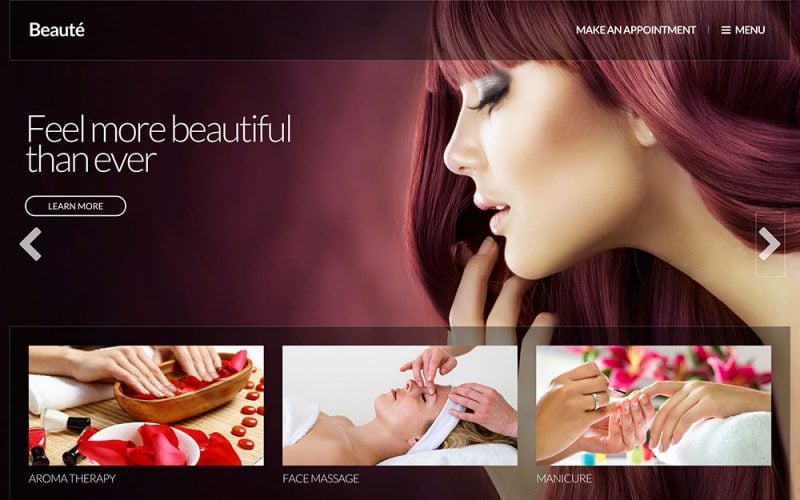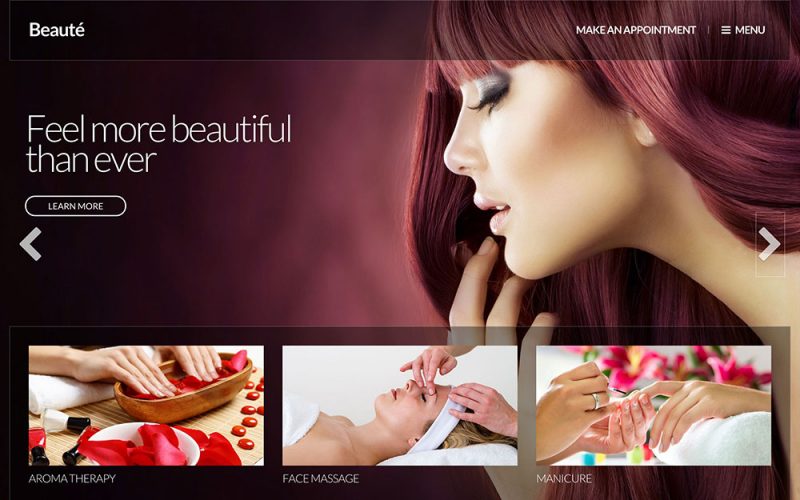 Beautyou
Build a stylish website for your spa and salon along with managing bookings and appointments online with Beautyou.
The theme has been built to integrate seamlessly with the WP Booking Calendar plug-in. It comes with an integrated premium Visual Composer plug-in that can help you in building your custom page layouts in a hassle-free manner.
With Beautyou, you get endless customization options to create an entrancing website design. The theme is fully mobile friendly, and along with a responsive design and swipe-friendly sliders, it can help you in boosting conversions and converting website visitors into real-time customers.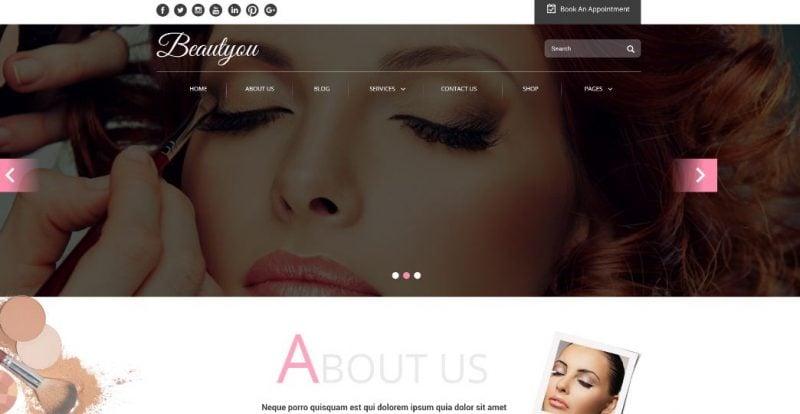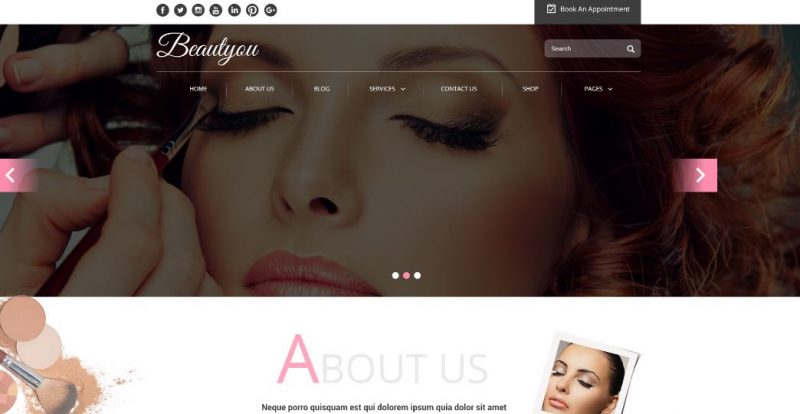 Kendall
The stylish design of Kendall allows you to showcase your services, packages, and products on a unique presentation page.
The theme comes with Visual Composer and Revolution Slider Plugins to help you build custom layouts and stunning slideshows.
It has around 12 modern and unique website modes that you can choose from and create a highly user-friendly and attractive spa and salon website.
The theme supports e-commerce and is a good option for those who are thinking of opening an online store for their salon.
Kendall allows you to present your content in an elegant and attractive manner and you can also publish photographs, videos, and descriptions making it an ideal choice for creating an engaging spa and salon website.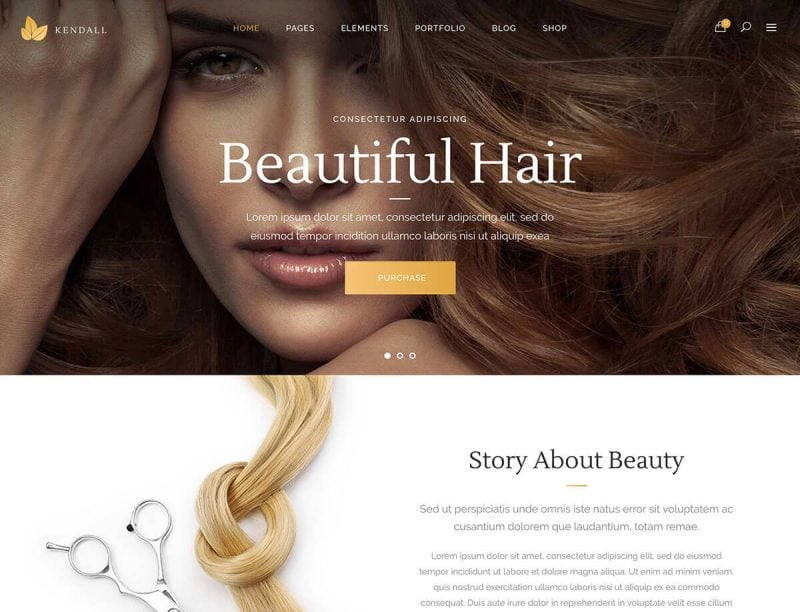 The Beauty Salon 2
The Beauty Salon 2 is an updated and better version of an earlier salon and spa WordPress theme (The Beauty Salon) and comes with added features.
Thanks to this theme's developers, the original theme has been worked on to deliver an updated design and improved features.
This highly responsive theme is built on the Twitter Bootstrap Framework making its usage smooth on smartphones, laptops and even tablets.
The Beauty Salon 2 focus on presenting the main content of your website in a professional manner with its attractive image slider. The theme's attractive layout is sure to woo the first time visitors to your website and turn them into paying customers.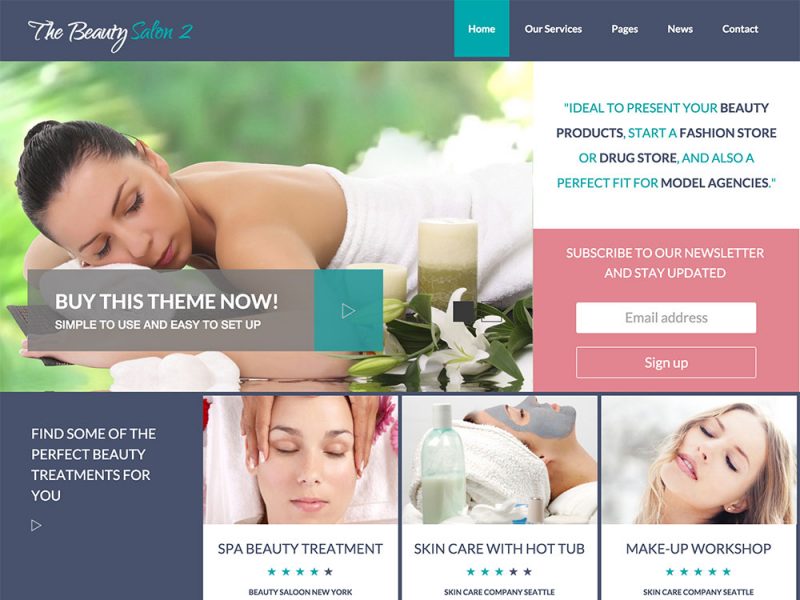 Dictate
A multipurpose WordPress theme, with easy setup for a website for any salon, Dictate is one of a kind. You get a lot of customization choices and the ability to mix and match your designs with the theme.
Dictate uses shortcodes to allow you to insert 70 built-in page elements into the design of your website and enhance the visual appeal of your content.
The theme also comes with a Visual Composer page builder plug-in which helps you in customizing the already feature-rich page layouts and creates a stunning website for your salon.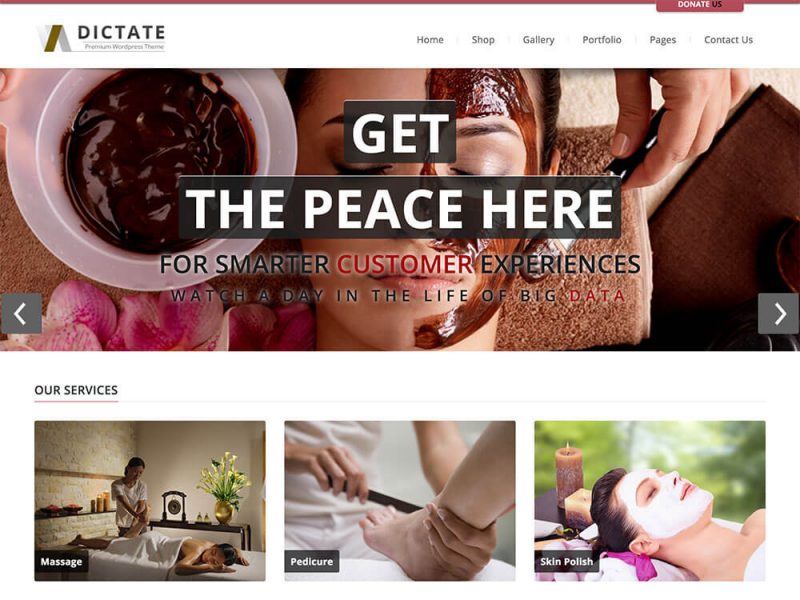 Depilex
This quick and convenient WordPress theme will help you in creating a website in just a matter of seconds. With Depilex, You can keep things dynamic and create stylish blogs. It is a highly user-friendly theme and the pricing plans and scheduling times are offered in various ranges.
The theme will keep your website's visitors engaged with its modern and powerful slideshows. Depilex comes with many handy pre-designed pages and layouts which will help you in introducing your service packages and showcase them to a huge chunk of the audience.
The theme is SEO customized and the various designs for the header and homepage gives you the required touch of classiness that a salon and spa website needs.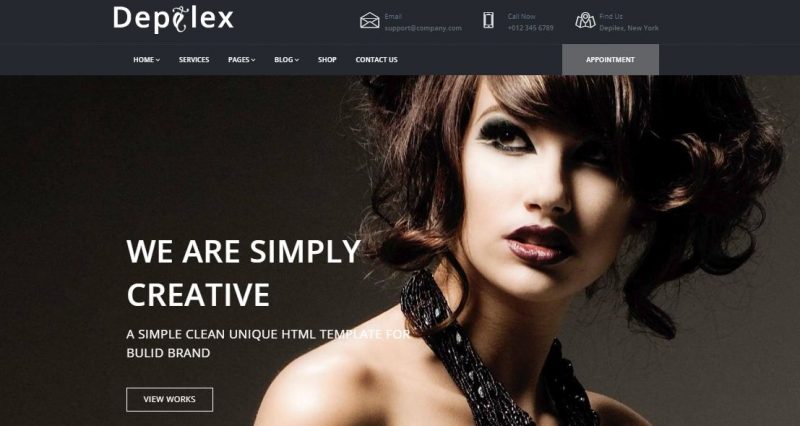 Frisieur
If you're looking for a theme to showcase the skills of your salon staff, then Frisieur is the best choice. With this WordPress theme, it is very easy for your clients to book an appointment.
The sleek and the clean design of the theme makes it extremely user-friendly for the visitors of your website to pick a date of appointment, which you confirm by an email.
With Frisieur, elements, including latest news, salon opening hours, image gallery, slider, and much more can be added to your website making it a great pick for creating a feature-rich website.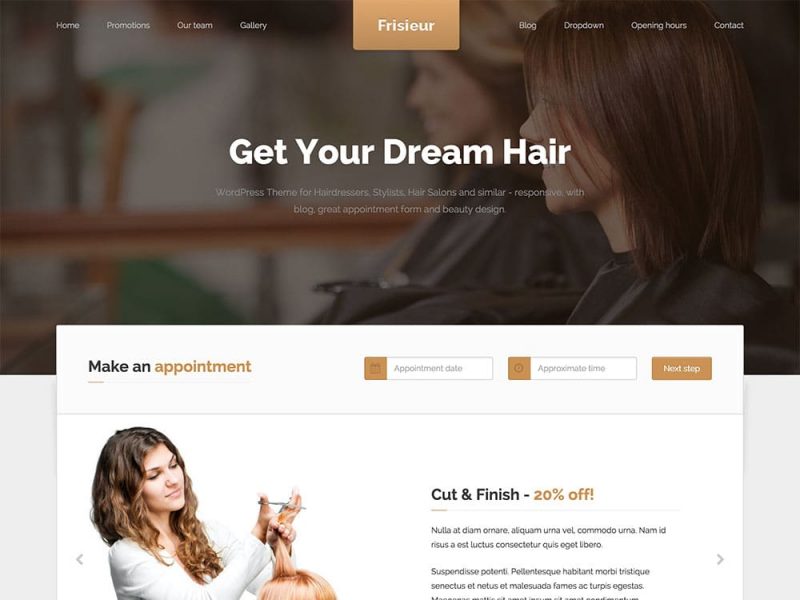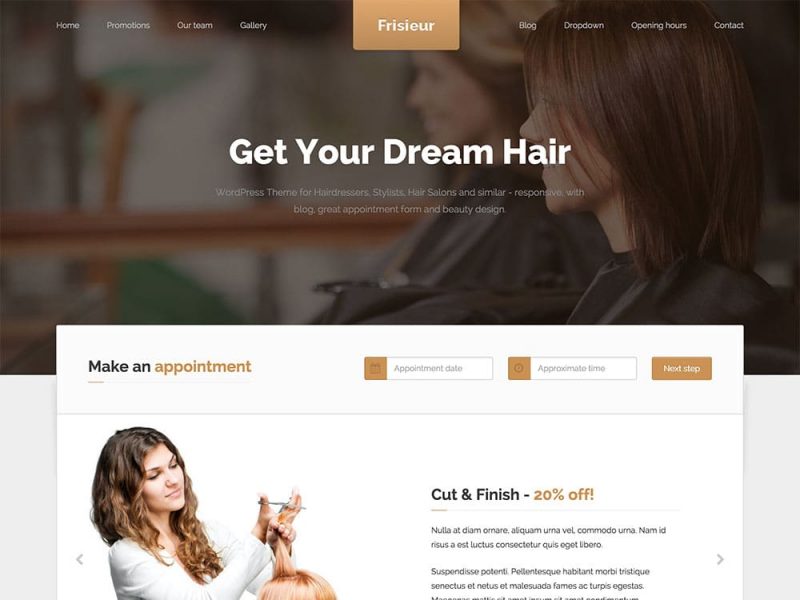 Lisa Marie
Liza Marie is a highly popular WordPress theme which has been developed by the Web Savvy Marketing team behind the renowned Genesis framework.
This theme includes four color options for easy switching and the flexible image rotator at the home page makes your website look elegant and user-friendly at the same time.
The theme's design is mainly focused on the professionals working in the hair and salon industry, and its user-friendly design makes it suitable for anyone operating in the spa and salon service industry.
Lisa Marie is completely compatible child theme which includes all the features that you would need for creating an impactful online presence.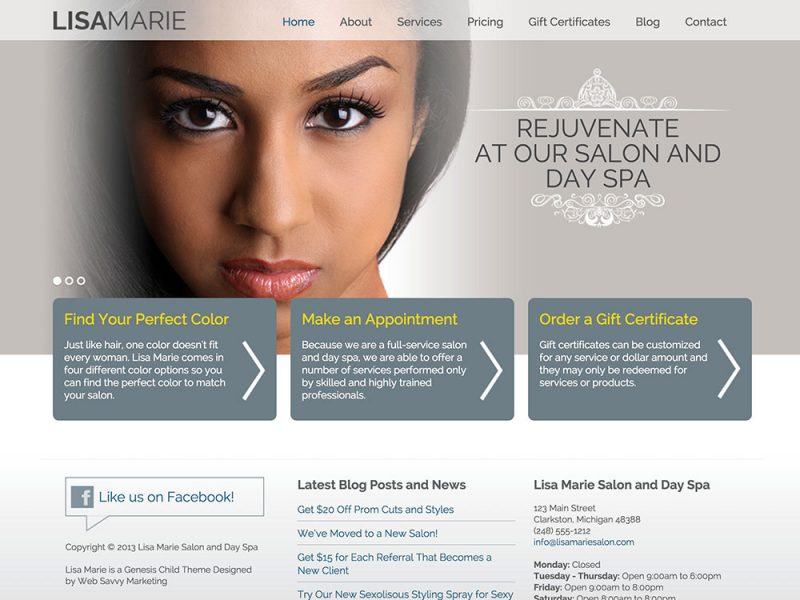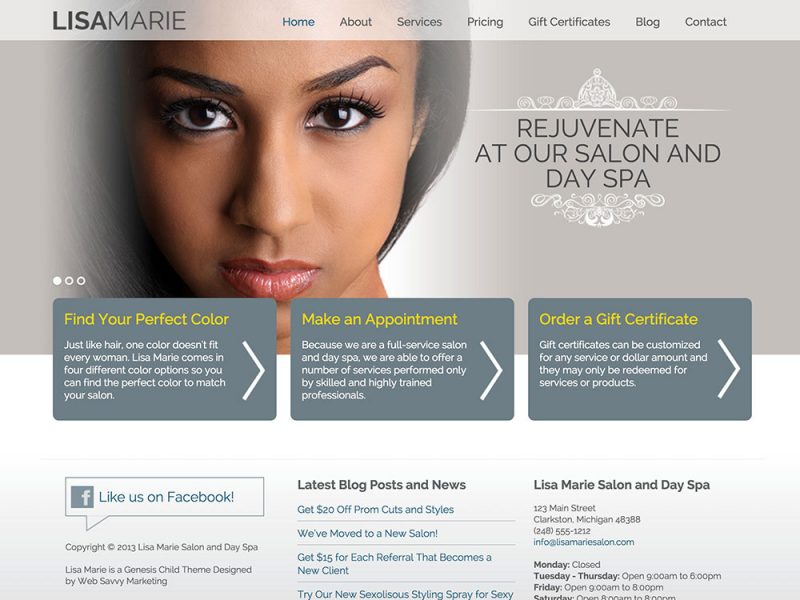 Limon
Limon is an ideal WordPress theme for businesses from the world of health and beauty. Owing to its clean and responsive layout, Limon will help you in attracting a huge chunk of the audience to your website and its highly responsive interface will help you in driving conversions.
There are almost 18 different color schemes and seven background patterns to give you good control over the design of your website.
With Limon, you can also push up the social following of your website owing to its customized Facebook Fan page which allows you to create a complimentary social media presence.
Choose Limon to showcase your services in an attractive manner and create a strong presence for your salon business.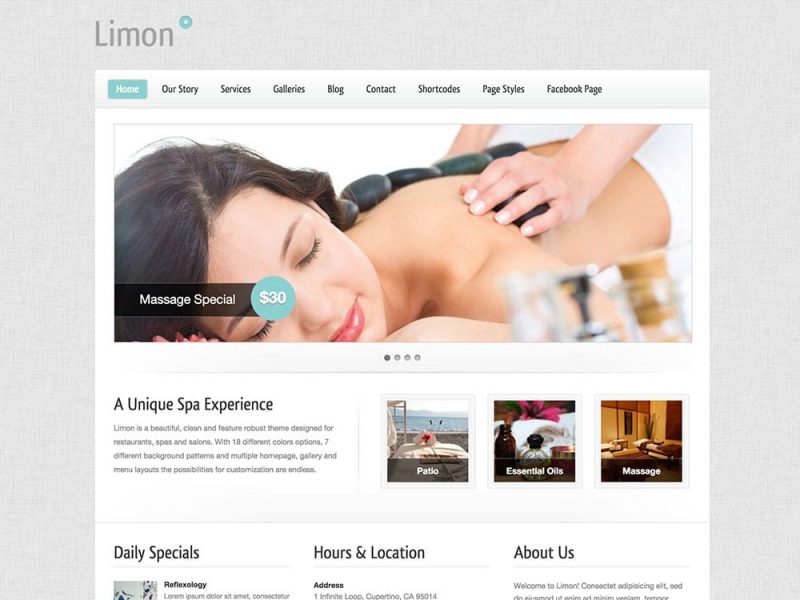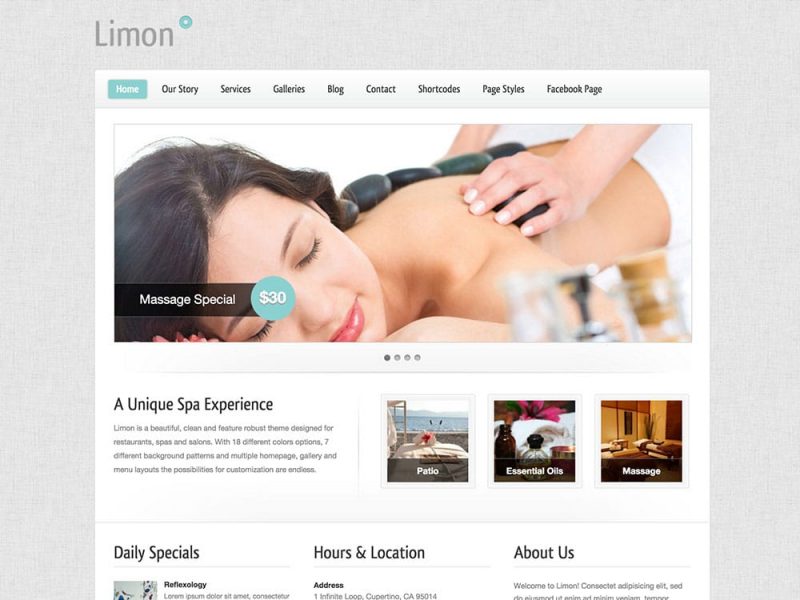 AppointWay
This is one of the best themes for spa and salon business. Quite evident from its name, the visitors to your website can schedule appointments and make payments through AppontWay WordPress theme.
The theme comes with an attractive appointment form that makes it easy for the visitors to use and allows them to select a service and even make payments online.
There are four color schemes to choose from, and this versatile theme can help you in promoting health, beauty, wellness-based business online.
Buying AppointWay also gives you access to all the 40+ current themes and a new addition every month. A great deal indeed!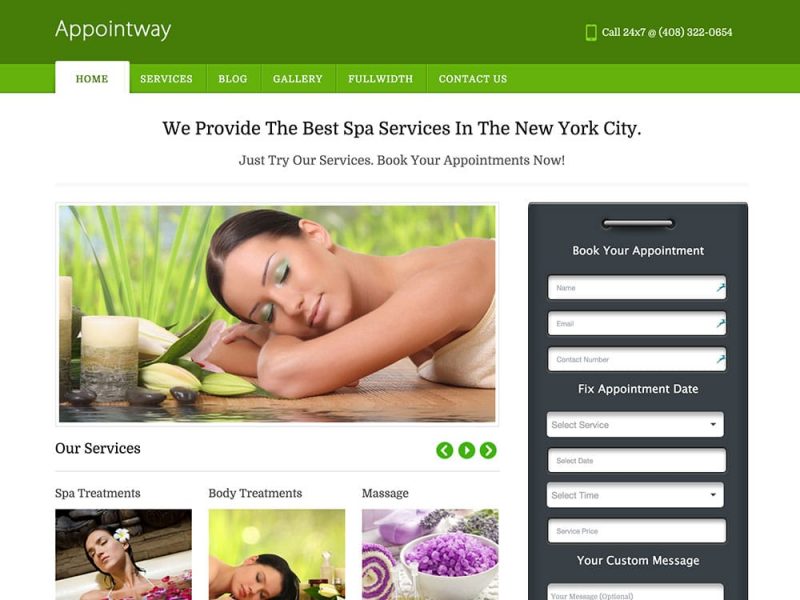 Rejuvenate
As the name suggests, Rejuvenate WordPress theme is the best for anyone who wants to create a website that focuses on relaxation to promote their salon or basically, a massage parlor.
The colors are very subtle, and the attractive design of the theme helps in setting up the tone for the services that are offered.
Many useful elements that come with Rejuvenate make it easy for the visitors to look at the available offers and make appointments.
The homepage layout is highly flexible and can be adjusted with the use of widgets and amazing theme options. The theme can be purchased as a part of Templatic themes club and is a great pick.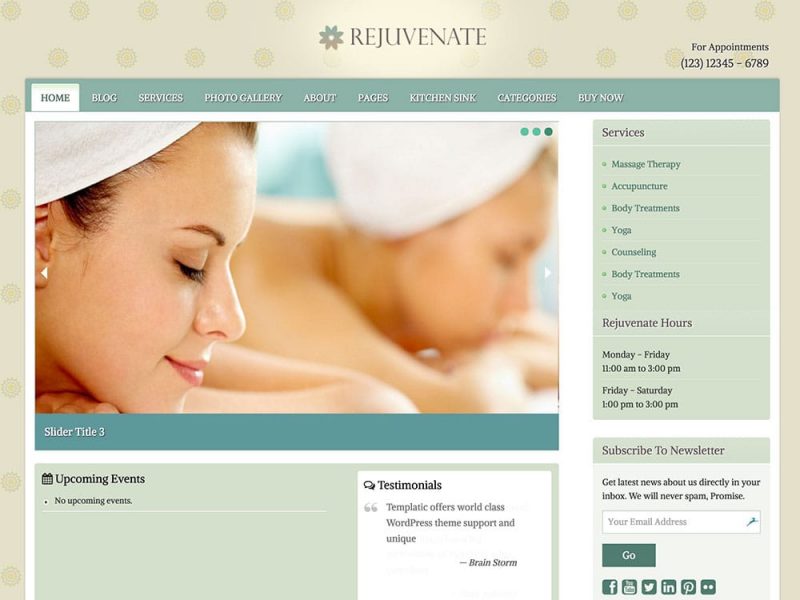 Core
The core is a multipurpose massive WordPress theme which is designed for all types of business. It has countless features and is completely responsive and is retina ready.
The theme is very SEO friendly and allows you to showcase a nice portfolio on your website.
The visual page builder allows you to create a lot of attractive pages by the drag and drop element. The theme can be customized and gives a lot of unique possibilities using which, you can create a corporate website, an SME website, a blog or an e-commerce shop.
The design of the theme is very attractive and comes with 20 different templates that you can use to create an amazing website for your salon.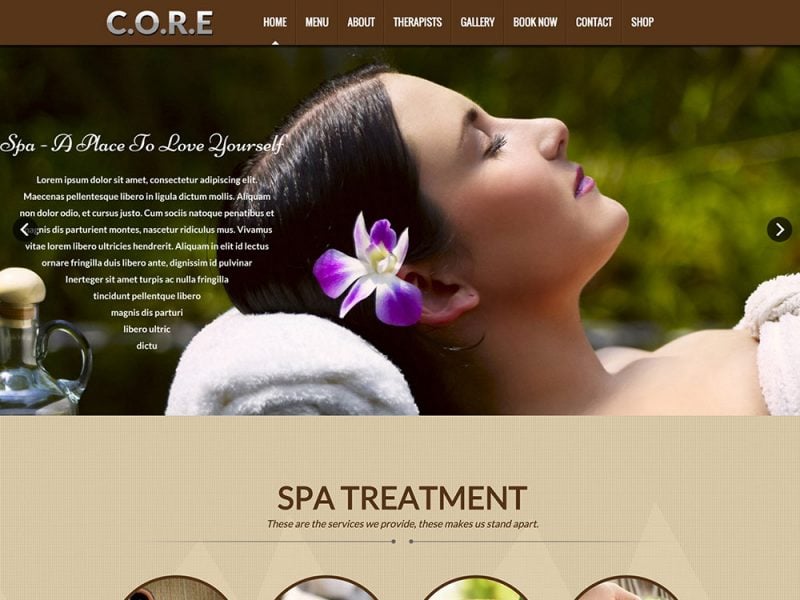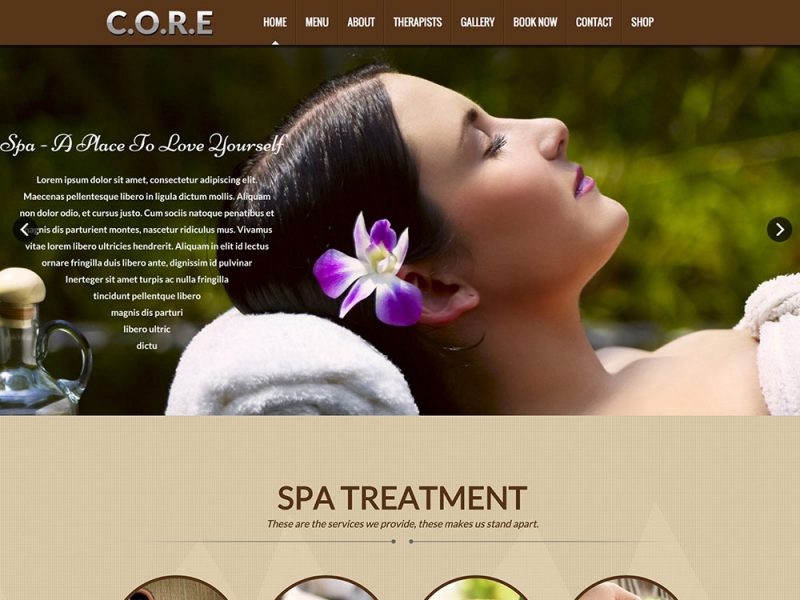 Within a sea of Spa and Salon websites, the themes listed above are some of the most demanded ones. Let us know in the comments section below which is the one you would use and would like to suggest for others to use.