Are you looking for the best Semrush alternatives? Probably a free tool or a tool that can offer you can second perspective? Well, we have listed some of the top alternatives for you in this article.
A toolkit for digital marketers, Semrush is aimed at improving your online visibility through SEO, PPC, Keyword search, social media marketing, and more such allied activities.
It gathers data intended to analyze the website's online visibility
Centered chiefly around business intelligence, this competitor analysis domain indulges in top-rated keywords that will streamline your search engines and help you access or dispense the best kind of content.
The company allows you to sharpen your firm's advertising strategies by empowering better dispersion of their promotional content and charts out your business growth.
It is also fluent in pay-per-click strategies and allows you to compare your competitor's keyword data across platforms.
Semrush is one of the most popular and widely used SEO tools by bloggers and marketers. So, before we go ahead with the alternatives to Semrush, let's see how Semrush can help us.
If you wish to know about the tool in complete detail, we have a comprehensive review of Semrush that you can read to understand how this tool can help you to grow your business.
Some of the Key Highlights fo Semrush
You can use Semrush to get a quick overview of traffic from any country and the backlinks that a site has.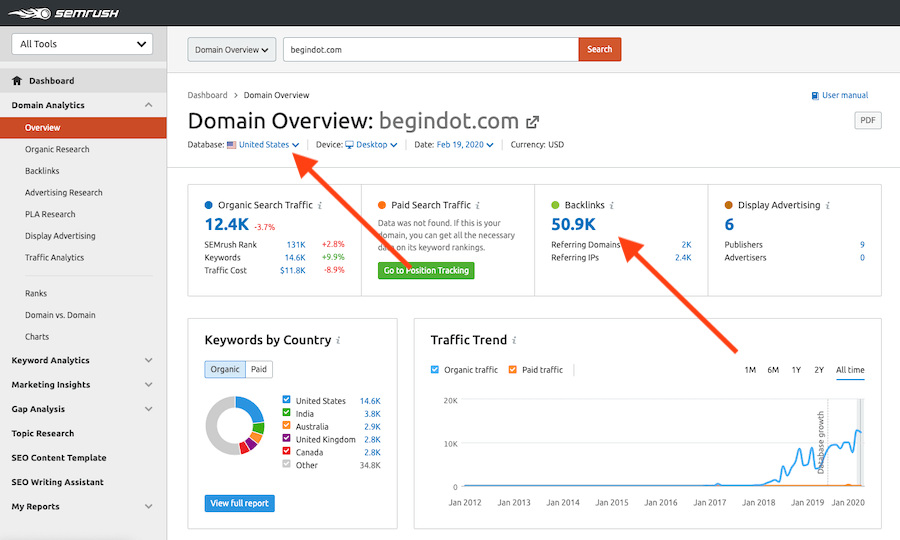 You can go in-depth and find out the exact sources of each backlink to the site, the page linked from, and the anchor text; that will help you to create similar kinds of links for your site as well.
Organic Search Competitors
You can use Semrush to find your competitor sites that compete in the organic search results. You can then do a detailed analysis of those sites, and the top pages of those sites, and work on your content strategy.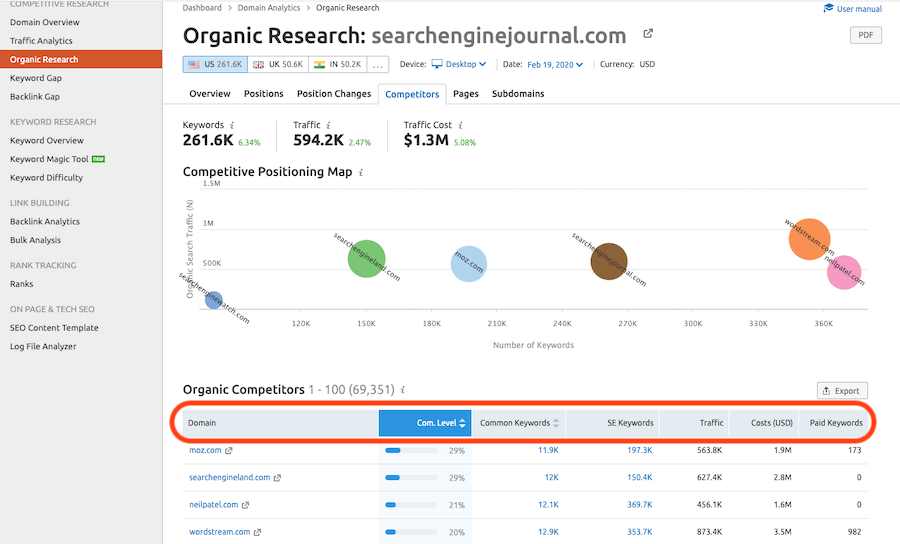 There are a number of other advantages of using the Semrush toolkit. You can read our review post to understand it better.
Here is the good news for you. Get an extended trial of the Semrush tool by using our link below.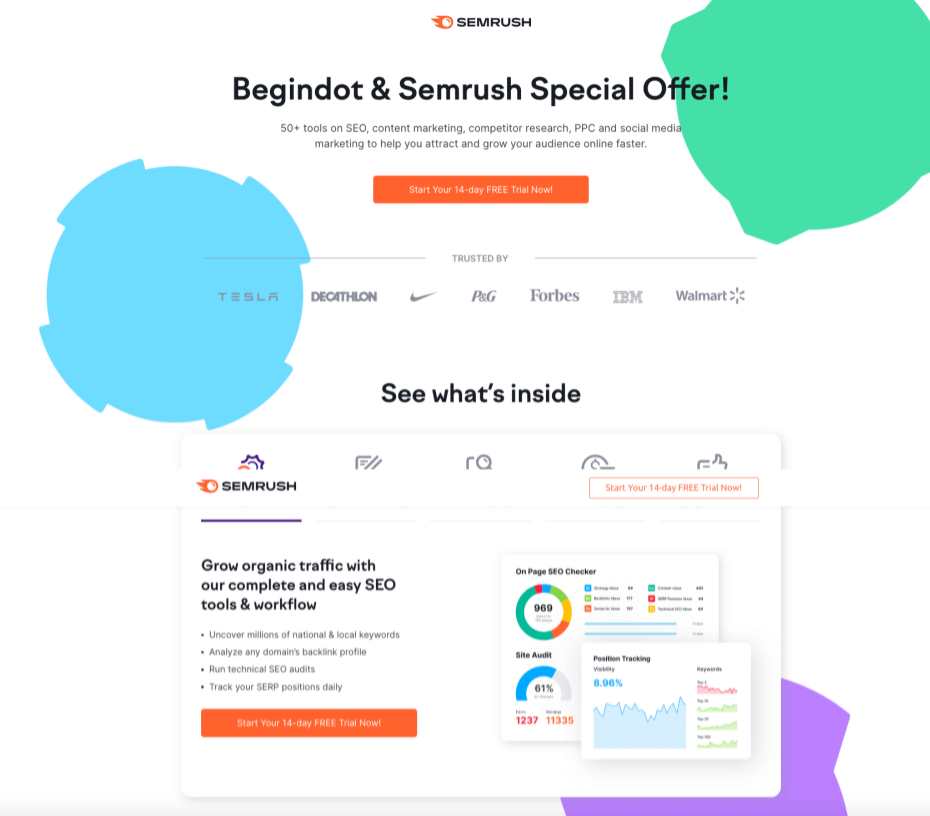 Although Semrush is highly functional and extensively used, there are several alternatives that you could be used to further the visibility of your business; which have proven to be equivalent, if not better than Semrush.
Before you start reading about the best Semrush alternatives, don't forget to get an extended free trial for Semrush here.
01

. Moz
Moz is sophisticated and highly professional software, Moz is well-versed in boosting your SEO campaigns through the means of its exquisite keyword generator which has proven to garner eyeballs and the impressive research tools that help you gather reports on all sales and marketing aspects and activities.
Its most appealing yet uncommon feature is its provision of workshops and tutorials for newbies or beginners who are venturing into the online marketing industry, and these lessons are aimed at equipping them with all the basic know-how of the business.
Their technical support team is made of a bunch of professionals who are available round the clock to tend to your needs and queries.
It also dispenses information on link quality and inbound links to attract the intended traffic.
In addition to this, it also houses on-page recommendations, discounts on its tutorials, and weekly crawls along with its on-site explorer.
Don't miss this collection of top Moz alternatives. Also, here is a competitive analysis of Moz VS Semrush.
Top Features
Keeps a keen eye on the competitor campaigns
Inclusive of rank tracking and keyword research tools
Flexible price plans depending on your requirement
Affordable
Moz Vs Semrush
The platform is easy to use
Over 40 trillion links indexed
You get 30 days free trial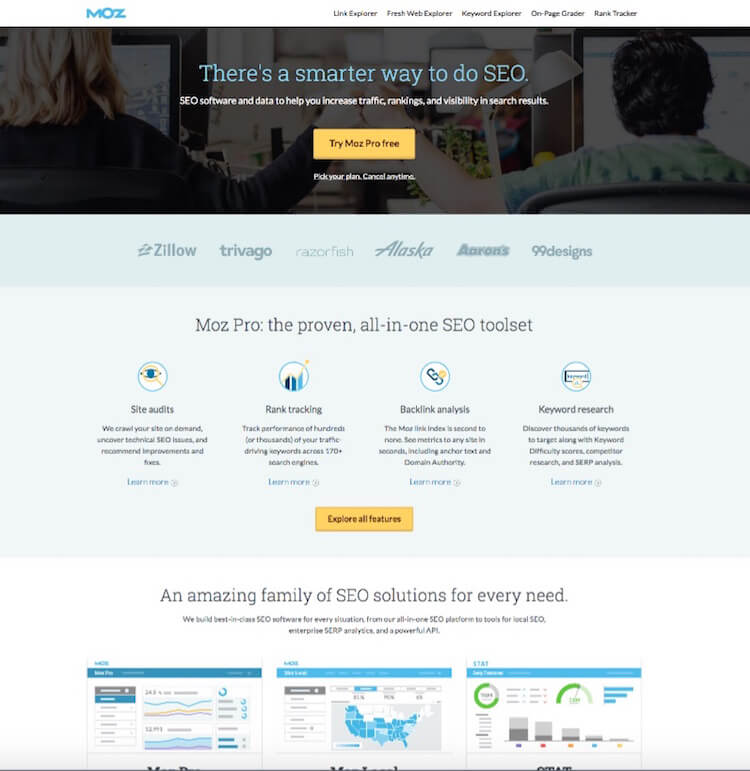 02

. Wordtracker
Wordtracker is a keyword research tool that will help you to create the perfect content strategy for your business.
This tool can easily and is simple to use. It can help you to craft your SEO as well as PPC marketing with in-depth details.
Wordtracker will help you to find over 10,000 different keyword combinations for each search you make.
This is also a very handy tool for those who are managing any Amazon-based eCommerce site, it will surely help you by finding the targeted keywords and increasing your overall revenue.
You will get the complete details with keyword difficulty, potential search volume, etc, for each search.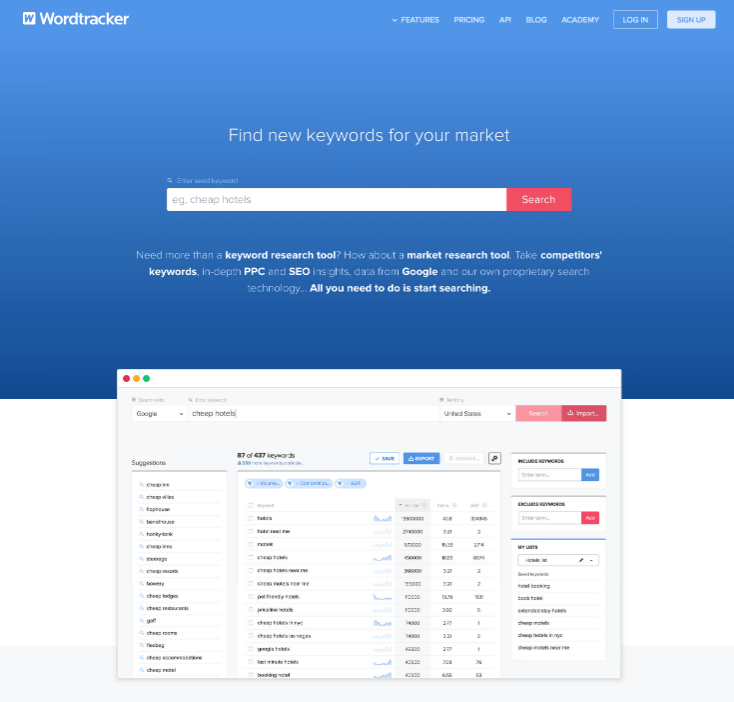 03

. KWFinder
We all know that keyword research is extremely important to drive traffic to a site. if you are not doing your keyword research correctly, you probably have wasted a lot of time writing content without any target.
When you target the right kind of keywords, it will become a lot easier for you to drive traffic. When you look around for an article about keyword research you will see suggestions like "target low difficulty high volume keywords", now what does that mean?
It means that if your site is relatively new and doesn't have high authority in your niche, you must stick to the low-difficulty keywords that are relatively easier to rank. Also, you should target long-tail keywords to receive highly targeted traffic.
If affiliate marketing is your main monetization method, you don't need millions of traffic to earn good revenue. However, you will certainly need extremely targeted traffic with buying intent. And it is only possible with proper keyword research.
A tool like Kwfinder makes the process a lot easier for you. Kwfinder is a tool that is custom created for keyword research. When you do research on Kwfinder for your targeted keyword, you get all the details, related keywords, difficulty level, and more.
Top Features
Get keyword suggestions
Find long-tail keywords
Offers the most accurate difficulty score
Find keywords based on locations
KWFinder VS Semrush
You can use the tool for free
Newbie friendly interface
Multiple platforms under one account
Specialized in keyword research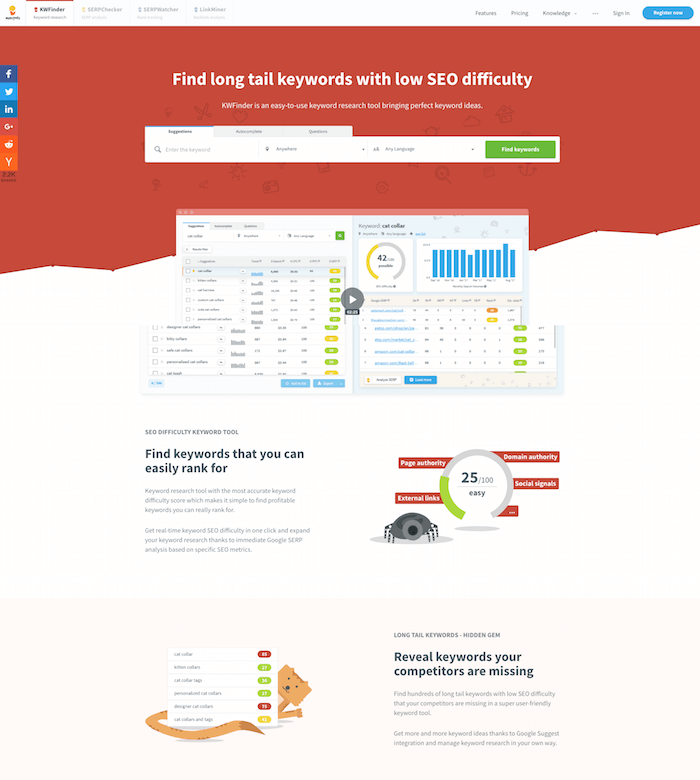 04

. Ahrefs
Ahrefs has proven to be a strong contender against Semrush, thus making it a viable alternative in place of the other.
Although they have identical pricing schemes, there are several features that set the two apart.
You are at the liberty to craft your campaign project on the website dashboard, and its tools will help perfect your efficiency.
Their site audit feature has garnered a lot of acclaim, as this allows the users to assess your domain, analyze its shortcomings and monitor your progress. This is absent of free domain tools.
In addition to this, you can clearly see the various types of content, how they have fared in several domains, and what can be done to further their reach to the right kind of audience.
Its SEO toolbar is a godsend for avid bloggers and contextual marketers.
Don't miss this collection of top Ahrefs alternatives.
Top Features
Features like Search volume, CPA, keyword difficulty
Handy and functional toolbar
Versatile across devices and browsers
Less expensive
Ahrefs Vs Semrush
More comprehensive toolset
Link index is faster than Semrush
More in-depth tools for competitor analysis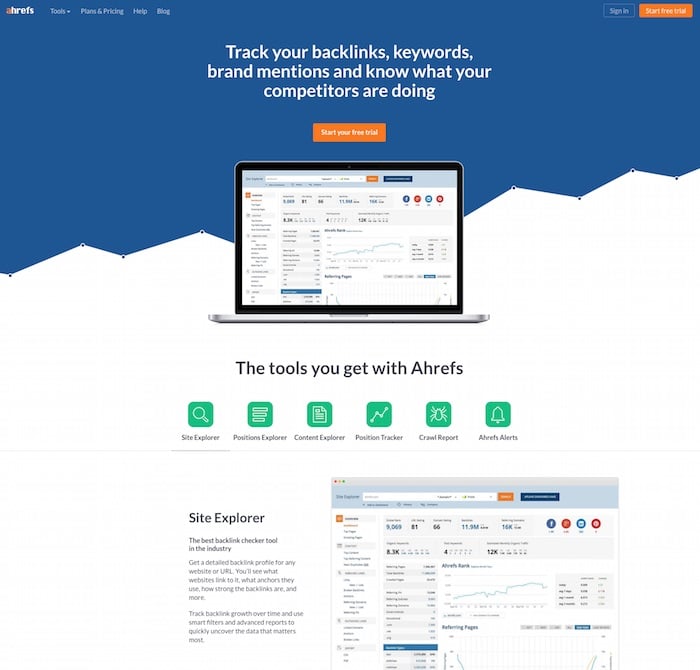 05

. SE Ranking
SE Ranking is another popular name among SEOs. You can use this tool to track keyword positions and a number of other SEO analyses.
You can keep track of all your important keyword positions in real-time. Along with your own keywords, you can keep track of your competitors as well.
Other than the keyword rank tracking tool, SE Ranking also offers a number of other SEO tools such as the site audit tool.
SE Ranking comes with a complete backlink analysis tool that will help you to keep track of the backlinks to any domain. So, if you are looking for an alternative to Semrsch that offers a backlink analysis option, SE Ranking is a great option to go for.
Top Features
SERP tracking tool
Complete the backlink checker tool
Website audit tool
White label option for agencies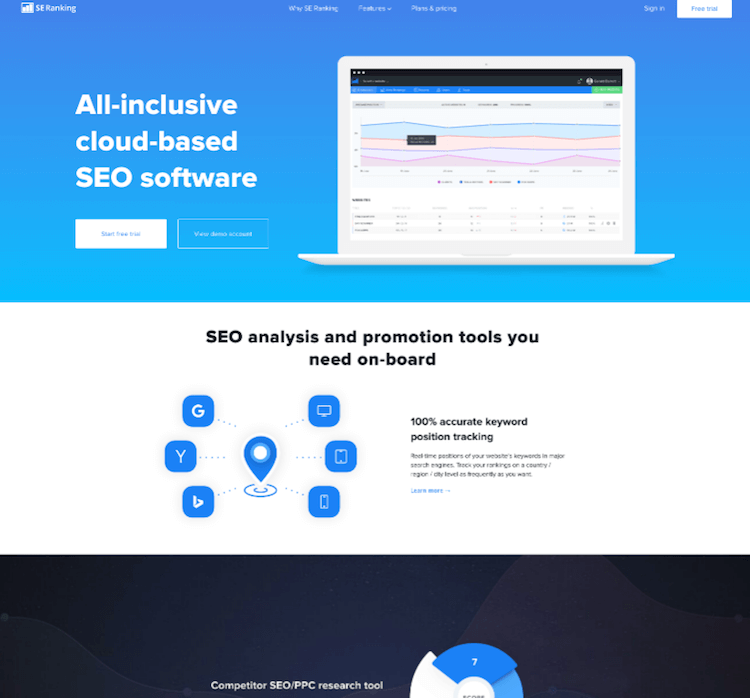 06

. SEO Powersuite
A one-stop-shop for your SEO needs, SEO Powersuite has managed to garner over 2 million satisfied users and brand integrations to its name.
From on-page backlinks to rankings, this software can encompass all the aspects of an SEO campaign and is perfect for beginners and experienced alike.
With its free download being another perk, SEO Powersuite is known for its housing of unlimited sites, keywords, and backlinks. Its wide array of features is inclusive of site audits, and automation of SEO jobs to name a few.
This feature of automated tasks lets you schedule the tasks at the time that you like so that you will have them ready by the time you start work.
Its intuitive UI is bedecked with a rank tracker, link building and management assistant, an SEO spyglass along with website auditor exclusively for on-page optimization.
Top Features
Branded SEO reports
Easily uploads your report to the cloud
Three times cheaper than other SEO tools
With pro-level features to suit all kinds of content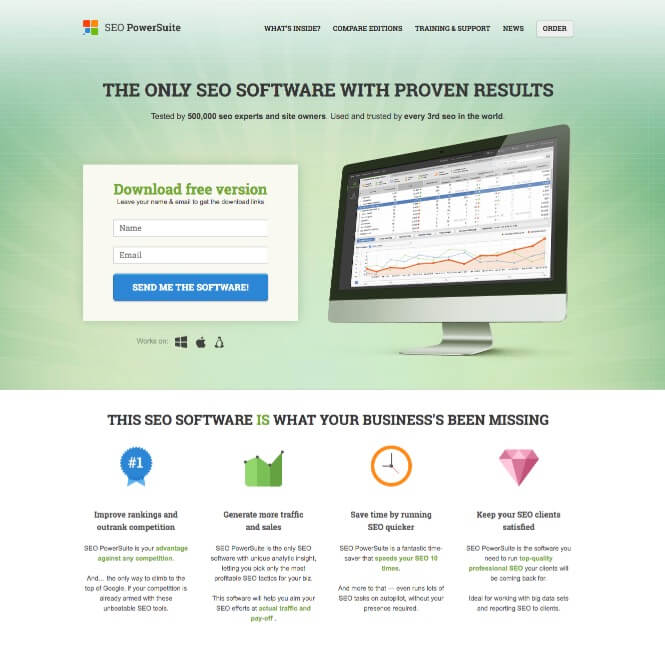 07

. Serpstat
A full-fledged SEP solution om itself, Serpstat is used widely by corporate firms although it has proven to be conducive for all kinds of businesses and firms.
It strives to further your content and the visibility of your business using search engines and high-quality keywords.
This tool is also known for displaying ranks based on search engine results, which gives you an overview of where your firm stands and what you need to do to better that position.
One can find out the keywords used in their campaigns in order to implement effective actions to boost your visibility against theirs.
It also houses infographics, tools that master market intelligence, advertising analysis, rank tracking, and also on-page audit, which is an uncommon feature in this industry.
Top Features
Data of a keyword with respect to its demography
Provides customizable reports
Monitors over 80 million domains spanned across 25 countries
Detailed backlink analysis
Serpstat Vs Semrush
Offers free version
Cheaper than Semrush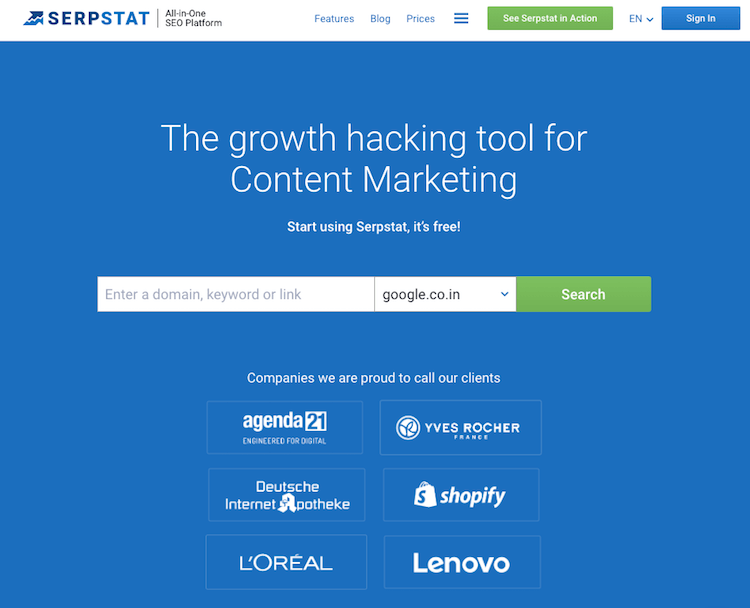 08

. SpyFu
When it comes to competitor analysis, SpyFu is one of the best software. It comes with tool sets that are similar to Semrush that you can use to do detailed research on any domain.
You can use their in-depth SEO research tools and PPC analysis to find the top traffic-driving content and then go deep into the analysis.
You can use the software to do your keyword research. It comes with comprehensive backlink analysis and backlink builder software to help you grow the authority of your site.
Top Features
Detailed competitor analysis
Backlink analysis and backlink builder
Comprehensive keyword research
PPC analysis of competitors
SERP analysis and historical data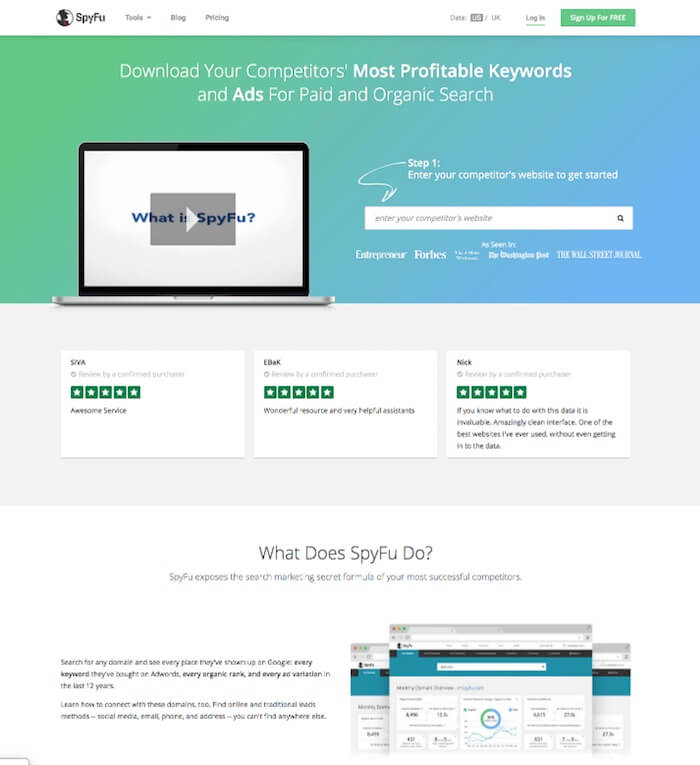 09

. GrowthBar
GrowthBar is an AI-based SEO software that helps businesses to rank higher on search engines and get more traffic. It uses a unique algorithm that analyzes your website and provides you with personalized recommendations on how to improve your ranking.
GrowthBar also offers a keyword research tool that allows you to find the right keywords for your business. Moreover, it provides real-time data and analytics that show you the progress of your SEO campaign.
Overall, GrowthBar is an excellent tool for businesses that want to improve their ranking on search engines.
Keyword Tracking
GrowthBar tracks the keywords that you are targeting and analyzes your progress. It provides you with real-time data so that you can see how your SEO campaign is progressing.
Moreover, it shows you the keywords that are working well for you and the ones that need more work. This way, you can focus your efforts on the right keywords and improve your ranking.
Competitor Analysis
GrowthBar also analyzes your competitors so that you can see where you stand in the market. It shows you their SEO strategies and how they are ranking for the same keywords as you. This way, you can learn from their mistakes and improve your own ranking.
Personalized Recommendations
GrowthBar provides you with personalized recommendations on how to improve your ranking. It takes into account your website's data and provides you with tailored recommendations. This way, you can be sure that you are taking the right steps to improve your ranking.
Keyword Research Tool
GrowthBar also offers a keyword research tool that allows you to find the right keywords for your business. This way, you can be sure that you are targeting the right keywords and getting the most traffic.
Real-Time Data and Analytics
GrowthBar provides you with real-time data and analytics so that you can see the progress of your SEO campaign.
GrowthBar Vs Semrush
Offers detailed AI content analysis
Tool to create an optimized content outline
AI Paragraph Generations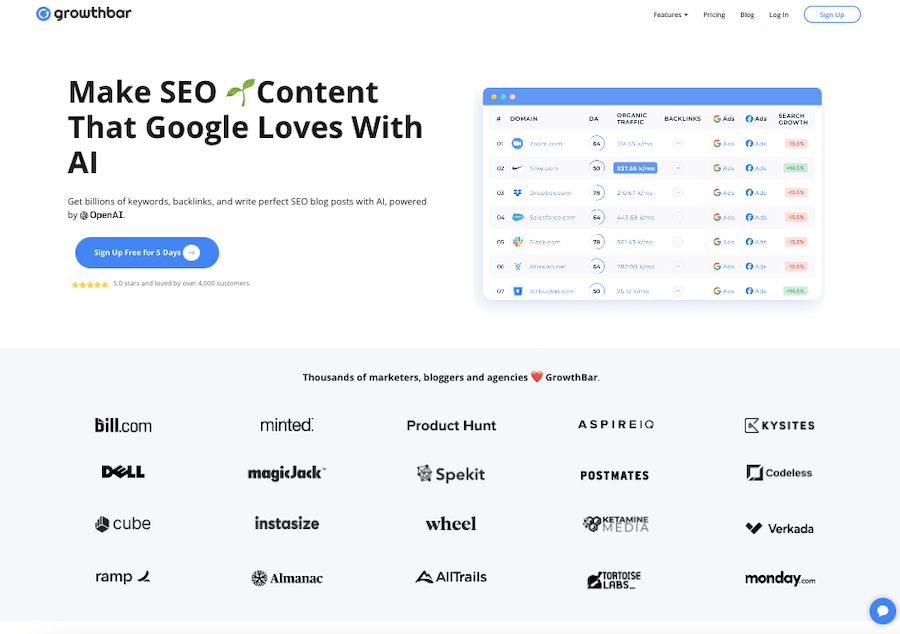 10

. Agency Analytics
It is essential to analyze market trends when one is inherently dealing with SEO, and this platform does that for you with ease and mastered expertise dispensed by the AI.
This also includes data collection and analysis of your competitor's sales and advertising campaigns, which will prevent overlapping and similarity of campaign patterns.
Enhancing the functionality of digital marketing, Agency Analytics helps gain an in-depth understanding of AdWord, social, and SEO.
This domain intends to solidify your social media presence and its integration with popular mediums like Facebook, YouTube, Google, and Instagram amongst others is a godsend feature.
Its highly functional dashboards also make possible the tracking of listings on Google maps and establish strong connections across all major marketing channels.
Top Features
Inclusive of a domain-specific ranking of keyword
Regular and free updates for the rank tracker
Customization available depending on regional positioning
Several satisfied users and customers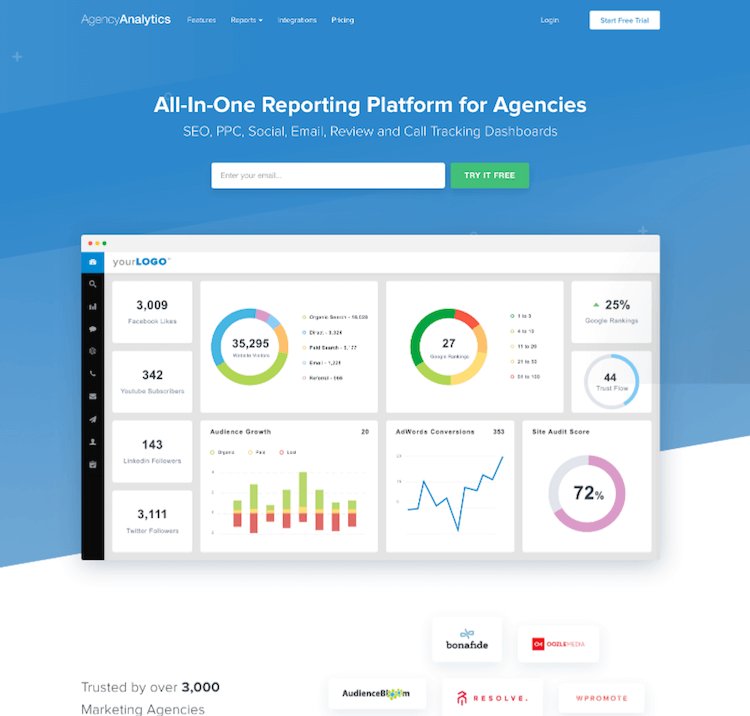 11

. Raven Tools
Raven is an easy-to-use tool that is popular amongst beginners who are venturing into the industry and are opting for something that is not too technologically intimidating but also largely effective and efficient.
Largely aimed at managing social media conversations and engagements, this domain carefully consolidates online advertising campaigns and SEO to streamline all your sales and marketing under a single roof.
This software doesn't essay just a singular function, it is used to generate complex reports related to marketing campaigns, collaborate with team members and also stay vigilant over social media interactions in terms of increased visibility and promotion.
It is multidimensional in managing link building, conduction of research, data collection, and analysis alongside monitoring the trends in search engines.
It proves to be the best replacement for Semrush, owing to its ability to conjure detailed marketing reports and the in-built Site auditor tool.
Top Features
Compels social media participation
Can compare various SEO metrics and websites
Gain information on technical SEO areas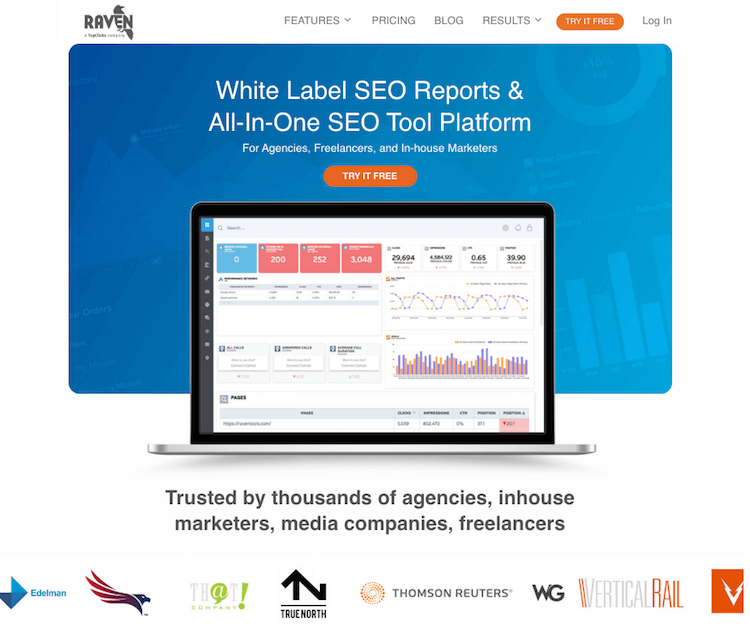 12

. Bright Edge
A data and pictorial-heavy interface, the Bright Edge displays a plethora of graphs and pie charts to showcase your ranking, SEO campaigns, and various other marketing aspects; giving you a microscopic as well as a holistic view of your conquests.
Considered to be a crowd favorite and one of the most effective tools, Bright Edge aims at optimizing and empowering businesses to fight their digital battles and exceed in their elaborate marketing strategies.
One can also measure their content performance through their wide array of devices and tools, which can also help devise your sales strategies and contextual marketing, thus helping you earn a hefty revenue.
This software can also expertly multi-task amidst balancing SEO recommendations, PPC discovery, and workflow management.
It proves to be one of the best alternatives as it allows you to mark channels that are perfect for your niche content and creates professional landing pages.
Top Features
Ensures your content is search-engine friendly
Inclusive of site audit and Voice Report
Helps design effective campaigns and according promotional content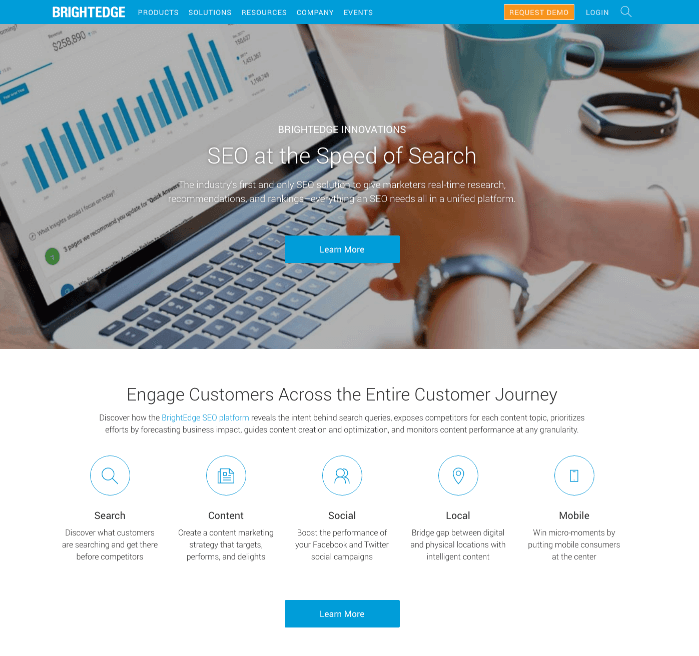 13

. UpCity
Eliminating the need for paid advertisements, UpCity requires you to pay only for its subscription which helps propel SEO campaigns and other promotional efforts.
Simple and precise, this software can start off with just a few keywords and chart out the kind of links you can publish, predict their proliferation, and where they stand in the industry against your competitors.
It is a better option than SEMrush in terms of its extended assistance with social media, where one can conjure custom-made posts for every platform.
By assembling your website accurately, it helps in attracting attention across domains and directories.
It is inclusive of unique features like link analysis, SEO report card showing progression, sales tools, and data reports on your clientele.
Top Features
With this software, one can also view the statistics for monthly searches per keyword.
Can be utilized for pay-per-click campaigns
Useful for site audits as well
Your digital marketing is sufficed with competitive intelligence
Long-tail phrases for semantic SEO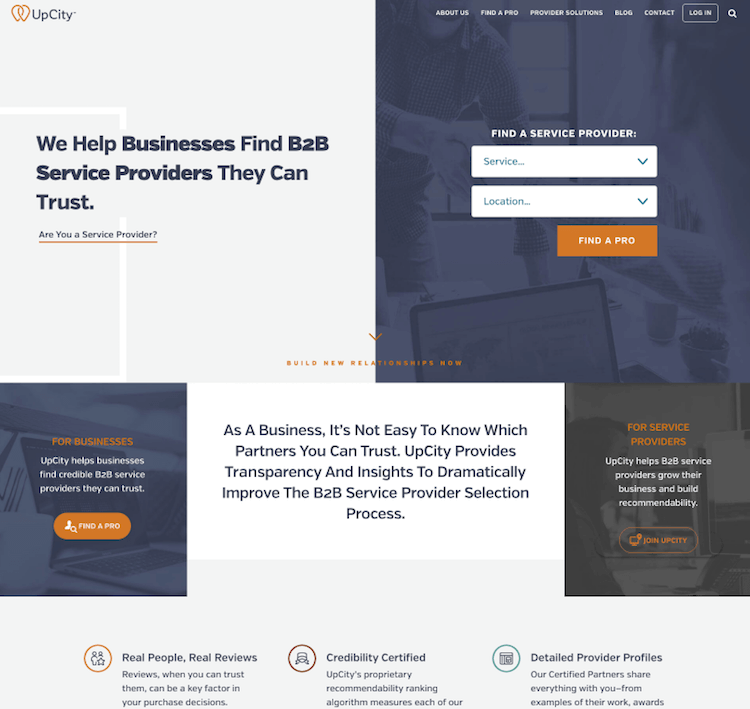 14

. Luminate
Aimed at enhancing the reach of your business traffic through AI coupled with various easy-to-use marketing tools, this software can organically attract visitors to your site through its meticulous and calculated campaigns and high-quality keywords, thus propelling your website ranking to great heights.
Completely powered by its AI, this content optimization software allows its user to dispense interest-worthy and relevant content to their target audience.
It harbors various tools that essay the functions of creating positive experiences for your users through appropriate data information across various platforms.
Luminate also has pop-up notifications and evidenced surveys to bolster your SEO, mainly fuelled by the domain's machine learning, therefore, one cannot go wrong.
It educates you about the right kind of content for your segmented audience and how well you can supply it to them.
Top Features
Suits the niche of your target audience
Helps you discover the hot trending topics and keyword
Several audience engagement features
You can control the website's trends and tailor it in accordance with your audience's interests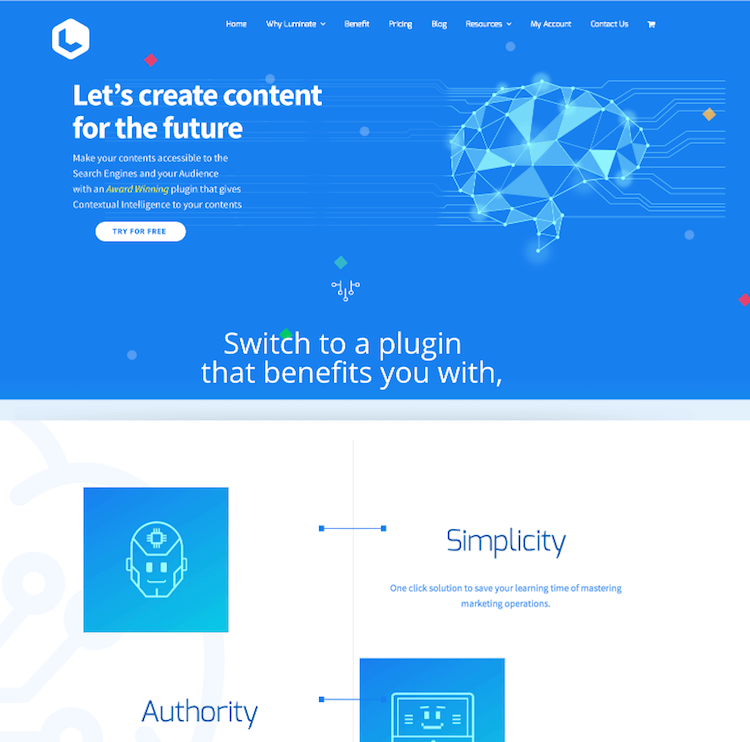 15

. Optimizely
Your company website deserves to reflect your ideas and visions and should be carefully customized to suit your best interests.
This is exactly what Optimizely strives to do. Improving your website's visibility while also appeasing your client's experience, this tool can optimize your site in accordance with the visitor prospects and their interests; thus giving them what they came for and simultaneously improving your popularity.
They also have an impressive range of subscription packages with varying prices, giving you the freedom to pay for the one that best suits your needs.
It is inclusive of effective campaign management, multi-page testing, and enterprise-grade security to prevent data theft from externals.
It is highly functional and flexible, allowing you to leisurely familiarise yourself with the precise workings and features of this intuitive platform.
Also, being highly interactive helps in engaging with your target audience and establishing a channel of communication.
Top Features
Effective analyses and evidence upon tracking user activity
Boost on-site time by attracting high-quality traffic
Arrange tutorials or webinars
Specific keyword ranking depending on the domain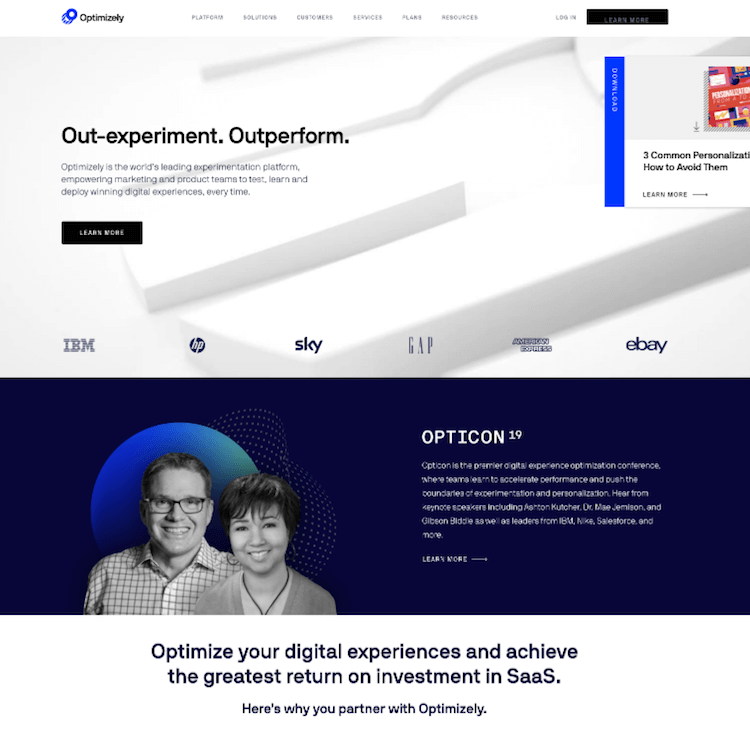 16

. Bright Info
With more attention driven towards the personalization of content and customized landing page, Bright Info does an extensive analysis of the contextual information furnished on your website for understanding its semantics and learning user preferences through it.
Using a proprietary algorithm helps in drawing parallels between customer behavior and the relevance of content.
This tool is infamous for increasing your site's conversion rates which can also help you solidify your presence on social media platforms.
If you're apprehensive about buying the entire subscription for this tool, they have a free trial that allows you to test the tool and then make a reliable choice of going forth with it. This requires no money or initial deposit.
Top Features
Drives a company's sales through its content
Supports personalized emails, exit popups, templates, and native ads
Widgets to boost engagement
Tailored content as per your target audience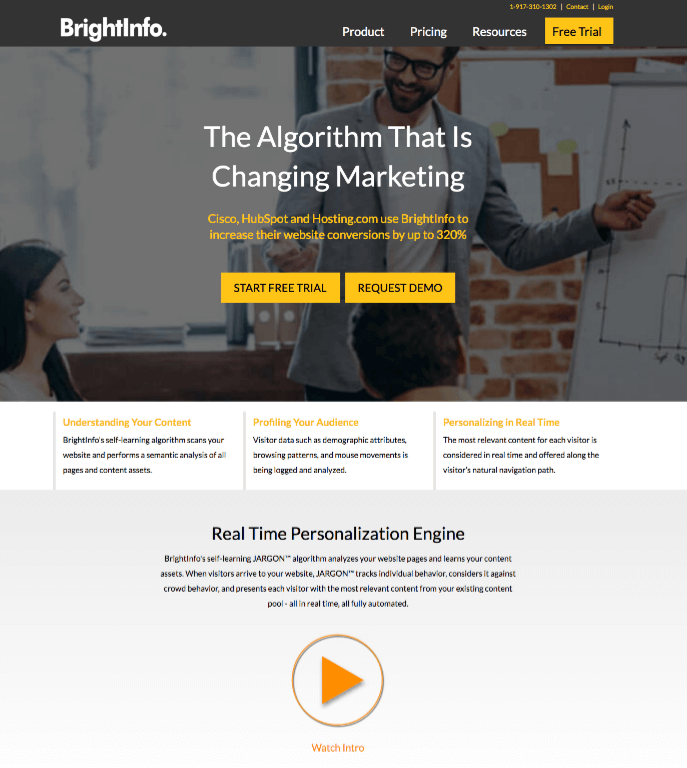 17

. Searchmetrics
A lesser-known domain that is gradually picking up pace, Searchmetrics is an analysis tool used for all kinds of businesses to retail your high-quality traffic and notice the trends and patterns in consumer behavior.
It provides its users with regular reports monitoring your sales activities, traffic and content; it consolidates all your reports and displays on a single page thus giving you a holistic view.
These are also inclusive of your site's increased visibility with respect to the region and other SEO searches.
What sets it apart from the rest of the digital marketing tools is its Content Performance tool, which is of great assistance to bloggers due to its in-depth analysis of their content and reporting on how it fared in the market.
Top Features
Its Backlink research option has vowed thousands of users.
No dearth of data and reports
A comprehensive study of content, its reach, and visitor interaction
Streamlines the research reports
Content audits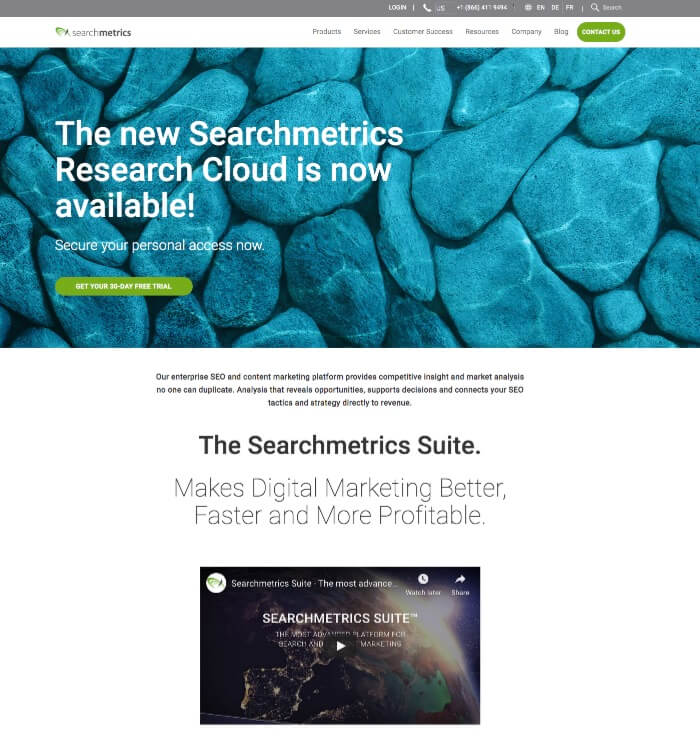 18

. Google Keyword Planner
A tool from the Google family means the assurance of quality and reliability.
This free keyword research tool is founded on the usage of the right keywords for the right customers.
With a business as mighty and expansive as yours, you will need to scale up in terms of your contextual content.
This can be essayed by acknowledging certain phrases or words associated with your products or services to monetize.
This tool will help you narrow down your choices and zero in on the phrases which establish relevance with your nature of business.
In addition, it will also showcase the estimated bids for each keyword for you to make an appropriate decision with respect to your advertising budget.
Devising your marketing campaign is the next step based on the statistics and analysis gleaned.
Top Features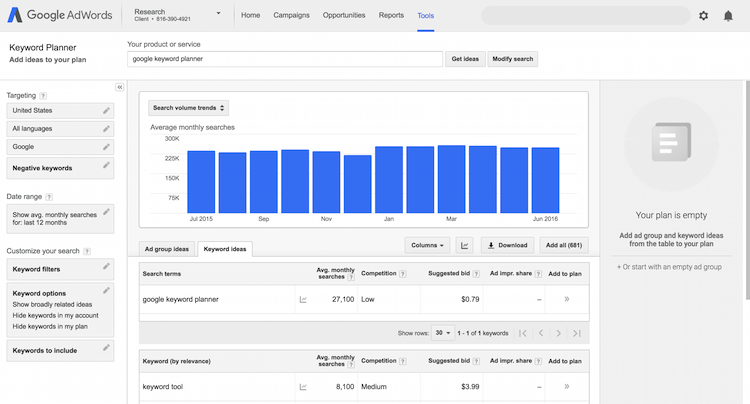 FAQs About SEMrush Alternatives
01. What is SEMrush?
SEMrush is a very popular SEO analysis platform. You can use SEMrush for tracking any domain. You can do keyword research, track the backlink of your competition, and do an in-depth analysis of traffic to any website.
02. Is SEMrush free?
No, SEMrush is not a free tool. However, you get a free trial period to understand the tool better before you go for a paid plan.
03. How much SEMrush costs per month?
SEMrush offers 3 different pricing plans to choose from. The Pro plan is priced at $99.95 per month, the Guru plan is priced at $199.95 per month, and the business plan is priced at $399.95 per month.
05. Does SEMrush provide accurate data?
Be it SEMrush or other tools in this list, the data will be approximate. However, a tool like SEMrush can be a great help to do competition analysis. This tool will show you the top traffic pages of any website as well as all backlink details so that you can try to replicate similar links for your site.
06. Which is the best SEMrush alternative?
There are a number of SEMrush alternatives as you can see in this article. However, Ahrefs is one of the top choices on the list.
Final Word
With the slow but steady growth of the digital marketing industry, it is imperative for one to equip themselves with all the necessary tools and measures for the advancement of their business.
In this regard, SEO plays too vast a role for you to ignore. Hence, we put together a list of all the best content analytical tools out there which can easily replace Semrush and not compromise on its features and deliverance.