If you are searching for the best platforms to create an eCommerce site, then look no further, you have landed on the right page.
An eCommerce site is a bit different from an ordinary portfolio website. It has some amazing features installed, that help the website to become an online store.
An eCommerce website allows you to sell products and services easily, helps you create a complete shopping store online, and even helps you to provide detailed descriptions of your product.
The internet is filled with a ton of platforms, created especially to help users build an eCommerce site.
These platforms make it very easy for you to design your store's forefront, ease out the payment process, and even help you and your customers to track orders and shipments.
So to help you choose the platform perfect for your store, we bring you this highly curated list of the 10 best platforms to create an eCommerce site. Check it out.
01

. Shopify
Shopify is undoubtedly one of the most famous platforms that helps you to create an eCommerce site. Currently, Shopify has been powering over 800,000 online businesses.
The interface is as simple as it can get. It's clean, hassle-free, and is being used by small-scale businesses, as well as multi-million dollar brands, such as Harry's Razor.
Talking about the pricing plans, Shopify has a number of unique pricing plans to offer, with a number of different features in all of them.
Also, Shopify offers a 14-day free trial of its platforms, which really doesn't ask for account details.  
Shopify's features lists involve features like Apps, Shipping, Multi-channel integration, product management, payment options, digital selling, and POS.
Shopify also offers you simple tax operations also. It has an in-built tax calculation feature that makes your life a lot easier. Overall Shopify is a must-try and highly recommended.
So, if you choose Shopify to create your store, here is a list of some best free Shopify themes for you.
02

. BigCommerce
BigCommerce is a well-liked and quite popular eCommerce platform, that allows you to create a complete online store easily. 
With a ton of different, easy-to-use features and data management tools, BigCommerce is a specialized platform, best applied for fast-growing and large businesses.
BigCommerce is trusted by brands like Toyota and Koda.
The ease of use is not as smooth as that in Shopify, but for the ones having little prior experience and knowledge, this platform will seem very easy and simple. 
The new visual merchandising tool added by BigCommerce has made building a complete online store a lot easier.
With over 40 integrated payment options and multiple shipping options, BigCommerce is overall a great tool for large and fast-paced online businesses.
03
.
Weebly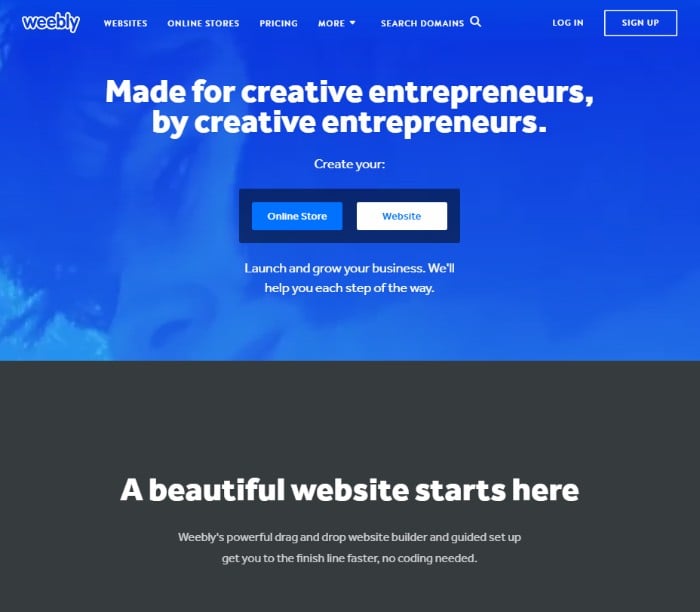 Weebly is undoubtedly one of the most famous drag-and-drop eCommerce website builders available these days. The ease that Weebly provides is simply amazing. 
Weebly is currently powering around 40 million websites online, one of the largest in the category.
One of the best available features here is that Weebly provides a ready-to-use in-built SSL certificate with its premium plans.
Talking about the payment processes, Weebly has three different payment options that you can offer on your website, namely Paypal, Stripe and Square.
Weebly offers websites to be mobile-ready, both for Android and iOS devices.
It also offers some amazing additional options, such as flexible shipping options, filter product research and inventory & tax management.
Overall keeping the pricing plans and available features in mind, Weebly is undoubtedly a great option.
Here is a list of some best Weebly website examples for your inspiration.
04

. Wix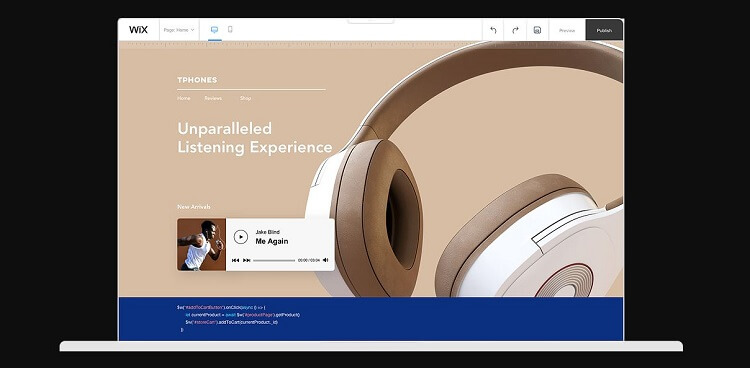 Wix is one of the largely popular online eCommerce builders available these days. Similar to other platforms, Wix also has a simple to use drag-and-drop website builder.
Wix is completely beginner-friendly and simplifies the processes. You can also use the Wix ADI, which stands for Wix artificial design intelligence.
The Wix ADI asks you some questions and then builds a website of your choice.
Wix offers you 15 different payment options to accept payments. Also, Wix incorporates an SSL certificate along with the features.
Some amazing features involve inventory management, shipping options, cart creation, app market, multichannel selling and SEO options for your online store.
Wix offers three different pricing plans, namely basic, unlimited and VIP plans. Overall Wix is a great option for beginners and fast-growing businesses.
Here is a list of some best Wix site examples for your inspiration.
05

. Squarespace
Squarespace is quite a well-known name in the online website builder and eCommerce tool platform. With over a million websites powered Squarespace has a lot to offer as well.
You get to add as many products on the website as you like.
Squarespace also offers you a simple inventory management space and a centralized content management interface, that helps you manage the inventory of your store.
You can sell physical, as well as digital and SaaS products.
Another striking feature here is that you can set the shipping price yourself. You can also configure your sales taxes and automatic emailing system by yourself, without any third-party plugin or tool on SquareSpace.
Overall keeping the ease of use, as well as features in mind, is absolutely not a bad deal.
Here is a list of best Squarespace website examples for your inspiration.
06

. Gumroad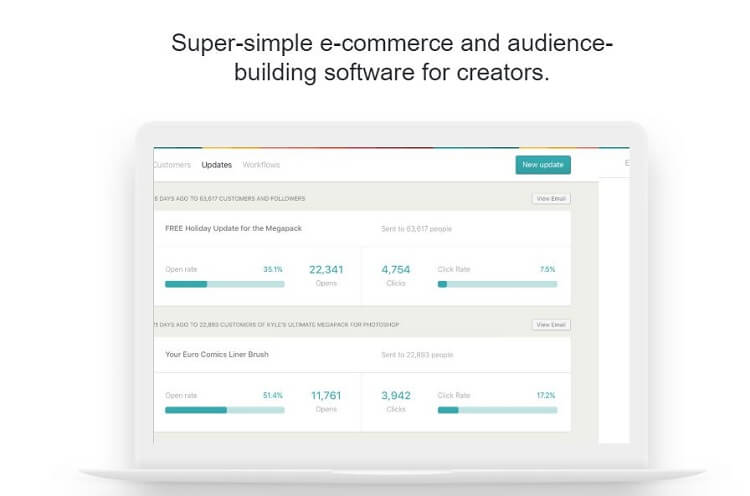 If selling digital products online is your sole purpose, then Gumroad is a great choice for you. Although Gumroad can help you create an online store to sell physical products, Gumroad specializes in digital products.
Along with digital products like ebooks, software, tools, and videos, you can also sell PDF and ePub files using Gumroad.
One of the most simple interfaces, Gumroad lets you upload products in just a few clicks.
You can also embed an existing form for your online store, or basically can connect an existing eCommerce website into your Gumroad store.
Gumroad offers a free trial to get started. The price at which Gumroad is offered, along with the discount offers is quite reasonable.
Overall if your sole purpose is of selling digital products, then Gumroad is definitely a great option. 
07

. Volusion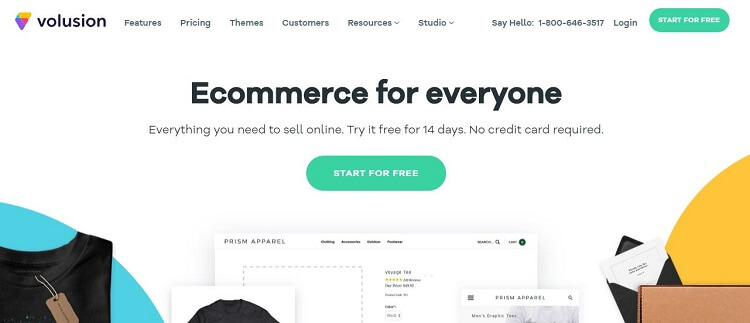 You might have heard the name Volusion in recent days if you are a regular in the build-a-website game.
One thing that makes Volusion unique and different is that the visual appeal and looks of the products it offers are unparalleled. Not that it offers a tacky and over the vibrant look, but overall creates a very smooth and clean outlook. 
The list of features involved here is SEO features, On-Page features list, Email Marketing tools, Simple payment processing, and daily website backups.
Overall, if a simple and good-looking eCommerce website is your top priority, then Volusion is the one for you.
08

. WooCommerce
Not exactly a website builder, but an eCommerce plugin, WooCommerce is a WordPress plugin, that helps you convert your simple website into a money-making eCommerce store.
The plugin is free to download and install. The plugin lets you involve a lot of payment gateways, but by default, you will have PayPal and Stripe installed and ready to use.
You can download a theme for your website looks, from the WooCommerce theme store, or from any other third-party online theme store.
This is a WordPress plugin, so the interface and usage are exactly that of WordPress.
Along with the in-built features, you can also install additional features, using the WordPress extensions. These additions involve features like payment gateways, USPS extensions and so on.
09

. Selz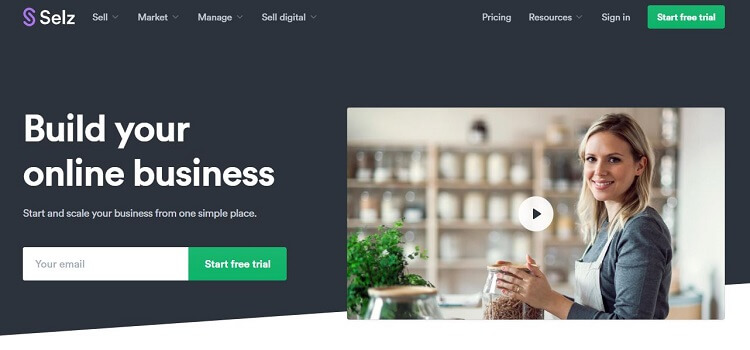 Selz is another very popular drag-and-drop eCommerce website builder. The easy-to-use platform offers a lot of features and customization options to help you create a complete eCommerce website. 
Selz has 25 free in-built themes and multiple options to change the appearance and outlook of your online store. You get a completely mobile-friendly eCommerce website.
Also, you get an SSL certificate in-built on your Selz website. You also get complete SEO-friendly blog pages, as well as a complete set of SEO tools.
10

. Big Cartel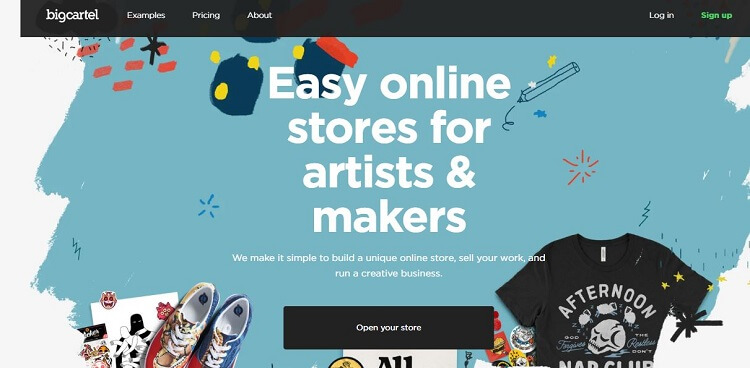 Big Cartel is a simple-to-use eCommerce website builder, that is used by small businesses and by store owners who don't have a ton of products to sell. 
The platform is completely free for stores with five or fewer products. It has a lot of built-in themes that you can use to give a look at your website.
The platform is used by professional artists and small art professionals, mostly individuals, who don't need a full-fledged heavy website.
With very low transaction fees and cheap pricing plans, Big Cartel is definitely a good choice for individuals and artists.
11

. Square

Square is one of the most comprehensive eCommerce platforms that comes with all the essential features to support your online store.

When it comes to creating an eCommerce store, you can use this platform for free to create your own online shop.

So, if you are selling any product offline, here's your chance to get your business online with Square.

The website builder is simple and easy to use. You can drag the sections that you need on your sites such as header, footer, and other important components of a site, and get it done.
12

. Ecwid

Ecwid is another comprehensive platform to create an online store. You can get started for free and create your website. If you wish to continue with the free option, you will never have to pay a penny.

In case you need more features, you can upgrade to a paid option. Once your store is ready, you can connect it to social media platforms and a marketplace like Amazon.
Conclusion
Here is the list of the best platforms to create an eCommerce site ends. All of these websites' building platforms are tried and tested by professionals and will definitely help you in making money!