A collection of best photography WordPress themes that you can use to create your own photography site to showcase your work in teh most elegant way.
If you are a newcomer to the art of making a presence on the World Wide Web you probably can't-do without being exposed to WordPress. Once you begin to familiarize yourself with WordPress you will see the utter simplicity of using the incredible features on offer.
Themes help to create the overall design based on your need such as a blog or a business theme or a photography theme. You can simulate the design by changing the fonts or colors or even the page layout to make it more aesthetic.
WordPress offers a wide array of themes and within themes, it offers photography themes that help users to create a better impression of their website or blog.
There are thousands of photography themes available and it is difficult to choose from the huge number of options. However, if you have decided on the course of action you will be able to zero in on the theme that should suit you.
There is no such thing as the best photography themes because a theme is created to satisfy a particular need or requirement. Since there are numerous themes available the user will choose an appropriate one that satisfies his or her specific need.
The following twenty themes are presented to help you find a good theme for your site
Amazing WordPress Themes Photography Sites
Foto
The Foto photography WordPress theme is excellent for photographers with its easy to use a template that can accommodate 18 types of albums. Within each album, the theme permits creation of pages for different portfolios. Photographers creating portfolios would be enthused with Foto for its responsive themes and true reproduction on any screen or device.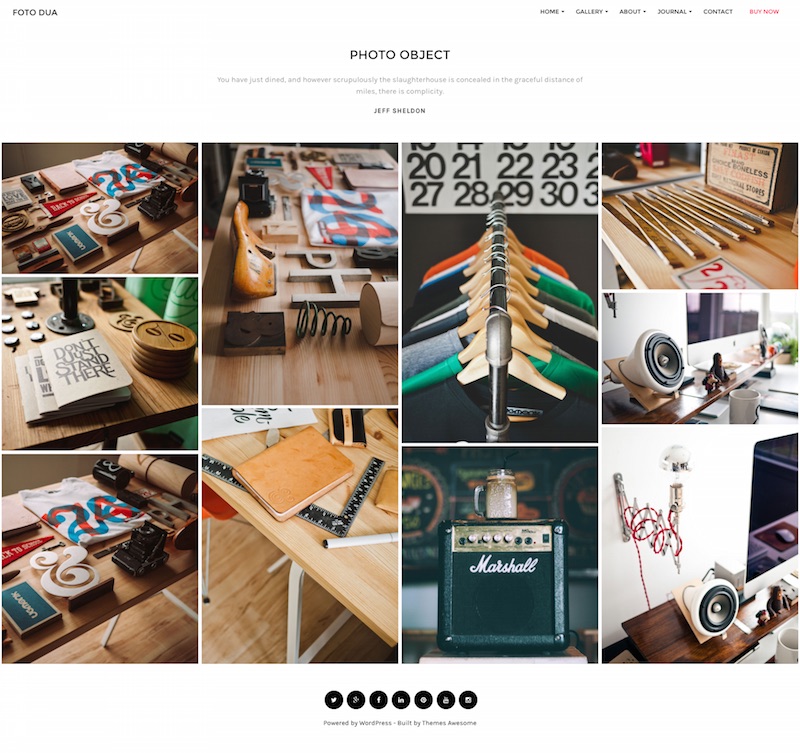 BORDER
The BORDER photography WordPress theme is a professional photographer's faithful workhorse. BORDER is so versatile that it seems to understand the idiosyncrasies of the photographer and adapts beautifully. It ensures that the photographs become the center of attraction.
Armada
The Armada is one of the most useful photography WordPress themes available that appeals to a large studio portal as well as a compact personal portfolio. The theme boasts unlimited layout, design, and customization options. It is retina ready providing sharpness and comes with an adaptive navigation menu on smaller screen sizes.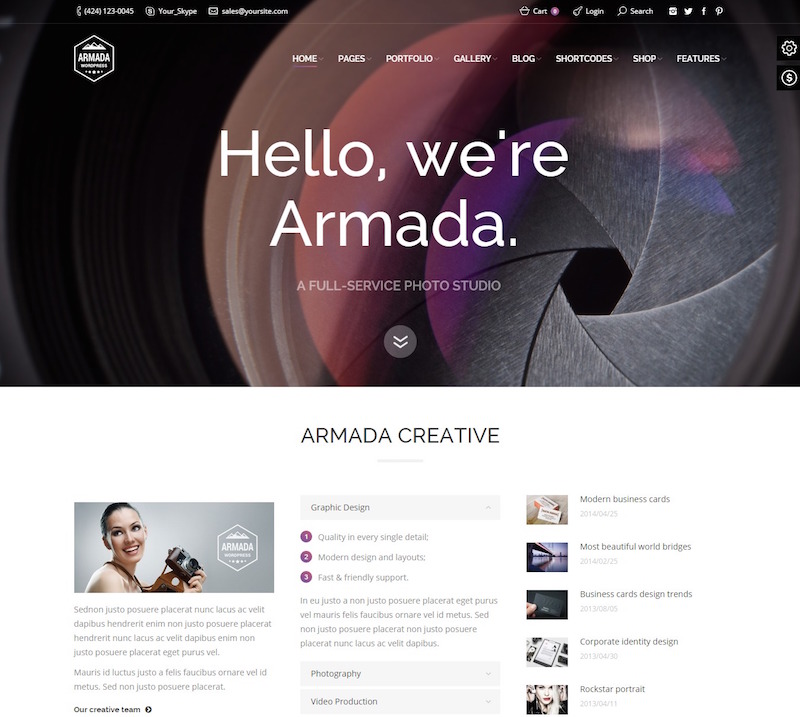 Focussity
The Focussity wedding photography WordPress theme is a delight for wedding photographers because its drag-and-drop page builder feature allows you to create custom pages without touching a line of code. Its built-in library helps to fast track the building process. The template comes with a live customizer that assists going live without reloading.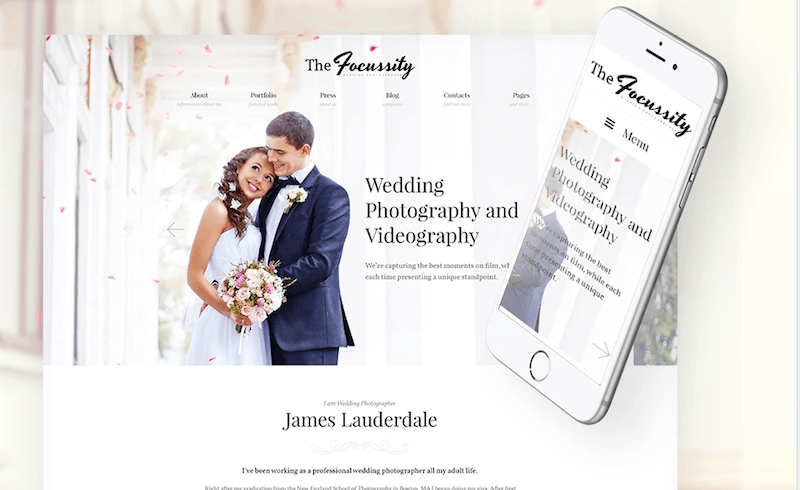 Turin
The Turin photography WordPress theme is a template with a minimal design and a responsive user experience. The theme is built with HTML5 and CSS3 and coded to be compatible with the capabilities of the latest browsers. Its two prominent features are the availability of a layered PSD file and a selection of Google fonts that are easily customizable.
Umbrella
The Umbrella photography WordPress theme is a no-nonsense theme that possesses a minimal design. Its features include fully customizable full-screen slider and ajax loading. It also features a one-click demo importer and smooth animations.
Keen
The Keen photography WordPress theme is a template that is simple to use. It is optimized for mobile touch and swipe and is mobile responsive. Its features include sliding page design and smooth page navigation, and it comes in 3 homepage styles reflecting its simplicity.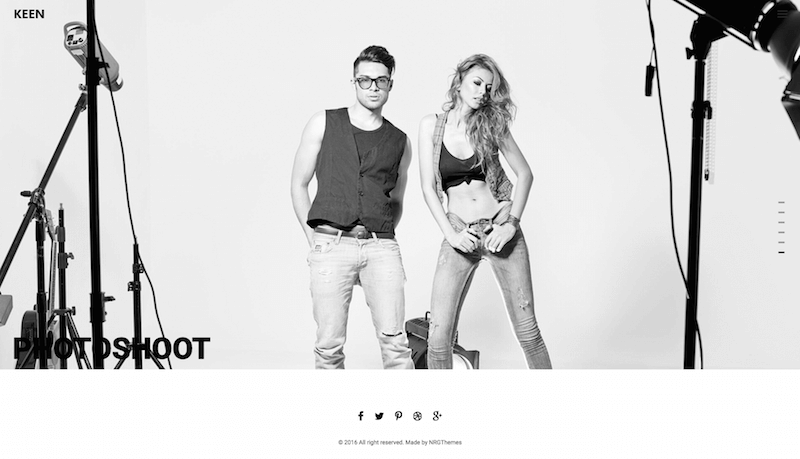 Timber
The Timber photography WordPress theme is equipped with a set of tools that allows for mixing content, be it portrait or landscape photography. Timber is so responsive that it turns static images into dynamic ones telling a story in a more emphatic fashion. Timber is a template that can prove profitable as it is Printful service compatible and is integrated with WooCommerce.
Ashi
The Ashi photography WordPress theme is a perfect template for galleries, blogs, and portfolios. While the galleries template uses a masonry layout where columns can be changed, the blog template provides elegant, full screen and list style layouts. The portfolio theme allows the use of six vertical portfolio page layouts.
Santino photography WordPress theme
The Santino photography WordPress theme is not only superb for a variety of sites such as gallery, portfolio and article sites, but also for background music as the content is loaded via ajax. The Santino can adjust to any screen resolution of any device including mobile, laptop and tablet devices. The Santino comes with a rating feature that allows users to rate the work presented.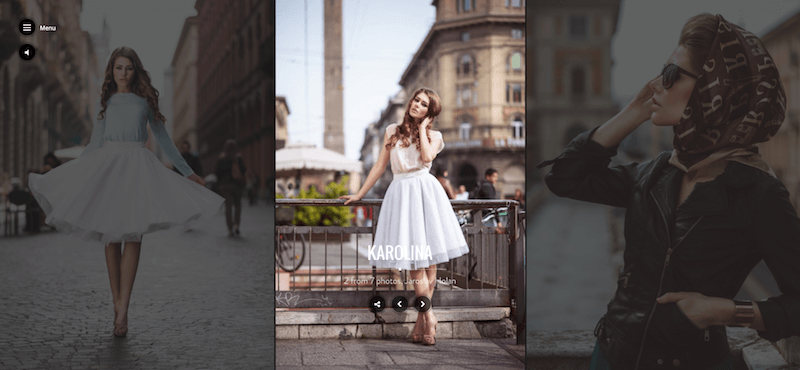 Skylab
The Skylab photography WordPress theme is a premium template that is meant for a wide range of users such as art and creative directors, illustrators, and bloggers. Its features include an innovative design, touch navigation and hardware accelerated slider. Its robust features are perfectly suited for not only corporate sites but also for blogs.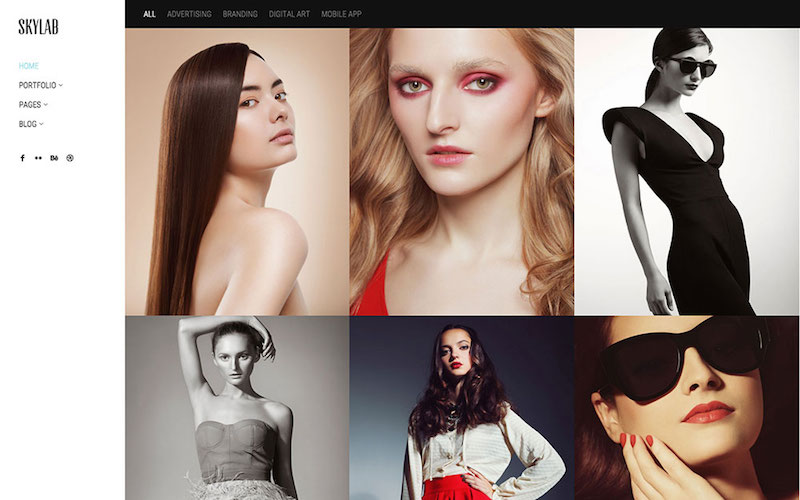 GeoPhoto
The Geographic photography WordPress theme is a template that permits the creation of unlimited albums in flow or grid style. The features of this theme are so impressive that even an amateur using the theme can pass off as a professional. The theme comes with a ribbon slider that permits easy sliding.
Terschelling
The Terschelling photography WordPress theme is a template created for users to share their photography work online. The theme supports several layouts; three portfolio and gallery layouts with a parallax slider, royal slider. and carousel; three splash page layouts with a static image, royal slider, and video; three blog layouts comprising masonry, classic and minimal styles; and three header layouts.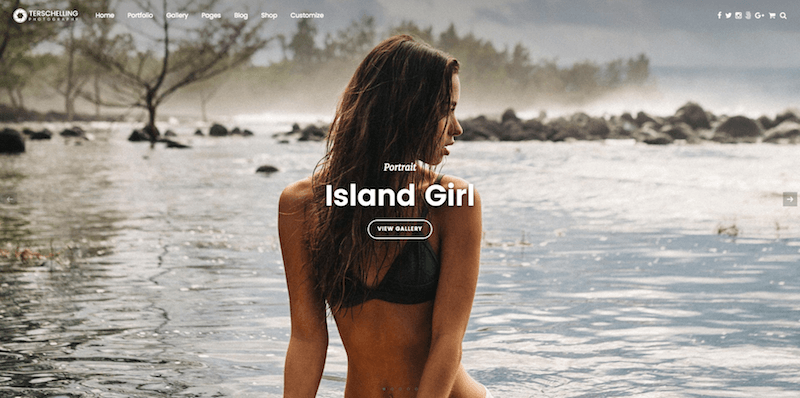 Trend
The Trend photography WordPress theme is a resourceful theme especially for abstract photography, black and white photography, nature, travel and capturing women's beauty. The theme is powerful enough to offer thousands of color combinations.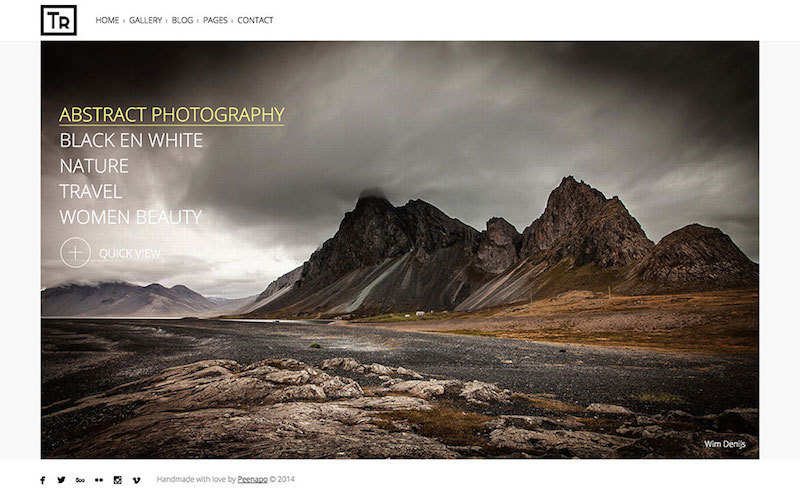 ePix
The ePix photography WordPress theme is a feature rich template appealing to a wide cross-section of users. Some of the features include the Visual Composer plugin, advanced Skin Editor, and bespoke add-ons. The theme is capable of translating into any language and works well with a number of translation plugins, including WPML.
Photoform
The Photoform photography WordPress theme is a premium template although it is minimalist. It features unlimited colors, advanced admin panel, infinite layouts, powerful plugins and shortcode page builder. It is optimized for speed and ease of use and is capable of incredible visual effects.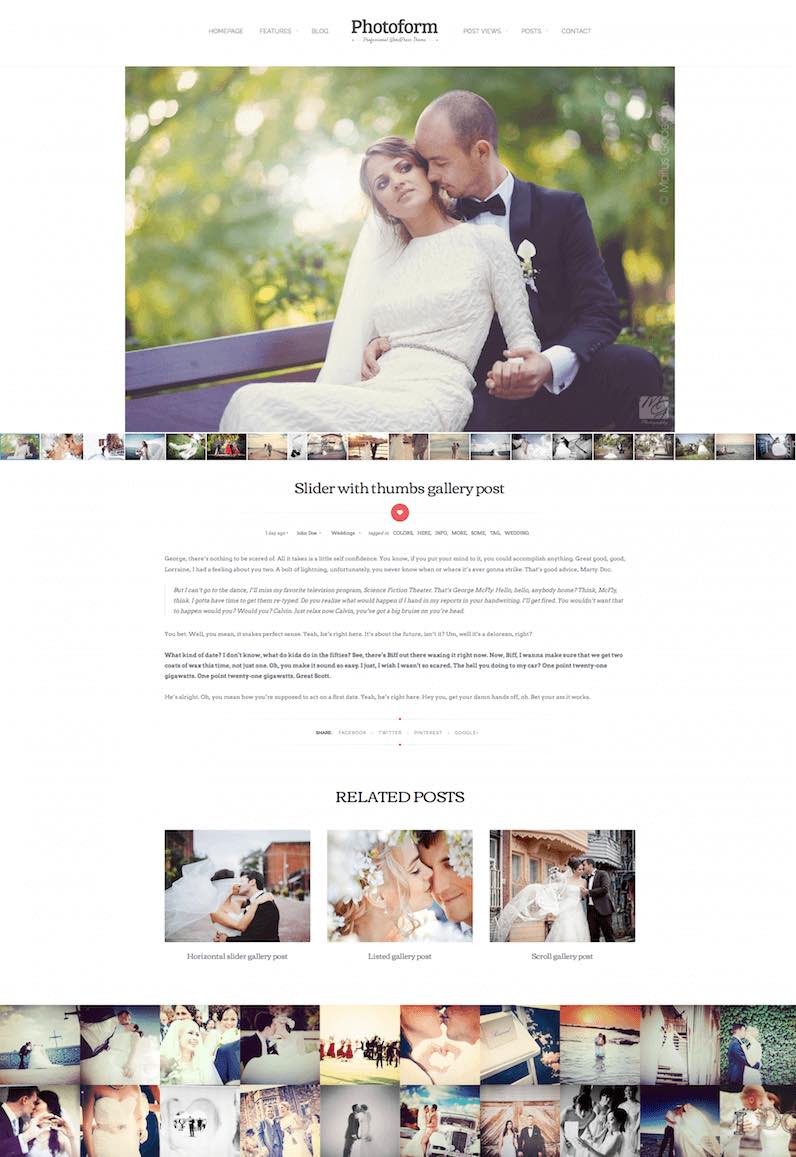 Watson
The Watson photography WordPress theme is a boon to both amateurs and professionals. The template is a 21st-century marvel compatible with smartphones, tablets and touchscreen laptops. The features include support for basic gestures and social sharing capabilities.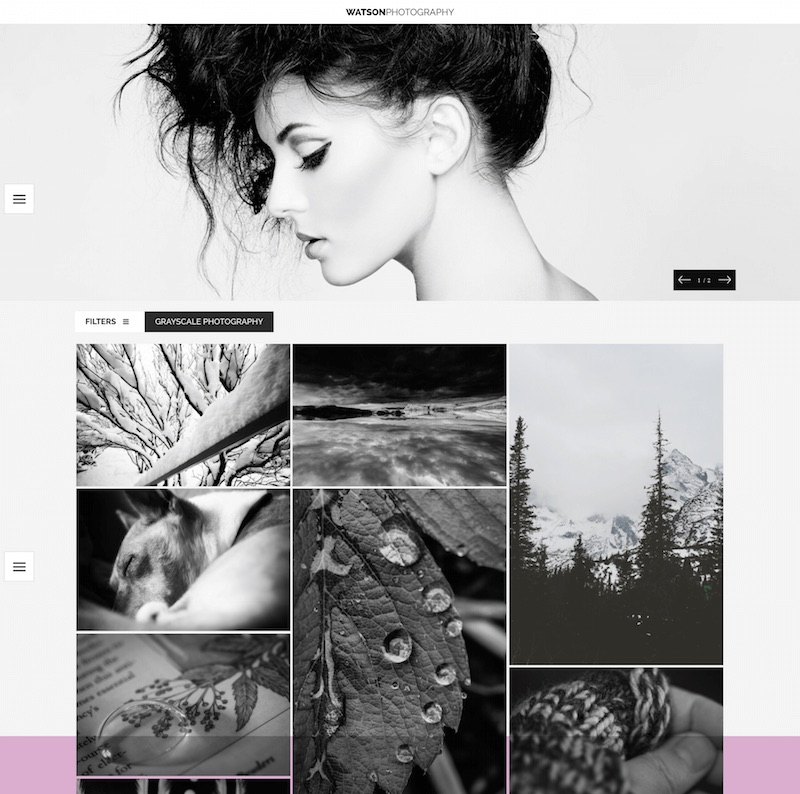 Exposure
The Exposure photography WordPress theme is a template with many unique features. The template comes with a built-in advanced SEO module that is able to maximize visitors. Another unique feature is the built-in events calendar that updates users periodically.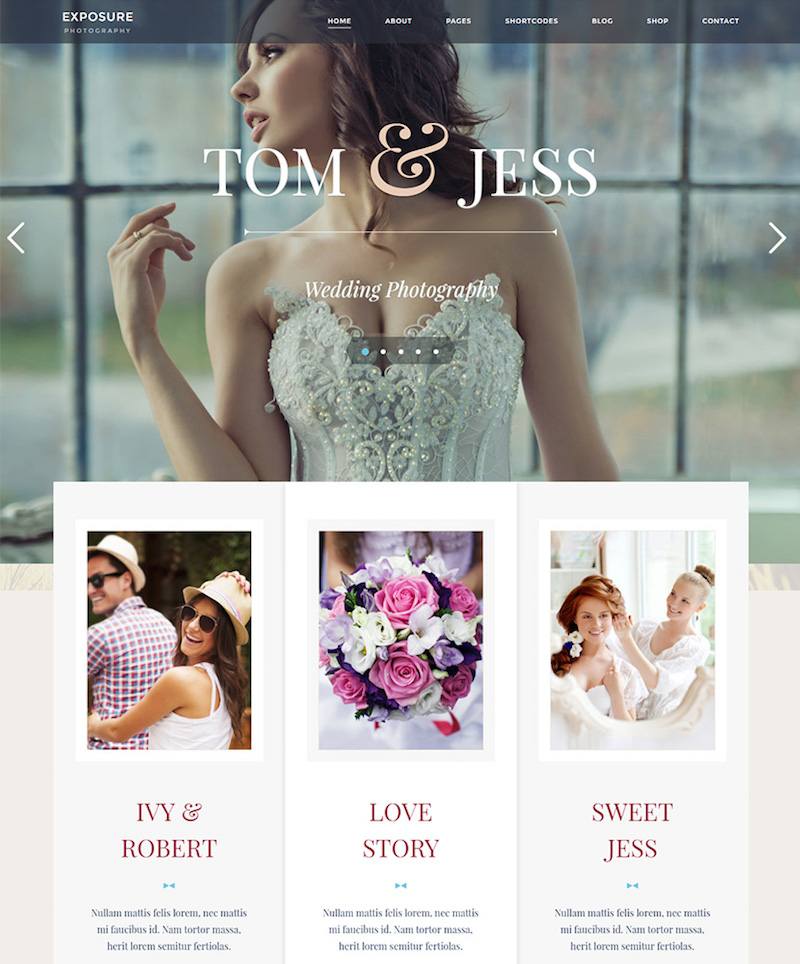 Valerie
The Valerie theme is a specially designed template for showcasing dark and light images along with unlimited color options. The template is compatible with all browsers in desktops and mobile devices. The template is also compatible with YouTube and Vimeo.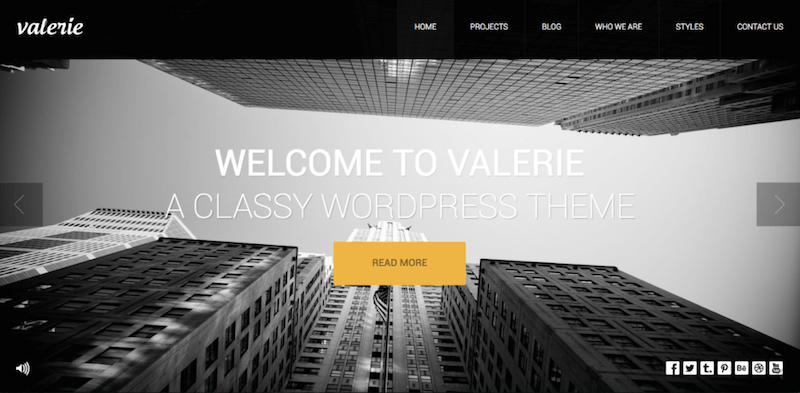 Use any of these awesome themes to build your photography website.