A collection of best lifestyle WordPress blog themes that you can use to create a completely modern lifestyle blog site. All these themes are mobile friendly, and your site will look great on any device.
Almost all the themes in this list offer you customization possibilities so that you can finetune the design of your site as per your requirement.
There are blogs that focus on health and education, and there are some more that focuses on fashion and lifestyle. Every blog requires a distinct set of features and elements that gel with the theme. If you want to create a blog on lifestyle trends, have a look at our top WordPress theme recommendations for the same.
While we talk about lifestyle blog, food blogging is also an integral part of it. Food blogging is one of the most popular niches among the female bloggers, and we have already written about the best food blogging WordPress themes here, along with those you can use the themes in this list also to create your food blog.
So, let's have a look at the top lifestyle blog WordPress themes.
Top Lifestyle Blog WordPress themes
Divi Theme
Divi is our first choice for many reasons, not just the design possibilities. When you buy a theme, you will need support from the developer at some point, and you would expect the new features as the design trend changes.
Divi Theme stands out from its competitors in many parameters like the design possibilities, customization and how new features are getting added continuously. Divi is backed by one of the most experienced WordPress theme store ElegantThemes, so you can always expect the best features to be added in the future.
Divi Theme comes with the Divi Builder which is one of the best drag-and-drop website builders which offers you very easy customization possibilities. You can instantly drag any element in the front-end of the site and start editing it right away.
Divi Builder comes with a huge collection of modules that you can use to create your website pages. If you are using this theme for any product site, you have tons of rich page designs which will undoubtedly increase your site's revenue.
Divi offers you some different header design options, tons of ready to be used designs, super flexible website builder, ready to be translated into many different languages and more.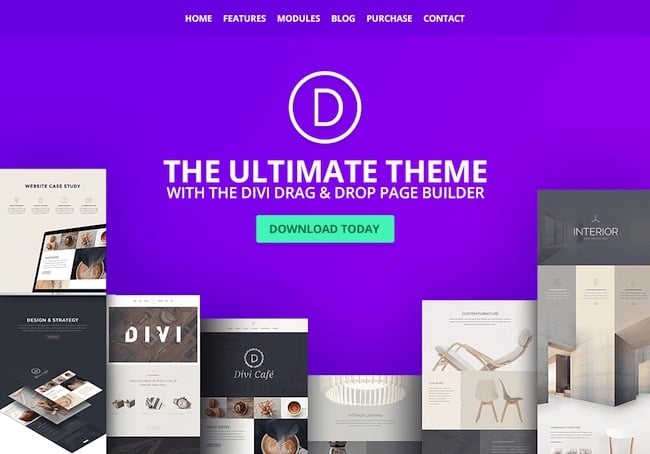 Lifestyle
So the name suggests it all, this theme is created for the lifestyle bloggers. This theme comes with a very clean design and reader-friendly interface. This theme is created by the MyThemeShop team known for creating super quick SEO friendly WordPress themes.
Lifestyle theme comes with tons of options like easy to use theme options panel where you can manage everything about your site. You can quickly make design changes as per your requirement and make it look perfect.
Like all other MyThemeShop themes, this Lifestyle theme also offers you unlimited color options, background options, sidebar options, Google Font options, a huge collection of font Icons, readily integrated social media icons and a lot more.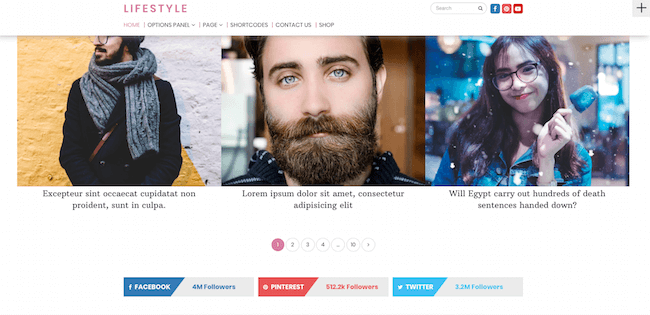 Bridge
Bridge is another great looking modern design from the MyThemeShop store. This is a great design for viral content sites as well as lifestyle blogs and it is created with the engagement in mind.
It's a highly responsive design and works perfectly on any device. The theme is optimized for great loading speed so that your users have a great experience on your site. It is also optimized for the search engines so that your content gets a great ranking on Google.
This theme comes with multiple design options ready to be used that you can choose for your site and make sure that you have the perfect design for your site. You can use the theme options panel to fine tune the details of your site.
From email subscription to social media icons, this theme comes with all the required elements readily integrated with the theme. This theme is perfectly compatible with the WooCommerce plugin, so you can use this theme to create your shop as well.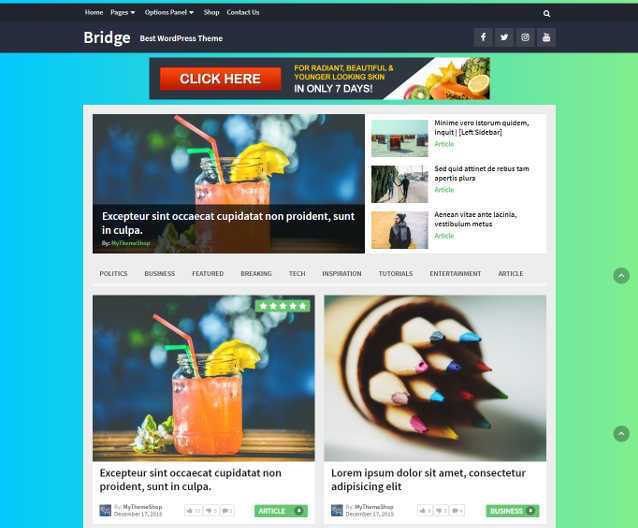 Tuberose
Tuberose is a smart personal WordPress theme that helps to create an impactful lifestyle blog. The fully responsive WordPress theme has a power-packed control panel which allows easy customization by users. The separate translation panel is translation ready right from the installation stage.
Tuberose allows customization about the looks of the text by accommodating all Google Fonts available for the purpose. It is a perfect WordPress theme that gets integrated well with all social media platforms. Tuberose supports usage of unlimited colors for customization as per user's choice.
Osnic
Osnic is an ad-optimized lifestyle blog that has many novel characteristics. The theme is so alluring that it is one of the most preferred lifestyle blog themes. Osnic has all features to support any types of ads including Slier Ads, Image Link Ads, and HTML Code.
GIF type images are supported by Osnic to be used in Ads. Osnic takes minimal time to load and displays high SEO capabilities. All the above features make Osnic a user-friendly WordPress theme for building a powerful lifestyle blog.
Lifestyle & Me Theme
Lifestyle is a child theme of the papper+ theme with a great design and tons of features. Not only this lifestyle design but you get to access a huge list of ready to be used site design when you get this one theme.
This can be a great design option for any lifestyle and fashion related websites, the parent theme offers you tons variations to work around.
You will have full control over the modules and customizations can be done to create any kind of design that is in your mind and all these without writing a single line of code.
Medias
Medias is one of the special kinds of a WordPress theme for lifestyle blogs owing to the multiple concept support it offers to users. It comes in a mix of light and dark color combinations. Multiple blog templates are value additions offered to users who choose Medias for their lifestyle blogs.
Medias is integrated with Google fonts and supports the complete collection. The Multiple Slider Layout helps users to customize the layout as per their choice at any point in time.
Foodie
As the name suggests, this theme is created for food and lifestyle related websites. This design comes with a very professional looking clean and attractive design.
It's a very quick design which is very important from the SEO perspective. This theme is perfectly optimized for the mobile devices so that your site looks great on the small screen devices.
You can easily customize the theme as per your requirement and This theme can be a great design for the female bloggers.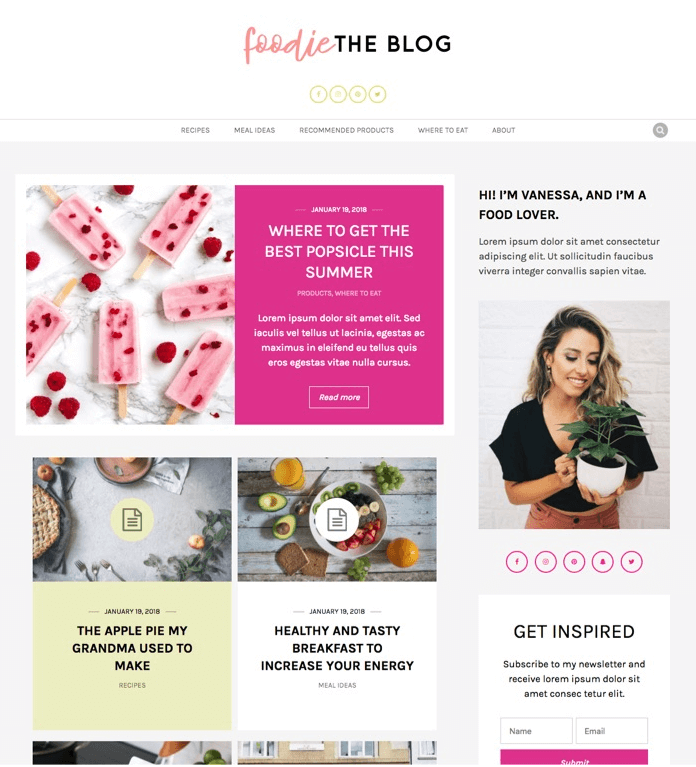 Paperback
Paperback is a simple yet powerful theme that is used by a number of popular bloggers. This theme can be a great design option for the lifestyle-related blogs.
The homepage of the theme is spiced up by the great looking featured post section. So, when you publish lifestyle-related content with attractive images it will make the overall site look stunning.
This is a theme that is perfectly optimized for the search engines, all you need to do is to create good quality content and take care of the on-page SEO well.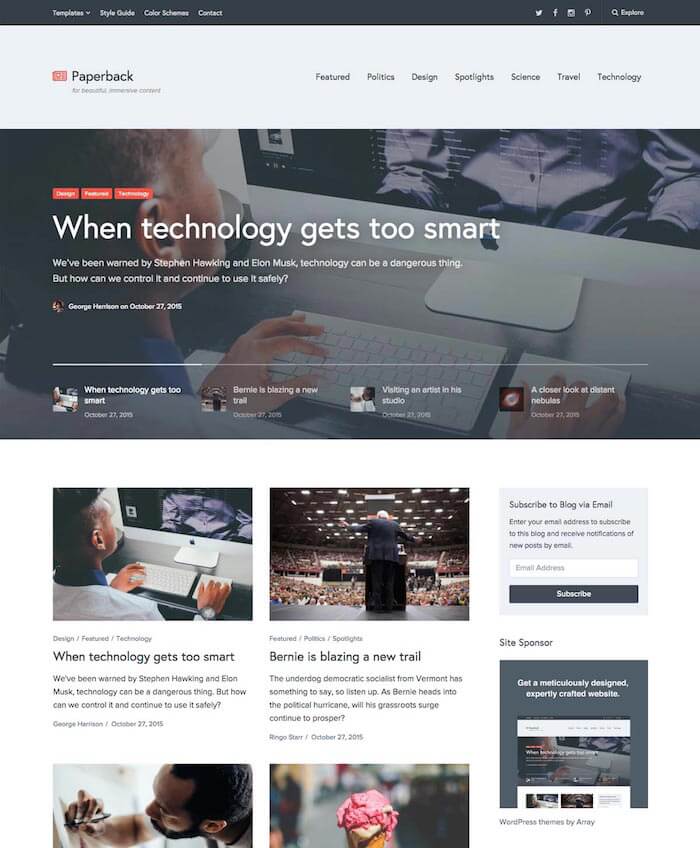 iMagazine
A glamorous magazine WordPress theme that offers you a beautiful design. This is highly flexible design offering you tons of customization options.
This is a child theme of the Indigo theme, that means you will get to get the parent Indigo theme and you will get iMagazine as well as a number of other ready to be used design templates free.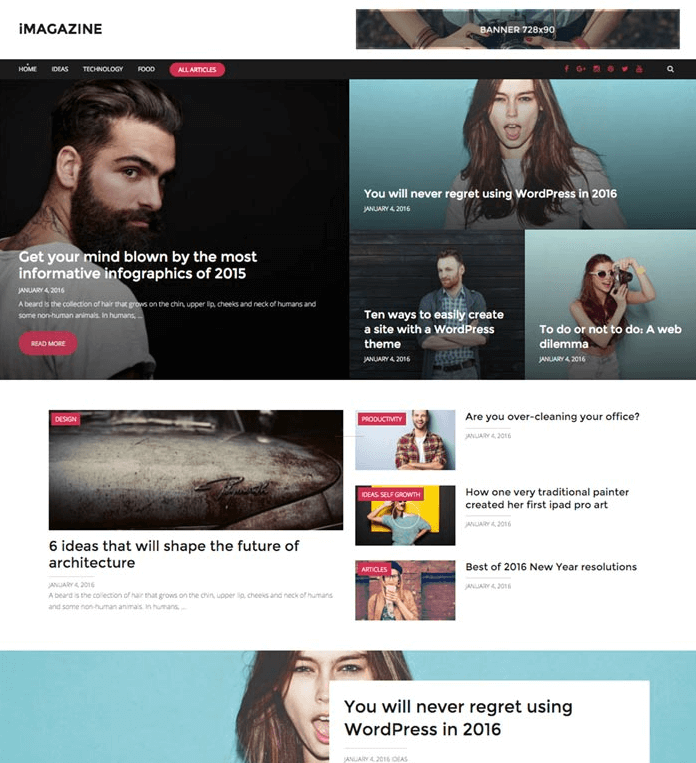 Affinity
A highly responsive WordPress theme suitable for interior designing and lifestyle, Affinity is one of the amazing concepts. Be it the layout of Affinity which is astoundingly beautiful or the retina-ready manner in which the same has been designed; Affinity is one of the top lifestyle blog themes which is sure to attract more traffic to your website.
Affinity is embedded with awesome fonts and supports customization using an unlimited number of colors. The built-in mega menu helps people customize the same with ease.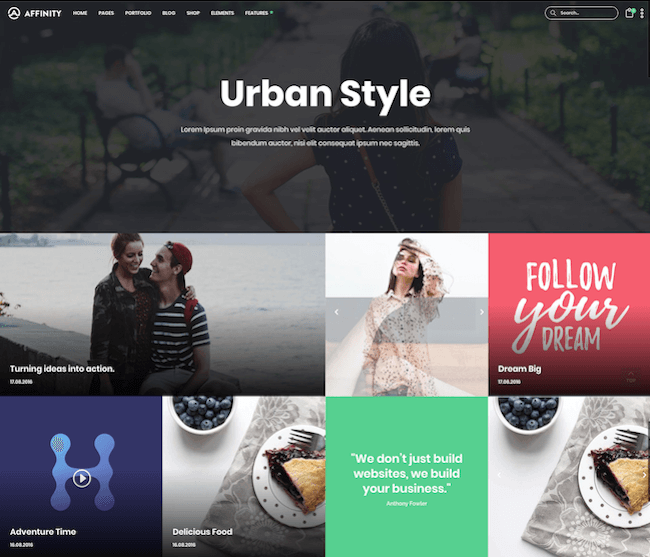 Azure
Azure is a rich lifestyle blog theme that comes with eight numbered layouts for Homepage. Users who want to make use of this WordPress theme can opt for any layout among the inbuilt 8 and do the customization based on the choice they make.
It offers the users unlimited color options to choose from at times of customization. Azure also comes with a one-click demo which takes the user on a virtual tour of the theme and its usage across various areas. Azure is AdSense optimized, and this adds immense value to the already inbuilt rich features.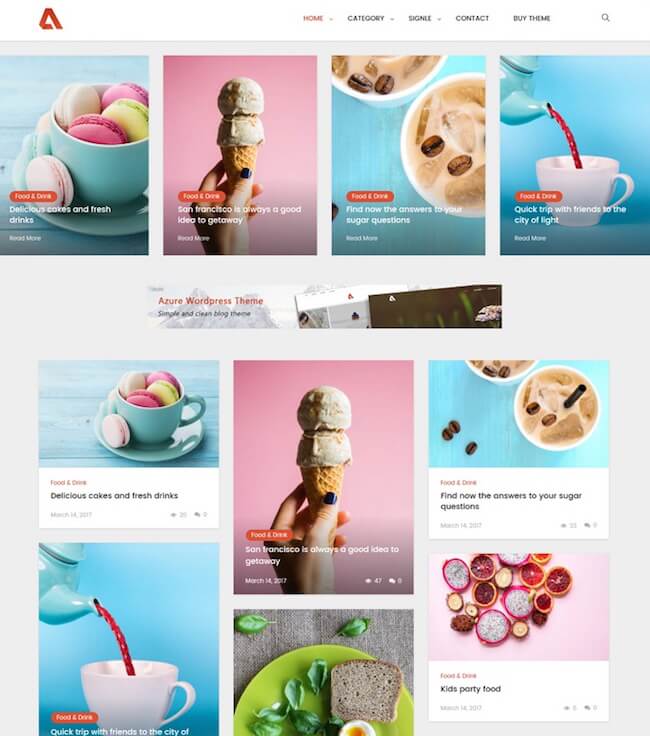 Whyte
Whyte is a creative WordPress theme for lifestyle blogs. The layout of Whyte is one of a kind among the many other similar styles available for lifestyle blogs. The theme allows users to select elements of our choice to customize our blogs in an attractive manner.
The creativity deployed in this WordPress lifestyle blog theme Whyte is amazingly heartwarming. Right from the typography to the stylistic manner in which the theme has been created in WordPress makes it stand out from the crowd.
Minelog
Minelog is a WordPress theme suitable to be deployed in lifestyle blogs. It is a responsive theme which looks clean and organized. The minimalist design features help users talk about short stories in an elegant and precise manner.
Minelog is mobile optimized and supports complete customization by users through its built-in rich features. The design of Minelog is distraction free, and the posts sliders bar looks stunningly beautiful.
Minelog comes with nine layouts, all of which can be used in blogs along with sidebars or without the same. The value addition that Minelog offers to users is the 30 plus icons it comes with which are mostly popular and related to social media.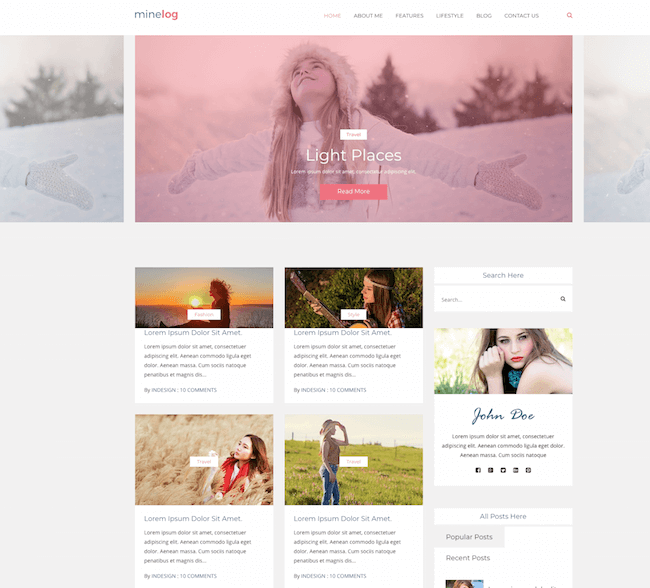 Bloggo
Bloggo is a WordPress theme that can be used not only for creating a lifestyle blog but also for various other blogs like photography, personal, fashion, travel, and writer. Bloggo comes with 20-page layouts that can be used for Homepages.
It is accompanied by ten numbers category-wise layouts which can be used by users for their posts. Bloggo has the capability to integrate social media photos and images in headers and footers. It has innumerable built-in plugins that are available to be used free of cost.
The 404-error page and five widgets help in customization of the theme in a perfect and attractive manner.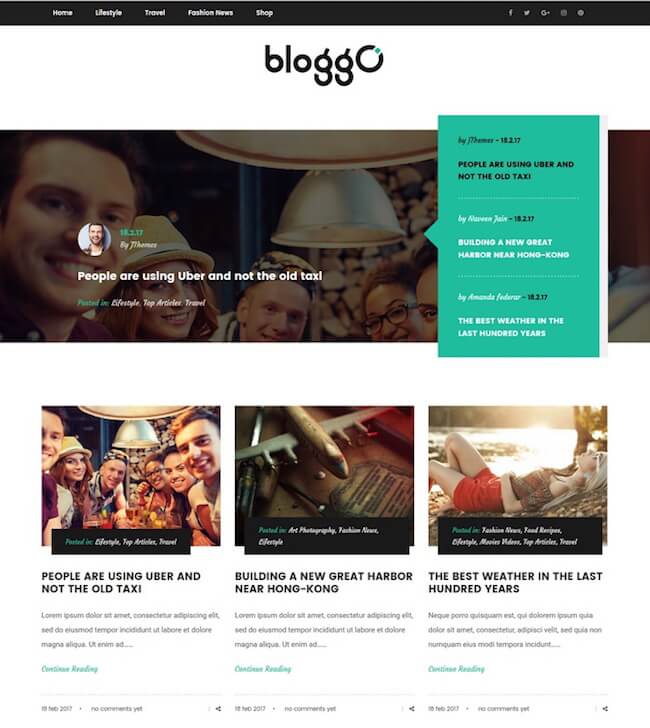 Baxel
Baxel is a minimalist theme for lifestyle blogs, and it can be customized in 7 different layouts. The 18 header view with which it comes makes the final outlook of the blog attractive.
Baxel offers maximal control over color themes to the users who want to build a high traffic generating lifestyle blog. It supports multiple fonts, making customization of the same an easy process. Baxel is easy to customize and will make your lifestyle blog get a five-star rating at all points in time.
Diane
Diane is a user-friendly WordPress theme that looks clean and pretty to be used in lifestyle blogs. The theme is highly content focussed and displays words with high clarity levels. Users have many layout options to choose from which provides choices to be arranged category wise.
The theme is highly creative and heartwarming with pleasant colors harnessing the mild background cleanly. The colors used in the theme are attractive due to their subtle nature making it a clear choice for building a lifestyle blog that is attractive.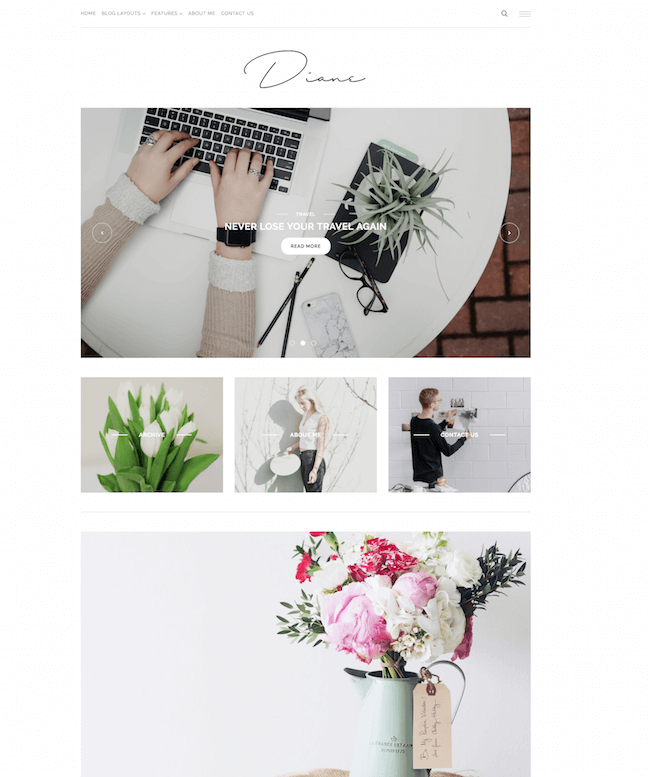 The Blue
The Blue is easy to use dynamic WordPress theme that can be used in Lifestyle blogs. This highly flexible Lifestyle blog theme is user-friendly. It offers multiple options in every aspect to users for customization of the same in their preferred manner.
The state of the art design templates attached to the theme supports an innumerable number of fonts and colors. Homepage, as well as many other pages of the blog, can be built easily by the users with the help of the widgets that are fully loaded with rich features. Overall, The Blue is an easily customizable flexible theme that can be used for lifestyle blogs.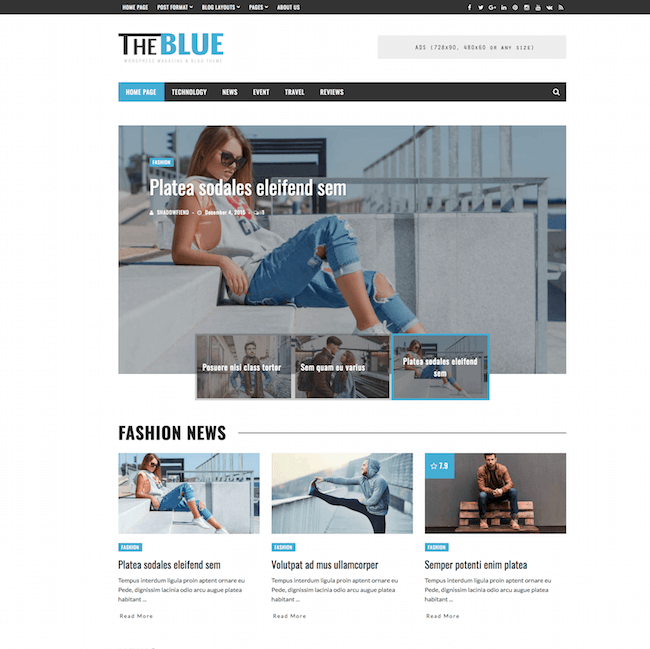 PuraVida
PuraVida is a WordPress theme specifically designed for health blogs. The manner in which the theme has been meticulously handcrafted is brilliant. The background has been offered subtly to make the content in the foreground look bright and colorful.
PuraVida is designed using best practices in codings like CSS3, Bootstrap, and HTML5. This makes it work seamlessly. PuraVida is highly responsive and smooth for customization.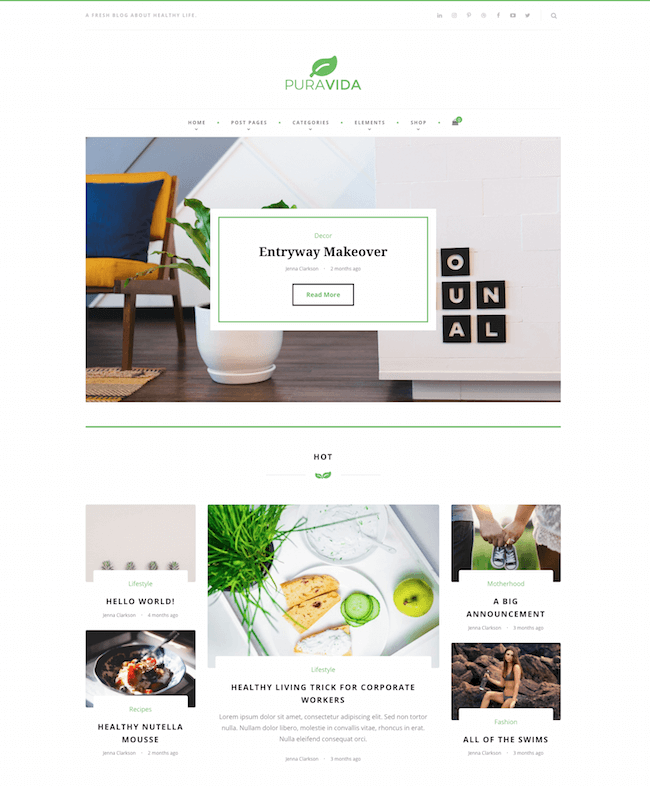 Azurelo
Azurelo is an excellent blog theme with an elegant disposition and with all the essential features. The very basic design of Azurelo accommodates content of the blog in such a clear manner that your content receives all the acknowledgment and attention it needs to get.
The white and blue color combinations give it a divine and serene look which acts as the point of attraction to the whole theme. Azurelo is one of those WordPress themes that places emphasis on the blog and its content than distracting the visitors with unnecessary elements.
Recent
Recent is a creative WordPress blog theme which focuses on the clarity and readability of the blog. The theme looks highly elegant and offers ease of use to users who use them for building their lifestyle related blogs. Recently comes with nine inbuilt layouts which are designed in a modern way.
Recent supports unlimited color schemes supporting localization. The stylish manner in which the theme is built offers the advantage of using innumerable colors and fonts to customize the same to suit user preferences. Recent is a friendly WordPress theme that is more suitable to be used in magazine type blogs than normal ones.
Orchid
One of the cleanest WordPress themes for a lifestyle blog, it comes with an options panel that is highly powerful. The design is fully responsive and enables easy customization, offering unimaginable levels of flexibility.
The responsive design makes the blog adaptable to many modern technological applications and the devices they run on like desktop, tablets and mobile phones. Orchid is translation ready and supports all fonts that are supported by Google.
Orchid enables interaction with all the social media sites and enables easy customization to users by supporting usage of innumerable fonts and colors.
Endnote
All these themes are perfect for a lifestyle website and they offer a user-friendly design. Most of the themes mentioned on this list allow customizations as per the user's preferences. All users who want to create a lifestyle blog can make the best use of the above WordPress themes to create attractive blogs.