Do you promote education material in any way? The best way to educate a massive audience is through a website.
No matter whether you promote courses, schools, universities, magazines, or news, the right theme to make your educational website user-friendly is a must.
Unless the video lessons, latest events or list of programs look appealing to the users, no traffic is generated for your website.
If you wish to educate the audience with your website, you need to make it very powerful and impactful.
Setting a positive mood for viewers, easy navigation, compatibility with phone or tablet are some of the factors that determine to what extent people will like and come back to your website again and again.
Let people enjoy the education you give via a dynamic website, enriched with superb features to enhance user's experience.
Still, don't know from where to start? Don't worry. We are presenting to you a list of best Joomla templates for designing influential education websites.
Edukt
A beautiful modern education Joomla template that offers you all the features and options to create a successful educational site.
The template offers you complete customization features so that you can finetune the look and feel of the template as per your need.
The template offers you a beautiful mega menu option, gallery option, Google Fonts, Google Map integration, advanced search, social login option, and more.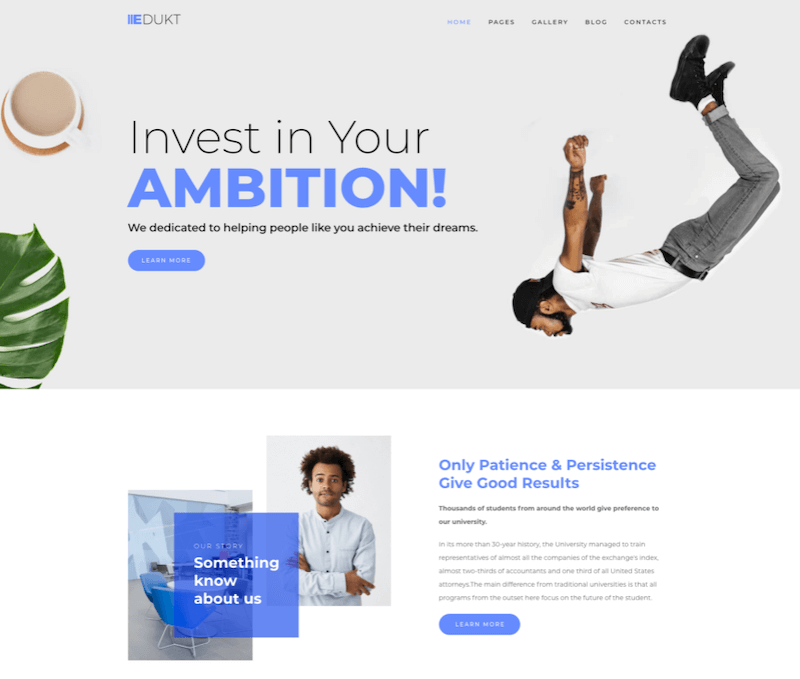 Eduxpert
We are starting with a fully responsive template, which can easily adapt as per the mobile, tablet, Kindle, and desktop screens. Thus, there is no need to make different layouts or content for various viewing devices where people read or search.
Then, it has a mega menu to accommodate a large amount of information easily. It comes in five contemporary styles, and it is very easy to switch from one another.
It is lightweight, fast and SEO-friendly, EduXpert tops this list with its innovative technology.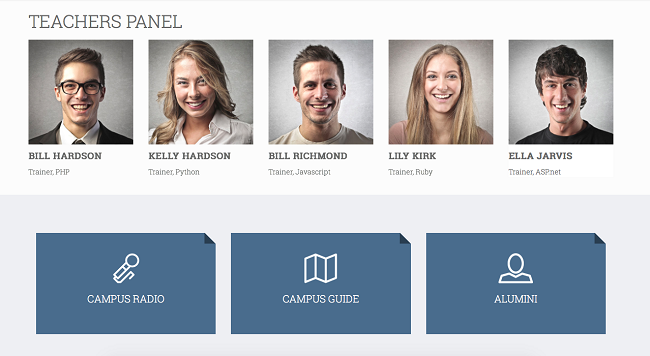 Balphics
The theme comes with the ease to adapt to any gadget screen. Your engagement with the readers will boost due to its flexible text and images, which are otherwise limited due to location or device variations.
This is a sleek and modern design comprising lazy load effect, parallax, slider, Google map and Stick-to-top-menu. Other than this, it also has cross-browser compatibility, 14 pre-designed pages, and customizable PSD files.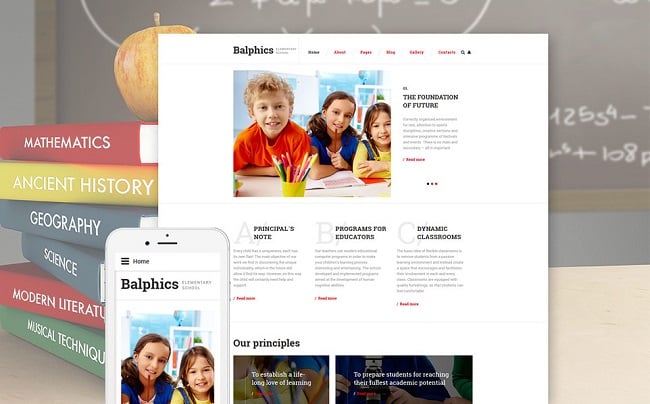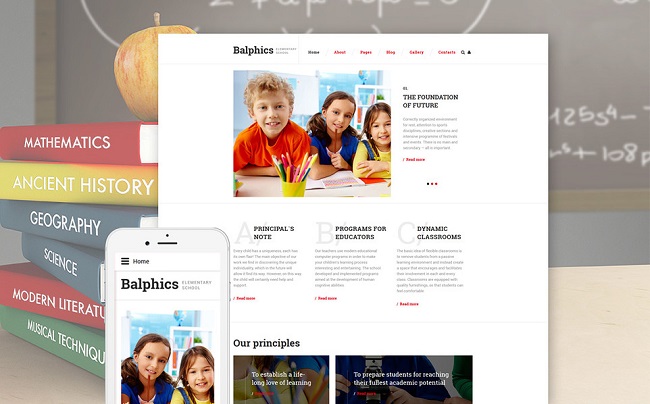 Focus
It is an inviting template for universities and education institutes to get more student enrolments. Design, images, and content, everything is amazing about this layout.
It comes with a variety of pages and style variations to give enough scope for customization.
With a professional and sophisticated design like this, a dignified website is easy to create. Xpert scroller and responsive image gallery are distinctive features of Focus.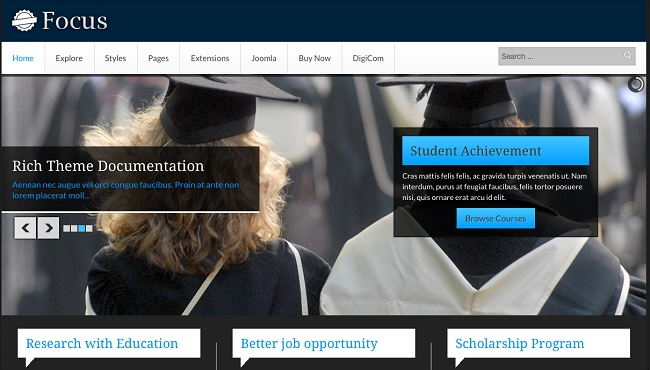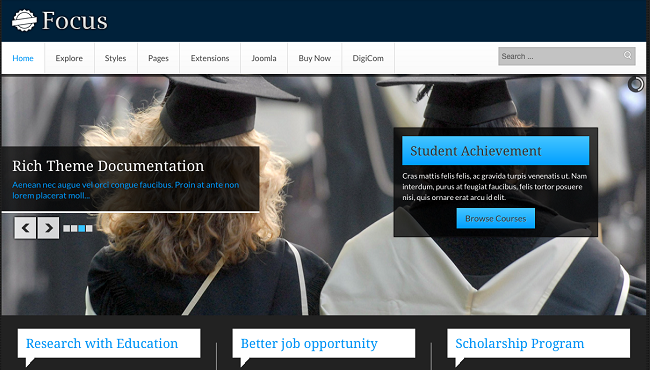 Eduonline
This beguiling theme is meant for online courses, education events, and active education portals. It is completely responsive and has a well-structured design for a neat, sophisticated look.
It comes with advanced features to have complete control of the template and do easy customization. Along with K2 component, there are many in-house modules too for an enhanced experience.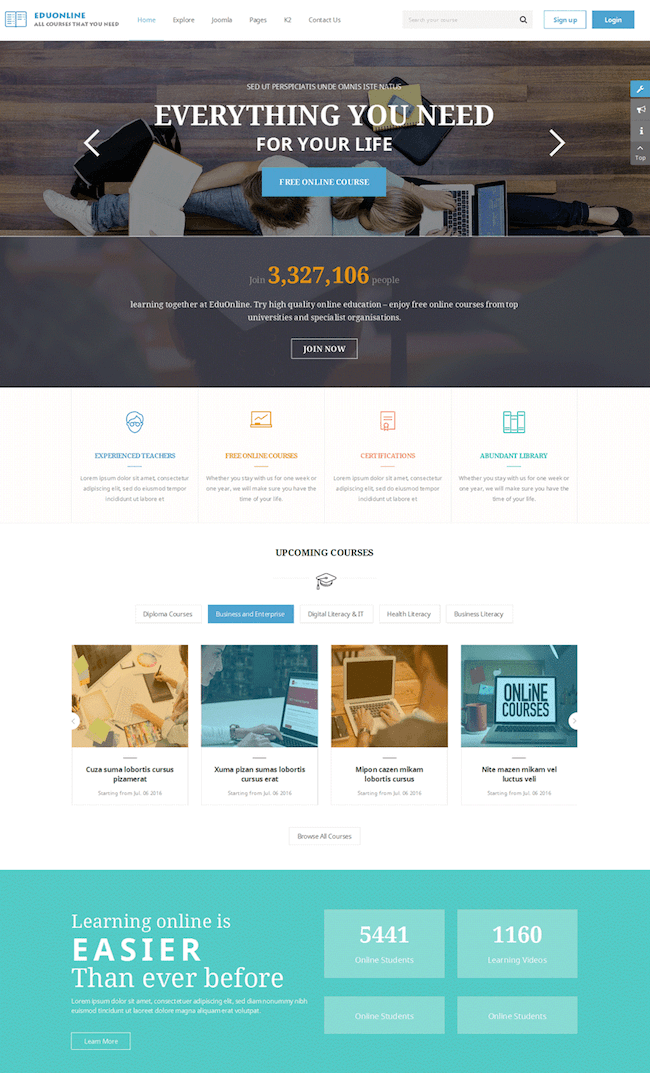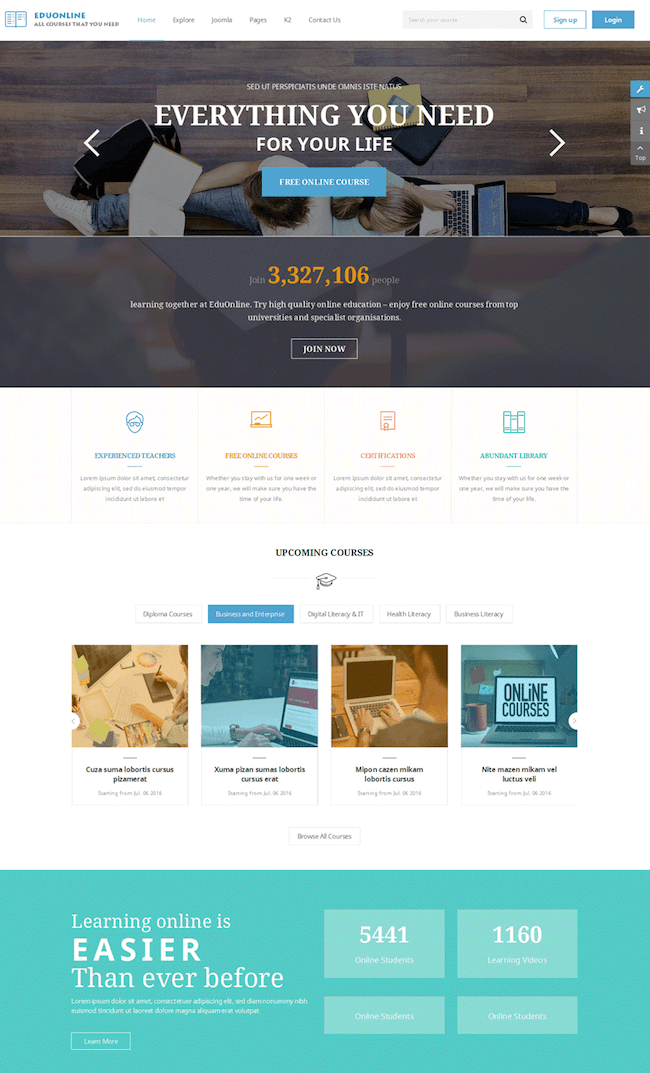 University
A complete, professional, and engaging website that you need to connect with students is possible with University. It is neat, 100% responsive, and easy to install.
Advanced features like animated portfolios with filters, commenting systems, and custom pages make it more desirable. Still better, there are many additional extensions and varied module positions for a contended experience.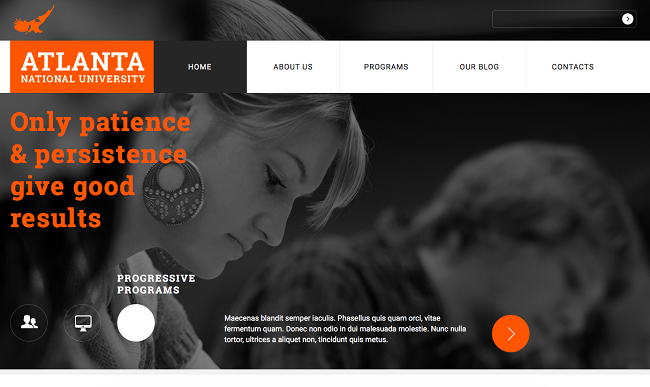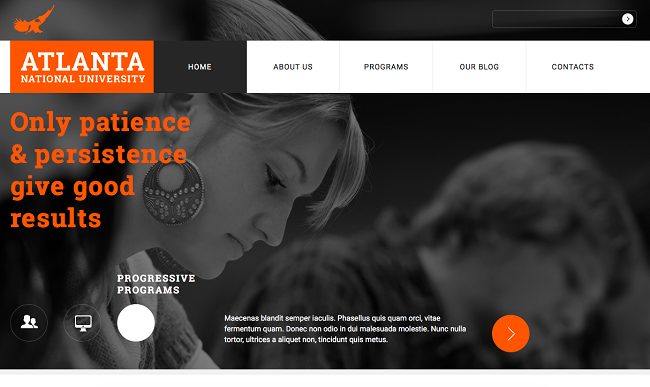 Academia
Schools, colleges or universities, and any education institute can make use of this appealing layout. It has a contemporary design and the latest web features for effortless functionality. It has perfect and consistent alignment on all types of screens.
Further, it has multilingual support with RTL to educate students across the globe effortlessly. 20 built-in pages, 5 color integrated presets, and 3 versatile homepage variations are other features of Academia.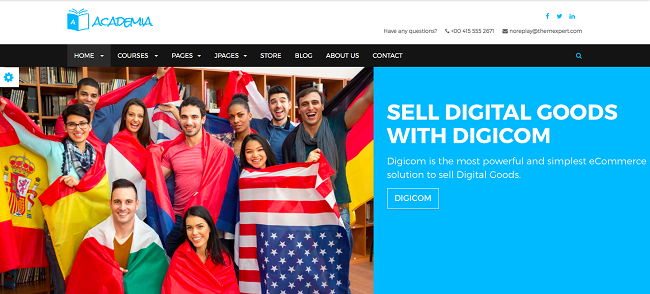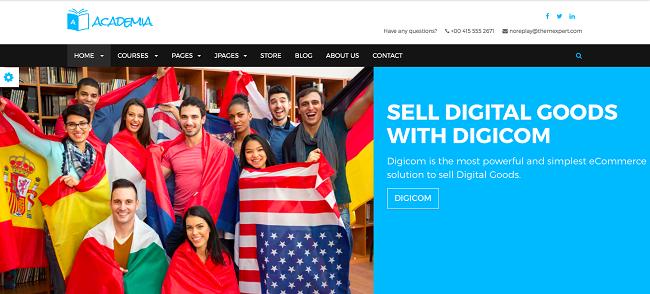 LT School
Colorful and enticing, LT School is a suitable option for kindergartens and primary schools. Vivid images and contrasting colors set a cheerful mood in this layout. Further, it has advanced fluid image slideshow, and custom navigation for effortless browsing.
Social media icons and multiple module positions are other benefits to enrich users' experience on your website.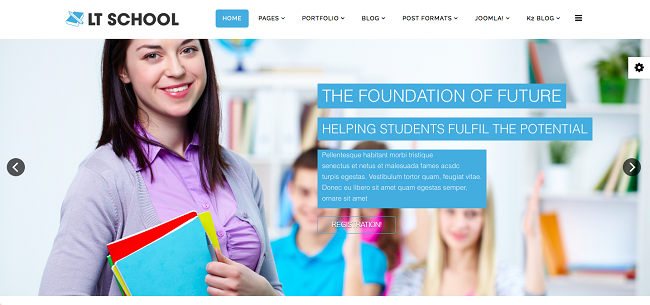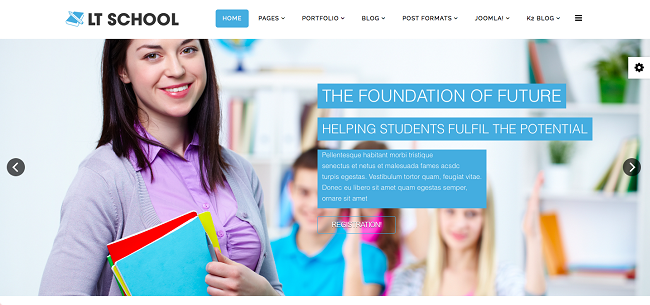 Youversity
Those who offer overseas courses will be able to connect with Youversity. It is enriched with an image slider, news slider, newsflash and four beautiful styles. In short, this theme is a complete package to set up a unique university website.
Moreover, it gives enough space to experiment with 5 custom modules for designing a website that reflects your taste.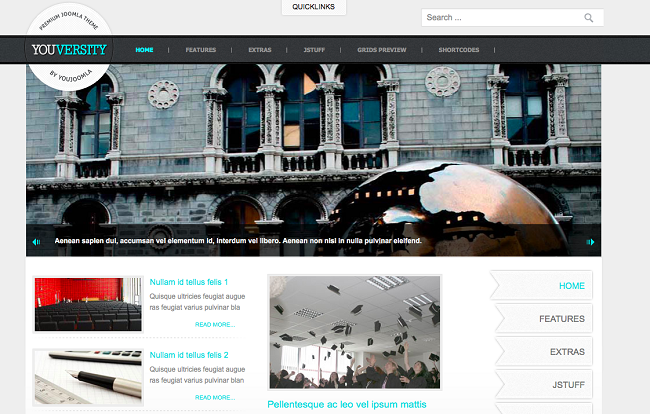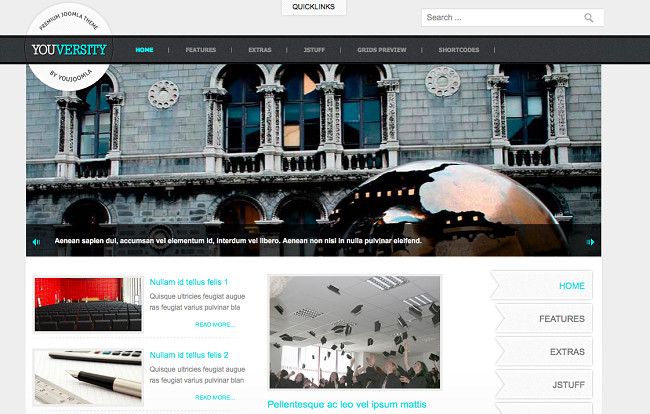 Sj University II
Last but not the least, Sj University II creative template for schools, universities, and other education institutes. This responsive theme has K2 and Kunena components. There are 6 modern color styles and in-house modules to do customization on the homepage and inner pages.
A wide array of advanced features is available in it to facilitate a website of your choice. Not to forget, it is completely configurable and has rich attributes like HTML5, useful shortcode, Google fonts, front end Cpanel among many others.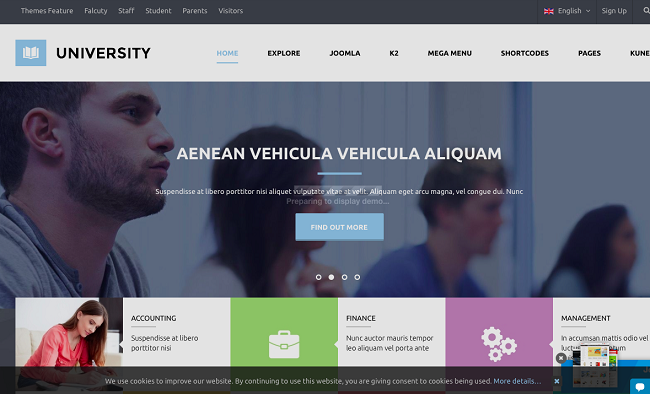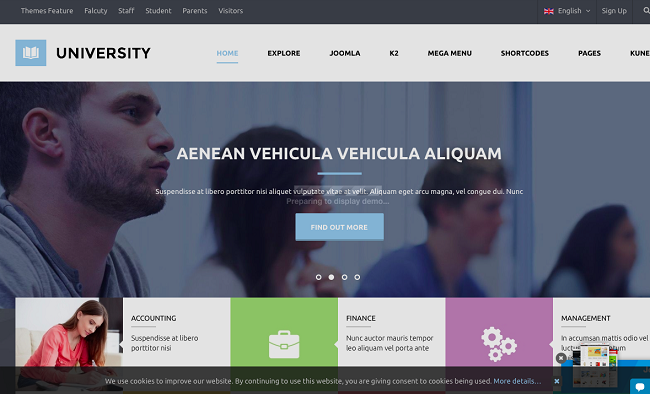 These are some of the versatile and content-rich templates, ideal for online course portals, news portals and a vast array of educational websites. Hope you liked them and find them useful for your educational website.
It is important for an educational theme to effectively connect with both parents and students while projecting the nature and reputation of your organization perfectly.
Therefore, I chose an ideal theme on all fronts. It may take some time, but an informed decision will give you the best results.