Are you looking for the best infographic submission sites where you can find new audience for your content? Well, we have listed the top sites where you can share your infographic and drive more traffic to your site.
It is often easier for people to identify whatever it is you want to discuss through an infographic. In some cases, it might help you with explaining some of the more intricate or difficult things that might come with your work.
A quality infographic can bring thousands of new users to your project as well as help you to create some high-quality backlinks for your site.
You can have a look at this article about the best infographic creating tools that you can use to create the best quality infographics with minimal effort.
Be sure to check on each of these sites to see how the infographic submission features work. Every setup is different based on what you can expect, so be prepared to note what you might experience when using them.
Behance
Behance is one of the most popular community for creative designers. You can find all the different types of designs on this platform.
Designers use it to share their designs before they go live to get feedback from other community members. Along with website designs, logo designs, infographics are an important part of the platform.
If you have a great infographic, you must share it on Behance and unlike many other sites mentioned on this list, your design will be live instantly.
You can create your own community by following other users on this platform and in return other users will follow you back. So, it works like a social media platform for the creative designers.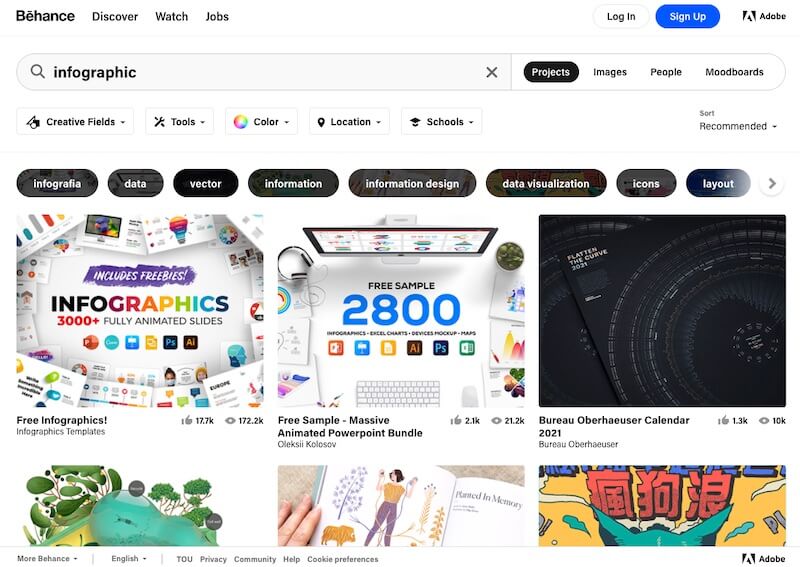 Visual.ly
Visual.ly has developed a reputation for being one of the simplest options around for infographic needs. You can fill out a creative brief and then send it to the experts at Visual.ly.
The team can collaborate with you to figure out how well the infographic in question is being planned out.
After you agree upon a design or layout, you can choose to get everything launched as necessary. The comprehensive care provided ensures you'll make more out of the work you are going to handle.
Analytical tools help you review how well your content is being shared among others
Includes modern and classic designs alike
You can work with any color or design template that you feel is right for your work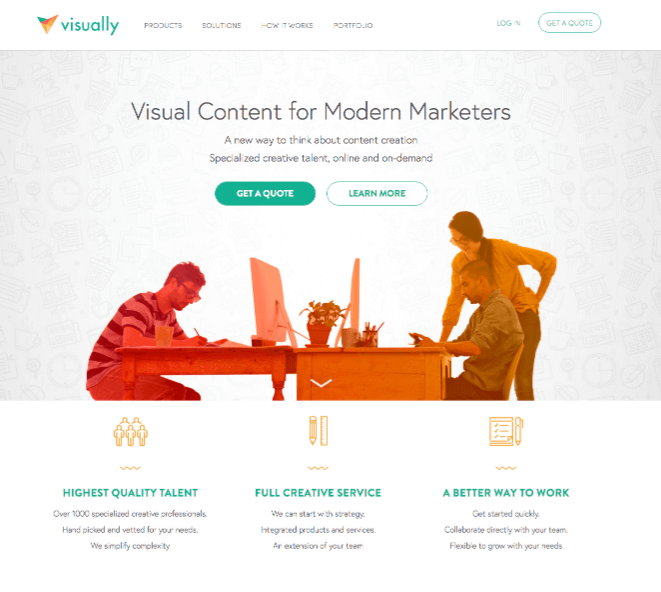 LinkedIn supports Slideshare as a group that makes professional grade infographics. You can use the graphics produced by Slideshare to promote a high-end business or other complicated points you want to market.
You can also use the various courses from Slideshare to learn more about how you can develop your infographics and how you can choose whatever bits of content will be included in your work.
Review infographic ideas based on what is trending in real time
You can create social media-friendly infographics that work with certain layouts in mind
Many of your infographics can be used for PowerPoint displays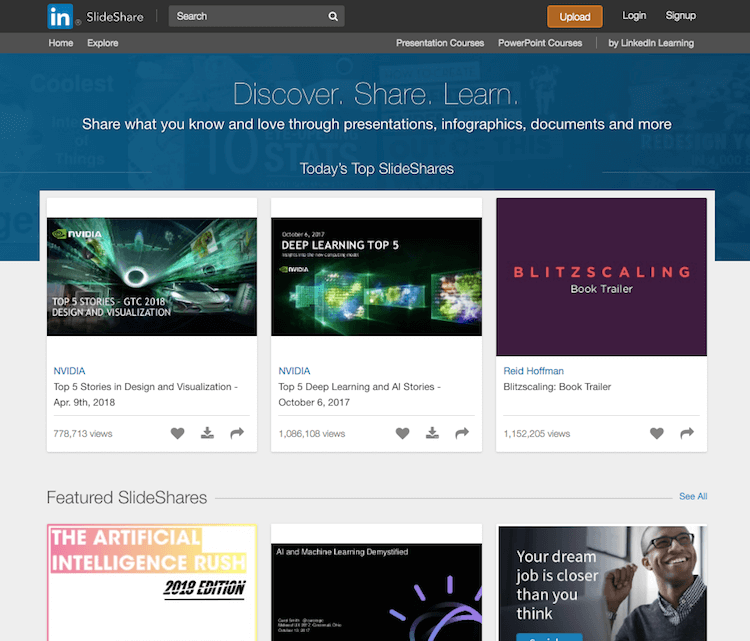 Infographic Reviews
It always helps to have some extra assistance with figuring out what might work for your infographic needs. Infographic Reviews gives you full details on all the things that you are doing for your infographics.
These include data review features that cover points on what details you are trying to discuss. Many infographic categories are covered on the site to help you note some of the things that you're going to produce. The careful layout of the site also does well for most modern display uses.
Search through featured infographics on the site
Includes SEO reviews
You can identify how well the infographics are loading based on what's working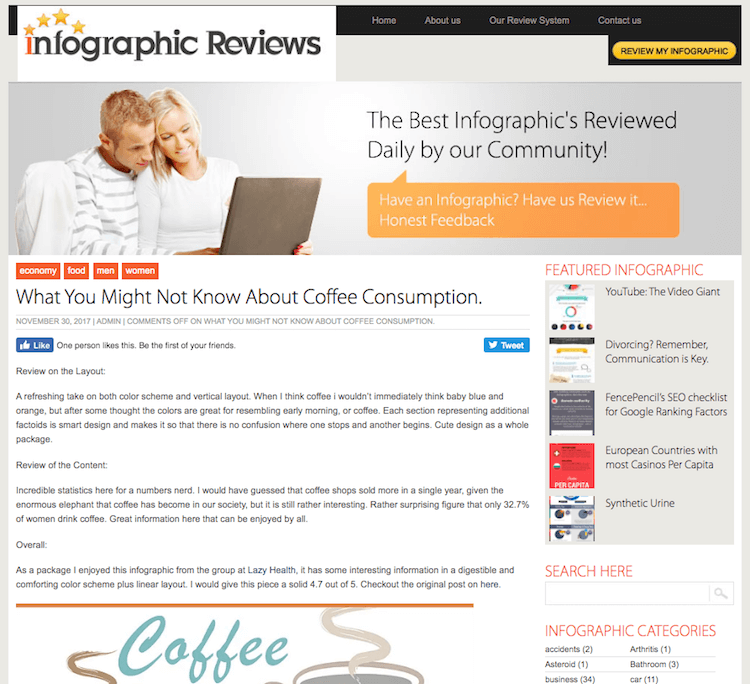 Flickr
Flickr is a place that offers help for sharing high-quality images with others. You can use Flickr to promote anything outstanding or distinct, but the infographic support offered by Flickr makes it a valuable choice for your work needs. You can get your infographic shared with more than two million groups on Flickr.
The upload feature on Flickr is easy to handle
Works with a simple search engine
You can add images on your page in moments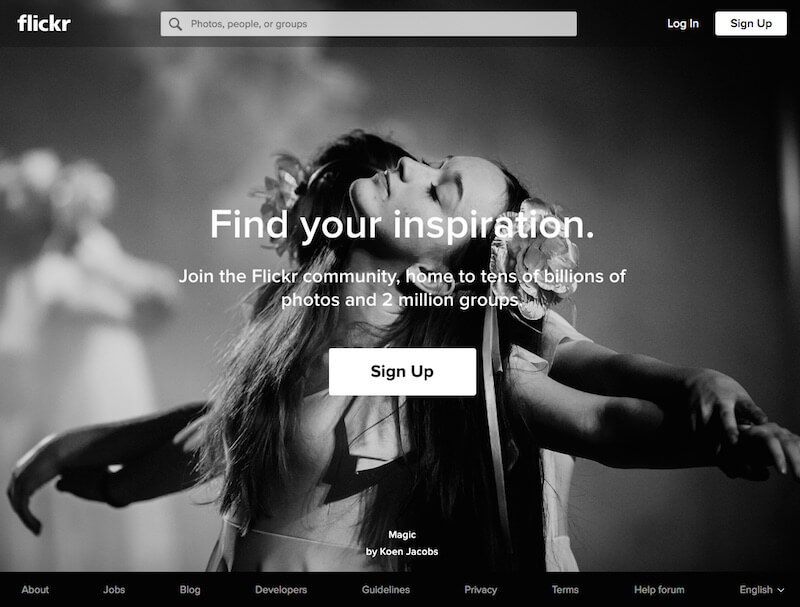 Photobucket
Your next option to see is Photobucket, a place that helps you to preserve your infographics and other images.
The security of Photobucket is particularly important to see. You can get a secure link for all your sharing needs without risking your content being exposed to anyone.
The included editor lets you adjust your images
Add various meta data tags to your images
Get many infographics out to as many business profiles as you wish to use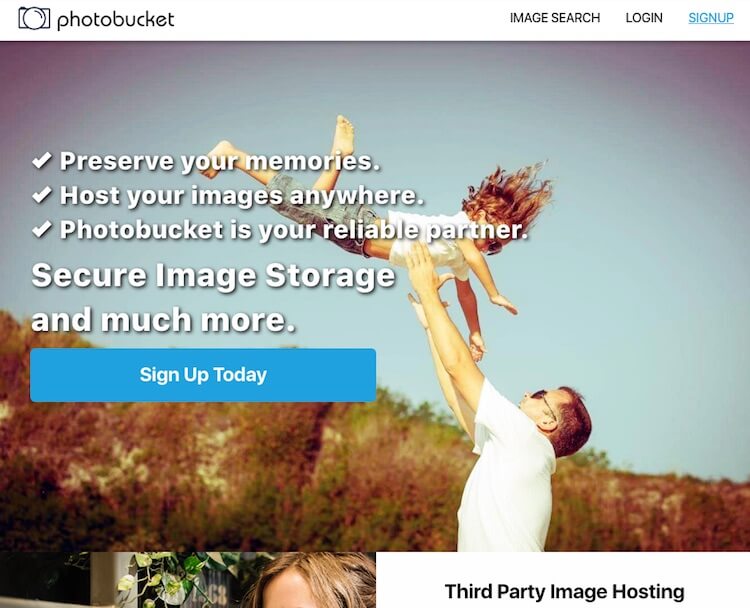 Fast Company
Fast Company respects the value of infographics in the business world. The site includes a daily infographic feature that will share different bits of content from companies that produce these infographics.
You can get your content uploaded to Fast Company and have it become visible to millions who may use Fast Company's setup for many purposes.
Includes many artistic flourishes for use on your images
You can add various headlines to your infographics
You don't have to add too much content to your work if you don't need it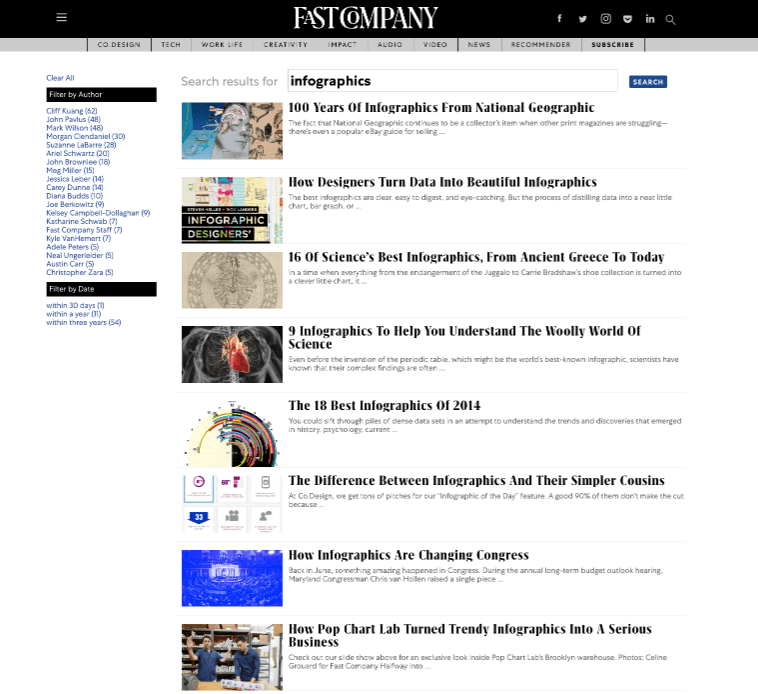 Infographics Showcase
Give the infographics the outstanding looks they deserve through Infographics Showcase. You can get your infographics out to the site and have them visible based on keywords and tags.
You can use as many of these keywords as needed. You also have the option to use complex or simplified infographics on the Infographics Showcase site depending on what you prefer to upload.
You can use many color templates on the site
The simplified design of the site makes the content easy to reach through
You can get the content uploaded to the site in a few moments
Infographic Bee
The appealing part of using Infographic Bee for your marketing needs is that you can make Infographic Bee work for content in one of many categories.
You can search through the left-hand side of the site to find details on different demographics and topics that you want to showcase.
You can use the standard or express submission setup depending on your urgency or your budget
The site works with infographics on many social media platforms
The site includes multiple bits of data on what you can do when producing infographics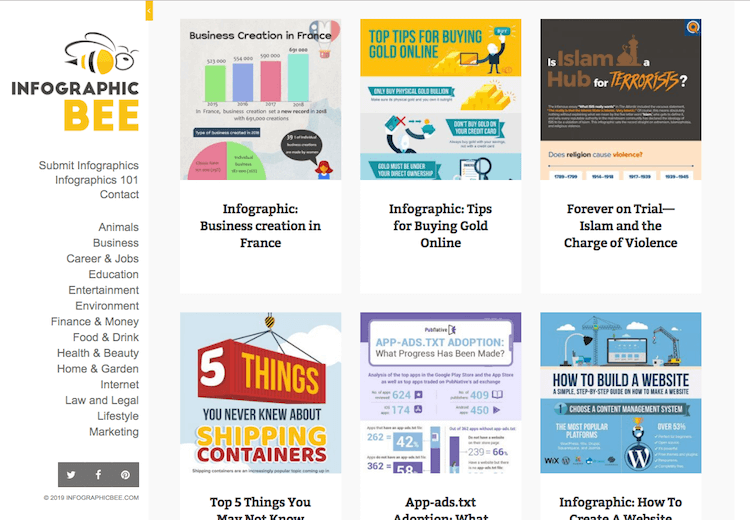 Infographaholic
As amusing as the name of site may be, Infographaholic is a more professional page for your convenience than what you might expect. The site helps you to upload infographics of all sorts.
You can use this for basic text infographics or for more elaborate graphic-based infographics depending on what you prefer to use. The distinct arrangement of Infographaholic makes it one of the top solutions for your use when highlighting whatever it is you want to show off.
Your infographics can be as large as they need to be
Supports many file formats
You can get posters of some of your infographics published and made available for sale
Easel.ly
You have the ability to visualize anything you want to highlight through Easel.ly. The site has a convenient arrangement that lets you control your content in moments.
You can use Easel.ly to produce an outstanding presentation or to create reports that are arranged with plenty of visual information all around. You can visualize any kind of information that you want to share with others through Easel.ly.
Plan work that can be downloaded in many file formats
The in-site editor helps you to adjust your content well
Adds a personal touch to all your content points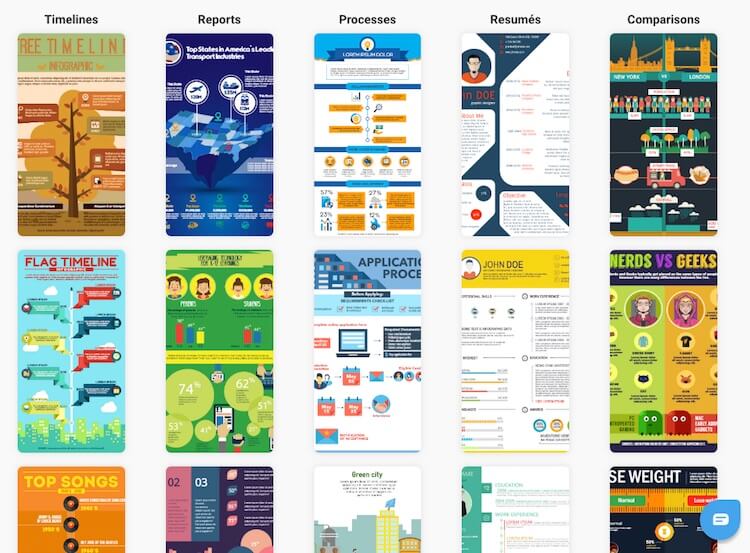 Flowing Data
Being able to get your content visible is critical, which is why Flowing Data provides a suitable layout that works with the most elaborate bits of content around. With Flowing Data, you can produce professional-grade content that works for business purposes. You can also share the data on many social media sites based on your preferences.
Uses many template options
You can produce maps and visualizations alike
Many keywords or tags can work on your graphics
Infographic Labs
Produce the most outstanding infographics around with Infographic Labs. The site uses many web tools that let you configure your infographics as you see fit.
The useful and unique design layouts add a better approach to your content. It only takes a few moments for you to make your content visible on the site.
Produce short and long-form infographics alike
The site incorporates multiple web tools
The blog profiles ways how you can make your infographics more valuable
NerdGraph
NerdGraph includes a search engine that lets you look for graphics based on many categories. You can use NerdGraph for finding infographics based on different subjects or bits of content you want to focus on.
The use of both short and long-form infographics on NerdGraph makes for a helpful setup for your convenience.
Includes an RSS feed
Easy to submit your content
Supports many file formats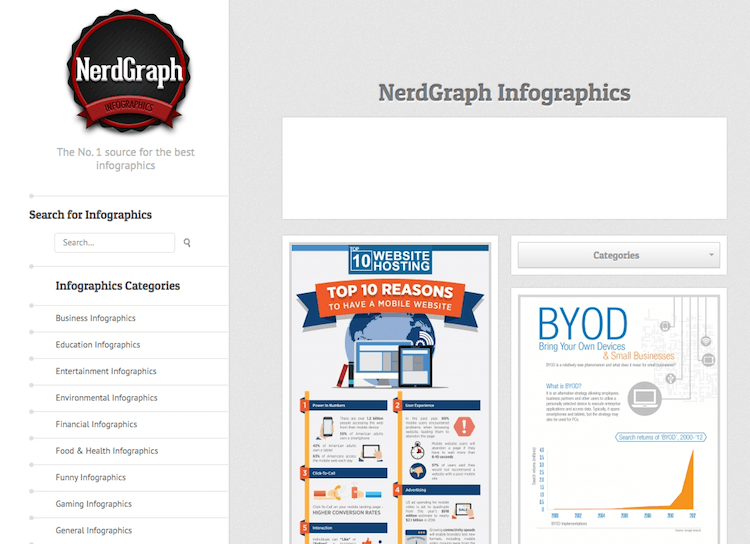 I Love Charts
For the final option, you can look at I Love Charts when handling your content. I Love Charts helps you find information on what works by reviewing your graphics and identifying multiple bits of content at a time. You can also ask the experts on the site questions about how you're going to plan out your content for infographic purposes.
Works with many captions for your content
Supports PNG files
You can ensure you won't bear with lots of competition, as infographics are posted only once in a year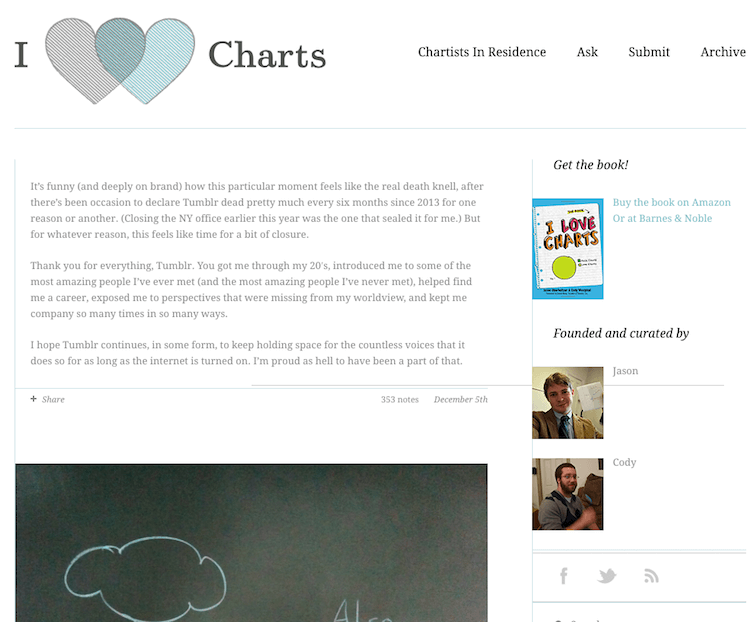 Graphs.net
Graphs.net is a rich source of infographics. If you are looking for inspiration to create your own graphic, you can visit this site to find some of the best infographics from different categories.
You can sort by categories or the popularity of the designs that are available on the site.
The site also allows you to submit your own infographic. Though they offer a free submission plan, it will take several weeks to make your submission.
If you wish to make your submission like quickly, you will have yo go for their paid plan that starts at $25.
Find infographics from all different categories
Free submission allowed
Infographics Archive
As the name suggests, Infographics Archive is another source for you to drive traffic by submitting your best infographics.
The site offer a few packages to select from while you submit your infographic. They offer a free package but it clearly says that there is no guarantee of publication. So, unless it is a very well made, I doubt the site will publish your free submission.
If you want to make sure that the team publishes your content, you can select any of their paid package that starts at $22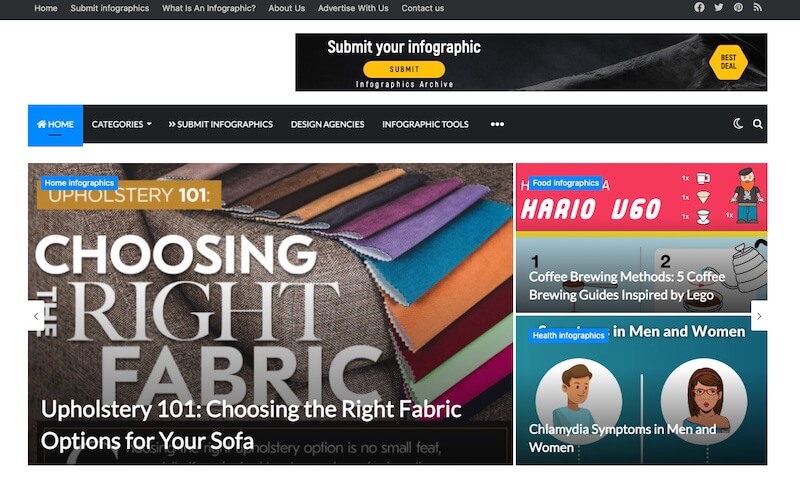 Cool Infographics
Cool Infographics is another great source to find some of the best infographics from different sources. So, if you are looking for some inspiration to create your own infographic, this is a great place to look for.
If you want to submit your infographic, you will have to contact the team by using their contact form with a link to your infographic.
Ad they receive a lot of request, you should submit only your best work to get selected for publishing.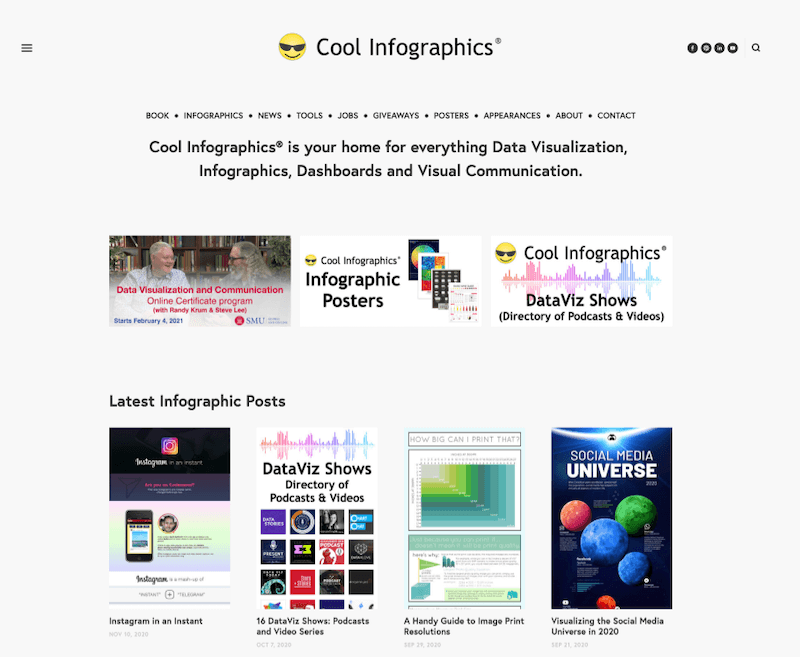 Infographic Plaza
Infographic Plaza showcases the best infographics that are submitted by users. So, you can go this site and submit your best infographics.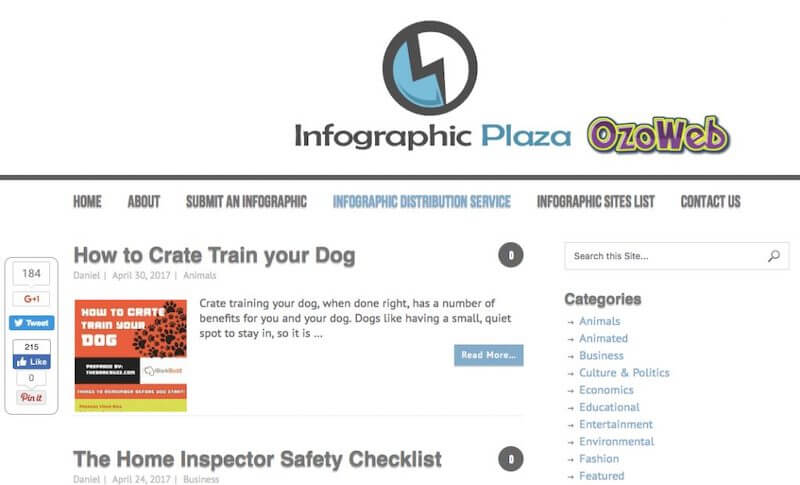 Visulattic
Visulattic is another source of best infographics from all different categories. You can go to their submission page and submit you best infographic.
| Site | Free/Paid |
| --- | --- |
| https://www.behance.net/ | Free |
| https://visual.ly/ | Free |
| https://www.slideshare.net/ | Free |
| https://www.infographicreviews.com/ | Free |
| https://www.flickr.com/explore | Free |
| https://app.photobucket.com/explore | Free |
| https://www.fastcompany.com/ | Free |
| https://www.infographicsshowcase.com/ | Paid |
| https://www.infographicbee.com/ | Paid |
| https://infographaholic.com/ | Free |
| https://www.easel.ly/ | Free |
| https://flowingdata.com/ | Free |
| https://infographiclabs.com/ | Free |
| https://www.nerdgraph.com/ | Free |
| https://ilovecharts.tumblr.com/ | Free |
| https://graphs.net/submit/ | Paid |
| https://www.infographicsarchive.com/ | Free/Paid |
| https://coolinfographics.com/ | Free |
| https://infographicplaza.com/ | Free |
| https://www.visulattic.com/ | Free |
| http://www.pureinfographics.com/ | Free |
| https://infographicjournal.com/ | Paid |
| http://www.infographicpost.com/ | Free/Paid |
| https://www.dailyinfographic.com/ | Free |
| http://infographicsdirectory.blogspot.com/ | Paid |
| https://www.shithot.co.uk/ | Free |
| https://infographicdatabase.com/ | Paid |
| https://galleryr.org/ | Free/Paid |
| http://theinfographics.blogspot.com/ | Free |
| http://allinfographics.org/ | Free |
| https://visualkiwi.com/ | Free |
| https://www.infographicportal.com/ | Paid |
| https://infographicsite.com/ | Free |
| http://www.infographicszone.com/ | Free |
| https://www.submitvisuals.com/ | Free |
| http://www.amazinginfographics.com/ | Free |
| https://www.ucollectinfographics.info/ | Paid |
| https://www.infographicsposters.com/ | Paid |
Final Word
These are some of the best infographic submission sites that you can use to submit your infographics. These sites receive a lot of traffic and have the potential to drive a good amount of traffic back to your project.
So, get started and submit the best infographics to capture the attention of the visitors instantly.
Also, don't miss our article about the best video sharing sites.