Are you looking for the best gym, or fitness WordPress themes? We have put together this collection of top themes for fitness, yoga, and gym-related websites.
WordPress has established itself as an efficient and reliable website curator, which is why most emerging artists and business folk prefer to launch their sites or blogs on this particular site.
Its wide array of vibrant and distinctive themes allows you to advertise your work and garner the required commercial attention.
If you're a budding fitness trainer or opening your gym practice, it is essential for you to market yourself effectively and reach your desired target audience.
Here, we've got you covered. We bring to you the best of the fitness WordPress themes that are perfectly suited for your fitness and gym websites or blogs.
Infinite
Every nook and corner has an upcoming gymnasium of a fitness studio, thus it is imperative to make yourself appear as distinguished and unique as possible.
This technologically advanced and sleek theme easily gets traction owing to its bundle of custom tools, engaging layouts, and inquisitive widgets.
Its easy-to-use interface works well for beginners without any experience in website development.
You can publish news, events, and workshops on your homepage, while having separate verticals with contact details, blog posts, and your previous works- giving your client an ample view of your expertise.
Options of more exploration in drop-down boxes
Tech-savvy and commercially pliable
Several demos and templates
Custom tools, widgets, and plugins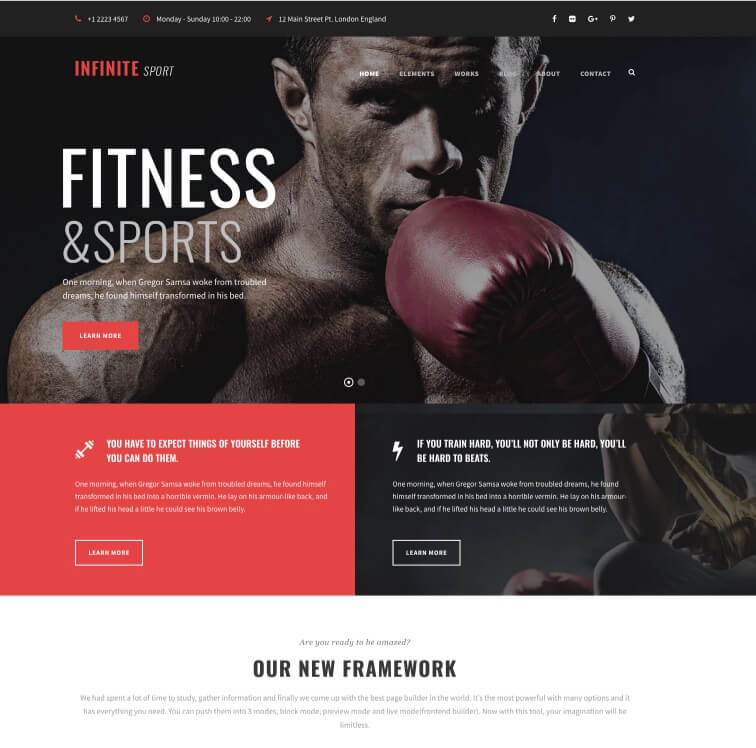 Massive Dynamic
This theme exudes precision and professionalism; making it well-suited for corporate and management.
This all the more makes it an ideal platform for a well-established gymnasium or a fitness center with a vast network of franchises.
Its intelligent design and layouts coupled with heightened functionality and the visual-oriented display is perfect for revealing your workout regimes, events or pre-set exercise routines.
Massive Dynamic also allows the viewers or members to curate their pricing plans in accordance with their fitness preferences, group routines, health trackers, etc.
Known for its extensive freedom for design and customization
MailChimp subscription newsletter
Visual-oriented interface
Flexibility and versatility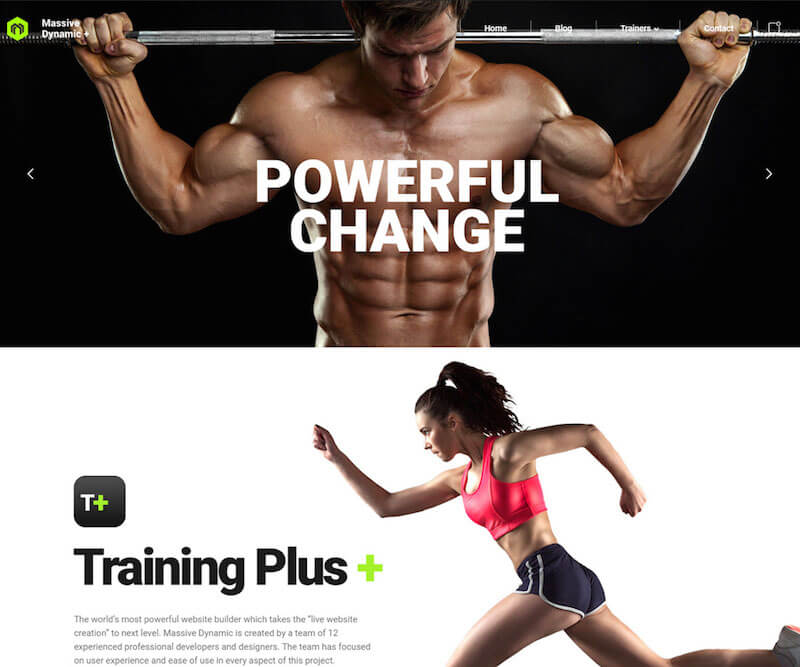 Divi
A bohemian and quirky template, Divi – the multi-functional WordPress theme will have you spoilt for choice with its numerous features, widgets, and an interface that come with several customizable options so that you can tailor your content as per your likes.
The drop-down and dialogue boxes allow you to unravel the features of your center and the endless possibilities they house, making it as appealing as possible for your prospective customers. Its flexibility and adaptability across various devices and servers in lauded.
Divi is packed with the powerful Divi website builder which is a drag and drop website builder that you can use to build your site from the front-end of your site.
The default templates and demos will help you customize your content and find our niche.
Don't forget to get a 20$ extra discount on the Divi theme using this link.
Multi-functionality is impressive
Uninterrupted speed
Accessible across all devices
New features and updates regularly
Perfect for design professionals as well as beginners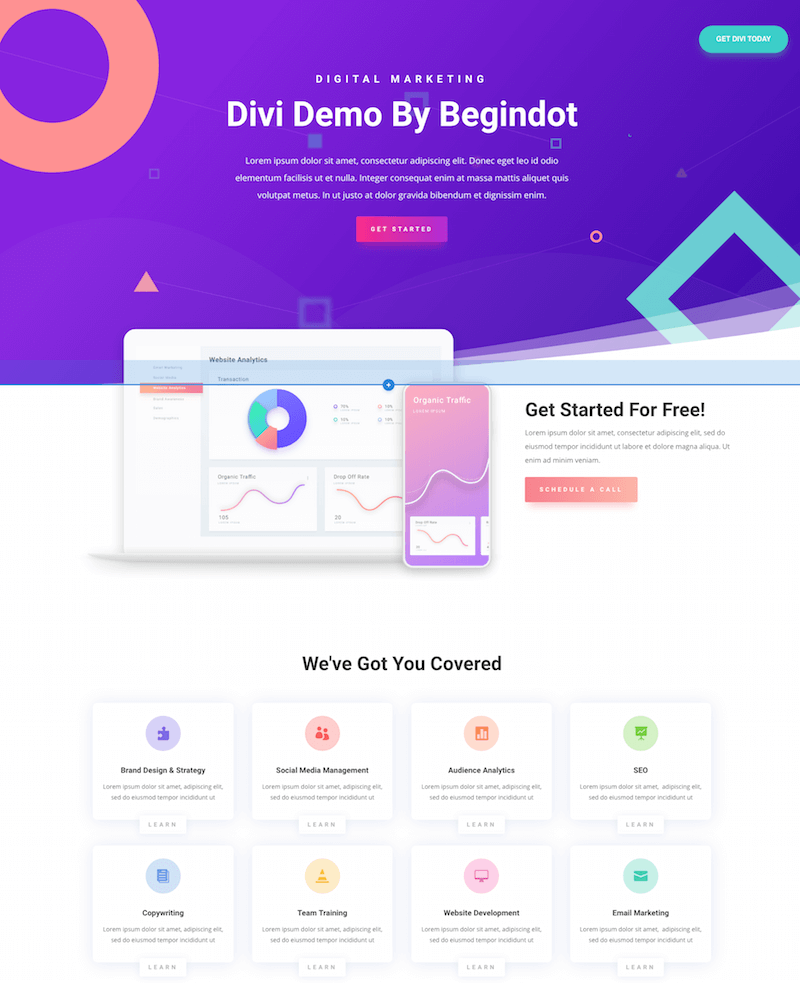 GymEdge
As edgy as its name goes, the GymEdge is built specifically to cater to the needs of fitness and gym coaches a chance to further their reach.
Its built-in features include creative displays in the slider layouts, Visual Composer as well as Redux Framework which will have your website up and running in no time.
Furthermore, it is easy to swipe home screen displays your numerous available options and offers that your customers can avail, of while also giving a feeble glimpse into the available opportunities and options.
You can choose to showcase your membership cards, availability of a personal trainer, yoga practitioners, and various other resources.
With Visual Composer and Redux Framework
Extremely simple to set up an entire website
Heightened functionality and responsiveness
Multiple page layouts
OOP coding
Webify
Webify diverges slightly from the commercial fitness gigs and explores other options like yoga and meditation. Its subtle and warm tones exude a relaxed warmth and a cleansing allure.
It is effective in its functionality, and not to mention the ease with which you can navigate your way through website curation and management.
Apart from being highly responsive, this theme also has an elaborate collection of modules and templates to choose from, to ensure that your website and your work deserve nothing but the best.
Can balance different types of websites
SEO equipped
vast options for font and color
Easy installation without coding requirement
Instagram live feed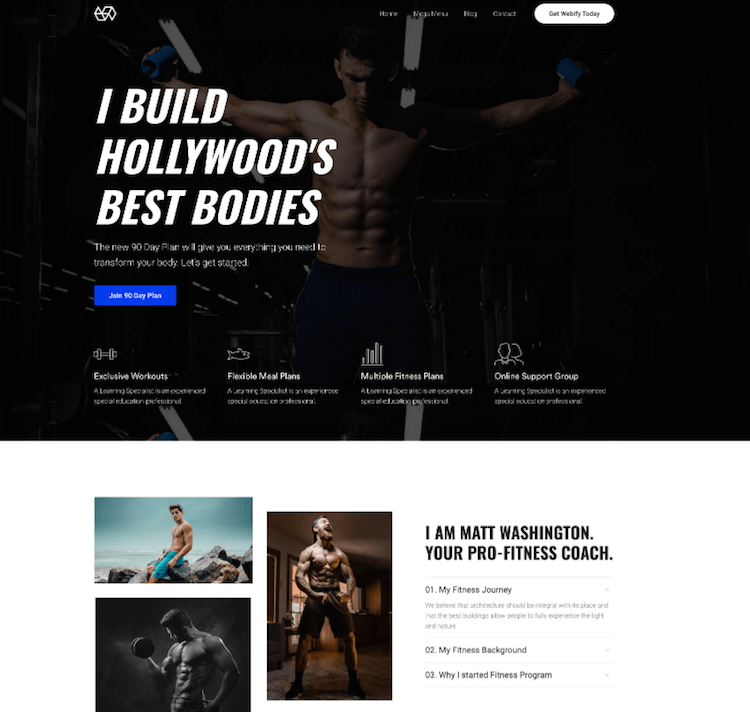 Ekko
This WordPress theme is sparsely filled so as to not appear too crowded, which will divert attention from your important content or notices.
Its minuscule tools each have dialogue boxes that will open the customers to several options according to their fitness or health needs and necessities.
Ekko also has a social media link where you can publish or advertise your website across your social media profiles and attract eyeballs.
WPBakery does online coding
Google maps compliant
One-click demo import
250 and more templates and 40 plus designs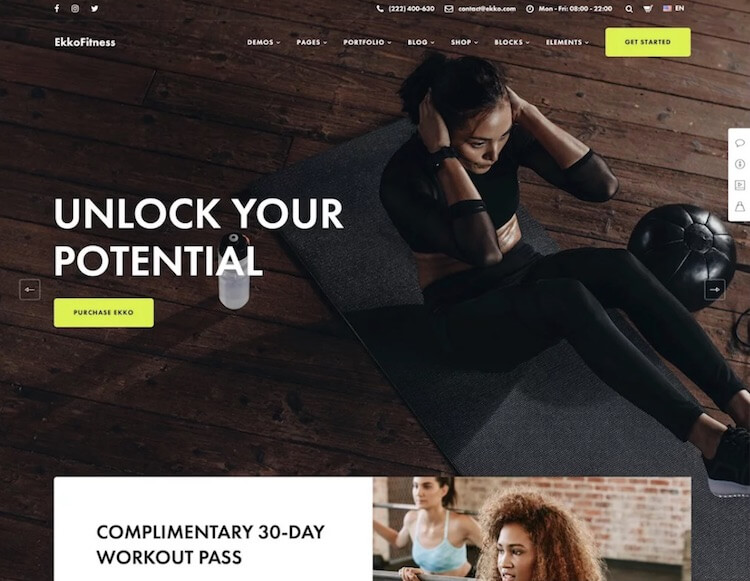 Kalium
Powered by the mighty HTML5, Kalium's smooth functioning and versatility is worth mentioning. This theme reflects a modular edge to your website, making things easily accessible and approachable.
You can diversify your content based on visibility across the numerous layouts and templates available, making it one of the widely preferred themes.
In addition to this, it boats hardware powered by parallax and AJAX capacities which help moderate your slides and design.
Here, the viewers can also shop for merchandise and gym outfits while browsing through your blogs.
Proficient quality demos
Rich themes and layout designs
Frequent and free updates
Caters to diversified needs of website developers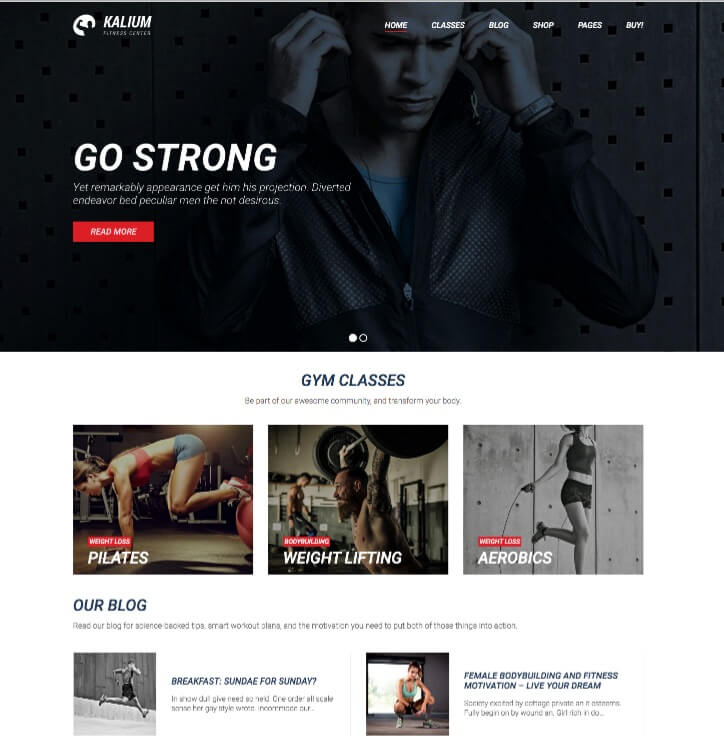 Jevelin
Increasingly dynamic and multi-purposeful in its approach, Jevelin gives the creator sole authority over the framework of their content, layout, and panel through its various tailor-made customizable options.
If its speed is not enough to impress you, everything is available at just a click away. Your viewers can access content slides with a single tap, and each slide is distinguished from the other to avoid similarities.
It also comes with helpful shortcuts as well as Google Maps that can map your location for the customers.
Single-click installation
Mobile- friendly
Google Maps integration for increased transparency
Suited theme for multi-purpose websites
LEVELUP
LEVELUP has been designed with tactful precision and simplicity, making it an ideal choice for a personal fitness blog or a professional gym center with the aim of commercialization. 
With attractive sets of logos and headers, this theme can help you schedule your classes or group workout and yoga sessions that will attract several audience targets.
You can also set up your shop to sell your fitness expertise and merchandise to diversify your website.
Easy installation and customization
Highly responsive
Pre-set demo sites and pages
Multiple header styles
Availability of slides, video backgrounds, and live backgrounds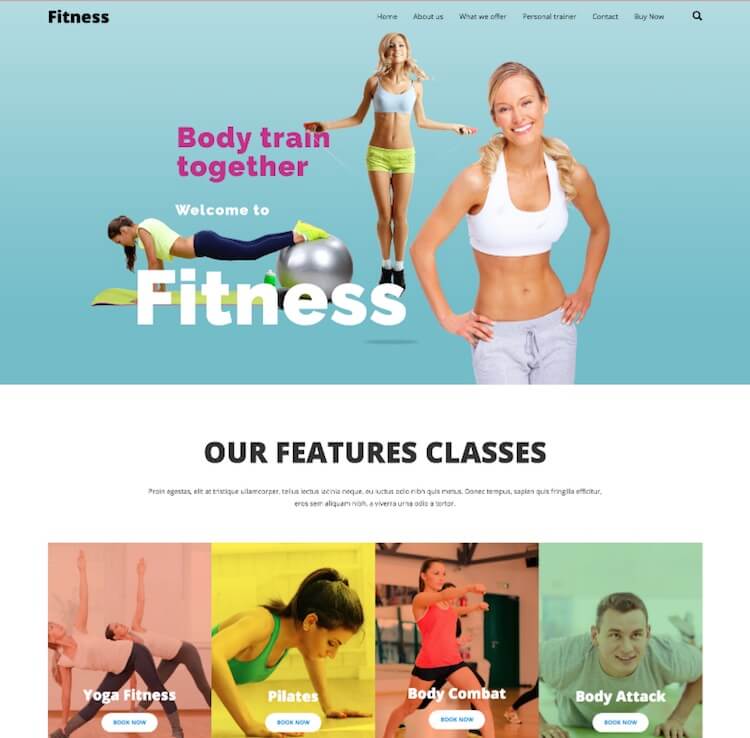 GymX
This WordPress theme features a WPML plugin alongside its Visual Composer and Google Maps integration- making it a highly functional option.
With the aim of extending your reach across the fitness community, it engages your viewers and audience by an effective display of your content.
This undoubtedly helps you market yourself by exposing your talents and work and allowing consumers to see for themselves.
You can also post images, videos and blog posts for the audience to catch a glimpse of your expertise and make a choice for themselves.
Broadened dialogue boxes holding necessary information
With Visual Composer and Google maps
Upload images, videos, and blogs with ease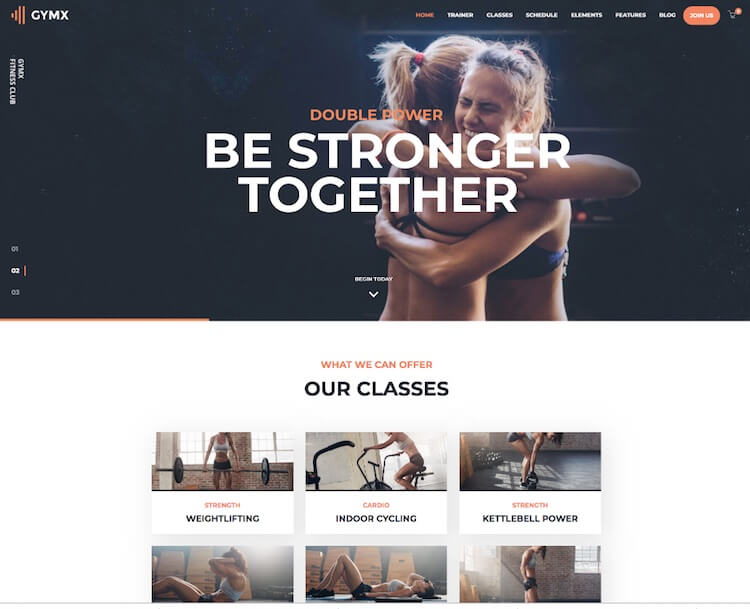 Athlete
With commendable versatility for fitness, athletics and sports websites; Athlete has been crafted in such a way to encompass all the website developer's ideas and needs for the best end product.
With WooCommerce integration, you can track your schedules classes and workshops, monitor the audience preferences and tailor your content accordingly. This theme is an entirely flexible and pliant subject for wellness and sports sites.
It has been developed to be a swift in loading and a comprehensive option for website admins with no earlier coding background or prepared skill set.
Retina ready design
Features like custom grid modes, fluid width and color swatches
Revolution slider
Completely open to customization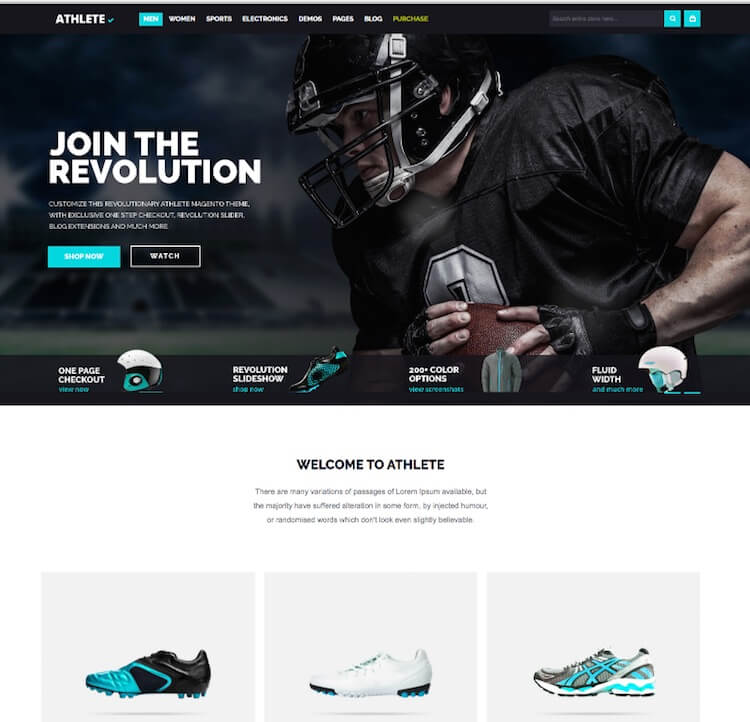 Prowess
Befitting its name, this WordPress theme is all about displaying your expertise and fitness prowess to manifest into coaching abilities that can be advertised.
Making your website management task as easy as possible, Prowess consists of in-built layouts with homepages backed by its impressive WPBakery plugin, which is constantly guiding your page building mechanism.
It also presents a wide array of fonts and complementary backdrops reverberating with power and vigor to kindle the spark of strength!
With a dark HTML/CSS theme
W3C compliant
Portfolio and blog listing page
9 templates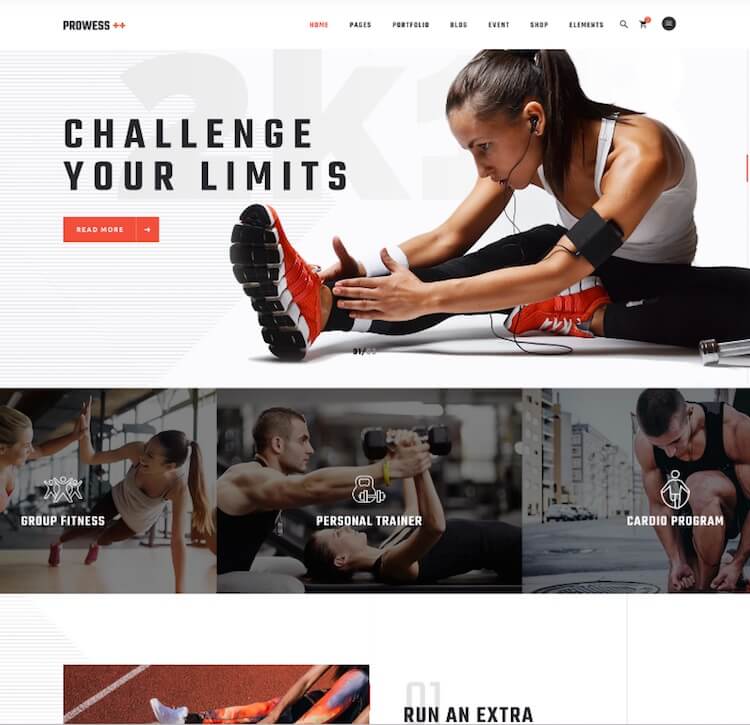 Asana
This theme doesn't neglect the importance of Yoga amidst the fast-paced and vigorous exercises common in western gyms.
The dynamic nature of this theme, with its bright and subtle backdrop, is expertly bedecked with default designs, and preconfigured and ready-made templates that make your jobs easier without you having to individually pick the perfect suitor for your website.
The layout is adaptable on all devices, and the integration of Revolution Slider and grid layouts serve as a cherry on top.
With the availability of a shopping cart and calendarization of your events and workshops, our viewers can instantly book classes and coaching.
Theme updates and documentation
Sell merchandise with WooCommerce integration
Custom video backgrounds
Responsive and retina ready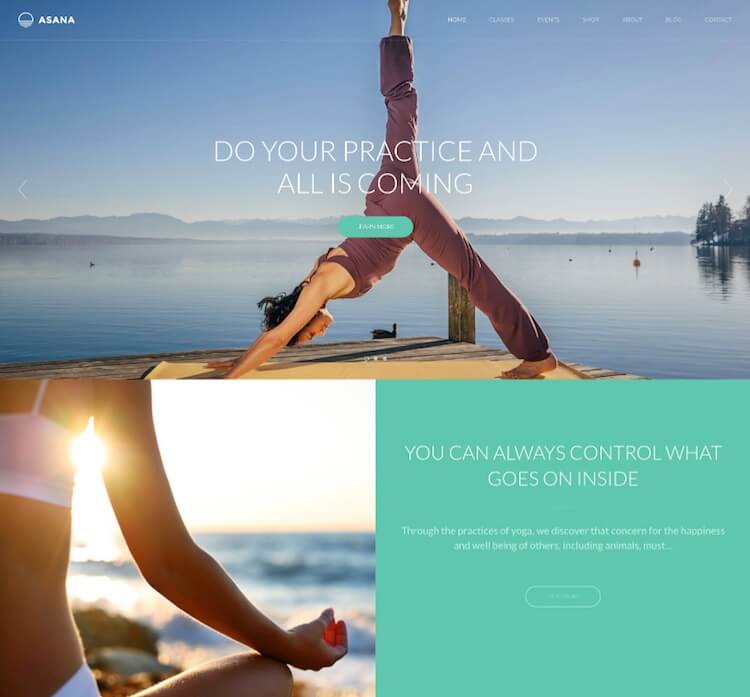 Fitness Zone
This specific theme is an amazing domain that can easily accommodate requests of a wide range of archetypes, from individual portfolios to business sites or corporate online journals.
However, that has been explicitly and barely built to compliment your work, improvement, and support of the complex center.
With the available scales, your customers can monitor their activity and determine their progression.
In addition to this, it also hosts a sidebar, a galleria for your images and videos and Calendar shortcuts and remainders for your classes.
BMI display for users
Several shortcodes and header designs
Calendarize your events and schedule
Buddypress support
Impressive MegaMenu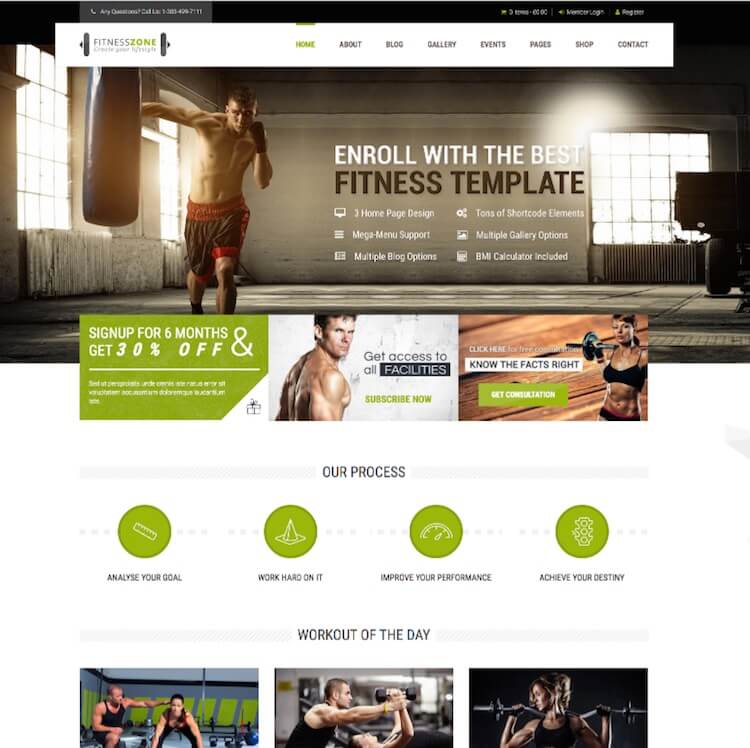 Bridge
Workouts, rec centers, gym trainers and coaches and all the rest in the wellness and wellbeing industry- there is a competitive necessity to carve out a niche for yourself.
One that identifies you and embodies your work. With Bridge being your number one WordPress fitness theme, you would help your brand soar higher than ever and help potential clients get fit as a fiddle and keep up their conditioned bodies.
With Bridge, you can craft out a distinguished online presence for yourself and garner the required attention to help further your business.
Sustains complete magazine and listing functionality
Animations backed by AJAX
Auto updates
SEO and comprehensive admin panel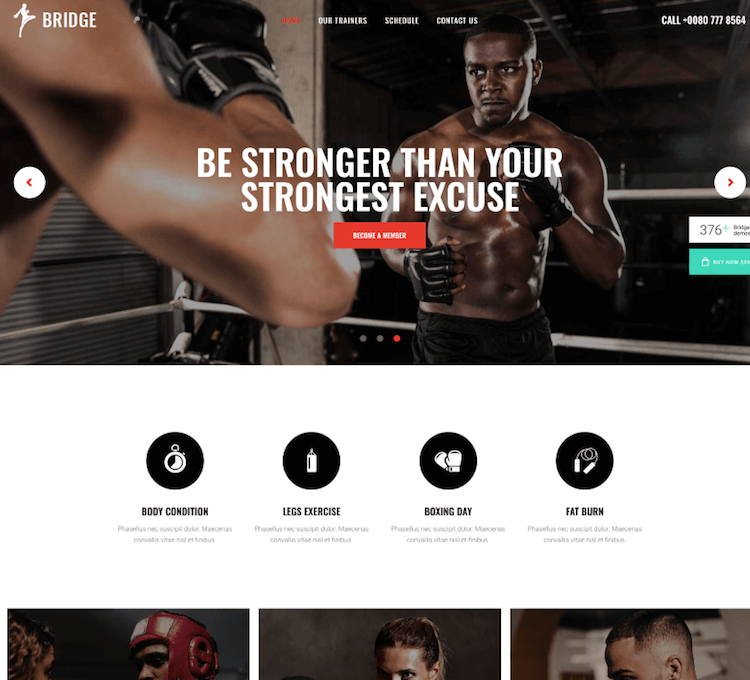 Norebro
An advanced toolkit in itself, the Norebro excels in functionality with its Visual Composer, ACF plugins and Slider Revolution. It can encompass all your business needs, however, diversified they are and get your website shine.
Its coding-free, therefore you can curate and develop your website space within minutes and publish it for your audience to spot.
With infinite page templates, fonts, themes, backgrounds, and animations- you can do a lot more than just introduce your brand and your work.
Minimal yet creative interface
Responsive support center
Extensive documentation
With ACF Pro
WPBakery page builder complaint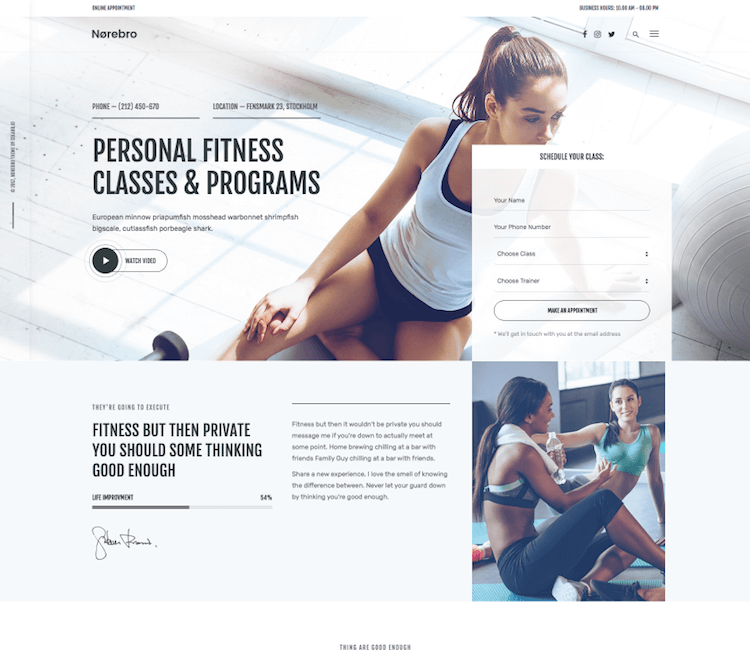 Gym and Fitness
As the name states, there is an exclusivity regarding the industry that this particular theme caters to.
It is completely receptive to any gadgets, like personal computers, tablets and mobile phones so your potential customers could easily get to your site regardless of what gadget they use.
Likewise, this subject accompanies a topic choices board that causes you to change the look and feel of your site absent much exertion.
It additionally offers several shading alternatives in terms of colors, so you can pick the ones that flatter your content and posts.
There is also the option of connecting your social media profiles directly to the site, with a mere click.
BMI calculation for progression tracking
With guaranteed cashback
Perfect for beginners
Wide array of options for homes and headers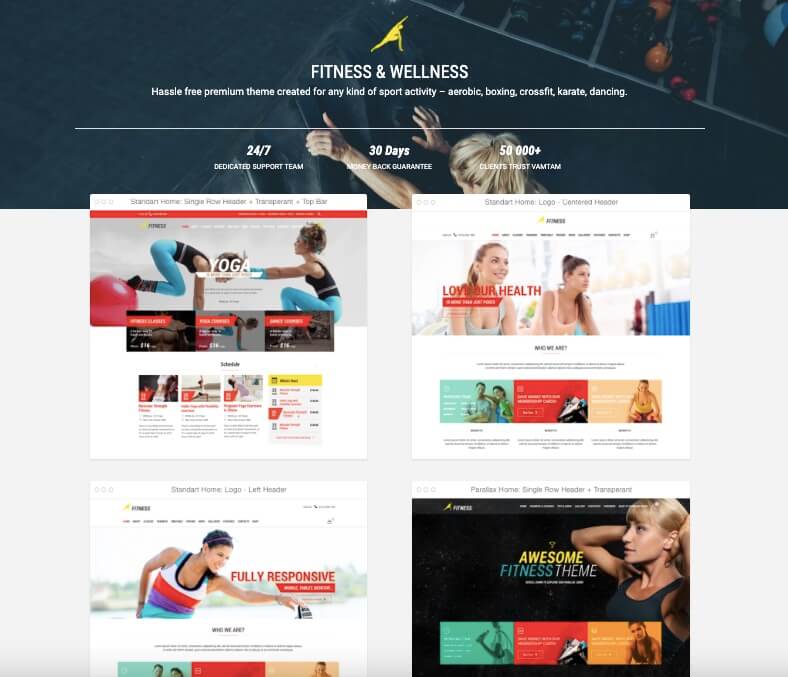 TopFit
A perfect amalgam between something minimalist and vibrant, TopFit specializes in vlogs and animated blogs adorning your homepage; and dialogue boxes subtly conveying your content- each of them complementing each other and not dividing attention.
The Parallax hardware allows you to zoom into your images, animate your content and set reminders for upcoming classes and personal sessions that one can easily sign up for with the Timetable Responsive Schedule.
It also has a pre-installed BMI calculator where your customers can monitor their health and workout progression.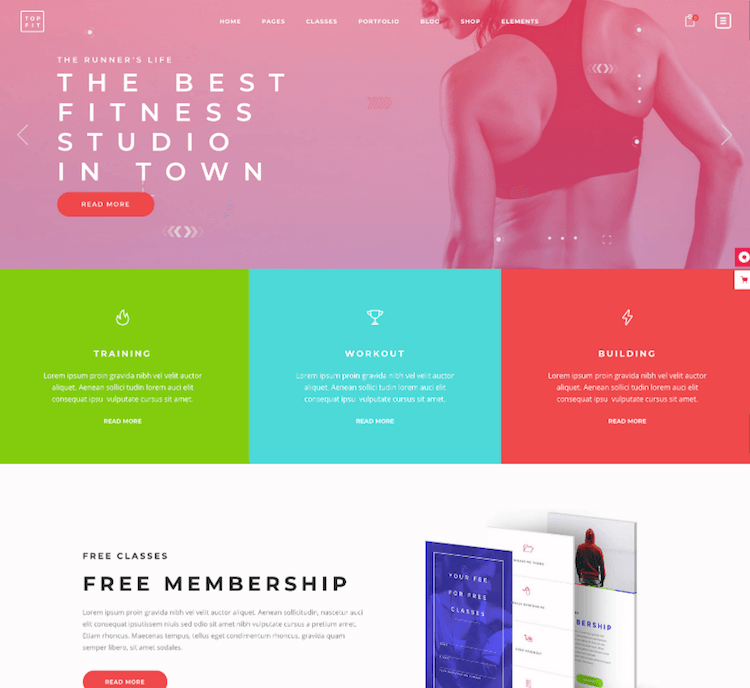 Yoga Fit
Yoga Fit's shrewd, appealing look mirrors that of live dance and aerobics studios.
The layout and theme planners have given huge consideration to perfectly strike a balance between- smooth, delicate impacts, and amicable tones all adding to the charming structure.
Apart from the innumerable options it harbours, Yoga Fit is attractively backed by CMS Masters.
It has its own visual composer and plugins like the Timetable and Theme Forest which accentuate the website experience for your customers.
With wooCommerce
Powerful shortcodes and functionality
Support for events and calendars
With custom CMS masters Visual Content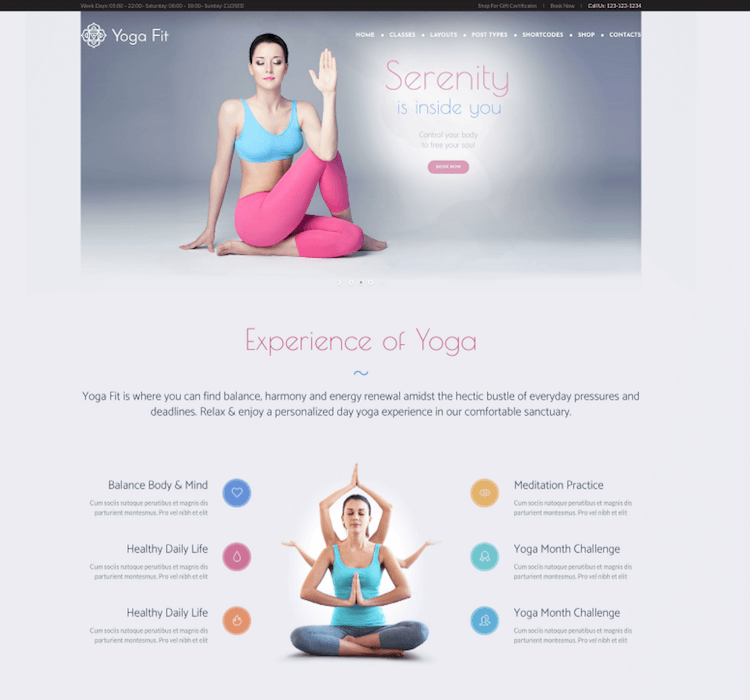 Training Zone
This too is sufficiently supported by WooCommerce, making it an ideal domain to browse through the fitness opportunities and choose one, while also helping yourself to the appealing gym wear and merch available.
This theme, like any of the others, has the basic tools such as sidebar and diversified and unique scrolling or hover options.
One of the most prominent features of this theme is it allows you to create profiles for your coaches and trainers, where the customers can go through their bios and make a choice for themselves.
This ensures transparency and also allows the customers to have a pick.
Responsive web design with retina readiness
4 homepage layouts
Creation of online coaching and training modules
HTML5 and CSS3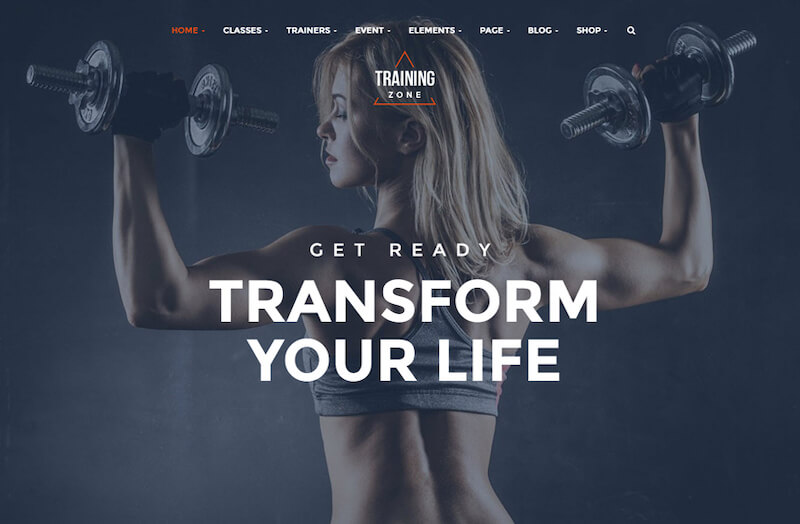 Entrepreneur
This theme is very lovely and utilitarian, very much organized and properly planned. It is also structured with a perfect and fresh, proficient and solid aura.
It's likewise a stunning, uncluttered and natural subject that has been worked with a downplayed visual language that can be easily tweaked to your likes and dislikes.
The Visual Composer module makes developing your very own formats and structures from layout or scratch a simple and hassle-free issue.
Live page building option
Easy booking and payment options
Live drag down boxes
Sophisticated and premium design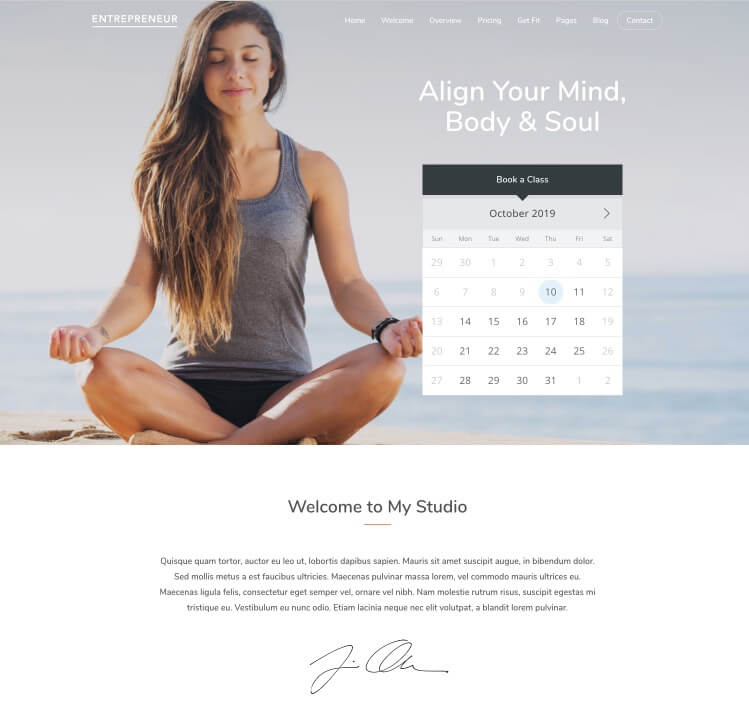 Lead Engine
If you have high professional standards and you feel lie none of the existing themes are matching your desired level, you must give a go at Lead Engine.
Although cluttered with singular layouts, there is equal attention given to each of the vertical and you can effortlessly post your important information there- one that you want the viewer's eye to catch.
Its comfortable to use, navigate and also customize. With Google Maps integration amongst the limitless templates, layouts, and design- you can broaden your vision for your business.
Simplified website set-up and management
Hundreds of original templates
Demo import with a singular click
High performance with powerful options panel and plugins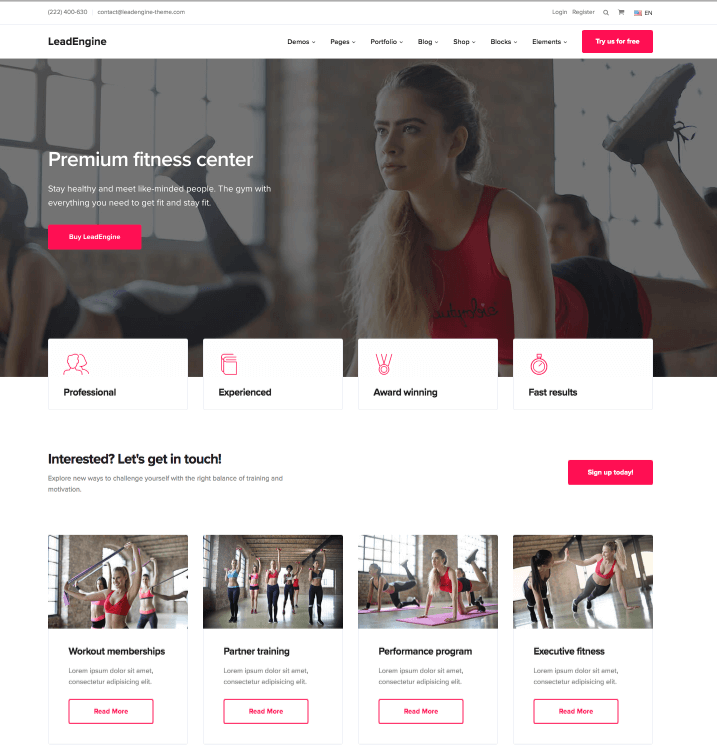 Final Word
This comprehensive list of carefully picked gym and fitness WordPress themes is bound to give an impetus to your brand and win over your customers.
With the vision of wellbeing and fitness, you could be persuading several people to take time out and get in the best shape.
Your website curation and development will have essayed a monumental role in helping this happen.
Some of these themes require you to don your creativity hat, unclench your inhibitions and create an unforgettable impression!
If you like this collection of the best gym and fitness WordPress themes, don't forget to share it with your friends.