If you are looking for the best Bluehost Alternatives for any reason, we have listed the top options to host your website.
If you don't choose the right host, it might have a serious impact on the performance of your website and business.
You must go for a web hosting platform that is highly reliable and gives a top-notch performance, along with uptime, storage, customer support system, bandwidth, security, and other management tools.
Now, the question arises, why not "Bluehost"?
It is definitely one of the largest hosting providers and many bloggers, marketers prefer to host their site on Bluehost as they have a track record and they are a trusted name that is used by millions.
They offer you ready WordPress installation and there are tons of tutorials available if you are a newbie user.
We have created an article about how to create a blog, you can refer to this article to know the step-by-step process to create a website on Bluehost.
However, every user is different and every user has their own requirements and choice.
Here are a few possible reasons why someone might look for Bluehost alternatives.
For some kind of requirements, Bluehost turns out to be the best option for web hosting. But for others, it just doesn't do the job.
We have curated a list of best Bluehost Alternatives that will help you solve your web hosting problems.
Best Bluehost Alternatives
Here we are with the best Bluehost alternatives that you can use to host your website.
01

. HostGator
Hostgator is another popular name in the web hosting industry. Like Bluehost, HostGator also offering hosting services for years.
A bad uptime can cause a major problem for your website. It is one of the most important criteria when selecting a web hosting platform. If this is the case, Hostgator guarantees 99.9% uptime. 
HostGator has received many awards such as Best Host to grow with, Best dedicated web hosting, and Best shared web hosting. In the business for more than 17 years, HostGator has has a customer satisfaction rate of more than 90%. 
One of the easiest website hosting to use, it provides the best hosting solutions on the market such as WordPress hosting, VPS hosting, Website builder, and Dedicated hosting.
Top Features:
The best feature of this web hosting platform is that it is budget-friendly. You won't have to break the bank in order to avail of its services. Moreover, you can create unlimited email accounts and it contains unmetered storage. 
Pricing – It starts at only $2.75/month and offers a free domain for a year. WordPress hosting will cost $5.95/month.
Get a 60% discount on Hostgator hosting with our coupon code, read more. Also, don't miss our Bluehost Vs HostGator comparison post.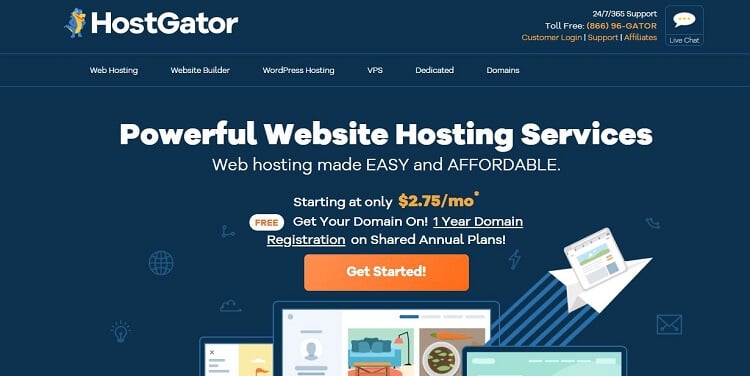 02

. Hostinger
Hostinger is a popular and cost-effective hosting solution that is a great alternative to Bluehost. This affordable fast hosting solution starts at as low as $1.39.
It comes with an automatic 1-click WordPress installation so that you can create your own website even if you don't have any knowledge of creating a website.
In case you come across any issues, the team is available 24/7 to support you. Another advantage is that you get a domain name completely free of you for the yearly billing cycle to help you save some money.
If your site is hosted with some other hosting, the team at Hostinger can help you to migrate the site to help you get started quickly.
To make sure that you have a high-performing site, the Hostinger team created custom WordPress optimization tools to make sure that your site offers a great experience.
Top Features: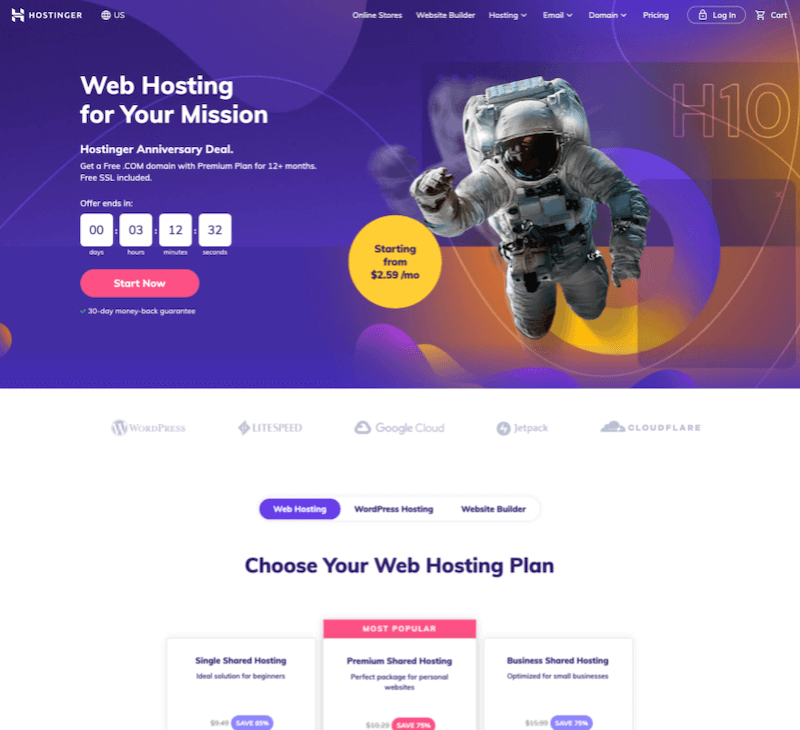 0

3

. A2 Hosting
If you are looking for fast web hosting as the main criterion for selecting a hosting platform, A2 Hosting has definitely got you covered for it. Bluehost lacked after-sale services but this web hosting platform, in addition to blazing speed, offers a perfect support system. 
Now if we talk about that one thing that we look for in every web hosting platform, i.e. its uptime, A2 Hosting claims to provide a 99.9% commitment.
Your favorite software platforms such as WordPress, Opencart, Joomla, Magneto, and Joomla are being taken care of by A2 as each of these platforms is optimized separately. Moreover, it provides free website migration.
Top Features:
Overall, it can be an ideal web hosting platform that can be even better than Bluehost. If we had to magnify its best feature, it provides unlimited storage in its most basic plan. Moreover, there's a free SSL certificate.
Pricing – Its basic plan starts from $3.92/month.
Don't miss our Bluehost vs A2 Hosting Comparison article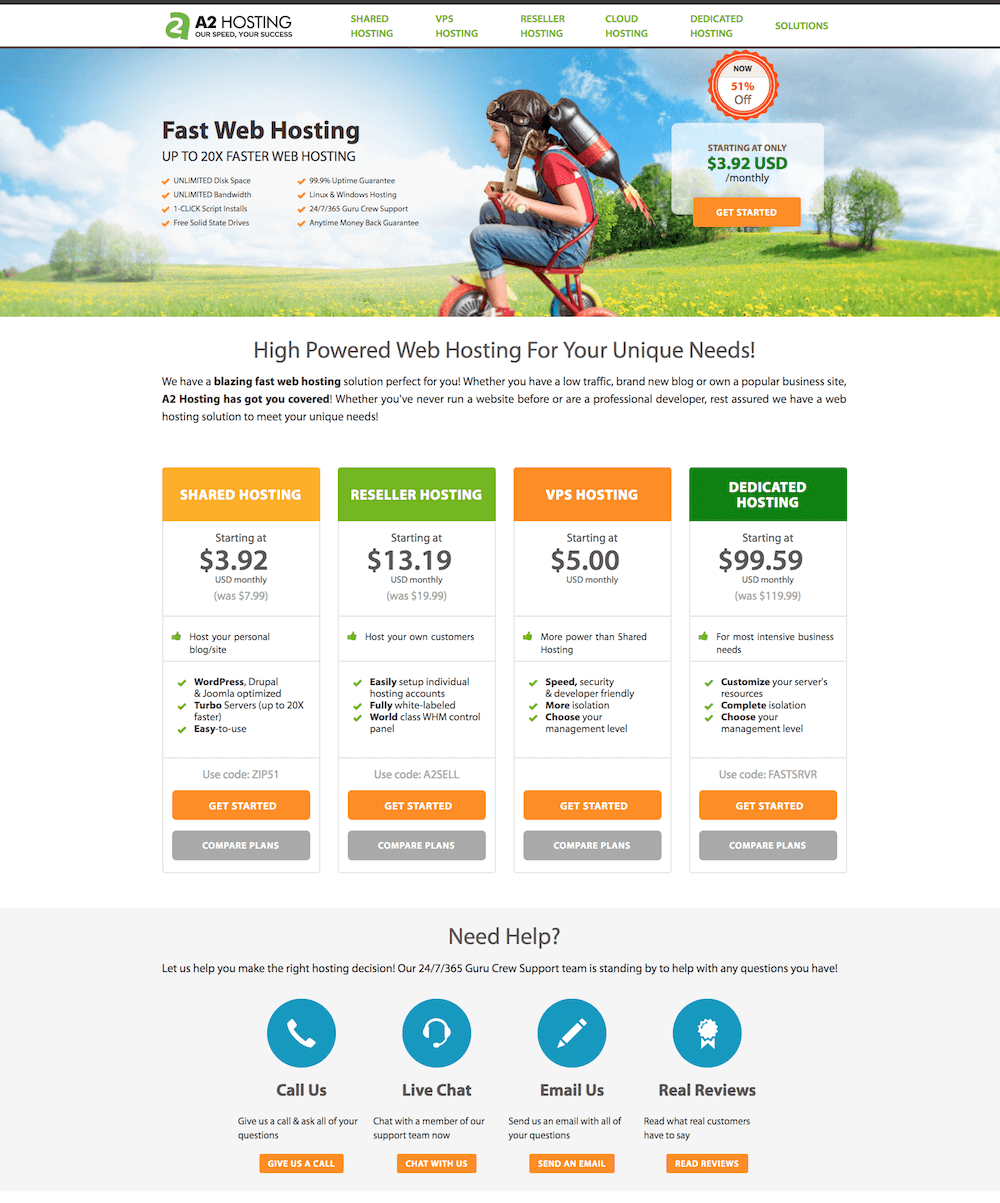 04

. DreamHost
A privately-owned hosting provider, DreamHost has an experience of more than 20 years in this industry. To be such a big name in the industry, even after 20 years, says a lot about DreamHost.
Winning PCMag's "Editors Choice" 5 years in a row, it guarantees to provide 100% uptime. Though, we think that it might never fall below 99.99%.
The most popular service provided by this hosting platform is WordPress hosting. Along with that, it also caters to website hosting, VPS hosting, dedicated hosting, cloud hosting, and WP website builder.
Top Features:
The thing that standouts for DreamHost is it's more than a 3-month money-back guarantee. Moreover, its control panel is very easy to use as compared to its competitors and the plans are pocket friendly.
Pricing – For WordPress hosting and website hosting, the plan starts at $2.59/month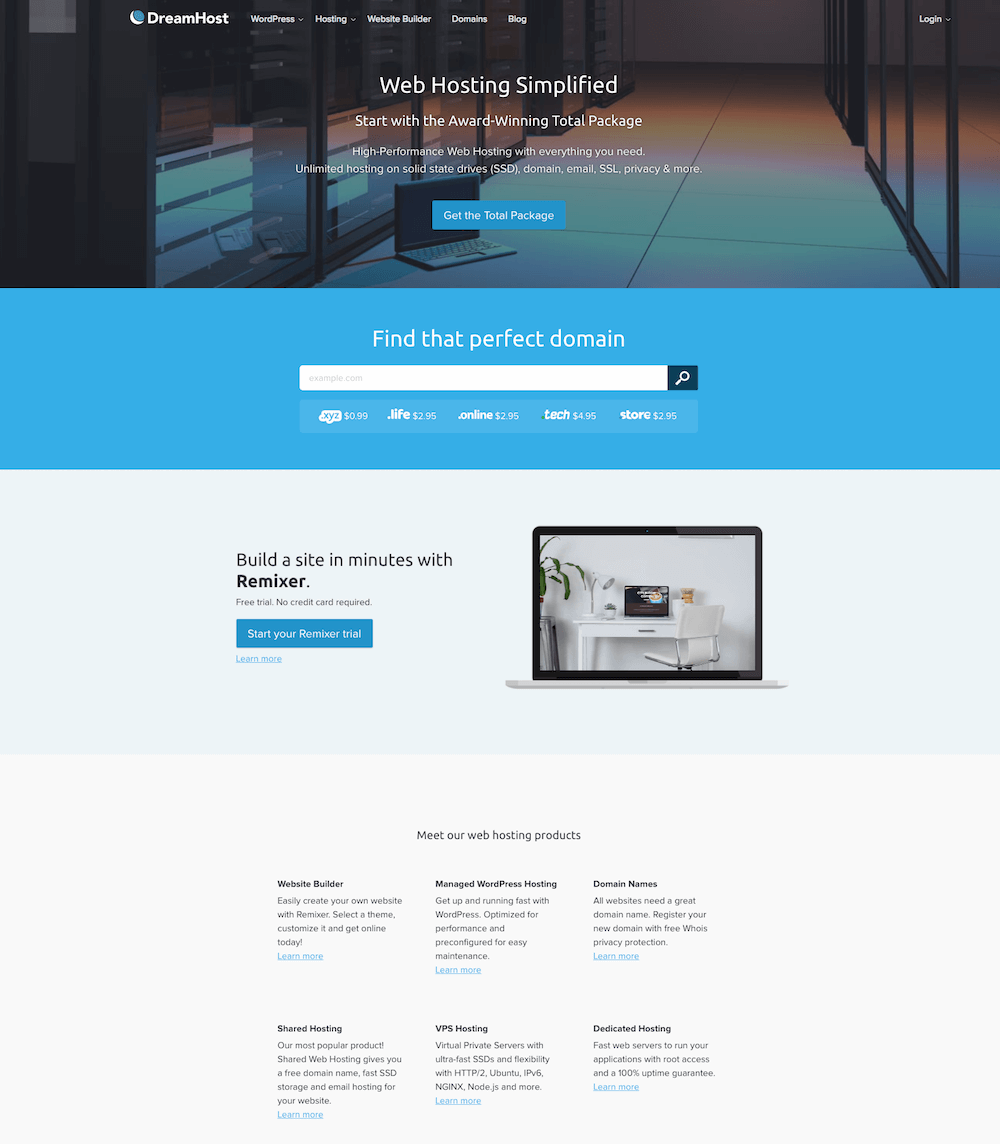 05

. InMotion
If Bluehost was to be used for personal sites and blogs, InMotion caters to the needs of businesses. It has received an A+ rating from BBB (Better Business Bureau) and has been in the business for 17 years now.
InMotion claims to be number one when it comes to website transfers. As compared to Siteground, it fails to provide the best uptime commitment but it still manages to provide a 99.97% commitment.
InMotion has dedicated its services to WordPress hosting, VPS hosting, Shared Hosting, and Dedicated servers. The support center facilities are top-notch and do not fail to amaze us every time.
Top Features:
The best feature of InMotion is the money-back guarantee option. You have 90 days to ask for a refund for your web hosting. No other web hosting platform provides so many days of satisfaction. 
Pricing – WordPress hosting starts at $6.99/month and Shared hosting starts at $6.39/month.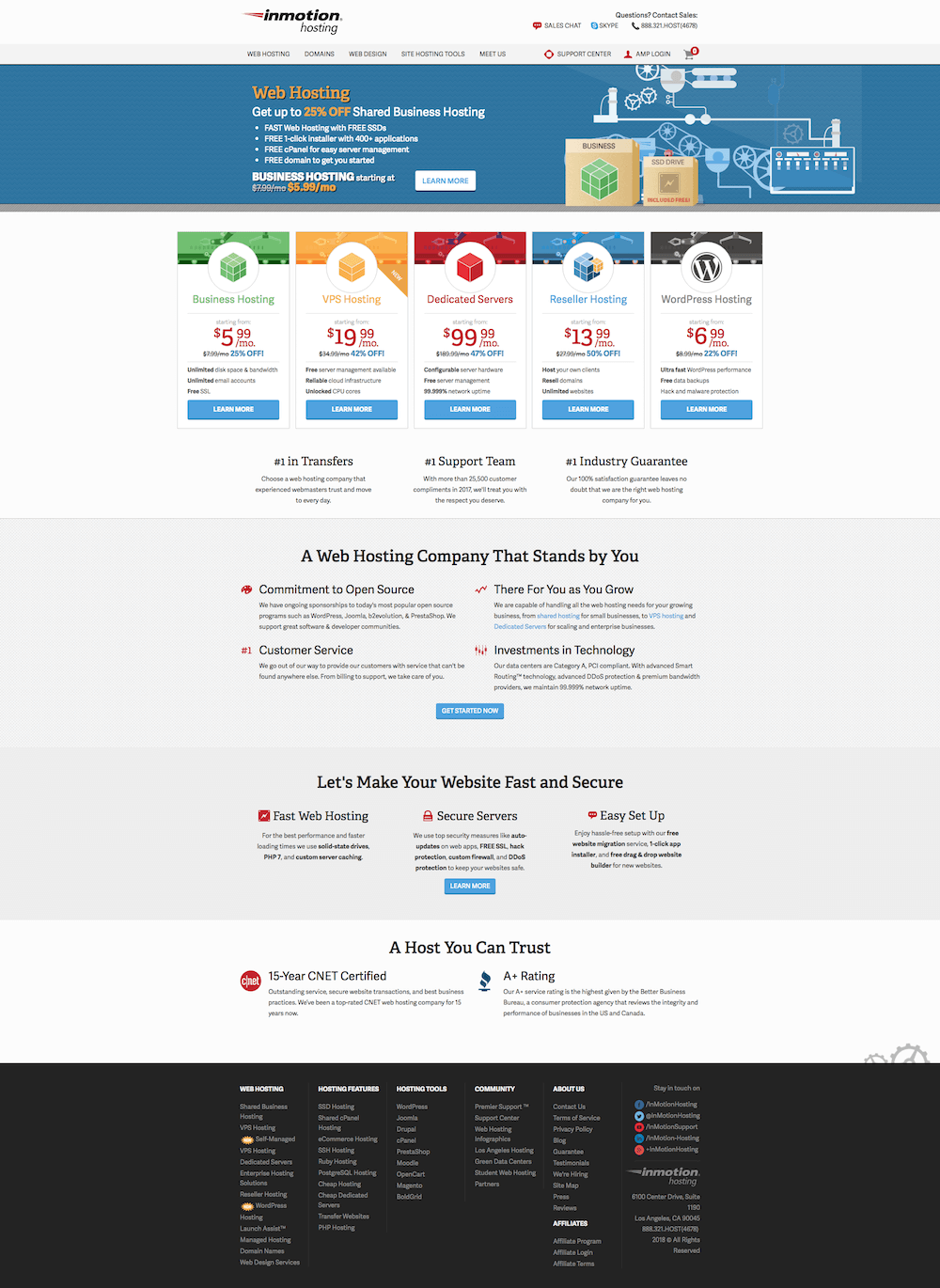 06

. WP Engine
Known for its WordPress hosting, WP Engine has gained the trust of more than 120,000 people across 140+ countries. Claiming to be the best WordPress hosting, it caters to providing you with unparalleled speed and security.
Unlike any other Bluehost alternative, WP Engine is all about WordPress. Since WordPress powers more than 32% of all the websites available, it becomes important to utilize one of the best hosting platforms.
It has divided its solution in terms of agency, enterprises, and small businesses. The services are divided into categories such as startup, growth, scale, and premium. 
Top Features:
If you are looking for a hosting platform specifically for your WordPress website, WP Engine might be an ideal solution for you. On top of the listed features, you'll get WordPress themes and the genesis framework.
Pricing – The startup pack will cost $25/month, while the premium will cost $368/month.
Don't miss the special offer for BeginDot users, get 20%, 4 months free. Here is WPEngine coupon.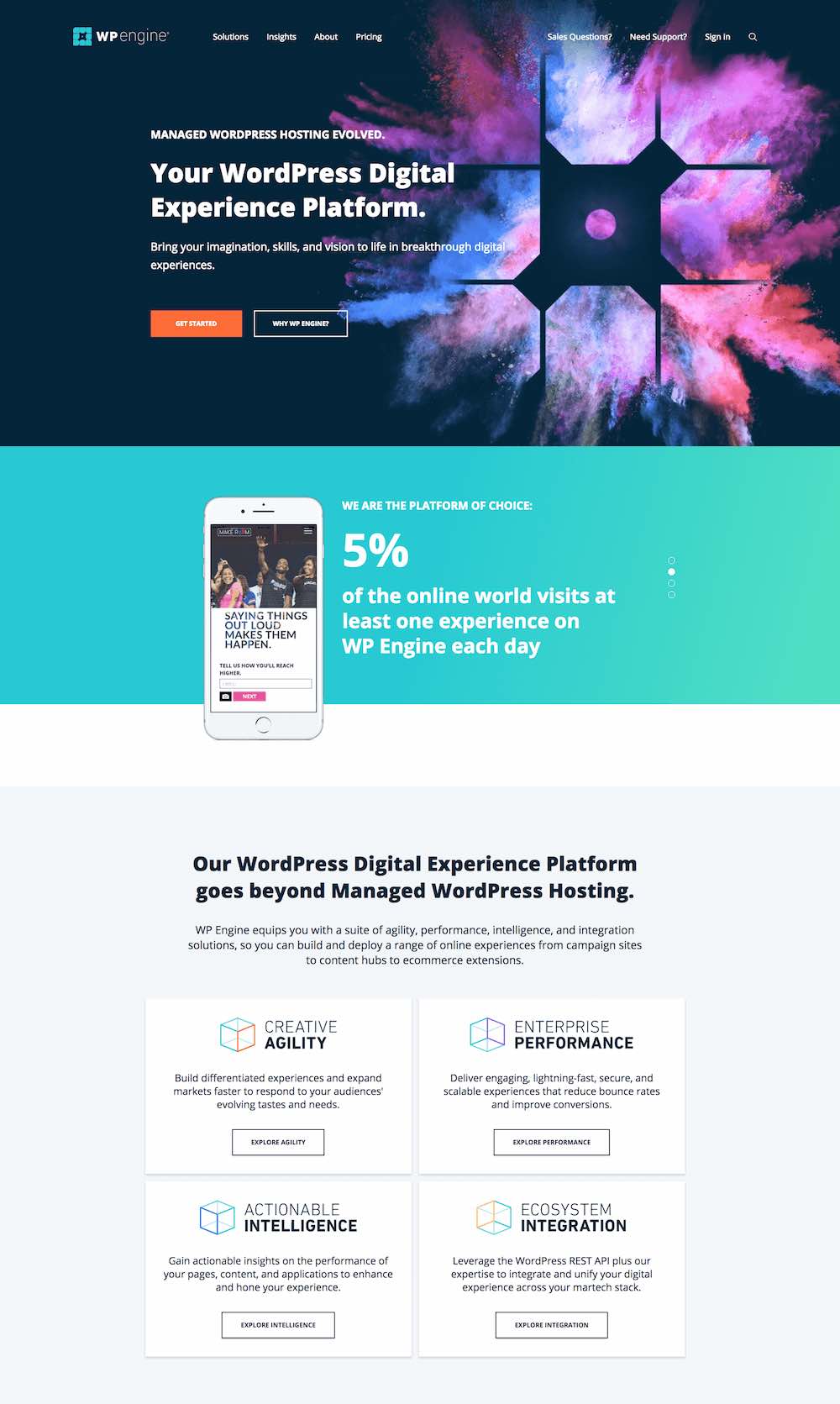 07

. FastComet
We are going to end our search for the best Bluehost alternative with FastComet. FastComet is relatively new in the web hosting platform as it was established in 2013 but since then it has been making a noise for itself.
As far as reliability is concerned, as per the reviews, FastComet has received 9.7 ratings out of 10. The uptime commitment given by FastComet is 99.9%. Just like other Bluehost alternatives, it is also packed with exceptional features. 
If we talk about services offered by this web hosting platform, you can get WordPress hosting, web hosting, cloud VPS hosting, Woo-commerce hosting, dedicated servers, and domains.
Top Features:
FastComet provides 11 data centers to choose from and therefore, you can choose the one that is closest to you. From a pricing perspective, it is probably the cheapest alternative available. Although, it lacks storage capacity.
Pricing – At this moment, you can avail of the basic plan for just $1/month, while FastCloud extra will cost $5.95.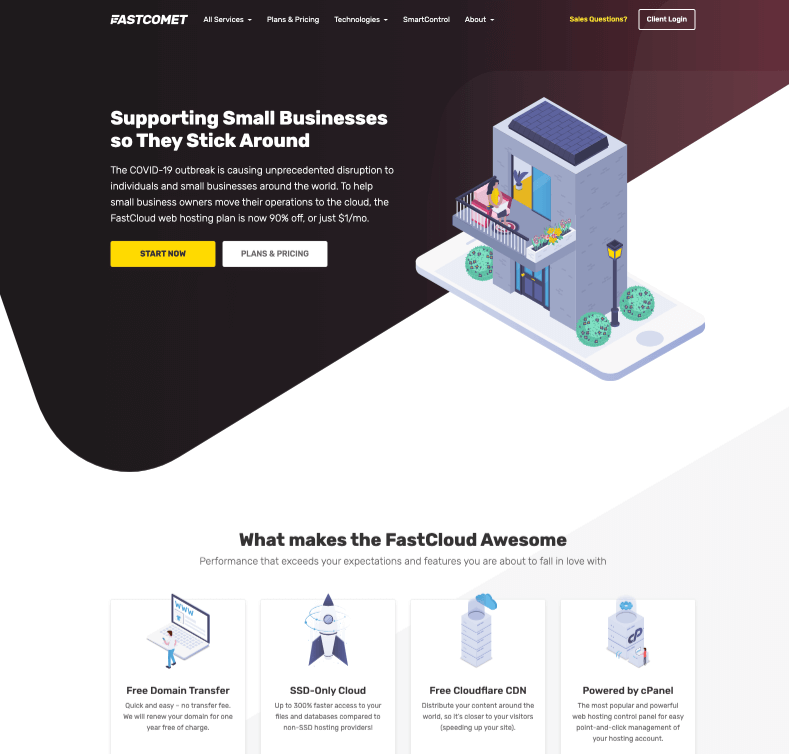 08

. GreenGeeks
If the environment concerns you a lot and you didn't think how web hosting platforms can play a role in it, GreenGeeks power their machinery using renewable energy. So, the eco-friendly nature makes it one of a kind.
The uptime commitment provided by GreenGeeks is 99.92%. While it is comparatively fast, it still lacks behind the likes of SiteGround and InMotion.
Launched in 2008, GreenGeeks provides services such as WordPress hosting, reseller hosting, and VPS Hosting. More than 300000 websites are working on their servers and are growing at a tremendous pace.
Top Features:
A web hosting platform that provides services to more than 150 countries gives you an opportunity to host unlimited websites. As far as the pricing is concerned, it won't affect your pocket that much.
Pricing – WordPress hosting starts at $2.95/month and VPS hosting will cost you $39.95/month.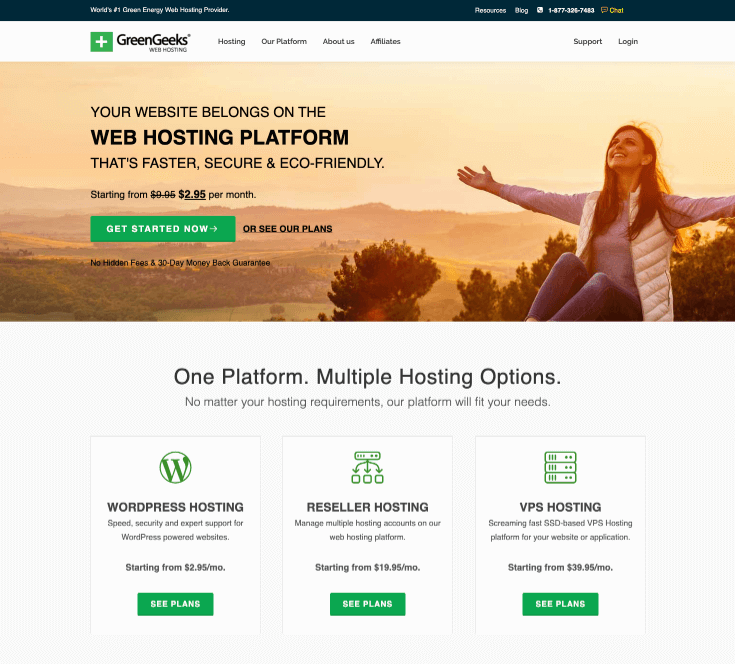 09

. TMD Hosting
Another award-winning web hosting that has been in the business for more than that will give you plenty of pull factors to consider it one of the best Bluehost alternatives.
Talking about uptime, this hosting platform has never failed to deliver less than 99.95% and has all touched a 100% mark quite a few times. Owing to its powerful servers the response time is top-notch resulting in an overall great performance.
Currently celebrating its 12th anniversary, TMD Hosting's bestseller has always been Shared hosting, while you can make use of web hosting, cloud hosting, WordPress hosting, VPS hosting, dedicated servers, and reseller hosting.
Top Features:
This hosting service platform is filled with additional free features such as application installation, template installation, application updates, and components installation. The powerful and fast servers are worth the money and the support system is pretty reliable too.
Pricing – For shared hosting, you have to pay $2.95/month, while VPS hosting will cost $19.97.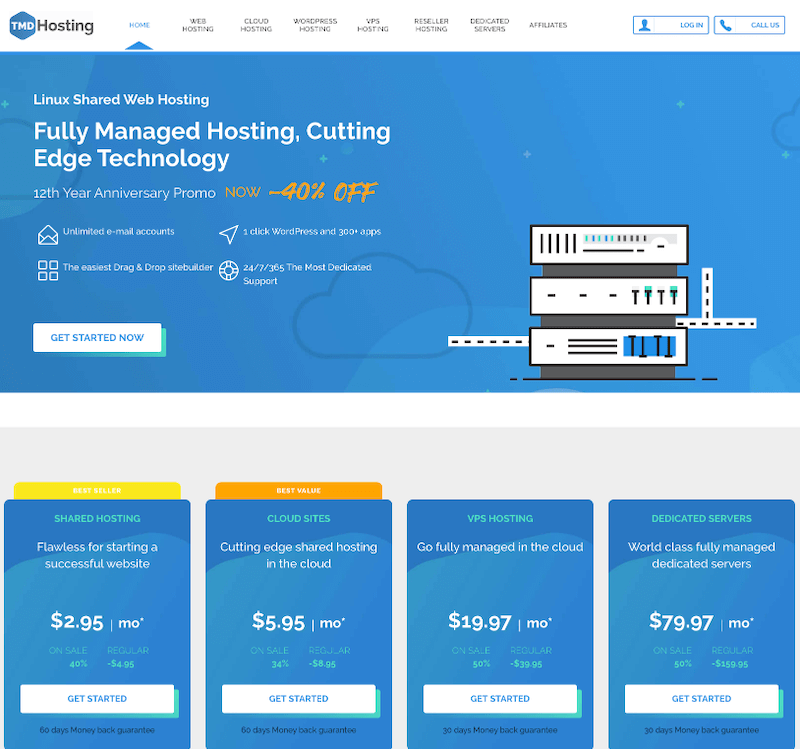 1

0

. Siteground
To sum up, Siteground proves to show a strong character against all the weaker areas shown by Bluehost. This is the primary reason why we have chosen Siteground as the first choice of all the best Bluehost Alternatives available. 
If we talk about excellent uptime, Siteground claims to provide a 99.99% uptime. A Web hosting platform that is already trusted by owners of more than 2 million domains.
Siteground is one of the most respected names in the web hosting industry and they are known for offering great customer support.
In addition to WordPress hosting, Siteground is available for web hosting for small and medium sites, Woo Commerce hosting, and cloud hosting.
Top Features:
The finest feature of Siteground is its excellent customer support system. It caters to provide top-level customer satisfaction by providing a friendly approach that is always eager to help.
Pricing – The price starts from $6.99/month
Even the basic hosting option providers managed WordPress services, 24×7 support, free SSL certificate, and daily backup.
Don't miss our SiteGround and Bluehost comparison post.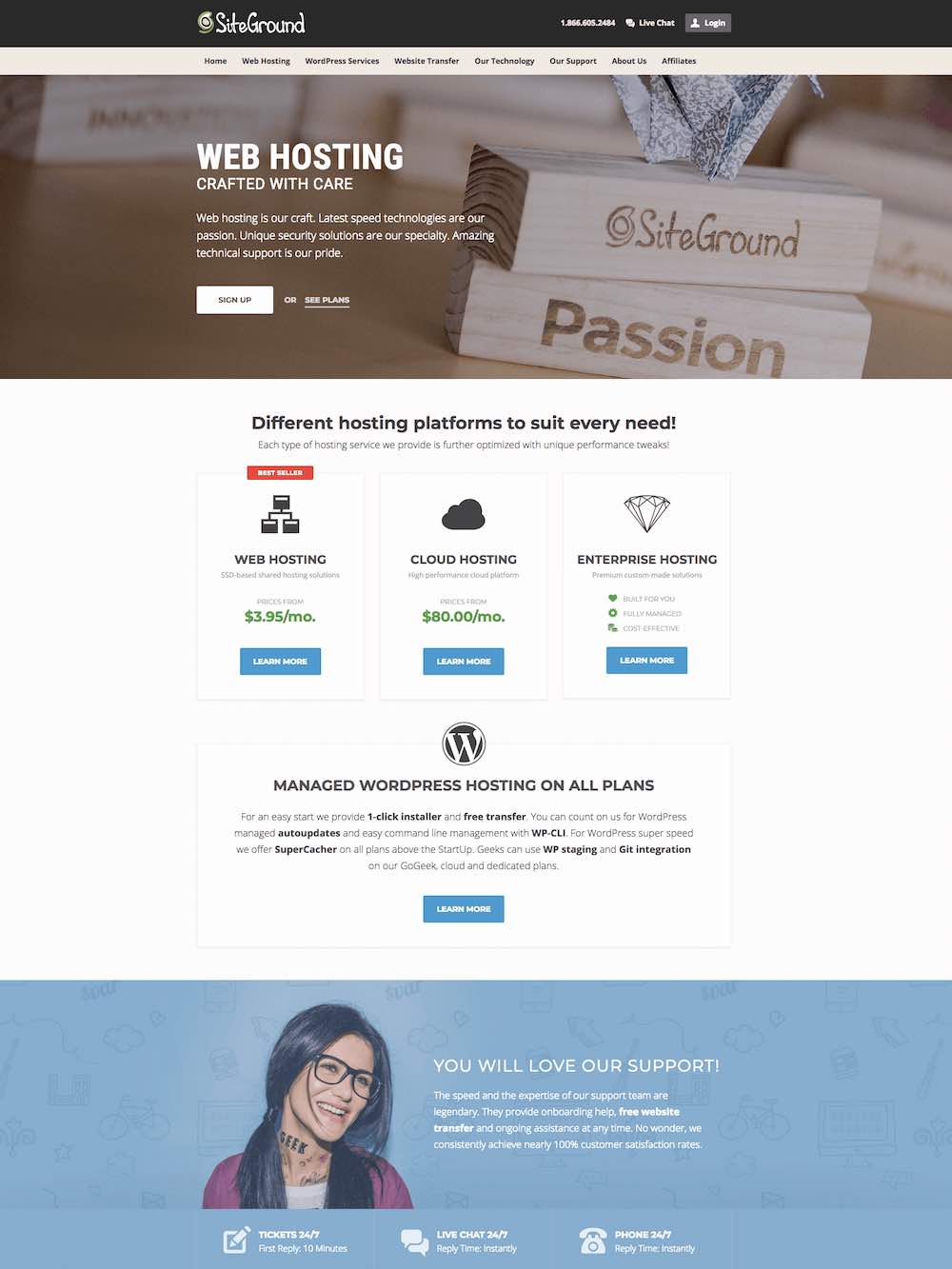 11

. GoDaddy
Chances are you have already heard this name before because of its tremendous growth and marketing tactics. It is one solution platform for all your needs. Known for its domain registration, GoDaddy has registered more than 80 million domains.
When it comes to uptime commitment, GoDaddy doesn't stand back and provides a whopping 99.97%.
As we told you earlier, it is a known name to buy a domain name but you can also avail of services such as Web hosting, WordPress hosting, VPS hosting, business hosting, reseller hosting, and dedicated servers.
Top Features:
If you are looking for a web hosting platform for your small or medium business and are not an expert in technology, GoDaddy might be an ideal Bluehost alternative for you. The simplicity and the pocket-friendly plan provided by the hosting giant are appreciable.
Pricing – WordPress and Web hosting is available for INR 99/month. For dedicated servers, you have to pay INR 8839/month.
Also, don't miss our collection of best GoDaddy alternatives.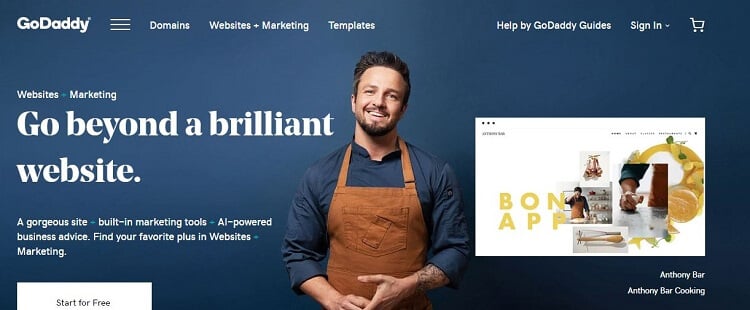 FAQs About Bluehost Alternatives
01. What Are The Best Bluehost Alternatives?
There are multiple quality Bluehost alternatives to choose from. If you are looking for the same price range as Bluehost, you can go for hosting such as Hostgator, Hostinger, A2 Hosting, etc.
02. Which Hosting Provider Offers Free Domain Like Bluehost?
If you are looking for a hosting provider that offers a free domain, you can go for Hostgator or Hostinger which offers free domain names for yearly paid plans.
03. Does Bluehost Alternatives Offer Automated WordPress Installations?
Yes, most of the Bluehost alternatives mentioned in this article come with a 1-Click WordPress installation feature to make things easier for the users.
04. Are These Bluehost Alternatives good for WordPress Sites?
Yes, all these Bluehost alternatives are optimized for WordPress sites. You get custom features and tools to create a fully optimized, fast loading site using WordPress CMS
Conclusion
We are done with the best Bluehost Alternatives. Some of these alternatives provide the best value for money, while some are known for their powerful servers and additional features.
All of these alternatives provide customer support because every person does not have the technical background to understand the depth of their work. Some of them provide unlimited storage, while others offer limited capacity.
On top of that, given the privacy issues today's digital world is dealing with, these alternatives will make sure your website gets top-notch security.
We hope that you'll find your perfect match for hosting services.