Useful Apps That Help to Improve the Design of Your Website
As you know that the competition in the digital world is increasing day by day. And if you want to make your website or blog successful, then it is very important to make it look professional and attractive.
So if you are planning to create a blog, then the article is very beneficial for you.
In this article, you will get to know about the apps and secrets that can help create a unique design for your blog. So if this sounds compelling, then stick to this article.
01. WordPress
One of the main things that you have to do to make a unique website is choosing a blogging platform. However, there are many options available but the majority of the people use WordPress because it has numerous benefits.
The best thing about WordPress is that it is very easy to use. It doesn't matter whether you are a beginner or pro, anyone can use it without having a lot of technical knowledge.
Though if you don't have any experience, here are some steps you have to follow:
02. WordPress Themes & Plugins
Another main thing that sets WordPress apart from others is it provides themes & & Plugins. It offers different kinds of themes and you can easily choose as per your needs.
If you are creating a hobby blog, a free theme is are also a good choice to start but they also have some limitations as you won't get full control over customization.
So, if you are creating a blog as a business and you wish to make money through your blog or your website, you must use a good quality premium theme that offers you all the customization possibilities, good support, regular update.
You can have a look at themes like the Divi theme which is used by the pro bloggers and big business. This theme offers you complete control over the design and it is getting updated with new features regularly.
You can also look at website builders like Elementor. You will be able to create any kind of design using the Elementor website builder plugin.
Over 5 million WordPress users are already using the plugin including our site BeginDot. So, it need no other testimonial as the vast user base describe its success.
03. Aviary/Photoshop Editing
Photos also play an important role in making your blog more informative, that's why it is very important to have a good photo editing software to edit the photos and create your own content.
Speaking of editors, Aviary is amazing editing software that can help you do touch up in your photos, taken through the phone.
Though if you need high-end editing software, then you can go with Photoshop. It provides a lot of options and you can do anything and make your photos as you want.
04. Canva
Canva is also an amazing online photo editing tool. Basically, it is a drag and drop editing software where you can create amazing pictures and the good thing is that it provides you thousands of templates to choose from.
It also offers you millions of images and with this software, you can create your own templates very easily.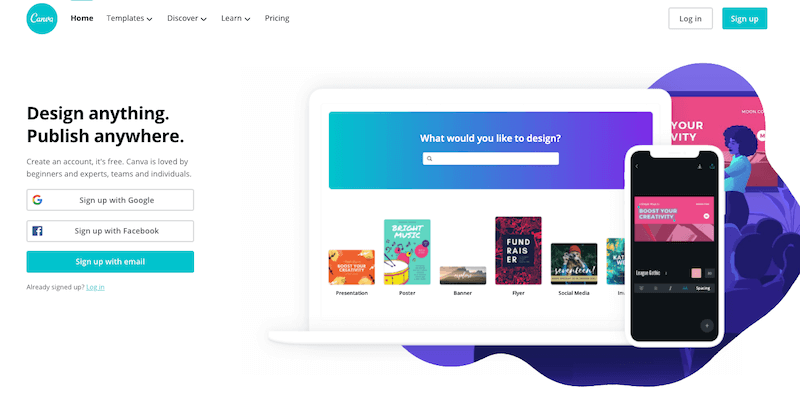 05. Google Drawings
Google Drawings is similar to Canva but it offers you a blank drawing area where you can create images of your choice.
One great thing about Google Drawing is that you can use as many components as you want. It is also integrated with Google Docs, which gives you a good advantage.
06. Piktochart
If you want to make powerful infographics for your blog, then Piktochart is one of the best options you should use.
It is very easy to use, you just have to pick a template and it will cover your chunks of information into an amazingly-designed, beautiful looking professional format.
If you have some experience in the editing field, then you can also edit the data by yourself.
07. Use Spokeo To Analyze Your Competitors
The competition is furious in the blogging industry and if you want to beat your competition, then you must have all the details of their online presence.
To do that, you can use Spokeo. It is online reverse phone lookup software that could give all the information on your competitors' social media platforms and another website.
You just have to enter the appropriate phone number and it will start processing everything.
This reverse number lookup tool is very powerful and it could also help you with phone number search, email search and a lot of other things.
Conclusion
If you want to create a professional-looking blog, then you should consider WordPress. This platform is easy to use and anyone can use it.
It also provides you with paid and free themes for your blog. Apart from this, you will also need a photo editing software, you can either go with Aviary or Photoshop. Though if you want an online editing tool, then Canva is the best option for you.
Hope this article will solve some of your queries and give you some valuable option.
Maguire Haigh is a marketing manager for Spokeo. He is interested in the latest technology trends, marketing strategies and business development.
He also prefers traveling, exploring the world and meeting new people. Maguire has great experience in creating and editing articles on different topics.