Social Warfare, a social sharing plugin for WordPress sites. It is one of the most widely used and highly recommended social plugins for WordPress.
This plugin offers you a free version as well as a pro version. However, for serious online business, I would recommend you to go for the premium version as it is some advantages that we would discuss in this article.
Good amount of social sharing is one of the major objectives for any business these days, especially if you are managing an online business it becomes even more important as social sites can bring in a good amount of traffic to your business.
Also, if you have a decent amount of social sharing, it works as a testimonial for your business that increases the trust factor among your potential customers.
So, you must make it easier for your visitors to share your content on social media sites. Make sure that the social sharing buttons are distinctly visible on your site.
Social sharing buttons above or below the post content are the most widely used placement by bloggers. However, you can always do some testing with the placement to make sure what works best for your site.
While you select your social sharing plugin, you need to look at a few factors, such as
Now, let's look at how Social Warfare is different from other social sharing plugins and how you should use it.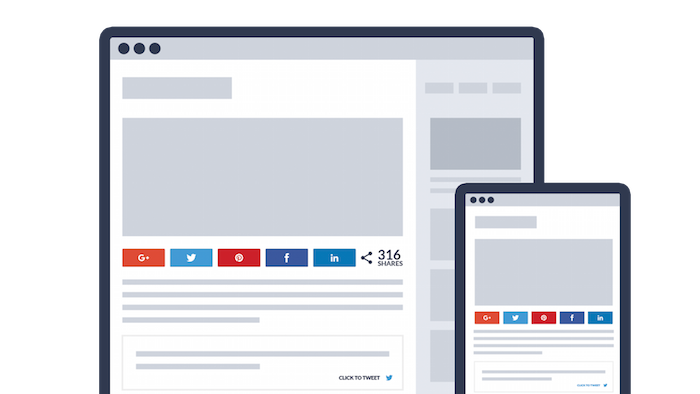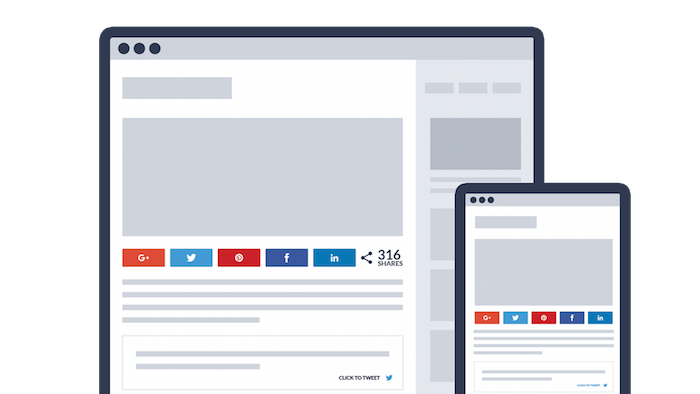 Social Warfare Plugin Overview
A quick look at some of the important features
Most of the social sharing plugin affects the loading time of your site, so make sure that you do before and after loading time testing when you add any new plugin to your site.
No matter you are using a free or a paid social plugin, it will have some effect on the loading time. I have used almost all the top-quality and popular social sharing plugins in the last few years, and some of them were extremely frustrating as they slow down the site to a huge extent.
I have used Social Warfare plugin as well, and I can assure you that it is way better than its competitor plugins regarding loading time.
Social Warfare Loading Speed: The loading speed of your site directly impacts the overall SEO of your site. If your site doesn't have a great loading time, you can't expect to rank well in the search results.
Also, the loading time is very important from the user experience point of view. If your site doesn't load within 3 seconds, you are bound to lose your traffic.
Loading speed is one of the most important objectives of the Social Warfare plugin and it will make sure the social buttons don't affect the loading time of your site.
Button Design & Placements
Social Warfare plugin offers you great looking design for the social sharing buttons that you can customize and make sure that you have the perfect design.
You have the option to simply drag and drop the buttons that you wish to show on your site and the rest will be inactive.
Though you can show all the buttons, it is not a good practice. You can show the ones that you need and you are generally active on.
You can drop the buttons that you wish to activate and arrange them as per your requirement. You can also change the button designs.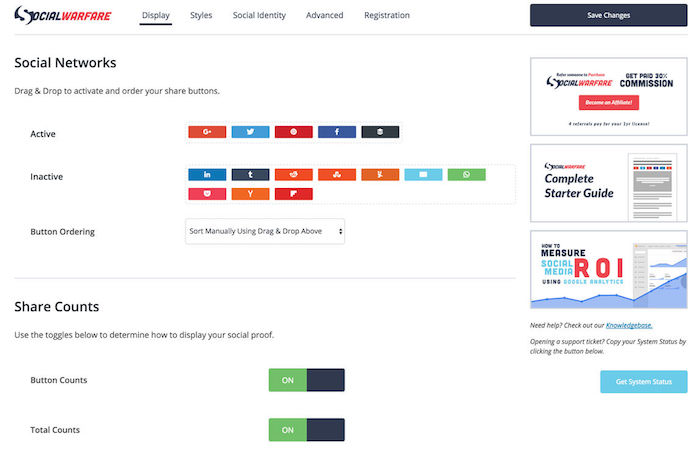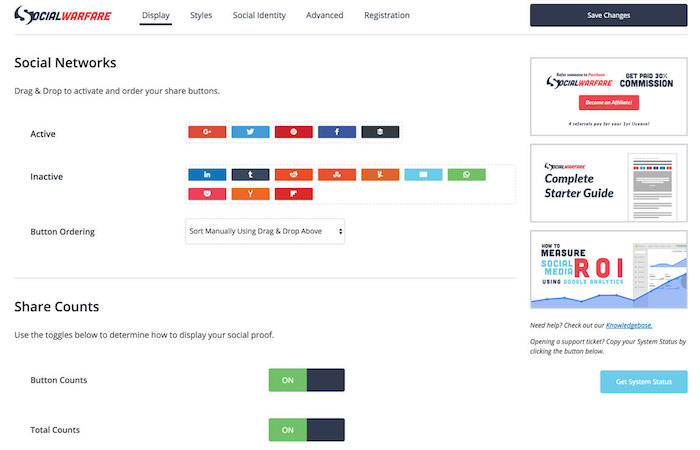 Style Settings: You have over 5000 different possible combinations to style the look and feel of the buttons. You can customize the parameters like the button shape, default color option, hover color option, and more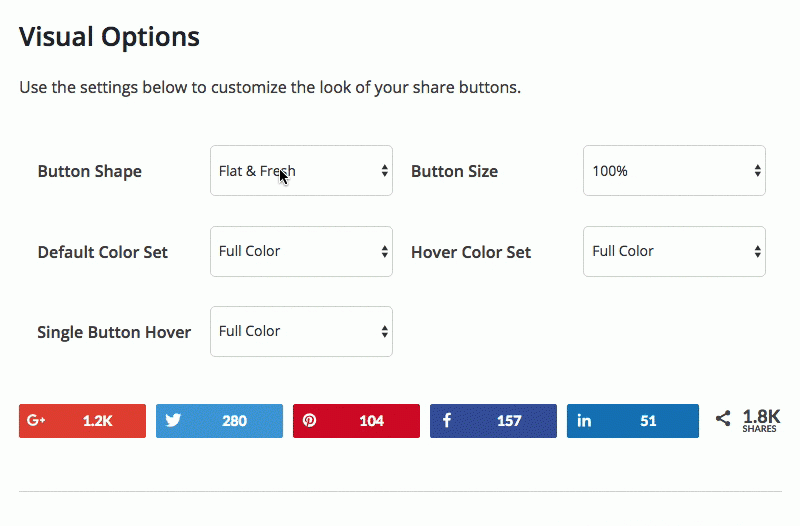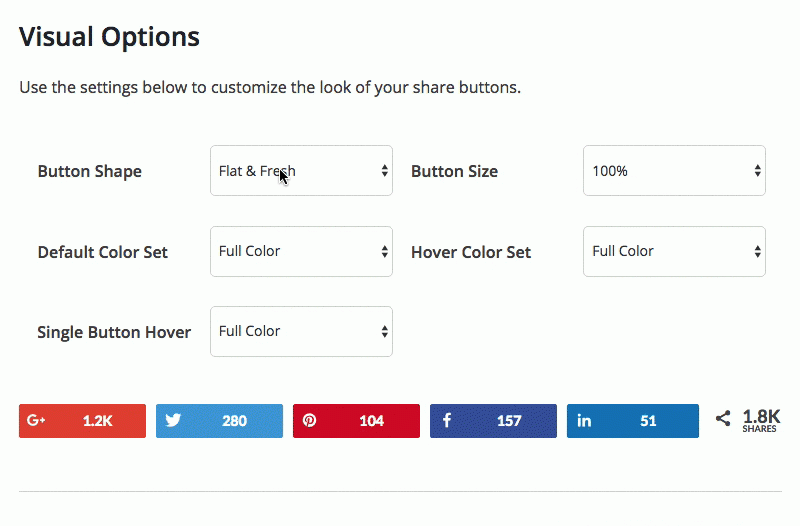 You have some different placement options to choose from. When you place your social sharing buttons the placement can be very critical that will affect the conversion to a great extent.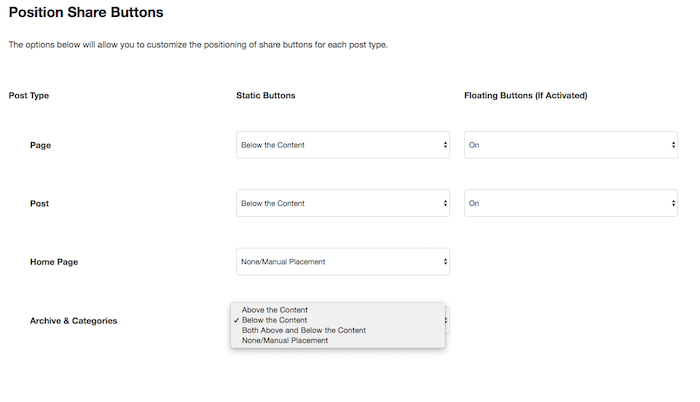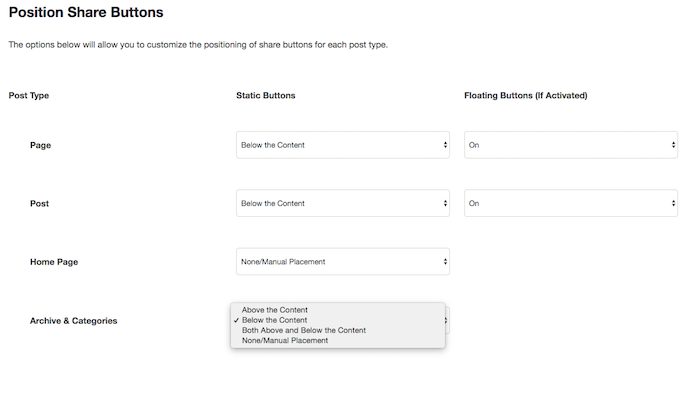 Setting Share Counts
Settings the share count is very simple, you have to go further down the settings page where you will find the option to switch on the counter option.
In the premium version of the plugin, you get the option to set up the minimum count. For example, if you set the count to 20, the system will show the counter when there are more than 20 share counts for a post.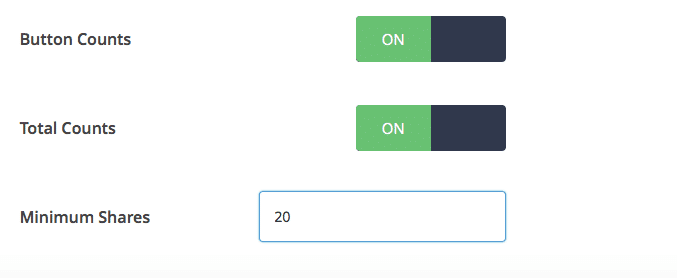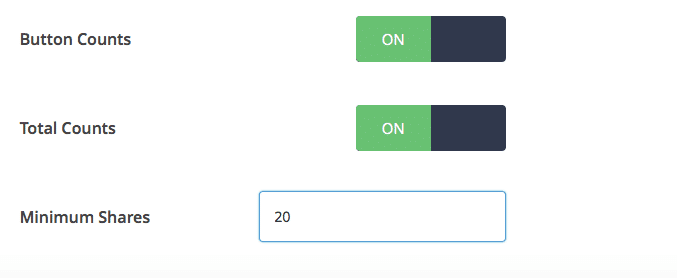 Site Identity
The plugin offers you a sitewide identity option where you can have the site default options. You can quickly add the details to your site and save them.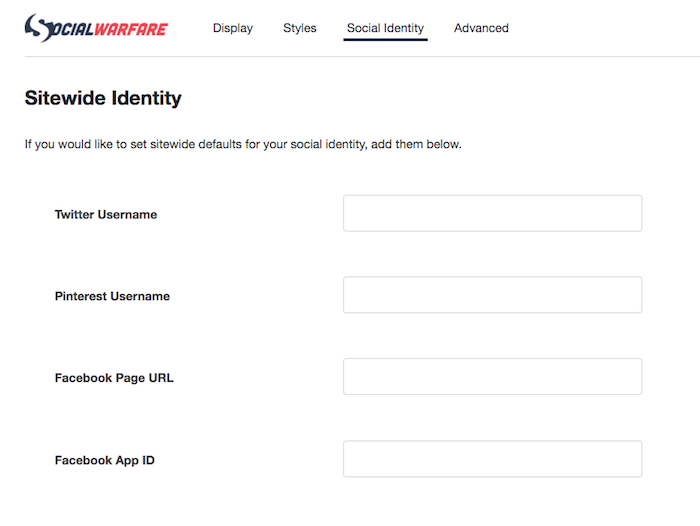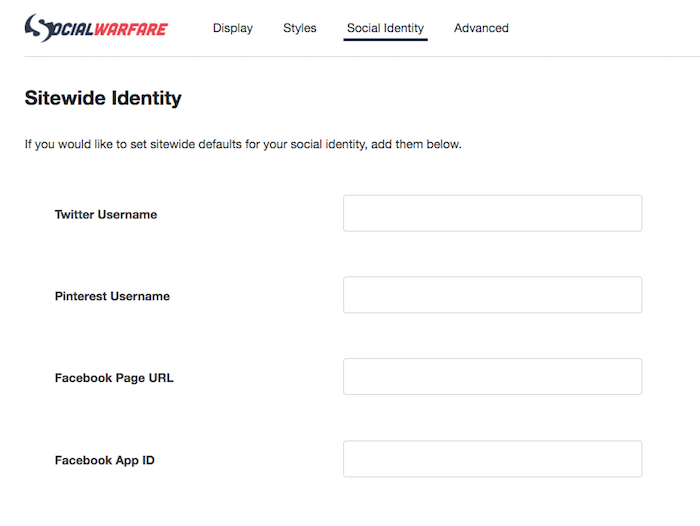 Social Warfare Post Meta Box
Social Warfare plugin gives you the option to setup post-specific options to optimize each of your posts perfectly. The plugin ads quickly editable meta boxes on your post editor page.
You can add the social description and the title of social media.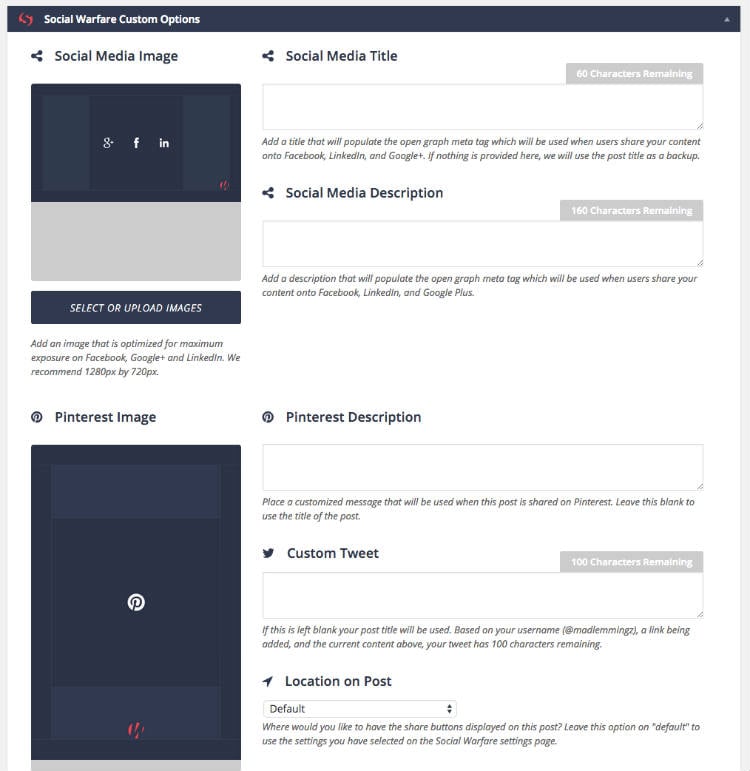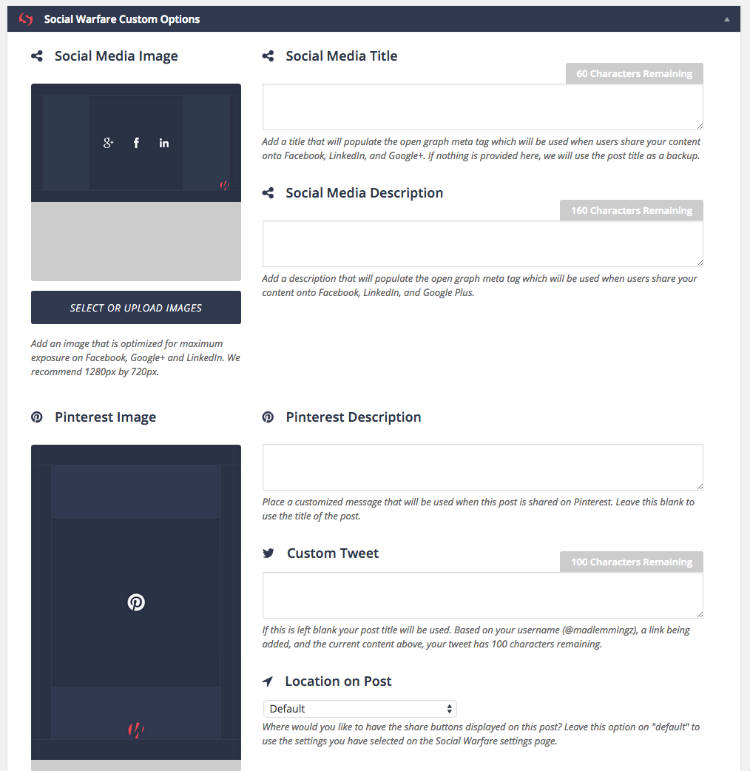 Create Custom Content To Share
The Social Warfare plugin gives you complete control over what people share. Like you see in the images below, you can completely control the content that is shared on the social platform to maximize conversion and drive traffic back to your site.
Pinterest Optimization: This is a very useful feature offered by the plugin looking at the increasing popularity of the platform, and its traffic-driving potential.
Don't miss this article about Pinterest SEO to optimize posts for Pinterest.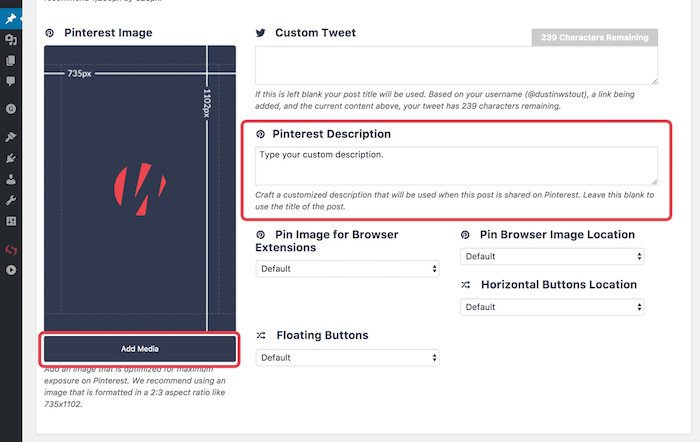 Custom Tweetable Message
Similar to Pinterest, you can set your ustom message for the Twitter platform and your users can quickly click and share your custom message so that you can drive traffic from Twitter regularly.
Here we are talking about the click to tweet cards that you see in popular blogs. With this option, you can create a ready to tweet box with your own custom text which is relevant to the post so that you are able to drive constant traffic to your site from Twitter.
Social Count Recovery
This is one of the most important features offered by the plugin. When you change the URL of your site you lose the old social share count.
These days, many sites are moving from HTTP to HTTPS because Google made it mandatory for the sites to be secure and included it as one of the most important components of the search algorithm.
So, when you change the URL structure to the secure one, you will lose all the old share count your posts had. The share count recovery feature will help you to get the old share countback.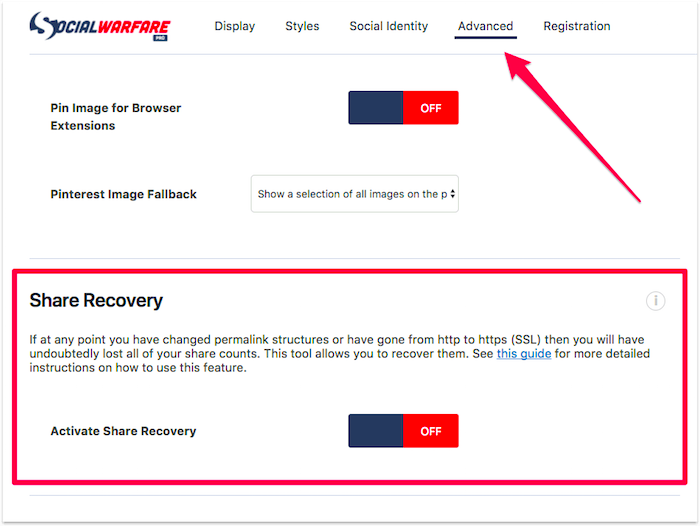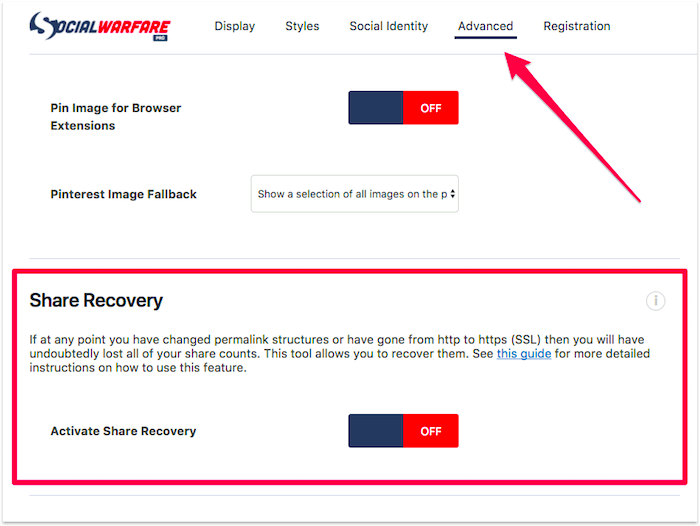 Content Protection with Frame Buster
The content protection feature is another important option offered by the plugin. This option is managed by another plugin called the frame buster which is built into the Social Warfare plugin.
This feature will help you to protect your content by nullifying the possibility of adding someone else's call-to-action on your content using any frame.
Important Features of Social Warfare
Final Word About Social Warfare
Social Warfare is undoubtedly one of the best social sharing plugin options available for WordPress. You have all the options and features that you expect in a top-quality social plugin.
With over 5000 potential styling options you will never run out of possibilities. The click to Tweet option, social count recovery are some of the top features of this plugin.
However, I would like to see better documentation with images or videos that will surely help the newbie users to get started quickly.