Octo Browser is one of the popular antidetect browsers for multi-accounting. You can create and manage multiple accounts in a hassle-free manner without facing any IP bans.
Let us now put Octo Browser under a microscope to understand its features in detail.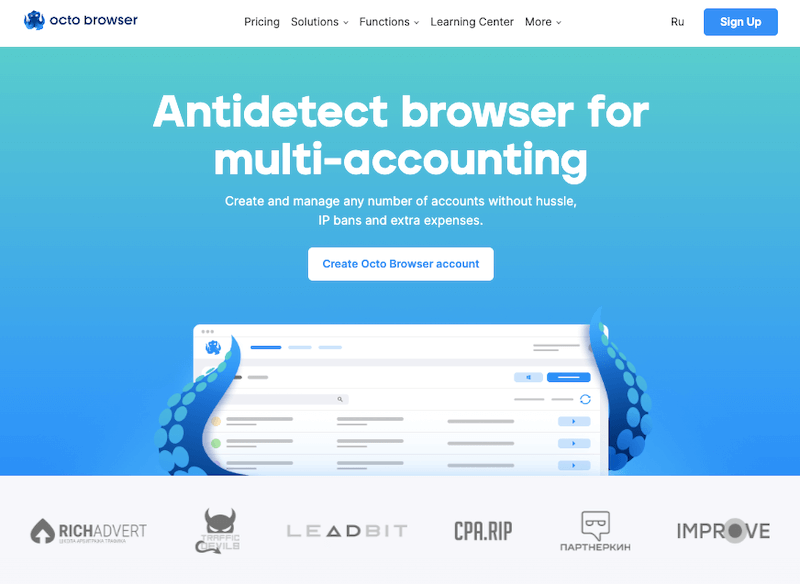 Control Thousands Of Accounts
Each profile in Octo Browser has its own unique browser fingerprint. This feature makes it possible for users to control thousands of accounts from just one device.
The browser also minimizes identification risks of multiple accounts created on it. Further, it prevents account overlapping, which helps users engage in e-commerce and affiliate marketing.
Different features of multi-accounting support of Octo Browser are:
Unlimited simultaneously running profiles
Fast profile creation
Profile cloning, export, and transfer
You can further combine different profiles in Octo Browser into groups with the help of tags. These tags are handy for quick access to different accounts.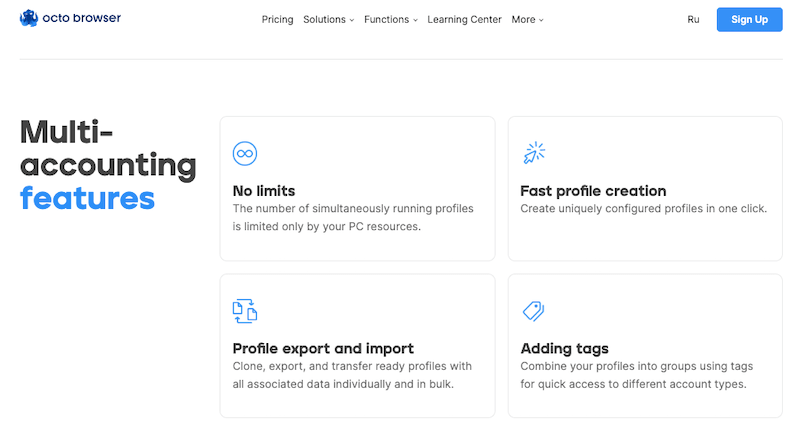 Octo Browser Use Cases
Octo Browser can empower users for many different tasks on the Internet. If you are an affiliate marketer and you need multiple ad accounts on Facebook or Google, you can easily set these up using Octo Browser without any hassle.
You can also bump the revenue of your Amazon business, eBay, AliExpress or Shopify stores using the power of Octo Browser.
Fingerprint Management
Octo Browser protects devices from extra spoofing checks with its Chromium-based browser kernel.
The fingerprint spoofing helps pass the following checkers:
Pixelscan
BrowserLeaks
Whoer
IP-API
The Chromium kernel footprint is a bullet-proof technology that empowers users to create unlimited digital fingerprints. Furthermore, it supports configuring more than 50 parameters of the browser fingerprint to provide its users flexible profile customization.
Common Workspace
With its flexible access rights and task allocation, it is easy to engage in teamwork in Octo Browser. In the shared workspace of this browser, you can control the profiles with different:
Multiple profiles present in the browser's common workspace are also safe from checkpoints and multi-accounting bans. You can also use Octo Browser to share data such as
Profiles
Cookie files
Proxies
You can use the Flexible Role Settings of Octo Browser to control the work profiles of different team members. It further provides access to profile:
Creation
Modification
Deletion
Cloning
Transferring
The activity history feature of Octo Browser helps track the profile interaction activity history, which is critical to monitoring teamwork.
Furthermore, the tag feature makes it easier for users to manage the team. Browser tags can create different profile categories, which helps in teamwork organization. Also, all the workflow can be kept private on the browser.
API Automation
You can use the API automation feature of Octo Browser to automate interactions with your profiles and accounts. The API automation also helps in the optimization of account and profile tasks.
By automating routine actions in Octo Browser, you can finally bid farewell to repetitive actions and manual tweaking.
With the current API version of Octo Browser, you can create, edit, delete, and receive profiles with the necessary:
Fingerprint settings
Proxies
Cookies
Tags
Additionally, you can use it to both start and then, if required, stop the profiles. The browser supports the following programming languages:
The hybrid work mode of the browser combines API automation and manual mode to manage tasks with specific requirements.
Creation Of Secure Profiles
You can use Octo Browser to create profiles with unique browser fingerprints. We aren't talking just about any profiles, but secure profiles that prevent your account from all kinds of detection and bans.
With just a click, it is possible to create a profile in Octo Browser with a unique browser fingerprint. Apart from creating such profiles, it is also possible to clone, export, and transfer them whenever required. The profiles are imported and exported in the .octo format.
Octo Browser also supports encrypted cloud storage, which you can use to keep all your data safe. Lastly, Octo Browser supports a powerful profile history option that users can use to track 100 last profile actions.
Support For Proxies
Octo Browser supports the following popular proxies:
The robust interface of Octo Browser connects profiles with proxies. You can use this connection to save proxies and mass-import them.
The browser supports an additional built-in proxy checker. You can use it to check the quality of the proxy connection in the browser itself. Also, the proxies that a user saves in the proxy manager are available to them for editing.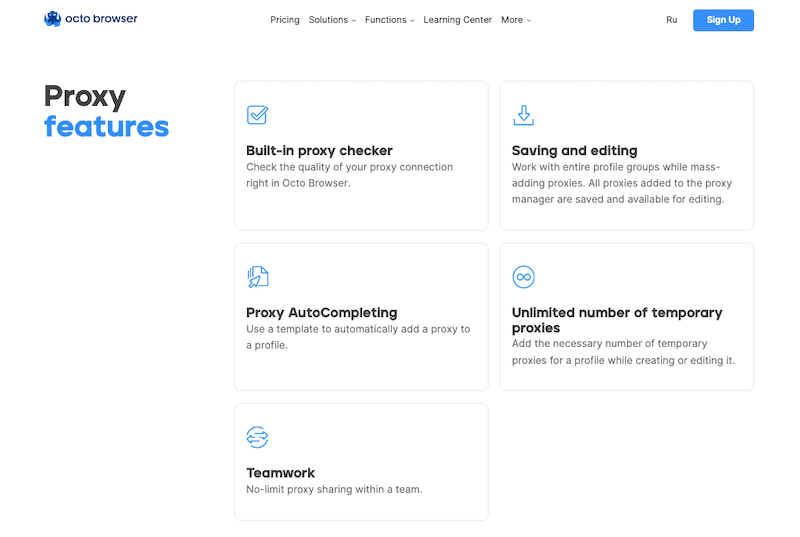 If you wish to add a proxy to a profile automatically, you can use its proxy autocompleting feature with the help of a template. Also, there is no limit on the number of temporary proxies that you can add to a profile.
Along with unlimited temporary proxies, Octo Browser also supports unlimited proxy sharing within the team.
Smart Cookies
All Octo Browser profiles come with their cookie files. Moreover, when a website checks the fingerprint of an Octo Browser's profile, the cookie files do not look suspicious to it.
The Cookie robot of the browser can automate cookie collection that enhances profile security when importing cookie files. Users can work with cookie files either in Netscape or JSON formats. Also, you can drag and drop cookie files to import and export them.
The cookie robot of Octo Browser is also useful for:
Unlimited saving of imported links
Checking link validity
Rejecting invalid links
Depending on your needs, you can switch the cookies on and off in the profile settings.
Full Control Over Your Data
Octo Browser is designed in such a way that tracking the digital footprint of its profiles is impossible. The browser not only masks the data, but also makes your profile indistinguishable from other users on the Net.
You can create as many virtual profiles in the browser as you want to stay anonymous on the web.
Pros of Octo Browser
One-click profile creation
Full control over your data
Safe web scraping
Passes common checkers
Access to API
Cons of Octo Browser
Detailed set-up can be time-consuming
Some features require reading manuals to use
Octo Browser Review Summary
Octo Browser is currently one of the best browsers available on the market that guarantees anonymity. Furthermore, there are no restrictions on the number of simultaneous profiles you can run on it.
It is available for Intel, Windows, and Apple Silicon Macs and runs on almost all devices. The browser is extremely helpful to users who do affiliate marketing, e-commerce, and data scraping.
Comparing Octo Browser and its alternative GoLogin Browser, both of these apps are leaders in detection protection and multiple account management.
A trial version and various pricing options are offered to suit different user needs. GoLogin, on the other hand, is often noted in reviews for its affordability and ease of use.
Ultimately, the choice between Octo Browser and GoLogin depends on the user's specific requirements and budget.