Have you ever tested an LMS for yourself, or are you still trying to figure out how creatively an LMS works, what its benefits are, and why you should even consider switching to an LMS platform?
A learning management system must offer users a comprehensive, integrated learning and monitoring experience.
Let's look at some of the most ingenious ways and advantages of adopting a modern LMS that you won't find in any other system, such as memberships, sessions, or subscription-based learning.
Here are four ingenious ways to help you get LMS integrations up and running at their full potential.
4 Clever Ways Of Using An LMS
1. LMS Integration With CRM
Your training software must feed data into CRM about the type of training that your customers have obtained. By centralizing and connecting this data, you will discover previously unknown connections between customer activities and results in your business.
This integration can address your customer training issues and assist you in engaging all of your customer training efficiently.
The integration of CRM with LMS is not about sales automation and enablement. It is about connecting with customers directly before, during, and after a sale to enable product onboarding, continuous engagement, feature adoption, and overall customer success.
2. LMS Integration With ERP
An LMS-ERP integration enables a firm or institution to consolidate its information into an integrated development tool and database.
You can ensure that employees in specific job roles (or carrying out certain work duties) get the necessary training by integrating your LMS with your ERP. You can ensure that your employees receive the proper training by effectively managing the training procedures.
Additionally, with LMS-ERP integration, your personnel have the option to take courses and assessments whenever and wherever they choose, as opposed to the time constraints of traditional training courses.
The ERP software as a SaaS solution can be highly beneficial to both the consumer and the manager and provide various modules for corporate training.
3. LMS Integration With eCommerce
Buying eLearning services directly from the LMS saves time and is more secure than using a third-party payment portal. Users can complete all their transactions through an LMS and eCommerce integration, from registration to payment.
They get a more seamless browsing experience because they don't have to shift between platforms, which helps increase your sales.
eCommerce integration also improves your site's marketability. The eCommerce platform displays and organizes products in an appealing manner.
Consequently, managing all the training programs and learning materials becomes much more straightforward.
4. LMS Integration With Video Conferencing Tools
Your LMS, when integrated with video conferencing, will take your eLearning initiatives to a higher level because it can help you conduct engaging training sessions with one-on-one meetups, group discussions, animated video conferences, social meetings, and much more.
An LMS with video conferencing integration can provide your users with the most interactive tool for any online learning process, allowing them to attend meetings, course sessions, or other events from any device possible. The mobile learning abilities further provide a broad and enhanced learning experience.
Now that we're aware of the significant ways of utilizing an LMS, let's dive deeper into the benefits of flexibility in a learning management system.
Benefits Of Flexibility In An LMS
One of the main benefits of an online system is flexibility, which is just one of many things to consider when choosing an LMS.
An LMS is a framework for developing courses, distributing material, and measuring learners' progress. A versatile learning management system can be utilized for far more than just a typical online learning program.
There are many benefits that a flexible LMS can provide. Let us go through some of them in detail.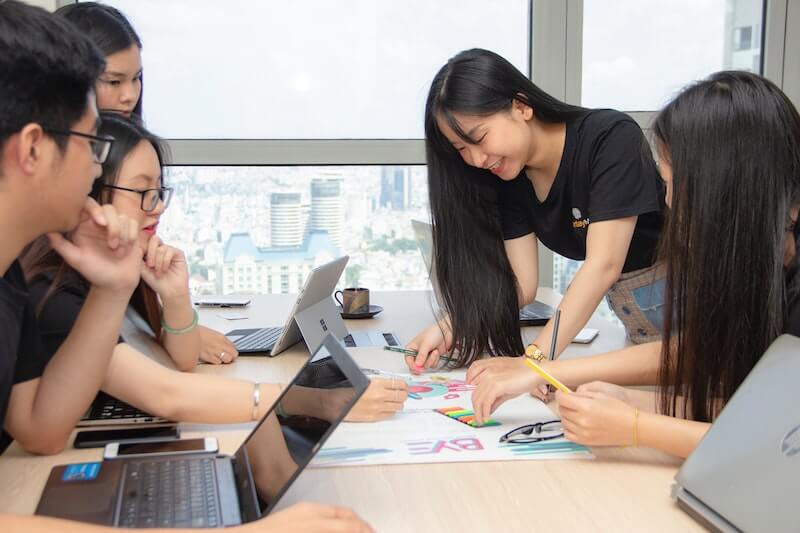 1. Adaptive And Personalized Learning Experience
Modern LMSs provide a personalized learning experience. It means that users can return to any course concept as often as they like without requiring an instructor.
Unlike online courses or physical training, where each receives equal attention, LMSs ensure that people receive appropriate attention based on their learning ability. This way, a slow learner retains just as much knowledge about a subject as a quick learner.
A modern LMS provides an adaptable learning experience based on the user's level of capability. This means that, in addition to allowing learners to learn at their own pace, the course material changes and modifies based on user progression.
As a result, a quick learner may see fewer topics in a given program than a slow learner. Learning paths and blended learning are two additional ideas that go beyond the traditional course-based learning model and concentrate on achieving objectives that are not constrained by a particular course or set of activities.
2. Meetings And Events
Virtual events are not going away. An LMS can be used not just to hold an event but also to swiftly convert the event into an on-demand video recording that attendees can watch afterward.
Non-attendees could even be charged a modest fee to watch what they missed. This approach is not limited to large conferences and events.
An LMS could also aid in organizing recurring committee and board sessions, and having a platform where you can host and store information relating to that committee can assist in keeping everything organized and provide the group with a home base for all of their work.
How An LMS Can Improve The Learning Process
Learning management systems function by providing learners with an online learning environment in which they may access course materials, interact with their instructors, talk with other learners, and assess their progress. Additionally, learner-tracking tools are available in most LMSs.
These are critical because they allow administrative staff members and instructors to track learners' progress closely.
A learning management system's data collection and presentation make a significant difference in instruction quality because instructors can see which learners need extra help, which learners will benefit from complex learning materials, and which learners need to be revisited before the end of the online learning program.
Conclusion
Modern LMSs employ responsive technology to improve and expand the boundaries of eLearning. LMS helps provide a great learning experience to your employees or customers.
Although some software allows instant messaging during courses, it is best to save all exchanges via email so learners can access them later if necessary.
Also, remember to choose an LMS application that allows learners to access your courses from any device with an internet connection.