TinyPng is one of the best image optimization tools. It is a simple online tool that you can use to optimize PNG and JPEG images before you upload them to your site.
I have been using this tool for years for my blog images. I make sure to optimize the images using TinyPNG before I upload them to my blog.
This process takes extra few seconds but it is worth looking at how much server space it can save over time. Also, TinyPNG retains the quality of the image when you optimize it.
Have a look at this image we optimized an using the TinyPNG tool that reduced the 58KB image to 29KB. This is quite effective when you have an even bigger size (over 100 KB or more).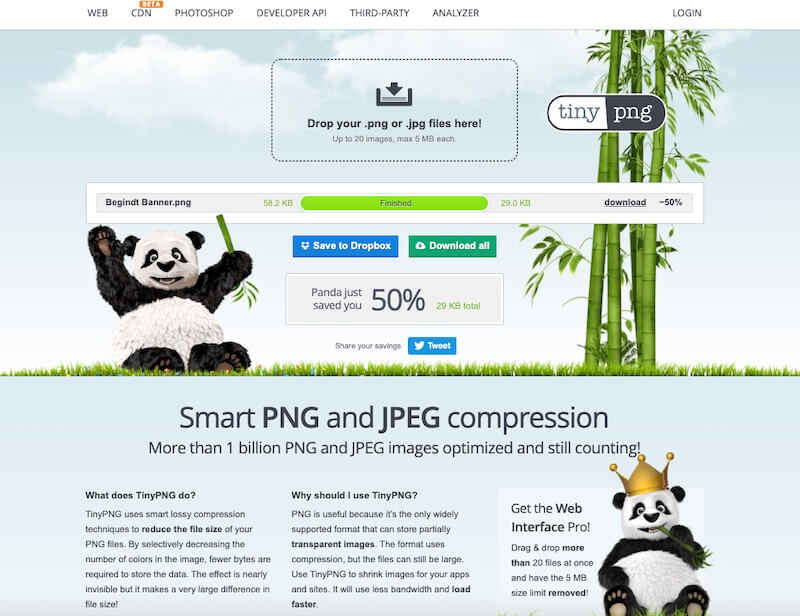 Why You May Need a TinyPNG Alternative
While TinyPNG is a great tool, there could be many reasons why a user might look for an alternative.
It could be just trying another option or the limitation in the free plan that TinyPNG has. You can't upload an image of size over 5MB in TinyPNG, so for bigger images, you will need to use another tool to optimize it.
Also, the TinyPNG tool only supports two formats – PNG and JPEG.
Images are the soul of any webpage but you need to be careful with their use. On the one hand, relevant images capture the attention of the buyers and enrich the user's experience. While, on the other hand, images with huge sizes and dimensions may impact the loading speed of your website. 
Your search for the best TinyPNG alternatives comes to an end here as we bring you the best alternatives that are capable of giving you some serious competition to TinyPNG.
Let's jump right in!
Offering the best-in-class algorithms for ultra-fast image optimization and compression, Kraken.io is our choice for the best TinyPNG alternative.
How well is Kraken.io performing? You can get a rough idea of the amazing client list that the tool has, including Tesla, KIA, Microsoft, and Dell.
The free and paid plans for this image optimization tool have some of the advanced features, including optimized image sets for all your target devices.
Best Features:
Kraken.io always facilitates the lowest size possible.
It allows you to optimize bulk quantities of JPEG, PNG, and animated GIF files through simple import from Dropbox or Google Drive.
It enables you to download all the compressed files in .zip file format.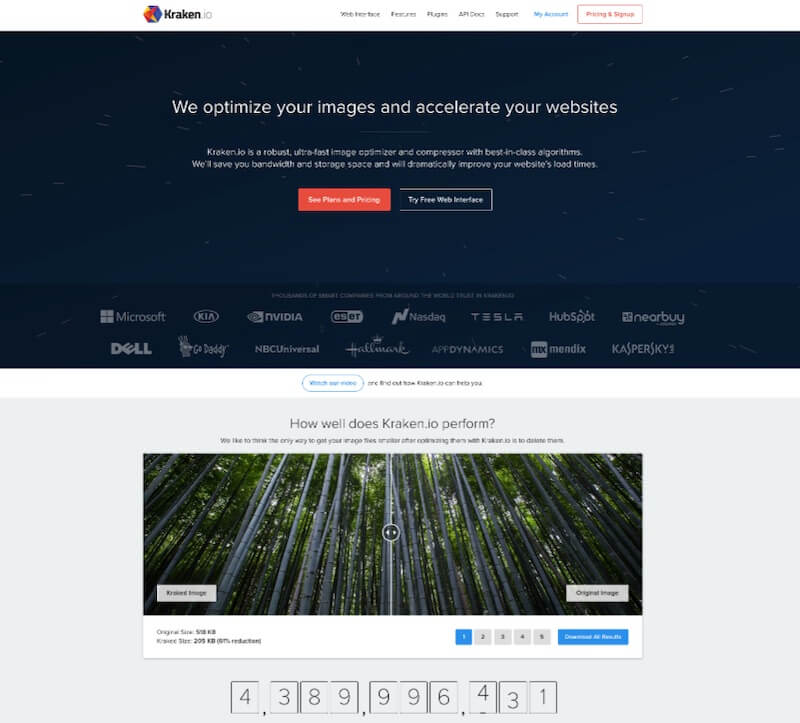 ---
Another great TinyPNG alternative is TinyImage, a free online image compressor that's creating waves for its super-fast compression and pixel-perfect quality.
Compared to TinyPNG, TinyImage supports more file formats. It works well with PNG, JPG, and JPEG files.
Also, TinyImage is free for up to five files of 5KB each. You can simply drag and drop files into the browser-based tool and compress them in one go with the click of a button.
Currently, they offer a free plan only, but you can email them for bulk compression requirements.
Best Features:
It's an online tool that requires no installation.
It retains image quality, even after repeated compressions.
It displays before and after versions of the file sizes post-compression and also shows the total space saved.
---
Optimizilla is an online image optimizer that uses its algorithm to produce the highest quality images along with the minimum size possible.
With a simple drag-and-drop feature, you can compress both JPEG and PNG files. Similar to TinyPNG when it comes to providing image formats.
Moreover, it allows you to not only upload the files in bulk but also download the files in bulk. As a consequence, you no longer have to customize each image one by one.
Best Features:
The maximum capacity to upload files for optimization is 20 images.
It provides a slider for controlling the compression level and gestures to compare images.
It facilitates uploading of only two formats i.e. PNG and JPEG.
You're allowed to download the file either one by one or through a .zip file.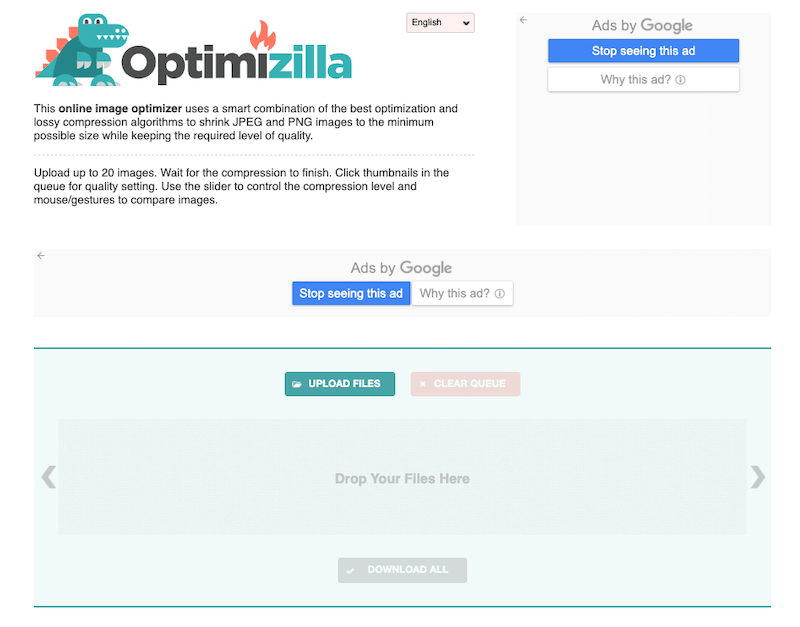 You can use Compressnow to optimize images in 4 different formats to help your site load faster and save bandwidth.
The online image optimizer helps you to upload and import images in bulk. The simple three-step process makes it easy to drag and drop.
In addition, you have the freedom to decide on the level of compression of the image.
Best Features:
You are allowed to select up to 10 images for optimization.
The images can be compressed in 4 formats – JPG, JPEG, GIF, and PNG.
Compressnow stores the images for not more than 30 minutes.
The tool applies the same compression level for all the images (if you're uploading in bulk)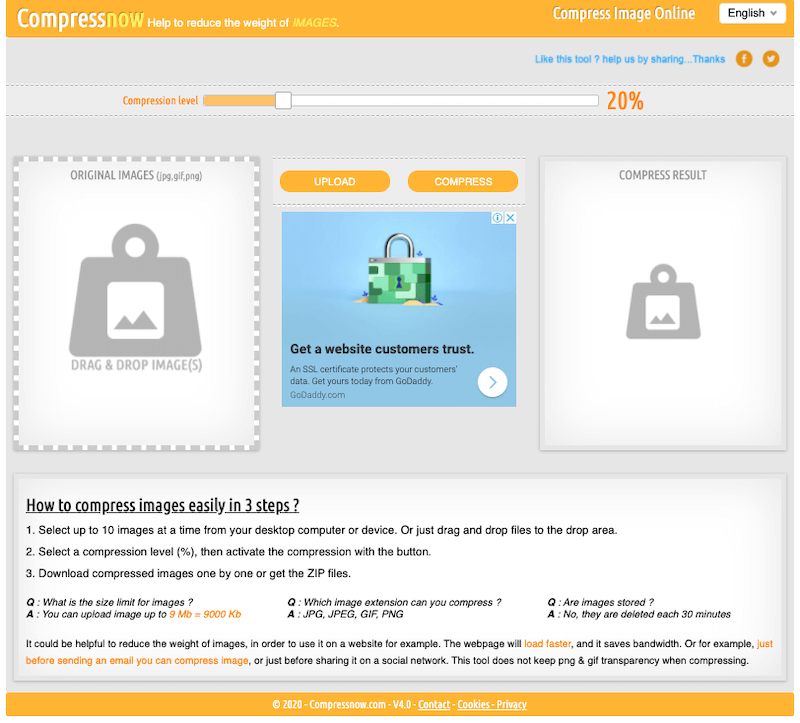 JPEG Optimizer is among the simplest and most reliable tools for image compression and optimization. In fact, it's absolutely safe.
The fact that you can re-size your picture before optimizing it using this method will further reduce the loading time of your site.
The only big downside of this basic method is that it only applies to JPEG files.
Best Features:
It provides the right balance between desired image quality and compression.
For professional users, it allows you to set your own optimization level.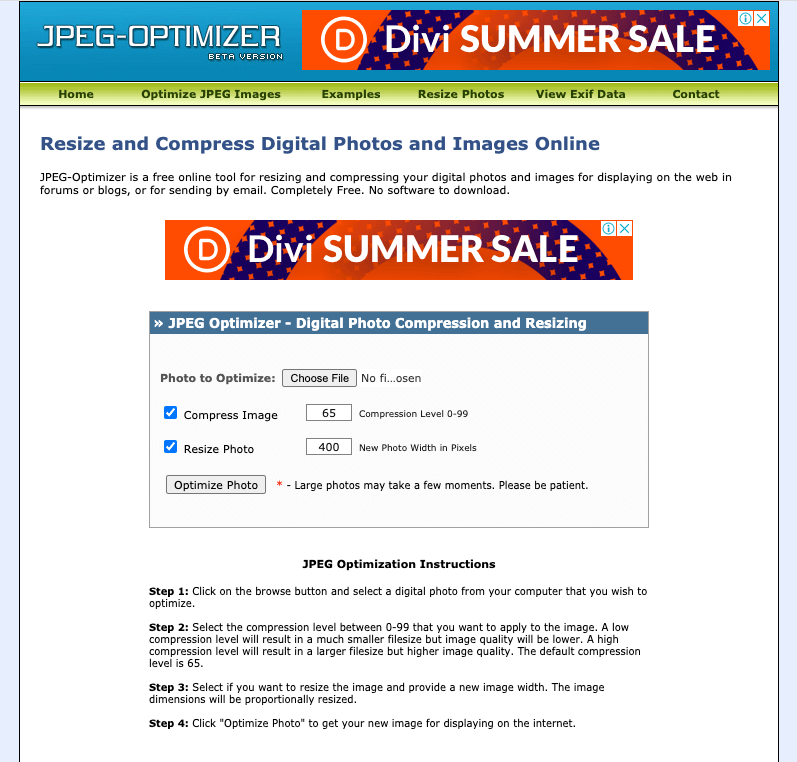 This free tool is more than just an image optimizer. Resize Photos not only allows you to compress the image in a range of formats but also applies some special effects to it.
It's a free online resource that helps you to edit your photos in just two simple steps.
The only real drawback of this tool is that it doesn't give you a bulk upload option.
Best Features:
The valid formats for image optimization are JPG, PNG, GIF, BMP, and PSD.
You're allowed to adjust the quality of the image with the help of a scroller.
It permits you to apply image effects such as captions, borders, shadows, and rounded corners.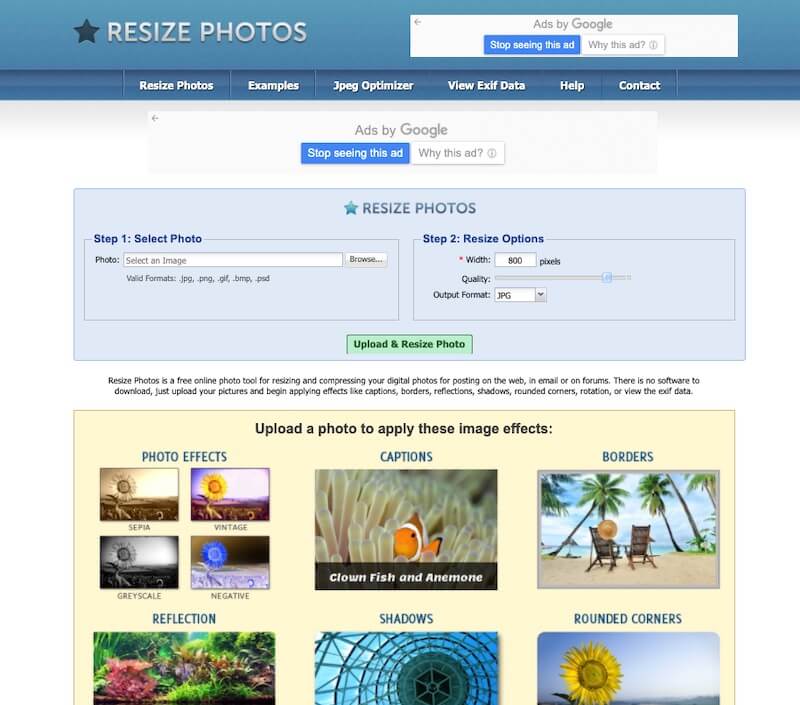 Gumlet is another very handy TinyPNG alternative that you can use to optimize media on your site. This software can optimize your images and videos upto 65% making your site a lot lighter so that it loads quickly.
This software is easy and quick to integrate and it will automatically optimize your images, compress them and convert them to WebP / AVIF to make your site super fast.
Gumlet is a freemium product. The free plan gives you the option to optimize one site and you get 1GB bandwidth per month. If you need more resources, you can upgrade to a premium plan.
Best Features:
Easy to get started, no coding required
It will optimize your images and videos by 65%
Autometially compress and convert your omages to WebP / AVIF
Accelerated delivery with 200+ PoPs for low latency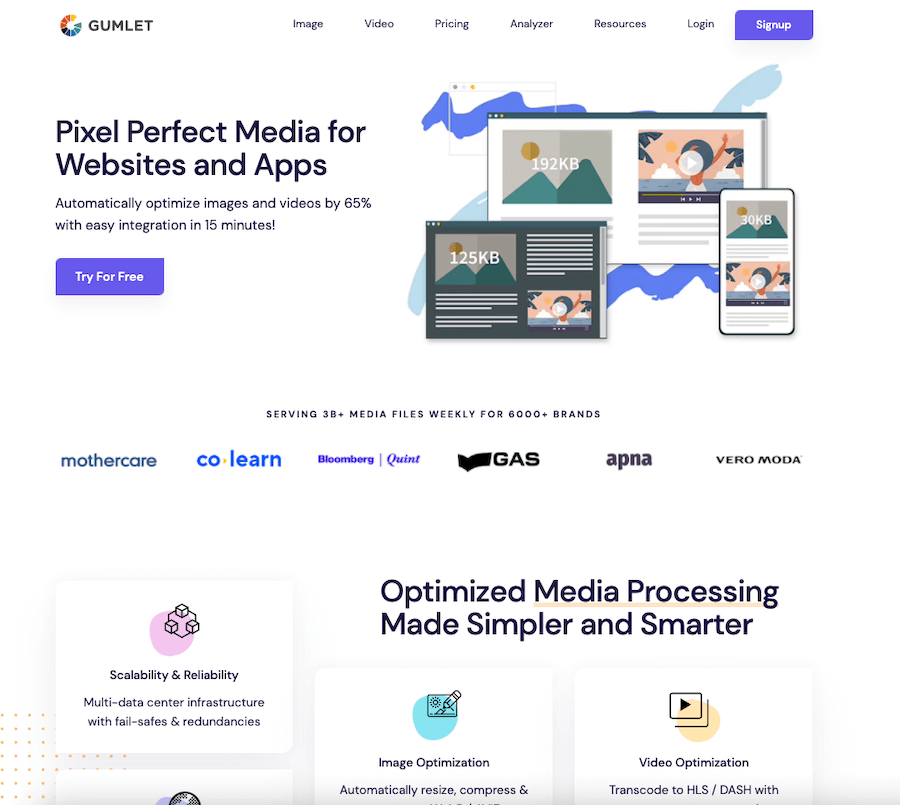 ---
Online Image Optimizer has taken a step forward by giving you the option to upload the image URL directly.
Being one of the simplest tools on the Internet, the Online Image Optimizer helps you to optimize your image in three different formats.
Although the tool is available for free, the fact that you're only allowed to upload one image at a time can be painful.
Best Features:
The maximum allowed size of the image is 2.56 MB.
It allows you to optimize images in 3 major formats such as JPG, PNG, and GIF.
The tool is known for its blazing fast speed.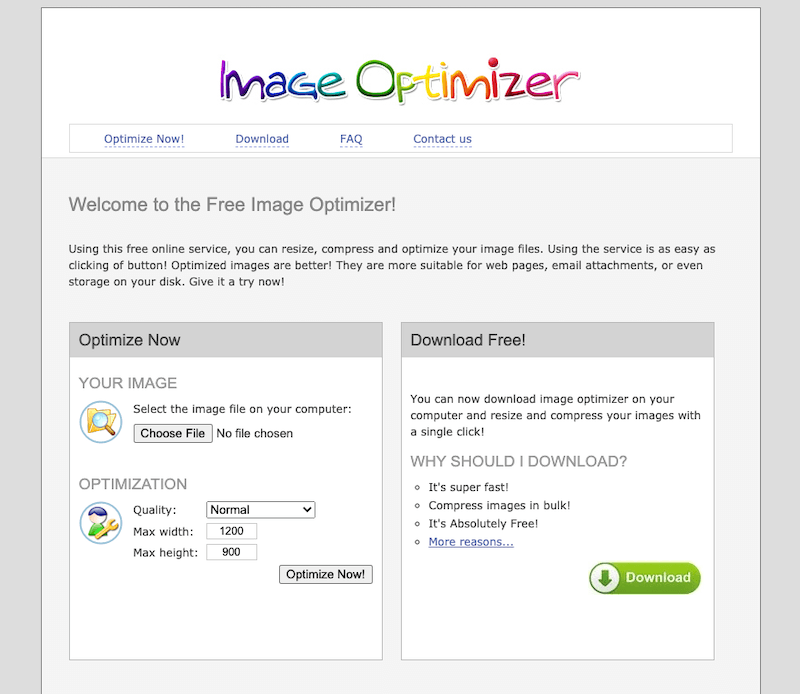 By providing an easy drag-and-drop option to compress both PDF and images, Image Recycle has been meeting the optimization needs for quite some time.
Although you need to configure over-to-pay plans to unlock advanced features, you get a free 15-day trial with a 100 MB limit.
A reasonably priced tool allows your photos and PDFs to be saved safely as a backup for a month.
Best Features:
You can get a free website analysis that will help you understand which image on your site needs to be optimized.
You can use Image Recycle as a WordPress plugin or as an extension to Joomla and Magento.
The paid plans start at as low as $10/year for 10,000 images.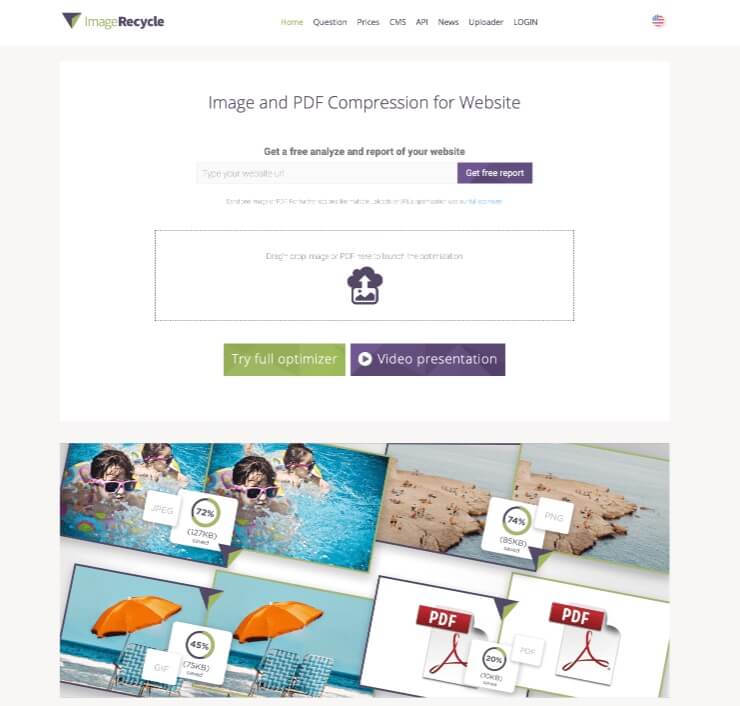 Powered by Kraken.io, Jpeg.io covers more file formats than other file optimization software.
By providing simple drag-and-drop technology, it allows users to convert 9 major image formats to a highly optimized JPEG format.
Much like Kraken.io, this tool also allows files to be imported in bulk from different sources.
Best Features:
You can convert JPG, PNG, GIF, BMP, SVG, PSD, TIFF, EPS, and WEBP into JPG format with a single click.
Jpeg.io enables you to import files from Dropbox, Google Drive, and Box.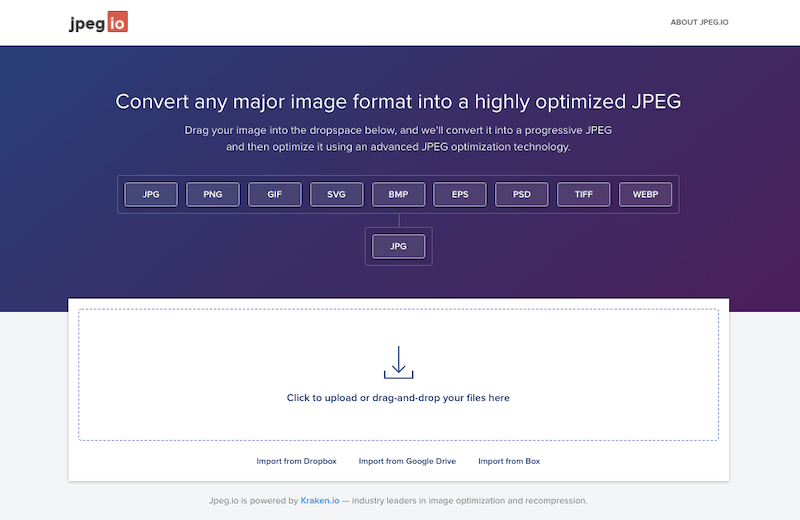 An image optimization tool that is not only available as an online software but also as a WordPress plugin, Imagify helps you optimize your image with a single click.
A paid tool that is available for a free trial will also help you to restore the original version of the images.
Not only does it allow you to upload images directly from your desktop, but it also allows you to paste the URL. Moreover, the compression level is divided into three categories – normal, aggressive, and ultra.
Best Features:
The free account has a file size upload limit of 2 MB.
With easy drag and drop facility, you can upload images in bulk.
You can adjust the level of compression according to your needs.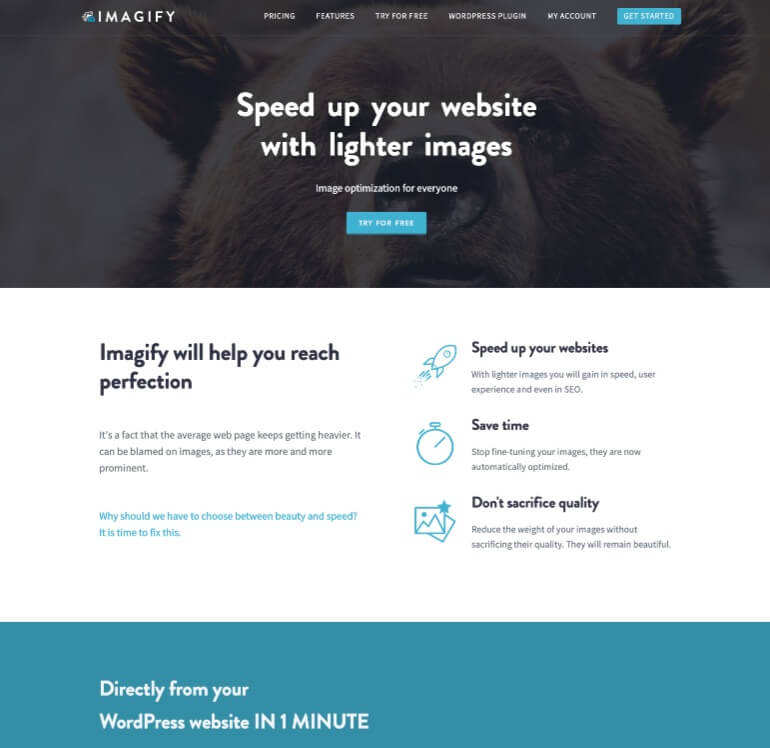 Compressor.io is a powerful image optimization tool that supports 4 file formats and allows two types of compression – lossless and lossy.
While lossy supports JPEG, SVG, PNG, and GIF, lossless supports only JPEG and PNG formats.
The biggest drawback of using this tool is that you cannot upload the file in bulk. Therefore, you've got to upload them one by one.
Best Features:
The maximum size of the image allowed is 10 MB.
It is a high compression tool that can help you save hundreds of kb.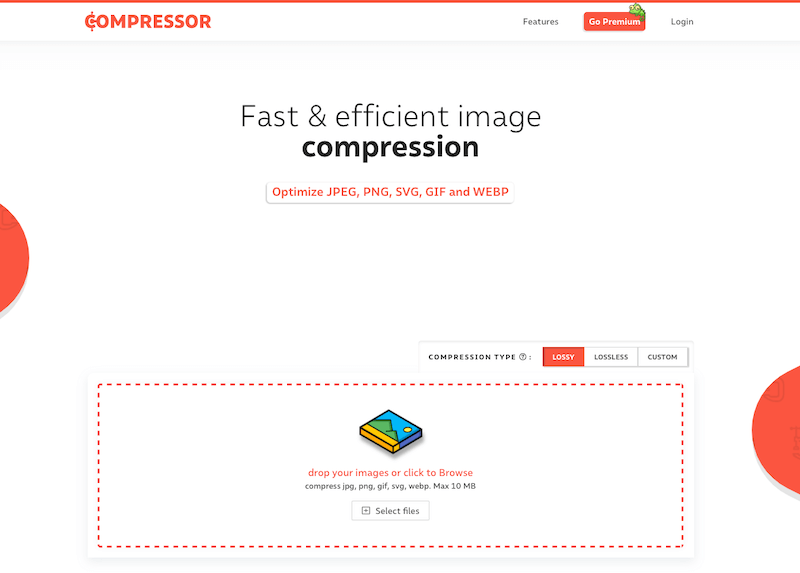 The ability to reduce the size of the image without compromising the quality of the image meets the needs of each developer and creator.
Although most features are subject to the PRO version provided by JPEGmini, you can take advantage of the free trial before you consider buying it.
Best Features:
The tool's user interface is brilliant and simple.
It gives you a slider to test the quality of the image before and after compression.
You are permitted to adjust the size of different images in multiple exports.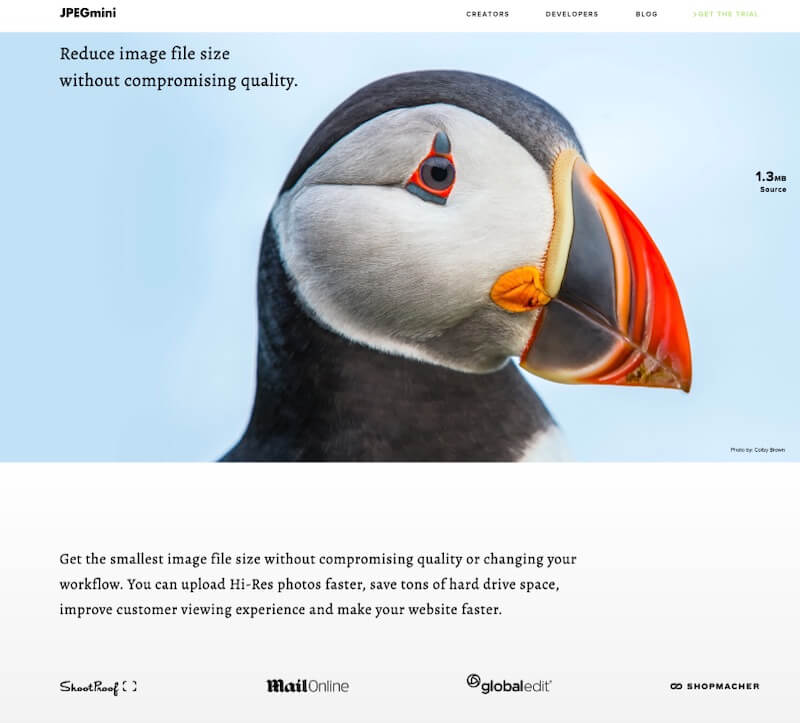 ---
Cloudinary is a very useful image and video management platform that will help you to optimize and serve your media in a much better way.
The platform offers a media management API for websites and mobile apps to improve the overall user experience.
Cloudinary automatically enhances the rich media experience by delivering them through multiple CDNs.
Best Features:
Improve the overall user experience
Serve rich media through multiple CDN
Enhance video experience
Upto 60% reduction in load time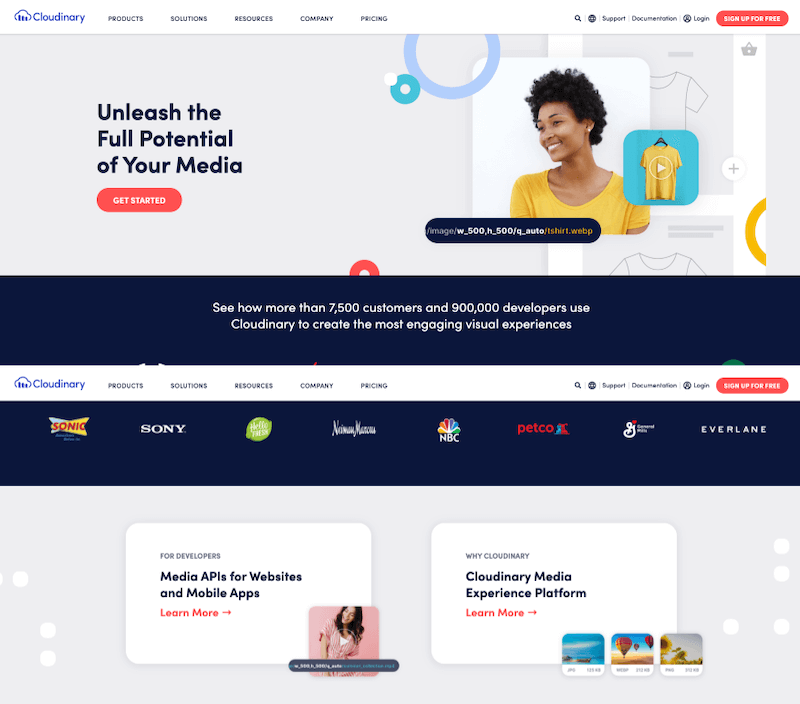 iLoveIMG comes with a number of tools to edit and improve images. From resizing images to converting to and from JPG format, it offers some really handy tools.
Like TinyPNG, the iLoveIMG platform also offers you the option to compress images before you upload them to your website. The tool is free and easy to use, you can quickly add the image that you wish to compress from your computer, Google Drive or Dropbox and start compressing.
It supports JPG, PNG, SVG as well as GIF image format. So, it will be a very handy tool as TinyPNG doesn't support SVG and GIF at the moment.
Best Features:
The tool is free to use
Add images from multiple sources
Supports multiple image formats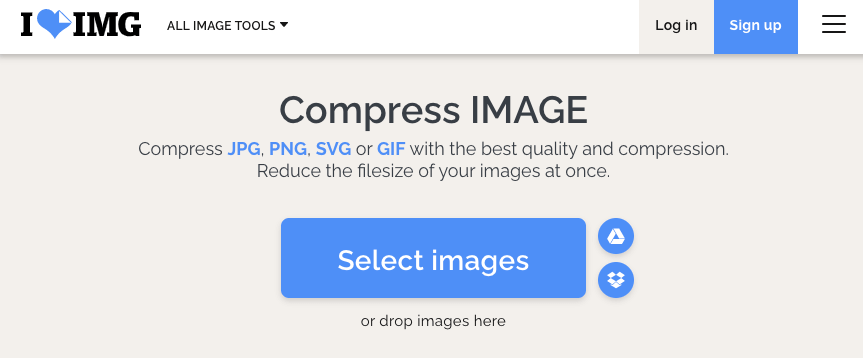 Conclusion
We researched to the core to give you the best TinyPNG alternatives. While most of them are free to use, you may need to pay for a few of them. You can go ahead and choose the best one for you.
Feel free to comment below if you think we may have forgotten to include another image optimizer tool.