One of the few niches that are booming during the coronavirus is video content creation. That is not only because creators now have more time to dedicate to the craft, but because the demand for video content – and educational video content in particular – has increased, too.
If you've been thinking of starting a YouTube channel with tutorials or recording a video course, the timing is perfect! And if you're like many, hesitate because of the budget – worry not.
As long as you have a camera, the main investment you'll need to carve out is the time. There is plenty of free tools out there to help you achieve your goals. One of them is VSDC Free Video Editor.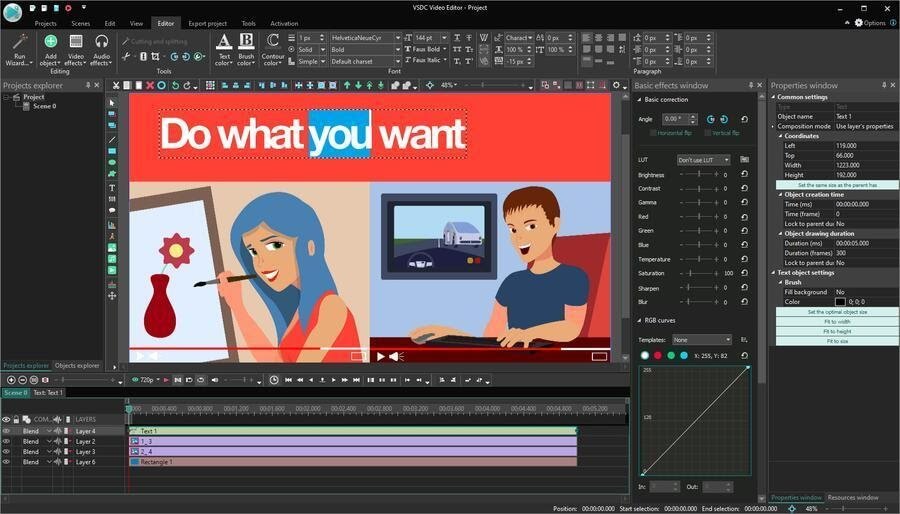 What is VSDC?
VSDC brings everything but the kitchen sink for video content creation. You can download this free video editor from the official website and see it for yourself! Its free version includes:
All these essential tools are conveniently accessible from a single VSDC dashboard. That means just one piece of software can replace up to 5 programs!
The best part about VSDC? It's absolutely free, without watermarks or export quality limitations. On top of that, the editor is lightweight and will run even on low-end computers.
Let's take a closer look at the features available in VSDC from a blogger's perspective.
VSDC interface: beginner's overview
Once you download VSDC and launch the program, upload your footage using the 'Import content' button on the start screen.
The file will be automatically placed on the timeline, and the scene will be adjusted to the size and parameters of your footage to prevent any quality loss.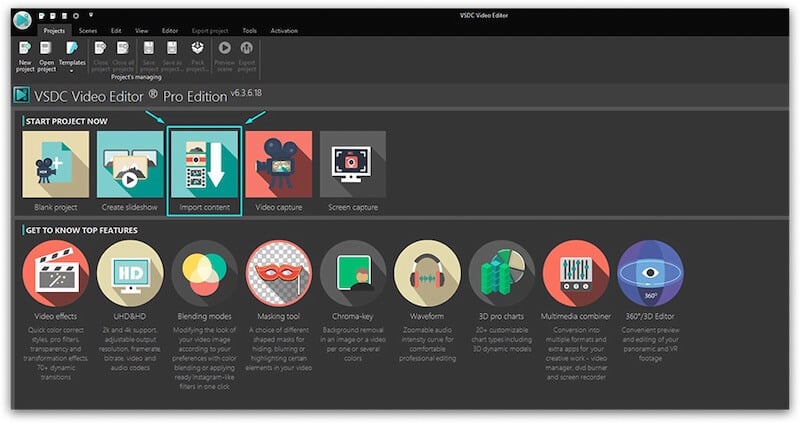 You'll find the most frequently used controls on the upper menu.
The 'Add object' menu allows you to import video and audio files, images, text objects, shapes, and create an audio visualizer.
The list of 'Video effects' includes 8 effect categories for color adjustment, special FX, transformations, and transitions.
The 'Audio effects' will be helpful for noise reduction and volume adjustment.
And finally, the quick access 'Tools' menu brings options for cutting, splitting, rotating, and cropping footage. Plus, this is where you change the opacity level of the video for overlays and blending.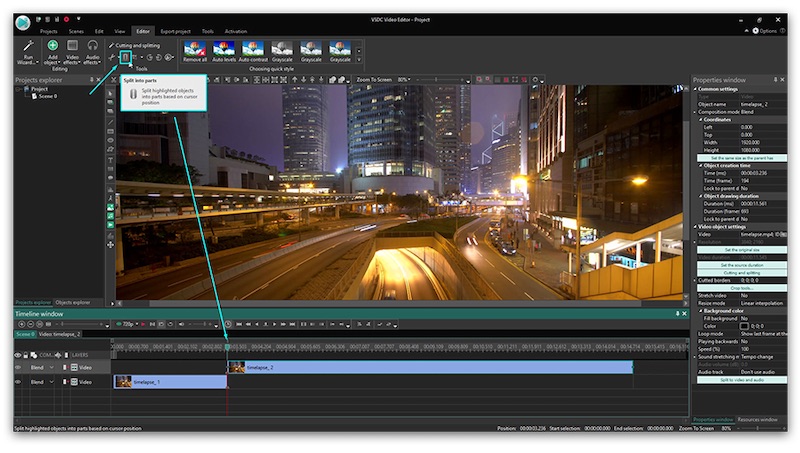 The most essential actions – such as cutting or adding new objects to the scene – can be performed via keyboard shortcuts, which is a great time saver.
Top 5 VSDC features worth checking out
VSDC brings a lot of opportunities to boost your creativity. The video effects alone would require us to prepare a separate blog post! On top of that, the developer offers a Pro version to those who need advanced post-production tools, such as masking, audio waveform, and motion tracking.
However, in this review, we decided to focus on the features available in the free edition that might be of interest to the aspiring bloggers on a budget. Let's take a look at some of them.
Desktop screen recording
As a blogger, you might need to use this feature a lot. Whether you're shooting video tutorials, reactions, or explainer videos, capturing your desktop screen is often required.
And it's handy that you can launch the screen recorder right from the editing software without interrupting your project.
If this sounds like something you might need for your videos, make sure to check out the built-in voice recorder to capture commentaries, and the picture-in-picture effect to feature yourself or additional visuals on the screen.
Chroma Key – green screen removal
Chroma Key is one of VSDC's most popular tools. If you record yourself or any other object in front of a green screen, it allows you to replace the green screen with another image or video within just a couple of clicks or create a video with a transparent background to further use it as an overlay.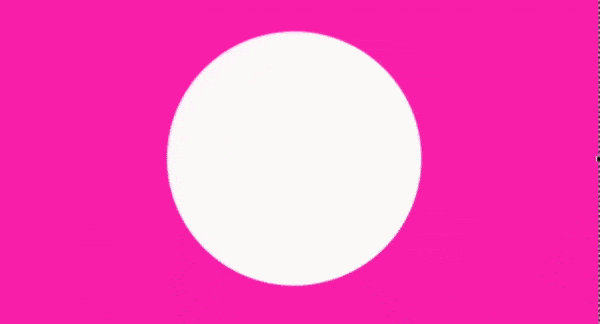 Note that the free version of VSDC removes the green chroma only. So if you are using a blue screen or any other colors, you'll need to upgrade to Pro.
Stop motion animation tool
Want to produce promotional videos, but the idea of full-featured video production intimidates you? Consider creating stop-motion animation. They are great for capturing the attention of your audience, and you can use this format for literally anything – from product promos to explainer videos.
VSDC Free Video Editor includes a handy tool for quickly merging a large number of images into an animation.
All you need is to upload them to the program and set the desired frame rate. It will also work if you want to create a timelapse from photos.
Full-featured text editor
Unlike Movie Maker and most video editors, VSDC doesn't provide ready-made title templates. Instead, you get the freedom of designing your own title using a full-featured built-in text editor.
You'll be able to upload any custom font from your PC, adjust the size of the text, its style, the opacity level, the outline, the alignment, and more.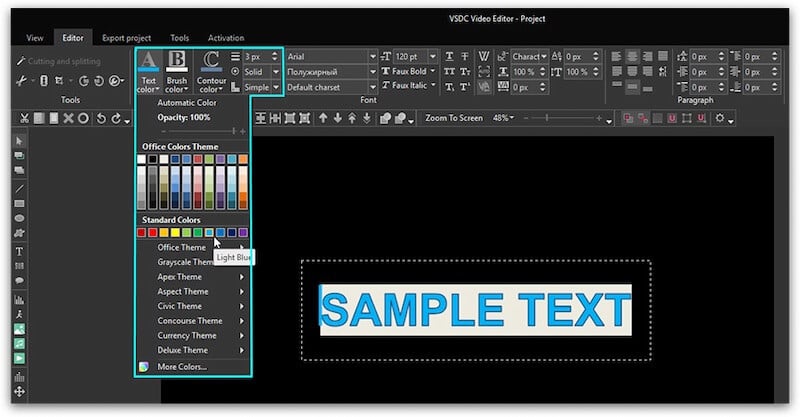 But the best part about it is that you can work with titles as if they graphic objects. For instance, you can zoom through a word or a letter, create a text mask, compile an animated title intro, apply any video effect to it, replicate news tickers and neon light banners.
Direct YouTube uploader
When you finish editing, VSDC allows you to upload videos directly to your YouTube channel – and that's a real time saver. Think about it.
Instead of exporting a video file to the desktop only to upload it to your channel minutes later, you can publish your projects directly on YouTube. 
Of course, before hitting the Upload button, you'll be able to add a title, description, tags and category. If you don't want the video to go public immediately, just choose that option in the dropdown 'Privacy' menu.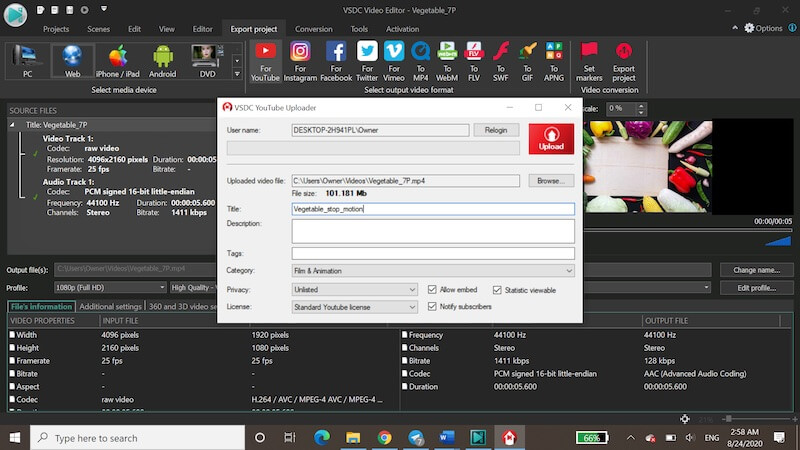 Note that after uploading a high-quality video to YouTube, it's always recommended to wait for some time before making it public to allow YouTube to process your file. Otherwise, your viewers will see it in low quality without being able to switch to 1080 or 4K. 
System Requirements and Export Options
VSDC is one of the most lightweight video editors out there and it works even on outdated PCs with little memory.
Of course, the performance will depend heavily on the type of video files you'll be working on – the larger the file is, the higher your chances to experience hiccups and crashes. However, that holds true for any video editing software.
Compared to other non-linear video editors out there, VSDC tolerates low-end computers very well because of its system requirements.
It runs on Windows 7, requires a minimum 1GB of video memory and an Intel, AMD or compatible processor with the working frequency at 1.5 GHz or higher. The installation file size is just 84.7 Mb. 
Now, when it comes to export, VSDC provides a wide array of options. It doesn't limit you to particular file size or resolution – you can even save your files in HD and 4K.
What's especially convenient though, is that you don't have to manually set up video export parameters for each file.
Instead, you can choose a device or a platform your video is intended for, and the software will automatically apply the best configuration of settings.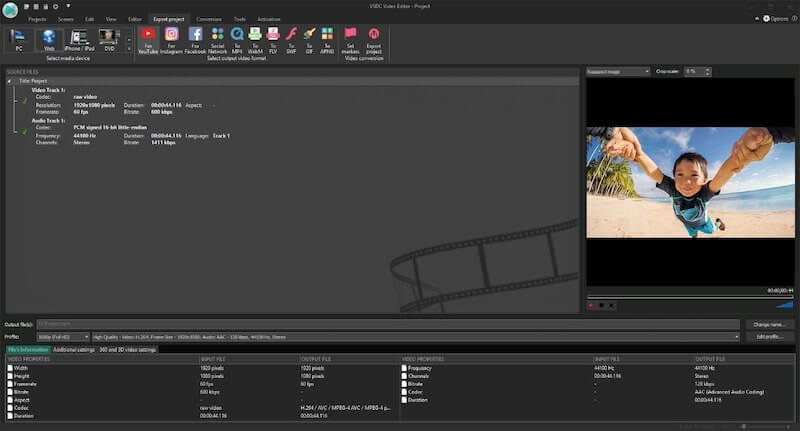 For instance, there are standalone, dedicated export profiles for YouTube, Facebook, Twitter, Instagram (including IGTV), and Vimeo. You can also save videos as GIFs or M4V – the latter being a preferred format for watching videos on iPhones and iPads.
Who will VSDC Free Video Editor be good for?
VSDC will come in handy for both quick edits and more complex projects. It's a very versatile program for beginner YouTubers and those who want to incorporate video content into their marketing strategy or at least start posting short clips on social media.
Some of the most popular genres of videos created with VSDC are side-by-side videos, tutorials and reactions, promos, and video memes.
Go ahead and try it for yourself! After all, with the free version, you don't lose anything except for a bit of time to get familiar with the software.