Rytr AI Writing Tool
Rytr AI-powered content writing tool is a very handy software to produce all different types of content for various projects.
Rytr can help content marketers, bloggers, and social media influencers to generate engaging and personalized content.
The tool uses natural language processing to understand the context of the text and then generates relevant content based on it. One can use it to create blog posts, social media posts, and email campaigns.
Rytr comes with a very simple and user-friendly interface to help you produce your content quickly. Once you log in, you will find the writing interface with the available options.
Select language
Select the tone of your content
Select use case
You will find the options mentioned above to select before the software starts writing your content.
Rytr supports multiple languages to write your content. If your website is in some other language and not in English, you can select it from the language dropdown.
You have multiple tones of your content to select from. And it gives you the option to select the user case of your content. The use case is primarily the kind of content you want the AI writer to write, be t a blog post, email, or any other type of content.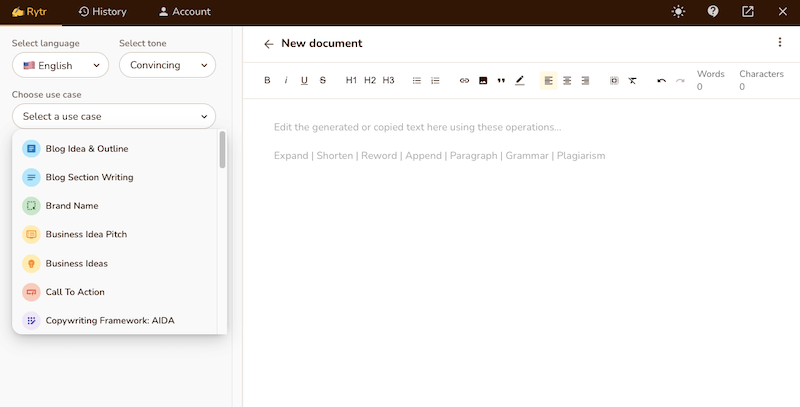 Blog Idea and outline
The first step in creating a blog is to develop an idea for the post. Once you have an idea, it's time to start outlining it by communicating it to the AI writer. Rytr's blog idea and outline generator tool do it in one click.
No matter what your topic is, you can use this tool to get the outline for your content with perfectly optimized subheadings.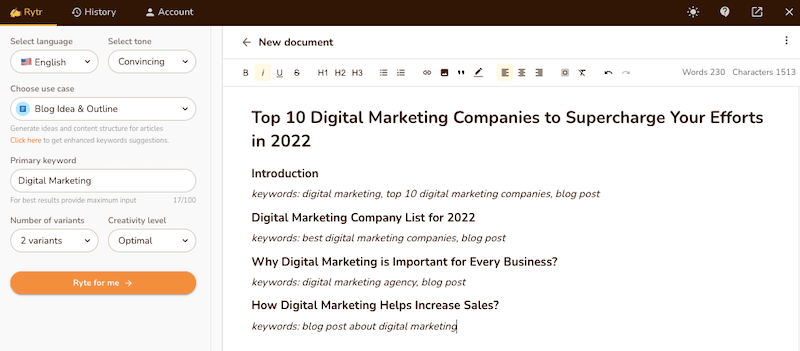 Call-to-action
The call-to-action is essential to any marketing campaign because it tells the reader what they should do next. Rytr's call-to-action tool includes all the necessary keywords to invite a potential user.
If you are selling any product or service and you wish to get some ideas about the best possible call-to-action, you can use this tool.
Here's an example, if you are selling Rytr AI content writer through your blog post, you can simply use the suggested lines as call-to-action.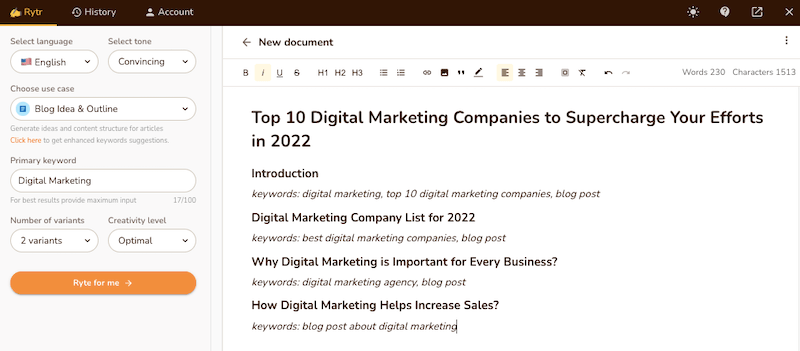 Write cover-letter with Rytr
Cover-letter by Rytr helps you create a cover letter in minutes. It is an AI-powered cover letter generator that is used to create a personalized cover letter for any job application. The tool asks you to input your skills, experience, and interests and generates a personalized cover letter.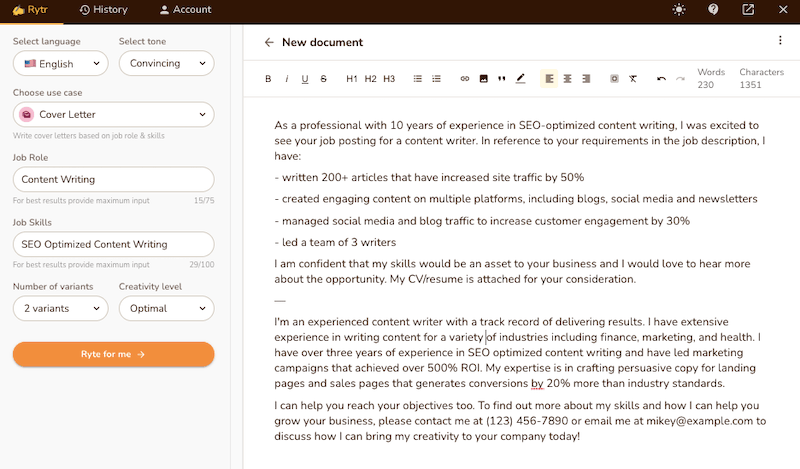 Email content writer
Rytr offers an email generator that helps you create personalized emails in minutes. It has templates for all business needs, from customer service to sales and marketing.
Facebook, Twitter, Linkedin Ads
Facebook, Twitter, and Linkedin Ads are all social media platforms that have been around for a while. They are all used for different purposes and have additional features. With Rytr's ad-writing tool, you can generate seamless ads with a few clicks.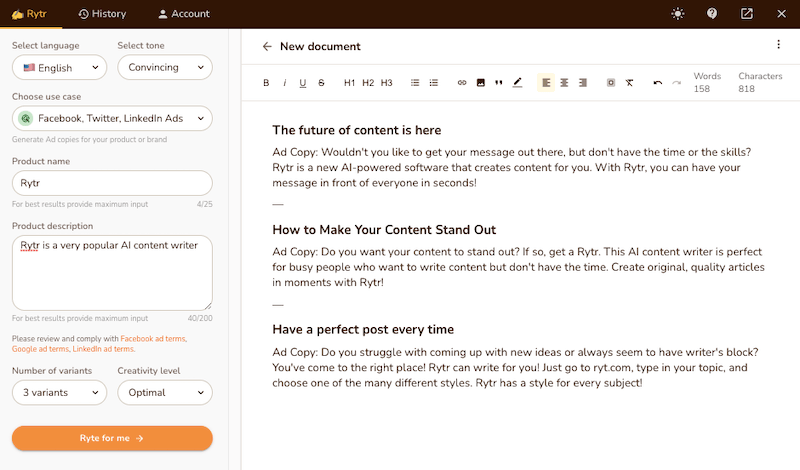 Keywords – extractor and generator
The extractor and generator by Rytr is an AI-powered tool that can extract keywords from any text. You can use it to generate keywords for a given topic.
Rytr's Additional Features
Rytr's landing pages are designed to persuade the visitor to take some action, such as signing up for a service or making a purchase.
The job description tool writes the descriptions of the company's open positions. Rytr utilizes verses to form rhyme schemes and lines that have rhythm and meter eligible to be called lyrics.
It also offers an option to weave a sequence of events as a story plot. Apart from these tools, you can create taglines and headlines using Rytr using the right keywords.