First, let's log onto the MobileMonkey official website and create a new account.
Step 1
. Creating Your MobileMonkey Account
It will first ask you to log-in with your Facebook/Messenger account and then ask for certain permissions.
After that, it will show you all your active Facebook Pages and ask you in which pages you wish to integrate MobileMonkey.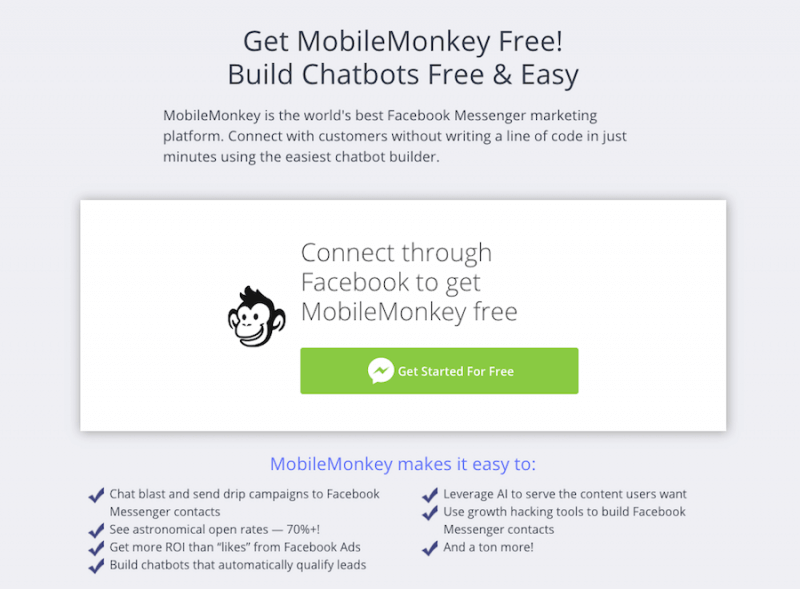 Next, the following screen should appear on the screen.
Here, you will be asked to start building your very first chatbot. You will be asked to either start from "scratch" or choose one of the many pre-built chatbot templates (more on that later).
For the purpose of this tutorial, we will pick – "Start From Scratch."
Now, on the following screen, you will need to enter your necessary information like your Work Email, Company Name, Company Website, phone number, and how much money you spend on your monthly Facebook Advertising budget.
You can, of course, pick "none" if you don't use Facebook Ads with your current marketing efforts.
Congratulations! You have completed the setup process. You will now be able to access your MobileMonkey Dashboard with all the necessary features and functionalities to help with your Facebook/Messenger Marketing.
Step 2
. The MobileMonkey Dashboard
Here is a quick look at how your MobileMonkey Dashboard will look like, once you have created an account.
As you can see, there are two notifications telling you to set up a new Drip Campaign and create a Facebook Comment Guard. 
At the top, you get to see some basic stats including the total number of contacts, new contacts that joined this week, and the total number of sessions this week.
Note how it's showing zero under Total Contacts. This is because even if you have a lot of followers on your Facebook Page, they won't be immediately carried over to your MobileMonkey Contact List.
In fact, you will need to send them a message where they accept that they wish to be contacted through MobileMonkey Chatbots. 
Once a customer gives permission, they will show up as one more contact on the hub.
Scrolling down, you will also find highlighted features and how they can help you with your marketing needs. But we will be taking a look at the left-hand sidebar and touring through all the features it brings to the table.
Step 3
. Operating The Inbox
Instead of carrying out your conversations through Messenger, MobileMonkey gives you access to a dedicated chat interface from where you can contact all your customers.
There is also a dedicated MobileMonkey App for iOS and Android which allows you to reply to your customers straight from your phone.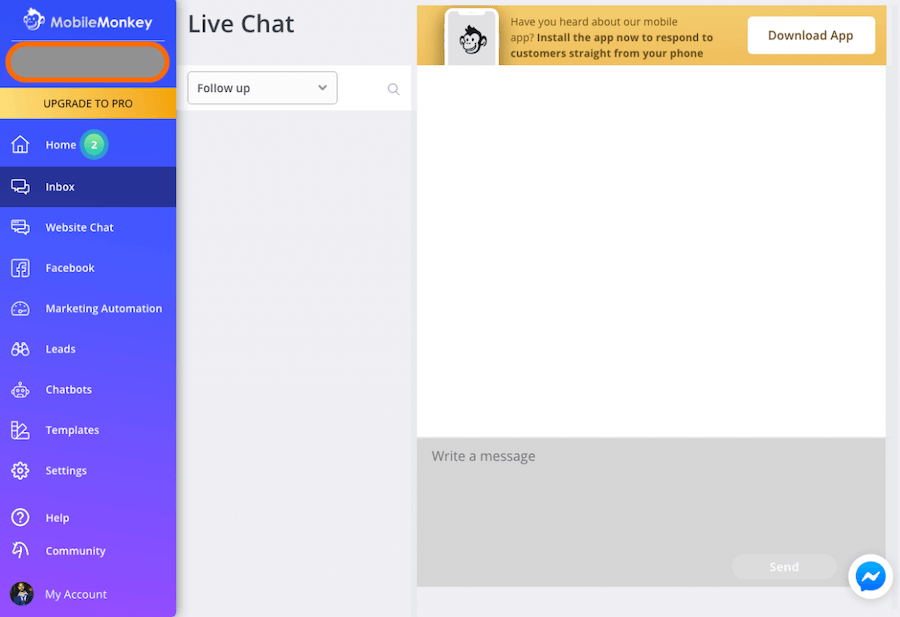 Step 4
. Chatbots & Templates
The Chatbot Builder is the core of MobileMonkey. It allows you to create your own Facebook Messenger chatbot to help take your business to the next level.
To get started, it allows you to configure Dialogues and Q&A into the chatbot.
Dialogues are used to show messages or media content to your customers. You can use it as a welcome message, or as a statement to a follow-up question.
As you can see, by default, you have access to a Welcome Dialogue and a Default Dialogue.
You can set the dialogue text, add answers for your customers to click, pick a response for what happens when they select a certain answer, and so on. You will even get options to add widgets to make the chatbot more featureful.
Conditional logic is also a very useful feature but is available only with its pro version.
However, the Q&A Section is where the real magic is:
Here you can configure how your bot will react when a user types in a sentence or asks something. You can configure the bot to reply to certain keywords in the customers' sentence and then preconfigure responses depending on the keyword.
Now, you can either create a unique chatbot yourself by typing out all the dialogues and Q&A or you can use one of the many pre-built chatbot templates to streamline the process.
Here is a complete list of the different Chatbot Templates that come bundled in for free. If you function in any of these niches, then much of the work has already been done for you.
Step 5
. Set Up Facebook/Messenger Marketing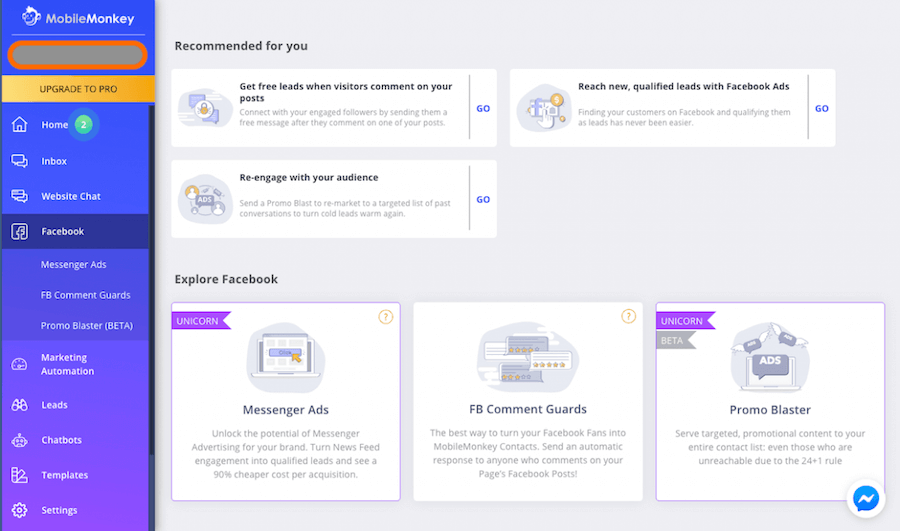 Here you get access to 3 dedicated features – Messenger Ads, FB Comment Guards, and Promo Blaster.
5.1

. Messenger Ads

Messenger Ads are far more powerful than traditional Facebook Ads and are half the cost. As instant messages feel more personal than standard ads, they have higher than average conversion rates and a response rate that's through the roof.

This is basically how you get to create a Messenger Ad using MobileMonkey.

As you can see, you will be able to set a simple dialogue or set an opt-in message (recommended). Next, you will be able to add a picture, create a quick question, and so on.
5.2

. FB Comment Guards

Remember when we said that fans or followers of your Facebook won't be automatically converted to your MobileMonkey Contacts?

However, that can be easily achieved using FB Comment Guards functionality.

It will send an automatic response via Messenger to anyone who comments on your page's posts. This opens them to your new chatbot integration.

Now, here is how you can set up the FB Comment Guards.

As you can see, you can either configure the feature to respond to all your posts or certain specific posts.

Second, you can create a custom reply that will be sent to users who comment on your posts.

Following this, you have the option to set up a chatbot to respond to users who engage with your FB comment guard.

And finally, you can even set a frequency cap to specify how many messages to send a user depending on if they have commented once or multiple times on your posts.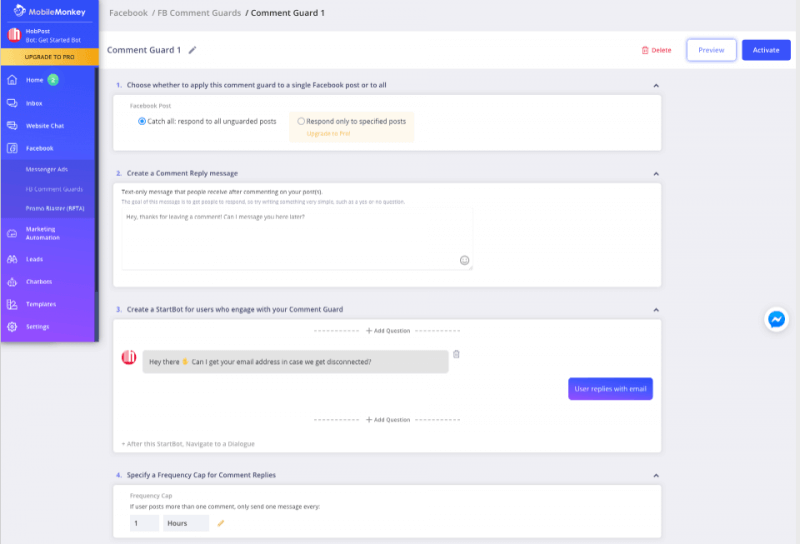 5.3

. Promo Blaster

The Promo Blaster is currently in BETA and also facing certain issues because of new changes to Facebook's API. Also, it isn't available with the free-tier and requires you to upgrade to a Unicorn account.

However, if you intend on using it, the feature will help you deliver targeted promotional content to everyone in your contact list, including unreachable users due to the 24+1 rule.
Step 6
. Set Up MobileMonkey For Your Website
Now, you are not limited to using MobileMonkey through Facebook alone. In fact, you can even integrate it with your website to cater to your incoming traffic.
6.1

. Customer Chat Widget

The Customer Chat Widget integrates a Messenger icon on your website. Once the user clicks on it, it will open a MobileMonkey chat interface with your chatbot built-in.

Here is how you can create and add a chat widget to your own website.

First off, you will get to set customized messages which will appear to users depending on whether or not they are already logged into their Facebook accounts.

Next, you can set up a chatbot to automate the initial interactions you have with your site visitors.

Finally, at the bottom of the page, you will find a code snippet for the customer chat widget you just set up. Simply copy the code and paste in before the </head> tag on every page of your website where you want the chat widget to appear.

Alternatively, if you are using a WordPress website, there is a dedicated MobileMonkey WordPress plugin that will help you integrate the service.
6.2

. Share Links

This feature allows you to send mobile traffic from ads, emails, and so on, directly to your chosen dialogue or MobileMonkey chatbot.

All you have to do is simply add a name for the shared link, specify which dialogue to link it to, and then enter the slug. Once done, you can simply copy the provided link and paste it wherever applicable.
6.3

. Landing Pages

Yes, MobileMonkey even lets you create a custom landing page to encourage users to join your MobileMonkey contact list. The page is hosted for free by MobileMonkey themselves, and the setup procedure is super intuitive.

As you can see from the left sidebar, you will get two sections – Details and Design.

Under details, you will get the option to set the basic details about your landing page including its name, link slug, dialogue, and link.

Moving along to the design section, you get options that let you configure the background color of your landing page, set a logo, heading, text, fix text alignment, and even tweak the button text for the Messenger chat icon.
6.4

. Facebook Opt-Ins

Under the Facebook Opt-ins, you will get access to two options – a Checkbox Plugin and a Send to Messenger button.

With the first option, you will be able to collect contacts on your existing lead and confirmation forms as you allow people to opt-in to receive updates to your business.

Second is the Send to the Messenger button, which, as it implies, will send the user to a MobileMonkey page if they are signed in to their Facebook account.
Step 7
. Set Up Marketing Automation 
Under this section, you will find access to tons of marketing automation that is sure to 10x your open rates.
7.1

. Drip Campaigns

Drip Campaigns with MobileMonkey function similarly to how it works with traditional email marketing. You get to set up a sequence of messages and then send them to your customers, spread out through a specified interval.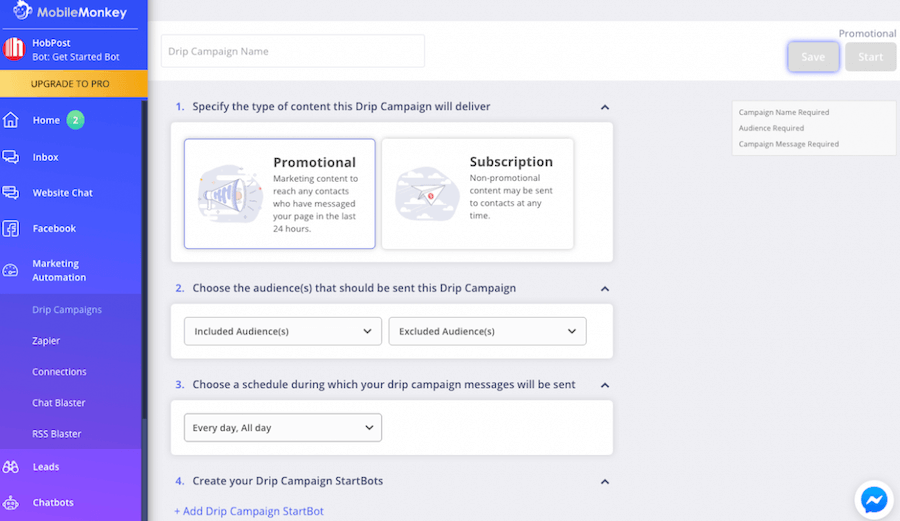 7.2

. Zapier

Here you get to integrate MobileMonkey with your Zapier account and leverage all included apps to strengthen your marketing automation.
7.3

. Connections

Under the Connections segment, you will get access to all the necessary tools to manage your connections and integration with any and all third-party tools that don't come with Zapier.
7.4

. Chat Blaster

This feature allows you to send a message to all your Messenger contacts – all at once. You can even create a segmented group of contacts and deliver them your intended messages.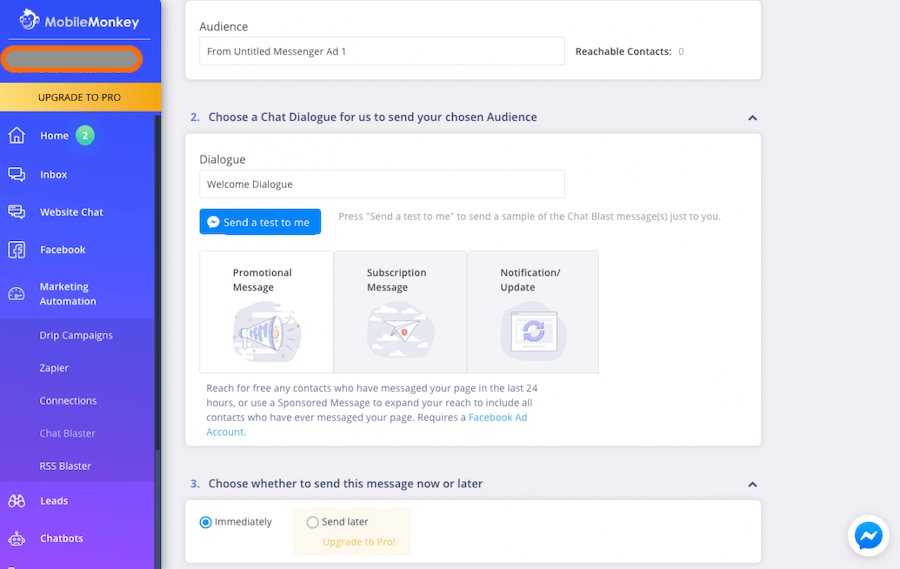 7.5. RSS Blaster
The RSS Blaster, as it appears by the name, let's you share your RSS updates with your audience. However, they first need to subscribe to your RSS feed before getting any updates.
Step 8
. Lead Generation Options
And finally, we have all the Lead generation options that come bundled in with MobileMonkey.
8.1. Contacts
Here you will get to see all your site contacts alongside useful information like name, age, gender, timezone, reference, last active time, session counts, and so on. You can even add tags to the contacts to segment them.
All this extra information and insight into your user base can help you understand your audiences and thereby create more focused and engaging content.
8.2. Audiences
Here, you will be able to create a segmented list of your contacts based on attributes and tags.
8.3. Forms
Here you will get to view detailed stats and insight on how your chat forms are performing – its lead generation rate, and so on.
With a quantitative understanding of your marketing campaigns, you will be able to make proper tweaks to optimize the performance.
8.4. Bot Analytics
Here you will find the necessary data and statistics regarding how your chatbots are performing. You will get access to easy-to-digest growth charts and performance metrics.
MobileMonkey – Support
Being a chat-focused software, MobileMonkey offers premium live chat support to all its users. However, if you prefer emails, then they can extend their support through emails as well.
But unluckily, there is no phone-based support.
Regardless, you will get assistance from a team of experts who are quick to respond and will likely resolve your issues ASAP.
They also have a Facebook group where you can talk about strategies, tips, and hacks on gaining more profits with MobileMonkey.
You can also leave your support queries in the group, and a customer rep is likely to attend you shortly.
However, even though all these premium support options are available, we strongly recommend that you go through their in-depth help documentations. It is really well done and should help you sort out most of all your problems.
MobileMonkey – Pricing
Now, let's come to the pricing. To get you started, the MobileMonkey offers you a free (yes, completely free!) account where you can create chatbots, get access to their chatbot templates, use their campaign blasters, get access to 7 lead magnet tools, audience segmentation tools, and so on.
However, there is a cap at only 1000 messages you can send each month. Regardless, the $0 plan is perfect for businesses just starting out and looking to leverage the power of Messenger Marketing.
However, if your business requires you to send more than 1000 messages per month, then you will need to upgrade to their premium plans.
There are four-tiers: Pro at $9/month, Pro Unicorn at $19/month, WP-PRO at $48/month, and Team at $99/month.
Here is a look at their pricing structure and a list of different features associated with each pricing tier:
So, Should You Get MobileMonkey?
Allowing users to get started with MobileMonkey makes it a bargain from the get-go.
On top of that, factoring all the options we mentioned here, it offers a super intuitive solution to help you set up a chatbot and automate your Messenger Marketing needs.
As you can see, it is very user-friendly and doesn't even involve a single thread of coding making it highly accessible to non-tech-savvy users.
Furthermore, if you are having issues with properly capitalizing on the tool, they even offer a Chatbot University which will help you become a chatbot wizard.