Jasper is a powerful software that uses Artificial Intelligence to deliver the user original and creative content. It is one of the most powerful AI-powered writing software that will help you write your content quickly.
Jasper is taught how to write creatively with the help of SEO and Direct Response Marketing experts. Jasper can help you create original content that is plagiarism-free and rich in keywords, which together ensure a good SEO ranking.
It is also helpful in creating better copy variations to increase sales with less effort. With Jasper, you can also say goodbye to your writer's block.
All you need to do is allow Jasper to write for you. Also, you can save bucks by eliminating the need to hire new writers because it can also repurpose any existing content to craft totally new content.
The real question is can Jasper write better than you? Well, it is tough to answer that but we are pretty sure that it can give you a tough time for sure.
Keeping the comparison between a human and an AI software tool aside, Jasper is one of the best AI writing tools and it's now the time to know why.
How Jasper AI Writer Can Help Businesses?
As a business owner, you are always looking for ways to improve your bottom line. One way to do this is to find ways to automate your business processes.
Jasper AI Write can help you by providing high-quality automated content for your blog so that you can attract more traffic to your website. This means that you can focus on other aspects of your business while we take care of the content writing for you.
It will help you create original content for your website or blog. The cutting-edge artificial intelligence technology to help you come up with fresh ideas and topics for your content. This means that you don't have to spend hours coming up with ideas yourself or creating the blog outline.
You can use more than 50 different content templates to get things done quickly.
Get More Traffic With Quality Content
The better your content, the more traffic you will get to your website or blog. With Jasper AI Write, you can be sure that your content is of the highest quality. This will help you attract more visitors to your site, which can lead to more sales and conversions.
Save Time With Automated Content Writing
Content writing can be a time-consuming task. With Jasper AI Write, you can save time by letting us handle the writing for you. We will create quality content that is optimized for the search engines, so you can focus on other aspects of your business.
Write Original Content With Jasper
Duplicate content can tremendously bring the rank of your website down. This is why bloggers and website owners try to ensure that the writing work that they are outsourcing is plagiarism-free.
You can check whether Jasper is producing original content or not because Copscaper powers the plagiarism checker of this software. This option can only be availed as an add-on to a plan.
It's no secret that creating original content takes time. If you're not writing it on your own and outsourcing it, you'll have to carry multiple checks to ensure it is worth publishing. In short, you will be investing your time, money, and effort.
You can end this painful experience by letting Jasper create the original content. Jasper can quickly create content for your email, social media posts, and blogs. However, for creating the perfect content, you need to provide Jasper with information like
Brief of the content
Title
Keywords
Once the system has the proper idea about the information you need in the content, the AI system takes it ahead from there.
Multiple Content Templates
You can further fasten the content creation by taking the help of multiple content templates to select from.
A few of the most popular copywriting skills of this software are:
Long-form assistant
AIDA Framework
PAS Framework
Content Improver
Product Description
Blog Post Topic Ideas
Blog Post Outline
Blog Post Intro Paragraph
Blog Post Conclusion Paragraph
The different templates available on Jasper are categorized into:
Frameworks
Email
Website
Blog
Ads
Ecommerce
Social Media
Google
Videos
SEO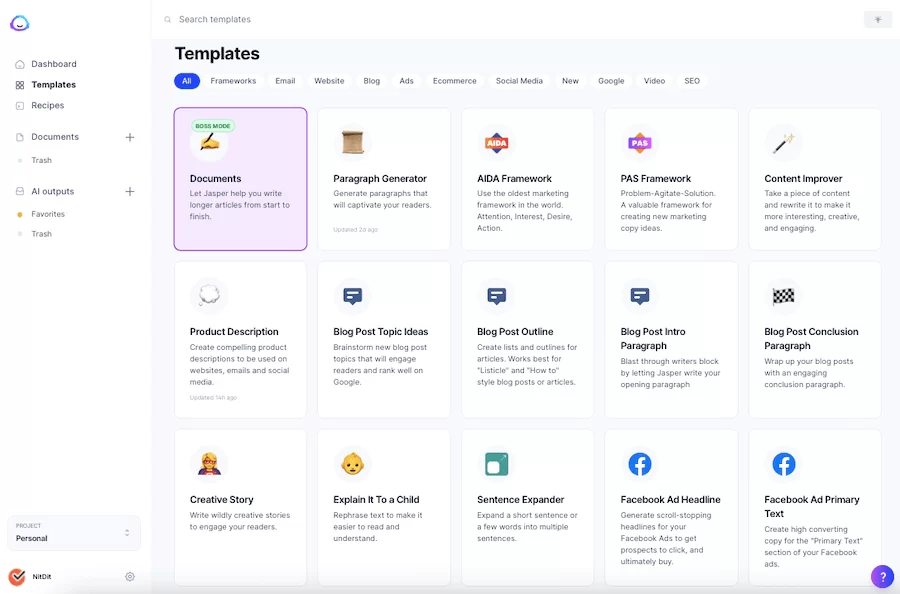 Jasper is perfectly capable of creating SEO-optimized content with the help of keywords. The user can include three keywords at a time. A few templates already come with supported keywords too.
Title and Meta Description With Jasper
The title of a blog post and the meta description are very important from the SEO point of view, so you need to make sure that your article has a perfectly optimized yet engaging title and a perfectly optimized meta description.
The software can create the title of the blog that you are writing. You can also control the tone of the content that you are creating through Jasper.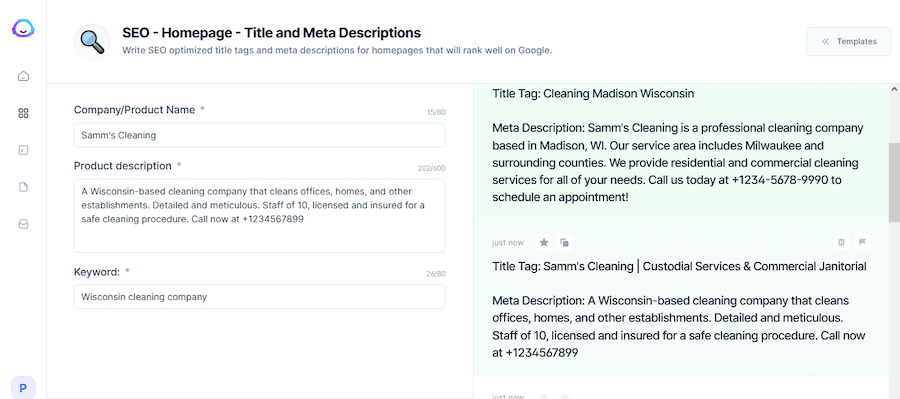 The different writing tones which are available on it are funny, casual, professional, feminine, masculine, bold, secretive, witty, and sarcastic.
Team Organization
Running a business requires coordination between the teams and therefore, team organization is highly crucial to ensure the efficiency of the business. Jasper allows you to organize your team with folder categorization for your clients to handle multiple projects.
You can create multiple projects on Jasper to organize the content. Switching between the different projects is also easy and comes in handy, in managing multiple clients.
Surfer SEO Integration
Jasper realizes that most of the content that it is creating needs to be ranked. Creating content that cannot rank is undoubtedly not a good investment if you are planning to rank your website. This is the reason why Jasper is integrated with Surfer SEO.
Read our detailed review of Surfer SEO here.
With the Surfer SEO integration, Jasper can optimize the blog posts in a way that your blog post appears at the top of the results of the search engines.
However, for using the Surfer SEO integration, the user will have to subscribe to the Boss Mode plan. Using this integration is as simple as turning on the SEO mode in the customization panel of Jasper.
Once Surfer SEO is integrated, you can check the SEO score of your content and make sure that it is optimized properly before you publish it on your site.
You also have the option to analyze any content that you have already published on your site with the URL of your post.
The system will give you the overall SEO score and all the possible improvements that need to be done in order to improve the ranking of your post.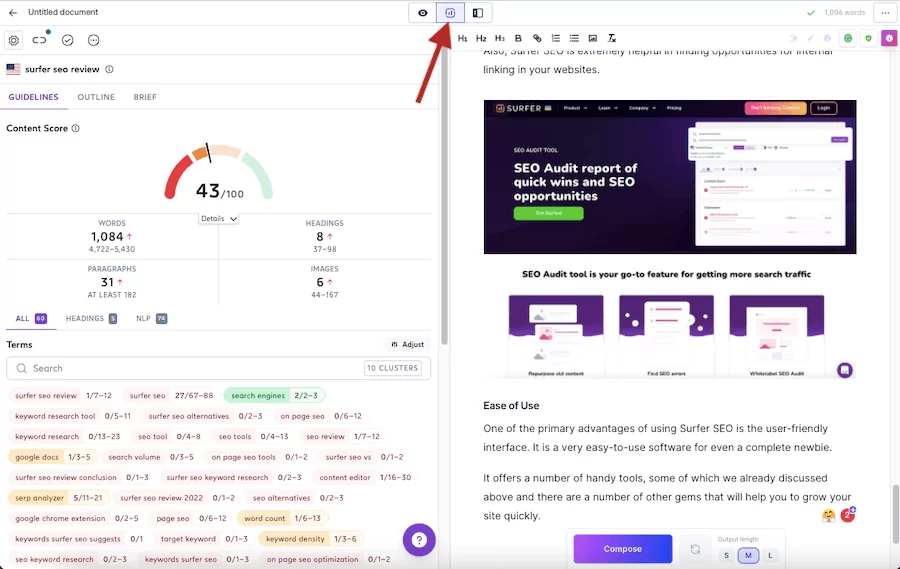 Jasper AI Recipes
Jasper Recipes are pre-built workflows with a number of commands to help you write your content even faster. the commands will guide the Jasper AI system about what you are expecting in your content.
In an ideal Jasper content Recipe, you add all the commands in the flow that you wish to maintain and run the system to create the content as per your instructions.
You can select a featured recipe or one from the Jasper community to create your content.
Translation Into 29 Different Languages
Even though English is like an international language, there comes a time when you want to create content in other languages too, especially if you are looking to serve the local people.
Jasper supports translation to 25 different languages. A few of these languages are Dutch, Spanish, Chinese, French, Italian, Polish, Russian, Swedish, Japanese, Danish, and Greek.
The language translation options are currently running free in the Beta version. Also, it is available in all templates of Jasper outside of the long-form assistant.
Jasper Art
Jasper Art is the new addition to the Ai software. This AI art generation software makes it super simple for users to create completely unique art for various projects with just a click.
It gives you the option to add the detail of the image you want. You can select the style to make it more expressive and artistic and then generate the art.
You can get Jasper Art for $20 per month per user. They also offer a 5-day free trial of the software.