Cointraffic.io is a cryptocurrency advertising network that enables advertisers to display their crypto-based ads on various media channels around the globe.
Cryptocurrency is always a buzzing topic for quick money makers and technical traders. Since it attracts users from all around the world, crypto-related news publishing website review a lot of traffic.
In this Cointraffic review, we'll overview its features and try to figure out if it's the best Bitcoin Advertising Network available in the market.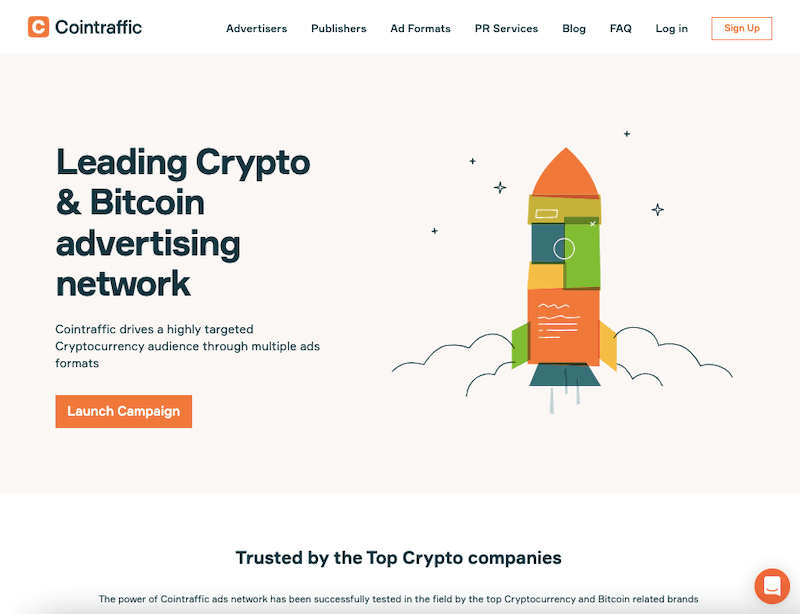 How Cointraffic Can Help?
Let's explore some of the Cointraffic.io features in detail.
Supported Ads
Cointraffic runs on a native advertising methodology and generates ads for both mobile and desktop users.
Here are some of the supported ad types:
Banner Ads:
Cointraffic banner ads bring relevant traffic and provide high visibility for publishing websites. The platform offers a number of different formats when it comes to banner ads.
You can use JPG, PNG, GIF and HTML5 formats both for desktop and mobile devices. Each of your ads will have dedicated reposts to check its effectiveness of the ads.
Also, Cointraffic supports a number of placement options such as the following.
In-page
Slide
Premium header
Sticky
Pop-under
Native Ads:
Ads placed on the website that adapts the format of website design. These ads are non-annoying and get a high click-through rate. You get the necessary options for setting geo-targeting customizations.
Cointraffic allows you to easily switch between different ad formats. Different ad formats are the key to the success of a marketing campaign. Clients normally achieve a high success rate by combining all the formats offered by Cointraffic.
Normally, banner ads build awareness, and Press Releases help in creating the required buzz. Combining different ad formats often generates maximum attention for your Crypto project.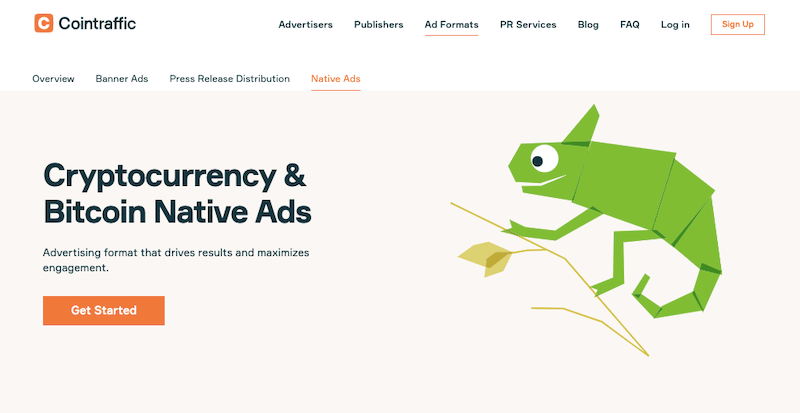 Targeted Audience
Cointraffic relies heavily on network relevancy and runs advertisements only on crypto websites. It keeps a periodic check on the quality of the websites in the advertising network and prohibits any websites that breach the relevancy standards to gain traffic.
For example, it strictly removes any website that indulges in pornographic activities to increase website traffic.
Quick Launch
For Advertisers:
Creating a campaign is simple in Cointraffic and it's a three-step process.
First, you need to choose the ad format(s) using the Cointraffic self-service tool. Next, you need to fill in the required details for your campaign launch.
The cointraffic team reviews your advertising campaign before making it live.
In case you need help creating your ad, Cointraffic designers assist you with the same.
For Publishers:
For publishers, it may take 2-3 days to review the website before accepting it on the advertising network.
Once your website is selected, you can add a code that puts native ads and banner ads on your website. That way, you get free content from advertisers apart from the native ad click commissions.
Report and Analytics
Cointraffic's detailed statistics show you how each of your ad positions is performing. With the help of these statistics, you can see the number of impressions and profits on a daily basis. This gives you the option to optimize your ad campaigns for maximum results.
As a publisher, you can easily switch between different advertising formats and increase your monetization income.
You can place several banner ads on mobile and desktop devices and also become a Cointraffic Press release publisher and get paid for publishing new articles from advertisers.
Press Release Distribution
You can take the advantage of Cointraffic PR distribution service to communicate with your targeted audience. They offer professional crypto content writing services and provide a draft within 24 hours.
You can select from a list of cryptocurrency and Bitcoin websites for your Press release campaign. You get enough settings to specify the budget and replace any website with a new publisher website to match your requirements.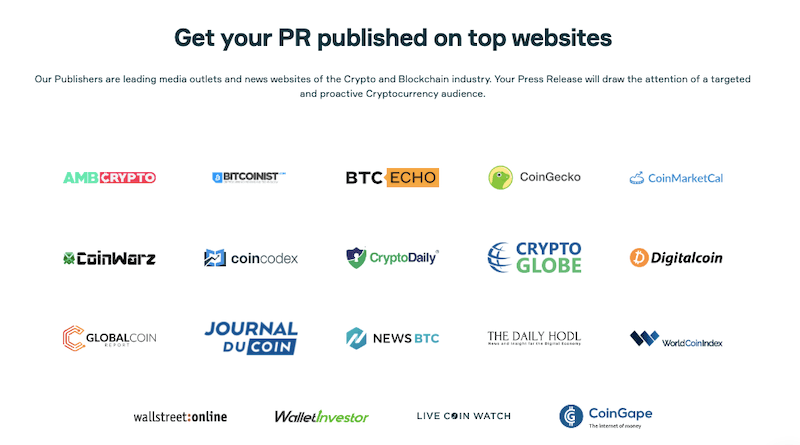 Cointraffic Pros and Cons
Let's have a look at the pros of Cointraffic.io
Pros of Cointraffic.io
Cointraffic.io provide dedicated assistance in case you have any questions
They make timely payments to publishers and the threshold amount is also set to a low limit.
Supports a variety of ad formats like banner ads, slider ads, native ads, PR services, and more.
Very restrictive in terms of publisher approval. This network is mostly interested in high-quality websites.
Relevant audience and quite strict when it comes to the type of publisher approval to keep the quality intact.
A trustable brand established in 2014 with an experienced team of PR experts.
Cons of Cointraffic.io
Delay in approval. Average approval time can take up to 2-3 days.
No referral program
Cointraffic Review Summary
We have decided to put together this post to help you understand what Cointraffic is, and how it works. It's one of the most legit and quality cryptocurrency advertising networks available for a long time.
We hope that this article helped you decide if Cointraffic is the right network advertising platform for you.
If you have any other questions about Cointraffic, please let us know in the comment section below.