Affiliate Marketing is hands down, the best way to generate an online passive income.
However, you need to be careful about which products you choose to promote in your affiliate business if you want to see money flowing into your bank accounts.
So, with this in mind, is it worth joining the Bluehost Affiliate Program?
Well, for starters, Bluehost offers one of the highest payouts for each customer you send their way.
Every sale equates to $65 in your wallet. And since the minimum required earnings are $100, you only need to make 2 sales to see money credited to your accounts.
But as you start sending more traffic and get a few sales, the team at Bluehost will increase your commission rate, and you might earn $100 per sale or more.
And when considering the fact, that there is no up-front payment to join their affiliate program which is completely free, it seems that there is a lot of incentive to join their work.
However, you will have to actively promote it in the beginning and create content around it.
Your content must be properly optimized for search engines, or have the traffic coming from social media or paid ads to make sure people are clicking on your affiliate links.
Long story short, making money with the Bluehost affiliate program won't be a walk in the park, and will generally be a lot of work.
This is why we have put together this comprehensive review covering all that you need to know about the Bluehost Affiliate program.
By the end of the read, you should have a clear understanding of what it offers, how to promote it, and whether it is going to work out for you.
And so, without further ado, let's get started:
Bluehost Affiliate Program: Reasons You Should Join?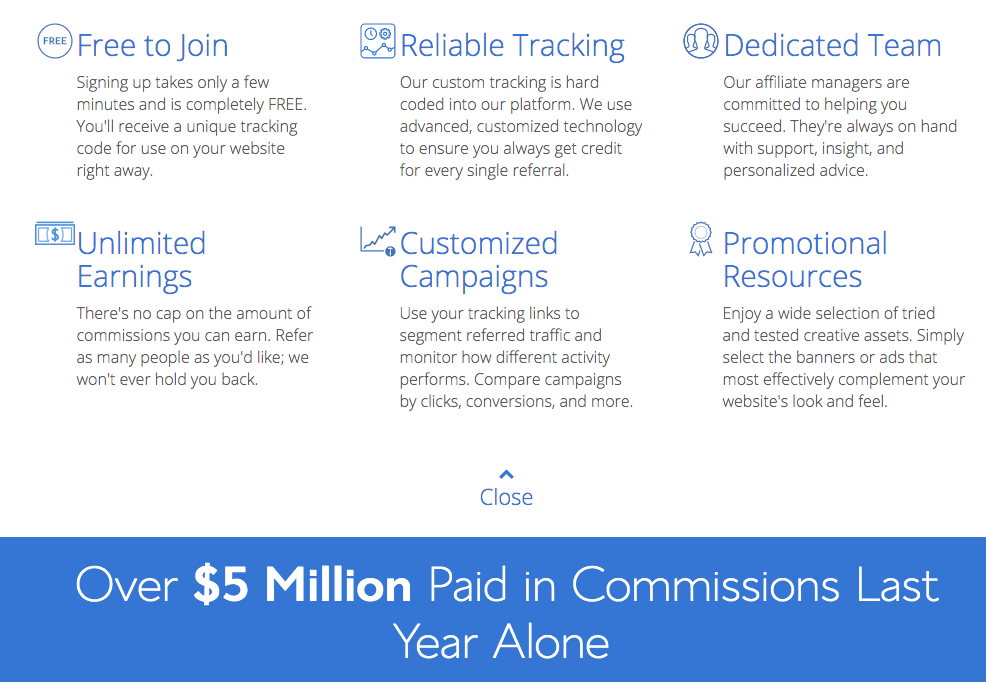 To put it down simply, there is a huge market for web hosting companies, and thereby, a huge market for the affiliate marketers of web hosting companies.
With new websites popping up all over the internet, people need a good web host provider.
So people are going to scour the internet in search of good web hosting companies giving you the market to promote Bluehost and its various products/services.
Furthermore, to help you out, Bluehost is already one of the most renowned and popular web hosting providers and domain registrars.
Therefore, people will most likely be aware of the company but might visit your content to gain more insight or read its review.
This gives you ample opportunity to push it to your audience as an affiliate product and earn your commission.
However, if having a market demand and a reputable market presence aren't enough reasons for you to promote the product, then here are a couple more pointers to change your mind:
So by now, you should have settled on the fact whether you want to become an affiliate marketer for Bluehost or not.
And if the answer is yes, here is a step-by-step guide on how to join their affiliate program.
Bluehost Affiliate Program: How To Join?
Joining the Bluehost Affiliate program is pretty straightforward, and as stated earlier, completely free. But if you are facing any issues, here is a step-by-step guide to help you out:
Step No 1.
Go and visit Bluehost.com, navigate to their affiliate page and click on the signup button. Alternatively, click on the link to directly land on their Affiliate Program page.
Step NO 2.
Clicking the sign-up button will take you to a signup form where you will need to fill out all your personal details including your website URL and create a new username and password to join their affiliate program.
Since all transactions are handled via PayPal, you will also need to provide your PayPal information during the signup process.
Once done, check the "I agree to the Affiliate Terms and Conditions" button and hit the sign-up button.
Step No 3.
Now you will have to wait. Your application will now get processed by their internal team and might take some time (generally 24 hours) before you get the approved status.
If your website meets all the required criteria of the advertisers, it is guaranteed to be approved.
Till that happens, you can head on over to the affiliate dashboard and provide your tax information.
Bluehost Affiliate Program: What Can You Promote?
Signing up for the Bluehost Affiliate program allows you to promote any of their services which broadly falls under their hosting services and domain registration.
However, each of these services also has upsells like security addons, faster hostings, and so on.
Although you can promote these services as well, your primary focus should be on promoting their hosting service and domain registration.
Bluehost Affiliate Program: How To Promote?
As you can imagine, the Bluehost affiliate program, thanks to its high payout, is a goldmine for other affiliates, and as such, be prepared to face stiff competition.
Therefore, the best way to start promoting Bluehost is if you already have an established audience where you can promote Bluehost services.
You can create a sales funnel that catches the readers' attention by talking about the perks of creating a blog or online business.
Then you can teach them about web hosts and hosting your website. And finally, refer them to Bluehost for their web hosting needs.
Alternatively, if you are just starting out as an affiliate marketer and want to try your hands at promoting Bluehost, you can create an online marketing blog or anything related to the niche, and start creating content around Bluehost.
Needless to say, to find the userbase for promoting Bluehost, you first need to increase your website traffic.
So, at first, you will need to learn SEO or purchase traffic using paid search ads.
Note: For people new to affiliate marketing, as you start out with Bluehost, don't expect hundreds and thousands of dollars to flow into your bank account.
It is going to take some time as you build up your site traffic and audience base. In the beginning, if you have around 1000 visits per month, you should have at least 1 sell, that is $65 credited to your wallet.
Bluehost Affiliate Program: The Payment Process
Once you sign up with the Bluehost Affiliate Program, you will be given a unique affiliate link.
You can now place this link in your blog posts, webpages, or even as an ad banner. Once a user clicks on this link, they will be directed to the Bluehost website.
Now if the visitors, coming to the Bluehost website from your affiliate links, make a purchase, the sale will get registered in your name.
But the major perk of the Bluehost affiliate program would be the 30-day cookie duration.
Generally, the people you refer to Bluehost might not have the money ready then and there to register a domain or purchase one of their web hosting plans.
However, as long as that person completes a purchase within 30-days from clicking your affiliate link, you will get paid. That makes the game a whole lot easier, doesn't it?
Now, once a sale is registered in your name, you will get $65 credited to your account. That's for a single sale.
However, if you manage to provide Bluehost with 5-10 sells a month, then you will be rewarded with double the commission per sale which is about $130.
And if you think you can push that and provide over 200 leads per day, then your commission rate will get hiked to $150+ per qualified sale.
Remember, you need to have a $100 minimum in your account before you can withdraw the amount.
Bluehost payouts are handled via PayPal. You need to have a PayPal account where the money will be credited. From there you can transfer your earnings to your bank account.
However, how do you make sure that people visiting Bluehost through your affiliate links end up making a purchase? This is where their dedicated link tracking system comes in very handy.
You will get a dedicated tracking system that will show all the statistics of your sales, your conversion rates, CTR, link open rates, and even the sources that lead to sales on your dashboard.
You can then use this information to improve your content or plan out your sales funnel to ensure better conversion rates.
Bluehost Affiliate Program: Should You Join?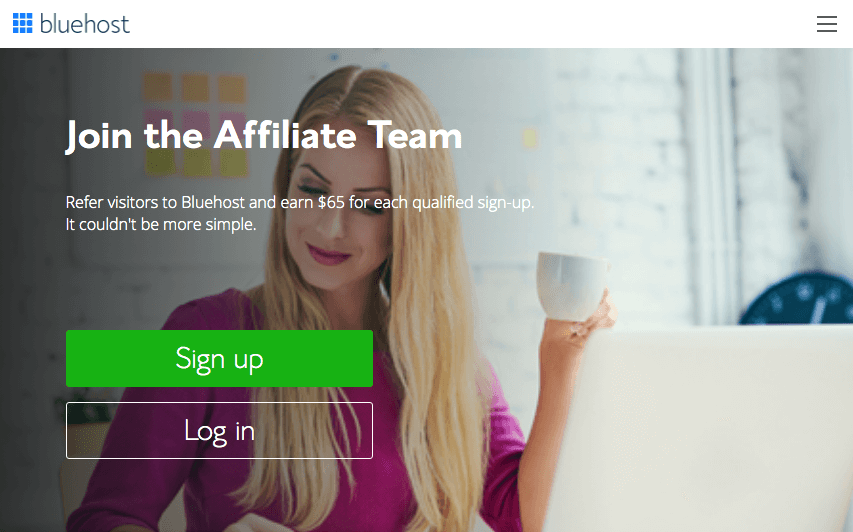 The Bluehost Affiliate Program seems too good to be true, and it is! So what's the catch?
Well, as you might have guessed already, – the competition. Thousands of bloggers and affiliate marketers are constantly competing to attract users and make sure they click on their Bluehost affiliate links.
Therefore, if you are new to this affiliate marketing business without an established online traffic source, it is going to be extremely hard to get a footing.
It isn't easy money, and a lot of hard work is required. But if you are willing to put in the hours, get creative, and device a unique sales funnel to promote Bluehost, then the amount of money you can earn knows no bounds.
Especially when you consider that more and more businesses are coming online and creating websites that require web hosting services.
How To Set Up A Bluehost Affiliate Website?
Since you are given a Bluehost affiliate link, you might be wondering why we are pushing you to create a website for promoting Bluehost.
Technically, you can also paste the links on social media to get click-throughs from your followers or other social media users.
However, as you can imagine, most of these are false clicks and aren't supported by Bluehost. In fact, it might even lead to the banning of your affiliate website.
And so, the best option would be to educate users about Bluehost using your platform and then guide them to make a purchase through your affiliate link.
However, if you feel a little puzzled as to how to set up an optimized Bluehost affiliate website, then fear not.
Here we have put together a few good content strategies that you can implement to generate traffic and lead users down a Bluehost affiliate funnel.
Alternatively, you can create topics that solely revolve around Bluehost:
And the likes…
Once you have the content ready, it is time that you paid some attention to the traffic.
The content is there to guide the readers to make a purchase decision and click on your affiliate link.
However, without any traffic, everything falls flat, doesn't it?
Now there are a couple of ways in which you can direct traffic to your website and promote Bluehost while you are at it.
The most obvious way would be to optimize your website for search engine traffic by targeting certain keywords that strike the right balance between high search volume and low competition.
Second, if you have money to invest, consider going to social media websites and creating an ad campaign through which you can direct users to your website.
Another emerging popular means of gaining traffic would be leveraging question and answer websites like Quora.
Visit these sites and find questions from users looking to set up a new website or wanting to know about the best hosting service.
Here, you can provide your answer and provide a link to your website which is bound to receive a lot of traffic.
And finally, let's come to YouTube – the second most popular search engine. Here you can create a video, promote Bluehost and leave a link to your website in the description.
Or you can directly provide your affiliate link in the YouTube description box which is likely to get even more exposure.