Many users prefer the CPM ad model as you don't need to worry about whether your site visitors are clicking on the ads or initiating a particular action.
The payout is based on the total number of ad views or impressions, which means as long as you have good traffic coming to your website, you will have a solid revenue.
However, finding a good CPM ad network can be a bit difficult. This is where Moneytizer comes into the picture.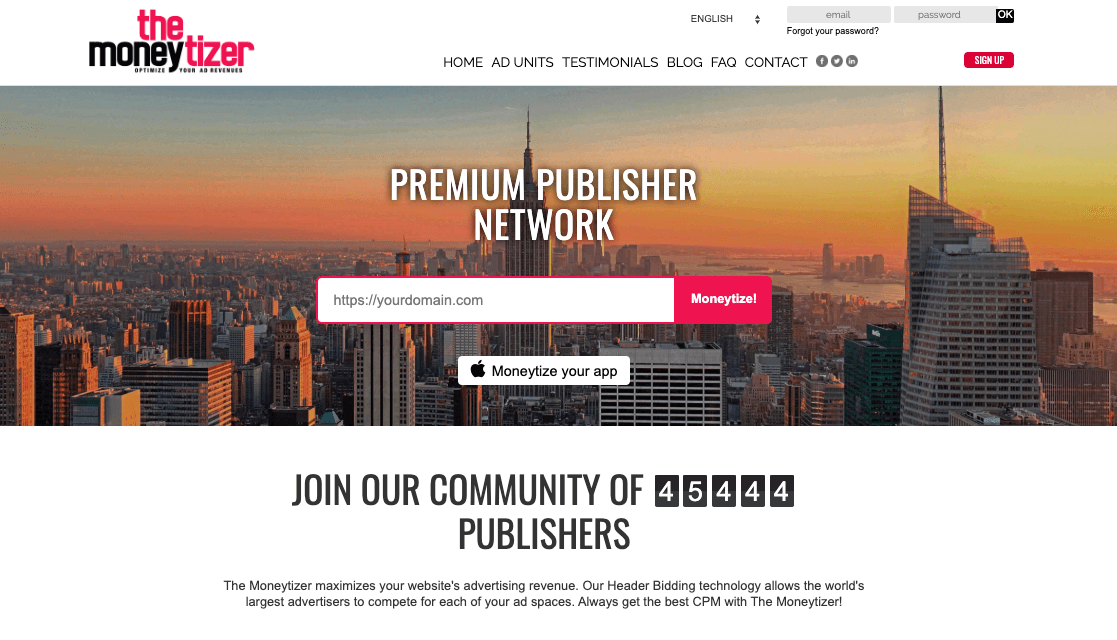 What is Moneytizer?
Moneytizer is a simple, easy to use programmatic plug and play ad network. Built on top of their proprietary Header Bidding technology, the platform helps to connect online publishers with multiple advertising partners to help optimize ad revenue generation.
But how does it work exactly? What ad formats are supported? And how is the user experience?
Well, we will be answering all these questions and more in this in-depth review of Moneytizer.
So without further ado, let's get started:
Moneytizer: The Header Bidding
As we just mentioned, Moneytizer comes with its own dedicated header bidding technology.
This helps create a level of competition among the various demand resources.
All you have to do is select an ad format(s) you want to display on your website. After that, the advertisers will begin to compete against each other for your ad spaces. This ensures you will also get the best possible rates and optimized ad performance.
Now, speaking of ad formats…
Moneytizer: Supported Ad Formats
The platform advertises itself as an all-in-one solution for publishers and as such, is filled with tons of standard and non-standard ad formats, so you never have a lack of choice.
Here is a look at the different ad formats you can use on your website:
Standard Ad Units – This includes all the popular and commonly used ad formats like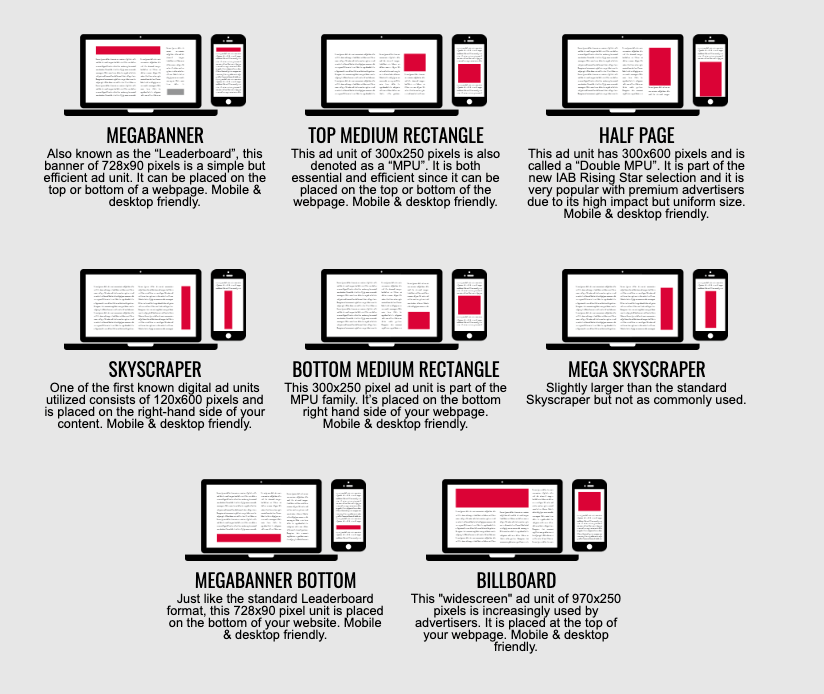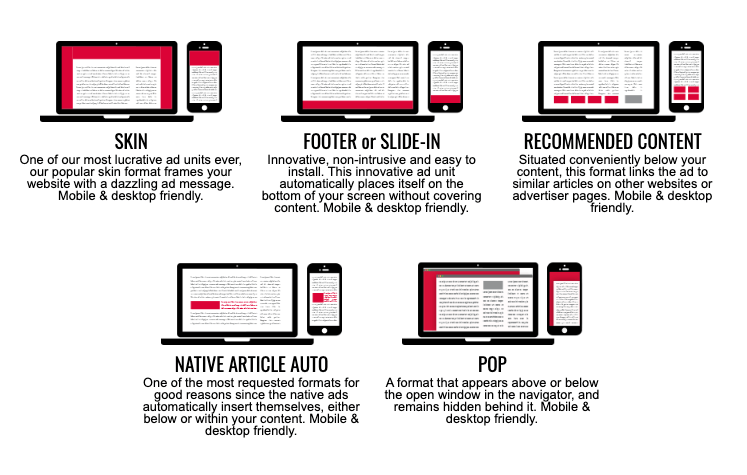 Video Ad Units – shows video ads on your website.
That's a lot of options! But don't think they sacrifice quality for quantity.
All ads are protected against redirects, pop-ups, and malicious downloads to make sure your brand is safe and connected with quality networks.
Moneytizer: Ad Refresh Technology
They offer dynamic ad units that refresh after 25 seconds from being in view. So if a user is browsing through your content and single ad space is in view for over 25 seconds, then it will automatically refresh to show a new ad.
This gives the benefit of generating more ad impressions, which results in increased revenue, even without depending on the user to scroll through your site content.
However, do note that only ads in view for the particular time interval will be refreshed.
Moneytizer: Dedicated Account Manager
Each publisher in the ad network will get a dedicated account manager. This is to provide an extra level of convenience to you as a user of their platform.
The account manager will help you with everything involving Moneytizer, starting from the basic operational support, troubleshooting issues, and much more.
If you are having any issues with ads not properly showing up on your website, or if you think the impressions are not correctly documented, then you can get all of that easily resolved through your dedicated account manager.
These are actual people assigned to help you, and not pre-programmed bots. They can even help you optimize your ads to ensure maximum revenue generation.
Moneytizer: Contract Free
This is by far the best aspect of using Moneytizer. They don't bind you with any contractual obligations. As such, after using their platform, if you find that their ad networks or CPM rates are not satisfactory, you can leave the ad network then and there.
Moneytizer: Publisher Requirements
Any online publisher from any parts of the world can use their platform. However, they do have some basic requirement policies that you should meet.
Moneytizer: Simple Integration
The platform has gained a lot of popularity in the recent past, thanks to its simplicity and ease of use. If you meet the publishers' requirements criteria, you can simply log on to their website and register a new account.
You will be taken to a simple registration form where you will need to provide information about your website, the name of the company which publishes the website, and banking information for the payments.
The platform supports PayPal and Wire Transfers currently. But more on that later.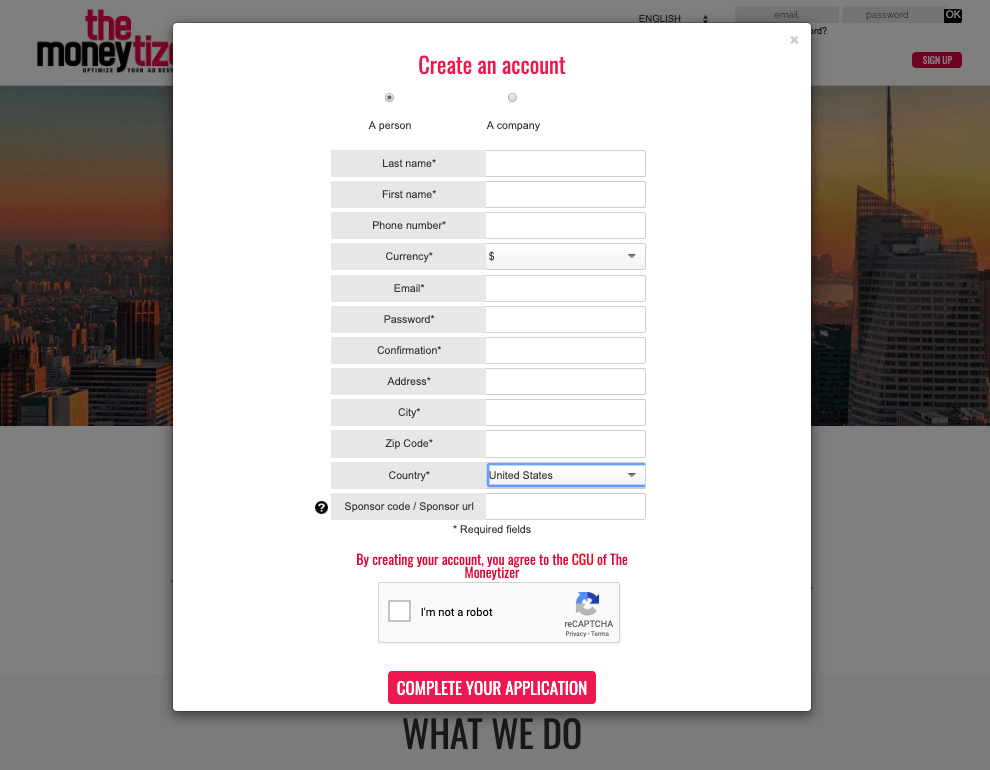 After you have submitted your application, it will be under a brief review process. If everything checks out and your site is compatible with their ad network, your email account will get approved.
Also, if you are a WordPress user, you will get access to a dedicated plugin which you can use to easily place ads on your site, see statistics, request new ad units, and much more, straight from the convenience of your WordPress dashboard.
Moneytizer: Payment Details
Moneytizer implements a minimum checkout amount of $50. Once you have met the threshold in ad revenue by the end of the month, an invoice will be generated by their system. The invoices are generally sent by the 10th of every month.
So how quickly can you make the $50 in ad revenue?
As we just explained earlier, you can either choose to get your payments via PayPal or wire transfer, whichever you prefer.
The payment is generally credited to your bank account within 60 days from the date of generating your invoice.
So, Should You Use Moneytizer?
There are a couple of key things about Moneytizer that stands out. For starters, their dedicated Header Bidding system and rich collection of ad formats ensure that you get the best-suited ads to display on your website, and also the best possible CPM on each ad.
However, when you pair this with the fact that each publisher gets a dedicated account manager to help them out, this makes things a whole lot simpler and convenient.
You face the minimum barrier while setting up your website alongside expert technical support.
But the icing on the cake has to be their non-contractual system. Since you have the freedom to opt-out of the network any time you want and the fact it doesn't cost you anything, we would recommend it is worth giving a try.
Especially if you are in the market searching for a good CPM ad network to optimize your website ad revenue.