The first time you made a PowerPoint presentation, you probably used all the default templates, animations, and transitions. You stood in front of the audience and thought your presentation was excellent, only to find out later that you made many PowerPoint presentation mistakes.
Everyone makes mistakes, even the best public speaker. However, learning what mistakes you have made helps you become better. You can improve your PowerPoint presentation skills and eventually create a successful presentation.
Take a look at the most common PowerPoint mistakes below. You may be unintentionally making these mistakes. If you are, learn from them, and do better!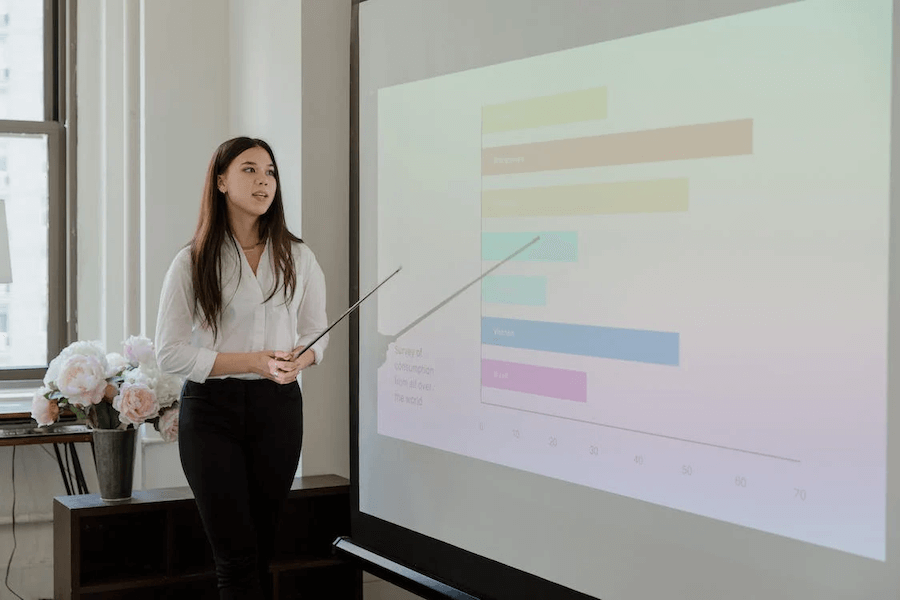 Common Mistakes in Designing PowerPoint presentations
You can create better PowerPoint presentations by taking note of common mistakes to avoid when making a PowerPoint presentation listed below.
01. Alignment and Size
Microsoft PowerPoint has a built-in alignment tool that helps you appropriately align your text and graphics. Alignment is the even distribution of elements in one slide.
Audiences show better engagement when they see well-distributed and orderly PowerPoint slides. Don't be in a rush, and meticulously work on one slide at a time. Check that the elements are correctly aligned, and the spacing is the same throughout your presentation.
Aside from alignment, you also need to check whether the contents of your PowerPoint slides are of the appropriate size. Your logo and images should not be screaming for being too big or too small to appreciate. The font size should not be too small or too big either.
Set your font size to 12pt and the line height to 1.2 to give your text white space around the text. This will make it more readable for your audience and relaxing to look at.
02. Boring PowerPoint Templates
You want to keep your audience engaged when doing a PowerPoint presentation. However, using default templates or old themes of Microsoft PowerPoint can make your presentation boring and uneventful.
You want to be manageable with your PowerPoint slides, but you also want to avoid making a PowerPoint presentation mistake of using boring templates for your presentation.
Aside from the old and boring templates, you should also avoid making the PowerPoint presentation mistake of using the same shapes, tables, graphs, and colors for your slides. You can improve your presentation slides by customizing the designs to look professional and inviting.
If you need help finding where to look for professionally-designed and highly customizable PowerPoint presentation templates and themes, visit Simple Slides. It has a comprehensive collection of templates and themes to make your presentation stand out.
03. Colors and Fonts
The use of colors is essential in PowerPoint presentations. Better if you can use bright colors for your presentation. Seeing bright colors can make your audience feel happier and eager to listen to your presentation.
If you use a white or light background template, use a dark font color. Similarly, for a black background template, use a light font color. This will make your slides eye-catching and readable to your audience, especially those seated at the end of the room.
Choosing a color pattern for your presentation takes practice. You can do your research and look for monochromatic or complementary color combinations.
Font selection is another important aspect of making a better presentation. If you wonder how many fonts are acceptable for a good PowerPoint presentation, the answer is two. You can experiment by pairing serif fonts (Times New Roman or Georgia) with sans-serif fonts (Verdana or Arial). Use the same font for your entire presentation.
Choose a combination of font and colors that go well together. Refrain from cramming all the fancy fonts and colors you like into your slides.
04. PowerPoint Slides With Too Much Text
Putting all the elements on a single slide seems tempting and convenient. However, this is your point of view, but you are unknowingly giving your audience a headache. They are listening to you and reading your slides at the same time.
Your goal is to make one slide convey one idea. Use bullet points for essential text and key points. Also, use easily understandable language. If you need to use jargon or specialized words, make sure to explain these words to your audience.
05. Poorly Formatted Images, Complicated Charts or Graphs
Avoid making the PowerPoint presentation mistake of using poorly formatted images for your slides. It is easy to grab photos online to use for your presentation. Some pictures with a white background can be used for templates with a plain white background.
However, if you are using a template with a dark background, it is best to format your images to make them look visually appropriate for your slides. You can remove the white background of the image or make the background transparent by using editing programs like Photoshop, or paint in just a few seconds.
The majority of the audience doesn't appreciate charts and graphs. Label these illustrations properly to make them appreciate the data in charts and graphs. Make sure they are simple and easily readable.
06. Too much animation, transitions, and Distractions
Applying animation to almost all of the elements in your slide is a big no-no. You may find this fun and amusing, but your audience will most likely hate it. You will lose their attention and interest.
It is advisable to use simple animations and only use them when you want to emphasize a text or phrase or when you want to recapture your audience's attention.
Avoid using other media, such as ClipArt on your presentations. They look very tacky. It is better to use high-quality images instead. Every element you use in your slides should add value to your presentation.
Anyone who uses PowerPoint is familiar with the basic built-in transitions such as fly in/out, wipe, dissolve, and many more. You may find these transitions amusing, but they are very distracting and must be avoided. It is advisable to use hard transitions for your slides.
07. Inconsistency
The last mistake you can make in PowerPoint presentations is by being inconsistent with the slide designs and content.
For instance, use fonts that are readable from the first slide to the last. Don't use handwritten and cursive fonts. If you want to emphasize a word or short phrases, use a bold font instead or change the font color.
If you can use PowerPoint themes for your presentation, the better because the slides are consistent (font, color, and design).
Frequently Asked Questions
What are the most common PowerPoint presentation mistakes to avoid when making a PowerPoint slide presentation?
The common PowerPoint presentation mistakes to avoid are (1) poor alignment and inappropriate sizing of elements in a slide, (2) using boring templates, (3) using combinations of font and colors that don't mix well, (4) wordy slides, (5) poorly formatted images and complicated charts or graphs, (6) using too many animations and transitions, and lastly, (7) inconsistent slides.
What are the dos and don'ts of PowerPoint presentations?
To achieve an excellent PowerPoint presentation, stay concise, use the right amount of humor, interact with the audience, use appropriate combinations of colors and fonts, use bullet points and number lists, and practice your presentation.
Avoid adding too many animations or effects in all your presentations, reading straight from the slides, using complicated charts and graphs, and rushing to finish your presentation.
Final Thoughts
They say, "first impressions last." This is true, especially for PowerPoint presentations. Your first slide can impress or disappoint your audience.
You can easily avoid making these common PowerPoint presentation mistakes by being mindful of them when creating your slides. Always strive for a good first impression and interact with your audience during your whole presentation.
Also don't miss our list of best PowerPoint alternatives.