Predicted to reach a market industry value of $24.1bn, influencer marketing has skyrocketed in value over the past few years.
Once seen as a side hobby, becoming an influencer is now a completely possible career, with people around the globe turning to social media to make a living.
Perhaps nowhere has a platform taken the concept of an influencer further than Chingari, an Indian TikTok alternative.
With user-centric features that allow influencers to monetize every single part of their platform, Chingari has seen massive uptake over past years.
If you're looking to earn a living on Chingari, there are several core features you should be taking advantage of.
In this article, we'll walk through the best features that earn you money, demonstrating why this platform is great for making a living as an influencer.
Background of Chingari
With over 35 million active users every month, the social entertainment application Chingari has exploded onto the scene since its 2018 launch.
With this huge user base continually interacting with content on the platform, Chingari has singled itself out as a go-to spot for influencers looking to build an audience.
Alongside their user base, Chingari has uniquely positioned itself as an influencer-positive online space. Creating an ecosystem of features that influencers can take advantage of to earn a living, this application has become one of the world's fastest-growing social media platforms.
Only taking a few minutes to sign up, anyone has the ability to launch themselves into a career of online influencer fame with Chingari.
How to Make Money as an Influencer on Chingari
Chingari is a user-centered platform that helps influencers capitalize on their audience to earn a full-time living. Through the integration of $GARI, Chingari's native cryptocurrency, into the platform, influencers can earn and then cash out of this ecosystem.
Not only does this provide an intuitive way of earning on the platform, but it also brings the audience of 30M+ people on-chain.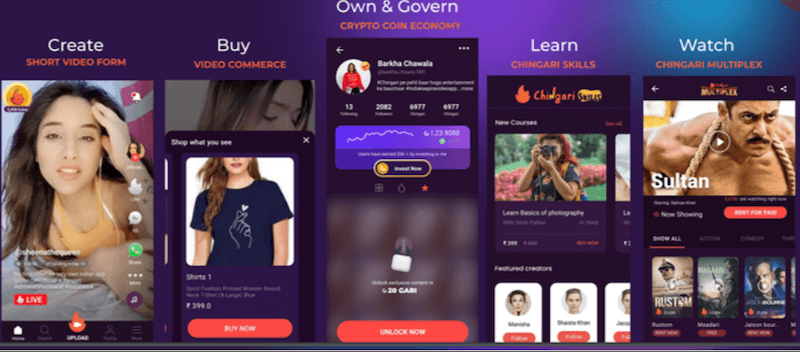 Putting users first, Chingari has developed a range of functions that users can carry out in order to gain $GARI.
These all center around having an audience, with the number of followers a user has directly linking to a user's revenue.
Unlike the major international streaming platform TikTok, Chingari gives users the bulk of profits from their content, only keeping a very small share for themselves. Currently, the main features that influencers can use to monetize their profiles are:
Let's break these down further.
Investing in Influencers
Within the Chingari ecosystem, every influencer is assigned a Creator Pool. This pool is a central hub that measures how much $GARI they're worth, taking into account their followers, the amount of money they earn from videos, and investments into them.
Users will be able to stake their $GARI tokens on an influencer's Creator Pool. This is essentially placing a bet that the influencer will continue to make content that does well, gain more followers, and that their pool goes up in worth.
By investing in influencers, users are able to gain $GARI if their favorite picks continue to do well on the platform.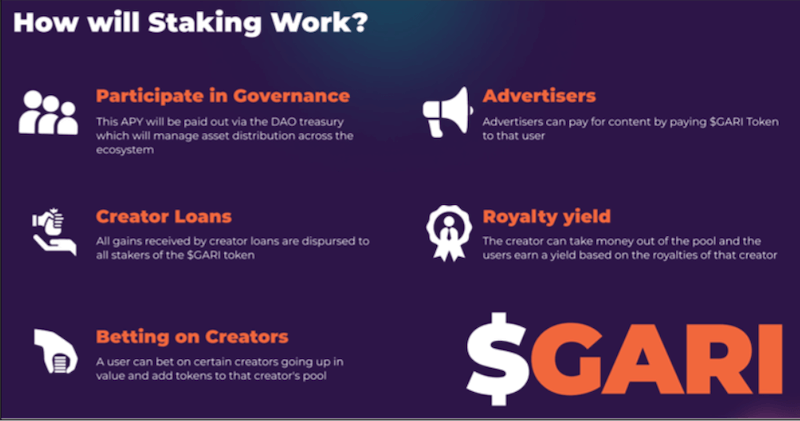 This creator pool acts as a source of revenue for the influencer, getting royalties paid out to them from their share. Additionally, this form of influencer investing further pushes the potential success of users.
Instead of just passively watching as people gain more followers, the community of Chingari now has an active desire to see certain influencers succeed.
Within this, influencers become even more valuable, boosting their success and leading to the formation of new social media stars.
Direct Tips
Direct tips are one of the most straightforward ways that an influencer can earn an income on the Chingari platform. When a user chooses to tip an influencer, the influencer will receive the $GARI tip.
From there, they can either leave the tokens in their account and let them accrue value as $GARI continues to rise, or cash them out at major exchanges.
Buying Interactions
One of the central functions that allow influencers to monetize their accounts is the interactions section. On an influencer profile, there will be an 'Interaction' button. By tapping on this button, users will gain access to a page where a range of different functions is listed.
Users will be able to purchase:
These features take a vast range of successful elements from multiple applications like Cameo and combine them into one.
By integrating all of these different options within the Chingari ecosystem, influencers have the ability to generate continual income.
Additionally, as an influencer becomes more popular, the number of requests for interactions they get will increase.
Due to this, they can decide to designate more of their time to these functions, instantly increasing their income as they take on more interaction work.
Partner with Smart-Advertising
Fast approaching a 2022 market size of nearly 14 billion USD, influencer marketing has taken the world by storm in recent years, growing from only $1.7bn in 2016.
Within this relatively short period of time, influencers as a general concept have exploded. With this, influencer marketing has arisen, with brands paying influencers to market their products online.
Understanding that influencer marketing was bound to happen on their platform, Chingari has integrated this directly into the application.
Instead of contacting influencers privately, companies can simply click the 'Advertising' tab to then propose advertisements.
Advertisers will pay influencers directly in $GARI, with their rate for specific actions or promotions changing depending on the size of their audience and the influencer's preferences.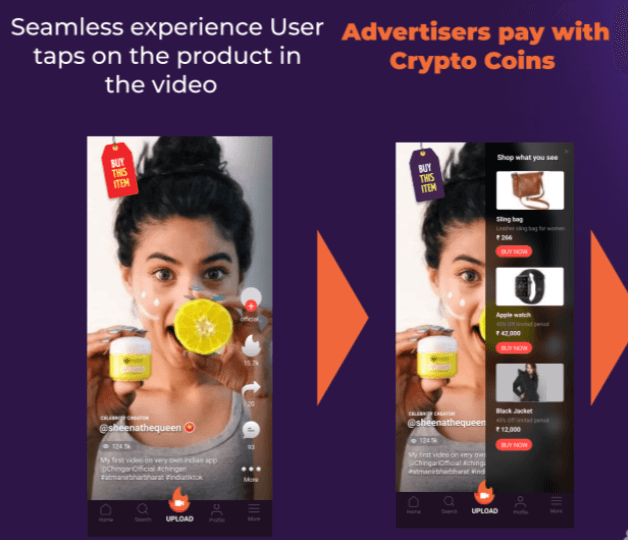 Chingari has taken this one step further, then integrating a sales tab within videos. If an influencer were to promote a product in a video, a user would only have to tap on the video to get direct links to where they can see or buy the product online.
This seamless experience has radically changed influencer marketing, making it more straightforward for both influencers and advertisers.
With this feature, influencers can make a large portion of their income.
Creating eCommerce Platforms
The 2010s really were the decade of eCommerce, with the total number of eCommerce sales worldwide increasing year upon year. Currently predicted to reach 5.4 trillion USD in 2022, it seems that everyone has an eCommerce store nowadays.
Chingari has made eCommerce a natural extension of their platform, with influencers being able to create and link an eCommerce store to their page.
Like with advertisements, if a creator has a product that's on their store in a video, it will automatically appear on the sales tab if a user clicks the video.
Due to this, influencers can make use of eCommerce to further boost their earnings potential, with their followers buying merch directly from their page.
Course Creation
The online course creation market has seen incredible growth over the past few years, with current estimates predicting that it will reach $11.3bn by 2026.
Just like with eCommerce and influencer advertising, Chingari has jumped upon this trend, allowing influencers to create their very own courses within the application.
Instead of using a third-party platform, users will be able to navigate to the course tab and create their course then and there. Using only their mobile device, they can record videos of their skill and then publish courses that their followers can then subscribe to.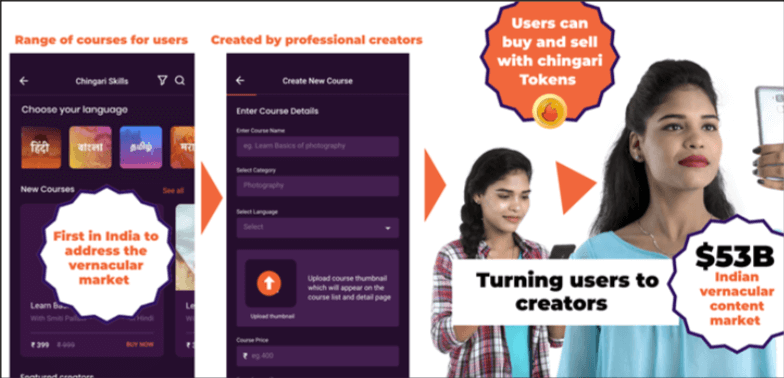 Not only does this allow users to share their skills with the world and become international teachers, but the course market represents an additional stream of income that Chingari influencers can make the most of.
Chingari NFT Marketplace
A more recent addition to the Chinagari ecosystem, the NFT Marketplace is a central hub where users can mint NFTs and then sell them directly to their followers. These NFTs can range in content, including anything from pictures to actual artwork they've created.
As Chingari runs on the blockchain, this NFT system is directly integrated into the application, with ownership listed within the ecosystem itself. Fans will have ownership of these digital assets, buying them from influencers for a set rate.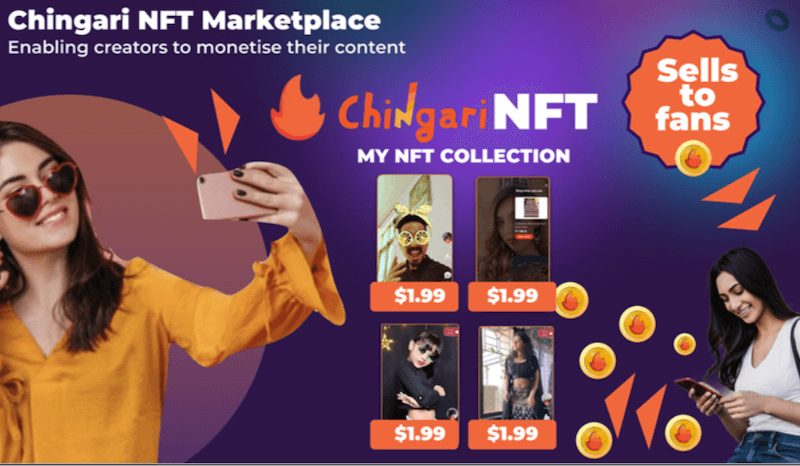 Although this final stream of income is new, it's already making a splash on the Chingari ecosystem.
Final Thoughts on Making Money as An Influencer on Chingari
If you're looking to explode onto the social scene and make a living for yourself as an influencer, then Chingari is a wonderful platform for you to test out.
With a range of features that will help you along your path to influencer fame and fortune, this accessible app is paving the way for user-driven social media platforms.