Microsoft Word for Mac is a popular document editing tool that helps a lot in your work. However, you also face problems that the Word documents are unsaved due to the software crashes, sudden power off of your Mac, accidental shut down of Word without saving, etc.
This article will guide you to get back unsaved, deleted, and lost Word documents on your Mac/MacBook in efficient ways. Also, here's a step-by-step detailed guide to show you how to recover a Word document on Mac.
Where Do Unsaved Word Documents Go?
You can indeed retrieve the unsaved Word document as they are still stored on your Mac. So, you may be curious about where the unsaved Word documents are stored as they are out of your eyes.
The auto-save function in the Word for Mac app makes the unsaved files to a specific folder on your Mac. This folder is called the AutoRecovery folder and can be found in Finder.
Moreover, the macOS is also designed with a folder that can store temporary files of the applications you are using, which is called the TemporaryItems folder.
Therefore, your unsaved Word documents may be saved in the two folders. If you delete the unsaved Word documents, they will go to Trash rather than the two folders.
Part 1 Three Workable Ways to Recover Unsaved Word Documents on Mac.
---
Way 1: Recover Unsaved Word Documents with AutoRecovery
The powerful Microsoft Word is designed with an AutoRecovery function that is opened by default. It supports automatically saving a copy of an open Word file every 10 minutes to avoid your data loss.
When the Word app crashes, freezes, or quits unexpectedly while you are editing a document, it will automatically save the document for data protection.
Then, you can use the built-in AutoRecovery to retrieve the unsaved Word document.
Here are the steps of how to recover an unsaved Word document with the AutoRecovery feature in Microsoft Word:
Open Finder.
Move to the top Finder menu bar and click Go > Go to Folder.
Enter ~/Library/Containers/com.microsoft.Word/Data/Library/Preferences/AutoRecovery into the box and hit Return.
Open the AutoRecovery folder and find the files that are named with the words "AutoRecovery save of"。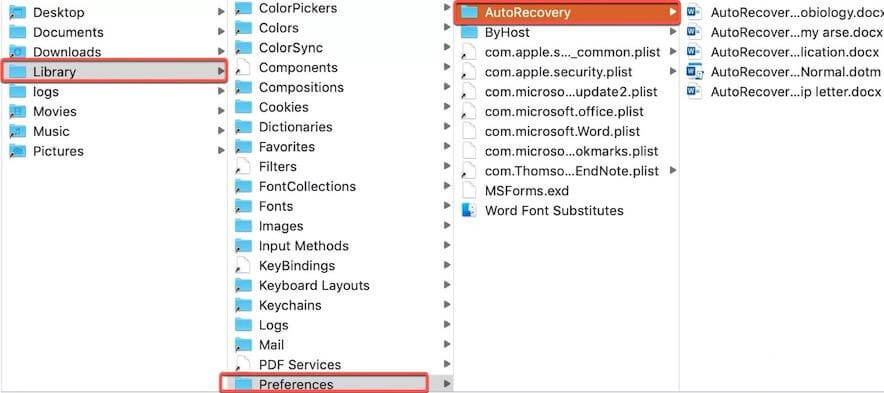 Double-click your desired unsaved Word document to open it in Microsoft Word.
Choose the File menu > Save As to save the file at a new name on your Mac.
Way 2: Recover Unsaved Word Documents from Mac's Temporary Folder
The TemporaryItems folder is used to save temporary files of applications you are using on your Mac, the Word for Mac software is also included. But these temporary files will be removed when you quit the app.
You still have a chance to find the lost and unsaved Word documents with the Temporary folder before they are automatically cleaned up.
Steps for recovering unsaved Word documents from the Temporary folder on Mac:
Open Terminal and enter open $TMPDIR in the window.
Hit Return to open the Temporary folder.
Click the folder named TemporaryItems and right-click the unsaved Word document you want and then select Open With > Microsoft Word.
Click the File option > Save As in Word app to save the file to another destination on your Mac.
Now, your unsaved Word document is back. You can continue editing the file.
Way 3: Recover Unsaved Word Documents from Trash
You may feel wired why you need to recover the unsaved Word document from the Mac Trash as you haven't moved it there.
The Microsoft Word for Mac app has the function of temporarily storing the files that you haven't saved in a folder named "Recovered items" in Trash. This usually happens when you are editing a file while the app restarts automatically or quits unexpectedly.
To recover unsaved Word documents from Trash, you need to:
Open Trash from the Dock.
Search for the "Recovered items" folder in Trash.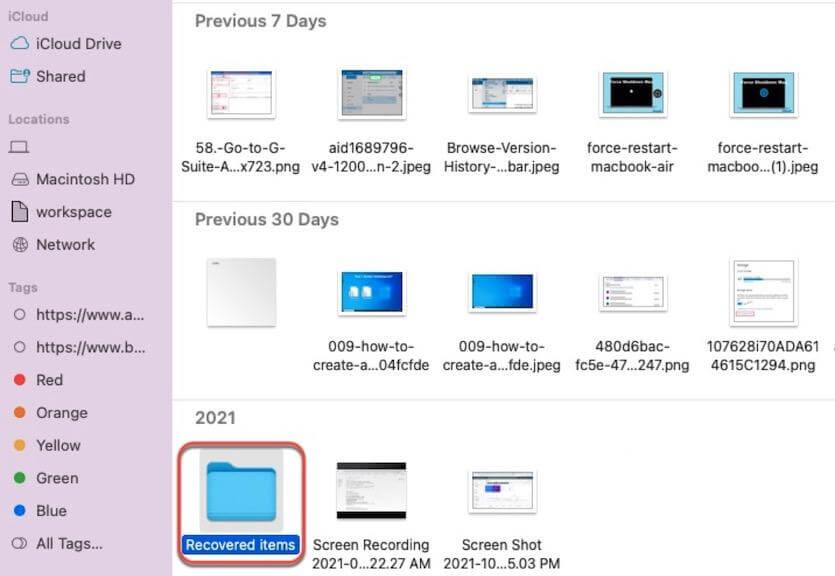 Open the folder and find your unsaved document.
Put the unsaved file back to your Mac desktop or another place.
If Word doesn't save the recovered files, this folder won't be created and located in Trash. Hence, you need to try other methods to restore the unsaved document.
Part 2 Recover Deleted or Lost Word Documents Using Data Recovery Software
---
If you have permanently removed the Word files from your Mac Trash, you have no other ways but try to use the professional data recovery tool to help you recover the lost Word documents.
Here, iBoysoft Data Recovery for Mac is your first choice. This Word document recovery software is easy to operate and has a high data recovery rate. You can get your deleted and lost Word documents back within a few clicks.
This tool uses well-designed technology to allow you to recover permanently deleted word documents. Before recovering, it offers you the chance to preview the recoverable files that the app scanned.
Note that once you find your Word document lost or permanently deleted, stop using your Mac for any other operations except using the data recovery tool to get them back. Or else, the chance to restore the deleted or lost files will be reduced.
Here are some necessary steps to recover the deleted or lost Word document with iBoysoft Data Recovery for Mac:
Free download and install iBoysoft Data Recovery for Mac from its official website.
Open the app and choose the Mac hard drive or partition where the deleted or lost files are stored.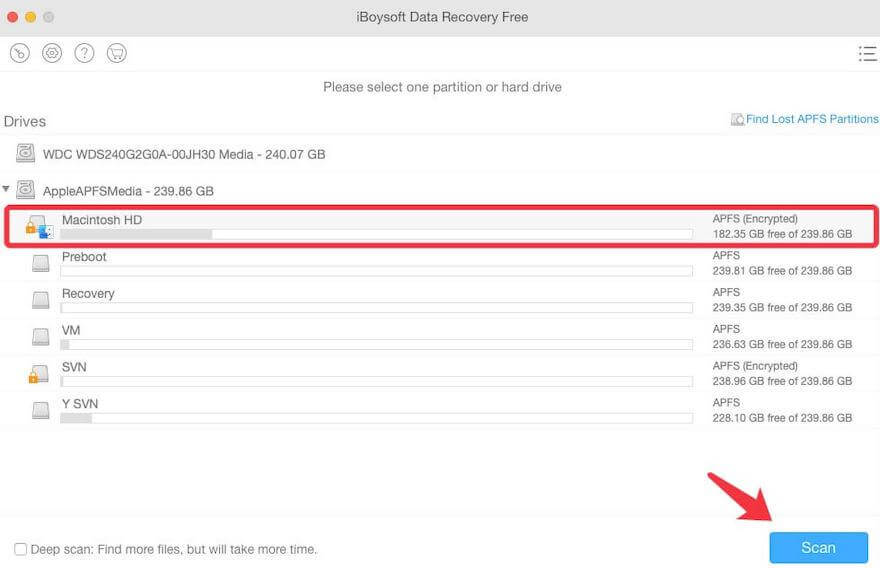 Click the Scan button to search for the deleted or lost files.
Preview the scanning results and find your desired Word documents or other files。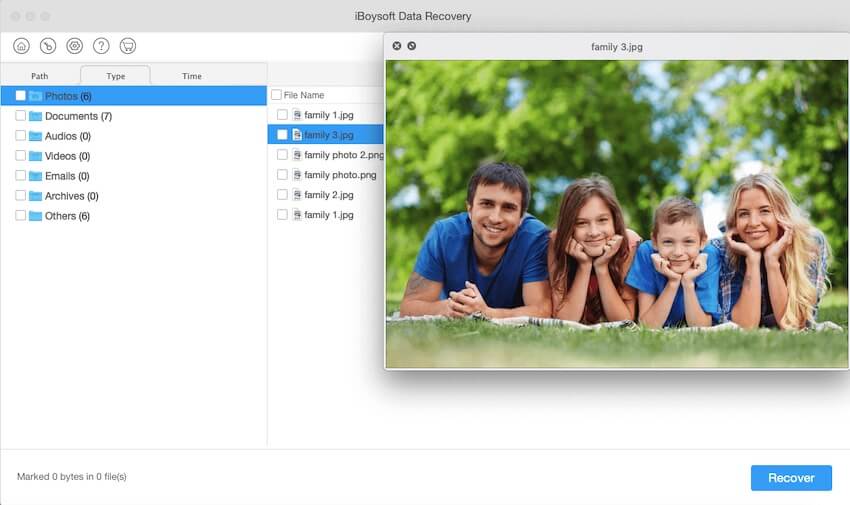 Select your wanted Word document and click Recover to retrieve it to a different destination.
Easy and quick enough right? Now you can look through and continue to edit your deleted or lost Word document.
Final Words
From this tutorial, you can learn about where your unsaved Word documents go and get different reliable and efficient methods to recover the unsaved Word document on your Mac.
If you mistakenly delete your Word files or your Word files get lost due to the Mac crashes or other situations, using the data recovery software to get back the lost or deleted Word files is mostly recommended. That's because this way is easy to follow and has a big chance of file restoration.