Modern business does not stand still, requiring constant development and promotion. Otherwise, you can be left behind by numerous competitors.
You can't do without sales brochures, creative posters, and stylish business cards in the struggle for supremacy.
This is where the question arises, how to hire an excellent graphic designer who would take into account the specifics of the business and the interests of the target audience as well as manage to highlight the competitive advantages.
In-house graphic designer or freelance graphic designer?
The person responsible for developing and implementing design projects is a graphic designer. Large corporations that produce visual content hire in-house specialists.
They are fully engaged in the development of graphics. But when it comes to a one-time service or periodic work, keeping a graphic designer on staff is simply not rational.
In-house graphic designer benefits:
Works for your brand only
Is always available to you
Knows your brand's style inside and out
In-house graphic designer disadvantages:
Needs to be paid even when you don't have any design needs
Will have an area of expertise they specialize in
Has a set capacity if workload gets high
It is advisable to cooperate with freelance graphic designers. In addition to the financial benefits, it is another significant advantage of working with freelance graphic designers: they are always interested in the high-quality performance of tasks!
Freelance graphic designer benefits:
Paid on a project-to-project basis
Can be hired for each project according to their specialization
Can be hired flexibly whenever you have design needs
Freelance graphic designer disadvantages:
Won't be as familiar with your brand, so you'll need to brief them well
Won't always be available to join meetings or do last-minute tasks
It takes effort to find and evaluate the right freelancers
Those who work for themselves will not shirk work nor try to do less without giving 100%. The graphic designer gets paid for the completed projects, not the rate, and the client has the opportunity to take a closer look at the performer, not hiring him for a monthly salary. Agree that this is much more profitable, and the result turns out to be much better.
How to find a graphic designer?
The best ways to find a graphic designer are freelance platforms, recruitment agencies, and innovative Awesomic platform.
Let's discuss them:
Freelance platforms
There are many freelance platforms where you can find a graphic designer. They allow you to search, choose, and communicate with potential graphic designers.
The freelance platform serves as a guarantor of the quality of the order, the completeness of payment, and the arbitrator if a dispute arises. Graphic designers offer their services and choose orders that suit them in terms of cost. Customers filter graphic designers by their criteria, depending on the complexity of design, project budget, etc.
Recruitment agencies
Another option to find a graphic designer is to apply to recruitment agencies. There you will be offered graphic designers from an already collected database.
This, of course, is convenient, but there are pitfalls. You need to consider the specifics of the profession: talented, creative people rarely leave their CVs at recruitment agencies.
An excellent graphic designer always has a job, and new clients come by the recommendations of others. That is why the chance of finding "your" graphic designer by this method is tiny.
Awesomic
Awesomic.io is an easy way to hire a graphic designer because it takes the search and management of graphic designers off your hands. It connects companies with designers through an algorithm that decomposes user tasks into parameters and selects the right designer.
For the client, a single subscription gives access to a proven community of professionals who can handle any business assignment: logo and branding, websites and product design, print and marketing materials, presentations, and animations. Customers pay a monthly subscription and get an update on an assignment for each business day.
Remember that finding a graphic designer can be a challenge.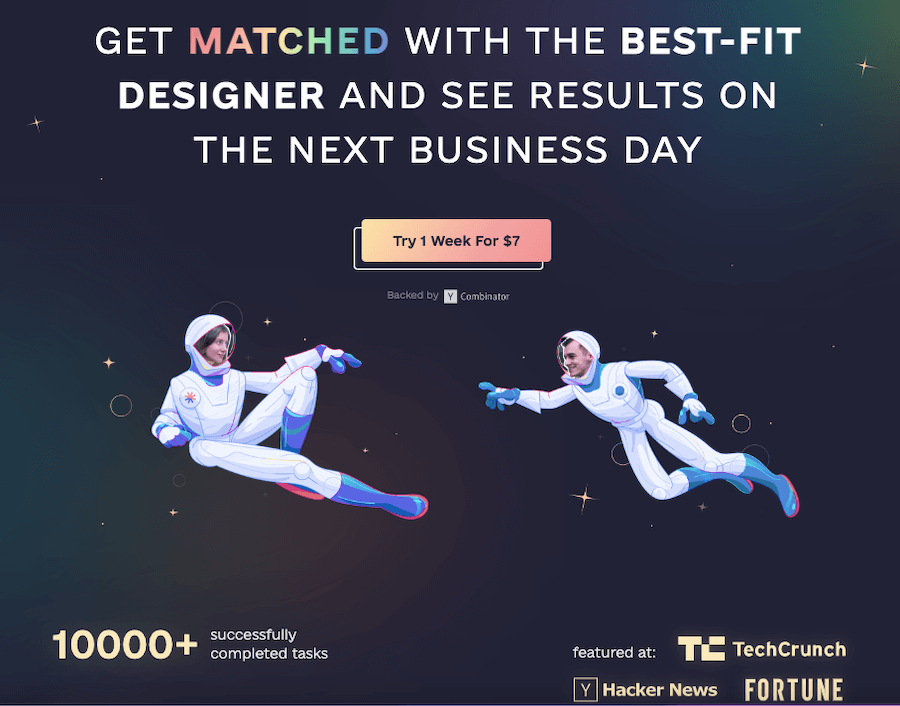 What to pay attention to when choosing a graphic designer on your own?
Understanding how to choose a graphic designer is mandatory for each customer since the result directly depends on the correctness of the selection criteria.
It is recommended to approach the issue comprehensively to evaluate several main parameters that characterize the activity of the graphic designer: portfolio, interview, work experience, and personal qualities.
Portfolio
A portfolio tells about the graphic designer, his personal qualities, and even his responsibility without any words. For example, taking care to look at samples of projects comfortably says a lot about the attention to detail:
Standard mockups are not always advantageous, as it does not allow you to consider individual design elements.
It is worth paying attention to the description of each sample so that the purpose of their creation becomes apparent.
For a proper assessment of submitted samples, you need to understand what was required from the graphic designer.
And, of course, the attention to detail, harmony of composition, color scheme, matching the stylistic nuances, and the reflection of the basic idea of the concept are essential.
With the skillful combination of these tools, the design layout will not be a pretty picture but working promotional material, attracting potential customers and increasing profits.
Interview
If the portfolio meets the requirements and expectations, you can arrange a personal meeting with the candidate.
This only makes sense with a long-term collaboration. Seeing the person in person is just as important as evaluating their work. It is worth talking about the ambitions and goals of the candidate:
Exaggerated self-esteem will negatively affect the cooperation process, as even constructive criticism of the design will be perceived aggressively.
It is also difficult to establish contact with an overly closed person.
It is necessary to rely on personal perception: if there is a feeling of closeness of spirit, ideas, and ideals, the joint work will most likely be comfortable. And personal qualities of graphic designer often become more important than other professional skills.
Work experience
Special education and completed courses always have a positive effect on professionalism. Undoubtedly they broaden horizons, arrange ideas, allow a graphic designer to understand the essence of design, and structure your projects.
But these parameters are not mandatory, as an innate sense of style, beauty, and taste make the design more original and attractive than the students of numerous masterclasses.
Today it is necessary to develop yourself. That's why many incredible graphic designers are continuing to learn and look for new marketing tricks, improving those that have already proved effective.
In addition to experience and knowledge, a graphic designer may need unconventional thinking, boldness, or the lack of expressed emotion. So-called paraprofessional skills are not directly related to the activity but make it more organized and effective.
Personal qualities
Wherever you decide to look for a graphic designer, candidates' psychological portraits and personal qualities are at the top of the list. In addition to an objective assessment of their work and ambition, professionalism, and mastery of basic design skills, graphic designers are expected from:
Ability to be part of a team or to be responsible for the result of their work independently
Competent speech, own point of view
Readiness for creative projects or routine work, the quality of which will always be high
The desire for self-education and self-analysis characterize the graphic designer from the best side. It indicates his high intellectual level, focus on the result, and openness to new and unconventional views.
Conclusion
Now you have got a 2022 guide on how to find and hire a graphic designer. All you have to do is apply it and find the best freelance graphic designer (or employee) for you and your business.