There are times when images can stand on their own, but sometimes you want to collect them into a single PDF document. Whilst the word 'PDF' – meaning Portable Document Format – may bring to mind text-based documents, it is actually a vector-based image format.
If you are wondering how to convert an image to PDF, keep reading!
There are plenty of reasons you may want to convert an image or set of images into a PDF, from file size to editability, quality and reliable sharing.
For example, you might have photographs of several slides for a presentation, or want to combine a collection of photographs for simple sharing.
PDFs are a universally accepted document format that allows for the collating and sharing of a large quantity of high-quality content, including photographs, graphics and text. 
Using PDFs is practical, as they can be downloaded and read anywhere, on any kind of device, which is why it's great to know how to convert any JPG picture into a PDF.
There are many ways to make a PDF, including various apps and types of software such as Adobe Acrobat and InDesign. In this article, we'll be exploring a few options, including software for your laptop or computer, and apps for your mobile phone.
You can also convert any image quickly and securely into a PDF online, for free, with no need to download anything to your device. 
FORMATPDF.COM – The quickest and easiest free option for image to PDF conversion
FormatPDF is an online tool, which means it doesn't require the downloading of any software to use. It's also free to use, with no need to sign up for an account, so converting a JPG into a PDF doesn't even require an email address – all you need is an internet connection and a web browser.
You can either use the browser on your computer or laptop, or simply go to the internet browser app on your phone.
Convert a JPG image file into a PDF document instantly with the following easy steps:
Step 1. Visit FormatPDF.com to begin
Visit the website and select the right conversion tool from the options on the homepage. There are also options for conversion to and from Microsoft Word and Microsoft Excel documents, but to convert an image, you want to choose JPG to PDF.
As well as file type conversion, you can make any other alterations needed to your PDF document, including compressing the size of your file for easy sharing via email or file transfer, splitting and reordering the pages of your document, and adding password protection.
Step 2. Select your image file for conversion
On the JPG to PDF page, you have two options for selecting your image. You can click on the "Select Image" button and browse your device's local files, or drag and drop the image directly from your computer onto this web page. With this tool, you can also select multiple images to convert at this stage
Step 3. Preview and convert your image
You will be presented with a preview of your image before you complete the conversion, so you can easily check for errors. If you're happy with the preview, click "Convert to PDF" to download your file.
If you have multiple images, you can choose to merge them all into one PDF by checking the checkbox, or leave it unchecked to save all files as separate PDFs. The files will automatically download and be saved to your device.
Pros:
Online with no requirement to download and install software to your device
Merge multiple images into a single PDF document in one step
Format PDF offers a range of PDF tools alongside file type conversion
Always free with no advertisements
No login or account needed
Simple and foolproof with instant results
Cons:
You must have a connection to the internet to use this conversion tool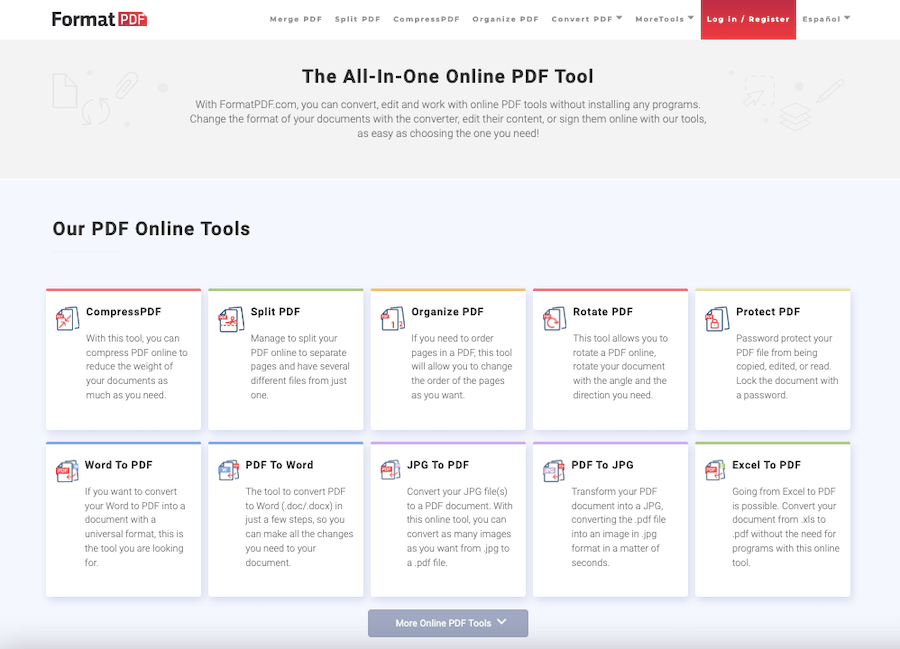 ADOBE ACROBAT – The best-paid conversion option for desktop or mobile
Created by Adobe, Acrobat software provides all the tools you could need to convert, edit, and sign PDF documents. It is available as a paid subscription with various price levels depending on your needs, but the software also offers a 7-day free trial.
It is available on both computer and mobile devices, so either visit your mobile phone's app store, or go to Adobe's website. 
Convert a JPG image file into a PDF document with Adobe Acrobat by following the steps below:
Step 1. Launch Adobe Acrobat software
The first step is to download Adobe Acrobat, if you don't already have it on your device. Once you have downloaded and installed this converter, launch the software.
Step 2. Choose your image and convert it from JPG to PDF format
Either select "Create PDF" from the tools home screen, or go to the software menu bar and click on "File" to select the option "Create".
From the file browser, locate and select the image you wish to convert, then click on the "Open" or "Create" button to instantly convert your file. Select "File" again, then choose "Save" to save the new PDF image to your device.
Pros:
Adobe Acrobat is the industry standard for PDF files
Quick and simple to use
Cons:
The free trial is only a weeklong
Payment method is a monthly subscription
Software must be downloaded and installed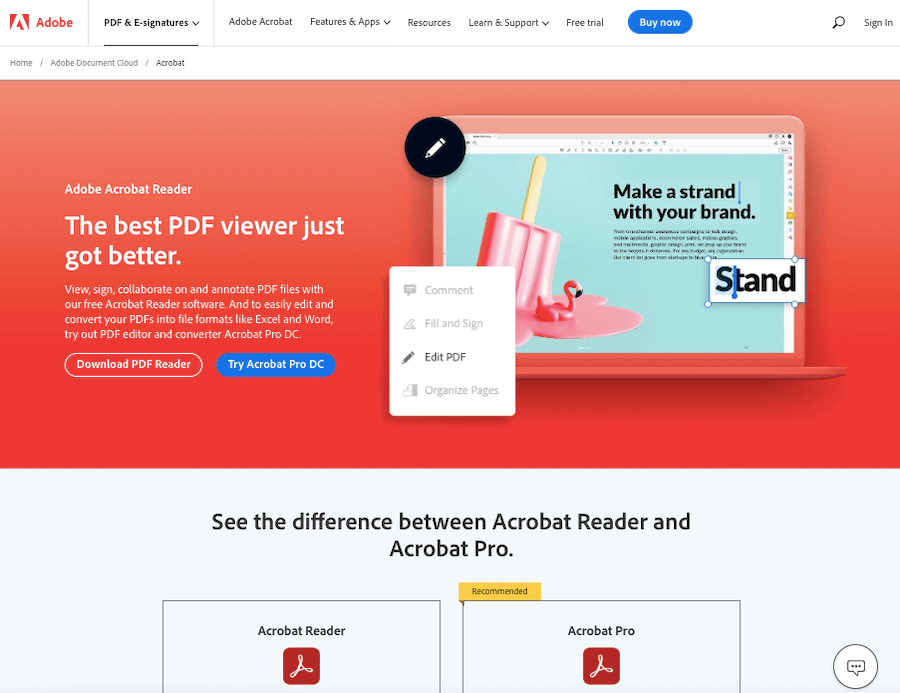 COMPUTER APPLICATIONS – Alternatives to Adobe Acrobat
If you anticipate not having an internet connection when you need to make instant image conversion, but you don't want to pay the monthly subscription for Adobe Acrobat, there are other computer applications available with similar capabilities.
You will need to download a software application whilst still connected to the internet. Most image conversion software requires a one-time licensing fee to be paid to use all of their features or offers a short free trial before purchase.
Two paid options that offer free trials are:
AVS Converter, which is well-designed and offers eight major file formats for conversion, plus a few other tools.
PDFelement Pro, which allows you to edit your images before conversion, and can preserve text to be edited after conversion.
MOBILE CONVERSION APPS – Another easy option on the go
Plenty of mobile apps are available on your devices app store to convert images to PDFs, which are another great option if you know you are going to need to make image conversions when you don't have a connection to the internet.
Go to the Google Play or Apple store on your phone and search for a tool to suit your needs.
Launch your chosen app after downloading then follow the instructions on the screen to convert your picture. You might be asked to choose a save location and new name for the document created by the conversion.
Some mobile apps can also access files directly from the web, or from cloud storage such as Dropbox and Google Drive. Usually, they have similar and simple interfaces, and some also allow for easy sharing directly to email or to social media apps and other sites.
Some of these apps are paid, and most contain in-app purchases and adverts. Mobile apps may be limited by device type, and often lack important PDF editing tools found through other options.
In conclusion, the best option when you need to convert and image into a PDF instantly is an online tool like the first one we mentioned, which is free and has a range of PDF editing options alongside file conversion to cover all possibilities for your file.
If you need an offline editing option, there are various apps and software options available to you based on your budget and device.