Today's post is about changing the language of your WordPress Dashboard. When you first start using WordPress, you must have noticed that the default language of your site is English. However, not everyone using WordPress maybe comfortable using English.
I have therefore crafted this post for all those who want to change their dashboard language to any language other than English. In doing this I am not going to use any plugin.
Changing the language of our WP dashboard is a simple process and it can be done manually directly from your admin panel. You will easily be able to this if you follow the steps that I am going to discuss in the following section.
This process of changing your dashboard language does not, however, translate your site. It will only change the language of your dashboard.
So let's begin.
Changing Your WordPress Dashboard Language
The easiest way to change the language of your WordPress dashboard is to select the language you want in the settings section. To do this, go to settings > general settings > site language, you can select the language you want in this section.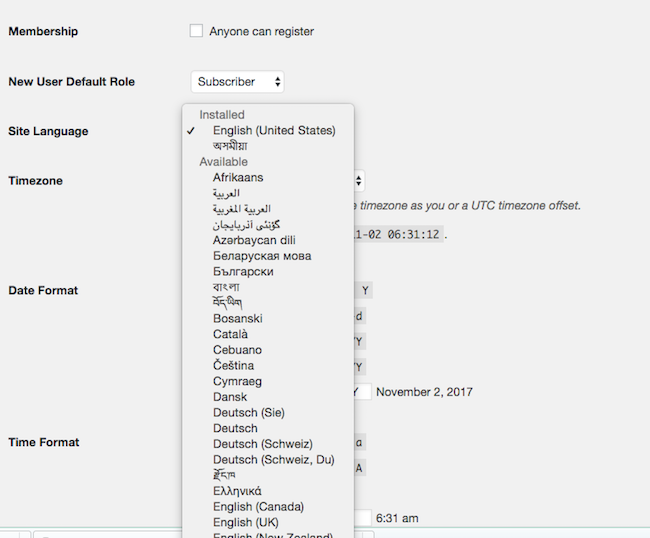 For WordPress Version 4.0 and above
Changing your dashboard language manually is super easy. But to do that, you first need to download the installation files. A list of languages will be displayed in a tabular format. Select the language of your choice and click on the team link at the right side of this tabular representation.
You will now be directed to another page with the download option. Click on the download button and unzip the folder. Now you will have to open the wp-content directory of your WordPress installation and create a new directory. Now place the recently downloaded file here.
Now login to your WordPress admin dashboard. Now go to the navigation menu and click on the settings option. You will find various options being displayed here, like General, Writing, Reading etc.
Now click on the General option. Here you will see an option with a drop-down menu next to the site language option. Click on the drop-down arrow and choose your preferred language. Do not forget to Save your changed settings.
Once done, your site will appear in the language that you have opted for.
For Version older than 4.0
If your version is an older one, the above-mentioned step needs a slight modification. However, the basic process is the same. For the older versions, you first have to open your wp-config.php file that you will find in the root directory of your WP installation.
But one thing that you need to keep in mind is that when you open this file, it needs to be opened with a text editor. Notepad is one of the options that you can use. Now go through the file and look for a line where you find the following:
define ('WPLANG', ");
Now go ahead and change this to the following:
define('WPLANG', 'fr_FR');
This is the code for the language French. You can change the language to any of your desired language by placing 'language ode_language code' after define('WPLANG',) in the line. You will find the codes in the tabular format that you will see while downloading the installation files.
Now you can save the new version of the wp-config.php file and upload it to your server. Your site will be displayed in the language you have chosen for providing your code.
Note : Sometimes you may not be able to see any warning messages if your mo file is missing.
Over To You
Doing this was easy, isn't it? It requires no professionals and no plugins. So anyone who has been using WordPress and wants to get their dashboard language changed can easily do it. So I told you the ways I know about changing dashboard languages. Do you know any other way?
If you do, then do tell us through your comments below. We will be glad to hear from you.