According to research, the global market for interactive kiosks will grow by almost 40% by 2028. Their use in retail offers many advantages that help to increase sales and increase customer loyalty.
It also gives you an edge over the competition. The main task is to provide a convenient user interface that can be liked and will be useful to consumers.
Let's look at how interactive kiosks can impact sales.
Benefits of kiosks
Key benefits of interactive kiosks:
With their help, a potential buyer gets to know the brand/product/service, studies all the information about them, and can find not only what he needs but also evaluate related products.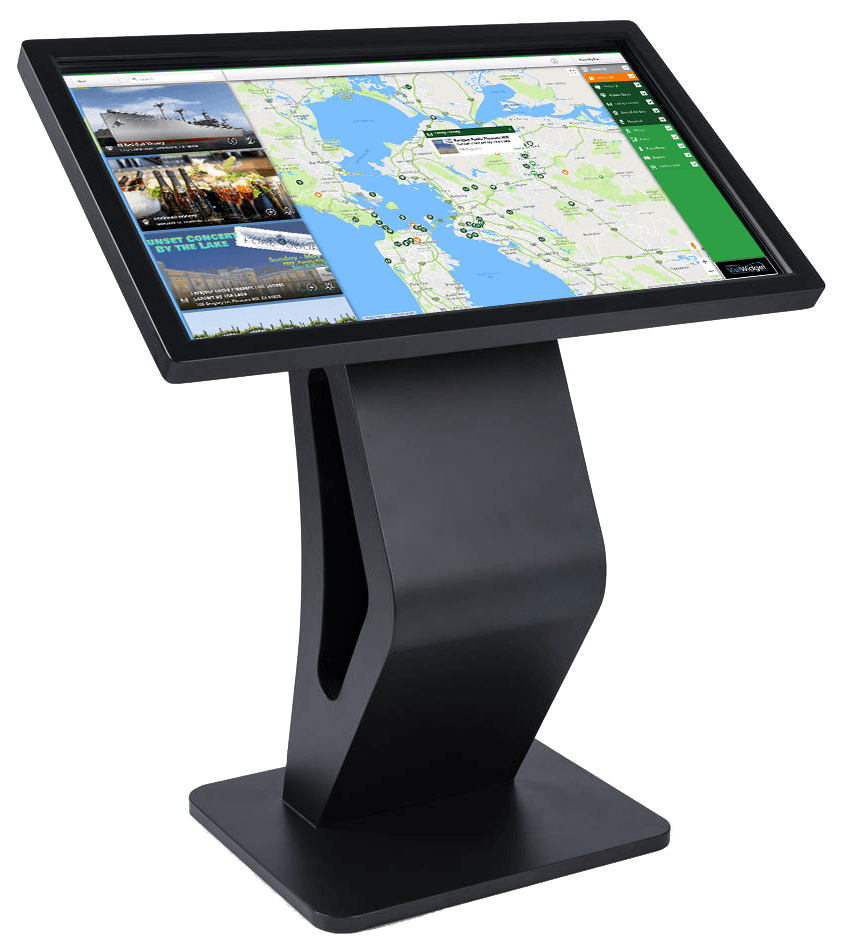 How Interactive Kiosks Work
Kiosks previously required custom programming and unique touchscreen designs. This took a lot of time and resources. Today, System-on-Chip (SoC) and web technologies are available that allow you to do everything many times faster and at the same time not spend colossal budgets.
SoC displays support HTML5 used in mobile devices and allows for the integration of new software versions and design changes at any stage after deployment.
How interactive kiosks drive sales
With the right software, interactive kiosks quickly answer all customer questions, providing not only general but also detailed information about goods/services, check their availability in different stores of the chain, and focus on promotional offers.
By making the system personalized, you can achieve greater customer loyalty. For example, a kiosk might greet a person by contacting their name or offer a special promotion for an item they've already viewed.
Interactive kiosks directly affect the quality of service. And this is the best way to increase sales.
TOP 6 Benefits of Using Interactive Kiosks
Retailers create unlimited multi-channel customer experiences with smart kiosks. Support and customization of online channels and access to the complete product catalog engage customers. Below we will tell you more about the benefits of using interactive kiosks.
01. To Attract Attention
Despite the fact that interactive kiosks are not a new device, they still attract attention in malls, shops, or on the street. Unlike conventional showcases, they look more impressive and exciting. It is the primary attention-grabbing factor that fosters important brand-consumer interactions.
02. Interaction With Clients
After attracting attention and the first interaction with the client, you need to retain and improve the result. A convenient and helpful interactive kiosk builds brand trust among potential buyers. The digital display helps to better remember the product and the interesting offer. This is a direct way to purchase goods immediately or in the future.
03. Save Time
Often, there are several sales assistants per large store. With a large flow of customers, they do not cope with the work, which leads to excessive expectations and loss of interest in the brand. Unfortunately, even one unsatisfactory experience can put an end to the desire to revisit the store.
If an interactive kiosk is installed in it, this will significantly save waiting time. A potential client will be able to evaluate all goods on a digital display and complete a purchase without the participation of a sales assistant.
04. Product Presentation
An interactive kiosk helps to present the product correctly without overloading the client with unnecessary information.
This saves time on explaining the technical characteristics and qualities of the goods. The person himself looks through all the necessary details that he needs, which leads to the absence of imposing unnecessary products.
05. Flexibility
Before putting the kiosk on public display, the necessary software and design are created. But unlike traditional marketing materials, retailers can change settings, look and feel at any time they want.
The flexibility of the device allows you to improve the kiosk constantly, depending on the needs of the brand and the results of work with customers.
06. Versatility
A rich choice of kiosk software features makes for a variety of possible use cases. An interactive kiosk installed in a pharmacy can include information not only about medicines but, for example, a blog with interesting articles or news in the world of medicine. 
The same goes for other areas, for example, you have a clothing brand, but everyone also knows that you sell home textiles.
It is worth including a complete catalog of both categories of products to give customers the opportunity to choose what they are interested in. Perhaps they have long wanted to buy a set of bedding, but they did not dare, and advertising will become a trigger to action.
Expensive kiosks
If it seems to you that an interactive kiosk is expensive, this is not so. Its performance, functionality, increased sales, and ideal relationships with potential buyers pay off as soon as possible after commissioning.
In addition, the system does not require lunch and rest; it works 24/7, which allows the store to work and attract potential customers even after hours.
Also, interactive kiosks perform some of the tasks of ordinary employees, which will reduce staff and save budget.
Conclusion
Interactive kiosks with touch digital display allow direct interaction with consumers, informing them about all the offers. With the right presentation, ordinary passers-by become interested potential buyers, which leads to an increase in conversions and sales.
The advantages of kiosks are useful not only for customers but also for sellers, saving their resources and eliminating the need for detailed information about the quality of the goods.
Technology is becoming more efficient, which will soon contribute to an even better shopping experience.