Are you someone like me who is looking for an easier solution than Adobe PhotoShop or other similar tools that need the technical expertise to edit an image?
Well, you will like the platform called Fotor a web-based photo-editing platform that works perfectly on windows as well as Mac systems. You can also use their mobile apps to edit your photos on the go.
You can use Fotor, a free photo editor to create beautiful graphics for a creative project, you can use it to create stunning collages or just to enhance an image before you upload it to your blog or any social media site.
It's a very handy tool for all kinds of photo editing requirements. And the best part is that you don't have to be an expert to create great-looking photos with Fotor.
And it is certainly convenient to use an online service than downloadable software. You don't have to make sure that the software is updated and working perfectly.
As Fotor is an online platform, the team will make sure that it is working perfectly.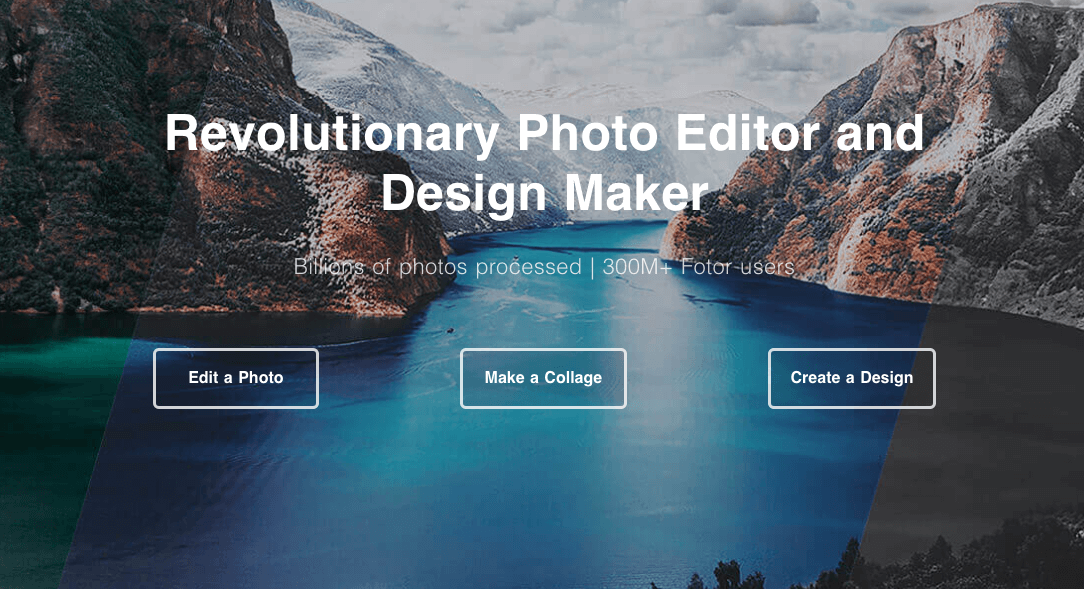 In this article, we will have a look at the tool in detail and how it can help you to create great-looking photos without any technical knowledge.
Let's have a look at the dashboard and the tools.
Here is a video to understand how the photo editor works
The Photo Editor
Here is how the photo editing interface looks like. You can import any photo from your computer, Fotor Cloud, Dropbox or even Facebook that you wish to edit.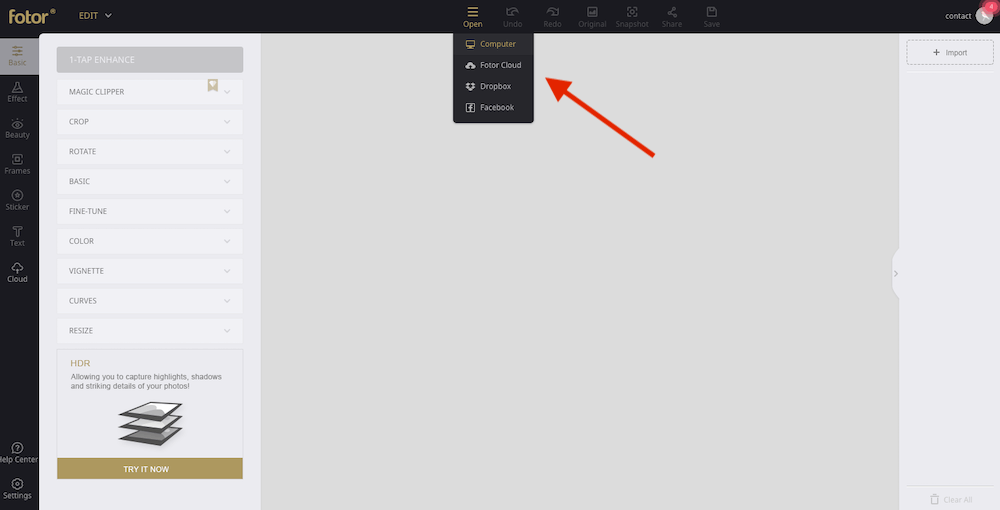 Once you add the photo in the tool, you can start editing it. There are multiple tools in the left pane of the dashboard and you find multiple options under each of those tools.
I just imported one image from my computer and as you can see, there are multiple editing options in the left pane that we can use to edit the image.
Each of those main editing tools has multiple sub tools that you can use to edit your photo.
Under the basic editing tab, you will find options like
Ready Effects
The Fotor photo editing tool comes with a number of ready to use effects that will change your photo in just one click with nice color and light effect. You can use their one tap enhance option to make the changes immediately.
You can see the options available in the left pane, once you select any of those effects; you can further tune the effect as per your need.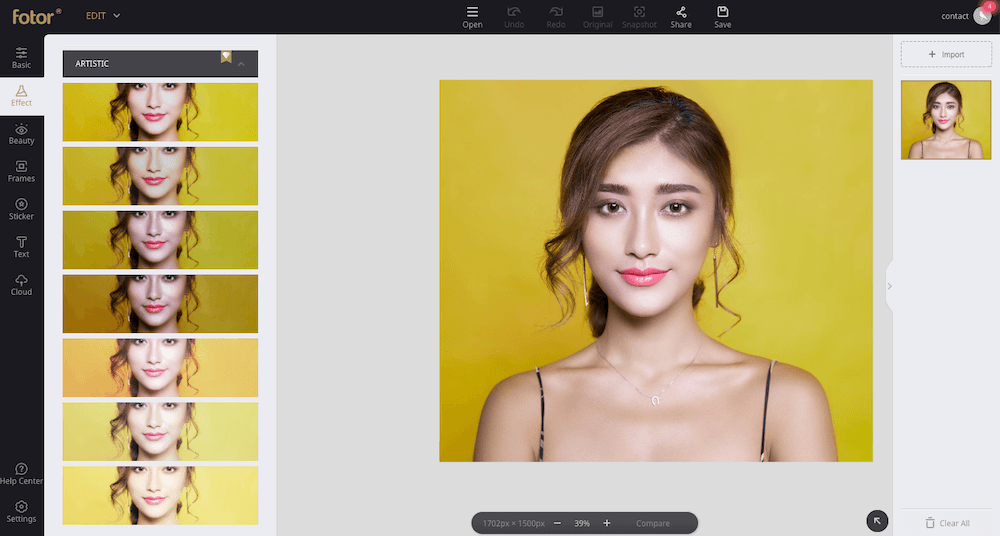 You can set the intensity of each effect to make your photo perfect with the correct light effect.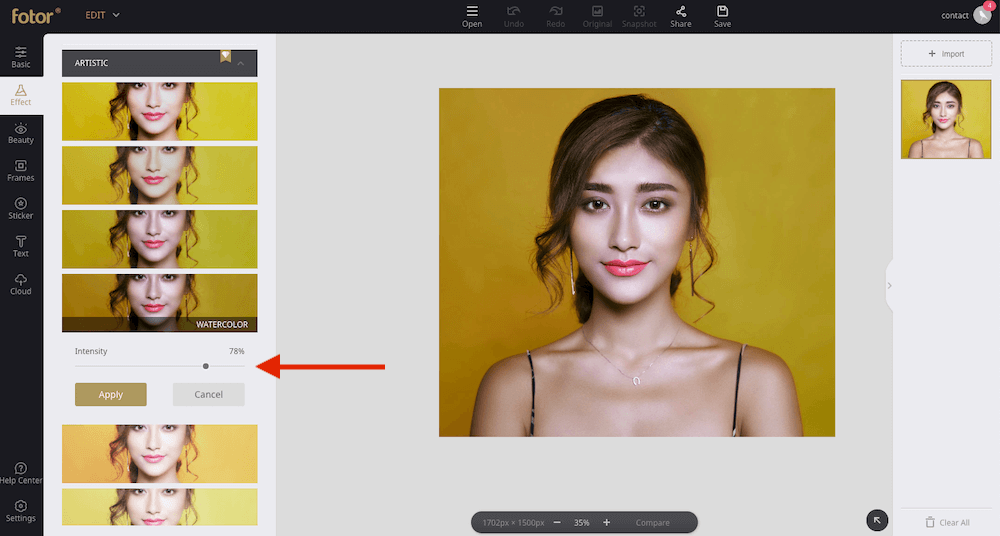 Enhance Beauty of Your Photo
In the beauty section of the tool, you will find multiple options to make your photo look even better. If you are editing a photo of a person, there are some amazing tools to enhance your photo in a couple of minutes.
As you can see in the image below, we tried to enhance the color of the lip and it is quite easy.
Frame Your Photo
There are multiple frame options with different designs to use for your photo. You can select a frame depending on the theme of your photo. The frame will be added to the photo with just a click. You have the option to enhance the frame further with proper color options.
Similarly, there are a variety of different stickers that you can use on your photos. For example, if you wish to decorate your photo with a Christmas theme, you can easily do that with the stickers available for Christmas.
The same goes for the text that you wish to add to your photo.
Remove Background
This is a regular requirement of any creative designer or even bloggers to remove the background of an image while using it for any online project so that it goes with any background color.
Fotor offers you a quick and simple option to remove the background of any image. The online photo background change is very handy for any user.
Design a New Image
Now, this is very important for graphic designers, bloggers, social media managers because the designing tool of Fotor gives you the option to create a new image for your blog posts, social media promotions, etc.
In fact, the tool comes with amazing templates that are created perfectly with the dimension required for different platforms. For example, if you need a new Facebook color page, you have a ready option wit the required dimension for that. You just have to select a template and go ahead with your customizations.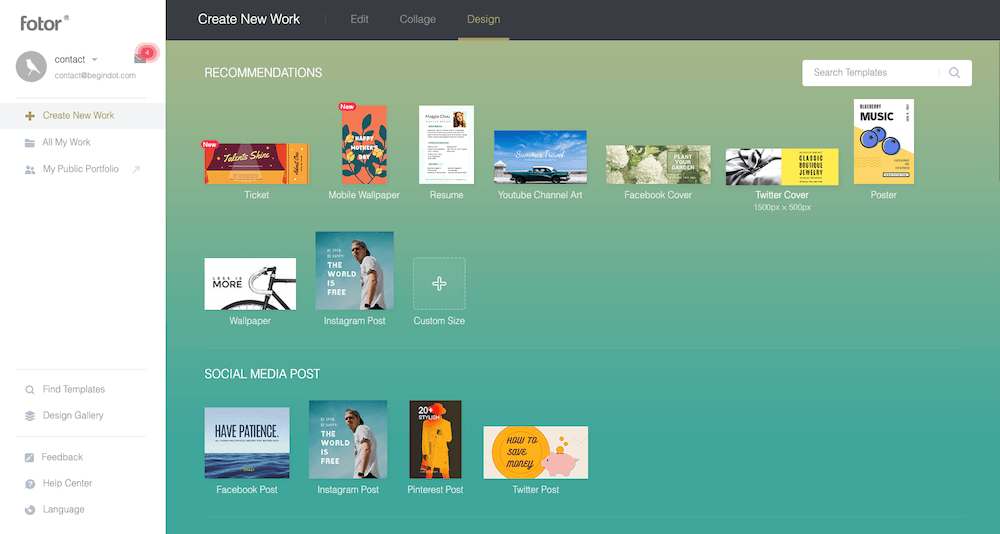 If you have already used Canva to design your graphics, the design interface of Fotor will be familiar to you. In fact, Fotor is one of the best alternatives of Canva that you can use to design your graphics.
The best part is that the interface of Fotor graphic design tool is very simple, you don't have to be an expert to create beautiful designs using Fotor. You can select the option be it a Facebook cover, Instagram Post, Twitter Post, a Resume, a Logo, Business Card or anything else; once you select your option you will be presented with the available templates that you can use.
However, you are free to use your own design. You can start from scratch, you can upload your image, add text to design a beautiful graphic.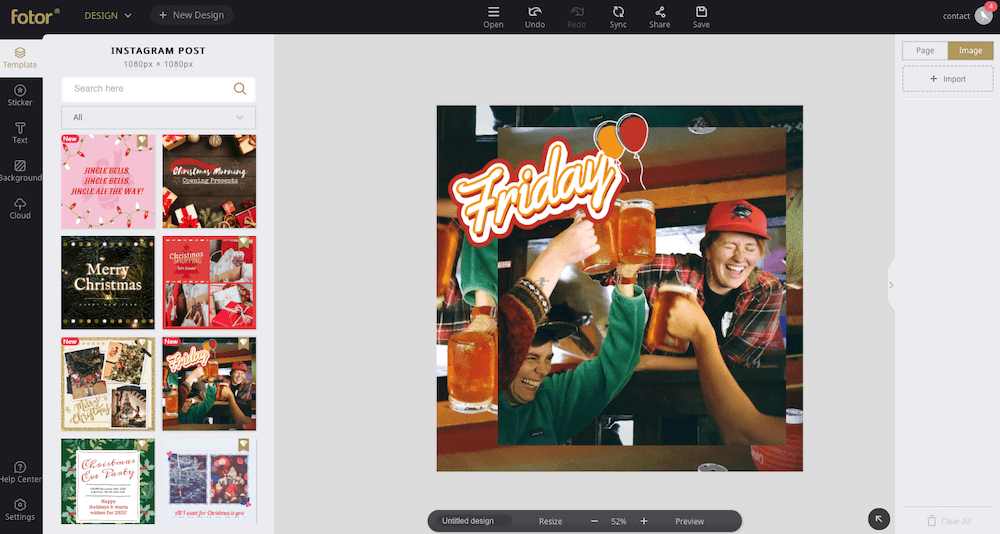 Creating a Collage With Fotor
Fotor is undoubtedly one of the best tools to create a great-looking collage of your photos. The process is very simple, you can select the collage type, select a template, add your images and start creating your collage.
When you go to the collage creating section of Fotor, you will see a few different options to choose from.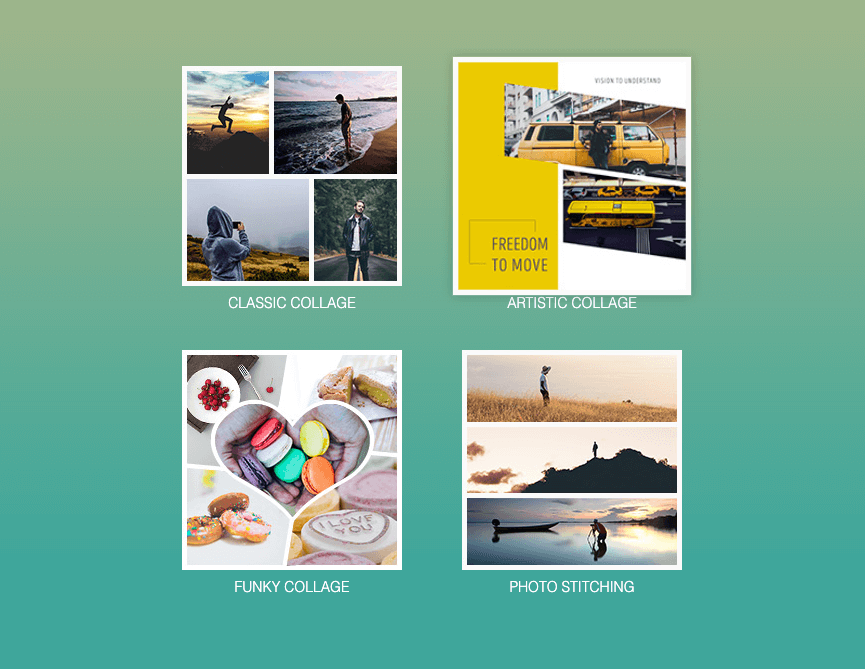 The Classic Collage Designs
Creating collage with photos is a very old creative tradition. It makes your beautiful moments look better when all of your images are together in a collage. The classic collage option offers you some beautiful old traditional layouts for your collage.
You can simply select any of the layouts and get started with your design.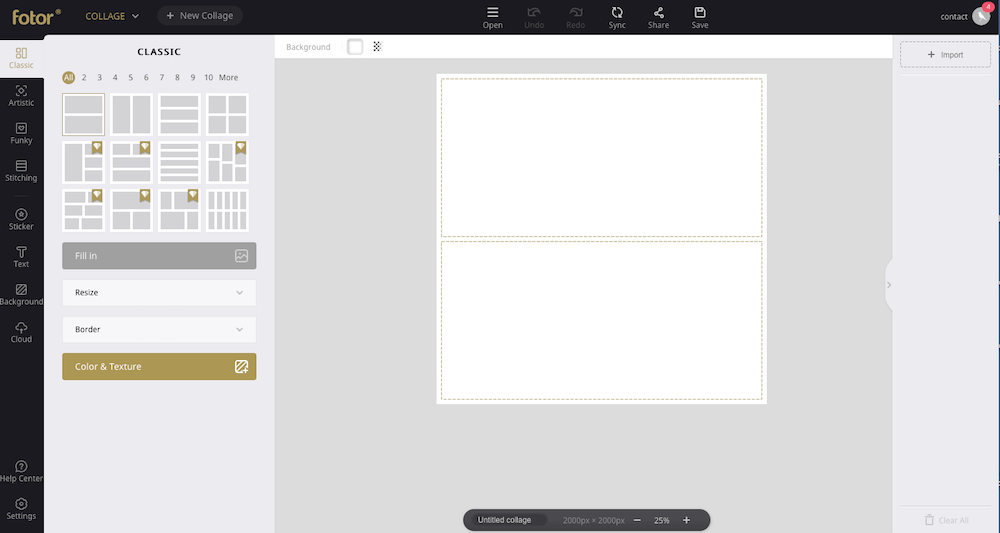 Artistic Collage
When you select the Artistic Collage option, you will see a number of ready design templates to create your collage. You can select any of those templates and start editing it.
You also have comprehensive color and texture options to design your collage.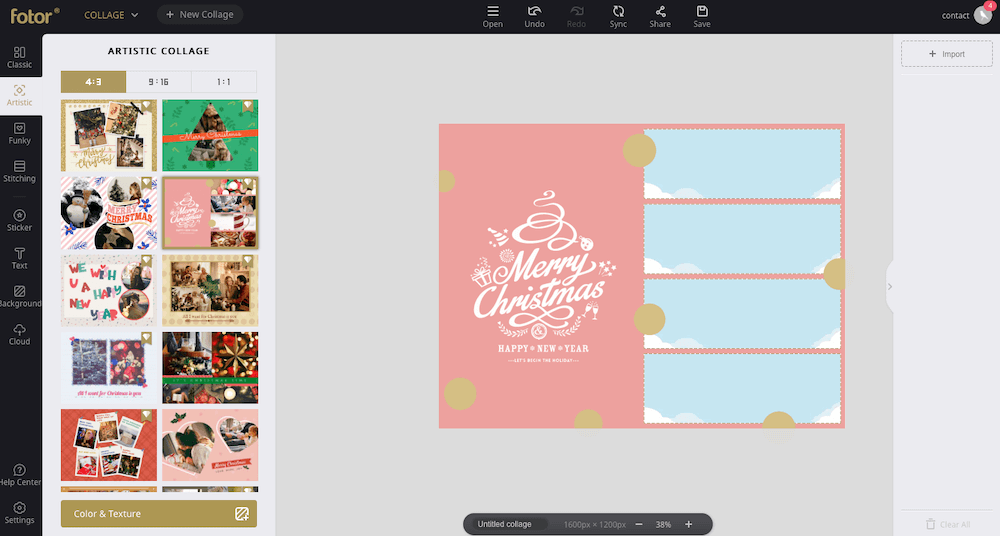 There is funky collage as well as the photo stitching option to get more creative.
Do You Like Dark Interface?
Many creative designers like a darker interface than and regular white interface. Fotor gives you the option to enable dark mode for the design interface.
You will see the settings option below in the left pane. You will find another important option in the settings option, which is to change the language.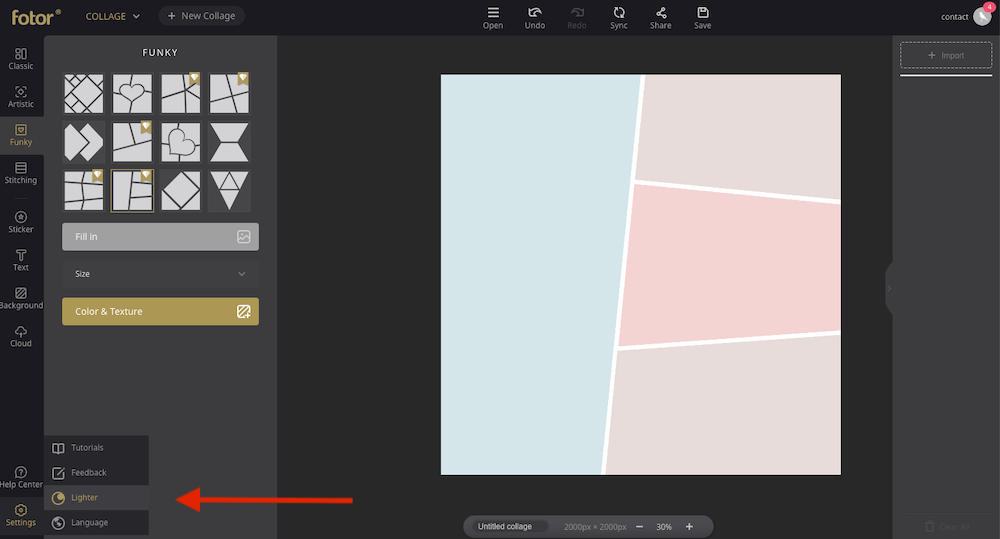 Fotor Mobile App
Fotor offers you a user-friendly mobile app for both Android as well as iOS. So you can easily create and enhance your photos on the go using your mobile phone.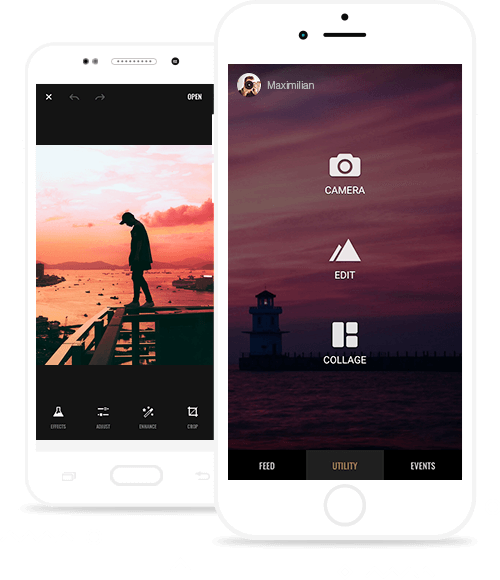 Pricing of Fotor
Fotor is a free tool to get started. However, if you want to have an interface without the ads and the option to save your images on the cloud, you can go for their premium plans.
You get access to almost all the features in the free plan as well. Still, if you wish to go for their pro plans, the plan start at $3.33 which is affordable for almost everyone.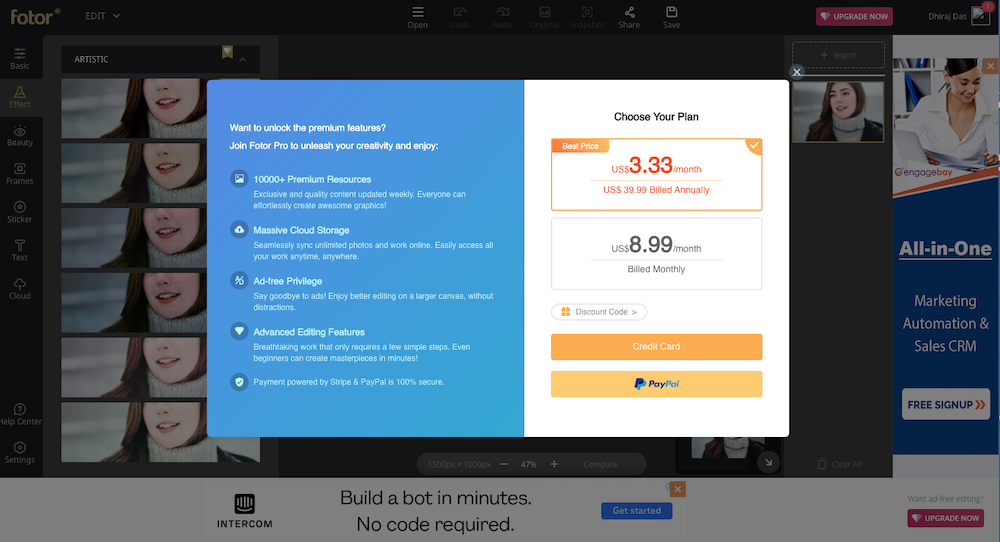 Fotor GoArt: The Bonus for You
Fotor offers you an additional tool to transform any photo into a great looking painting. There are a number of different effects and painting design types that you can try.
This is a beautiful way to get creative with any photo. You can use these painting designs to gift someone a beautiful painting version of their photos or you can use these for any other work-related image to make it a little different.
Here is one example I just created.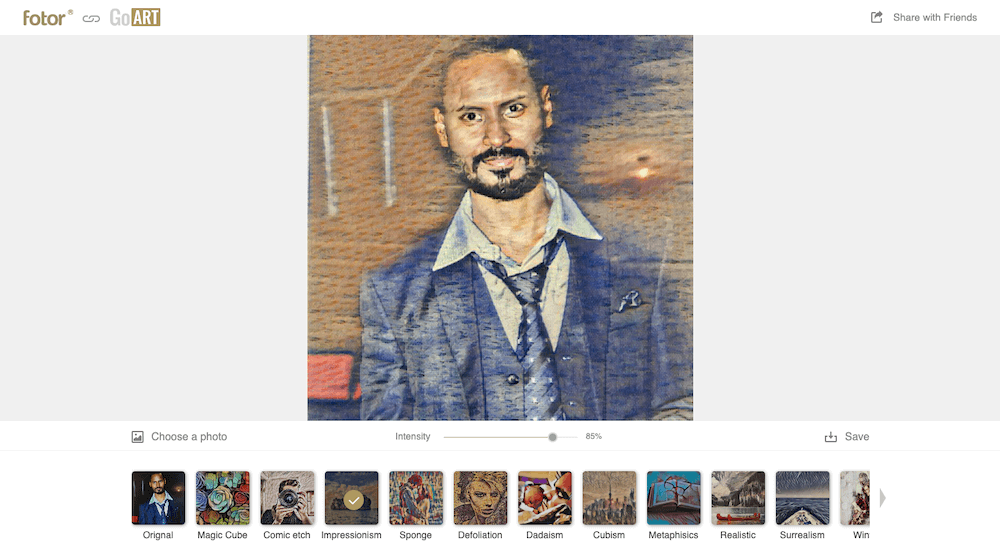 Final Word
Fotor is a very handy tool for bloggers, creative designers or even general users who want to edit their photos before uploading it to social media sites. As you can see in the article, the tool is good for newbie users as well as pro designers.
It is certainly an easier option to edit any image than tools like Photoshop, you don't have to be a technical person or have any prior knowledge to make the best out of this amazing tool.