Some mornings, we wake up with ideas that we believe can turn our world around. Some of them come to us when we are relaxed and taking a shower, or out of nowhere when we're talking to a friend.
If such an idea came to you, congratulations. You are one step closer to a truly successful startup. But, don't rush just yet!
An excellent idea is vital for success, but it's just the beginning. If you want to turn a startup into a success, you need to research that idea, create a smart business plan, and jump through many hoops.
To help you in this, we've created a list of excellent tips for startup success.
Let's take a look at it. 
01

. Conduct market research for a startup
Everything starts with good research. Research helps you learn what you're getting into, shows you how the industry works and tells you how to reach your target audience.
If you are wondering how to conduct market research for a startup that doesn't cost you a fortune or take forever, Askatest is the answer to your questions. Businesses of different sizes use tools like these to analyze the market, research their buyer personas, and form a fierce strategy that leads to growth. 
When researching the market, you are performing an analysis of everything from market and industry trends to market dynamics to buyer personas to your competition. Based on what you find during this process, you will make your business plans and decisions.
It's not just about collecting some data and throwing it into a file. It's about analyzing it and letting it guide your actions.
Why is market research important for your startup?
Market research is important at every stage and is a never-ending process for successful businesses. It is most vital at the beginning when you need to form your products, find a way to reach an audience, and create value on the market.
Even after you launch your startup, it is important to keep researching the market. This is why Askatest comes really handy. It can help you do everything from tracking your brand's performance and health over time to doing customer profiling and performing creative testing.
You'll also need it for the market analysis of your competition and new markets, product development and insights, and smart marketing plans for the future.
As you can see, this is a lot of work that never ends. Essentially, it is the preparation you make for your business that turns it into success.
Market research will tell you whether or not your idea is good, to begin with, how much you'll need to invest in it, and what moves to make next. 
Right now, what you have is an idea and perhaps some budget to make it happen. Do you know how much it will cost you? Do you know how to convince others to fund it? But most importantly – is it a smart idea to invest in? Is there a demand for it?
Not every idea is as good as we think it is when it first crosses our minds. The market might have too much of that product or the demand might be too low. Or, your investment would have to be extravagant to make it happen, which doesn't make it a smart investment for a small startup.
Approximately 20% of new businesses fail within two years, and 65% of them fail during a decade. This shouldn't discourage you, not at all. The main reason why businesses of today fail is because of poor decision-making, led by insufficient research. 
It can be tempting to start a business with your great idea and make money with it as soon as possible. But, being too eager should not make you skip essential steps such as this one. According to HBR, not doing enough research is one of the main reasons why startups fail.
02

. Create a smart business plan
Even the tiniest idea can be turned into a smart business plan that plans years ahead. In this plan, you'll turn your data analysis into insights and actions that you need to take to operate your startup.
Your business plan will include a mission statement, a list of products and services you'll offer, information about the costs for creating and launching them, information about employees, and more.
If you plan to ask for funding, the business plan will also include high-level growth and financial information.
You'll need this to impress investors and convince them to invest in your idea. No matter how great it is, almost every investor will want to know the details before they put money into it.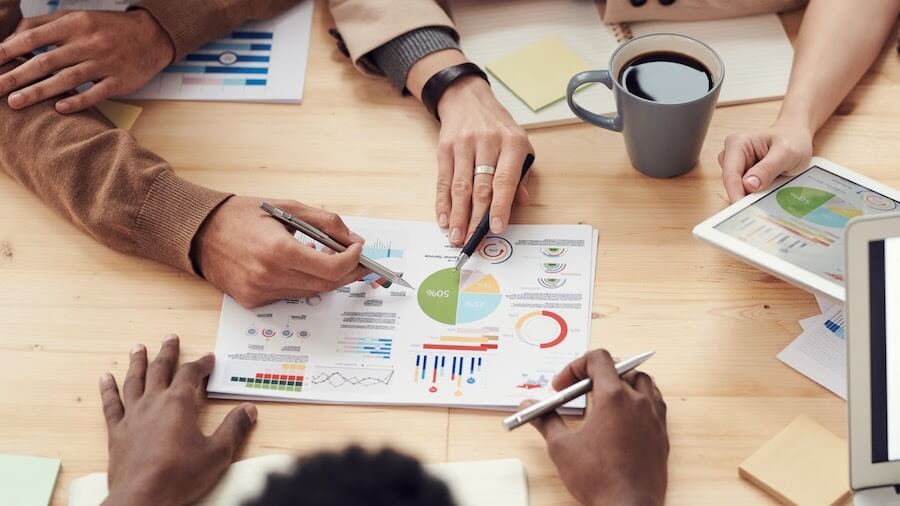 03

. Select a well-defined niche
You can't be catering to everyone in every location in the world, at least not with a startup. Decide on your brand's niche and your target audience as soon as possible.
If you select a niche for your brand that is too broad, you won't be able to get your message to the right people, your actual target audience. 
In addition to this, a bad niche selection will result in unfocused investments and cost you more than it realistically should. Once you know your specific niche and the target audience, you can aim your finances and your time on attracting and converting the people that are interested in what you are offering.
04

. Set reasonable goals for your startup
Every business owner dreams of the day when their startup will turn into a multi-million dollar brand that everyone loves and uses. If you started your company and are already getting some feedback, it can be tempting to think so far ahead and dream big.
Don't do it just yet. Your startup needs to become an established, quality brand before it becomes a whopping success.
When you're planning for your brand's feature, be realistic with the goals. Don't skip stages of success. If you aim too high too fast, you'll fail because you are rushing things. 
05

. Focus greatly on your online presence
There are 2.14 billion people who've made online purchases today. Many of these people do it on a regular basis, and the interest in online shopping grew even more during the pandemic. 
Even if your target audience mostly buys in your physical stores, chances are they do their research of your business online. There's a lot you can learn about businesses online, especially new ones.
Since technology is so widely used to make purchase decisions and decide on whether or not to use a brand, you should create an online presence for your startup as soon as possible. Make your brand available on social channels, start a blog, join forums where you'll share your expertise, and invest in some advertising.
The online world is a place where you'll welcome testimonials, widen your reach, and communicate with your audience. It's a must for every business of today, and you should invest a lot of time into optimizing it.
06

. Create high-quality, consistent content
The content was and remains king on the internet. It informs your audience. If done right, it can get you high in search results and bring tons of traffic to your business.
That being said, dedicate some time and finances to crafting quality, original content across all the channels you are using. Most importantly, make sure that you do this regularly and consistently. Only in that way you can expect positive results. 
07

. Nurture customer relationships
Almost half of the consumers left a brand in the past year because of poor customer experience. Nowadays, the customer experience is more important than ever.
The competition is fierce, so consumers are focused on finding businesses they trust, businesses that show they care. 
That being said, you should focus greatly on your customer relationships. Create personalized strategies for growth, be available to them, and handle their queries efficiently.
08

. Hire the right team
Your vision can be great for the startup, but you cannot do it alone. You can't do it with the wrong team of people, either. If you want your idea to become a success, you need to surround yourself with people who believe in your vision and are competent enough to make it happen.
Take the hiring process really seriously, and make sure to motivate your team to work as hard as you want them to.
09

. Make sure you're legally protected
Paperwork might be limited in the beginning and as such, it might not seem as important as other things during the early days of your company. However, it is one of the most vital pieces of the puzzle.
You shouldn't be willing to risk everything at any stage of your business journey. That being said, meet up with a legal team or a professional that will keep track of the documentation, as well as regulations concerning your startup.
10

. Have some fun!
Your business is a startup just now, so don't get too stressed out over everything. You'll experience burnout soon and won't be able to work properly when things get busier and more demanding. Take it slow and have some fun!
Have you done these things for your startup? Go through this list and handle anything you didn't dedicate time to just yet. It will be worth it!