Best Joomla Templates for eCommerce websites. Use any of these eCommerce Joomla templates and create a stunning website today.
It has become one of the premium choices of developers for creating websites that are exceptionally beautiful.
There are many reasons which make Joomla a desirable CMS's, like:
It offers smart, easy, and fast ways to establish an online presence for any business.
Advanced-level computer skills are not required to create a basic website with Joomla.
A sufficient number of templates are available to choose and can be easily customized.
It comes with many extensions like Facebook integration, blogging, newsletters, to fulfill individual needs.
Most importantly, it is a stable and reliable option, which facilitates robust navigation and smooth functionality.
If you are still not convinced, you would be amazed to know that Joomla is often considered superior to WordPress, when it comes to the flexibility in creating menus, assigning content, activating modules, etc.
At present, nearly 3% of the total websites in the world are powered by Joomla. Now, when you have an idea about why Joomla is popular and different from other CMS's, let's explore it further.
Considering the high quality, responsive designs, and fast loading times Joomla offers, many online businesses are attracted to it.
We are giving you a glimpse of the best Joomla templates for eCommerce portals.
Maxshop
Powered by VirtualMart3 component, it has many advanced features for easy customization. This theme can suit all kinds of eCommerce businesses and has a neat design layout for user convenience.
It is integrated with the latest YT Shortcode version, yet easy to install and use. Further, it supports five different homepage layouts and gives many color options to choose from.
Bookstore
Online sellers of books and other products must give a try to this robust design. It caters to the discrete needs of eCommerce and eBook stores.
Revolution sliders, boxed and wide layouts, J2 integrations, and Google merchant integration are some of the striking features of this design. It comes with five different homepage layouts and nine trending color variations.
Flatastic
A trendy, modern VirtueMart eCommerce store template created on the Bootstrap framework. The design of the template is attractive and it offers you multiple design options to choose from.
It is a multipurpose Joomla template that you can use to create any kind of modern store design. The template offers you drag-and-drop Joomla builder, so you can easily create your custom design for your site.
It's a fully responsive and retina-ready template that will make your eCommerce site look great on all devices.
The template offers you amazing mega menu design options to make the browsing experience far better. The templates come with strong custom product filters depending on many different parameters.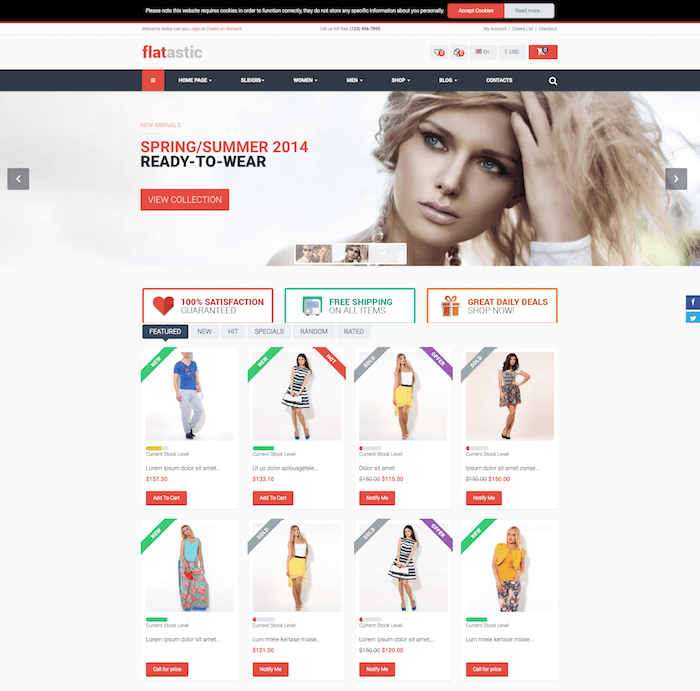 Garb Fashion
As the name suggests, this is a Joomla eCommerce template for the fashion store. This template is designed with T3 for Joomla.
The theme comes with an amazing drag-and-drop builder and multiple modules that you can use to create your eCommerce store.
The template offers you three different layout options to choose from. You can create your store with this amazing design and VirtueMart integration.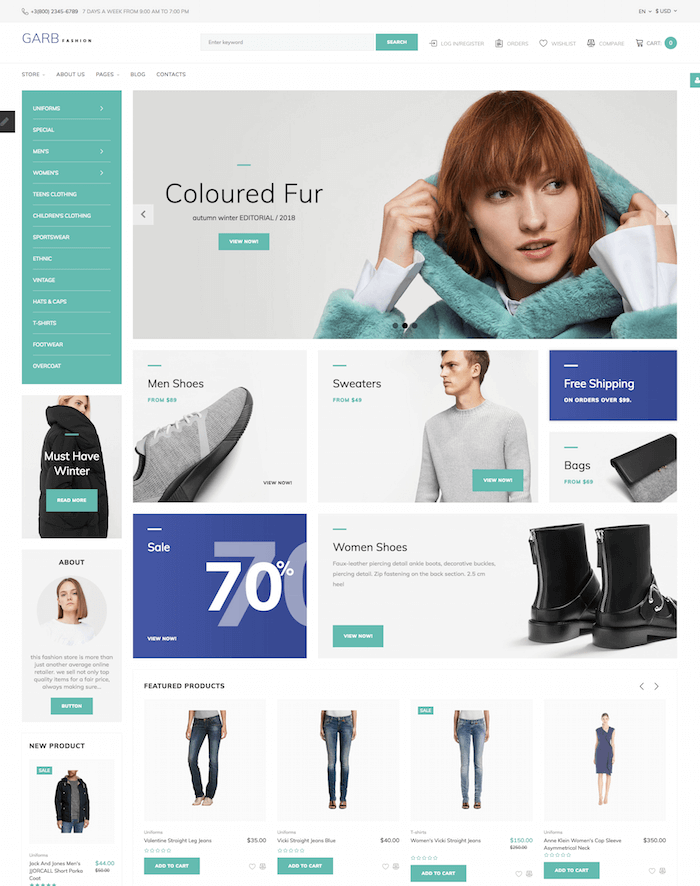 Vina Sagitta
Vina Sagitta is a beautiful, fully-responsive eCommerce template that you can use to create your online shop. It offers you a variety of different elements as far as the design of your site is concerned.
You have four different homepage designs to choose from, six pre-set color options, mega menu option as well as an off-canvas mobile menu option. It comes with the demo content included in the bundle so that you can get started on your site quickly.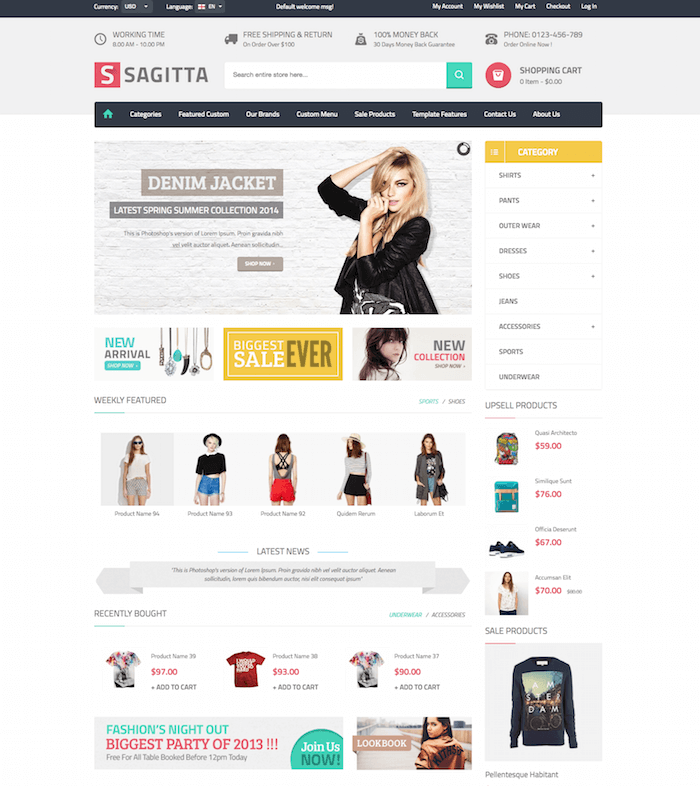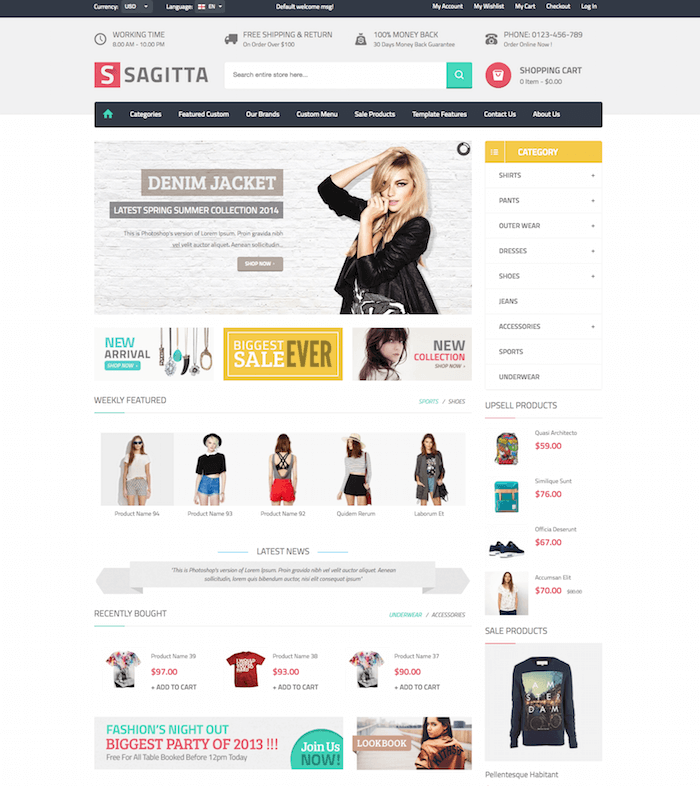 Electronics Store Responsive VirtueMart Template
A trendy, minimal and professional-looking VirtueMart template that runs on the latest Joomla version. The template is very clean and looks beautiful.
This is a fully responsive template design so that your eCommerce store looks great on modern devices. The template offers you a great layout to showcase your products, you have an amazing mega menu option to link to all your popular products right from your menu.
Trendz Joomla eCommerce Template
If you are a designer and want to bring your clothing line online and start selling, this is a great Joomla template for you.
This template is easy and quick to get started with and offers you a fully responsive design that will make your site look great on all devices.
It offers you different color presets, an amazing mega menu option, easy customization option in case you want to turn around the template and create a custom design for your site.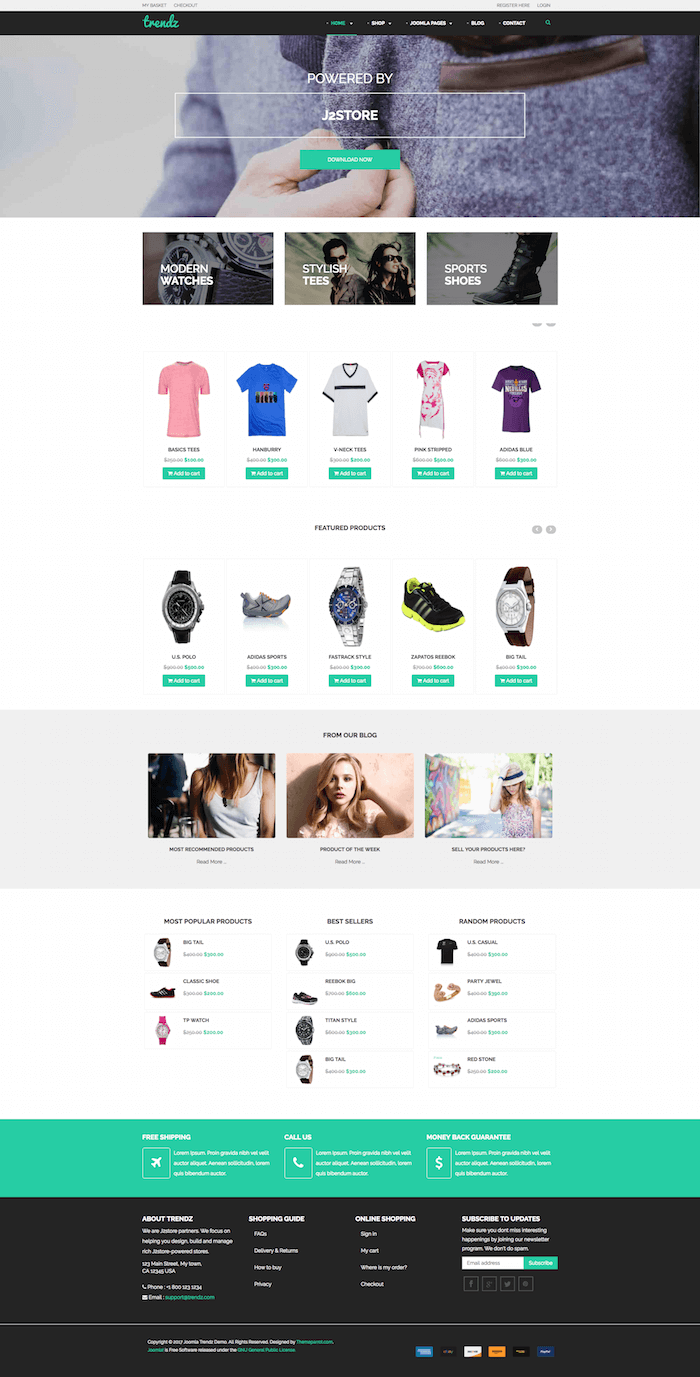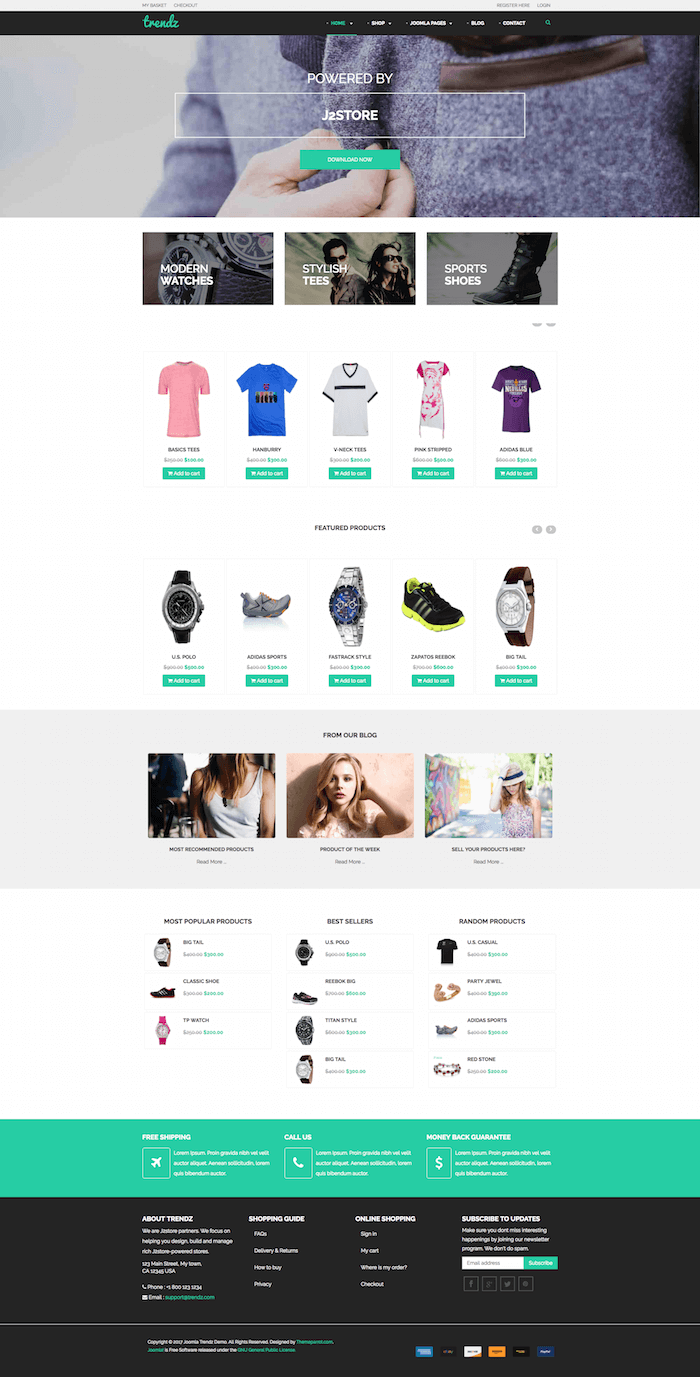 HawkStore
HawkStore is a youthful and enthralling theme and comes in various layouts- wide, tablet, normal, and mobile to name a few.
It is suitable for fashion eCommerce portals that demand class and simplicity at the same time. Features that make HawkStore desirable include, override content types, ease of use, multiple views, and responsive design.
Ignite
Apart from an attractive appeal, Ignite is easy to navigate for users. Fully responsive layout, striking color features, Virtuemart and Bootstrap support, make it a hit amongst all eCommerce users. It can work smoothly for various types of businesses, especially fashion and creative domains.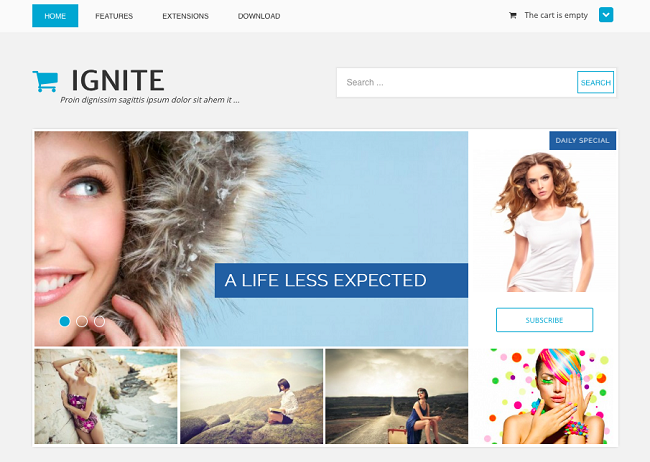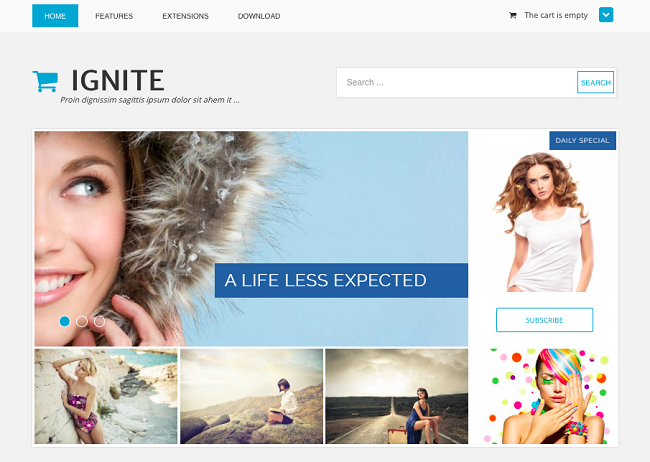 New Lifestyle
As the name suggests, New lifestyle is meant for fashion and lifestyle-inspired eCommerce portals. This is a fresh and neat theme that facilitates engagement with users.
It gives many options for Google fonts and ensures excellent Bootstrap support. Along with T3 framework and layout control, this design facilitates real-time customization as well.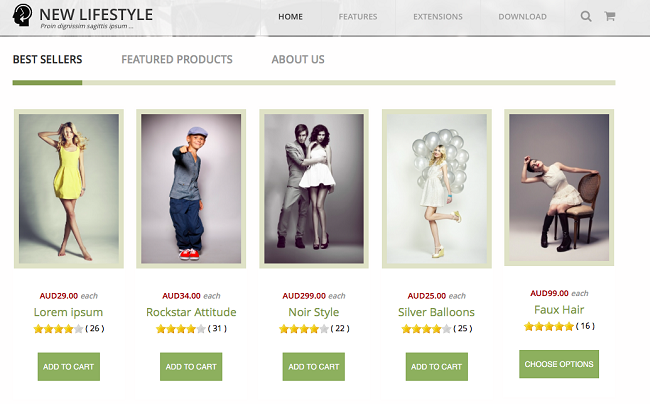 Wi-Shoes
This multi-purpose theme is powered by Joomla 3.x and Joom Shopping 4.x. These are the easiest shopping cart components to use created by Joomla.
The elegant design of this template is perfect for bags, shoes, jewelry and other lifestyle-related business stores. There is a dedicated support team to help you out with documentation and community forums.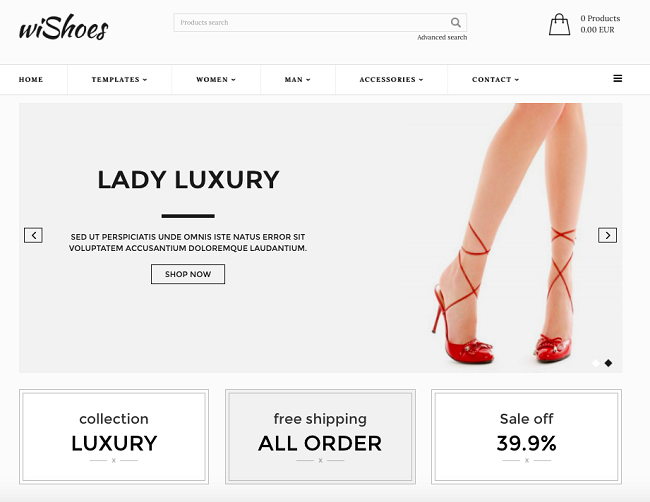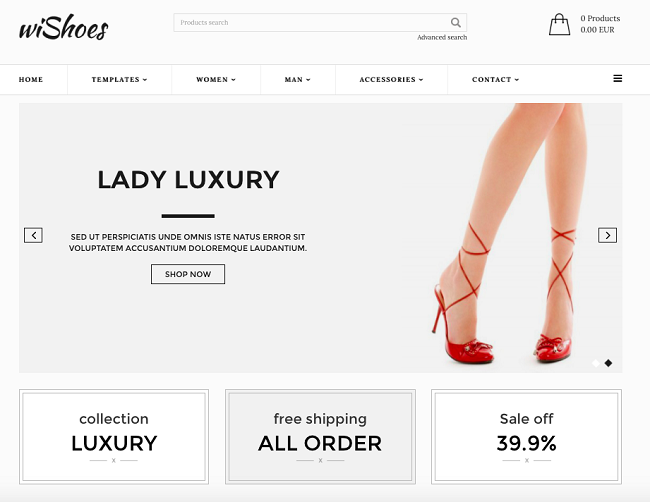 Mall
One thing about Mall is that no one dislikes the sophisticated and professional appeal of this theme. It is a clean and grid-based responsive template that can be used for all kinds of online shopping stores ranging from corporate businesses to a gift shops.
Inspired by modern designs, it has many pages for contact forms, blogs, portfolios, typography, posts, and other essential website elements.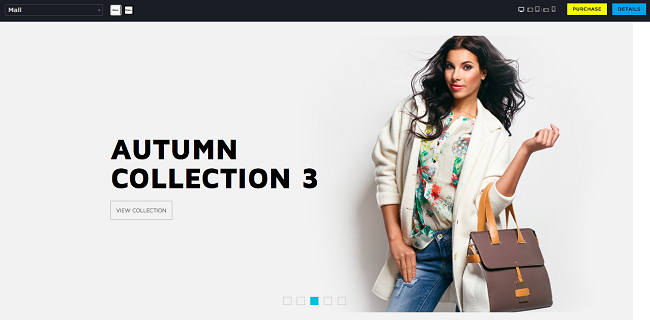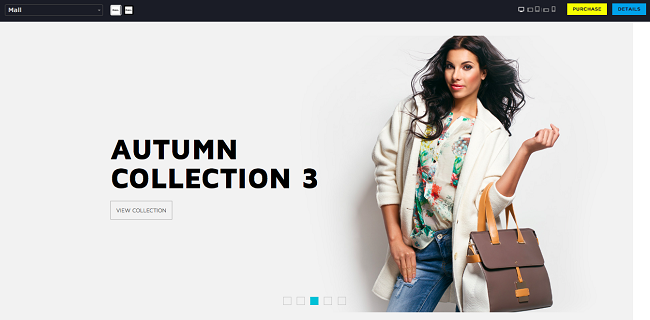 Ulmus
This impressive, feature-rich layout is perfect for companies, which are into interior designing, furniture, hotel, architecture, and other such businesses.
It has high-quality photos and facilitates fast navigation for users. The flexibility to customize every aspect of the theme gives freedom of imagination to the design.
Further, it has parallax scrolling and lazy load effects which make your website more dynamic and attractive.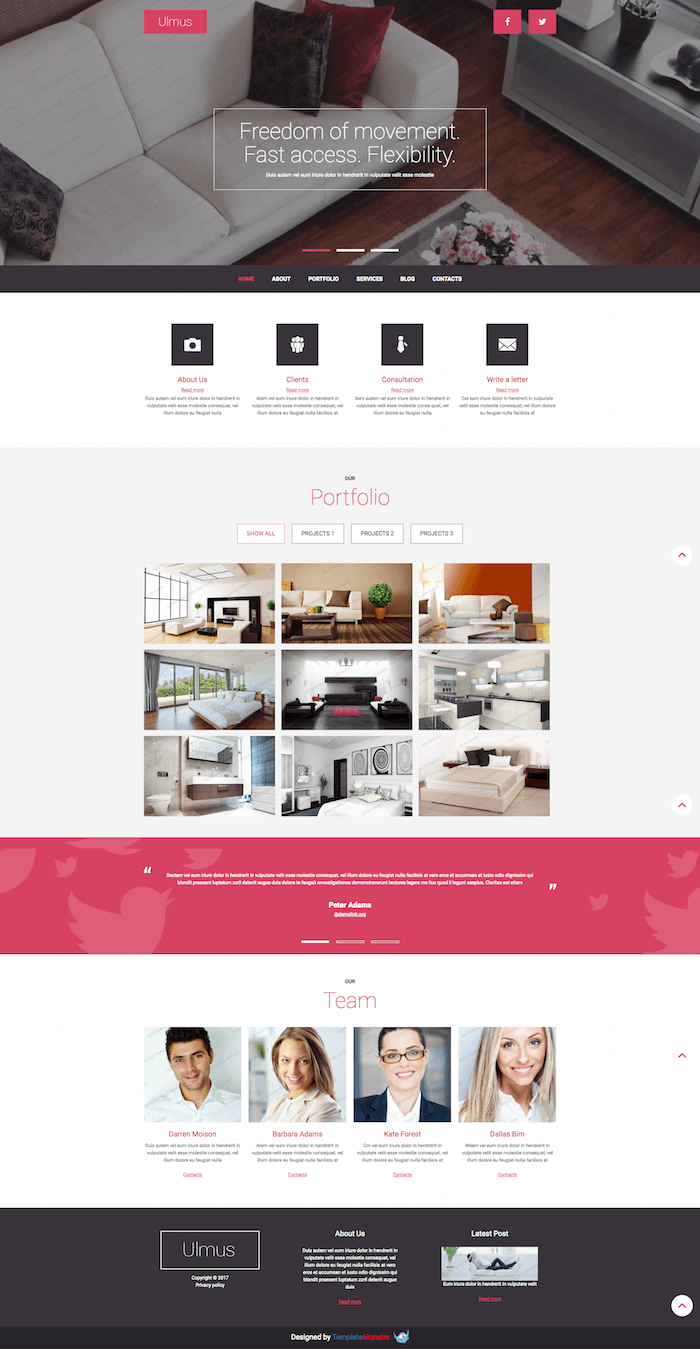 nuModusVersus
With creativity at its best, this theme becomes a perfect solution for artistic businesses. It is built with the latest version of Joomla but still, supports version 2.5.
There are three color variations on this theme, and it has a set of attractive icons to feature on the homepage.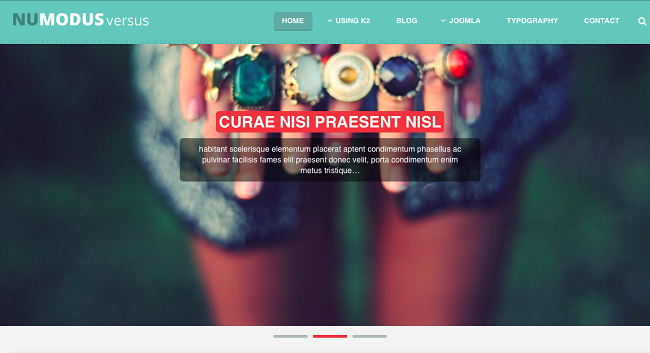 Ares
Ares is an exclusive design for smartphones. It has a special built-in design and compatibility with iPhone, Android, and Windows-based mobile devices.
This responsive design is free to integrate with 12 social channels without you having to worry about the code at all. Also, the image gallery of this design is vivacious and genuine.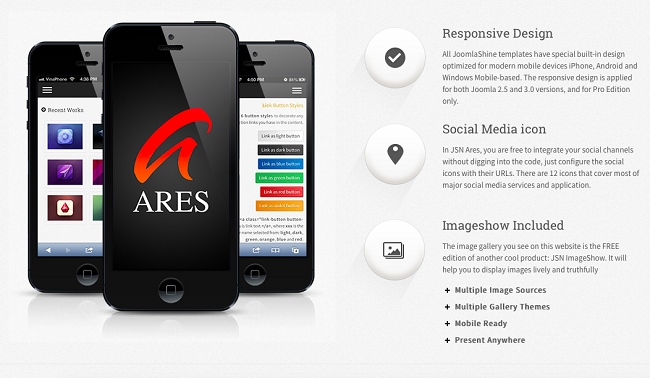 Metro
This is another outstanding template to make your eCommerce website mobile friendly. Stunning colors and breathtaking designs make the overall appeal of the layout inviting.
The style of Metro is best suitable for sites that demand visually attractive design elements. Additionally, it delivers fascinating vignettes and color contrasts.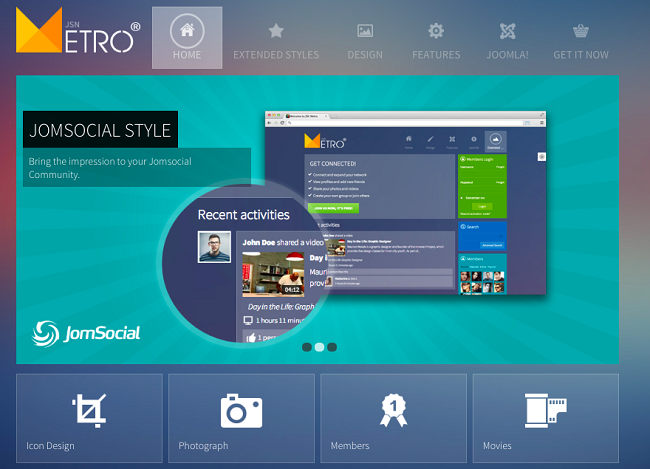 Endnote
It is the latest innovation of Joomla to take online businesses to the next level.  Being neat, lively and modern, Metro becomes a desirable option for businesses targeting youth.
The majority number of Joomla users never switch to any other CMS. People admire the striking features of Joomla like front-end editing, more than 8000+ extensions, media managers, etc., and you would love them too.
However, one must know that Joomla needs some knowledge of technical know-how from your end. It can be a learning curve for the best of minds but is excellent to work with once your team gets the hang of it.
Joomla is worth trying! At least to know whether it will work for you or not!