With the increasing number of internet users, it has become very difficult to find the right email name for an individual as well as a business.
Many times you might get confused about what prefix or suffix to use for the email ID once you don't find the email ID you are looking for.
Thankfully, there are a number of amazing tools that you can use to find a great email name. In this article, we will have a look at some of the best email name generators that you can use for your business.
We have already listed the best blog name generators in this article, those tools will help you to find the perfect domain name for your online business as it is very important to have a brandable name for your business.
As we are talking about the email names in this article, the best way to start is for the individual usernames with your name.
If you are making your email ID on the Gmail platform, you can start with "name.surname@gmail.com" or "surname.name@gmail.com".
However, as the user base of Gmail is very huge it is quite possible that you will not get the ID with your name especially if your name is very common.
Many users use the birth year in the email ID when only the name is not available. However, it doesn't look very professional to have a year in the email ID, so you can probably any other combination.
Similarly, for business accounts, it is good to check the availability before you finalize the domain especially if you wish to use free services like Gmail for your email.
Importance of Brandable Email Name
The first thing we need to understand is how to define a brandable username. There is no set rule for going about a brandable name.
By brandable, it means the username should sound professional, look neat, should not be very long, and should not have characters that don't make any sense.
Let's talk about the personal email names
When you apply for a job in any reputed organization, your resume is the most important piece of paper.
A quality resume can make a huge difference when you apply for a job. Now, think of an email ID that you can create with a string of numbers that doesn't make any sense or some special characters that are not required vs an email ID with your name and surname.
It does make a difference. So, it's good to spend some time when you are creating your email ID as you are going to use it for a long time for all your personal and professional updates.
Here is a list of some best email name generators that will help you to find amazing email names for your account.
Spinxo
Spinxo is mainly a username generator tool that will help you to find the amazing username for your email as well as many other social networking sites.
The tool is very quick and easy to use, just put your name or keyword you wish to use in the email name and make a search.
You also have the option to add your hobby so that the system can find usernames related to your hobby. Overall, the tool is simple and quick and it will keep showing an unlimited number of options until you find the perfect one.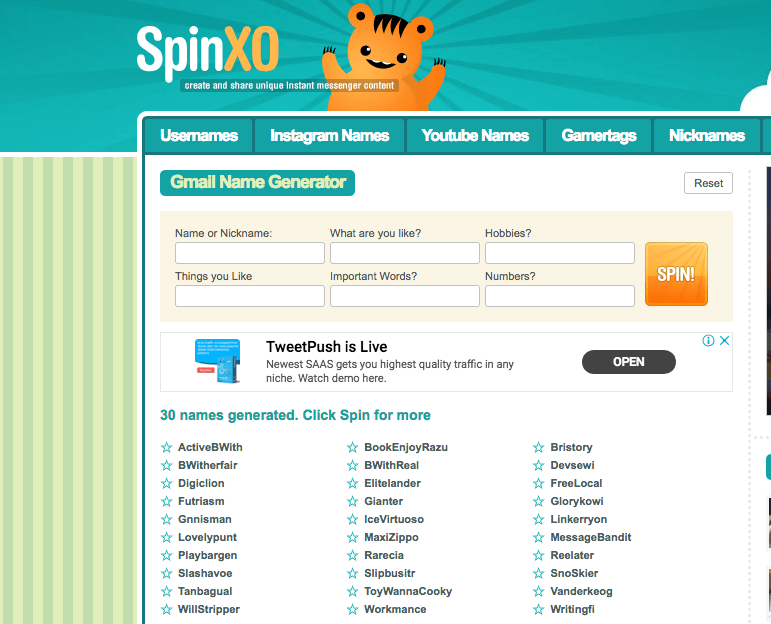 Name Station
Another useful tool to find amazing usernames. You have the option to place the first and second keywords to find all possible combinations.
You can use this tool as a domain name generator as well.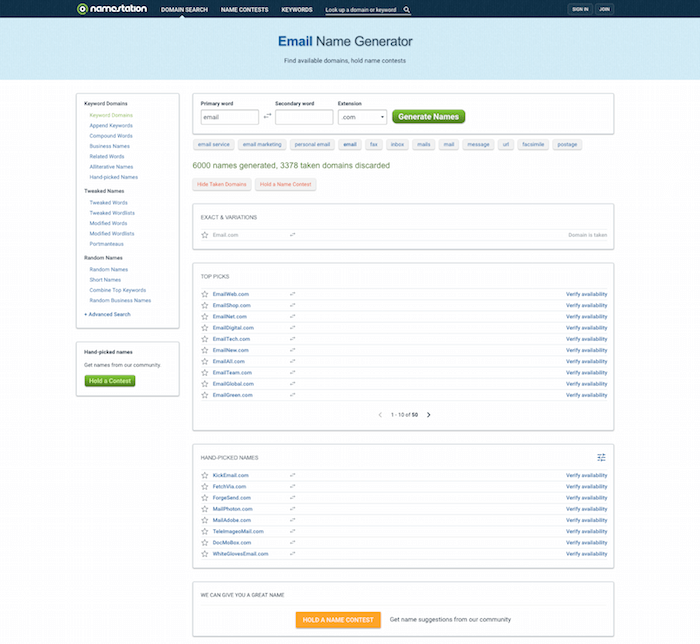 LastPass
If you wish to generate a random username for any purpose and run out of ideas, here is a tool that will keep on offering you amazing random usernames based on your input.
Just select the number of characters you wish to have in the username, select if you need an uppercase or lowercase username, and keep on checking options until you find the perfect one.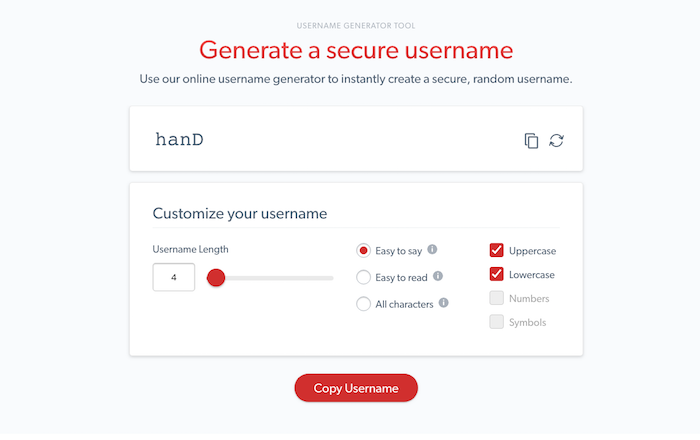 Name Generator
Name generator is another cool simple tool to generate random names. You can use this tool to generate name ideas for your domain, your random screen name, or even email name ideas.
The tool is simple and quick to use, just select the letter or work you wish to have in your username and find unlimited options.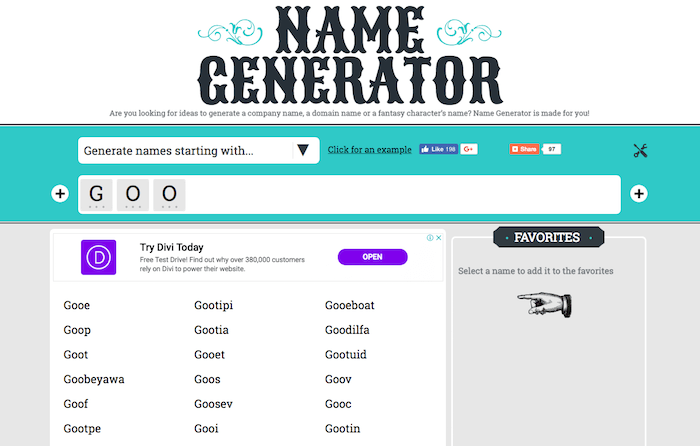 Business Name Generator By Shopify
Shopify is one of the leading platforms to create an online shop. There are professionals making millions with Shopify store and third-party products from platforms like AliExpress.
If you are looking forward to creating your own online store, here are some of the best free Shopify themes that you can use.
Now, coming back to the topic, Shopify offers you an amazing business name generator that you can use to find some cool names for your email account as well.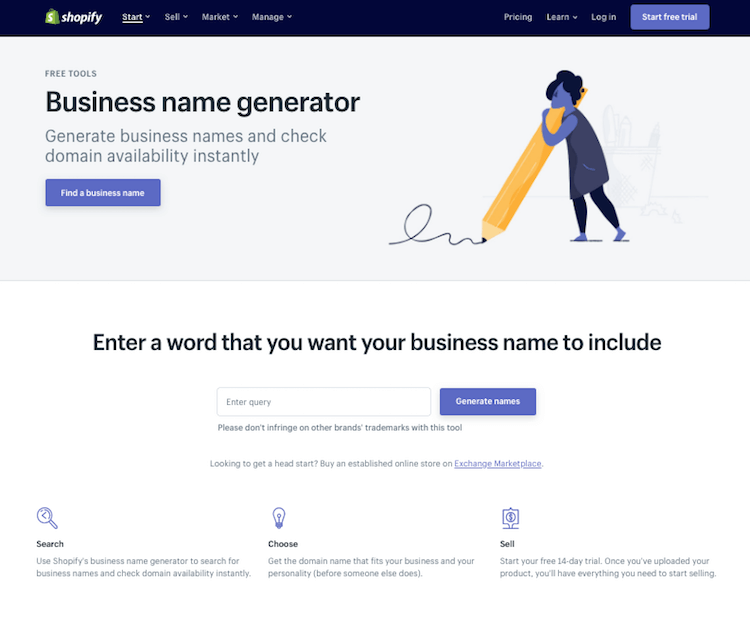 Kparser
Kparser is a very handy keyword suggestion tool that offers an email name generator tool for free. You can use this tool to quickly find a brandable name for your email.
It offers a number of other name generators such as blog name generator, YouTube Chanel name Generator, etc.
The tool is easy to use, all you have to do is it put your preferred keyword in the box and make a search, the tool will quickly offer you a variety of different name options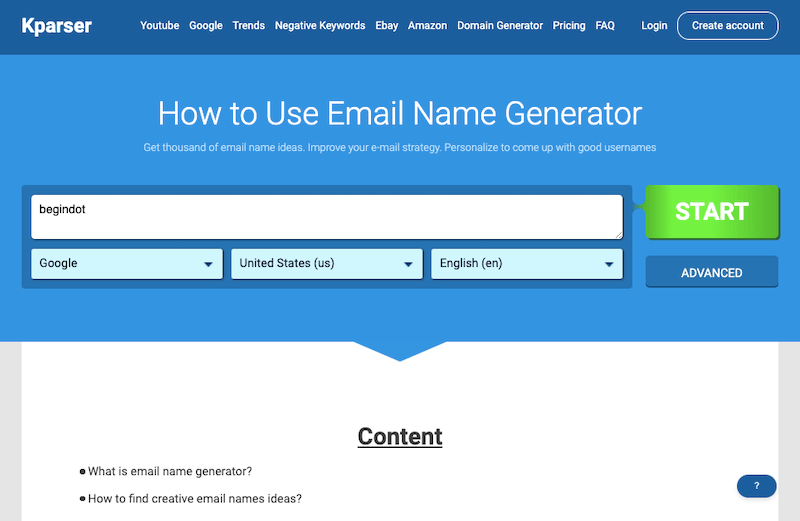 Freshbooks Name Generator
The Freshbooks name generator can help you come up with a great name for your business. Whether you're looking for a new name for your company, product, or service, the Freshbooks name generator can help you find the perfect name.
To use the generator, simply enter a word or phrase into the "Input" field and click the "Generate" button. The generator will then create a list of possible names for you to choose from.
Easy to use
Free to use
No sign-up required
Final Word
There are many other email name generator tools but those working in the same way or are not as good as the ones mentioned above.
If you wish to create an email ID with your own domain and looking for the best service to host it, try Google's G Suite